Contributed by Quotient Travel Planner
Image credit: Archie Sartracom
Once upon a time, camping in style meant a sultan, maharaja or prince setting off for an adventure in the wild but finding it impossible to part with the usual comfort. Extravagant tent cities would be installed and each abode had to be complete with luxurious bedding, expensive furnishings and rugs, the best silk fabrics, embroideries fit for a king; there will be servants in tow and even a chef or two to cater to royal taste buds.
Also read: 9 Unique Getaway Retreats in Asia to Escape The City
Today, tents have come a long way in concept, and in our progressive society, camping in style doesn't require you to be of aristocratic descent.
The answer to the once rhetorical question "how to merge nature and comfort?", now comes swiftly: glamping — a portmanteau for "glamorous camping" — a concept that takes the great outdoors by adding the indoor conveniences of modern facilities known to many-starred hotels. And if comfortable queen-sized beds still seem unfathomable for the open air, think of extravagant yurts, fancy tipis, luxurious tented abodes and high-end safari-inspired dwellings that encompass both 21st-century comforts such as air-con and natural vistas to die for.
As fervent travellers, we acknowledge how intriguing it is to experience nature at its rawest, hundreds of miles from civilisation, to reignite our sense of freedom and escapism from the hectic urban life. With glamping, we let ourselves be transported to a universe in which we are one with nature — and revitalise and recharge altogether.
Tempted? Here are five glamping experiences in Asia Pacific to consider.
Journey like a Maharaja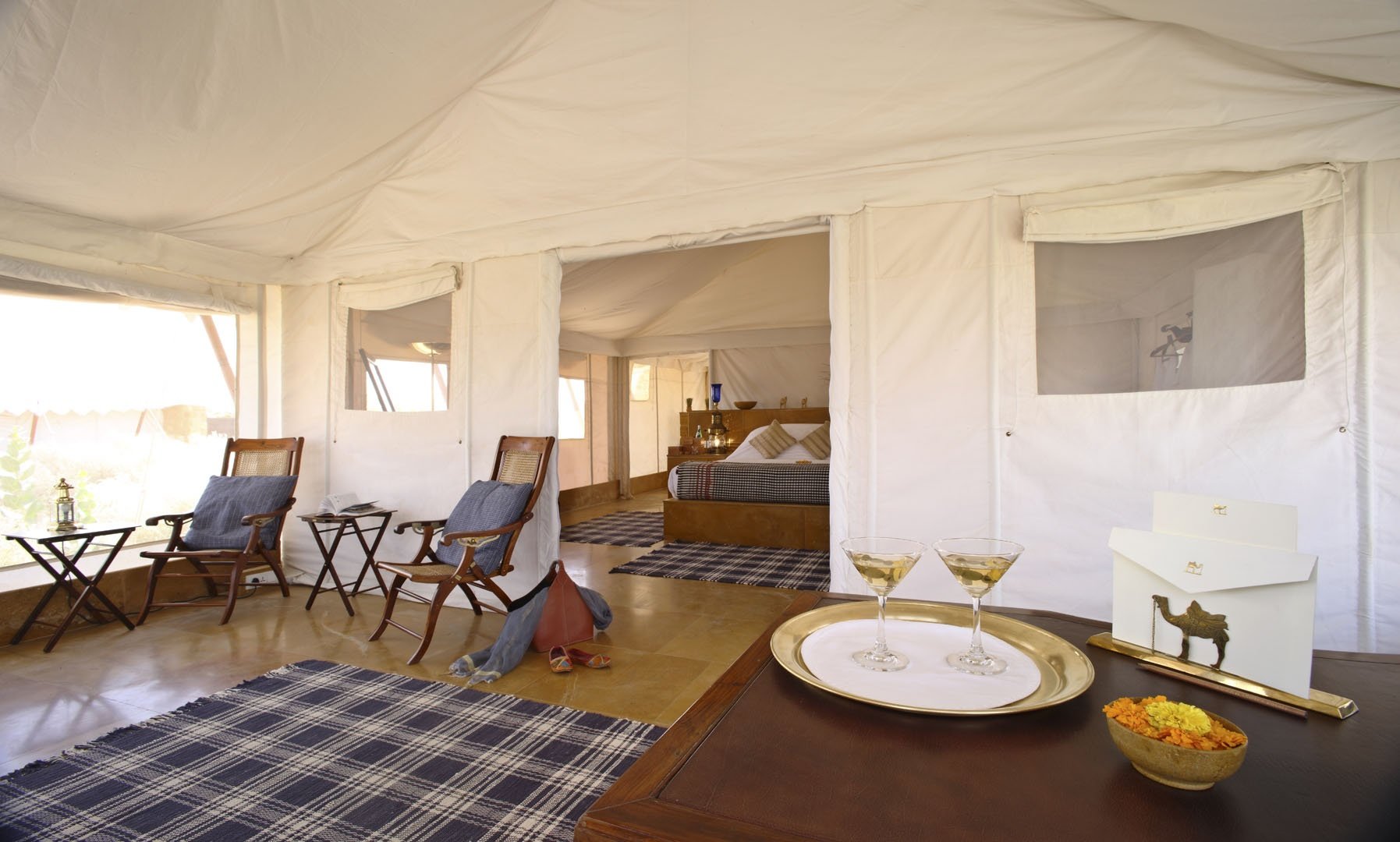 The Serai's elegant camp draws inspiration from the designs of the royal caravan sites of Rajputana. | Image credit: SUJÁN
Imagine riding camels in the vast rugged desert and taking in the visceral silence of the surroundings at night, when the beauty of the starlit sky instantly becomes one of life's greatest pleasures. At The Serai, in the Desert National Park near Jaisalmer, India, elegant tents are set on stone plinths, with walled-in gardens and a sunken plunge pool, and evenings are spent bewitched by the ancient melodies of Manganiyar tribesmen. Often, when silence needs to be broken, short excursions to the 'real' world can be arranged and off you can go exploring the environs of the fortified city of Jaisalmer, a UNESCO World Heritage Site.
Castaway lover
Romantics, listen up, if you are looking for the ultimate away-from-it-all retreat and crave for a slice of private beach surrounded by the astonishing Indian Ocean, then pack your bags and make your dream come true at the vibrant Soneva Fushi Resort on the Kunfunadhoo Island in Maldives. This desert island hideaway's recipe for a utopian escapade, involves an overnight camping experience on the resort's private sandbank (reached only by sea plane or boat) complete with a candlelit dinner under the awe-inspiring sky, ablaze with stars. In the morning, you will be awoken from your castaway reverie by a gourmet breakfast brought over by boat and the rest of the day can be spent basking in the mild tropical sun and diving to get a glimpse of amazing species. Bingeing on fresh seafood prepared in the local style is also a must!
Also read: Malaysia's Great Outdoors: 10 Incredible Glamping or Camping Sites
Lush it up!
Set in a luxuriant tropical forest, the lovely camp of Amanwana in Moyo Island, Indonesia, comprises 20 luxury air-conditioned tents featuring exquisite Indonesian artwork, hard-wood flooring, king-sized beds, spacious sitting area with comfortable divans and deep soaking tubs. Go for the jungle tent if you want to awake the Tarzan (or Jane) in you, and choose the beach tent if all you ever dream of is soaking in the azure-blue ocean vistas. Hikers and outdoor lovers will also find this to be a match-made-in-heaven experience, as the hilly island boasts trails teeming with wildlife, a wide variety of flora and fauna and several stunning waterfalls. Marine life lovers won't be left out — friendly turtles will make your snorkelling experience an unforgettable one.
Born to be wild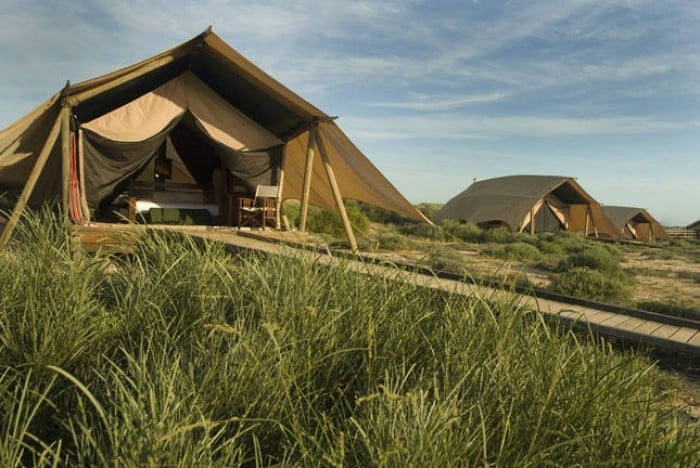 This exclusive bush camp brings a touch of style to this remote and beautiful wilderness of Australia's Cape Range National Park. | Image credit: Rachael Steadman
Deemed a nature lover's nirvana, Exmouth Australia's Sal Salis Ningaloo Reef boasts eco credentials which put a smile on every conservationist's face. Nestled in the dunes of Western Australia's Cape Range National Park, the camp prides itself on its isolated yet stunning location. The ethos is rather simple — traditional luxury meets wildlife. Prepare to get sociable with sea turtles, manta rays, migrating humpback whales and whale sharks, as they happily roam in the warm waters. As the day progresses, you might even find yourself transported back in time, for the hiking trails lead to the Aboriginal past, making this place truly enchanting. Expect to connect to nature and disconnect from any devices, since the resort's no-electronics policy prompts you to greet the glow of the Milky Way.
Also read: How I Went Island Glamping in Sumilon, Cebu
Silence of the land of lambs
Accessible only by helicopter, Minaret Station hosts visitors in luxuriously furnished tented suites from where they can take in the awe-inspiring vista of the glacial valley. | Image credit: Minaret Station
Located in a stunningly picturesque glacial valley in the heart of the Southern Alps of New Zealand is a campsite so remote, it is only accessible by helicopter or by barge across Lake Wanaka. Minaret Station provides four tented luxurious suites complete with heated floor, bathroom and a private deck from where you can gaze at the dazzling sunsets. With a 360-degree vista of the dominant mountains and the wide valleys, Minaret Station is tailored to intrepid travellers who want to be in the heart of nature and also have fun experiencing leisurely activities such as heli touring, fly fishing, jetboating and water sports. While the impressive scenery surely steals the show, great food and wines also ensure that this glamping experience will be memorable.
Glamping will bring you closer to nature with modern comforts. You'd be happy to know that Quotient Travel Planner specialises in bespoke travel, so that you can make that desired trip happen according to your preferences. They also have many Ready To Tour packages for you to choose from.
What are you waiting for? Book that epic trip today.