CALLING ALL MOMS AND DADS! Have you run out of ideas on where to bring your kids? Well, quit scratching your heads – you're in luck! We've compiled a list of awesome hotels in Singapore with numerous kid-friendly facilities, perks and activities right here on our sunny little island.
P.S. These will definitely help you earn some big brownie points with your kids! Maybe even… parents of the year? Grab your kids and get ready to make some timeless memories!
1. Village Hotel Changi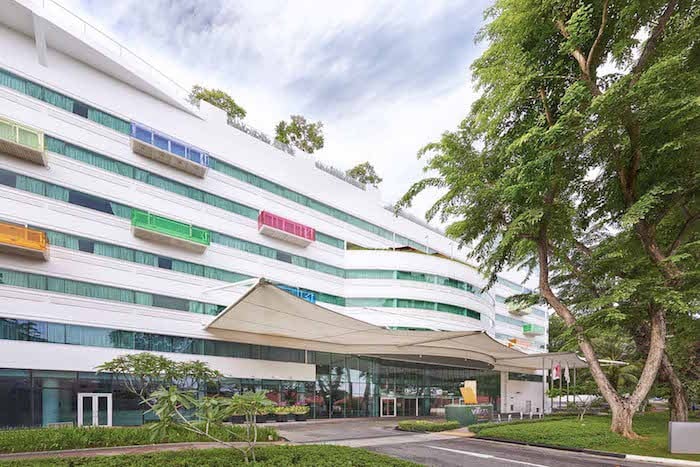 Image credit: StayFarEast
Situated at the Eastern end of Singapore, Village Hotel Changi offers a breath of fresh air away from the hustle and bustle of city life. Get your kids far away from the stress of school, and grab the chance to spend a weekend amidst lush foliage and the cooling sea breeze. Spend an afternoon roaming around the quaint and charming Changi district, or hop on a short 15-minutes ferry ride to Pulau Ubin and Chek Jawa. Feel as if you've been transported into the Singapore of yesteryear as you explore this side of Singapore!
[DEAL ALERT]
UBIN ADVENTURE PROMOTION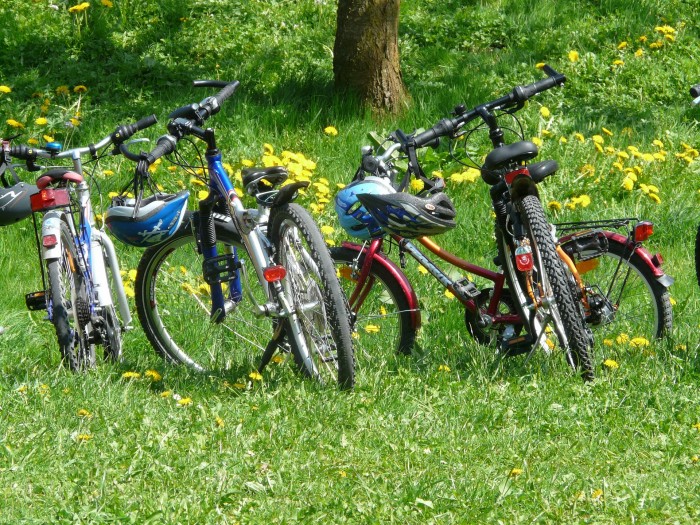 Image credit: Pixabay
When was the last time you explored Pulau Ubin? Or, more precisely, when was the last time you brought your kids there? Relive your childhood memories as you explore the undisturbed beauty of Pulau Ubin with Village Hotel Changi's Ubin Adventure Promotion! Enjoy a 3-hour bicycle ride around the island to see the gorgeous flora and fauna, and even spot a wild boar or two.
Take the chance to check out the numerous fruit plantations, tranquil beaches, flourishing mangroves, old villages and more! This is the perfect chance to allow your children to get closer to nature, away from the computer games that occupy most of their time in the city.
From as low as $180 for weekends and $210 for weekdays, you get to enjoy one night's accommodation in the Superior Room, complimentary upgrade to a Deluxe Room, buffet breakfast for two, and free bicycle rentals. Book now for a weekend like no other!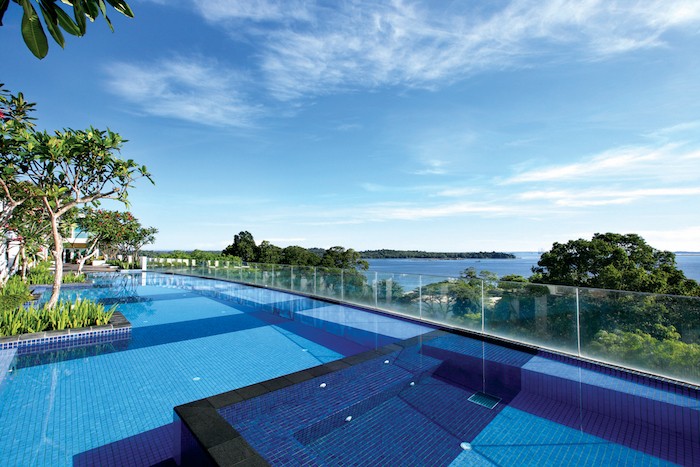 Image credit: StayFarEast
Did we mention that Village Hotel Changi also has 2 swimming pools, namely the Infinity Pool and the Creek Pool?! Just check out that view! Compare that to the one at MBS – here you get to marvel at nature's creation, instead of just staring out over our concrete jungle. Who wouldn't want such a refreshing view for a change? Bring your children down to BOTH swimming pools for a splashing time with a breathtaking view. Why, perhaps you can even start training them to become the next Joseph Schooling!
[DEAL ALERT]  
PLAY & STAY WEEKEND PROMOTION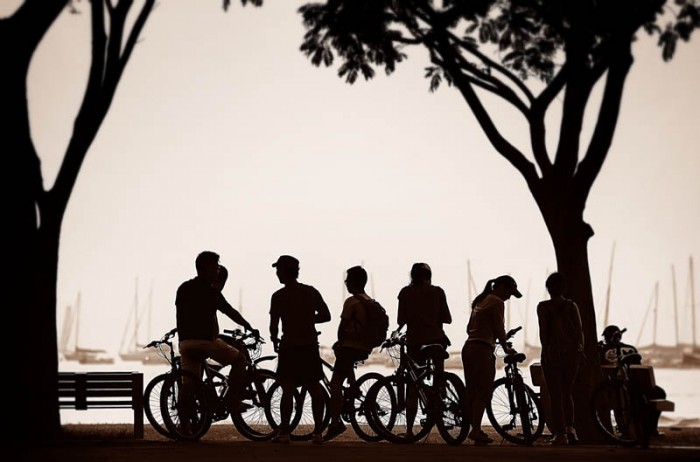 Image credit: StayFarEast
Spice up your weekend with this Village Hotel Changi's Play & Stay Weekend Promotion! Grab this valuable opportunity to explore the scenic sights around Changi Village. Indulge in a complimentary two-hour bicycle ride or 2 games of bowling – no better way to have some family-bonding! In addition, enjoy breakfast for two at Saltwater Cafe, koi feeding, a cycling reference guide, and a Hop-on Hop-off City Tour worth $39.80 for two...ALL COMPLIMENTARY! It sounds too good but be rest assured, it is all true.
Inclusive of 1-night accommodation, prices start from as low as $170 for a Superior Room, to $190 for a Deluxe Room and $220 for a Club Room. Start booking NOW and bring a smile to your kid's face with this great deal!
2. Orchid Lodge at Orchid Country Club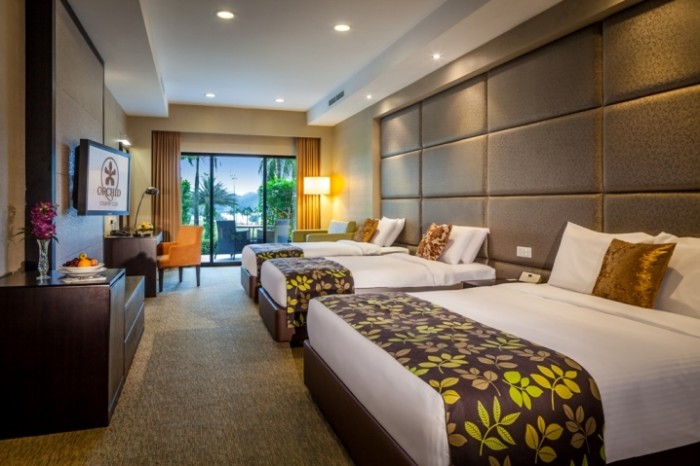 Image credit: Orchid Country Club
Orchid Lodge is Orchid Country Club's very own luxurious and elegant hotel. The spacious room is perfect for a family staycation, and every room even boasts its own balcony overlooking the golf course! All its guests also get to enjoy complimentary access to the gymnasium and all three pools. Your children will definitely be delighted at the access to cable TV channels in the room, allowing them to never go a day without their favourite Disney movies or cartoon shows! Ah, the simple carefree life of children.
In addition, there are so many social and recreational facilities available at Orchid Country Club, you'll simply be spoilt for choice! It's a haven for families to participate in enriching activities together, and forge stronger bonds. From tennis to paintball to archery to gymnastics and even mahjong, there's something for everyone! They also have a children's outdoor playground and Kindergolf, which will definitely keep your children occupied and happy.
[DEAL ALERT]
3D2N FULL BOARD PACKAGE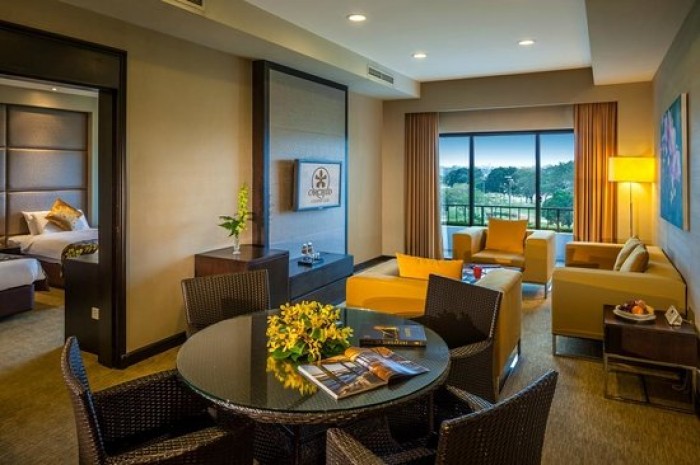 Image credit: Orchid Country Club
Check out this 3D2N Full Board Package deal specially tailored for family staycations! From as low as $380 for members and $420 for non-members, have an enjoyable stay in their Deluxe Room or upgrade to the Deluxe Family Room for a better experience. As seen in the picture above, the Deluxe Room even has a living room area for your family to hang out and chill! You also get to enjoy $90 worth of meal vouchers and complimentary use of the gym, swimming pool and sauna.
Grab this unbelievable package deal before it's too late!  
3. Village Hotel Bugis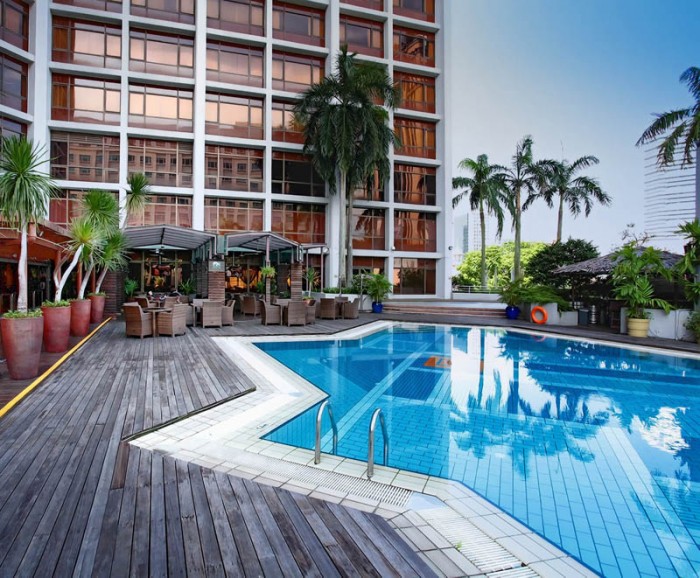 Image credit: StayFarEast
Sometimes, location makes all the difference . Village Hotel Bugis is centrally located in the midst of Singapore's Arab, Peranakan and Indian heritage districts, allowing you to explore a unique side of Singapore! Its convenient location is a huge plus, making it so easy to travel anywhere in Singapore – be it to Orchard for some shopping or Marina Barrage for a picnic and kite-flying session. Why, it's even better with the new addition of the downtown line! Now everything is just a stone throw's away.
There are just so many things to do around the hotel – bring your kids to a cat cafe at Bugis, have a relaxing and chill brunch at Haji Lane, or grab some teh tarik and prata at Little India. Let your kids wander around the 24-hour Mustafa Centre and simply shop till you drop. With so many things to eat, do, and shop and in the area, your stay at Village Hotel Bugis will certainly be extremely memorable. Unwind after a full day of activities in a darling kids-themed room, which is decked out with specially customised interiors. Feel right at home as you sink your toes into the fluffy carpet, or run your hands along the decorated wallpaper!
[DEAL ALERT]
KIDS FIRST PROMOTION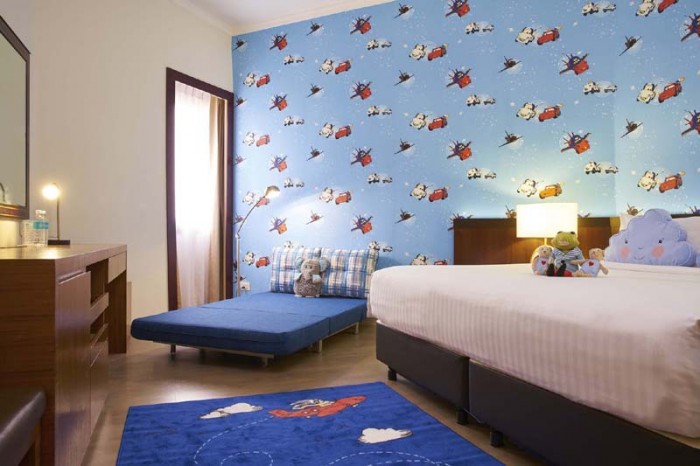 Image credit: StayFarEast
Check out the newly themed kids-themed rooms by Village Hotel Bugis with their Kids First Promotion! These rooms have specially customised interiors that are kid-friendly, and can accommodate a family of 2 adults and one child comfortably. Just look at the colourful carpet and wallpaper, as well as fluffy soft toys they can play with or cuddle! Warning: your kid might love the room so much that they even end up crying when it's time to leave.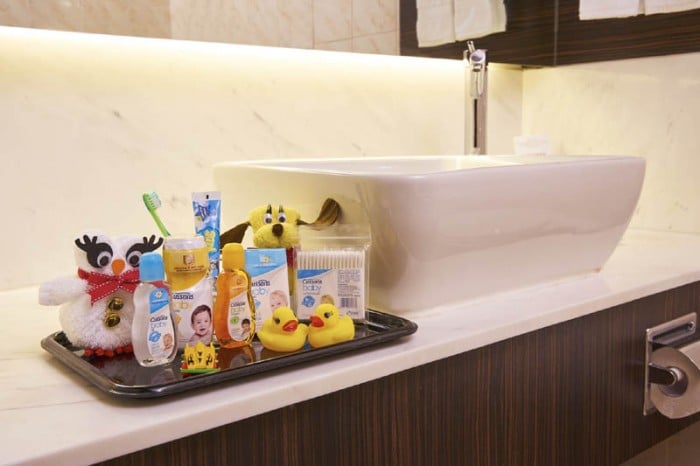 Image credit: StayFarEast
The adorable set-up in the room also ensures that your kid is guaranteed to have an enjoyable time with the family! Just look at those adorable rubber duckies. Take long bubble baths in the shower or laze around playing games on the huge and soft bed.
Enjoy a special rate starting from $160++ and get a one night's stay at a kids-themed room, along with a scrumptious breakfast and a free Hop-on Hop-off city tour for the whole family. Don't miss out on this great opportunity your kid will definitely love!
4. Treetops Executive Residences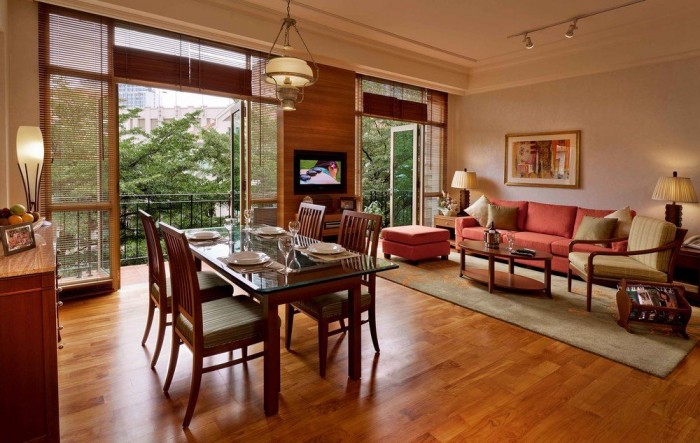 Image credit: Treetops
Spend a weekend at a home away from home – the wooden furnishings and warm overtones of Treetops Executive Residences offer an inviting haven for adults and children alike. The property enjoys close proximity to attractions such as Orchard Road, Botanic Gardens and the National Gallery – perfect for excursions with your children. In addition, each apartment is surrounded by enchanting, lush tropical greenery that will make you seem as if you are at an overseas resort! Families can hang out by the swimming pool and the kids will be able to make new friends and widen their circle of playmates. Be transported to a whole new world whilst still being able to indulge in local Singaporean hawker fare at the resident cafe. Sounds like a perfect staycation to us!
5. D'Kranji Farm Resort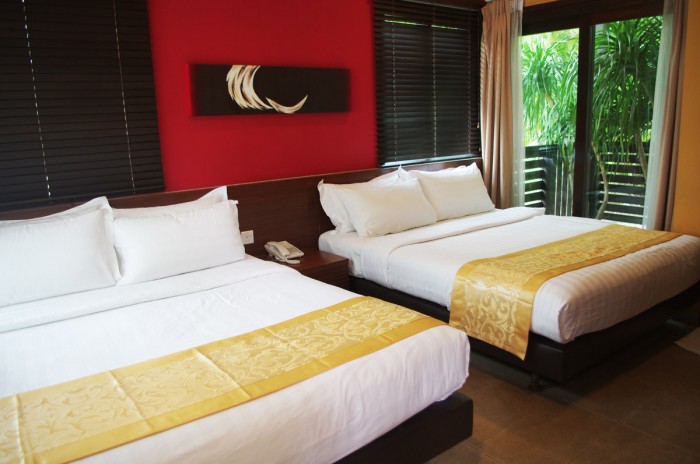 Image credit: D'Kranji Farm Resort
Yes, a farm resort! Bet you didn't know that you could have a family staycation at a farm in Singapore! Check out the D'Kranji Farm Resort for some well-deserved peace and serenity away from the city. The resort offers fully air-conditioned family suites, perfect for some respite. Go fishing and prawning at the Fishing Village, and learn about native fruits and plants at a local fruit farm. If your kids love animals, take a short drive to the nearby Hay Dairies Goat Farm or the Jurong Frog Farm. There are so many exciting activities to do – what else are you waiting for?
6. Shangri-La's Rasa Sentosa Resort & Spa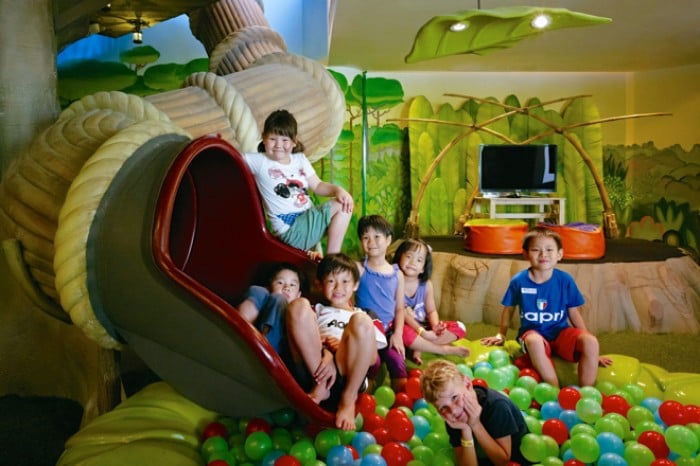 Image credit: Shangri-La
Sentosa ain't called the "State of Fun" for nothing; the island resort is the ultimate playground for families with kids! Stay at Shangri-La's Rasa Sentosa Resort & Spa and be within easy reach of Universal Studios Singapore, Adventure Cove, and the SEA Aquarium. The hotel also has an impressive line-up of facilities specially catered to kids, inclusive of water slides, splash zones, and a multi-storey kids club with an indoor treehouse slide that ends in a ball pit.
7. Ritz-Carlton Millenia Singapore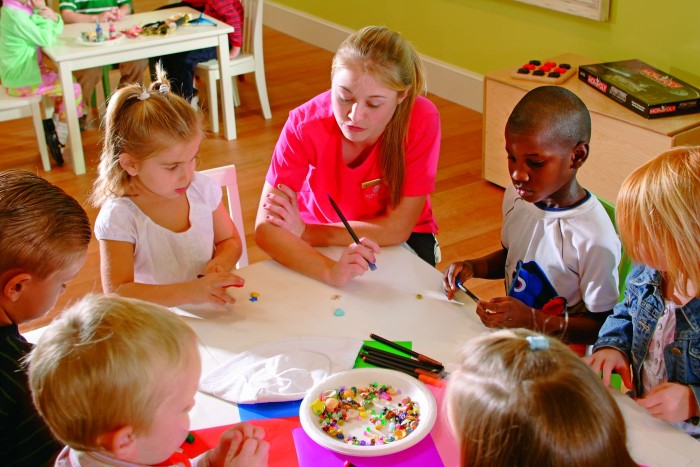 Image credit: RitzCarlton Singapore
Feast your eyes on unparalleled views of the city skyline and the Singapore Flyer when you have a family staycation at the Ritz-Carlton Millenia Hotel! It's always great to be a tourist in your own country from time to time – grab your children and hop on the Duck Tours for a fun sightseeing experience. Ritz-Carlton has also just launched a Kids Programme, exclusively designed for the hotel's younger guests. Children will be able to enjoy activities such as sand art drawing and balloon sculpting, which will bring families closer through hands-on activities and interaction. In addition, each child also gets to redeem a complimentary scoop of ice-cream daily. How awesome is that?!
8. Riders Lodge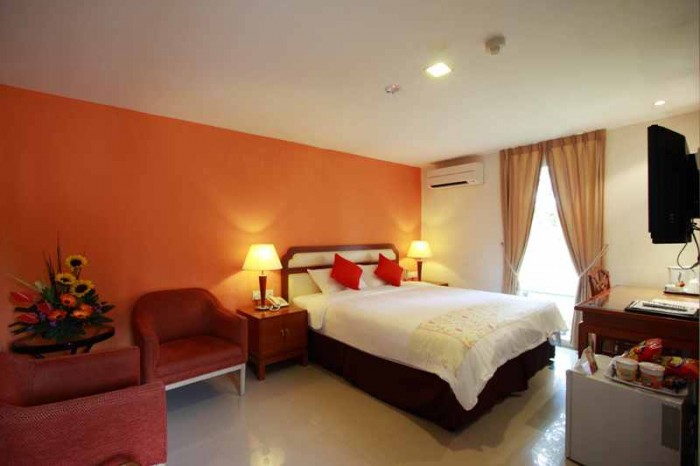 Image credit: Riders Lodge
Have a refreshing getaway at the 'countryside' of Singapore when you stay at the Rider's Lodge! Escape all those towering concrete buildings and allow your children to get close to horses, especially with pony rides and riding lessons available at the riding range nearby. You can also explore The Grandstand in the area – stuff your bellies with unique foods from Pasarbella, explore your kid's artistic talents at Arteastiq, or simply let them run wild at Fidgets World!
9. Marina Bay Sands Hotel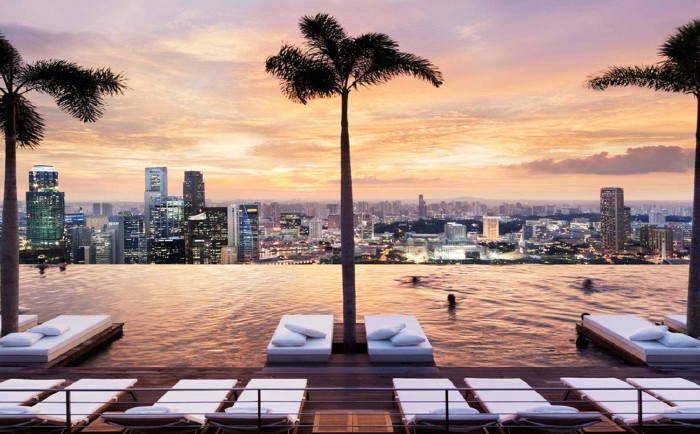 Image credit: Marina Bay Sands
Everyone recognises Marina Bay Sands by its' iconic infinity pool, but did you know that there are actually a variety of kid-friendly attractions available throughout the property? Think: an indoor synthetic ice skating rink, gondola rides and exhibitions at the ArtScience Museum! You can also bring your children for a great time at Gardens By The Bay, to admire the beautiful flowers and be amazed at the cascading waterfalls.
10. Hard Rock Hotel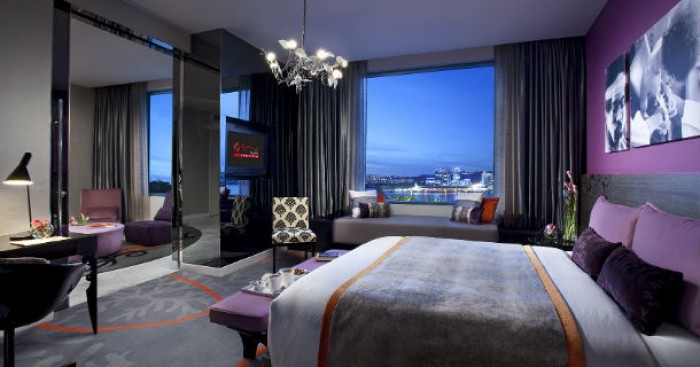 Image credit: Hard Rock Hotel
A luxurious and yet kid-friendly paradise, Hard Rock Hotel is the place to let your kids discover their inner rock star or musical potential! Aside from the ubiquitous attractions at Resorts World Sentosa like Universal Studios or the SEA Aquarium, Hard Rock Hotel has a special Kids Club just for children. For just $12 per hour, they get to enjoy numerous activities such as interactive storytelling sessions, games, arts and crafts and face painting! Parents can grab this precious chance to unwind and relax as well while the kids are occupied. The poolside cabanas are also a great place for families to just hang out and chill with yummy bites.
11. Swissotel Merchant Court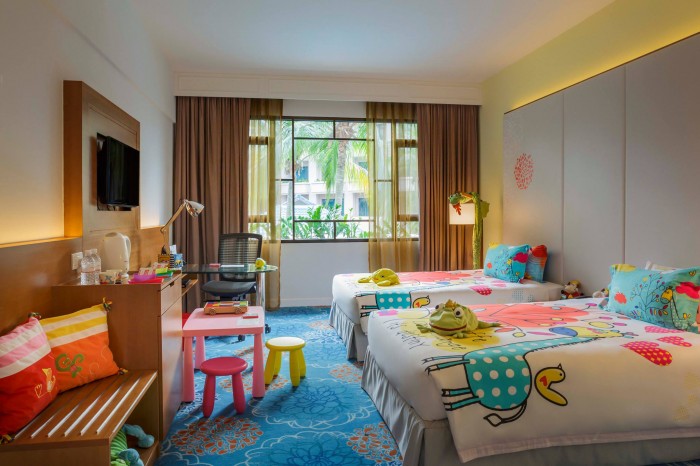 Image credit: Swissotel Merchant Court
Swissotel Merchant Court is perfect for families with kids due to their Kids Room Package! Parents and kids stay in adjoining rooms, whilst the kid's room is colourfully decorated and fully equipped with child-friendly amenities such as baby bathtubs, as well as toys and games. There is even an XBOX in the room, which will certainly leave your kids occupied and jumping for joy. Their outdoor pool also has a water slide as well as a wading pool so they are assured to be in for some good fun!
12. HometeamNS

Image credit: HomeTeamNS
For pure, unadulterated bonding time with your family, consider staying in HometeamNS! Disconnect from technological distractions and plug into the moment. Have a good ol' barbeque, go for a swim or make full use of the facilities nearby for some family activities. If you're staying in the North, you don't have to travel far –HometeamNS Sembawang is waiting for your family! There's also HometeamNS Bukit Batok, which offers spacious, newly-revamped villas tucked within an adventure centre with obstacle courses, rock-climbing walls and more.
We hope these amazing places have made planning a short staycation for the family MUCH easier. Take a break from your work responsibilities, and reward your family with an unforgettable holiday filled with fun and laughter! Just think: 10 years down the road, you'll be able to look back on these precious memories and smile. Grab the chance to have a family staycation before the kids start growing up – they're only young once!
P.S. If you need any more ideas, feel free to head over to TripZillaSTAYS to check out other awesome family-friendly staycation spots as well!