Looking for a short but awesome getaway to escape from your hectic life? If you want something more than just a staycation, we've got just the thing for you! Here are 10 absolutely dreamy and idyllic resorts that are bound to offer you an alluring experience like none other. And the best part? It'll take you just less than four hours to get there from Singapore!
We've specially compiled this list, arranged in ascending amount of time needed to get there. Ready for a kickass getyaway? Here we go!     
1. Montigo Resorts Nongsa – Batam, Indonesia (~45 minutes)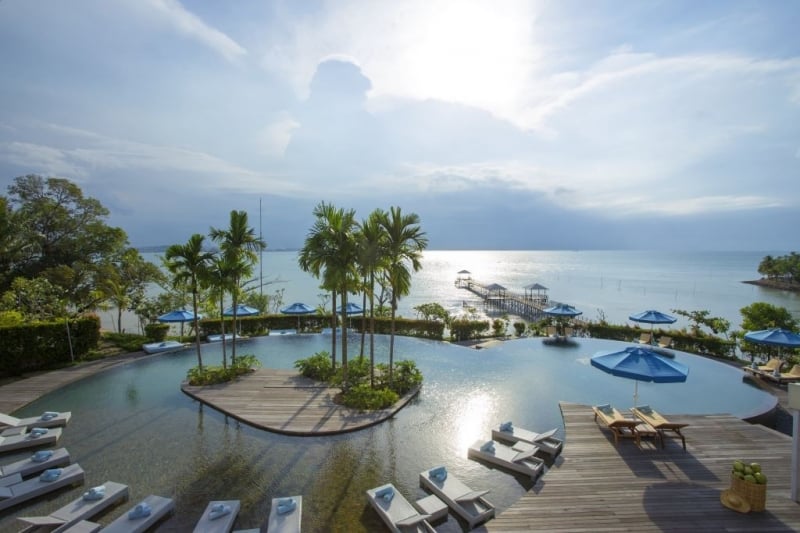 Perched on the edge of the azure blue sea, the white villas of Montigo Resorts Nongsa are reminiscent of the famous Santorini island in Greece. Impeccably decorated with pastel shades of blue and gray as well as sleek wood furnishings, this gorgeous resort oozes an abundance of elegance and sophisticated charm.
Sit back, relax and get to enjoy some stunning ocean views while sipping on delicious martinis from TIIGO. Otherwise, head for a rejuvenating spa experience at The Montigo Spa and recharge yourselves! Each villa even comes with a PRIVATE INFINITY POOL so you can chill or play with flamingo floats while staring out into the blue horizon, and catch the sunset from the comforts of your room!
Find out more about Montigo Resorts Nongsa right HERE.
Prices start from: SGD $356++/night
2. Paradise KohYao – Phuket, Thailand (~2 hours)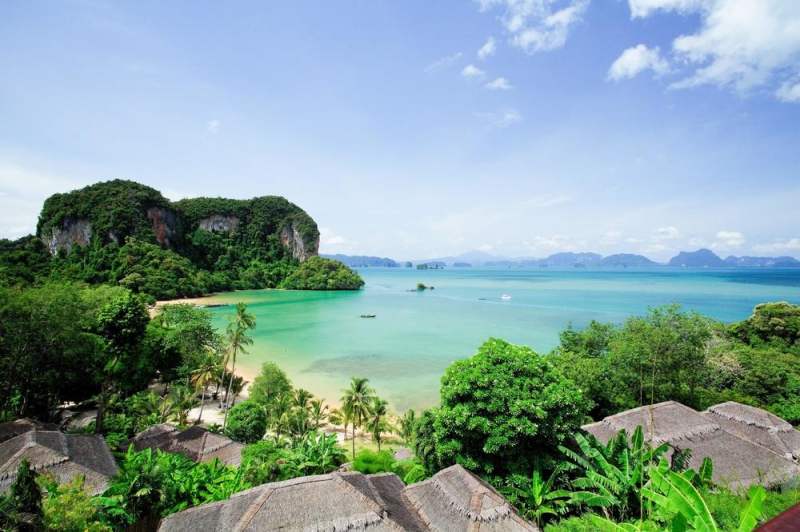 Set amidst a tropical rainforest and towering limestone cliffs, Paradise KohYao honestly feels like heaven on earth! Featuring whimsical embellishments and white-washed wooden furniture, this scenic hideaway offers a 250-metre stretch of private beach for its beloved guests.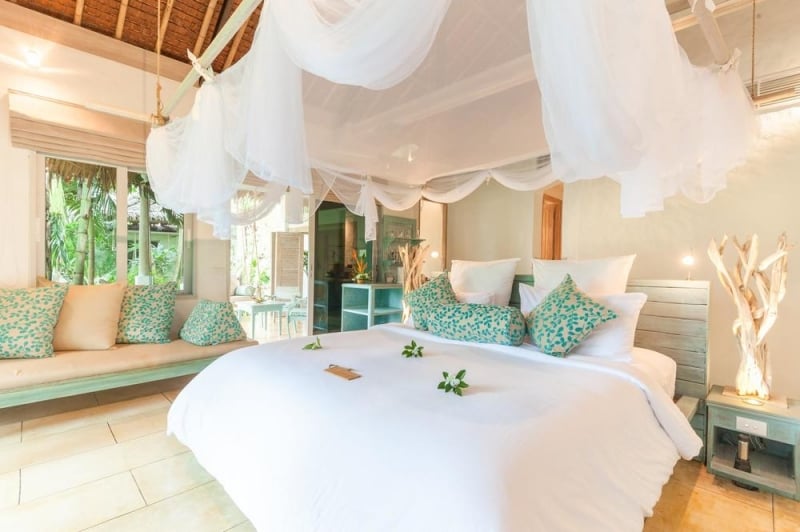 Besides having a romantic candlelit dinner right at the beach, visitors can also participate in the wide array of activities available at the resort, such as Thai cooking classes and traditional Batik painting sessions. Yoga lovers would also be thrilled to know that Paradise KohYao holds yoga classes daily and even offers yoga & wellness vacation packages!
Find out more about Paradise KohYao right HERE.
Prices start from: SGD $210++/night
3. The Andaman Resort – Langkawi, Malaysia (~2 hours)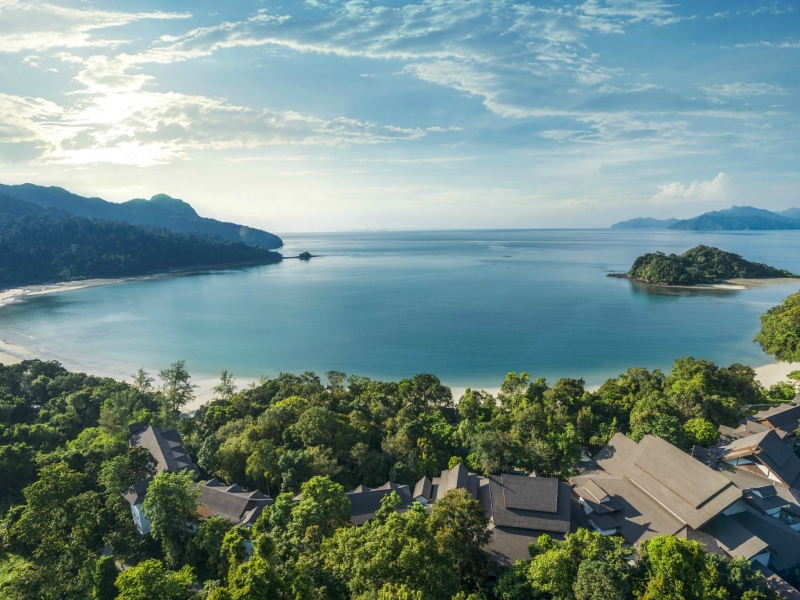 Tucked away at the edge of a 10 million-year-old rainforest, The Andaman Resort is an exquisite sanctuary offering utmost comfort and tranquility. Boasting 178 luxurious rooms as well as serene private pools and jacuzzis, the resort brings extravagance to the next level.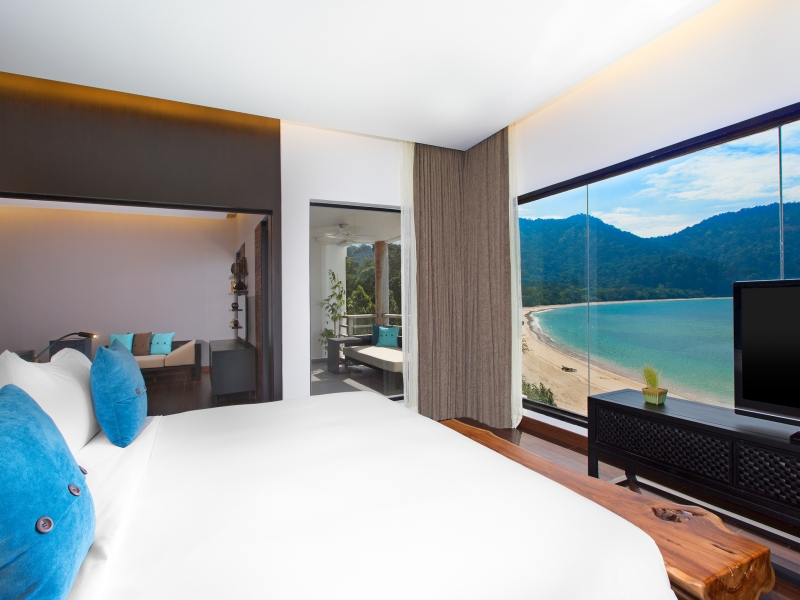 You can even get massages on the beach, with the calming lull of waves to soothe your senses! One of the many highlights of The Andaman Resort lies in its coral conservation efforts. Other than having a Coral Nursery dedicated to preserving, breeding and educating visitors about the fragile corals, it also holds Coral Clearing activities and various nature guided tours that are perfect for kids. This would be a great opportunity for a relaxing yet meaningful family bonding session!
Find out more about The Andaman Resort right HERE.
Prices start from: SGD $277++/night
4. Thavorn Beach Village Resort & Spa – Phuket, Thailand (~2 hours)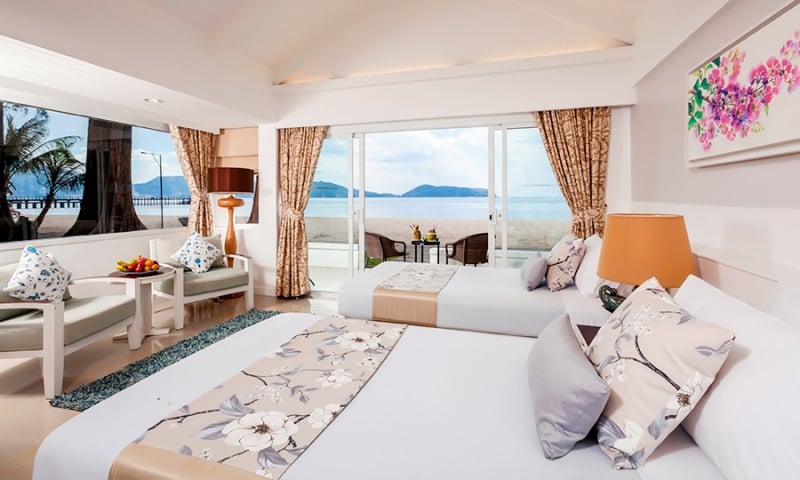 Located less than three hours away from Singapore, Thavorn Beach Village Resort & Spa is a charming oasis. It offers access to one of the few remaining unspoiled private beaches in Phuket, AND one of the largest free-form lagoon swimming pools in Southeast Asia!
Here, you'll get to enjoy a tranquil experience in one of the many dreamy bungalows or even head out to explore the popular attractions in Phuket, such as Patong Beach and Phuket Fantasea. If not, you can simply spend your time sipping on champagne while looking out at the magnificent sea. This is the life, isn't it?
Prices start from: SGD $143++/night
5. The Laguna Resort & Spa – Bali, Indonesia (~3 hours)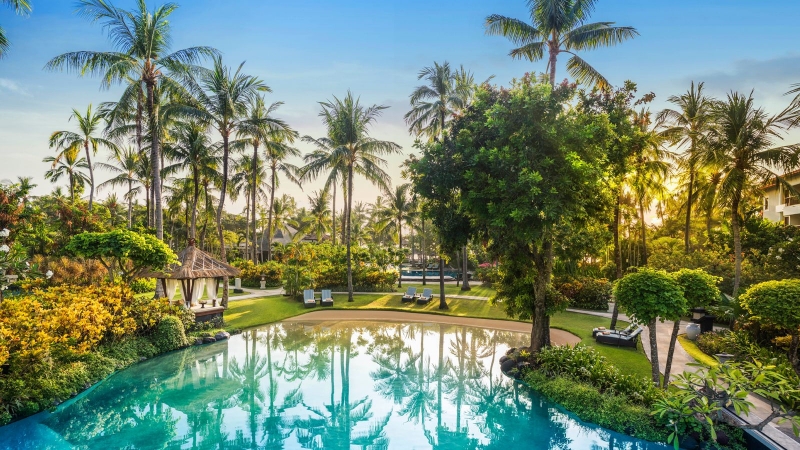 Step into a world of modern Balinese elegance at The Laguna Resort & Spa! Carefully built around SEVEN beautiful lagoons and pools, the spacious rooms are designed to provide its guests with unrivalled comfort and enjoyment. From indulgent spas and yoga sessions to windsurfing and scuba-diving, this spectacular resort guarantees you a truly unforgettable time!
Find out more about The Laguna Resort & Spa right HERE.
Prices start from: SGD $209++/night
6. The St Regis Bali Resort – Bali, Indonesia (~3 hours)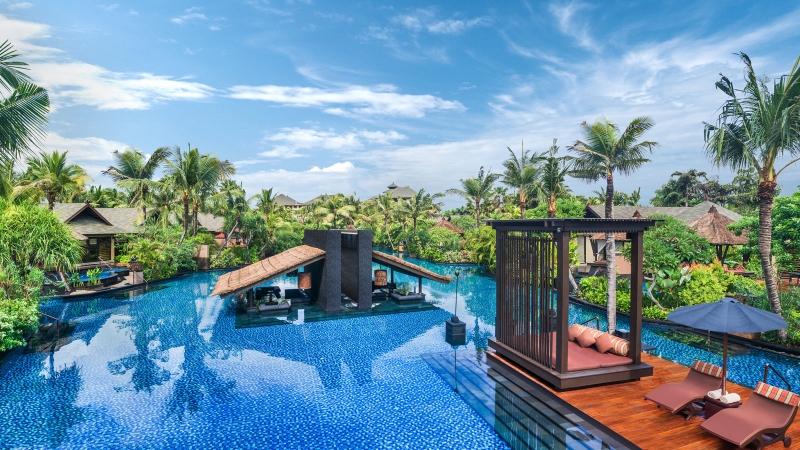 Featuring 123 splendid suites and villas, The St Regis Bali  is a stunning hideaway with an extraordinary attention to detail. The carved wood details and plush furnishings all around the hotel makes for an incredibly opulent experience for all!
Take your time to explore the pristine private beach, frolic in the glittering ocean or take a refreshing dip in the lovely outdoor lagoon pool. Trust me, it doesn't get any better than this!
Find out more about St Regis Bali right HERE.
Prices start from: SGD $637++/night
7. The Dusun – Negeri Sembilan, Malaysia (~4 hours)
If you're looking for a one-of-a-kind getaway experience, The Dusun (meaning "plantation" in Malay) is the perfect place for you. Situated close to Kuala Lumpur, this unique family-run resort is your best bet to escaping the hustle and bustle of city life! Each house also comes with its own kitchen and barbeque pan, making it perfect for family getaways.
Perched at the foothills of the Titiwangsa Mountains and right beside the Berembun Forest Reserve, The Dusun provides guests with endless opportunities to get in touch with nature. Want to jungle trek to a waterfall? Sure! Want to feed deers at a mini deer park? No problem! Want to visit an ostrich farm? Of course you can!
Prices start from: SGD $200++/night
8. Ambassador in Paradise Resort – Boracay, Philippines (~4 hours)
Conveniently located at the north end of the famous White Beach in Boracay island, Ambassador in Paradise is your solution for a truly romantic getaway! Here, you'll get to chill and unwind like a true royalty. Be it soaking up gorgeous sea views while enjoying a relaxing bath or just lounging around in the lavishly decorated rooms, each and every moment spent in this wonderful resort will be a moment to remember. This is paradise, indeed!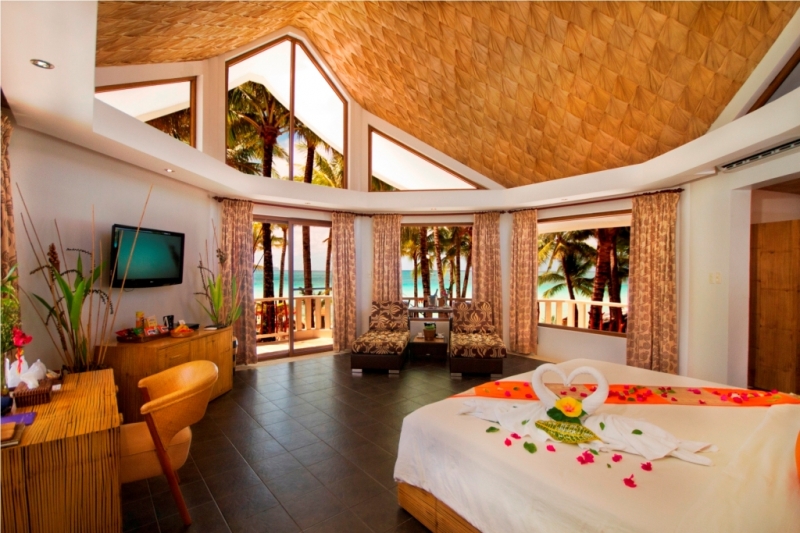 P.S. Equipped with electric cars and solar panels, this amazing resort is also incredibly environmentally-friendly! Who says you can't protect Mother Earth while enjoying yourselves?
Find out more about Ambassador in Paradise right HERE.
Prices start from: SGD $234++/night
9. The Bellevue Resort Bohol – Bohol, Philippines (~4 hours)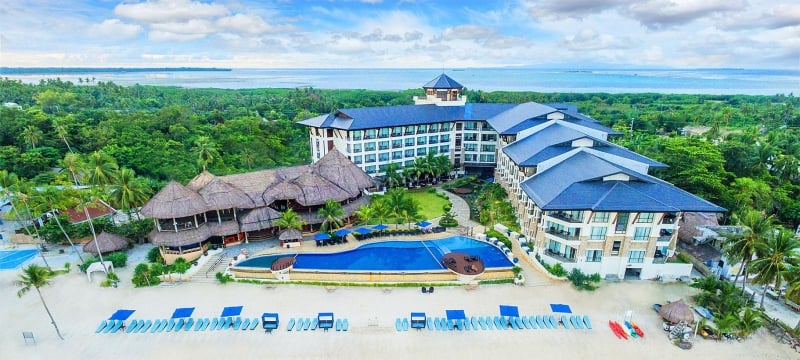 Sitting along the peaceful coast of Panglao island, The Bellevue Resort Bohol makes you feel right at home with its chic and cosy rooms as well as its stellar customer service. Here, you can take a relaxing stroll along the white sandy beach, feast on the freshest seafood at Marea Al Fresco Dining, or head out to a variety of attractions such as the Hinagdanan Cave. You'll be quite literally spoilt for choice!  
Find out more about The Bellevue Resort Bohol right HERE.
Prices start from: SGD $198++/night
10. Fridays Boracay Beach Resort – Boracay, Philippines (~4 hours)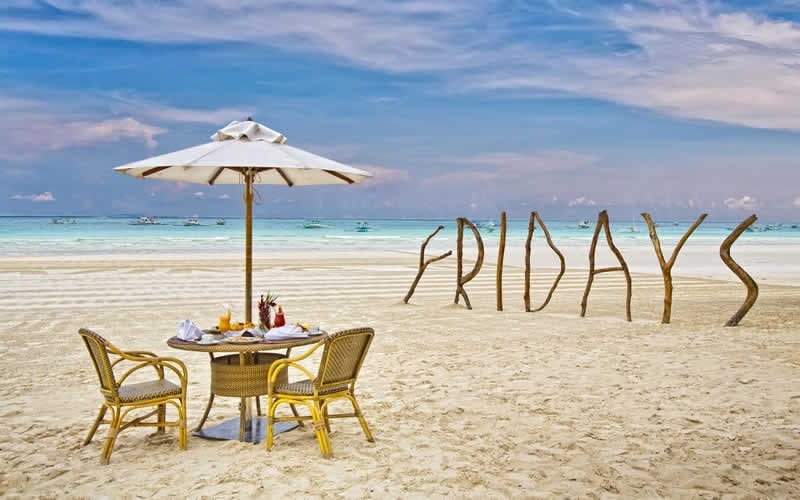 Nothing says relaxation quite like Fridays Boracay! Oh yes, this resort takes TGIF to a whole new level. Located close to the famous White Beach, this delightful tropical retreat is set to provide an authentic Boracay experience with its bamboo furnishings and thatched roof huts.
Don't forget to attend the resort's Happy Hours from 3pm to 6pm daily to grab some delicious cocktails and check out the acoustic guitarist and singers. Otherwise, head for the Extravaganza BBQ and Grill Buffet on Friday nights and get to witness a cultural show and fire dance! Awesome or what?
Find out more about Fridays Boracay right HERE.
Prices start from: SGD $273++/night
So, what are you waiting for? Start booking your stay in any of these dreamy resorts now for that well-deserved break! We'll see you there!  
P.S. If you need any more resort recommendations, feel free to head over to TripZilla Stays

to check out other awesome options as well!