Maybe it was the library scene in Disney's  Beauty and the Beast that made you fall in love with reading for the first time. Perhaps it was the rom-com You've Got Mail that made you briefly consider starting over in a small town and opening a bookshop of your own. Or maybe it's the joy of cracking open a book and just letting it carry you elsewhere for a time. Enter: the cosiest Airbnbs with libraries we'd love to call our own. 
From an elegant library in Athens to a secluded cabin in upstate New York, these dreamy Airbnb rentals are for the globetrotting bookworms who love to read as much as they love to travel. You can find almost every style of book collecting here, from tidy paperbacks sitting upright like well-behaved children to antique books that reach the ceiling. Get ready to start bookmarking, 'cause it's about to get real cosy in here. 
Also read: 10 Unique Airbnbs for an Unforgettable Travel Experience

Most beautiful Airbnbs with libraries around the world
1. This book-lover's hideout in a New Orleans mansion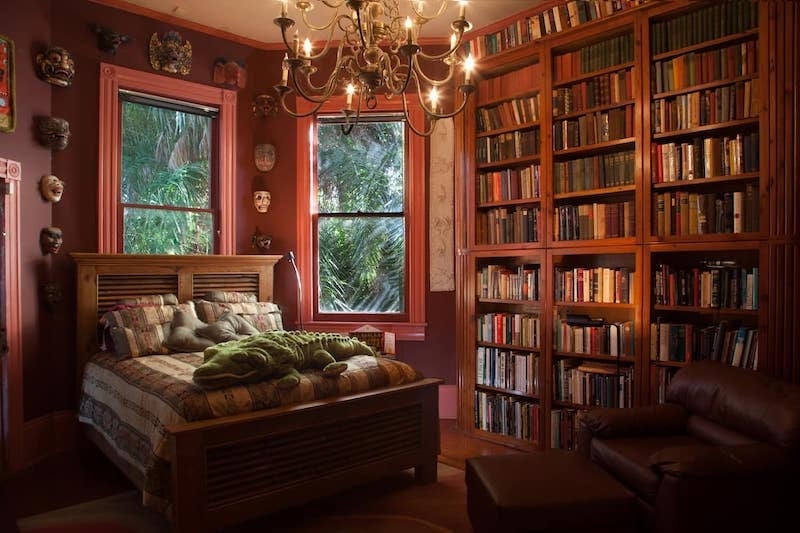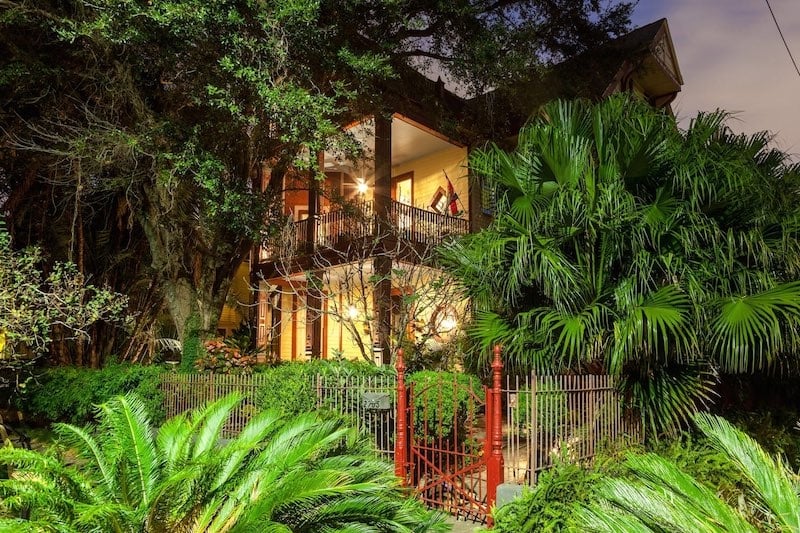 Listing name: Parks-Bowman Mansion: The Library
Listing type: Private room in flat 
Max no. of guests: 2
No. of bedrooms: 1
Like something out of a movie set is the Parks-Bowman Mansion , a well-decorated home for book lovers in the Garden District of New Orleans. Owned by novelist and screenwriter Adrienne Parks-Bowman, this dreamy abode features a music room, a formal dining room, a bar room, a well-appointed kitchen, and a library room to satisfy guests who have always wanted a reading room of their own. Cosy up with a blanket on the antique cypress bed, or grab a book from the shelf and read under the light of the chandelier. 
Just make sure you don't get lost on the way to your bedroom at night, lest you end up in the mansion's other room. You know, the haunted one . 
2. This book-filled retreat in Santa Fe, New Mexico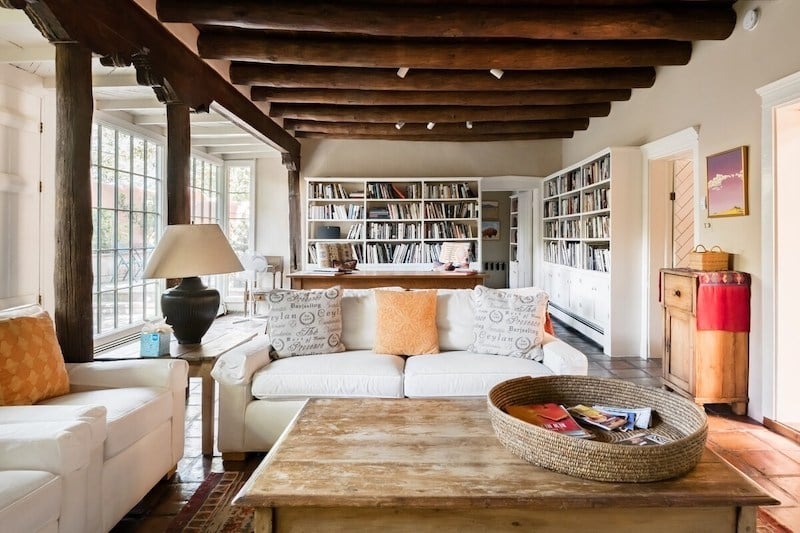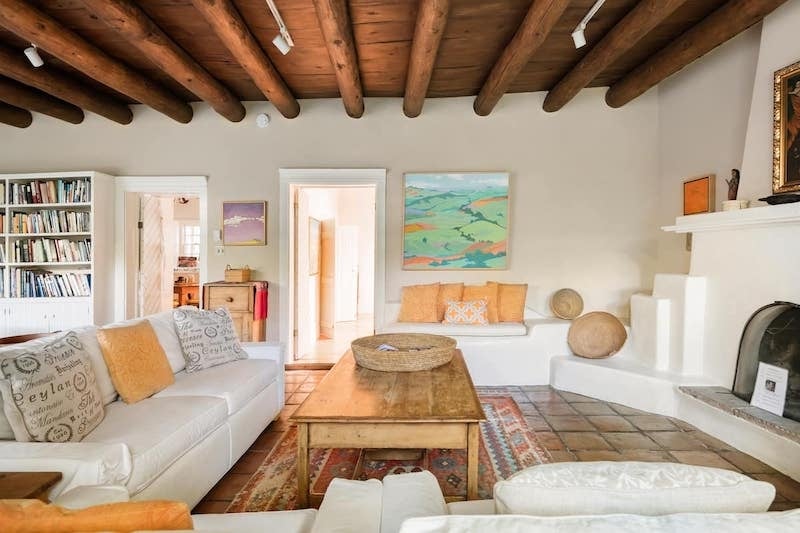 Listing name: Canyon Road Hacienda in Heart of Santa Fe
Listing type: Entire home
Max no. of guests: 8
No. of bedrooms: 3
Did someone say reading room goals? Creative energy is very much present at this stylish home with a well-stocked library in Santa Fe, New Mexico. Numerous books and landscape paintings create a relaxing ambience in the bedrooms and living room, while a fully equipped kitchen makes it easy to prepare full meals at home. More importantly, this Airbnb with a library comes with more than one fireplace. Suffice to say, reading a book in front of an open fire never gets old. 
3. This quaint bookshop in Wigtown, Scotland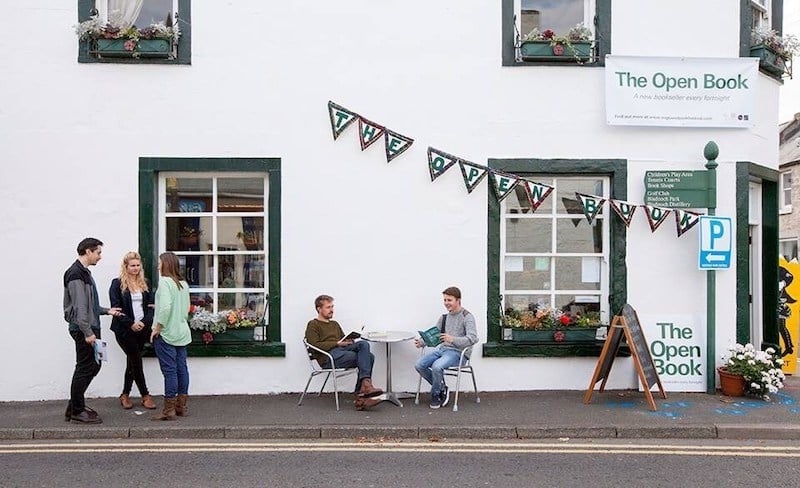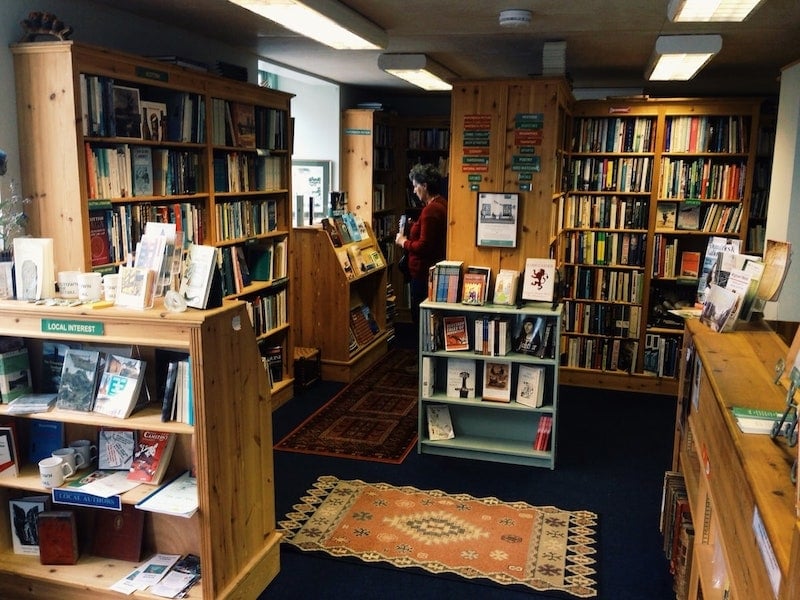 Listing name: The Open Book - a bookshop holiday!
Listing type: Entire apartment
Max no. of guests: 2 
No. of bedrooms: 1 
Every book lover has dreamt of running their own bookshop at some point. (And if they say they haven't, they're probably lying.) Just around two hours away from Glasgow, this quaint independent bookshop in Wigtown will teach you how to be a shop owner for a week or two, while also giving you one of the best Airbnbs to stay for indulging in your love for libraries. Meeting the townsfolk is half the fun of living in Scotland's National Book Town, where a rich literary culture thrives. Come for the books, then stay for the kind and friendly people who share a love for the written word. 
4. This sunny, laid-back studio in Valletta, Malta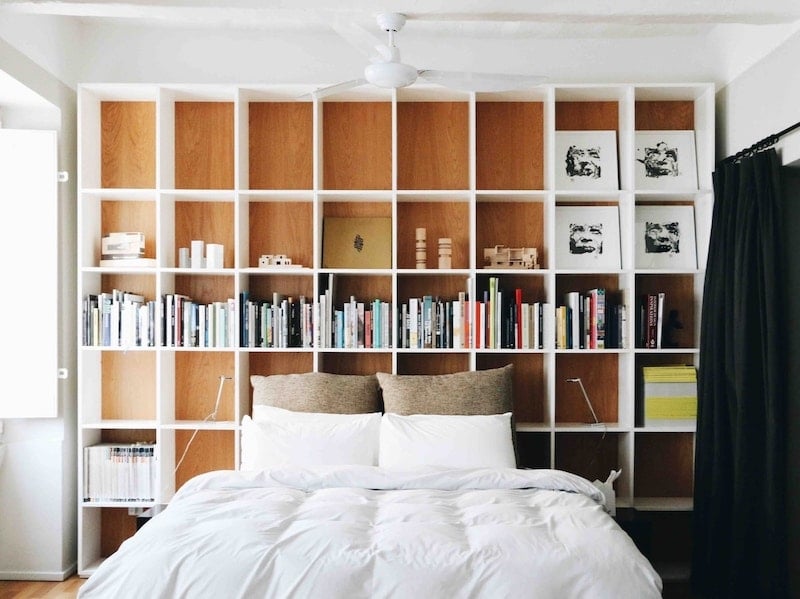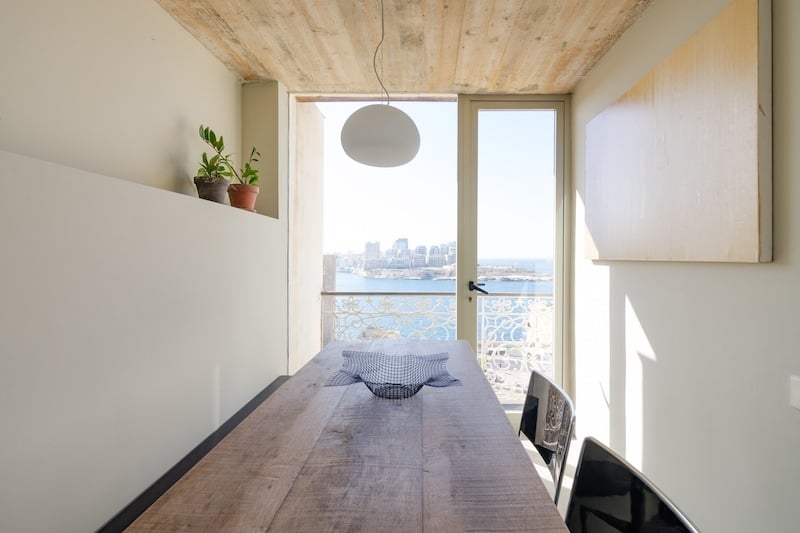 Listing name: Valletta Vintage - LIBRARY
Listing type: Entire apartment 
Max no. of guests: 2
No. of bedrooms: 1
How about Airbnbs featuring libraries with a view? Art enthusiasts will adore this laid-back studio  in Valletta, Malta. Built in the early 1700s, this one-bedroom apartment combines the feeling of seclusion with the pleasant, care-free vibe of knowing you're just a few minutes from the beach. Large windows allow sunlight to enter, while the terrace offers stunning views of the city and the harbour. Meanwhile, the library provides contemporary art books to help you pass the time indoors.
5. This Airbnb with an artist's library in Houston, Texas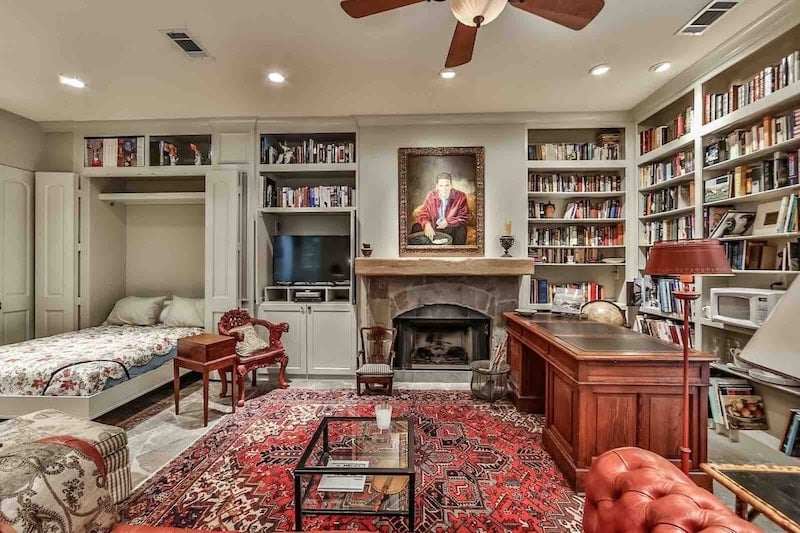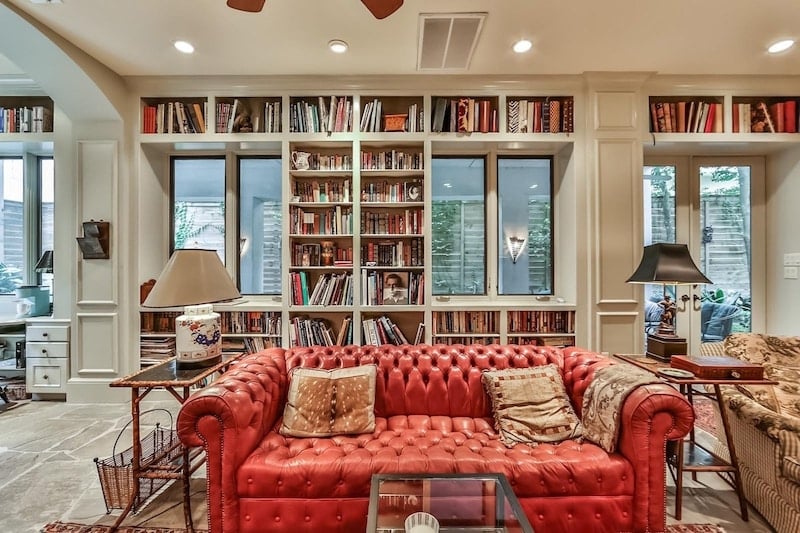 Listing name: Artist's Library with a Private Swimming Pool
Listing type: Entire guest suite 
Max no. of guests: 2
No. of bedrooms: 1
Make your- shelf at home at an artist's library teeming with books in Houston, Texas. From the enticing display of books on the walls to the red leather couch that's just begging for you to lie down on it, this guest suite is a comforting retreat for literature lovers. In addition, it provides a large antique desk, a fireplace, a patio, and a private pool. Another cool perk? Your host Nancy is a professional artist who teaches oil painting lessons, and if you ask, she'd be more than happy to show you her work. 
6.  This light-filled villa perfect for reading retreats in Victoria, Australia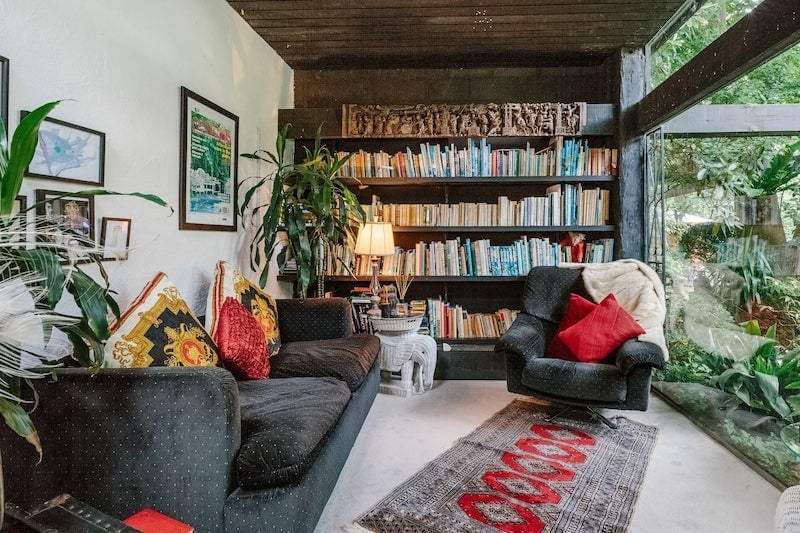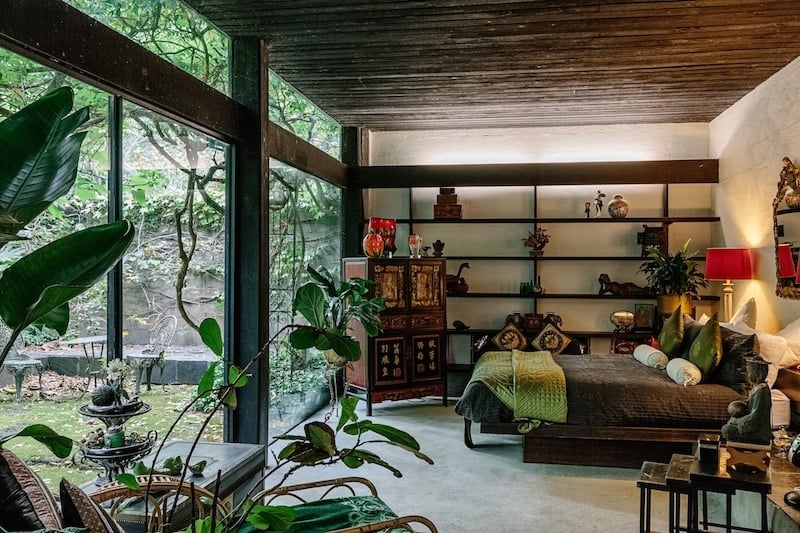 Listing name: Ttekceba Retreat B/B
Listing type: Entire villa 
Max no. of guests: 2
No. of bedrooms: 1
If you're a literary-minded jetsetter who also happens to have a green thumb, consider the Ttekceba Villa — a plant-filled retreat in the Dandenong Ranges of Australia. Inside this Airbnb, the well-curated library will surely catch your attention, as will the vast collection of furniture, antiques, and mementos accumulated from the owner's travels around the world.
The villa contains a Chinese-inspired bedroom, a bathroom with a Roman-style tub, a banquet room, a courtyard, and many vibrant corners to fuel your inspiration. It's also an animal lover's paradise, and frequent visitors include owls, wood ducks, cockatoos, deer, and Shetland ponies. 
7. This charming reading nook in Palo Alto, California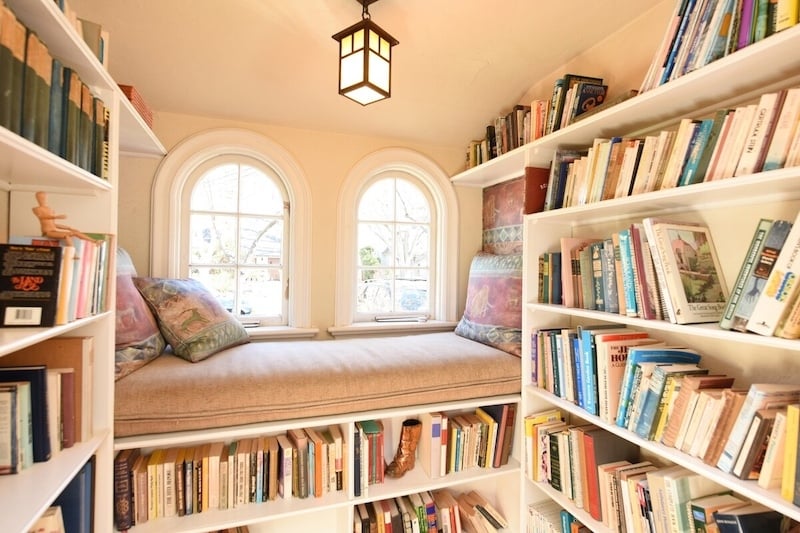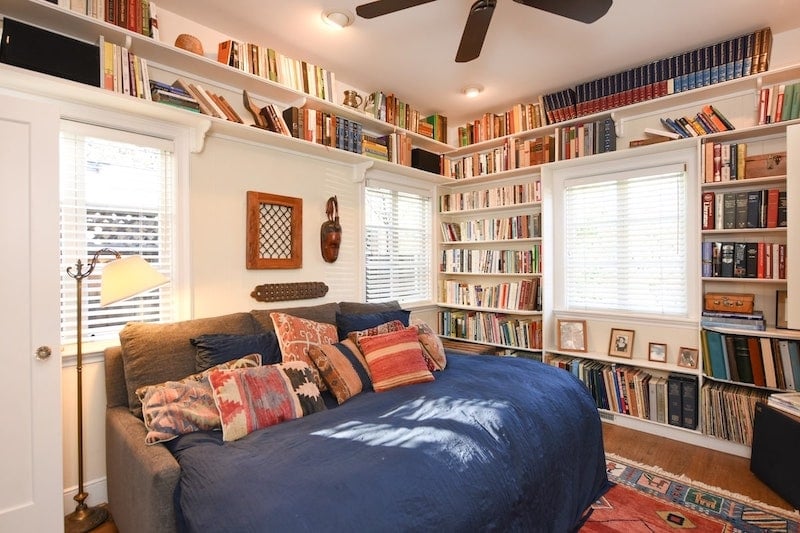 Listing name: Quiet and Private Retreat in Palo Alto
Listing type: Entire house
Max no. of guests: 2
No. of bedrooms: 1
Once you've explored the futuristic offices and tech-savvy headquarters of Silicon Valley, take a digital detox at this quiet book lover's haven in Palo Alto. Nearly every corner of this California home is packed with books, meaning you'll never find yourself sleeping without a page-turner within reach. Plus, it has a surprise for the childlike at heart. A charming reader's alcove, raised to the level of the windows, will make you want to nestle into your own corner and unplug with a book — no email or phone notifications allowed.  
8. This bright and cosy apartment in Warsaw, Poland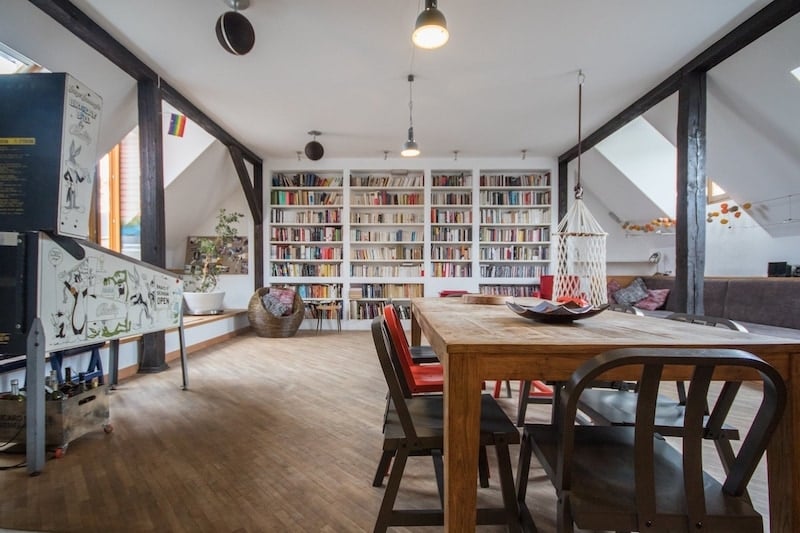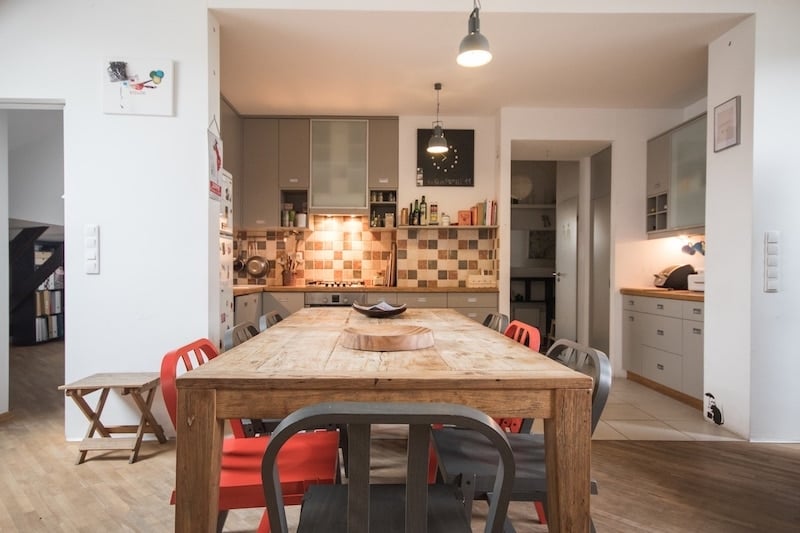 Listing name: Under the roofs of Warsaw  
Listing type: Entire apartment 
Max no. of guests: 4
No. of bedrooms: 2
It might not be Poland's UNESCO-designated City of Literature, but Warsaw also has its fair share of literary treasures for book lovers to explore. And it has Airbnbs with libraries for them, too. Take this bright and cosy apartment , for example, which boasts of numerous books and reading corners — a red armchair, a swing seat, and a long sofa, just to name a few.
Note that you'll have to walk up the stairs to the fourth floor of the building to arrive at this Airbnb. But getting there will surely be worth your while, as the balcony offers an excellent view of the Palace of Culture and Science. 
9. This Los Angeles hillside Airbnb with a music library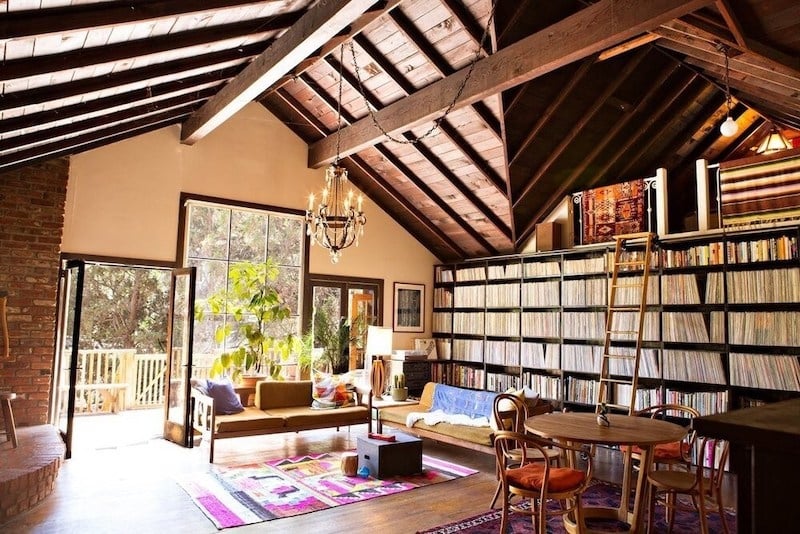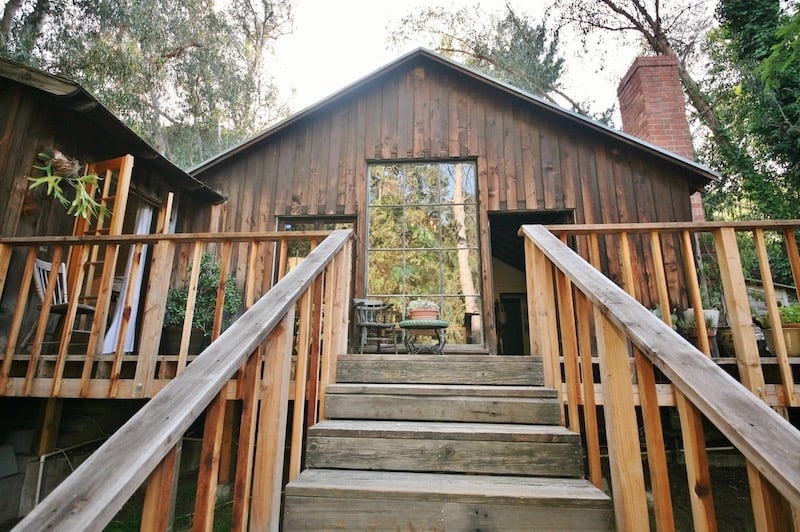 Listing name: Tranquil Laurel Canyon Hillside Home
Listing type: Entire house
Max no. of guests: 6
No. of bedrooms: 3
Bet you thought this list of Airbnbs with libraries was just going to be about books, didn't you? Luckily, this hillside home has more than enough books and records on its shelves to satisfy bookworms and music enthusiasts alike. On your next visit to Los Angeles, you can feel like a rock star holed up in this eclectic home with instruments, a music shack, an outdoor deck, and a patio overlooking the hill. Even better, it's only a quick drive to West Hollywood, Beverly Hills, and Studio City. Combine a rustic getaway for creatives with a cabin-in-the-woods atmosphere, and you have a retreat that is pure magic. 
Also read: 10 Instagram-Worthy Los Angeles Airbnbs for Your Next Trip to La La Land
10. This historic apartment in Paris, France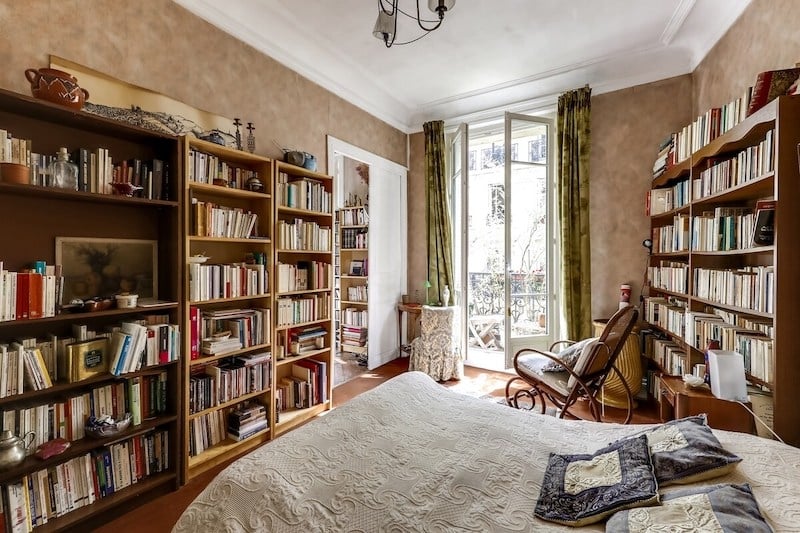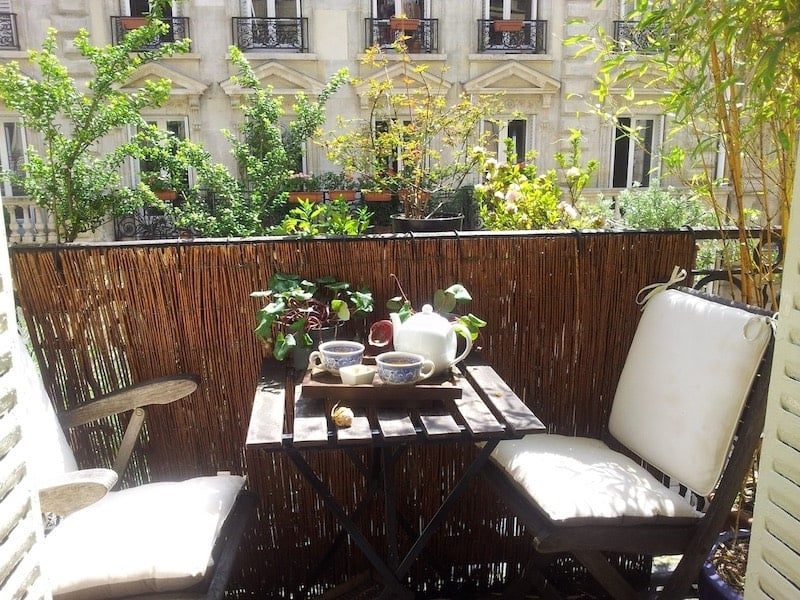 Listing name: Chamber in Haussmann apartment. Gare du Nord.
Listing type: Private room in an apartment 
Max no. of guests: 2
No. of bedrooms: 1
When you can't sleep overnight in the famous Shakespeare and Company bookstore in Paris, the next best thing is to stay at  this historic apartment with a library instead. The Airbnb apartment comes with a salon, a marble fireplace, a bathtub, an elevator, a rocking chair for reading, and of course, multiple bookcases in a mini-library area to keep any reader satisfied. You can spend every night surrounded by books in your bedroom, while a terrace makes for a lovely perch as you sip a morning cuppa. 
Also read: These 10 Airbnbs in Paris Will Take Your Breath Away
11. This Athenian escape in Greece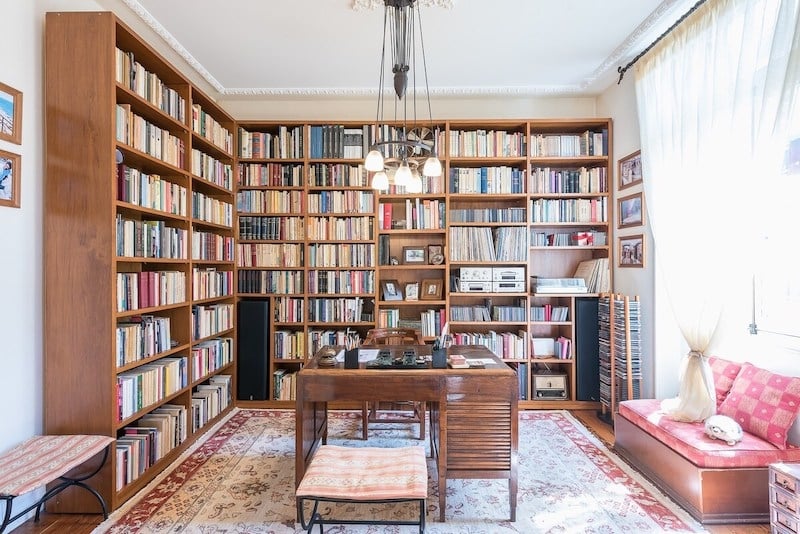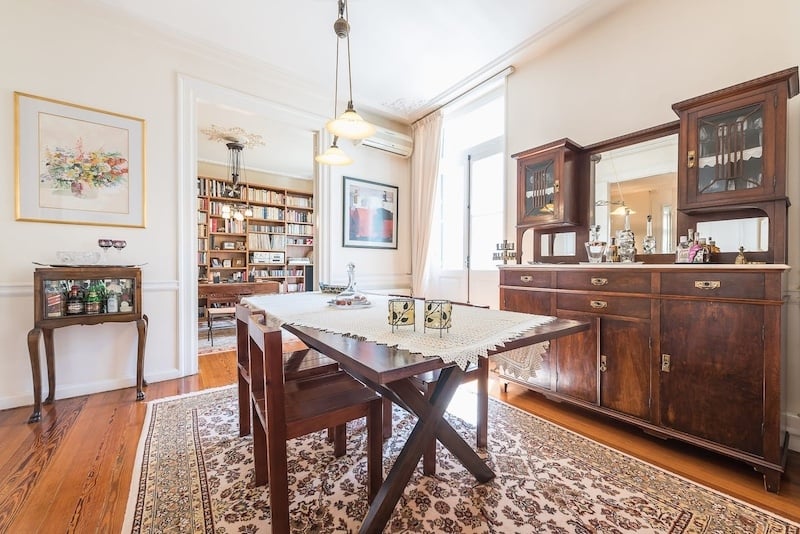 Listing name: Athenian house of 1920
Listing type: Entire condominium 
Max no. of guests: 4
No. of bedrooms: 2
For a scholarly escape in the Greek city known for philosophy and arts, this Athenian flat embodies its destination perfectly. Built in 1925, this renovated Neoclassical home opens up to high carved ceilings, two bedrooms, a reception room, a dining room, an indoor fireplace, and a library-slash-home office. Think of it as a hideout for modern-day scholars. Here, you can almost imagine bearded philosophers speaking wise words and delving into the secrets of the universe.
Also read: 10 Beautiful Airbnbs in Athens for the Perfect Grecian Holiday
12. This bohemian castle in the Czech Republic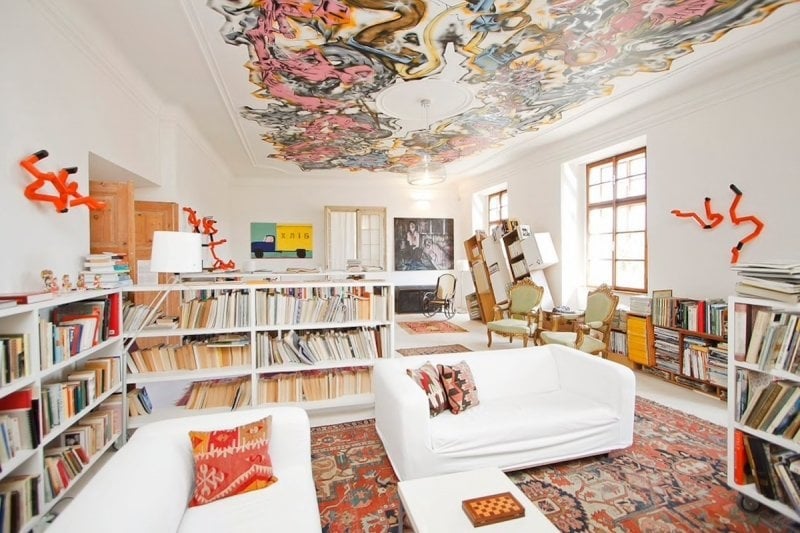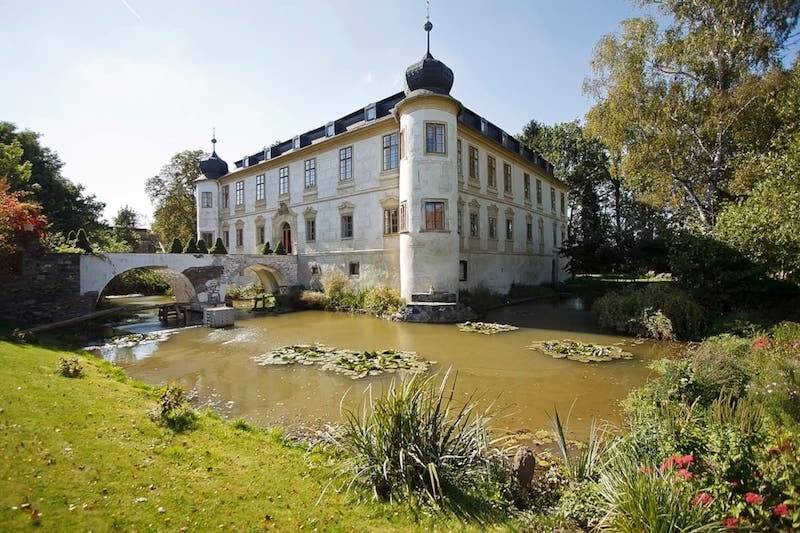 Listing name: Chateau Třebešice
Listing type: Private room in a castle 
Max. no. of guests: 15
No. of bedrooms: 9
At the Château Třebešice in the Central Bohemian Region of the Czech Republic, you can check off two things from your bucket list: sleeping in a real-life castle and enjoying Airbnbs that can give some real-life libraries a run for their money. Approximately one hour away from Prague, this Renaissance-era château on Airbnb has its own farm, moat, landscaped gardens, art installations, and a library stocked with over 1,000 books. Can you ever have too many books to read? We think not. 
13. This elegant library Airbnb in Istanbul, Turkey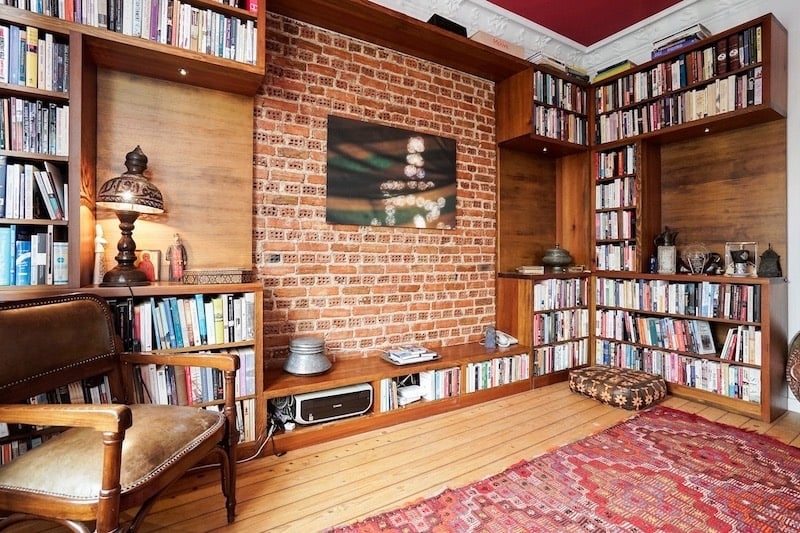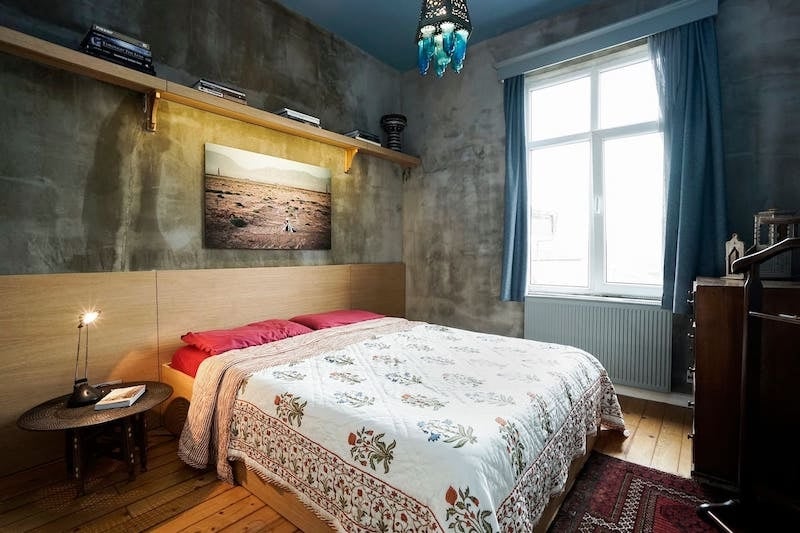 Listing name: Elegant library flat with panoramic Istanbul vista
Listing type: Entire apartment 
Max no. of guests: 3
No. of bedrooms: 2
Whether you enjoy reading fiction or nonfiction about international affairs, this elegantly decorated flat in Istanbul, Turkey is bound to have something that will tickle your curiosity. Often featured in Turkish design magazines, it's one of the lavish Airbnbs flaunting multiple libraries with custom-built bookcases, carrying titles on world history, Greek and English literature, travel writing, and a wide array of subjects. 
Keep an eye out for collector-worthy furniture collected from the owner's past trips. You can find Egyptian mosque lamps from Cairo, a Thonet barber chair, a Kayseri wool rug, and so much more. It's almost as if you're travelling the world in one Airbnb — kind of like a book, don't you think? 
14. This scholar's apartment in Milan, Italy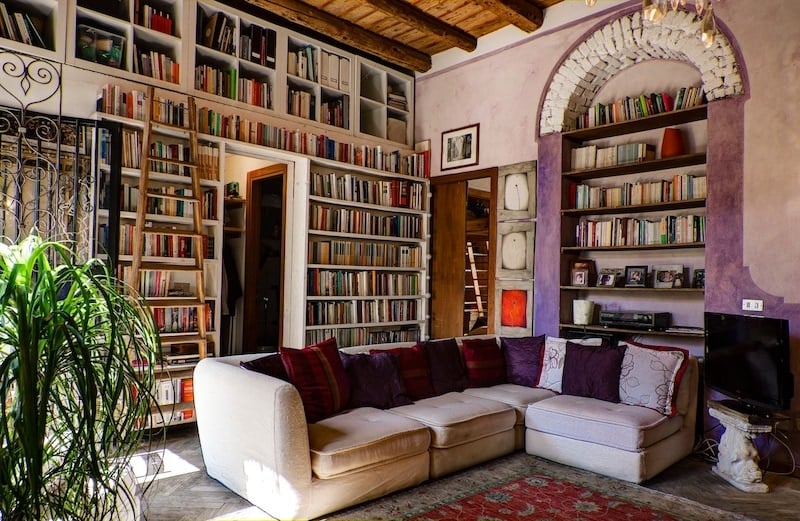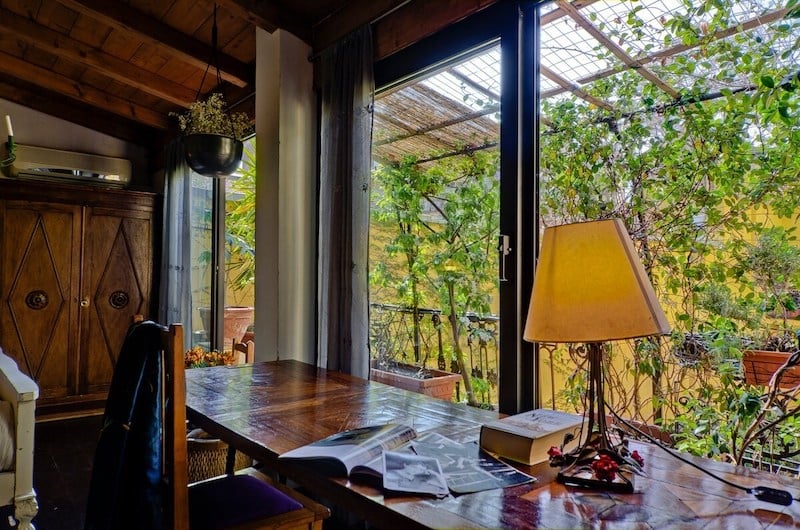 Listing name: wonder Villa room 1
Listing type: Private room in apartment 
Max no. of guests: 2
No. of bedrooms: 1
From Under the Tuscan Sun to Call Me By Your Name , every movie set in Italy needs a beautiful location to sweep you off your feet. At this 19th-century Milanese apartment , you can feel just like a protagonist in a summer romance. Gorgeous touches include the library with a ladder and the sun-dappled terrace that greets you when you sit down at your desk. Finding inspiration won't be an issue at all in this Airbnb with a library in Milan, which is only a few minutes' walk from Sforzesco Castle and Parco Sempione. 
15. This secluded cabin with a library in upstate New York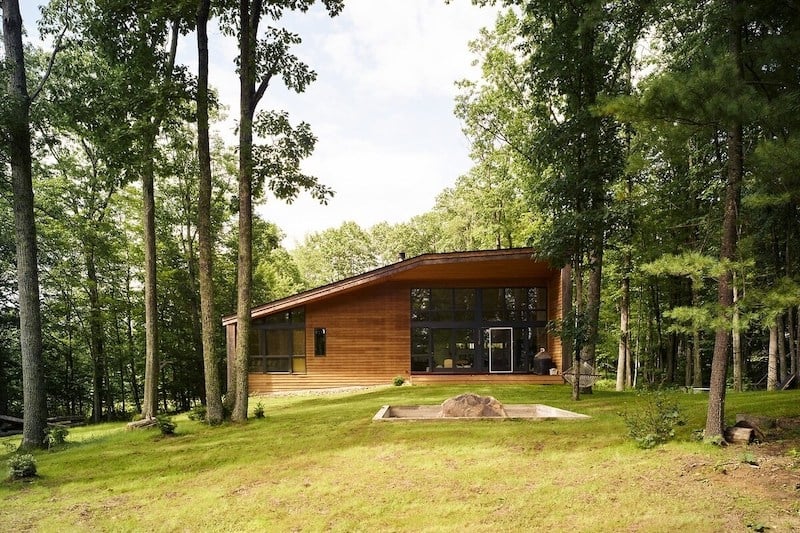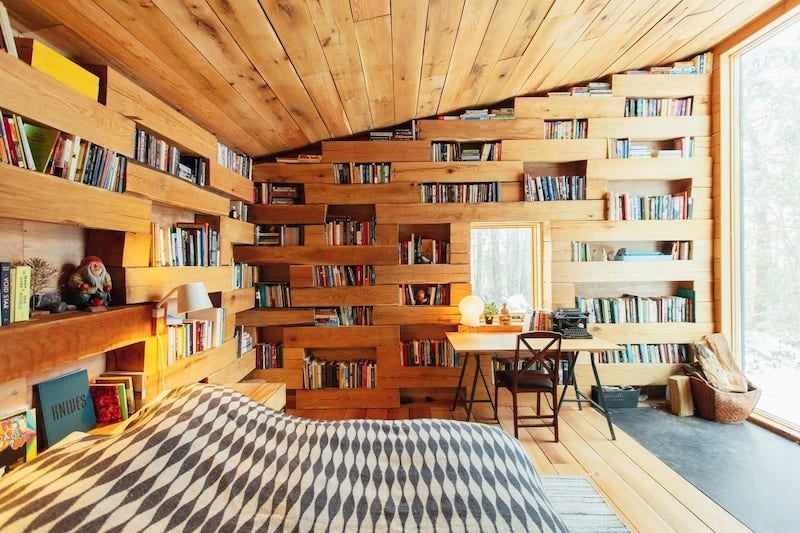 Listing name: Lidar West
Listing type: Entire cabin 
Max no. of guests: 4
No. of bedrooms: 3 
Offering the perfect weekend getaway from New York City,  the Hemmelig Rom (which means "secret room" in Norwegian) is a secluded cabin that resembles a black box in the middle of the woods. It was constructed using the oak trees that surround it in the Hudson Valley. Over time, the cabin has gained cult status on Airbnb, thanks to its minimalist and light-filled library, which is outfitted with more than 1,500 books on the asymmetrical shelves. Today, the property calls to mind a forest hideaway, a nod to all our childhood fantasies of hosting book clubs. 
Also read: 12 Gorgeous Airbnbs in New York City for Every Kind of Traveller  
Hopefully, these Airbnbs with libraries can help you plan your future vacations, or at the very least, they might give you some design inspiration for your own home as well. Once it's safe for all of us to travel again, we look forward to exploring more of these literary retreats someday! 
Got a property you'd like TripZilla to feature? Inquire with us here.
---
This article contains affiliate links. When you book through these links, we may earn a small commission at no additional cost to you. All images courtesy of the respective property listings.