Capsule is a little minimalist capsule hotel located at the Level 1 of the newly opened Kuala Lumpur International Airport 2 (KLIA2). It opened almost 4 months ago and has become a place for many frequent travellers and trendsetters to experience comfortable capsule style lodging without worrying about lengthy transits over at the airport.
Also read: Unconventional Pop-up Hotels Seduce Travellers to Stay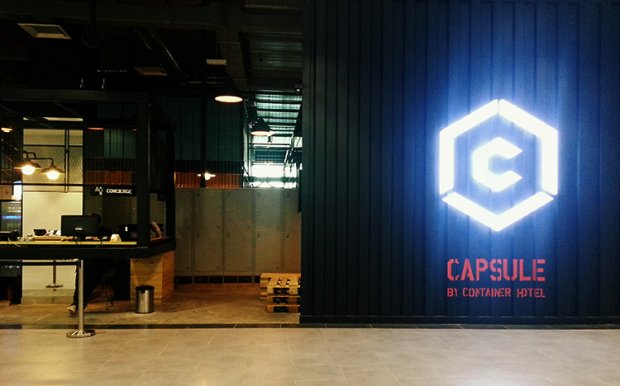 Capsule by Container Hotel. Minimalist at its best. Where else in Malaysia can you experience sleeping in bright coloured containers?
Capsule is not exactly a room with a view. The sleeping capsule concept originates from Japan – it's all about comfort, simplicity and function. You get a private container for you to sleep in, on a comfortable mattress, with free WiFi, a locker to keep your luggage in and a hot shower for you to get refreshed before catching your next flight. As simple as that.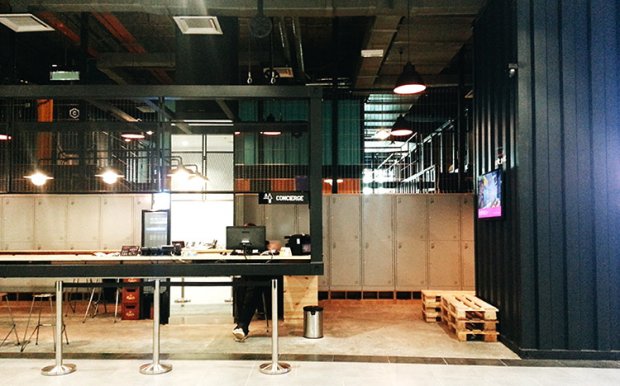 Front desk of the Capsule, manned by very helpful staff. Just ask anything you'd like to know about the place, he will happily explain to you.
The Capsule caters to the basic needs of a traveller inspired from a modern and minimalist living. Designed with a very industrial vibe – think concrete, wooden slats, steel frames & wires and brightly painted containers.
Also read: 10 Hotel Secrets They Don't Want You to Know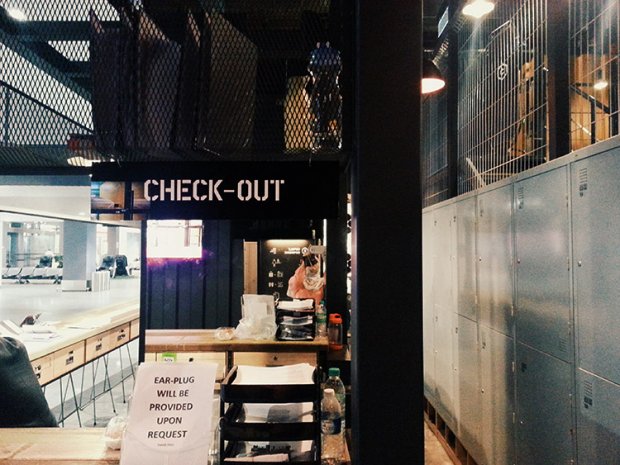 Each capsule area is divided into 2 separate sections/floors – for male and female. Yes they are like dorm rooms, no co-eds. Each capsule comes in a variety of single beds or bunk beds and your capsule entrance door is a thick curtain that you can close down for privacy. Kids are allowed but they do not provide any baby cots.
Price
Each capsule is rented by the hour:
3 hours for RM45.00
6 hours for RM70.00
12 hours for RM90.00
What you get
For the price stated above (nett price) you get:
Your own private capsule – with Orthorest mattress, drawer, WiFi & reading light
An access card
Locker's key to store your luggage. The size of the locker is 33.5 x 24 x 18 cm. For oversize backpack or luggage, just inform the front desk representative that you require assistance.
Clean towel (given to you in a nice Capsule tote bag, which you can take with you)
Slippers for indoor usage
Access to the bathroom with walk-in shower and complimentary shampoo & shower gel
Access to the common area/lounge where you can sit and relax, update your social media or read a book
For travellers on-the-go (meaning if you don't want to spend the night in a Capsule) they also provide services such as locker rentals and usage of the shower for a minimal fee. So you can go shopping at the KLIA2 mall without the hassle of lugging your heavy luggage around or opt for a quick shower to freshen up after a long flight.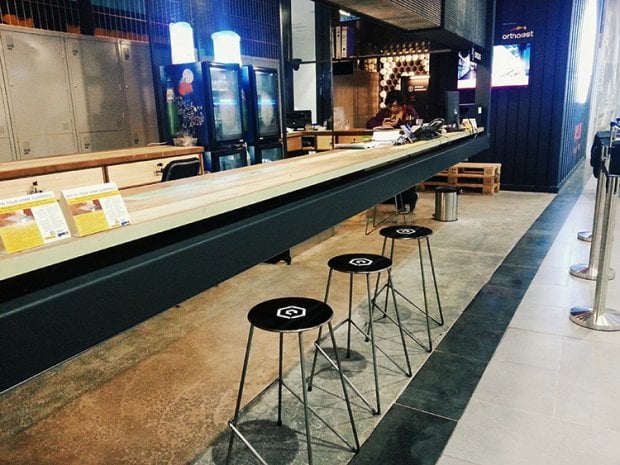 Capsule Bar where you can enjoy a few drinks
Here's a peek inside the Capsule and the facilities from their official Instagram:
Complimentary Capsule Tote bag for every check in guest at the Capsule:
Details
CAPSULE BY CONTAINER HOTEL
Lot L1-2 & 3, Gateway,
Terminal KLIA2, KL International Airport,
Jalan KLIA 2/1, 64000 KLIA, Sepang,
Selangor, Malaysia.
RESERVATIONS
Phone: +603-76102020
Email: info@capsulecontainer.com
Website: www.capsulecontainer.com
LOCATION
Located at Level 1 of KLIA2 airport. If you come down to Level 1 and see NZ Curry House Restaurant, the Capsule is on the opposite site, just walk past the bus and taxi counters and you will see the Capsule at the other end.
Also read: A Short Getaway at Traders Hotel Kuala Lumpur
So the next time you need to catch a flight at 6am in KLIA2, perhaps spending a night in the Capsule 6 hours earlier is an option now :) It is a great convenience for travellers, especially for those transiting in Kuala Lumpur.
Contributed by WebMaya.