There are countless reasons to opt for an Airbnb apartment instead of a hotel. For one, there are many cities in which a panoply of unique and value-for-money Airbnb homes are available for a short-stay rent. Compared to a hotel room of the same price range, you could get a private space that is bigger and complete with amenities that a hotel would not typically offer; for example, beyond towels, toiletries and kettles, you might even be lent a guidebook and a WiFi egg, and have access to a kitchenette.
Taipei is one such city with many Airbnb apartments to pick from. With the intention to help budget travellers narrow down their options, we've hand-picked some of the most highly-rated and wallet-friendly private Airbnb apartments in the city.
1. The loft with a unique layout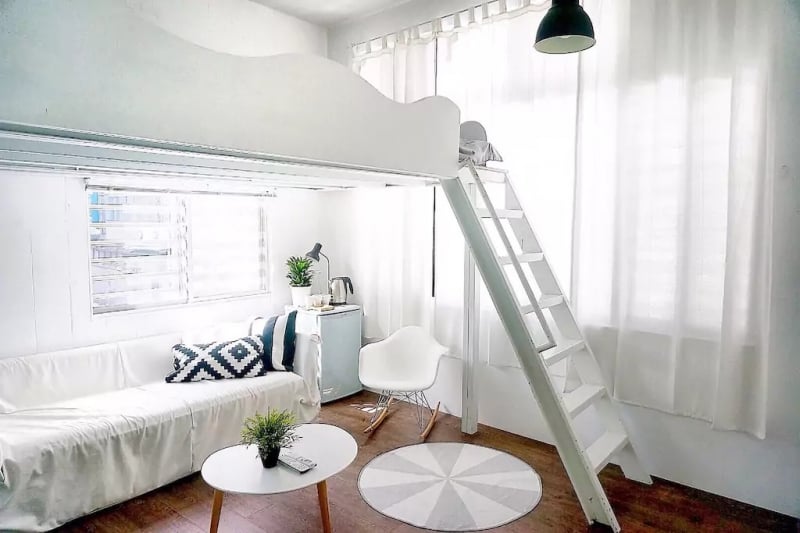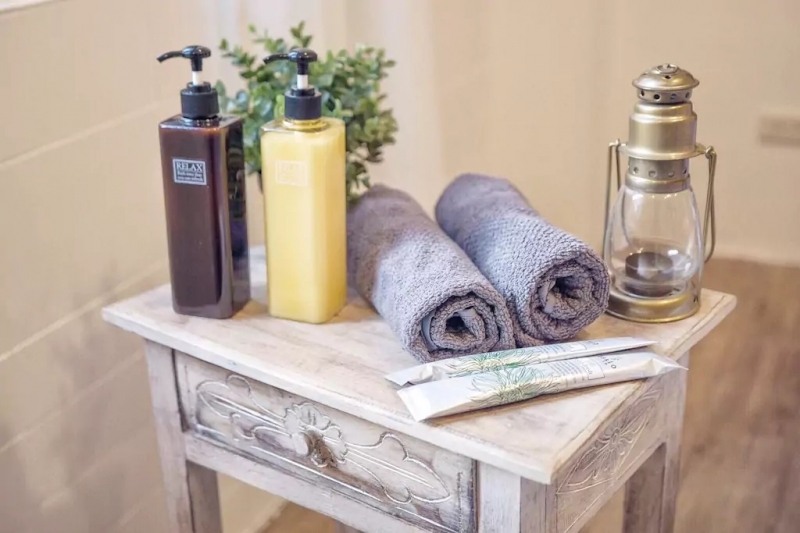 Listing name: Taipei Good place 2A
Location: Da'an District
Max. no. of guests: 5
No. of bedrooms: 1
https://www.airbnb.com.sg/rooms/14045997
$386 for 3 nights
$25.7 for 1 night, 1 guest
Here's a beautifully-designed loft with a hint of monochrome mixed with a sleek wooden interior. The layout is interesting, with the double bed resting on the top level, accessible via a slanted ladder. Some travellers would greatly appreciate the washer and dryer that the loft comes with. Location-wise, it's a walking distance to the iconic Taipei 101 and a two-minute walk to the nearest MRT, Lutheran Ann Station. A few blocks away you'll find the Tonghua Night Market and in between that there's a smattering of pubs and coffee shops.
2. The two-bedroom apartment with a huge kitchen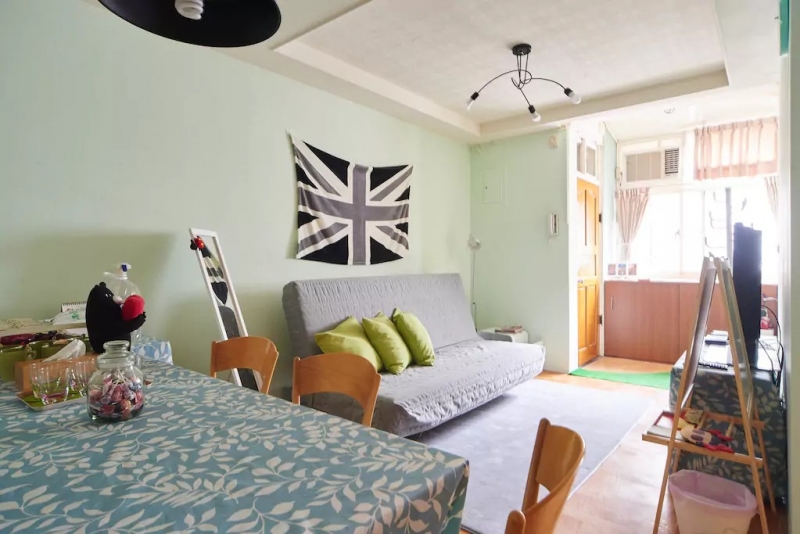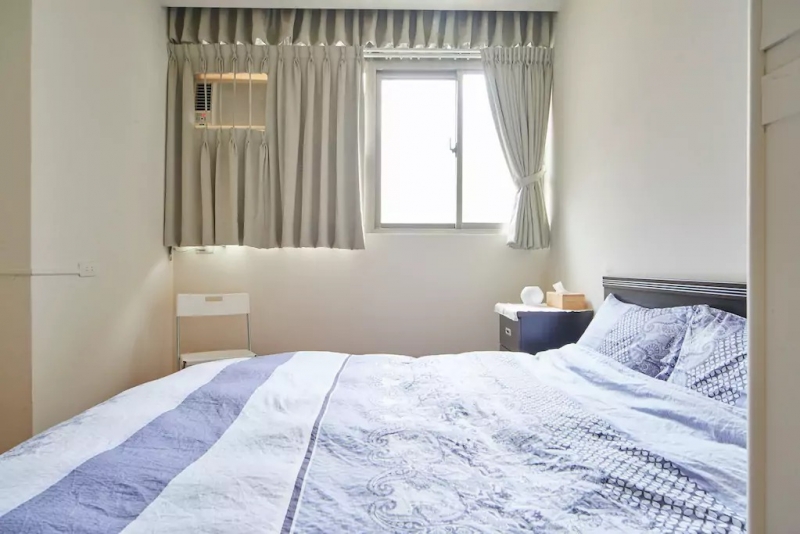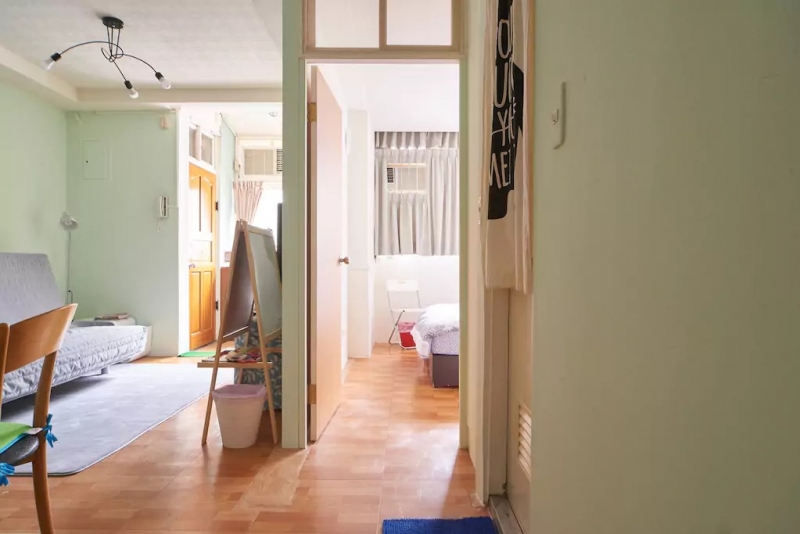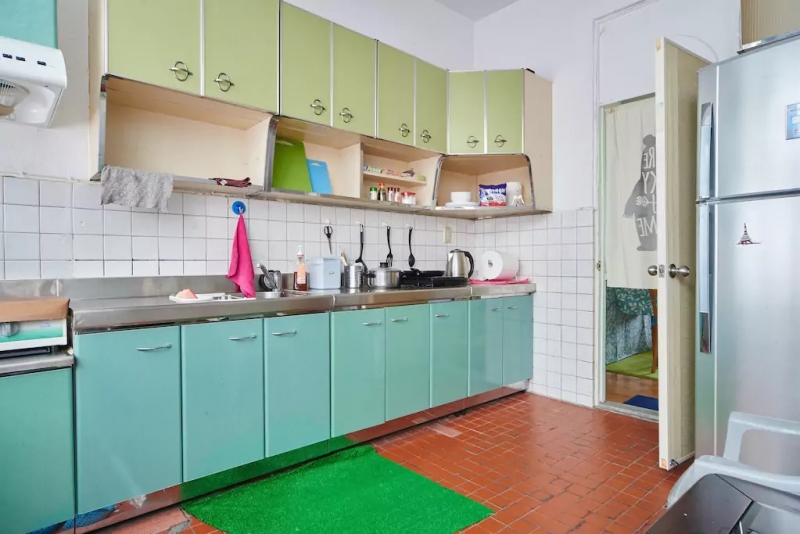 Listing name: 超讚房東!捷運1分鐘~台北101~東區百貨~士林夜市~九份~溫馨舒適4~6人,適合家庭旅遊
Location: Zhongshan District
Max. no. of guests: 6
No. of bedrooms: 2
https://www.airbnb.com.sg/rooms/10837457
$486 for 3 nights
$27 for 1 night, 1 guest
Ideal for a group of up to six, this two-bedroom apartment has two double beds, as well as a sofa bed in the living room. You'll find amenities such as towels, beverages, toiletries, and a homely environment that reflects local living. The huge kitchen is fully equipped and there's a dining table in the common area – a huge plus if you're planning on sharing a cooked meal. The apartment is just a minute away from Nanjing Fuxing MRT Station and it's close to Liaoning Street Night Market as well. Around the corner, you'll find a plethora of eateries, including carts offering traditional-style breakfast.
3. The little apartment with a helpful host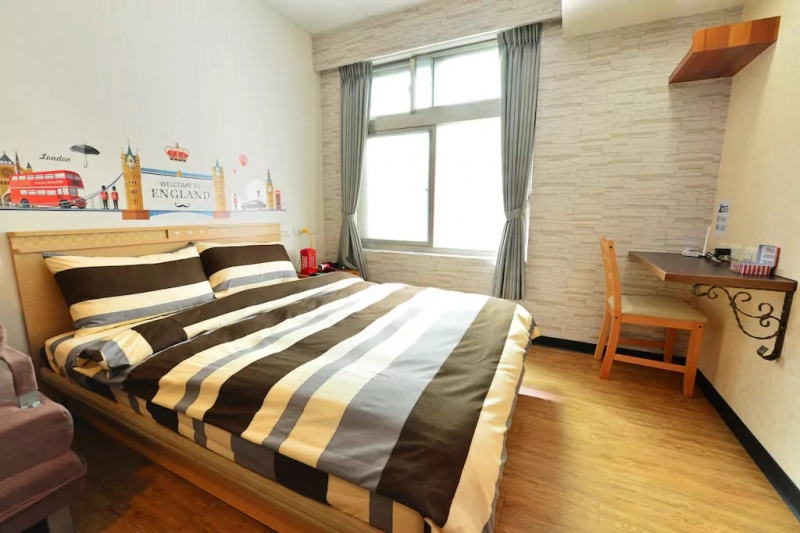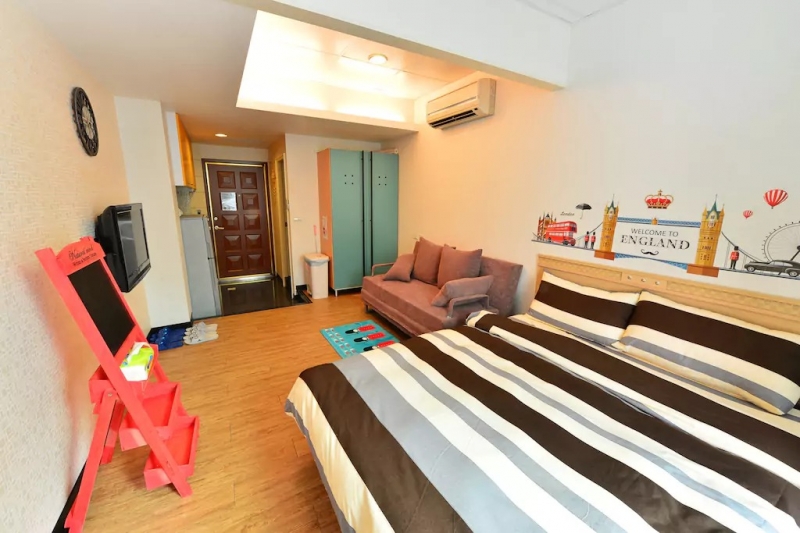 Listing name: 11B英倫風 全新完工 獨立屋無共用 廁所在房內 提供洗衣機 明亮採光
Location: Xinyi District
Max. no. of guests: 4
No. of bedrooms: 1
https://www.airbnb.com.sg/rooms/14489983
$222 for 3 nights
$18.50 for 1 night, 1 guest
Tucked away in a busy residential area is this highly-rated apartment that can fit a group of four. It has a simple kitchenette that can handle light cooking and a cute desk at the corner. It's managed by a host who's responsive and willing to go the extra mile for his guests, be it for luggage storage or for booking tours and airport transfers. The apartment is five minutes away from Yongchun Station and close to 24-hour convenience stores like 7-Eleven and Family Mart. At night, you can drop by the nearby Raohe Night Market which is packed with delicious local food.
4. The hostel-style apartment near Shilin Night Market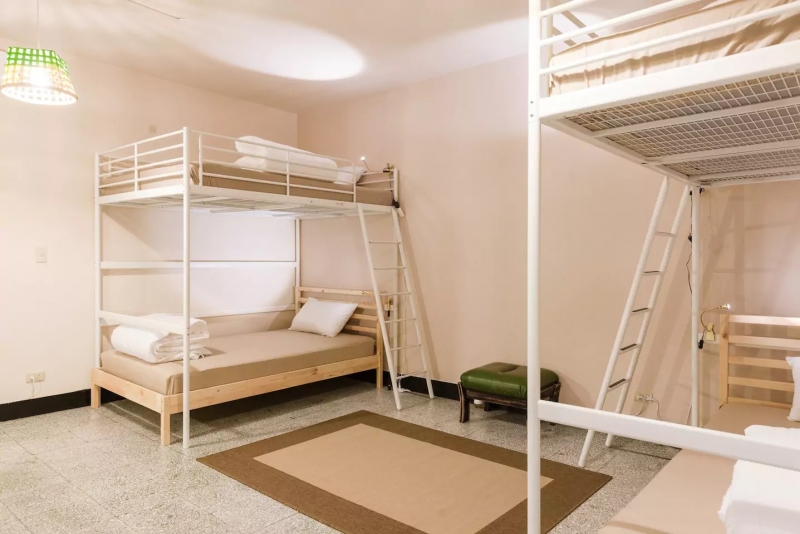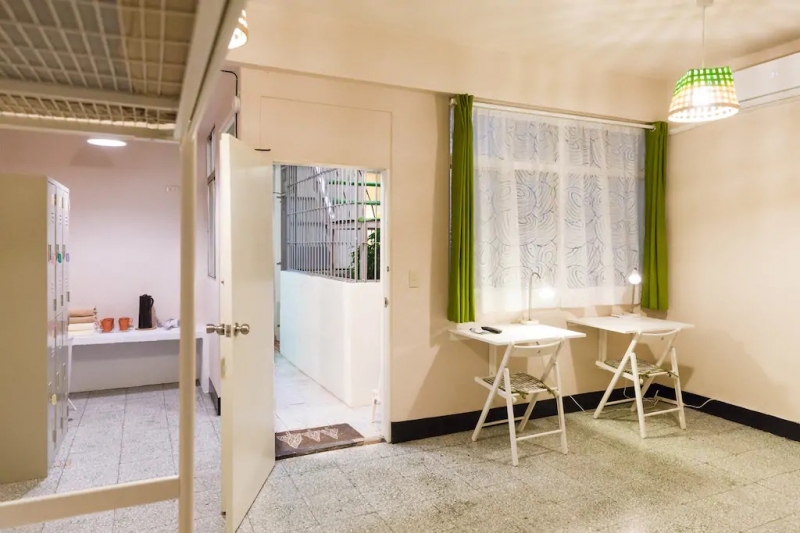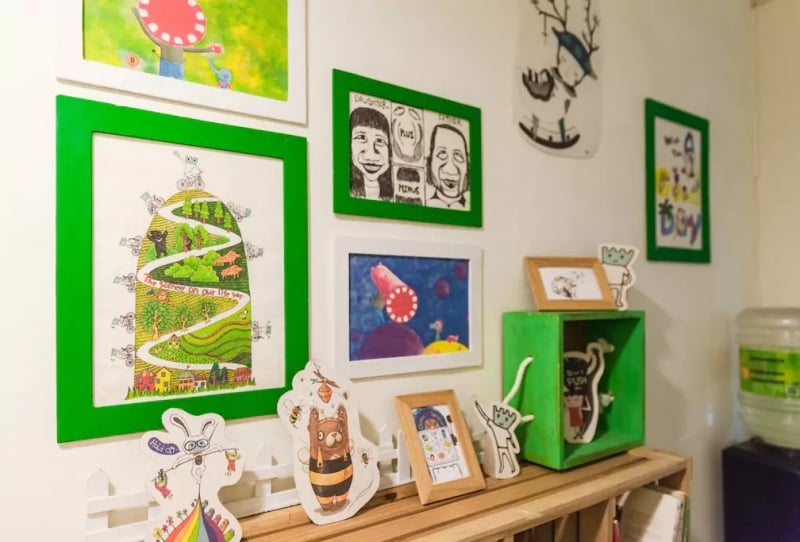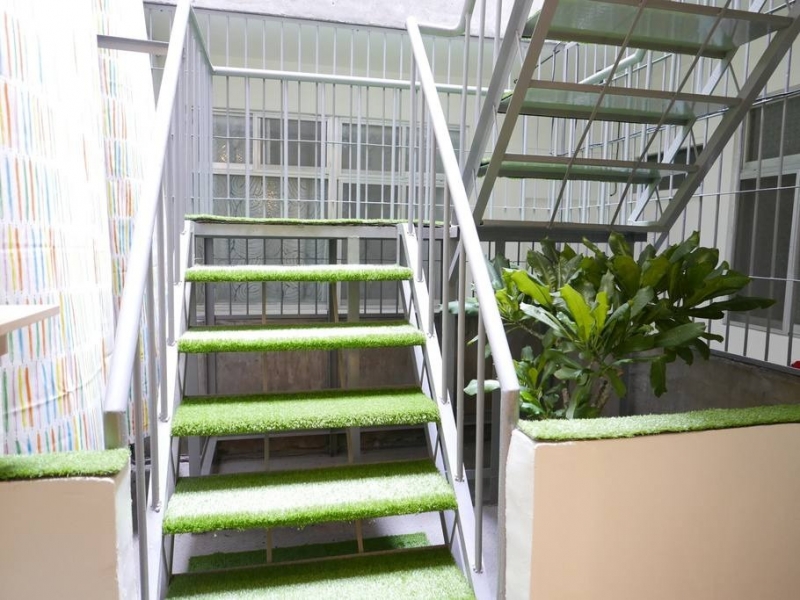 Listing name: Patio Apartment 天井公寓_旅人夥伴房(2樓4人房)
Location: Shilin District
Max. no. of guests: 4
No. of bedrooms: 1
https://www.airbnb.com.sg/rooms/8572701
$212 for 3 nights
$17.60 for 1 night, 1 guest
If you're travelling with your buddies and the number one agenda of the trip is feasting on local snacks or shopping 'til you drop at Shilin Night Market, there can't be a better place than this. This " Patio Apartment " has a five-star rating for location, most likely because it's at the doorstep of the aforementioned night market! Some amenities you'll find in this hostel-like apartment is a hair dryer and a hot/cold water dispenser. While it's not apparent from the photos, the beds are large and covered with soft sheets. The place is spacious and can easily fit more than the maximum four guests specified in the listing. Do note that the bathroom is located along the corridor of the room and shared with other residents, in line with the layout of the building. That's why we describe it as hostel-style!
5. The cat house – cats included!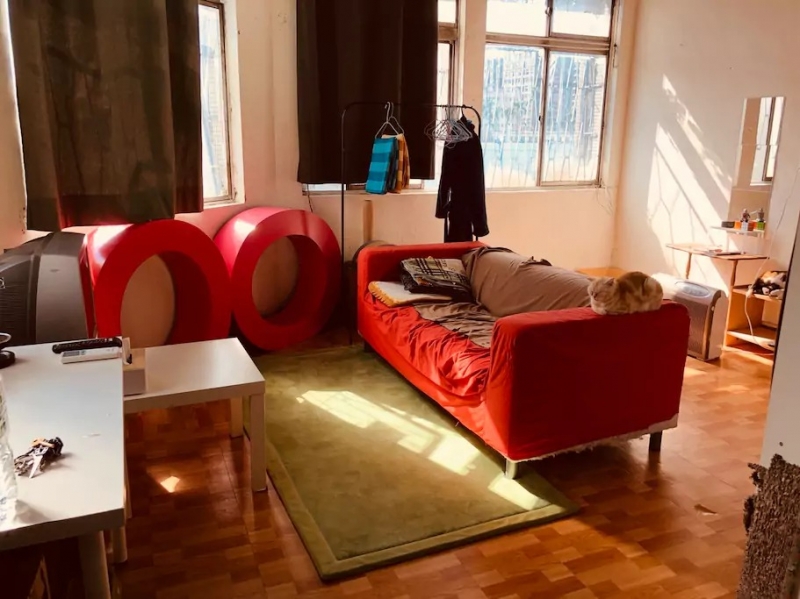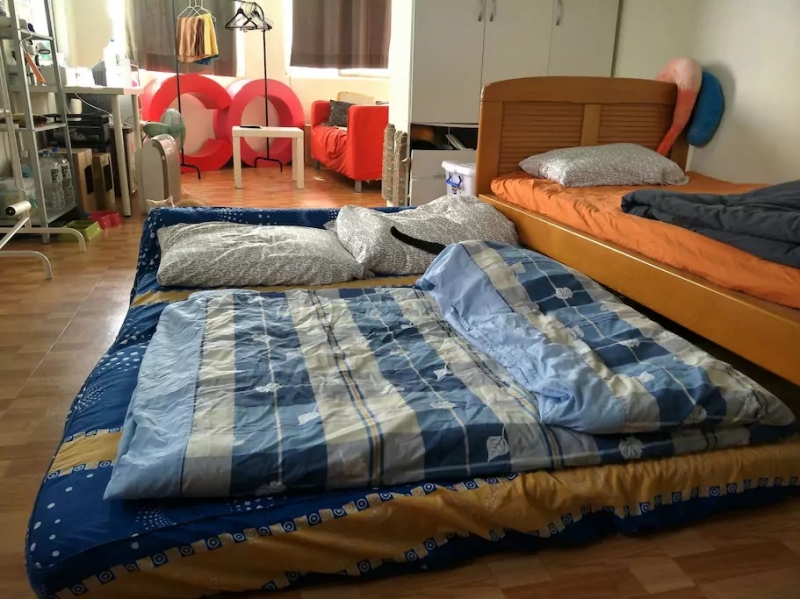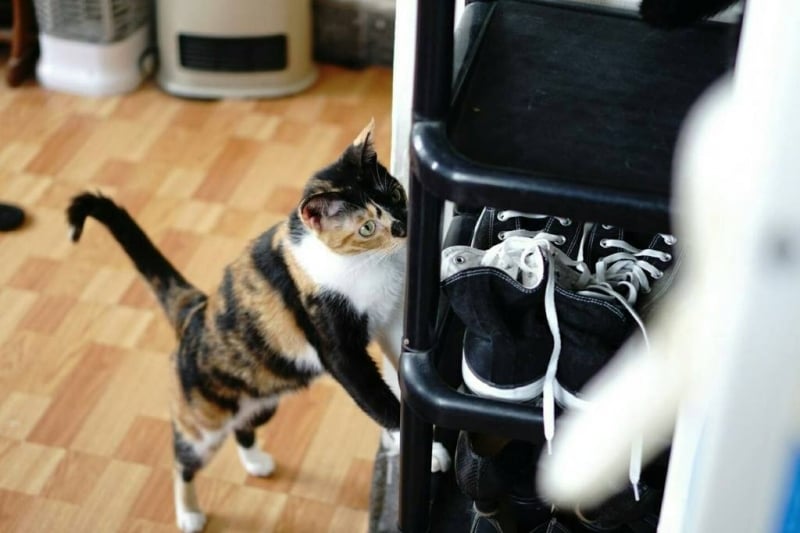 Listing name: 部屋に猫がいます"Cat House!"(地下鉄MRT3分到達)
Location: Zhongshan District
Max. no. of guests: 5
No. of bedrooms: Studio
https://www.airbnb.com/rooms/9320664
$248 for 3 nights
$16.50 for 1 night, 1 guest
Here's a little surprise for the cat lovers. This studio apartment comes with three cats, and we're not even kidding! Chacha, Xiaohei and Miko will shower you with love in the form of cuddles during your stay, so much so that you might not want to go outside. Each of the cats has a unique personality and you can slowly get to know them over your stay. The host provides guests with towels and toiletries, and don't worry about cleanliness; he also comes in every day to clean the apartment. If you do have the heart to go exploring, the apartment's just a short walk to the Zhongshan Elementary School MRT Station, and from there, many of Taipei's attractions are a few stops away.
Warning: Don't get too attached to the cats!
6. The floral house with a thoughtful host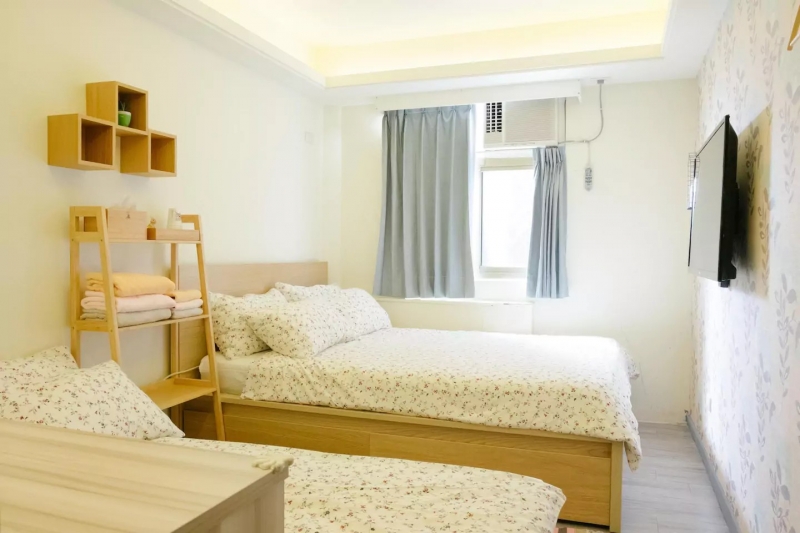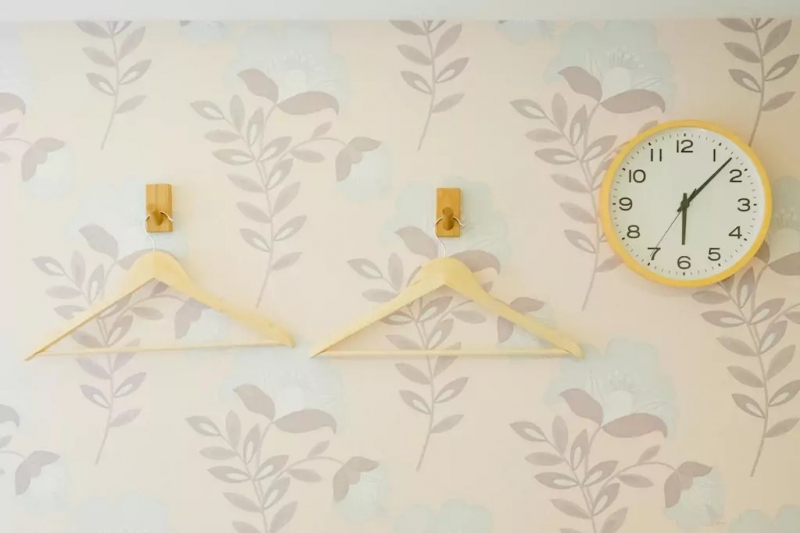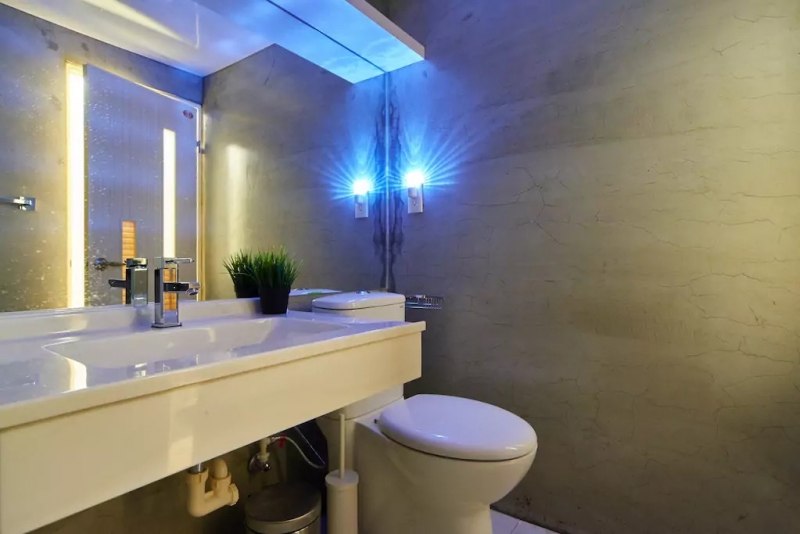 Listing name: casa ximen 2+1 taipei
Location: Ximending District
Max. no. of guests: 3
No. of bedrooms: 1
https://www.airbnb.com.sg/rooms/7643283
$186 for 3 nights
$20.6 for 1 night, 1 guest
Furnished with pieces selected from Muji and Ikea, and adorned with pretty touches like floral wallpaper and bed sheets, this quaint little room near Ximending Station will be delightful for those who notice the little details. It comes ready with towels, toiletries and a hairdryer. The host has been praised to be thoughtful and helpful, giving tips to guests and replying to messages within minutes. Combined with the strategic location near local eateries, convenience stores and Ximending Night Market, your stay here will certainly be satisfactory at the very least.
7. The little house for couples on a budget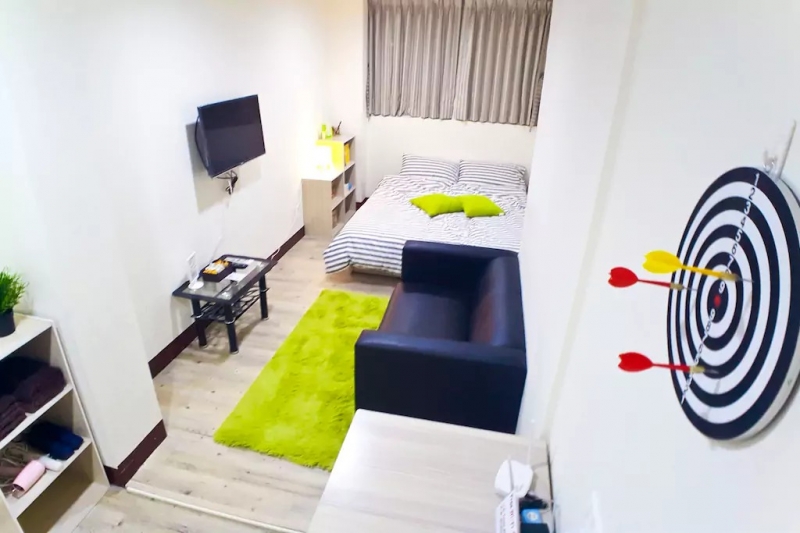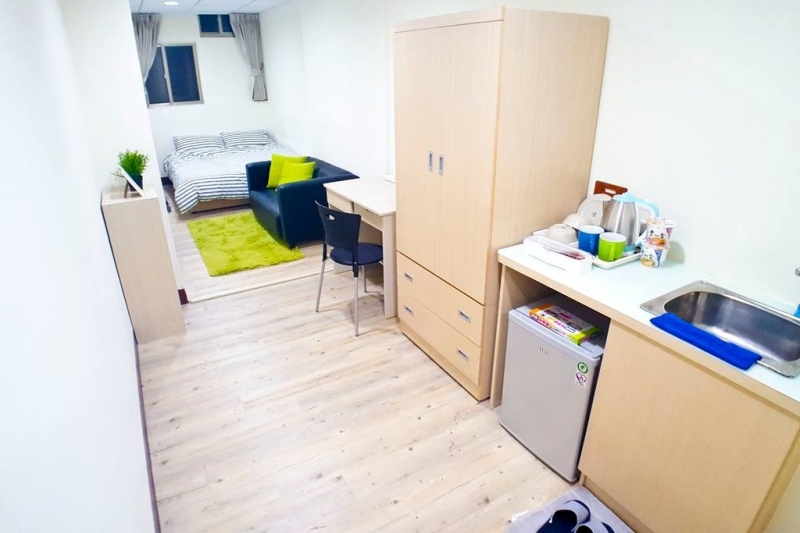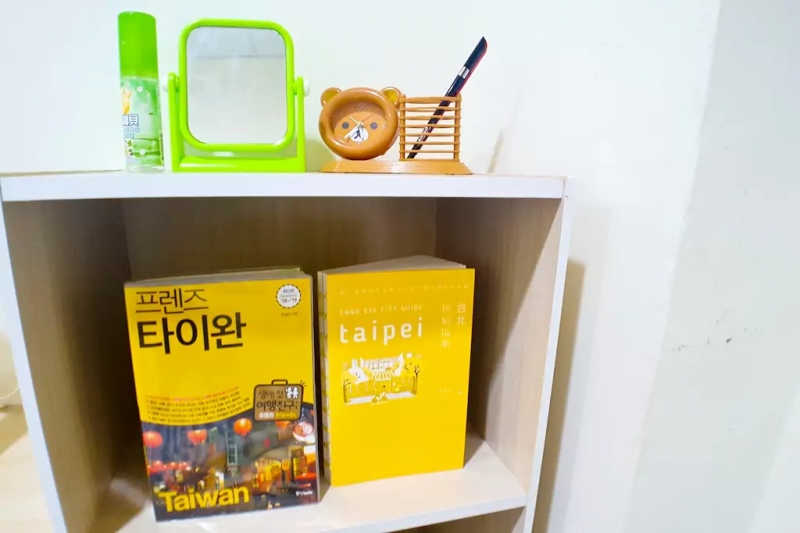 Listing name: ★시먼역4분Ximen(4min)Reasonable price quite Studio★
Location: Zhongzheng District
Max. no. of guests: 2
No. of bedrooms: 1
https://www.airbnb.com.sg/rooms/21792571
$204 for 3 nights
$34 for 1 night, 1 guest
Couples who'd like to do away with the extravagant holiday and focus on the local experience without breaking the bank should look into this studio apartment . It's not far from Ximen Station, Yongshan Temple and Huaxi Street Night Market, and a Carrefour outlet is just one minute away. Despite the modest price, what you'll get is truly value for money; the host even provides a guidebook, an umbrella, an MRT card, a thermal mattress (for winter) and a mini hair straightener!
8. The three-bedroom apartment for a large gathering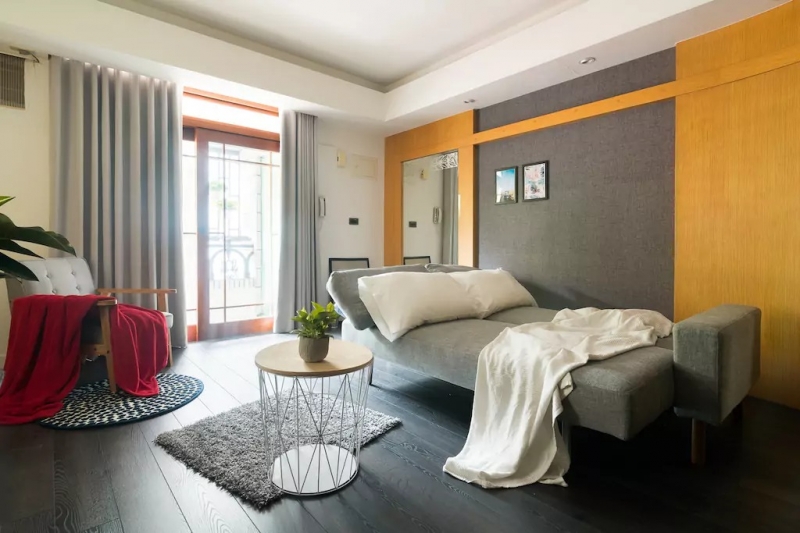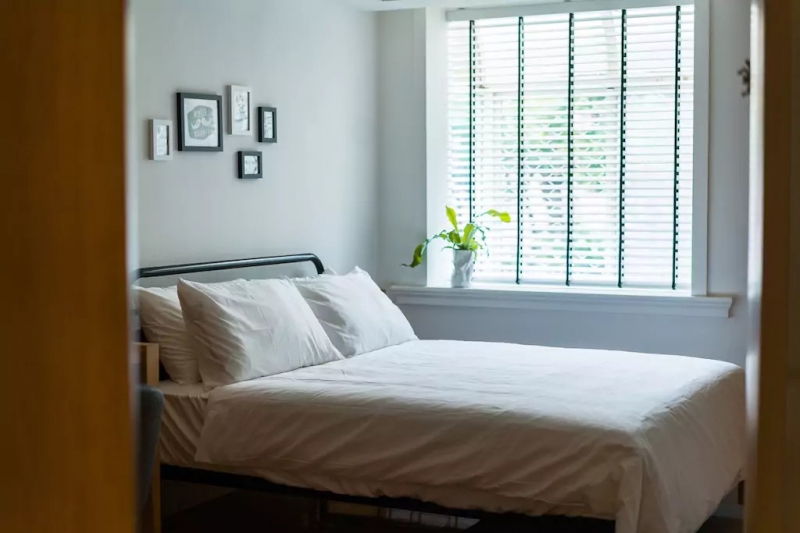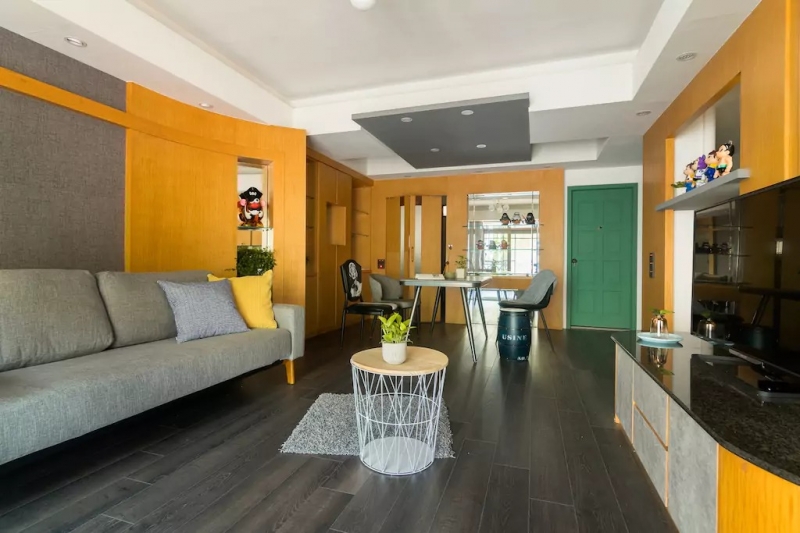 Listing name: "Morning! Dahu" 早安! 大湖
Location: Neihu District
Max. no. of guests: 10
No. of bedrooms: 3
https://www.airbnb.com.sg/rooms/19010130
$572 for 3 nights
$19 for 1 night, 1 guest
If you're travelling in a big group, ditch the separate hotel rooms and stay together under one roof in this three-bedroom apartment in the Neihu District. This modern house is located in the middle of the neighbourhood, providing guests with an insight into the life of locals. Aside from using the apartment as a base for the iconic attractions in Taipei, be sure to check out the Dahu Park Lake nearby.  
With this list, we hope that you're convinced that a tight budget does not mean you need to give up on expecting a wonderful stay in Taipei. Enjoy your trip!