Vacation rentals are overtaking hotels as the accommodation of choice for independent travellers. These establishments allow anyone to rent out their house or spare room for guests while offering good value for money and a chance to connect with locals. A city like Seoul, for example, boasts a wide selection of unique and budget-friendly vacation rentals for travellers, from affordable Airbnb listings to traditional guesthouses on Vrbo.
Typically, an arduous search awaits anyone who's looking for the perfect apartment — one that fits their preference for budget, location, amenities, and so on. To help you narrow down your choices, we've done the research for you. Check out these highly-rated vacation homes in Seoul to make your travel budget really go the distance. 
Also read: 20 Stunning Hanoks in South Korea You Can Book on Airbnb
Budget-friendly Airbnb homes & vacation rentals in Seoul
1. This Hongdae apartment overlooking the Han River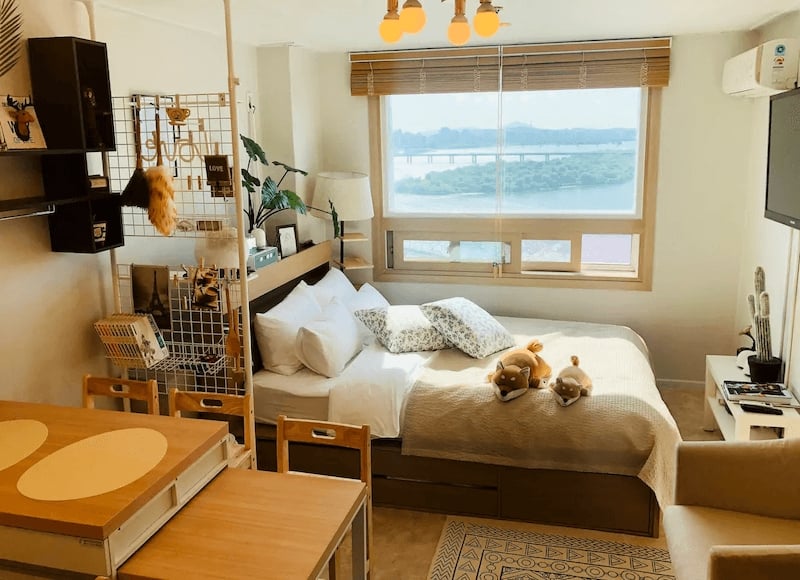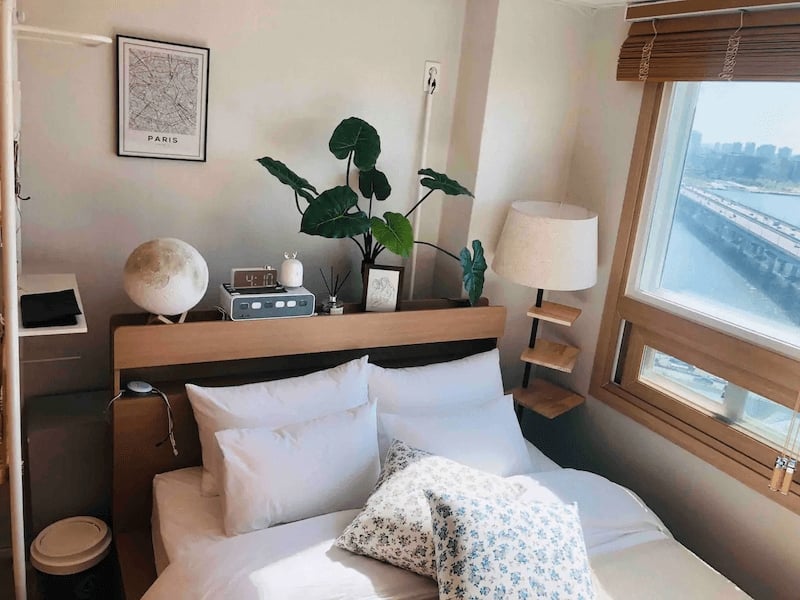 Listing name: SNUG HOUSE/Best /Hongdae/River view/마포역/Mapo/서울/홍대
Listing type: Entire apartment 
Max. number of guests: 3
No. of bedrooms: 1
When it comes to affordable accommodations, you can't go wrong with this apartment in Hongik University Street or Hongdae. At this Airbnb in Seoul, you can wake up to panoramic views of the Han River. Even the interiors are very picturesque, featuring indoor plants and a dining area where you can prepare your own meals. Only a few minutes from Mapo Station, this apartment makes an excellent base for you to explore the hip and artsy neighbourhood frequented by Seoul's youth. Learn more about this vacation rental here . 
2. This pink studio within walking distance from Myeongdong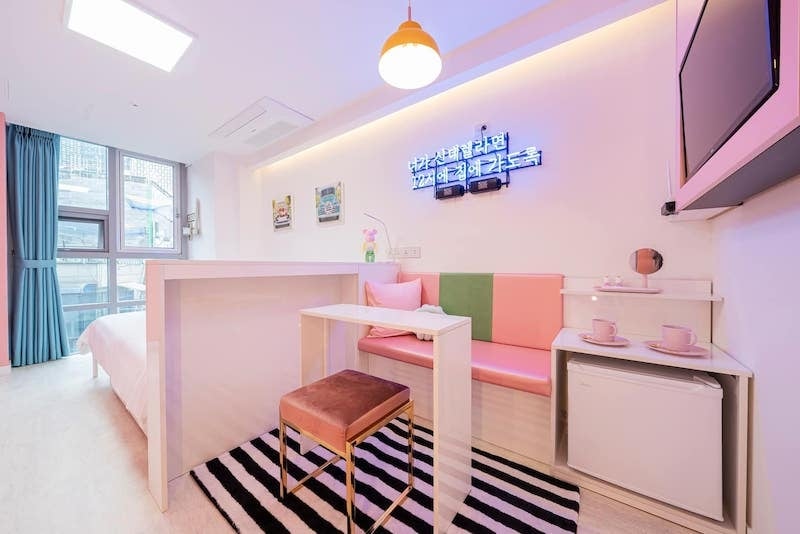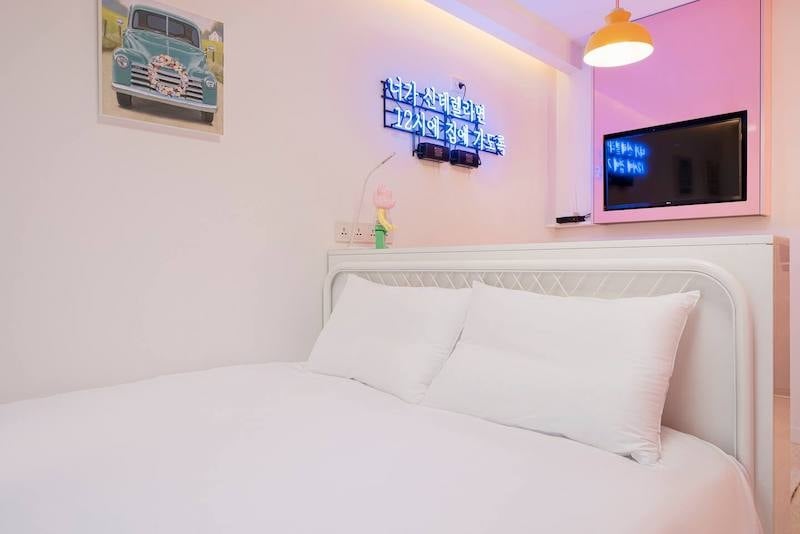 Listing name: PINKVILLE #1 / Myeong-dong(明洞)
Listing type: Room in boutique hotel 
Max. no. of guests: 2
No. of bedrooms: 1
If you're planning to shop until you drop in Seoul, then you ought to stay in a budget-friendly apartment that soaks up the energy of the city. Consider this blushing studio for two guests in Jongno-gu, which is surrounded by lively Korean restaurants, karaoke bars, and convenience stores. Inside, the room features colourful and trendy design touches like pink walls and neon signage to welcome you home. Given that it's close to the subway station, this Airbnb offers the ideal base for your sightseeing in Myeongdong. Learn more about this vacation rental here . 
3. This modern hanok near Gyeongbokgung Palace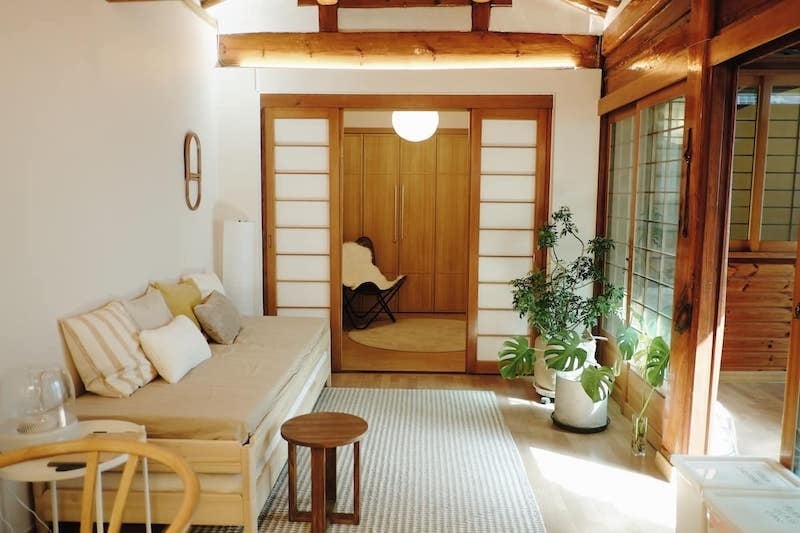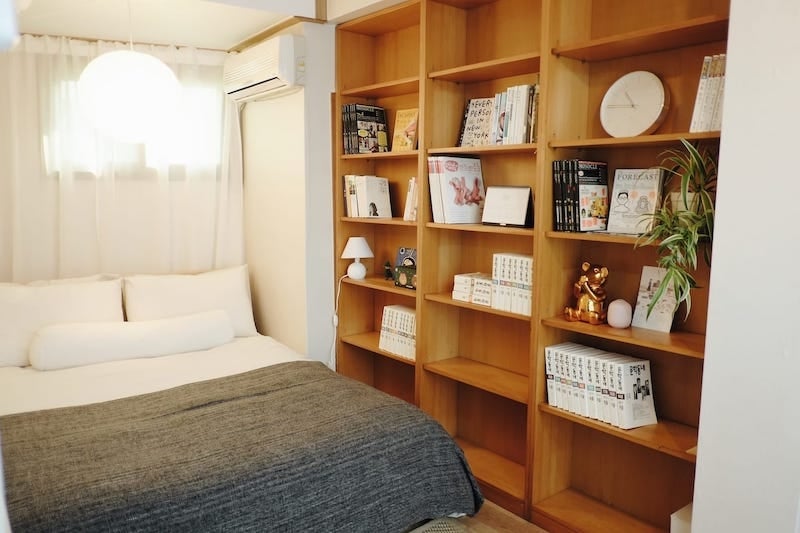 Listing name: Hyoja Stay: Modern Han-ok next to Gyeongbokgung
Listing type: Entire house 
Max. no. of guests: 4
No. of bedrooms: 2
Have you ever wondered what it's like to sleep in a Korean-style house? If so, then this remodelled hanok might be what you're looking for.
Located in a quiet residential area near Gyeongbokgung Palace, this affordable Airbnb in Seoul is a minimalist retreat filled with books and potted plants. Modern technologies such as a fully-equipped kitchen and Wifi are still present, of course. But it's the traditional touches, like the panelled windows and courtyard, that make this place feel like a wonderful escape into the past. Learn more about this vacation rental here .
4. This traditional guesthouse with a courtyard in Insadong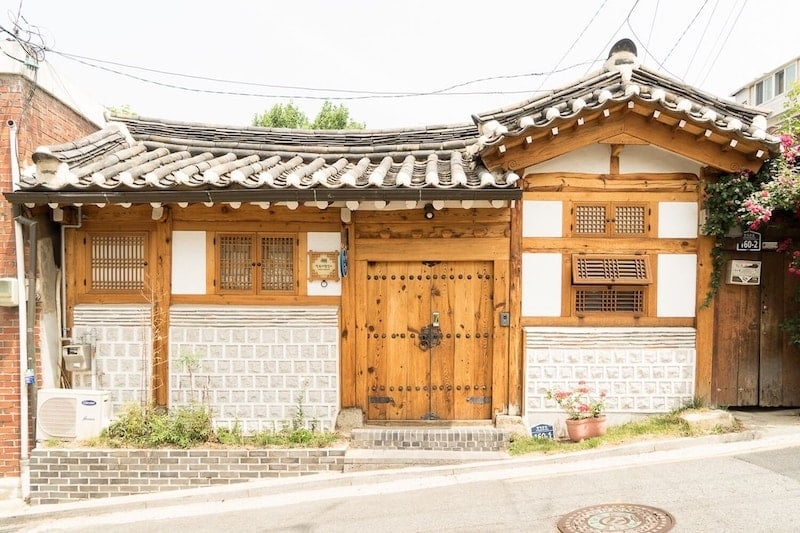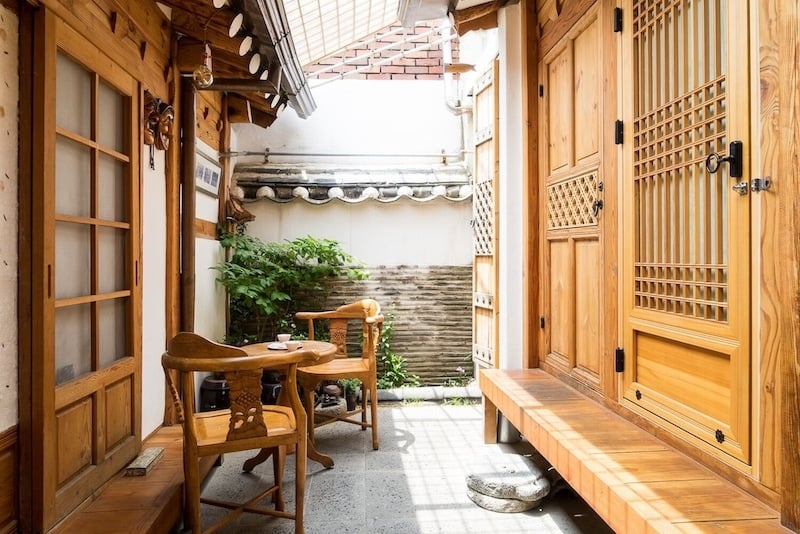 Listing name: Traditional house@ palace &insadong
Listing type: House 
Max. no. of guests: 5
No. of bedrooms: 3
Similarly located near Gyeongbokgung Palace, this traditional guesthouse in Insadong offers another great starting point for your trips to Bukchon Hanok Village. When you aren't busy exploring the character-filled shops, restaurants, and art galleries in the neighbourhood, come home to three bedrooms and a semi-open courtyard where you can pass the time in a serene environment. While not exactly cheap at first glance, this vacation rental in Seoul becomes more affordable if you can find up to four travel buddies to split the cost with. Learn more about this vacation rental here . 
5. This trendy condo downtown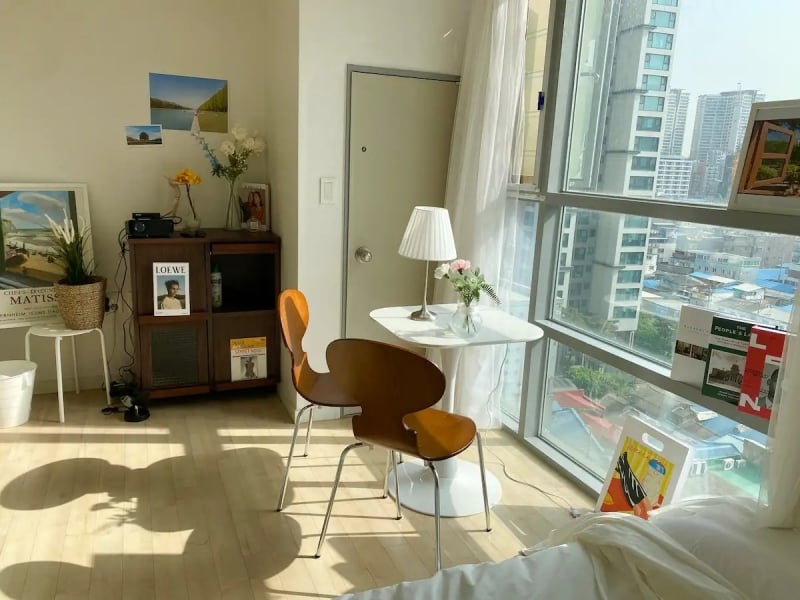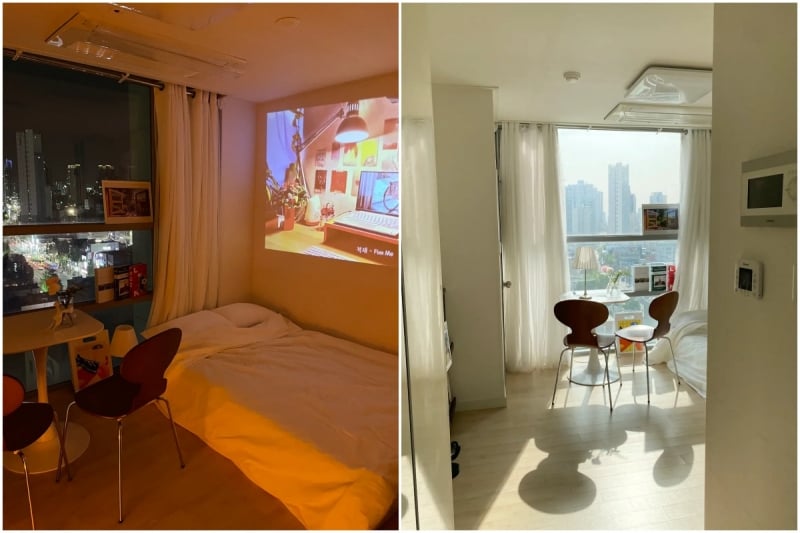 Listing name: Beautiful view and trendy emotional accommodation # Netflix # 1 minute walk to Sindang Station
Listing type: Entire condominium 
Max. number of guests: 2
No. of bedrooms: 1
For your adventures in the central area of Seoul, we found a condominium in Jongno-gu that will make you feel right at home. Cosy, clean, and comfortable, this is the perfect base for budget travellers who don't want to sacrifice quality.
Here, you get your own kitchen and workspace — and let's not forget, an amazing view of Seoul at your window! This strategically-located Airbnb in Seoul is close to popular attractions, including the Dongdaemun Shopping Complex and Gwangjang Market. Learn more about this vacation rental here .
6. This European-inspired nest in Gangnam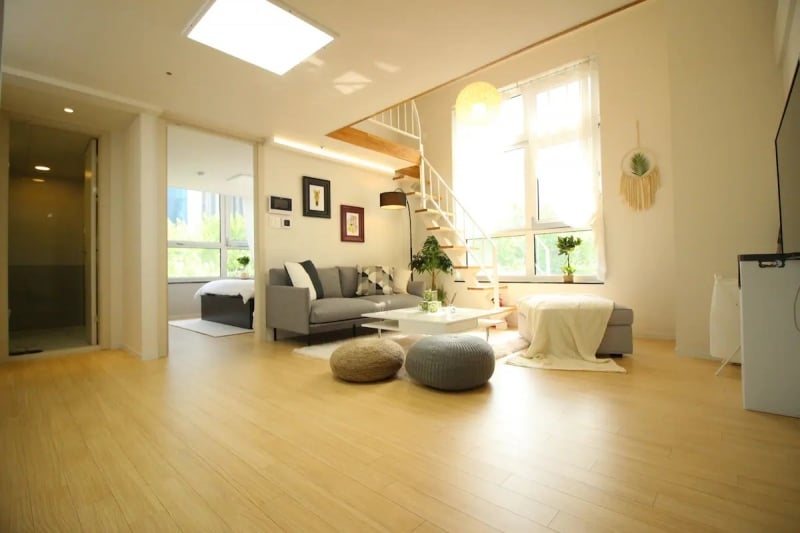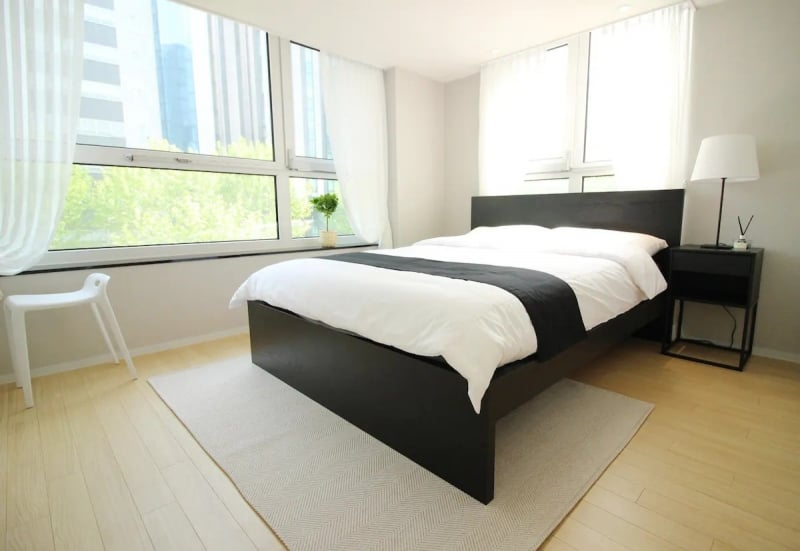 Listing name: Europeanism in the City
Listing type: Entire house 
Max. number of guests: 6
No. of bedrooms: 3
Imagine our surprise at finding this hidden gem in Gangnam! Despite its location in an upscale district of Seoul, this three-bedroom Airbnb is a picturesque retreat that won't break the bank. In fact, it offers quite a bargain, considering up to six guests are splitting the cost of the rental. It comes with super-clean bedrooms, comfy furnishings, free parking, toiletries, and WiFi access for guests. 
Moreover, it's just a five-minute walk to the metro, buses, and airport limousines. Outside the house, you can find famous restaurants, convenience stores, and even laundry shops. Learn more about this Airbnb here .
7. This spacious four-bedroom home for group trips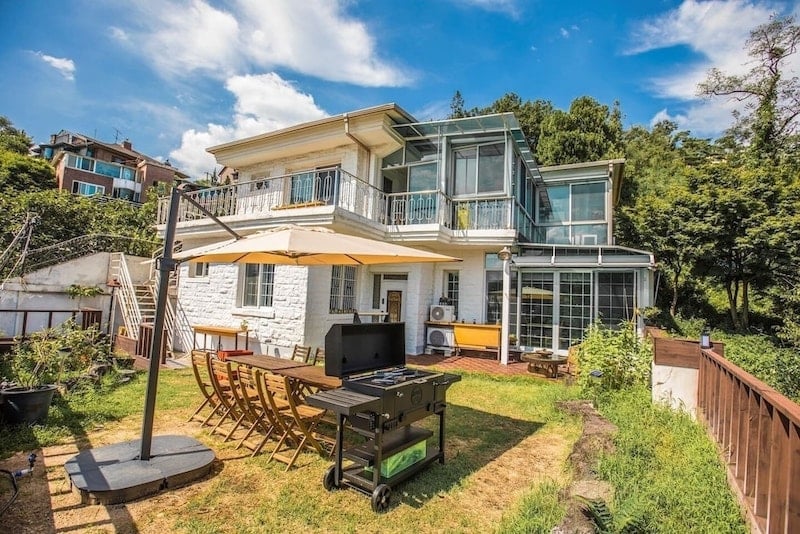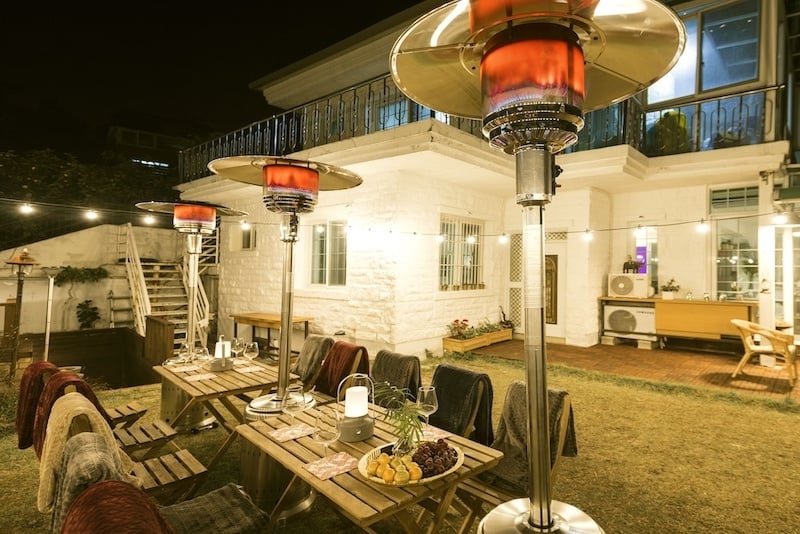 Listing name: BC★77 projects ★7 Free services with cozy home
Listing type: House 
Max. no. of guests: 15
No. of bedrooms: 4
Dedicating a chunk of your budget to cover group accommodations can be costly in the long run. Luckily, this cosy residential home on Vrbo is well-prepared to host your group trips, whether you're travelling with friends, relatives, senior citizens, or even small children. More than a great place to hole up in Seoul, it also offers experiences that everyone in the group can enjoy, from tucking into a Korean barbecue feast in the garden to embarking on trekking excursions to Mt. Bukhansan. 
For a small price, your host can also arrange for pick-ups from Incheon International Airport or private shuttle vans for smoother transportation around Seoul. Learn more about this vacation rental here.
8. This bunker for a squad of four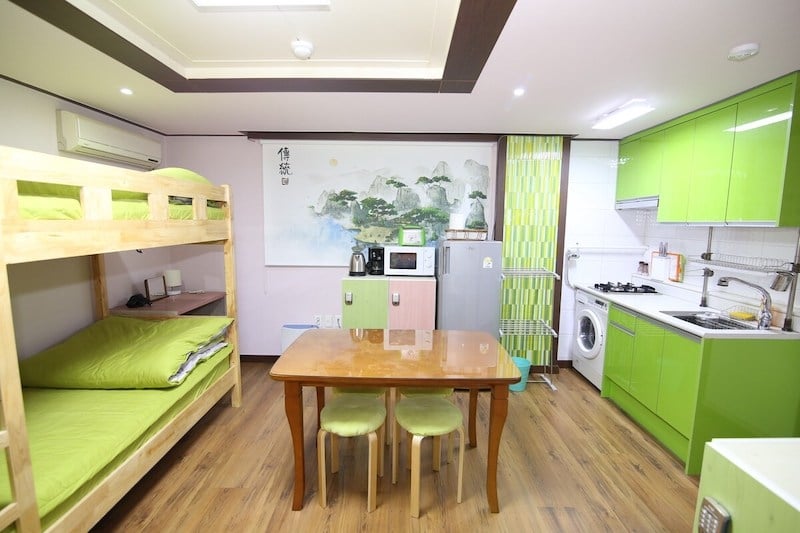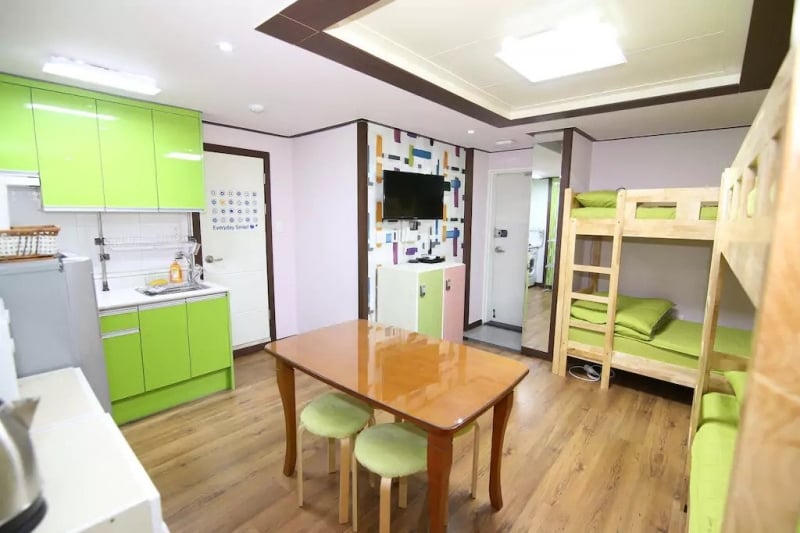 Listing name: Entire room, Private bath, Next to St. Market #201
Listing type: Entire apartment 
Max. number of guests: 4
No. of bedrooms: 1
Similar to the previous listing, this studio apartment is not in the city centre. However, that has not stopped guests from raving about its location. It's tucked in a quiet neighbourhood with markets, stores, cafes, and restaurants, and Amsa Station is just around the corner.
The apartment comes ready with amenities like kettle, hairdryer, fridge, washing machine , and even safe units. The host, Sang, has previously gone out of his way to help guests with their transportation needs, from booking train tickets to purchasing the T-money card. Learn more about this vacation rental here .  
9. This Itaewon sanctuary in a hip neighbourhood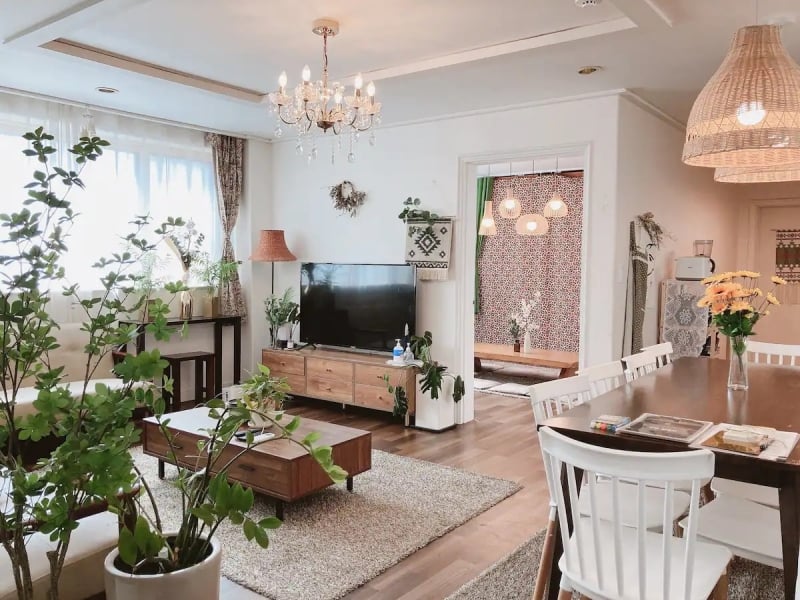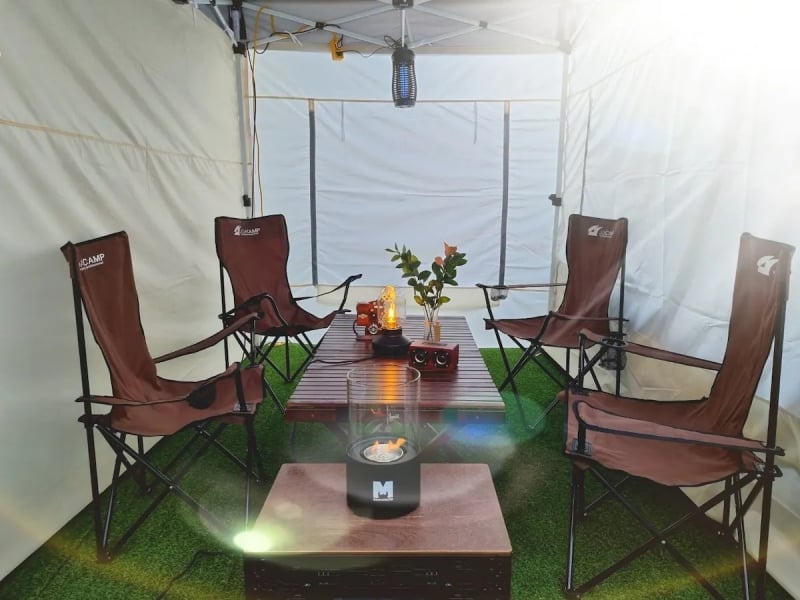 Listing name: Revplace Camping&BBQ&Prvate place&Bridal shower
Listing type: Entire home
Max. number of guests: 4
No. of bedrooms: 2
Relive the swoon-worthy moments from your favourite K-dramas by staying at this dreamy vacation rental! Nestled on Gyeongnidan-gil Road, this Itaewon Airbnb features pretty décor, Wi-Fi, and a TV and projector. Wind down with your travel buddies at the private outdoor area appointed with camp-style seating and an electric grill for yummy Korean barbecue. Learn more about this vacation rental here . 
10. This two-bedroom apartment in the heart of the shopping district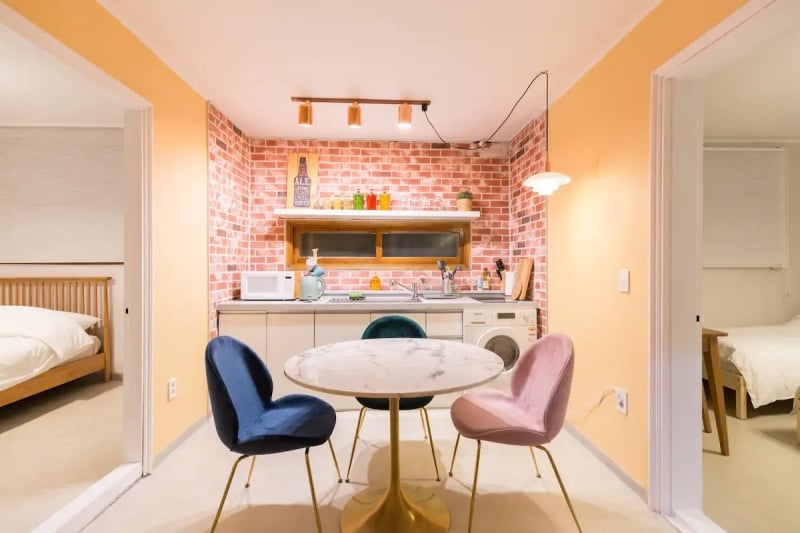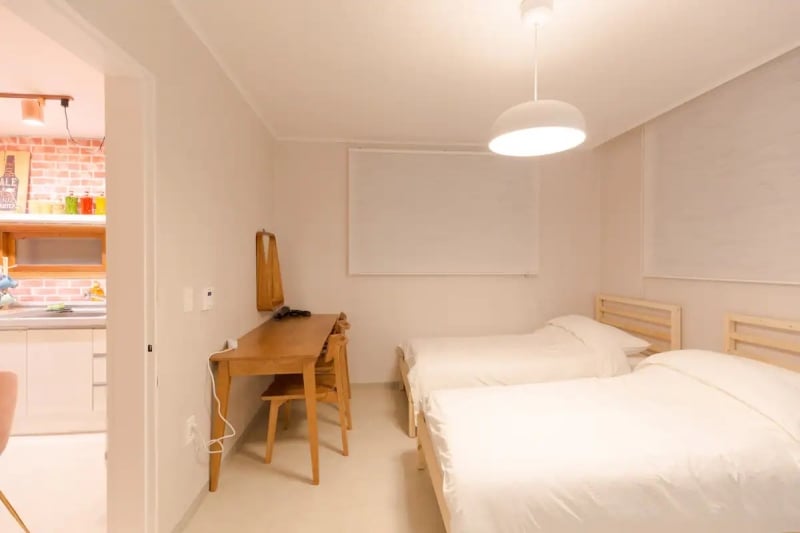 Listing name: 明洞 Myeongdong /2 bedroom_House Sarah
Listing type: Entire condominium 
Max. no. of guests: 6 
No. of bedrooms: 2
Are shopping trips part of your itinerary? Cut down on your daily expenses by staying in this two-bedroom apartment just a short walk from Myeongdong Station and many shopping options. Staying in this Airbnb keeps you within arm's reach of the fashionable stores and boutiques in Seoul while sparing you from the expensive rental prices in tourist-heavy areas.
Myeongdong is also a foodie favourite but tourists who want to save money can cook their own meals in this property's fully equipped kitchen. Learn more about this Airbnb in Seoul here . 
11. This cosy apartment with hotel-quality beds and sheets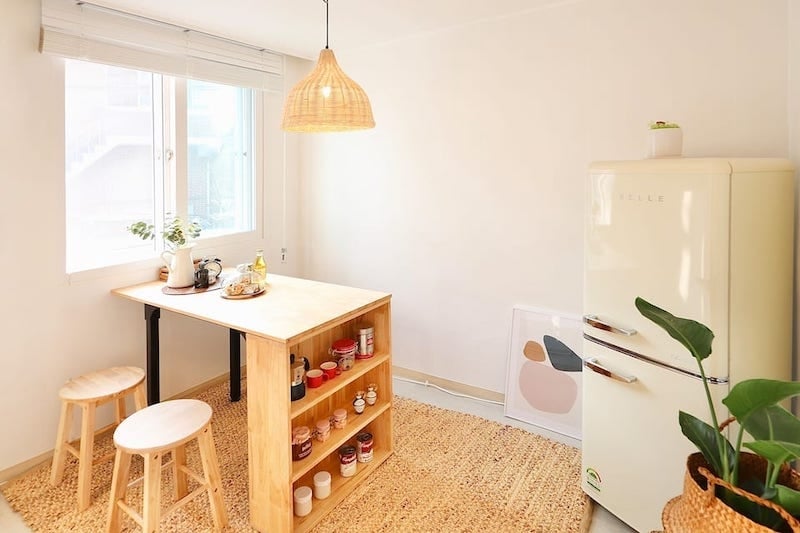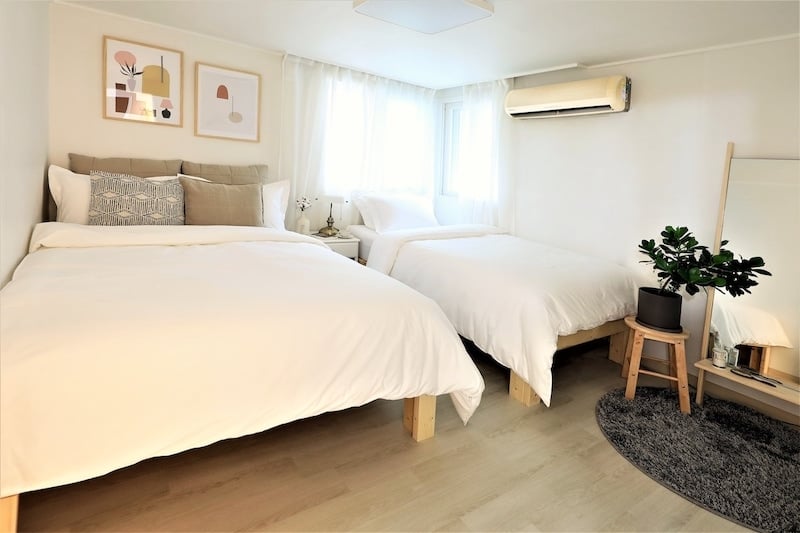 Listing name: 3min HongDae Stn★Hotel Quality Bed★Stunning Dining
Listing type: Entire house 
Max. no. of guests: 5
No. of bedrooms: 2
Ready to say goodbye to terrible jet lag? With hotel-quality mattresses and premium sheets, this Airbnb in Seoul spares no expense to make sure that guests are well-rested and sleep soundly through the night. Guests love this home for its squeaky clean interiors, the strong water pressure in the bathroom, the charming dining nook, and the fragrant scent that permeates every room. All of these features work together to create an abode that is very refreshing for travellers. Learn more about this vacation rental here . 
12. This beautiful hanok for big groups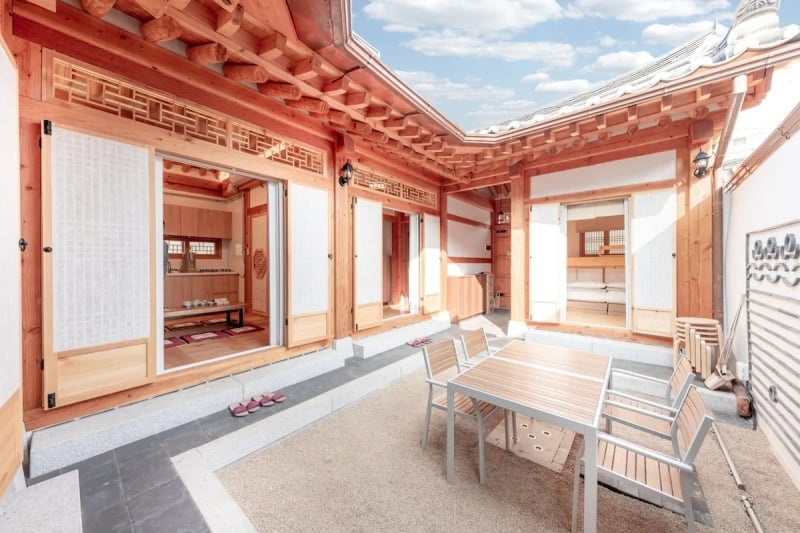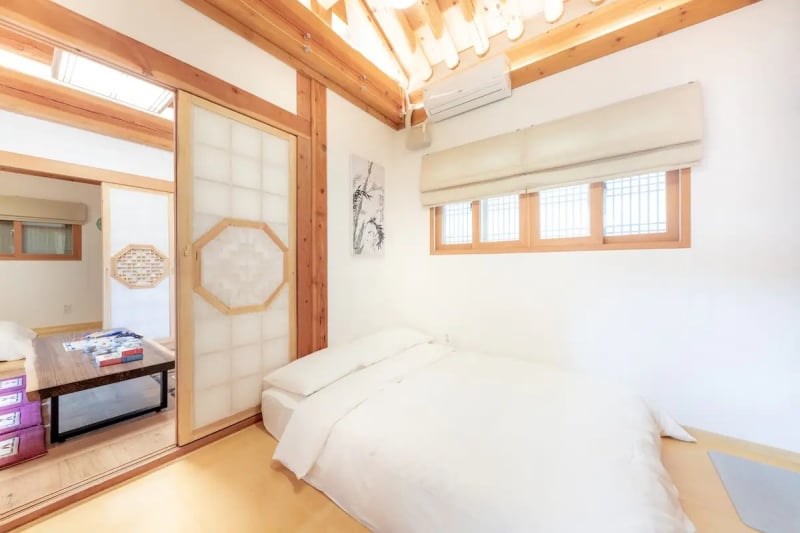 Listing name: NEW Beautiful HANOK by Gyeongbok Palace 5BR+4BTH
Listing type: Entire house 
Max. no. of guests: 12
No. of bedrooms: 5
One look at this traditional house, and you can already tell this Airbnb is far from your average home in Seoul. The classic hanok will make travellers feel like a true local, while featuring all the modern amenities necessary to keep them comfortable and stress-free. Beautiful interiors and a stunning courtyard offer plenty of Instagram opportunities. This Airbnb is also close to many Seoul tourist attractions, including Myeongdong, N Seoul Tower, and restaurants and cafes. Learn more about this vacation rental here . 
13. This apartment near Seoul Station with incredible views of the city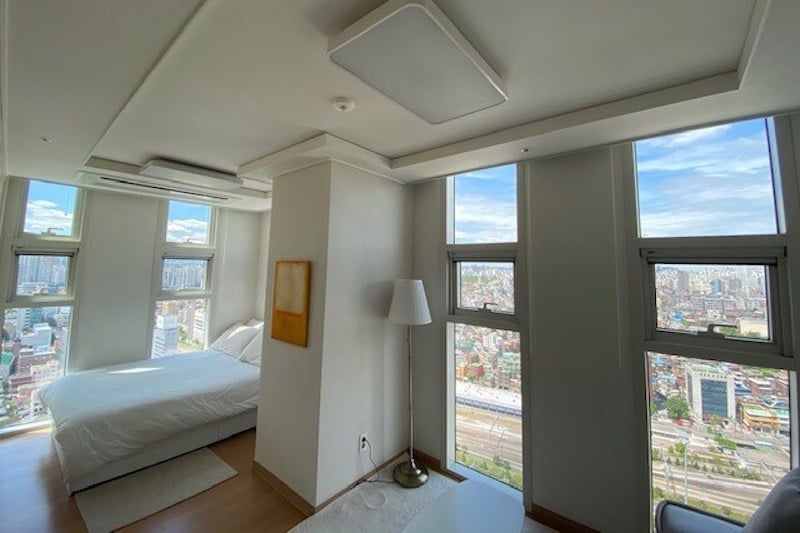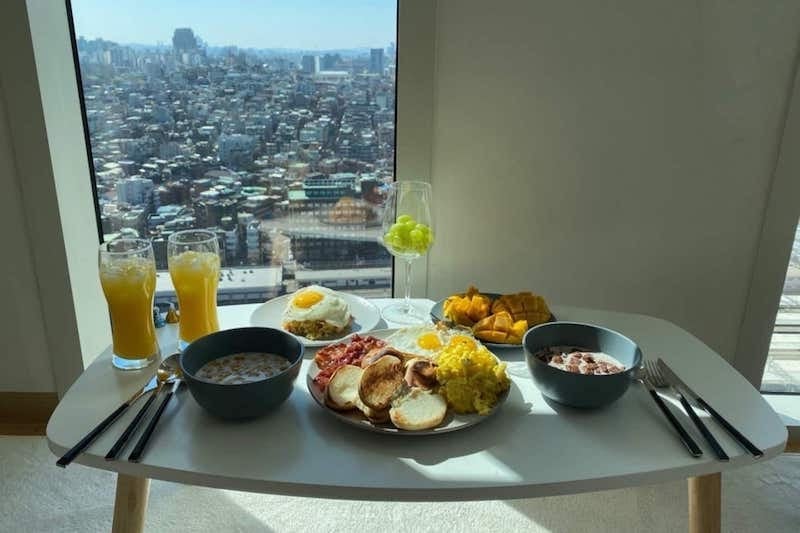 Listing name: Great view of seoul city⭐️SEOUL STN 3min/Free gym
Listing type: Entire apartment 
Max. no. of guests: 4
No. of bedrooms: 1
After a fulfilling day of sightseeing, come home to epic views of the city at this apartment near Seoul Station. It provides a queen-size bed for two adult guests and a sofa bed that can fit another person or two small kids. It also features a fully-stocked kitchen, a washing machine, a steam iron, and high-speed WiFi — in short, pretty much everything you'll need for a home away from home. Guests are free to explore the apartment building's facilities, such as the gym, sky lounge, and rooftop overlooking Seoul. Learn more about this vacation rental here .
Also read:  10 Cabin Retreats in South Korea for a Cosy Getaway
14. This comfortable hideout with space for six guests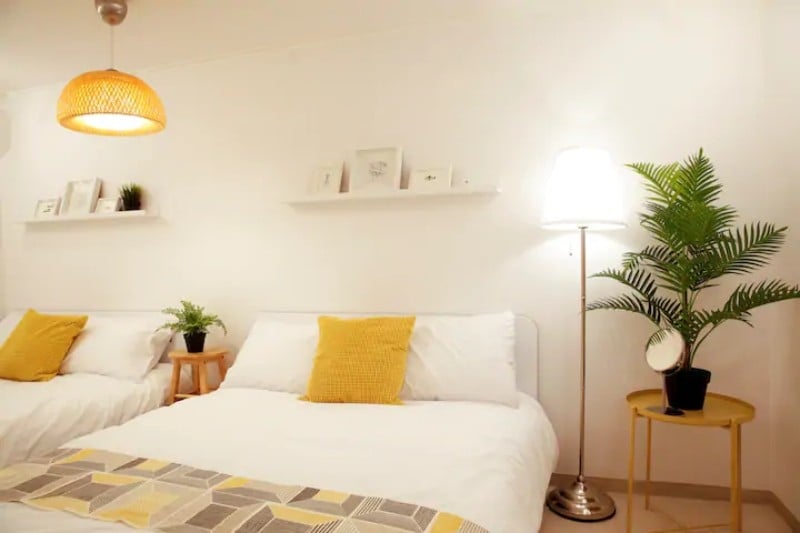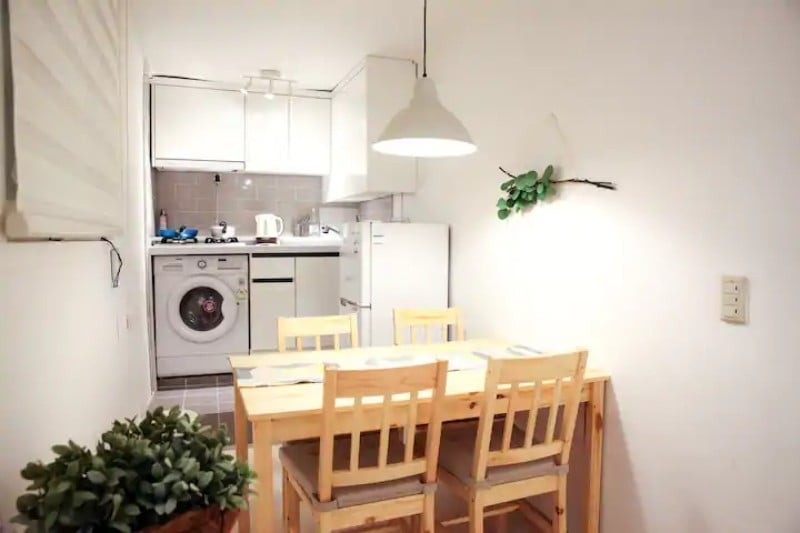 Listing name: 2Rooms!_[Planterior House1]_ 도보 3 분
Listing type: Entire home
Max no. of guests: 6
No. of bedrooms: 2
You'll find it hard to find a better-value Airbnb in Seoul than Planterior House! Designed to fit up to six guests, this vacation rental has everything travellers need for a stress-free stay in South Korea.
Guests also praise the convenient location in Hongdae. Just a few minutes away on foot from Hongik University Station, this Airbnb makes it easy for you to hit all your sightseeing goals in Seoul. Yeontral Park and convenience stores are also nearby. Learn more about this vacation rental here .
15. This IG-friendly home with a balcony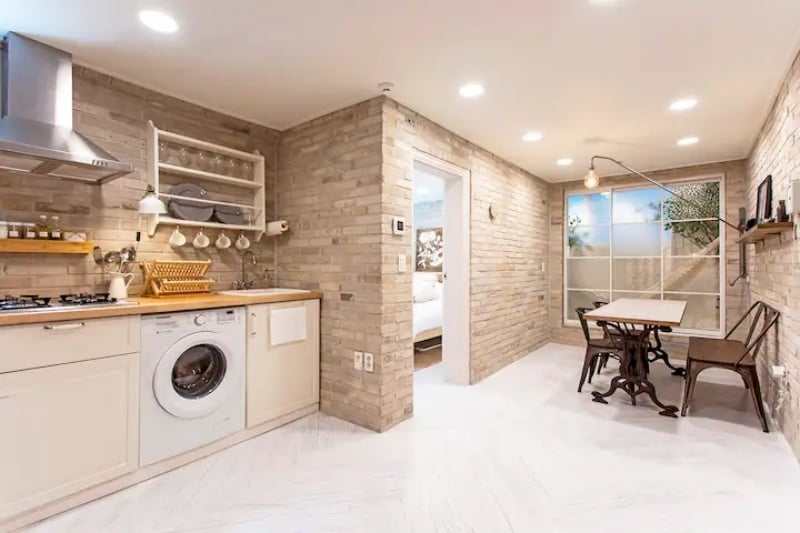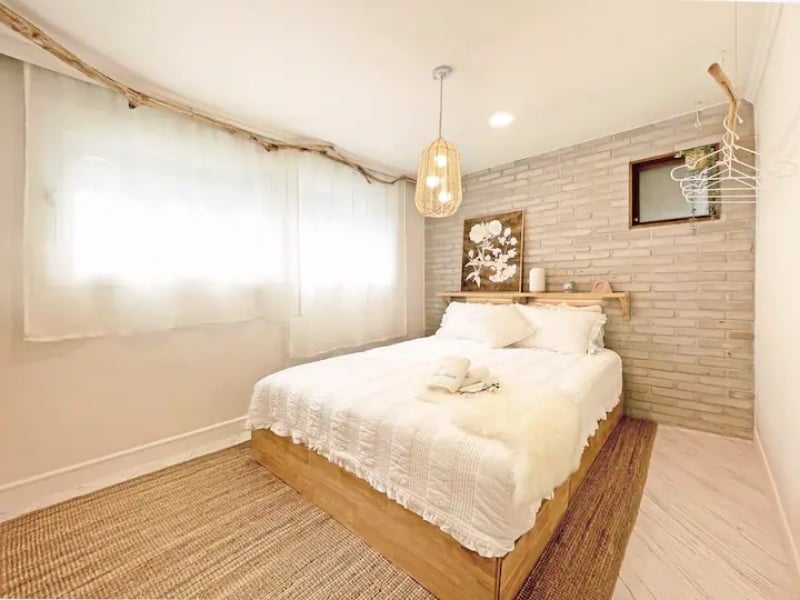 Listing name: Under Cloud ♡ 50m² Spacious aesthetic house
Listing type: Entire home
Max no. of guests: 4
No. of bedrooms: 2  
Seoul is famous for being an extra-aesthetic city, so it makes sense for travellers to seek out an aesthetic house to stay in on vacation. This Airbnb dubbed as Under Cloud is a super-pretty home base in Seoul, with vintage touches, neutral hues, and warm lighting. There's even a hammock on the balcony for days when you just want to lounge in your Airbnb. Spacious bedrooms and common areas mean that the house can fit four guests comfortably.  
And you won't even have to travel far for your Seoul adventures. Under Cloud is in an accessible location near shops, restaurants, and the Hapjeong Station. Hongdae is only about 15 minutes away on foot. Learn more about this Airbnb here .
  Also read: 13 Magical Cabin Retreats in South Korea to Book on Airbnb
With that, we hope that you're one step closer to finding your ideal Airbnb and vacation rental in Seoul without worrying about sky-high prices. We know that all the money you saved is better spent on Korean snacks and shopping trips. 
Got a property you'd like TripZilla to feature? Inquire with us here.
---
This article contains affiliate links. When you book through these links, we may earn a small commission at no additional cost to you. All images courtesy of the respective property listings.