Welcome to Paradise. The picturesque island of Boracay has spectacular beaches, emerald-green waters, brilliant sunshine, and dreamy white sand. Other than revelling in the splendour of the white sandy beaches, there are a number of other fun activities on the island too. Below is a list of ten fun things to do in Boracay!
Also read:Everything You Need To Know About Boracay
1. Stroll along White Beach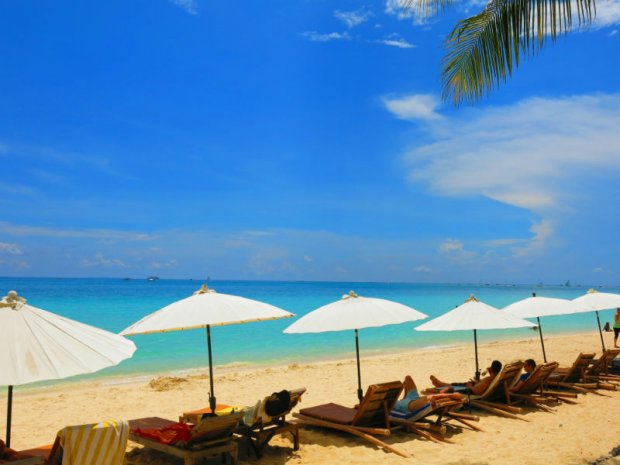 The brilliant sunshine, stark white sand, and knock-out views of the beautiful sea make Boracay's White Beach one of the best beaches in the world. As we stroll along the beach, it almost feels like our feet will sink into the unbelievably soft white sand. The sea is a gentle emerald-green near the coastline, and it blends into a beautiful azure blue towards the horizon. White Beach is the perfect place to take a leisurely stroll, suntan or just set up a deck chair and chill.
2. Sunset paraw sailing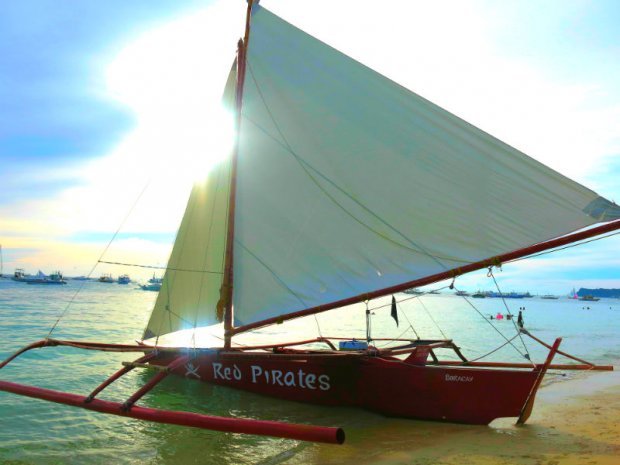 A paraw is a traditional Filipino sailboat with two outriggers. If you visit Boracay, it is essential that you take a ride on one of these cool native sailboats. In addition to being a rich cultural experience, it is extremely fun and enjoyable too.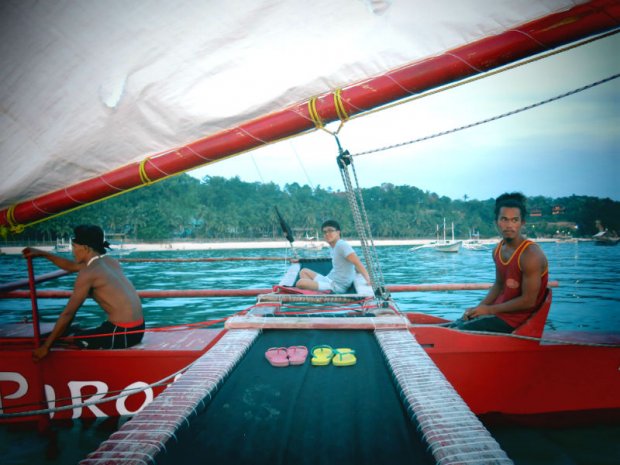 We decide to engage the famous Red Pirates for our paraw sailing tour. We choose this crew for two reasons. Firstly, we had read online that it is a reputable company. There were many touts along the beach who tried to sell us paraw sailing tours with random agencies. However, we had heard of horror stories where the paraws capsized in the middle of the sea due to the irresponsible or inexperienced crew. We did not want to take the risk of going with an unreliable agency. Secondly, the prices for the Red Pirates tours are very reasonable. We choose the Sunset Paraw Sailing tour because we had heard that the paraw provides a splendid vantage point for breathtaking views of the beautiful Boracay sunset.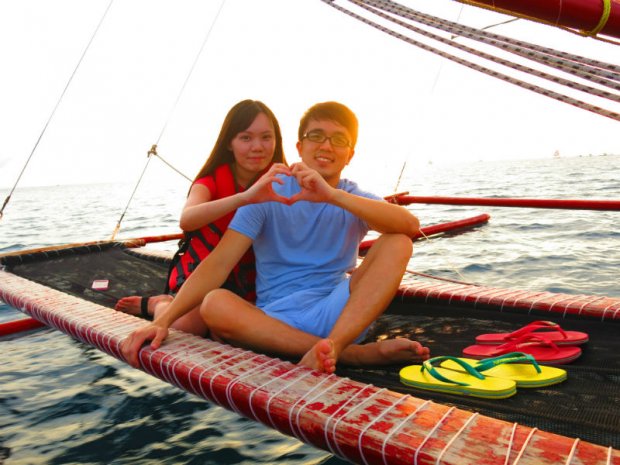 We are feeling relaxed as the paraw sails out to the azure sea and the cooling sea breeze blows gently against our faces. As the paraw sails further away from the island, we get to see the entire beautiful coastline of Boracay. The boat crew controls the sails skillfully and we feel safe knowing that we are in good hands. As the sun begins to set, it painted the sky and wispy clouds with a warm orange glow. The sea gleams in the last rays of the fading sun and we see the silhouettes of other sailboats on the horizon turning to sail back to shore before it gets dark. We are glad we went on this paraw sailing trip.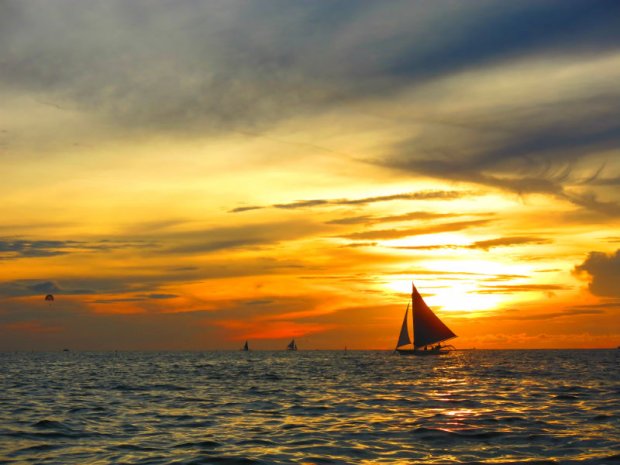 Red Pirates
Angol Road, Station 3 South. Phone: +63 36 288 5767
https://www.facebook.com/RedPiratesPub
Directions: The Red Pirates pub is located towards the extreme south end of station three. If you are staying at station three you can just walk there, or you can catch one of the Boracay tricycle taxis. It is a short three minutes ride from D Mall.
3. Watch the glorious sunsets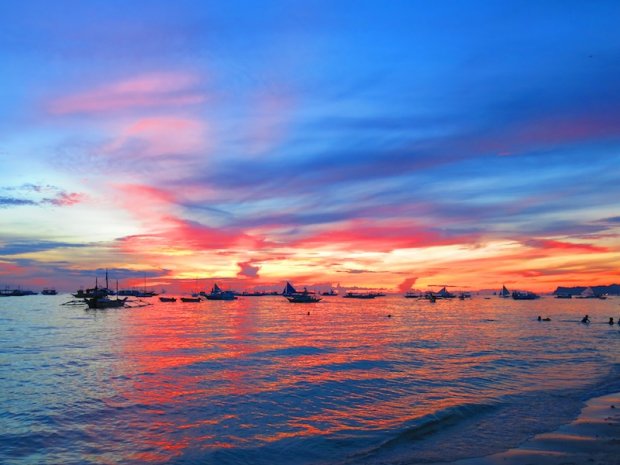 No trip to Boracay would be complete without watching its beautiful sunsets. On one evening, we stood on the beach to catch the sunset. We were duly rewarded for our patience. For a moment, time seems to slow down as the sky turns into a magnificent canvas painted with brilliant hues of red, crimson, lavender, and orange.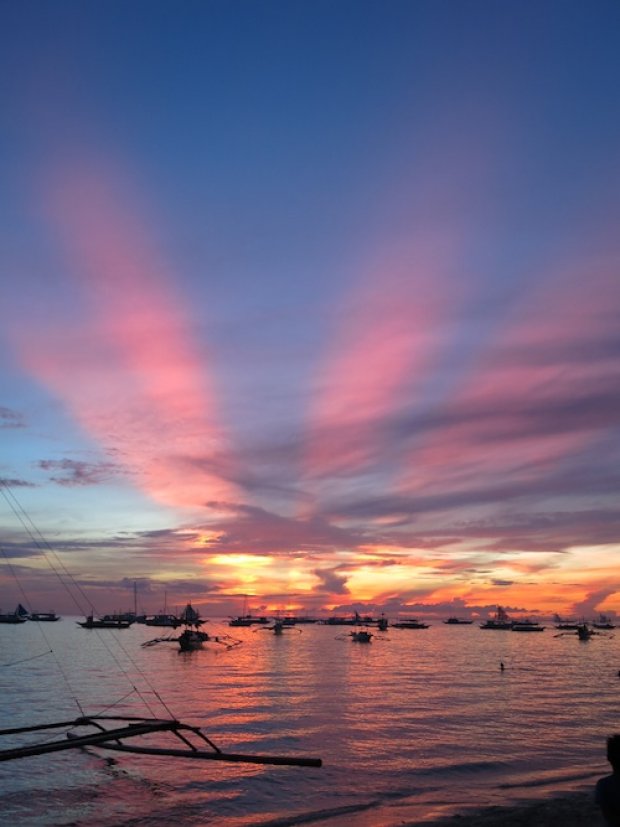 The last rays of the sun pierce through the clouds, tinting the sea with streaks of vermillion. I held Raevian's hand as we stood in silence for ten minutes to revel in the beauty of this glorious sunset.
4. Kayaking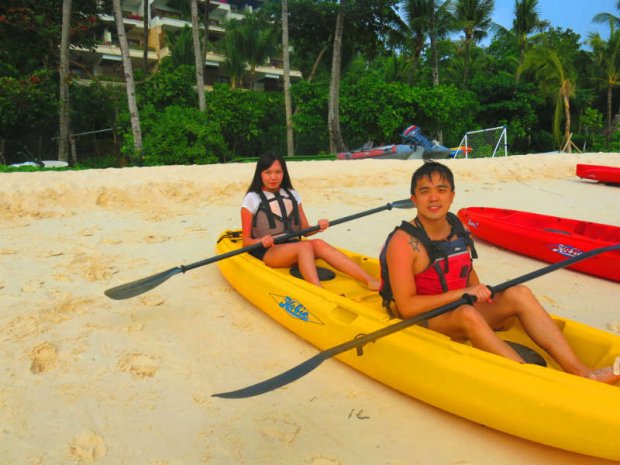 In Boracay, you get the chance to kayak around one of the most beautiful islands in the world. Kayaking is a cheap and fun activity in Boracay, you should definitely try it if you have time. Raevian and I booked a double kayak through our resort. As we kayak over the clear emerald-green sea, we could see the beautiful corals and rich marine life beneath us.
5. Snorkelling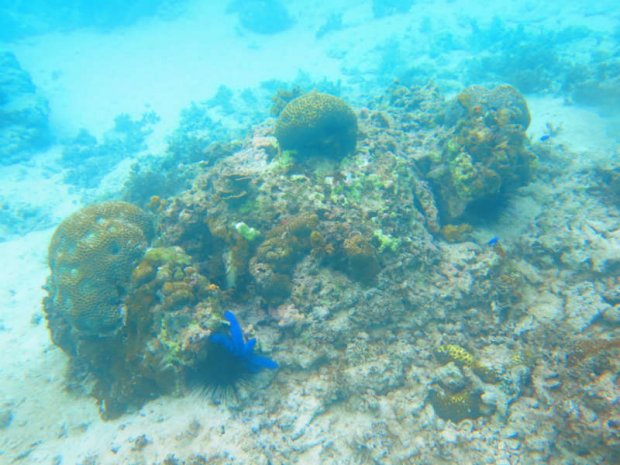 It would be a waste if you did not snorkel at one of the most beautiful marine destinations in the world. The waters of Boracay are very clear, you do not need to go offshore islands for good snorkelling spots. As I swam outwards towards the sea from my resort, I could see beautiful corals and marine life beneath me. During our island hopping tour, I snorkelled at a popular snorkelling spot near Crocodile Island and it was beautiful as well.
6. Food hunting
In addition to the splendour of its beaches, Boracay is also famous for its amazing variety of restaurants. You can choose from Chinese, Japanese, Thai, Indian, Mediterranean, Italian or Mexican cuisine, there is definitely something that will satisfy your taste buds.
Also read: 10 Irresistible Treats You Shouldn't Miss in Boracay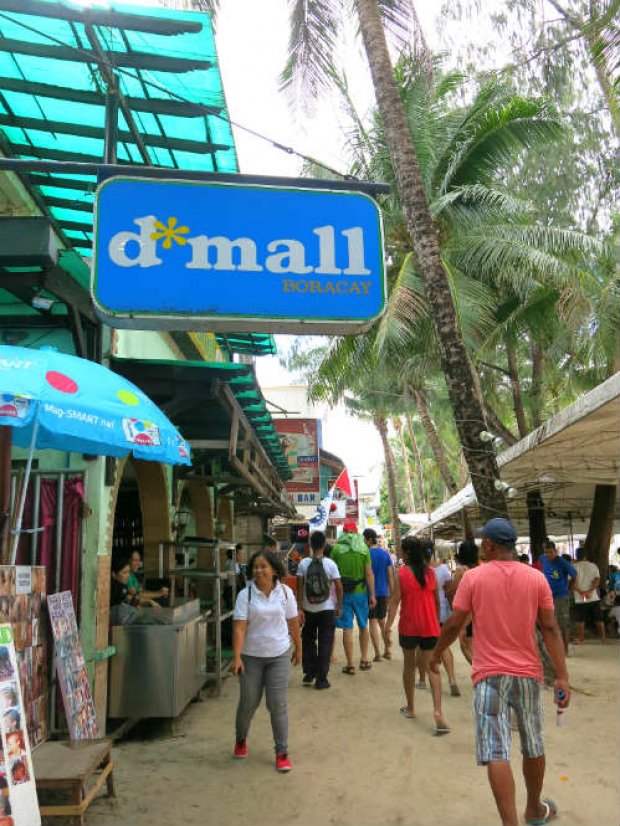 A popular tourist area with lots of good food is Boracay's D'mall, which is located roughly between station one and two. This is not an actual shopping mall but it is a vibrant area with lots of restaurants and stalls. There is also a supermarket (Budget Mart) where you can stock up on your mineral water and titbits.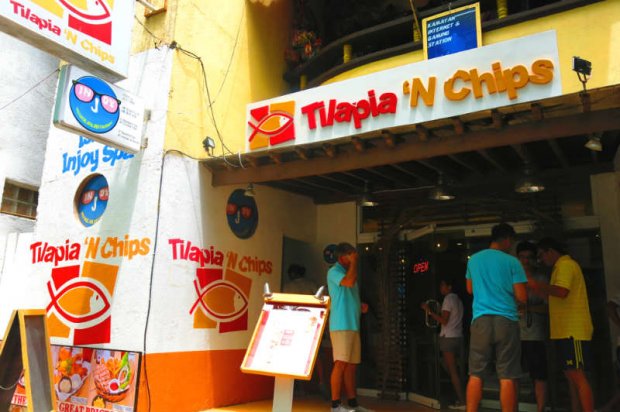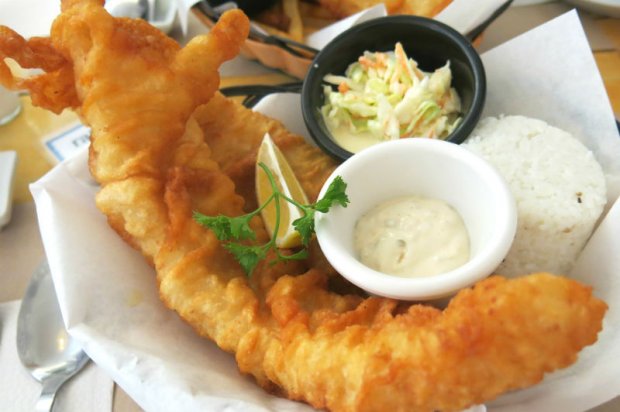 The best beer battered Fish & Chips, only at Tilapia 'N Chips
We went for lunch at Aria as it has pretty good online reviews. It is located at D Mall and serves decent Italian food including pasta and wood-fired oven pizza. The pizza is pretty big portion for two persons but we are big eaters and we were famished after our island hopping tour.
Our favourite restaurant in Boracay is "Tilapia 'N Chips". It serves up kickass beer battered fish & chips which are absolutely delicious. The delectable dish consists of large succulent fish fillets with tartar sauce to go along, chunky fries, and coleslaw. It tastes so good that we squeeze in a second trip to the restaurant during our short stay on Boracay. Tilapia 'N Chips is located at D mall. Click here for directions.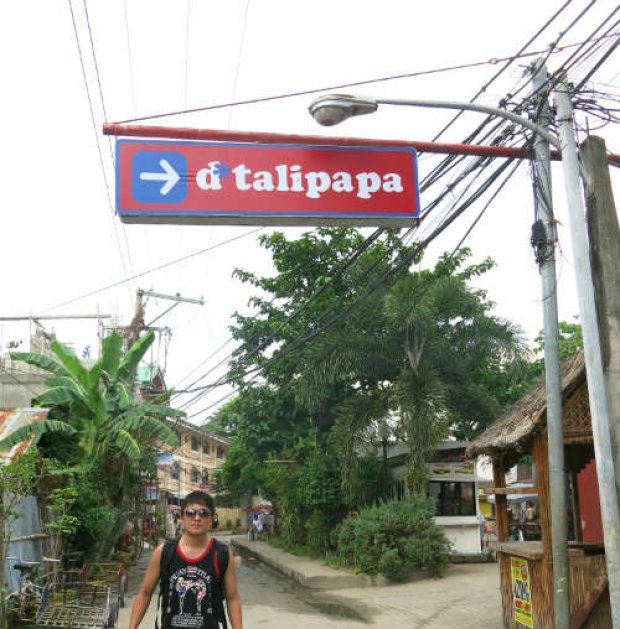 A great place for seafood is the Talipapa Market. This is essentially a seafood market where you can purchase fresh seafood and request for the restaurants to cook them for you in your favourite style (steamed, grilled or fried). Talipapa is located at station 2 and is a four minutes taxi ride from D mall. It is near Boracay Courtyard Beach Resort. If you are unsure of the directions, you can just ask the friendly locals.
7. Island hopping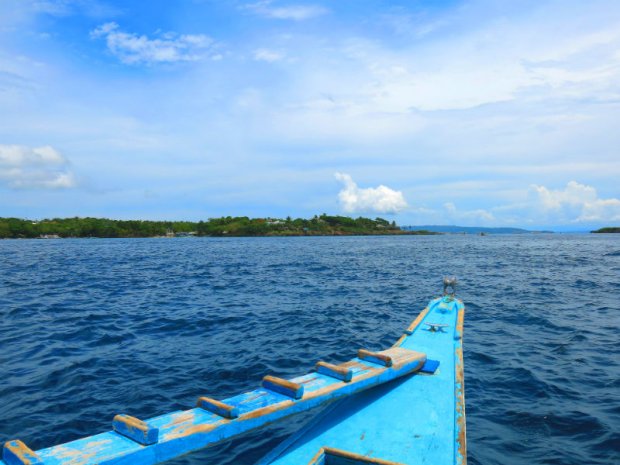 One activity to consider in Boracay is travelling to the nearby offshore islands. These are basically small pristine islands where tourists can snorkel, have a beach barbecue, or enjoy the peace away from the crowds on the main island. We joined one of the tours available and they brought us to three islands: Crocodile Island, Crystal Cove Island, and Puka Beach. It felt wonderful to sit on the boat and enjoy the sea breeze and spectacular view of the beautiful Boracay sea.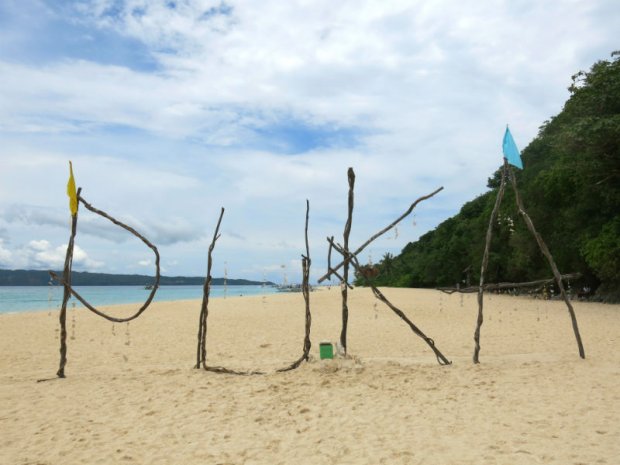 On Puka Beach, we strolled on the serene beach and took a photo with the big iconic "Puka Beach" letters strung with rare "Puka" shells. These are naturally occurring shells which come from cone snails. If you are interested, you can buy Puka shell jewellery from the locals who gather the shells to make beautiful accessories.
8. Parasailing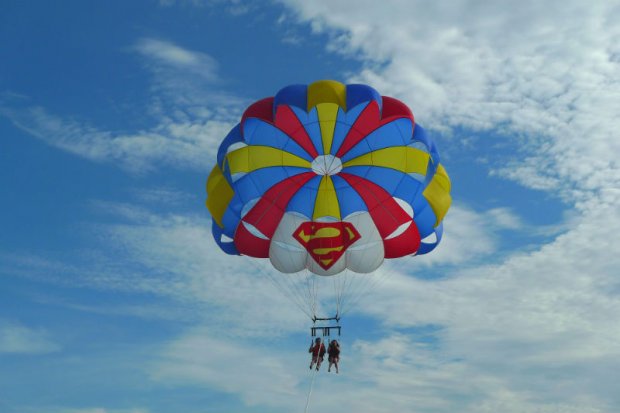 The highlight of our trip to Boracay has got to be Parasailing. For this activity, we went with Diamond Water Sports because we had read online that it is one of the more reputable sea sports companies on the island. We were not disappointed. The boat crew was friendly and constantly conducts safety checks to ensure that everything is in order before we started parasailing. Apart from the two of us, there were only two other couples on the boat so it was not crowded at all.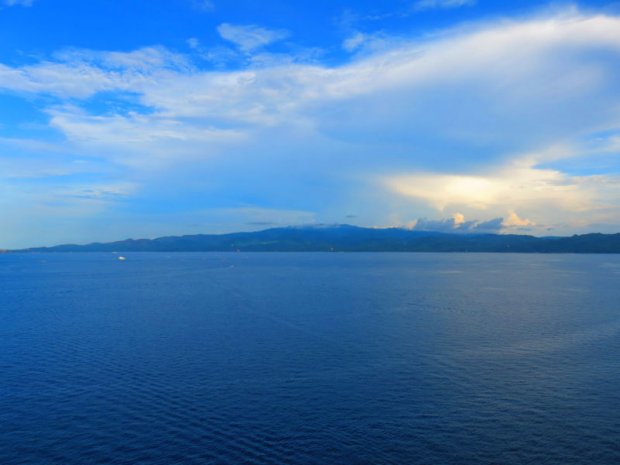 The really cool thing about this activity is that two people can parasail at the same time using one parachute! After we strapped in, the pulley system slowly released us into the sky. As we reach the maximum height, we were blown away by the breathtaking view around us. We saw the entire island of Boracay beneath us and it was absolutely amazing. We enjoyed the magnificent panoramic view for a good fifteen to twenty minutes. It felt surreal to parasail over one of the most beautiful islands in the world and this is definitely a bucket-list-worthy item.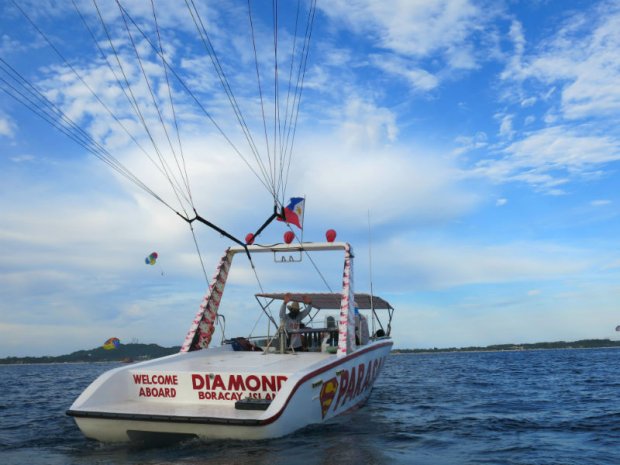 Diamond Watersports Boracay Island
Station 1, Balabag Boracay Island, 5608 Kalibo, Aklan
Phone: +63 36 288 6621
Directions: You can walk to the Diamond Watersports centre or you can simply catch one of the Boracay tricycle taxis. It is a short three minutes ride from D Mall. The company also has small booths set up along the beaches and you can spot them from their signboards and crew wearing the Diamond Watersports uniforms.
9. Sea walking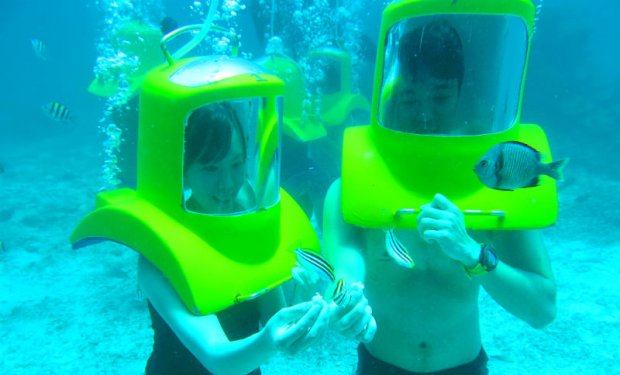 One fun activity available in Boracay is Sea Walking. We booked this activity through Diamond Water Sports as well (it is easier to bargain if you book multiple activities). Sea walking is like scuba-diving with a tube connected to the surface which you can breathe through a big transparent helmet over your head. No diving certification is required.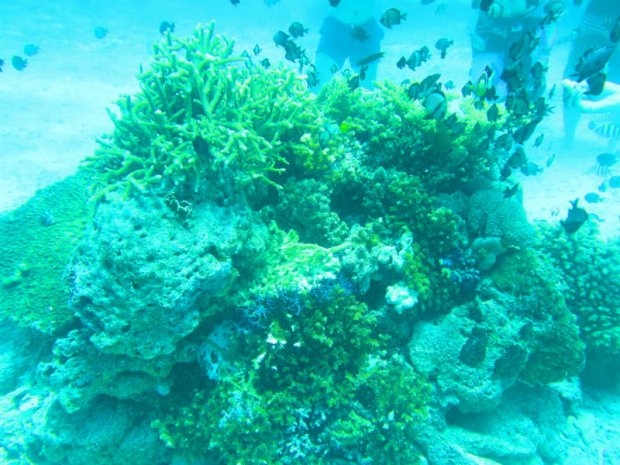 For some reason, I can't stop smiling as I walked among the beautiful corals. I was really relaxed and happy. It was probably because the sea was teeming with underwater life and it was pretty fun to feed the school of fishes swimming around us.
10. Stay at Shangri-La's Boracay Resort & Spa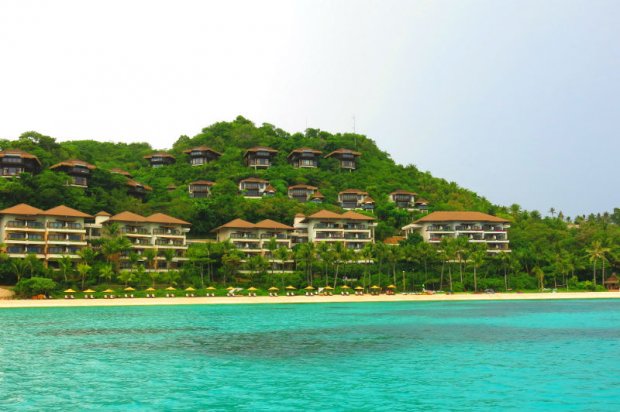 Shangri-La's Boracay Resort and Spa is rated the best hotel on Boracay and it is not difficult to see why. With its impeccable service, luxurious rooms, and exclusive private beach, this hotel is truly a dream come true for tourists.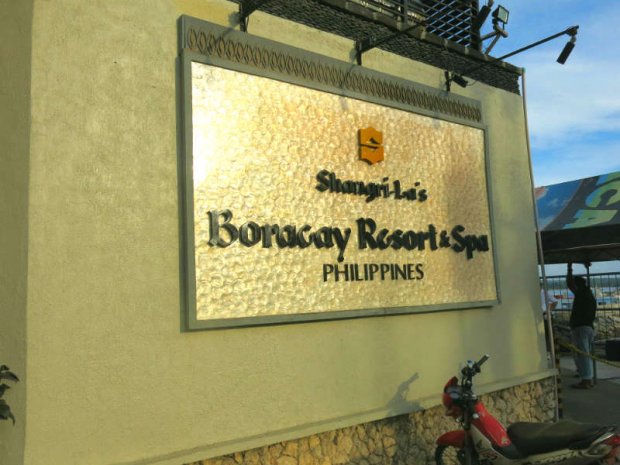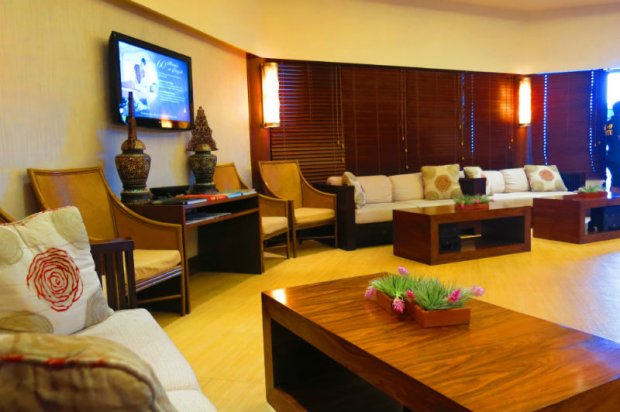 Shangri-La Boracay's luxurious waiting lounge at its private jetty
We arrived at Caticlan airport and felt a little lost. Lucky for us, the friendly Shangri-La staff found us and we were whisked off in a van to the private Shangri-La lounge at the jetty. The trip took just ten minutes. The luxurious lounge is air-conditioned, we were also served with cold scented towels and refreshing cocktails while waiting for the Shangri-La motorboat to transfer us to the island of Boracay. There was even free Wi-Fi here too! Shangri-La Boracay Resort and Spa has its own private jetty, so we did not have to worry about jostling with other tourists. As far as first impressions go, Shangri-La definitely nails it.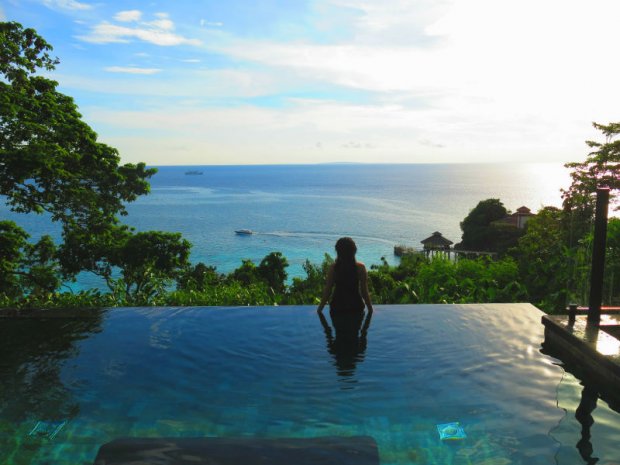 Breathtaking view from our Loft Villa's infinity pool
We stayed at the two-level Loft Villa, which offered spectacular views of the gorgeous sea right outside our windows. It felt surreal waking up every morning to the beautiful azure sea with water so clear that you can see the corals beneath.
Staying at the Loft Villa entitles us to the hotel's butler service, and we are even given a mobile phone with a personal line to our private butler. I felt a little nervous as I made my first call. I punch in the number and our butler picked up the call in two seconds.
"Good afternoon Mr Tang! How can I help you?"
"Erm, we are at the pool. Can you send a buggy to fetch us to our villa?" (the resort is pretty big)
"Sure Mr Tang! It will be coming in five minutes."
It felt great to have a private butler!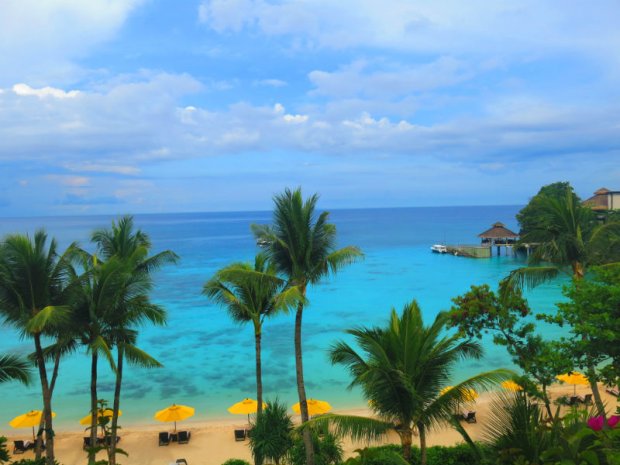 Shangri La Boracay Resort and Spa's private beach
On top of the first-rate service and premium rooms, Shangri-La Boracay has its very own private beach. Therefore, we do not have to worry about the beach being overcrowded with tourists and touts. Shangri-La Boracay's idyllic beach is laid with comfortable beach chairs and plush sofas, and the resort provides free snorkelling gear too. There is also a live band so you can listen to soothing music as you chill out on the beach. We managed to catch another beautiful sunset on Shangri-La Boracay's private beach.

Beautiful sunset from Shangri La Boracay's private beach

Shangri-La's Boracay Resort & Spa
Barangay Yapak, Boracay Island, Malay Aklan 5608, Philippines
Phone:+63 36 288 4988
http://www.shangri-la.com/boracay/boracayresort/
Photos Galore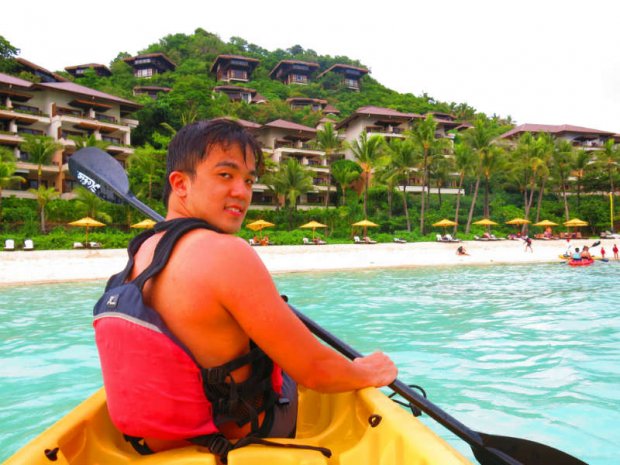 Kayaking at Shangri La Boracay Resort and Spa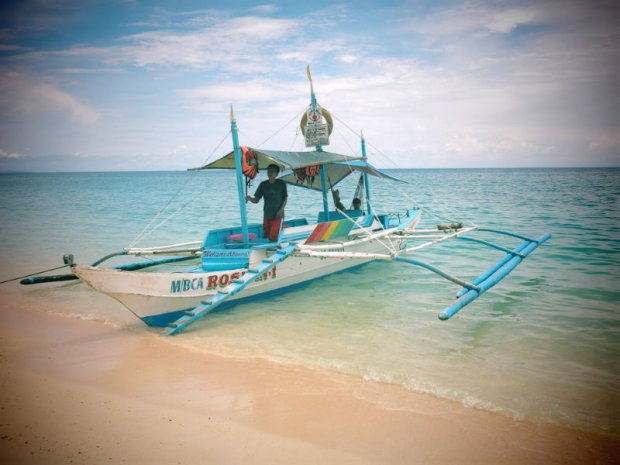 Our motor paraw for the island hopping tour

Dreamy Sunset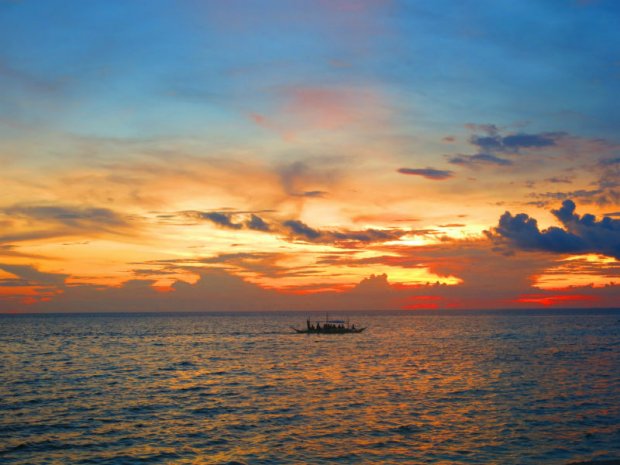 Sunset from Shangri-La Boracay Resort and Spa Private Beach
And that's it! Thank you for reading. Boracay is a beautiful place and you should definitely visit it at least once in your life.
Contributed by Eat and Travel with Us.