Think of Bintan and what comes to mind? Beautiful resorts complete with swaying palm trees and fine white sand. But what exactly lies BEYOND those resorts? Let us show you a side of Bintan you never even knew existed – from sea gypsies villages, hidden temples to outlying islands and more. It's such a cultural eye-opener; you'll never see Bintan the same way again!
Here are some ways to rediscover Bintan on your next trip to this island. The best part? Bintan is located just 1 hour away from Singapore by Catamaran ferry, which is perfect for that convenient weekend getaway!
Here in Bintan, you can...
1. Make friends with locals at Panglong Village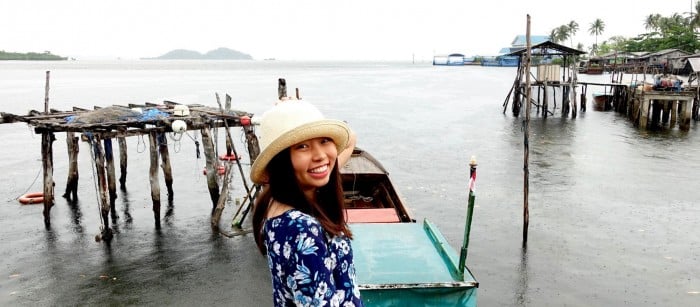 Panglong Village is a sleepy picturesque sea gypsies village found right at the end of East Bintan. Home to the Orang Suku Laut , or the "sea people", the village was built by the government so as to allow the sea gypsies to have a place on land to call home and for them to move inland for longer periods of time. Now, tourists can drop by Panglong Village to visit and learn more about the unique lifestyle of the sea-bound villagers!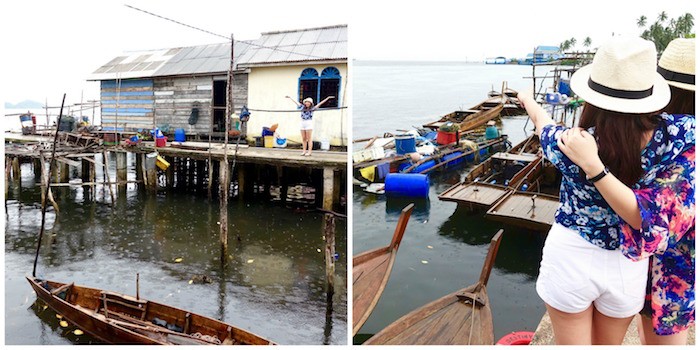 Wander among the rickety stilt houses on water, or catch the locals going about their daily errands; from constructing wooden boats, fishing nets or even drying salted fish in the open, the the atmosphere is wonderfully relaxed and laidback. It was definitely an eye-opening experience to see how different the lives of the sea gypsies were from our own.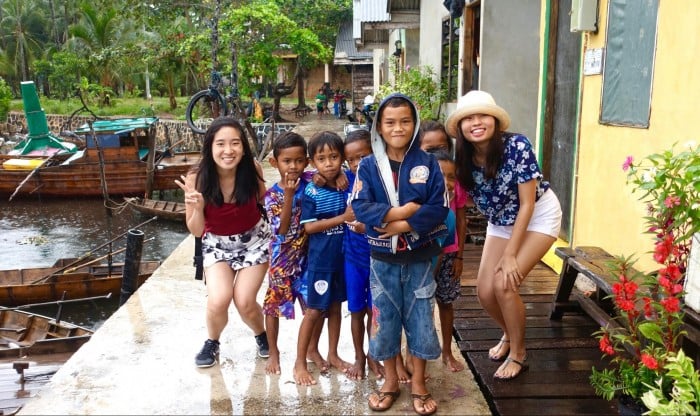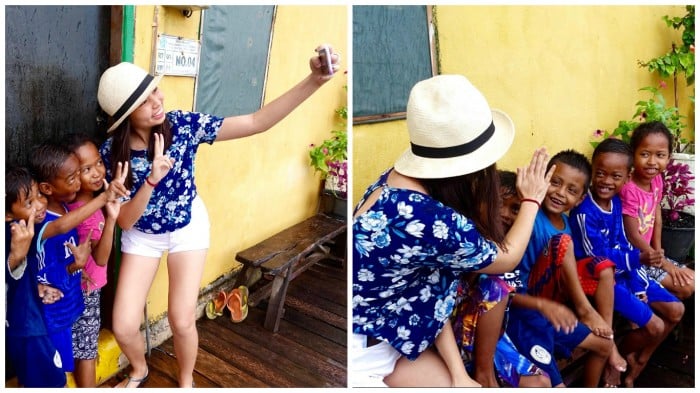 Our favourite part was how welcoming and hospitable the locals were – everywhere we went, we were greeted with beaming smiles and exuberant waves. The children in the village are especially friendly towards outsiders, trailing behind tourists with their gaggle of friends and are even more than willing to talk or even pose for a few photos! Bring along some snacks and small gifts for the children when you visit – seeing their faces light up with gratitude will definitely make your day.
2. Relax in wooden huts on Trikora Beach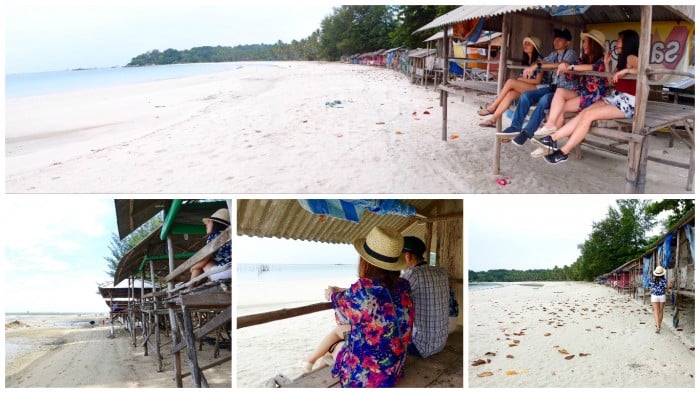 The Trikora Beach, or Pantai Trikora as it's more colloquially known, is a white sandy beach that remains uninfested by tourists and their bright rainbow umbrellas. The beach actually comprises of four separate points: Trikora Satu , Trikora Dua , Trikora Tiga and Trikora Empat . At Trikora Empat , the beach is lined with rows of charming little wooden huts, which are really popular with locals on the weekends.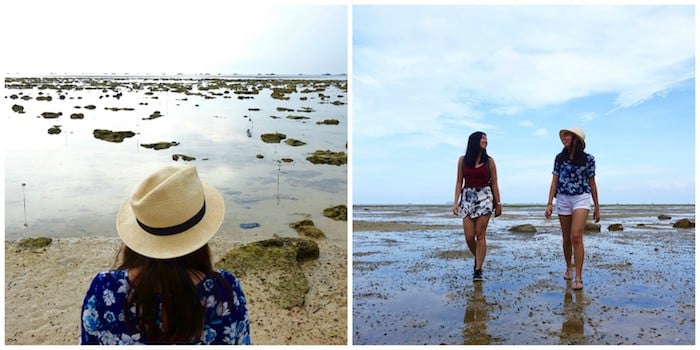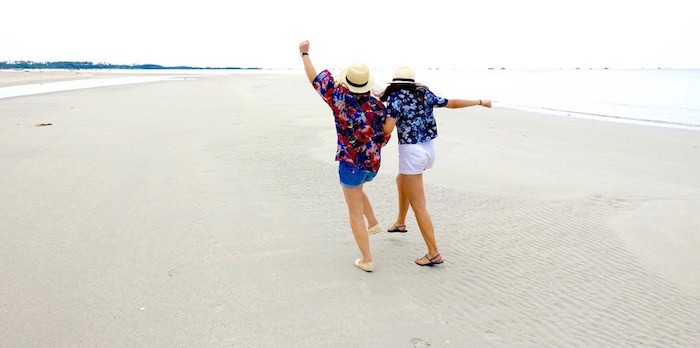 Trikora Beach is popular among the local crowd for both swimmers and sunbathers alike, due to the crystal clear waters and white sandy beaches. We highly recommend packing a picnic and renting a hut for a day at Trikora Empat for an idyllic experience. Who knows? You might even gain some new friendships out of your interaction with the locals!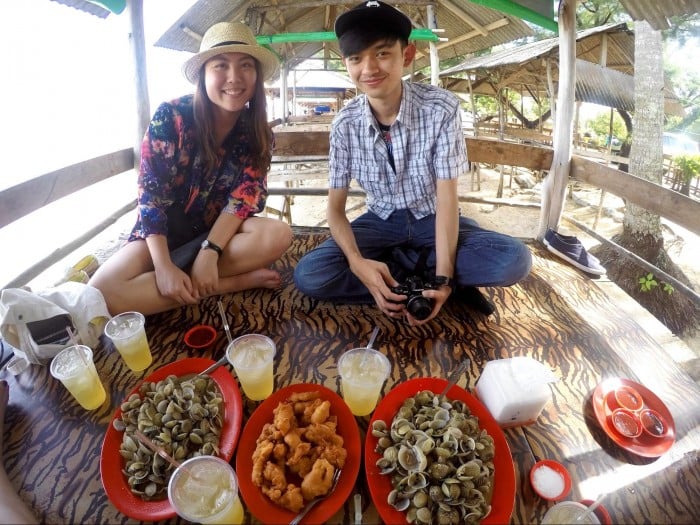 If you're feeling a little peckish while walking down the coastline, then drop by Trikora Dua , where you can feast on a sumptuous seafood spread consisting of fried calamari and stir-fried remis (mussels). Complete your meal with a refreshing drink of lime juice topped with salt – it might sound like a strange combination, but it's actually quite delicious! For an authentic experience, opt to have your meal at one of the small thatch-roofed wooden huts near the beach where you can enjoy the amazing bayside view at the same time!
3. Hike through a forest trail at Grotto Santa Maria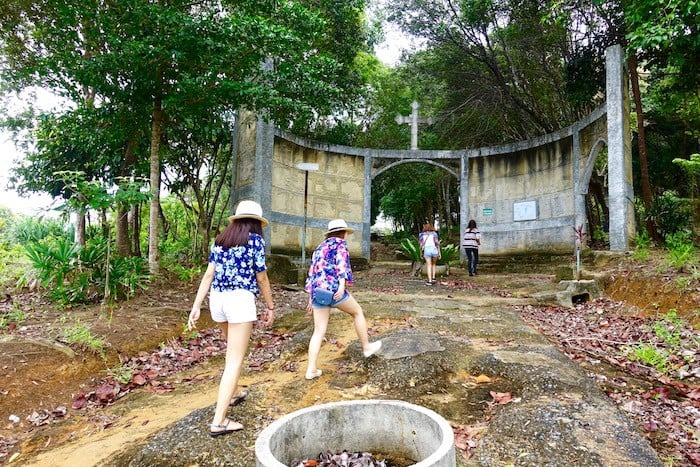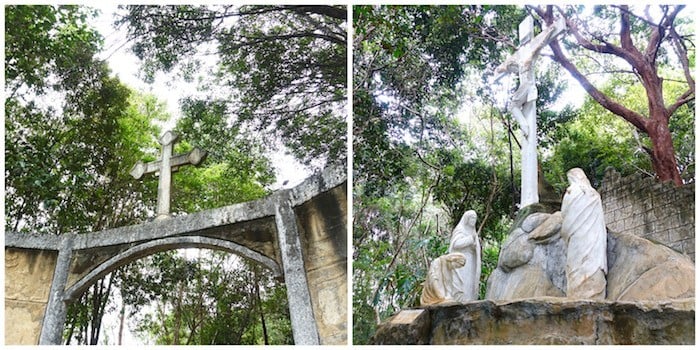 Located just opposite Trikora Empat , the Grotto Santa Maria, or the Santa Maria Cave, was originally built by a Dutch pastor in the eighteenth century. The religious site was maintained and further expanded upon by gypsies from Vietnam and Catholics from East Timor over the years. Now visitors come to experience the story of Jesus through the Fourteen Stations of the Cross, a series of sculptures scattered along a forest trail that leads right up to the Grotto (cave) and a quaint chapel.
The chapel at the top is a vibrant pop of colour amidst the greenery and gets especially packed on Sundays, with devotees welcoming anyone to pray, sing praises and enjoy a little friendly get-together!
4. Travel back in time at Penyengat Island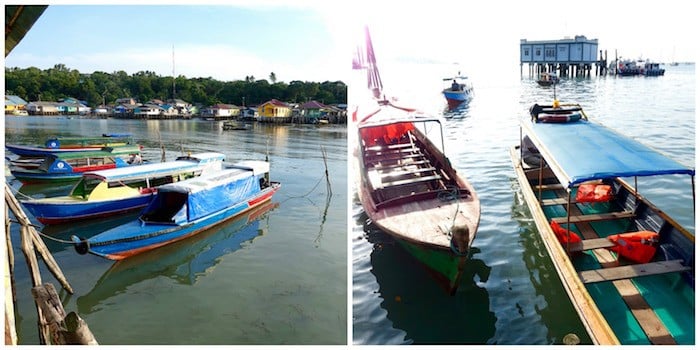 Penyengat Island, or Pulau Penyengat as it is locally known, is steeped in both local culture and history. Once the cultural capital of the Malay world, Penyengat Island still retains much of its former glory! Plenty of historical buildings and past literature works are preserved for visitors to learn more about the island's rich past.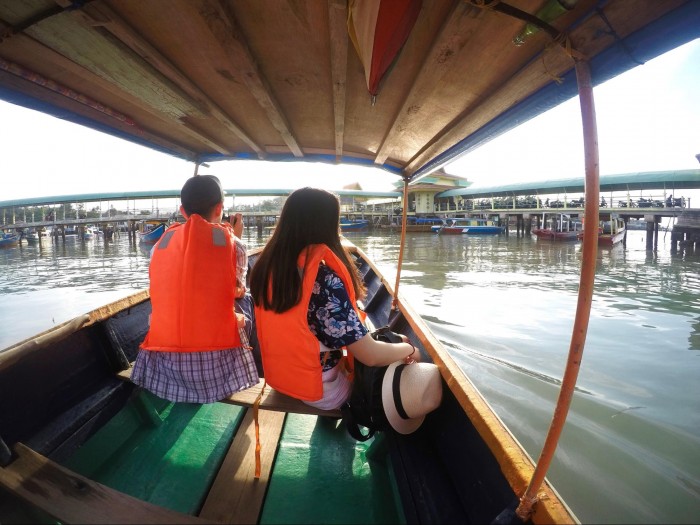 Indulge in an afternoon of getting to know the Bintan of yesteryear at Penyengat Island, where the air smells of salt and fishing boats float languidly in the sea. The island is located just 15 minutes by boat away from Tanjung Pinang, the capital of the Riau archipelago. Take in the colourful sights along Tanjung Pinang's jetty as you approach the yellow and green hues of Penyengat Island!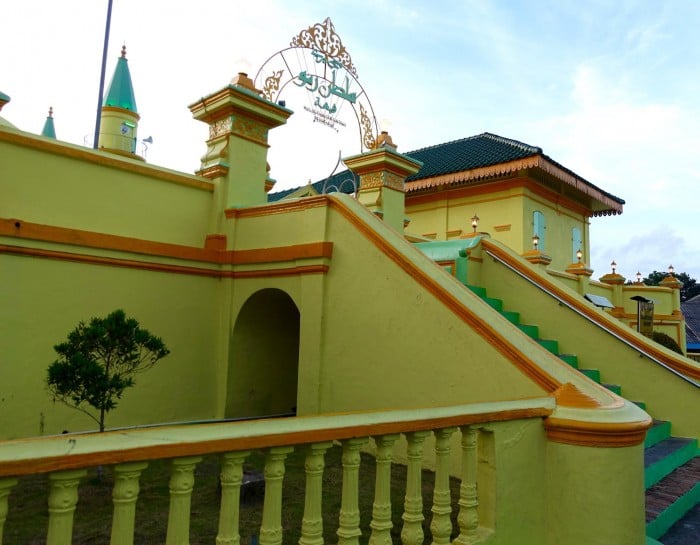 Penyengat Island is home to various historical monuments that outline the history of Malay culture, such as palaces and the iconic yellow Masjid Raya Sultan Riau, or the Grand Mosque of the Riau Sultanete (pictured above). Built by Raja Ali Haji in the nineteenth century, rumour has it that during construction, the mosque received an excess of egg donations from the nearby villages. It was then decided that the extra eggs should be added into the cement in the hopes that it would add further stability to the structure.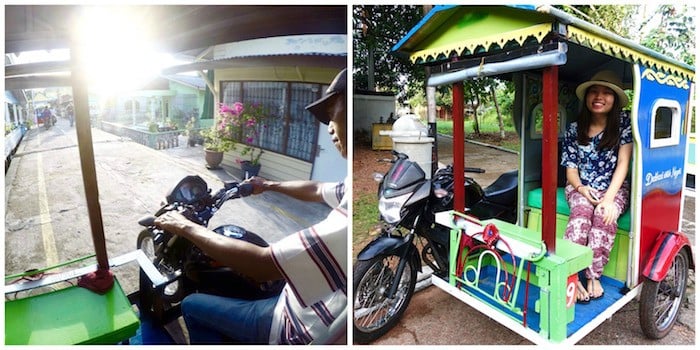 Motor rickshaws are a favourite mode of transport around the island, and we could totally understand why! It was quite something zipping around the streets in these brightly coloured boxes; the driver adeptly navigated the maze of streets and locals waved at us from their houses. Sometimes we even squeezed through narrow alleys and took hair-raising turns – it was all part of the fun!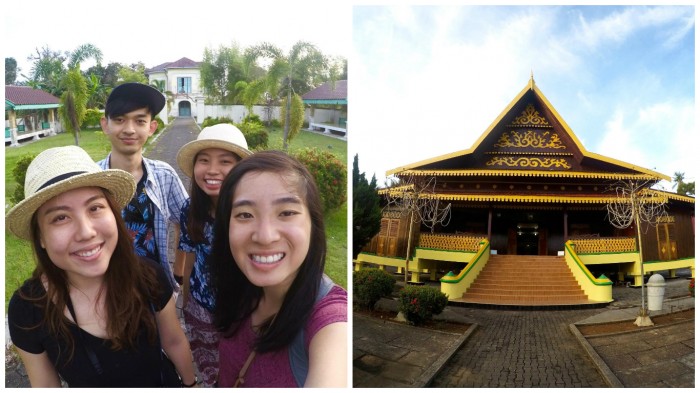 (left) The Istana Kantor | (right) Balai Adat
The rickshaws took us around the island, to various historical sites such as Kompleks Makam Raja-Raja (the "Tombs of the Sultans"), where you can you can visit the graves of the royal family which are identified by the yellow cloths wrapped around their tombstones. The rickshaws also took us to Istana Kantor, an office palace and also one of the oldest buildings standing in the island as well as Balai Adat, a custom hall with a well that never runs dry, even in the dry seasons! 
5. Go temple-hopping at Senggarang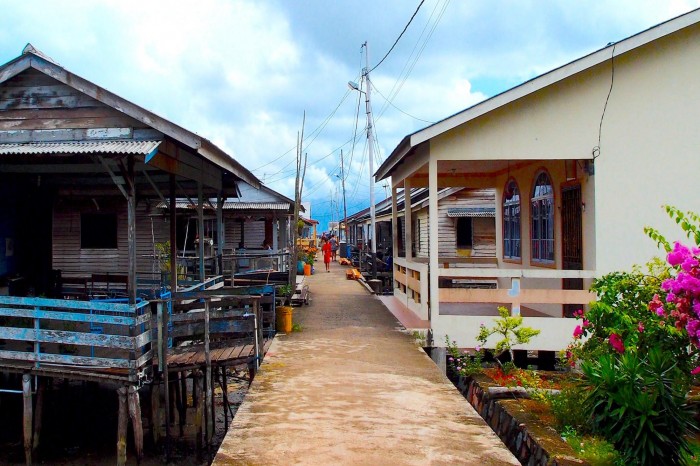 While Penyengat Island showcased Malay culture, Senggarang plays host to a predominant Chinese population having previously been the landing point for Chinese immigrants looking to settle from the eighteenth century. This area has its own unique charm of cobbled squares, stilt houses and ethnic temples that awaits any visitors to explore and discover!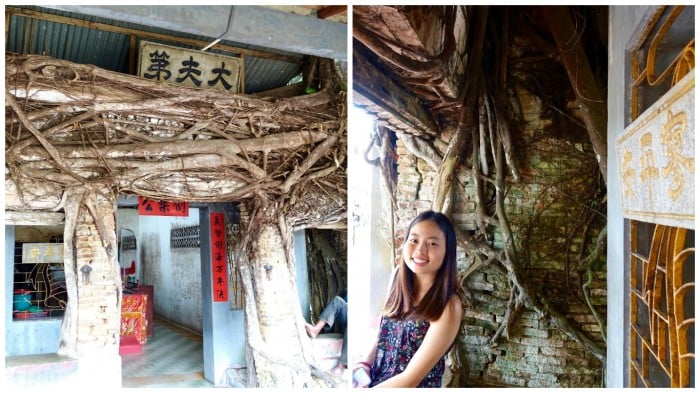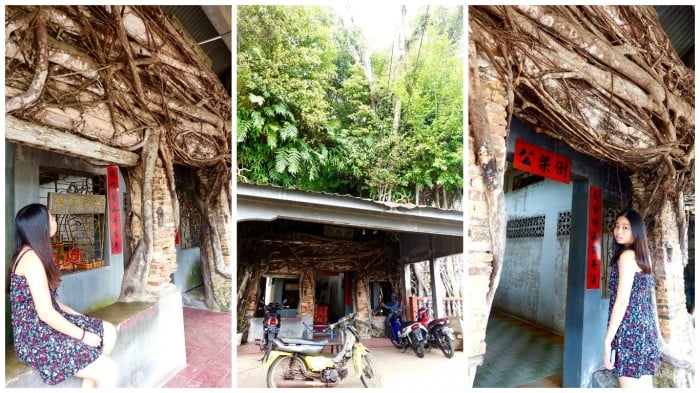 One famous landmark on Senggarang is the Banyan Tree Temple, a sacred temple that features a massive banyan tree growing into its structure over many years. Legend has it that the temple was originally a house owned by a kind man, who freely opened his doors to the homeless to stay. When he passed away, the locals converted his house into a place of worship in loving memory of him. Many visitors come from all parts of the world to pray at this temple they believe that it can grant them wishes and bring good fortune.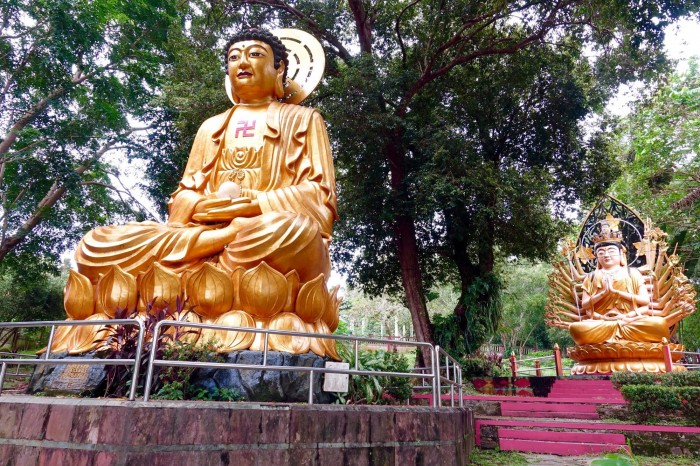 Another famous temple at Senggarang is the Vihara Dharma Sasana, which showcases a multitude of gigantic, colourful Buddhist statues. We were simply awed at the rich showcase of Chinese mythology, with sculptures of dragons and legendary characters such as the Laughing Buddha and Sun Wukong brought to form in the temple gardens. There are even live turtles housed in one of the temples – we won't tell you which one, part of the fun is chancing upon them yourself!
Senggarang can be reached either by boat from Tanjung Pinang Terminal, or via a land transfer.
6. Wander the temple grounds of the Kwan Yin Temple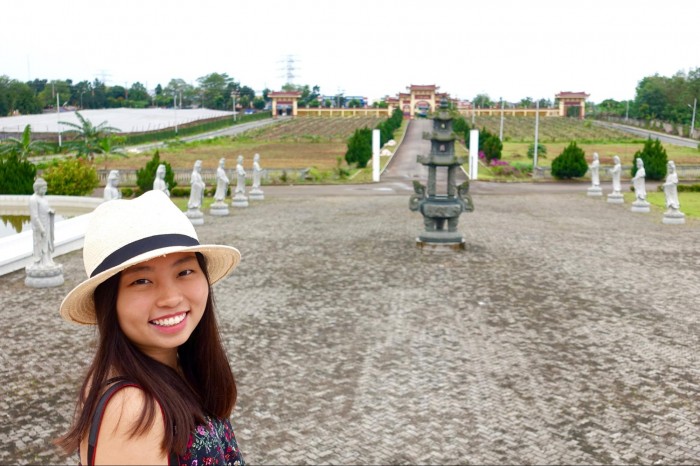 The Kwan Yin Temple holds the record of housing the largest sitting Kwan Yin, the Buddhist Goddess of Mercy, in South-East Asia. Measuring up to the height of 16.8 meters, the giant gold-coated brass statue is far from imposing, instead invoking a sense of benevolence and peacefulness among temple visitors.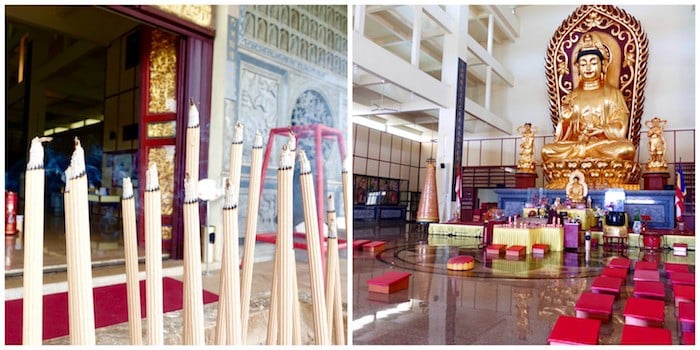 Various statues of other Chinese deities can be found on either side of the sitting Kwan Yin, and are a sight to behold. The temple's architecture is also something to marvel at, with masterfully detailed dragon carvings and fierce stone lion guardians drawing the bulk of the attention.

Take a stroll across the temple grounds and marvel at the level of detail in each Buddha sculpture. Try to drop by during the evenings and play witness to the marvellous sight of the Kwan Yin Temple overshadowed by the orange hues of the dusky sky!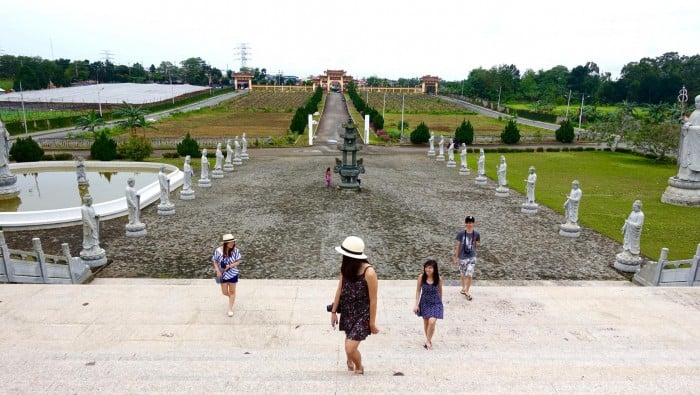 There is also a dragon-fruit plantation right in front of the temple; if you're lucky, you might just be able to be there in time to observe the harvest. The fresh produce from the plantation changes according to the seasons, so you never know what you'll see!
7. Enjoy a slice of paradise at White Sands Island
Image credit: Bintan Resorts
The White Sands Island lives up to its namesake, offering the perfect combination of sandy white beaches and crystal blue seas to make it the ideal place for a short beach retreat! Lie back and relax in a hammock on a lazy afternoon, or take a peaceful stroll along coastline walks on this hidden slice of blissful paradise.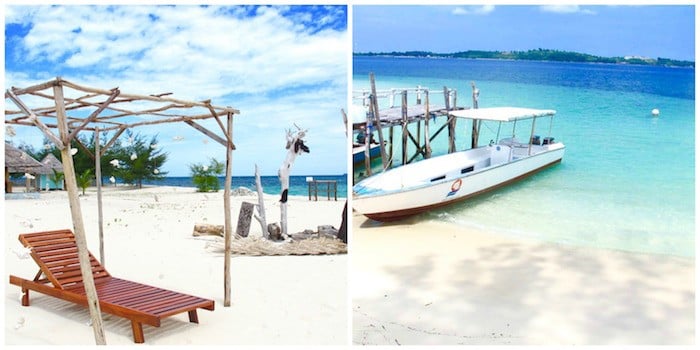 Image credit: Bintan Resorts
And of course, when you're on an island, it's also mandatory to participate in their aquatic activities! Especially with such clear visibility in the waters, you'll be in for an amazing scuba-diving experience as you explore the surrounding marine life in the South China Sea. For those who don't like diving deep into the sea, the Bintan Dive Camp also offers snorkeling sessions as an alternative.

White Sands Island is just a 10-minute boat ride from Trikora Coast! Check out their website for more information, or simply arrange a land and boat transfer with your resort. Heaven on Earth is just a boat ride away!
8. Explore the town of Tanjung Pinang
Image credit: Bintan Resorts
The main city of Bintan and capital of the Riau archipelago, Tanjung Pinang, is a great place to explore if you're looking to gain insight into the daily lives of the local citizens! A short walk down the town streets is the perfect way to soak up the rich surrounding culture, as the streets are filled with street peddlers, shophouses, and various restaurants offering delicious nasi padang .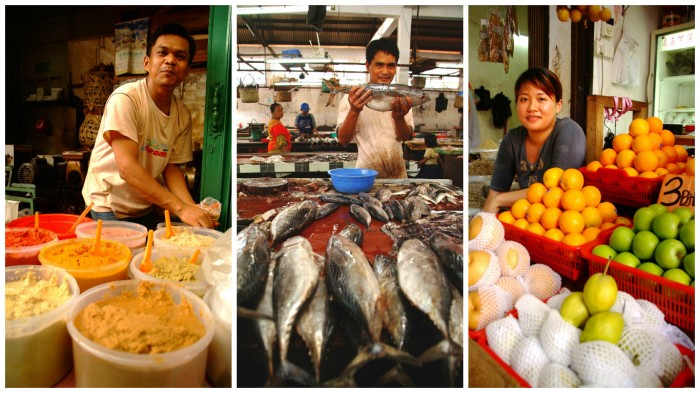 Image credit: Bintan Resorts
You should definitely sample the local cuisine should you find yourself in the area. The authentic taste of their signature delicacy of "otak otak", or fish meat cooked in coconut milk and various spices, will be sure to leave you wanting more after the first few bites. Otherwise, drop by the Rimba Jaya street market after 6pm for a gastronomic dinner experience of satay, goreng pisang keju , fried mushrooms and much more!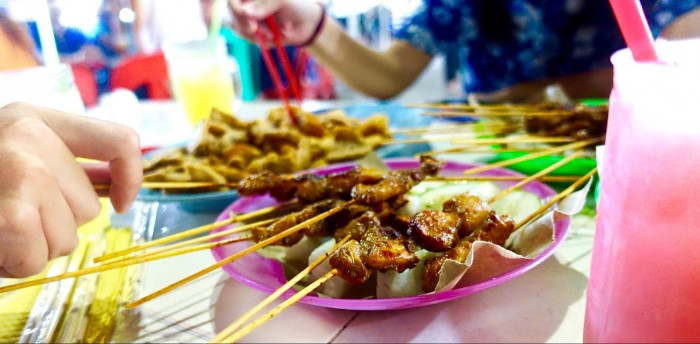 Tanjung Pinang is also the perfect place to pick up plenty of cheap bargains, such as a large variety of various local handicrafts and antiques. For a more modern shopping experience, the Tanjung Pinang City Center has plenty of discounts and deals for even the most modest of shoppers.
Where to Stay in Tanjung Pinang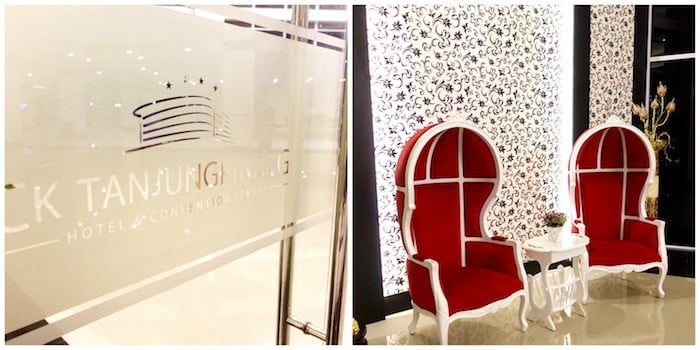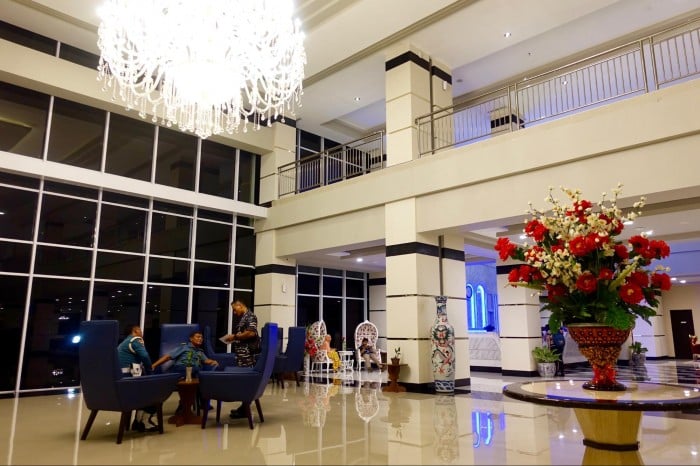 There's so much to see and do; it all can't be done in a day! Why not explore at a leisurely pace and stay a night in Tanjung Pinang? We recommend booking a stay at CK Tanjung Pinang Hotel, a spanky new hotel that has sprung up right in the heart of the city. The rooms are basic yet comfortable, the buffet breakfast is heartwarming and extensive, and the convenience of the hotel's location wins hands down!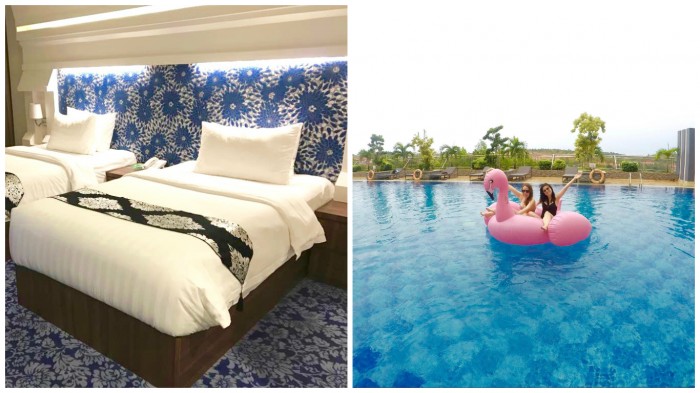 It even has a great pool should you wish to unwind after a full day of activities!
Bet you didn't know that all this existed in Bintan, huh! The next time you make a trip down, make sure to check out all these cool things to do BEYOND the resorts. To get to all of the above places, you can either rent a car to explore at your own pace or let the experts take care of you! Engage any trusty operator – we highly recommend BRC Tours or Bintan Holiday – who will take care of everything. And we do mean everything !
Besides, Bintan is only 1 HOUR's ferry ride away from Singapore – how convenient is that!
Our Catamaran ferry journey to Bintan was fuss-free and oh-so-comfortable. Now we just can't wait to go back! For more information about Bintan, make sure to check out Bintan Resorts' official website for everything you need to know and more.
Adventure is out there, all you intrepid explorers! What's stopping you from booking your next trip?
---
Brought to you by Bintan Resorts.