Ladies and gentlemen, boys and girls, (drum roll) may I proudly present to you the ultimate list of staycation ideas in Malaysia! I'm well aware that a quarter of the year has just passed – I certainly missed the best timing to keep you avid travellers updated and I have no excuse for the delay. Here, take my apology, as well as the following made with 100% sincerity (READ: 0% spammy ads) staycation ideas for your next long-awaited holiday!
For the Budget Travellers
I always like to start with those budget-friendly ideas, because you know, they just make me feel more umm ...relevant. As a student with more free time than money to spend ( ouch! ), I never failed to opt for the cheaper options while extensive research has been done by yours truly to make sure the deal is worth every penny of my hard earned part-time income. Call me greedy, but when I pay 100, I would expect no less than 150 in total value. And please excuse my proud cheapo face.
1. Hotel Maison Boutique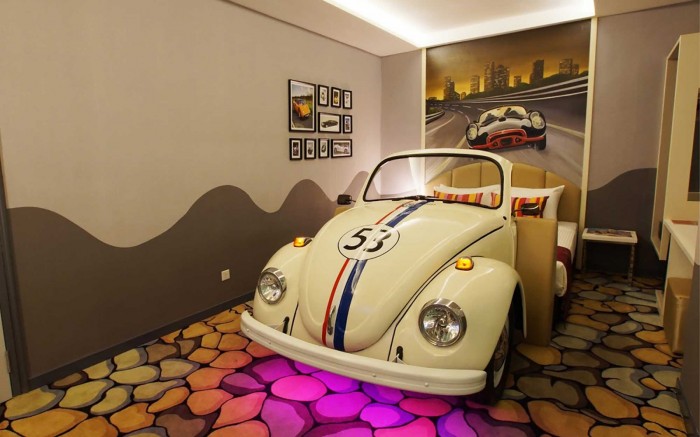 Image credit: Hotel Maison Boutique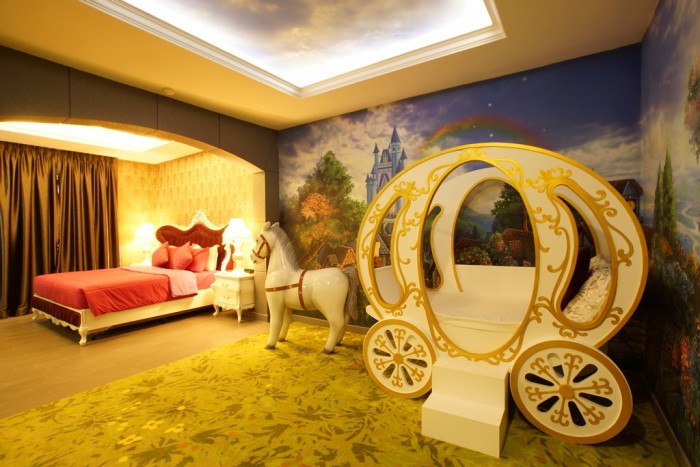 Image credit: Hotel Maison Boutique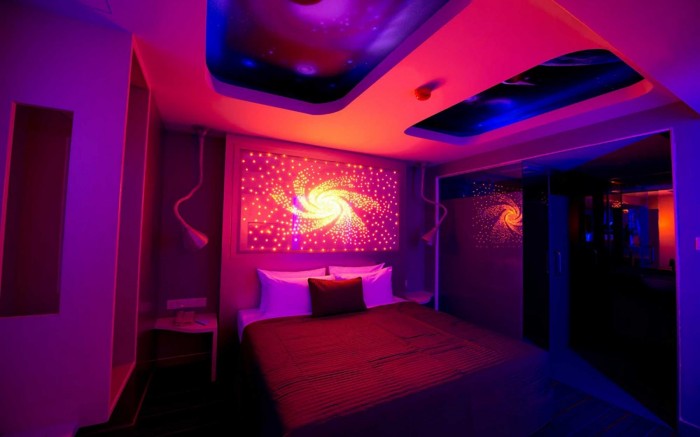 Image credit: Hotel Maison Boutique
I might be a little biased to put Hotel Maison Boutique at the first place because I personally had an incredible experience staying in their Space Odyssey themed room (third picture) a year ago. I was really surprised by the rich detailings that reminded me of the space station in Interstellar – seems to me every part of the room is mindfully decorated and well taken care of . Since I am still dying for that fairytale-like staycation at Hotel Maison Boutique (yes, I am referring to the oh-my-god-there-is-a-horse suite in the second picture, also the hotel's signature), it surely deserves a spot in my bucket list. My advice: do your booking as early as possible because the hotel is very often fully booked, especially for the popular themed rooms (there are 18 in total) and during peak season.
Price: From MYR 158 per room per night
Address: 36, Jalan Baba, Pudu, 55100 Kuala Lumpur, Wilayah Persekutuan Kuala Lumpur, Malaysia
2. M Boutique Hotel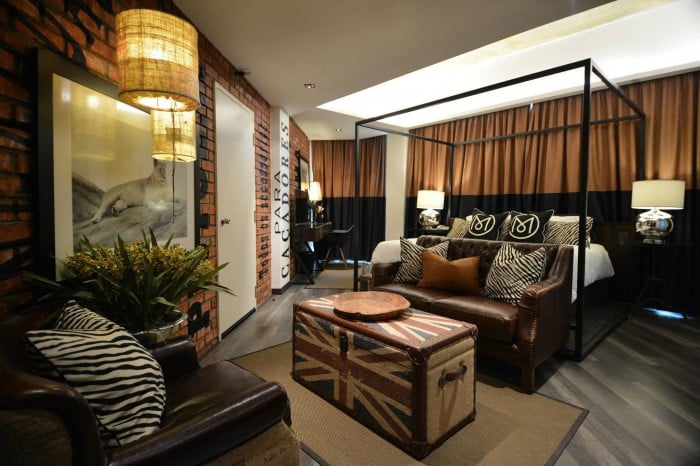 Image credit: M Boutique Hotel, Ipoh Facebook Page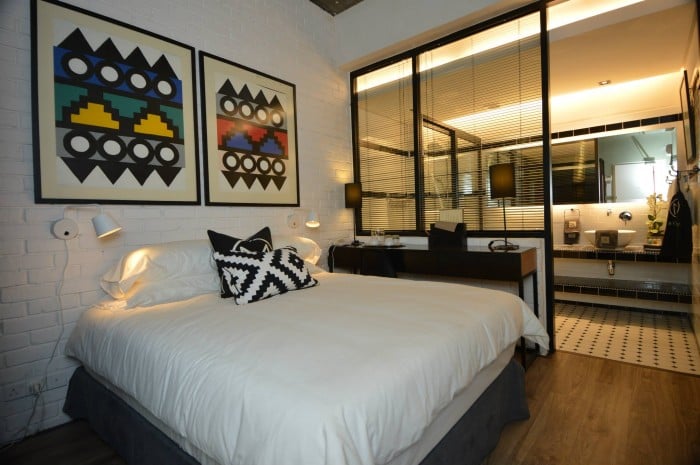 Image credit: M Boutique Hotel, Ipoh Facebook Page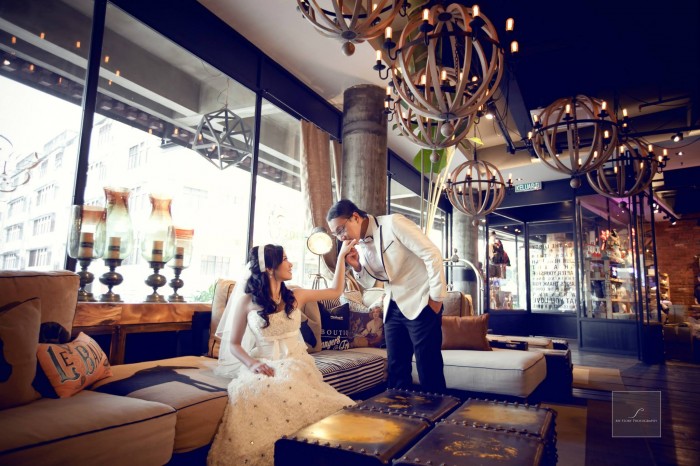 Image credit: M Boutique Hotel, Ipoh Facebook Page
M Boutique Hotel was opened 3 years ago but somehow it has been all over my Facebook and Instagram since the beginning of the year. I was quite skeptical at first so I digged into their website and social media in the hope of revealing some off-path comments (told you I was skeptical) but to my surprise, the reviews have been consistently positive for years. 'The M Boutique Hotel is frequently referred to as whimsical, quirky and unique,' a bold statement on the official website and I can see from the huge pool of fan pictures that it is indeed a justifiable statement. I mean, people actually had their pre-wedding photoshoot taken at the hotel! Spoiler alert: the thematic rooms and the eclectic decorations will keep you delightfully engaged throughout your stay at M Boutique Hotel.
Price: From MYR 160 per room per night
Address: Hala Datoh 2, 31650 Ipoh, Perak, Malaysia
3. Jay-MS Hostel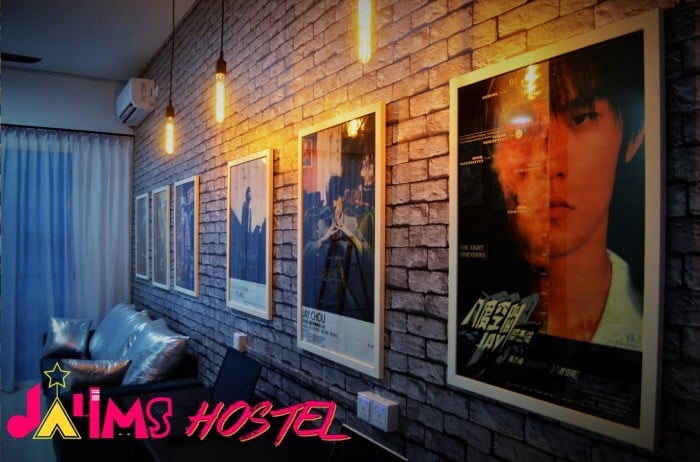 Image credit: Jay-MS Hostel Facebook Page
Image credit: Jay-MS Hostel Facebook Page
Image credit: Jay-MS Hostel Facebook Page
Please put your hands together for the very first Jay Chou themed hostel in Malaysia! Unless you've been living under a rock somewhere, you must have heard of the Asia superstar, he is...well you better start googling! Very often I find myself humming along to his songs despite not being a huge fan of Jay Chou. Back to the hostel, with an astonishing series of Jay Chou posters and the very Jay Chou kind of futuristic design (I believe it is inspired by some of his past music videos), this is the dream house for every J fan.
The Jay-MS Hostel is basically a serviced apartment (not hotel) with two rooms – one with 6 beds (3 bunk beds) and another with a king-sized bed and breathtaking sea view. You can also book the whole apartment for an awesome Jay Chou themed sleepover party with your friends. Jay-MS members are entitled to a 20% discount while non-members enjoy 10% off the normal rate during the opening promotion period.
Price: From MYR 50 per person per night; from MYR 110 per night for the double room; from MYR 300 per night for the whole apartment
Address: Jalan Bukit Meldrum, Tanjung Puteri, 80300 Johor Bahru, Johor, Malaysia
For the Nature Lovers
Malaysia is a land of incredible biodiversity and natural beauty and I need not elaborate more on that. When it comes to an ideal staycation, I am sure many of you would love a sweet wild escape from the hustle and bustle of the city.
Also read: Malaysia's Great Outdoors: 10 Incredible Glamping or Camping Sites
4. Sekeping Serendah Retreat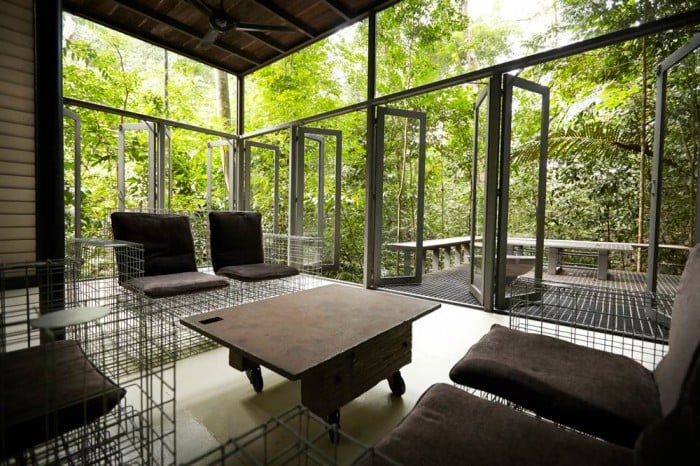 Image credit: Sekeping Serendah Retreat, Malaysia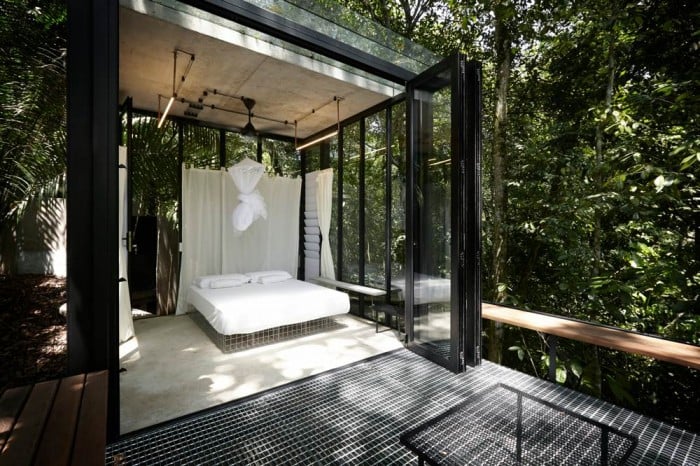 Image credit: Sekeping Serendah Retreat, Malaysia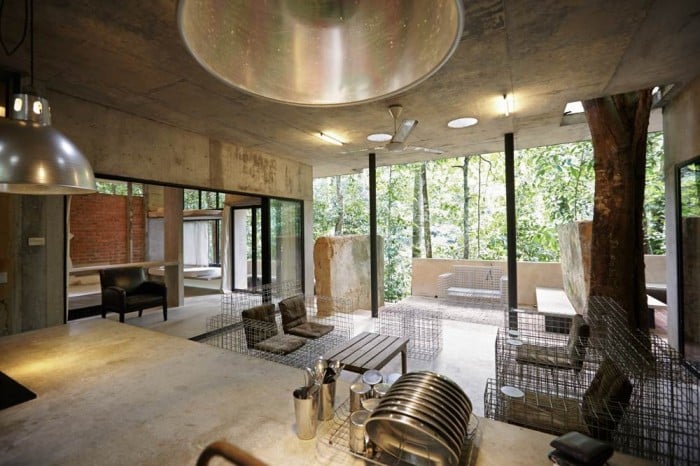 Image credit: Sekeping Serendah Retreat, Malaysia
The minimalistic wire-framed sofa first caught my eye, then the treetop glass house, followed by the warehouse concept which is perfect for family vacation and group gathering. Not to mention Sekeping Serendah Retreat is only less than an hour away from the city centre of Kuala Lumpur. The unique stay-in-the-wild experience is always something I look forward to as an outdoor person. To let nothing separate you from Mother Nature even when you are sleeping safe and sound in Her arms, I would recommend the Glass Shed or the Glass Box where you get to be surrounded by greenery 360-degree and 24/7. If you need a little more coverage (so that no monkey will peep at you as you shower), go for the Timber Shed or the Mud Shed. Don't say I didn't warn you!  
Price: From MYR 300 per room per night
Address: (GPS coordinates) N3.368050 E101.631150, Malaysia
5. The Dusun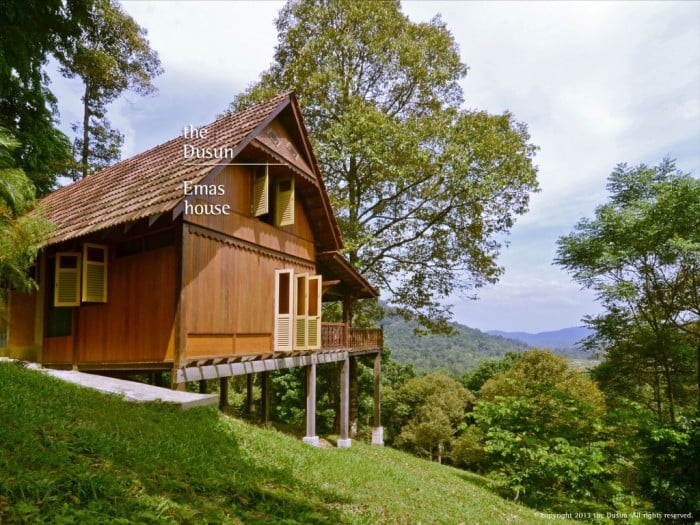 Image credit: The Dusun
Image credit: The Dusun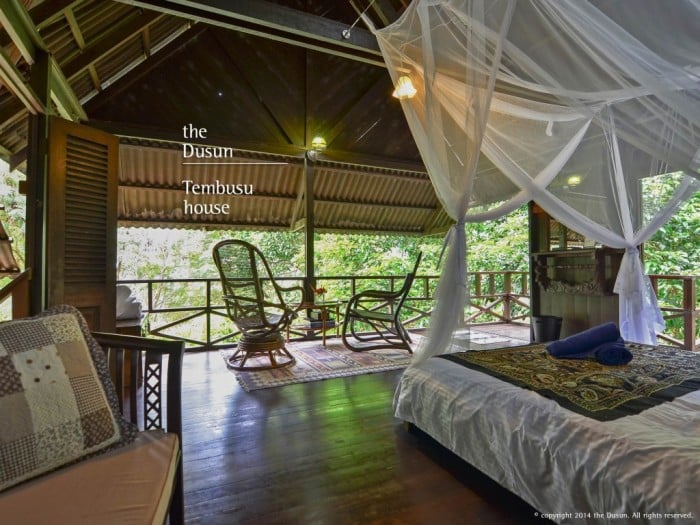 Image credit: The Dusun
The lovely forest houses overlooking the Mantin hills are simply irresistible. But what's more enthralling is the story behind the nature resort. 30 years ago, the place was merely a rubber smallholding before David, Helen and their five children built the family's very first vacation house in the woods with their bare hands. The other four houses were built, one at a time, in recent years as the family aims to share this simple yet truly rejuvenating retreat from the city with the others. The environment is mind-blowingly beautiful, not to mention the houses are delicately designed with homey atmosphere. Also, the Dusun is now equipped with two infinity pools and... wait, infinity pools in the wild?! I can't wait to see the rest for myself!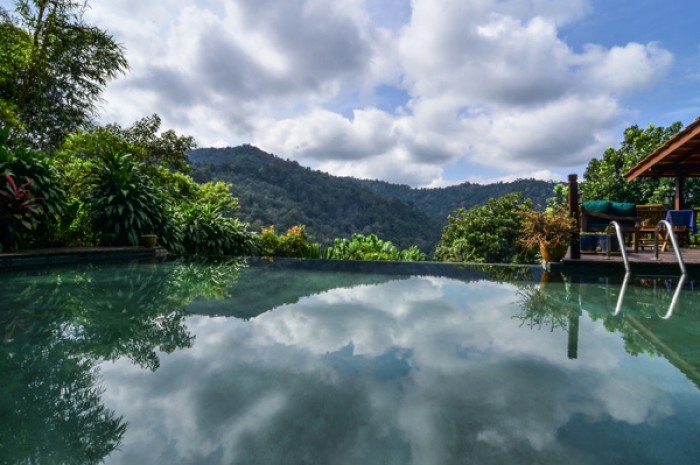 Image credit: The Dusun
Price: From MYR 400 per house per night
Address: 3437, Kampung Kolam Air Mukim, 71770 Seremban, Negeri Sembilan, Malaysia
6. Tabin Wildlife Resort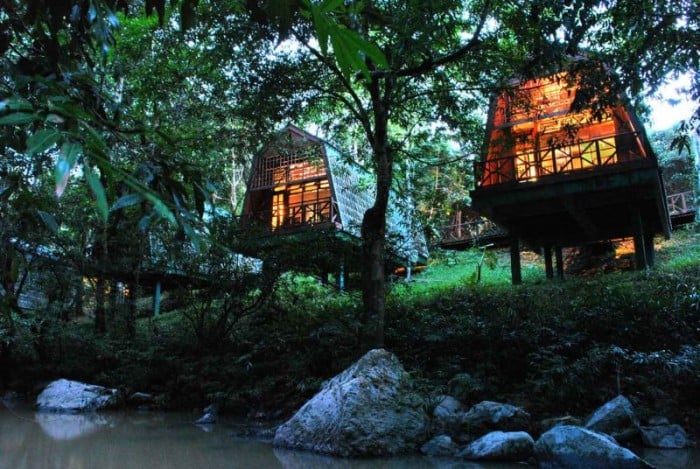 Image credit: Tabin Wildlife Resort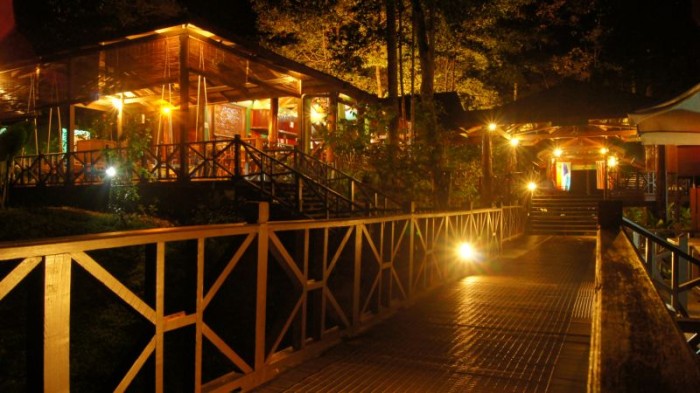 Image credit: Tabin Wildlife Resort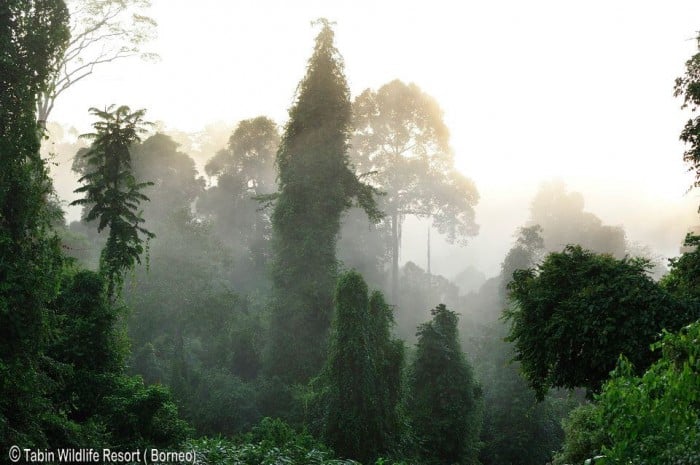 Image credit: Tabin Wildlife Resort Facebook Page
If you haven't already noticed, Tabin Wildlife Resort is located in East Malaysia, which means you have to spend more on transportation if you are from West Malaysia like me, so I hesitated a little when I was first introduced to it. However, upon some research, I found this modern resort in the ulu or the remoted area has, surprisingly, been very popular among foreign travellers, with a handful of Japanese tourists frequent the place.
One of the highlights of the Tabin Wildlife Resort experience is that you get to see wildlife (as suggested by the name of the resort) such as Bornean pygmy elephants, orangutans, bearded pigs, flying squirrels, Malayan civets, leopard cats and many more at a very close distance! These species are exotic or near extinction, not to mention some are Borneo exclusive. Also, the tour guides are highly praised by past visitors as friendly, professional and knowledgeable. If you are not so much of an animal person, how about jungle trekking, water rafting, picnic by the waterfall, catching fireflies at night...I seriously don't mind paying a little extra for such an eye-opening and refreshing weekend getaway!
Price: Packages from MYR 1,520
Address: KM 49, Jalan Tungku, Lahad Datu, Sabah, Malaysia
Also read: 12 Destinations in Malaysia for Your Next Weekend Getaway
For the Beach Enthusiasts
I dare not call this list ultimate if I have not mentioned a single bit about our gorgeous beaches. The real problem is, we have such a diverse array of islands, so many wonderful options that we are often spoilt for choice! So after a few hours of struggling on the internet I finally narrowed down to the following two and soon you'll know how exceptional they are to have been chosen by yours truly, out of some good millions of search results on Google.
7. Tunamaya Beach and Spa Resort, Tioman Island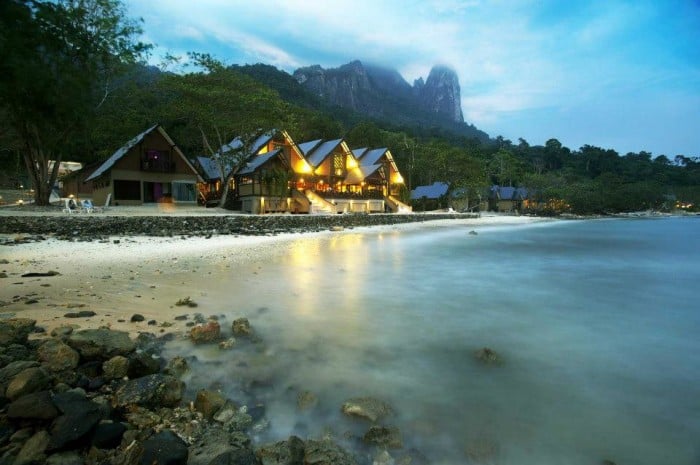 Image credit: Tunamaya Beach and Spa Resort - Tioman Island Facebook Page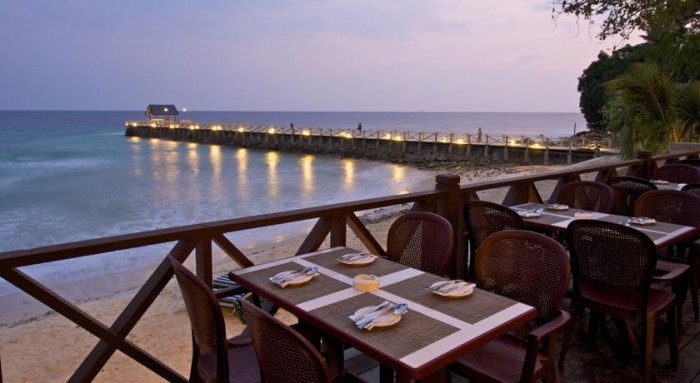 Image credit: Tunamaya Beach and Spa Resort - Tioman Island Facebook Page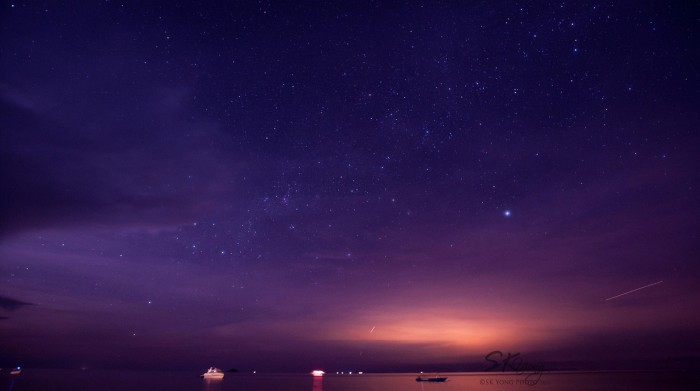 Image credit: Tunamaya Beach and Spa Resort - Tioman Island Facebook Page
Tioman has its reputation for breathtakingly turquoise, crystal-clear water and is often referred to as a diver's paradise. Well diving masks and oxygen tanks aside, do you know this beautiful island is also one of the best stargazing spots in Malaysia? Yes now you know! Anything first, it is far away from city light so you'll be able to watch the stars shine clearly with minimal distraction. Then, you have that calming sea waves as background music while you marvel at the glittering sea as the starry night sky is stunningly reflected in the water. Gasp!
Also read: Top 9 Otherworldly Stargazing Sites in Malaysia
To complement the picture perfect scenery and the mind-blowing stargazing experience, you need to indulge yourself with the best accommodation on the island (without exploding your wallet), that is, the Tunamaya Beach and Spa Resort. Known for its tranquil surroundings, lavish facilities and top-notch hospitality, Tunamaya Beach and Spa Resort is where you can get the most bang for your buck. I mean, just look at their amazing ocean-view villas and imagine yourself casually sunbathing on your private balcony! The resort has a limited number of villas and a private beach so overwhelming crowd is the last thing you need to worry about. Oh, did I mention the secluded resort has an infinity pool by the seaside?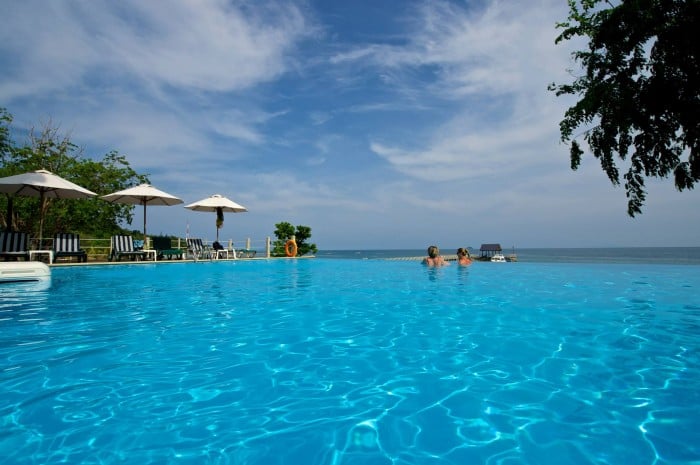 Image credit: Tunamaya Beach and Spa Resort - Tioman Island Facebook Page
Price: From MYR 680 per room per night (breakfast included)
Address: Lot 20 & Lot 21, Kg Sarang Burung, Kg Mukut, Pulau Tioman, 26820 Kuala Rompin, Pahang, Malaysia
8. Bunga Raya Island Resort & Spa, Gaya Island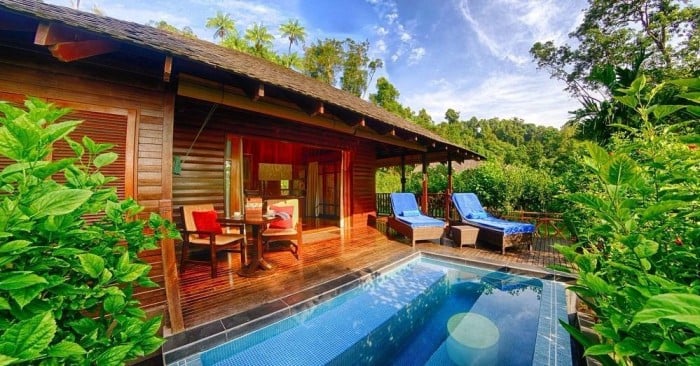 Image credit: Bunga Raya Island Resort & Spa Facebook Page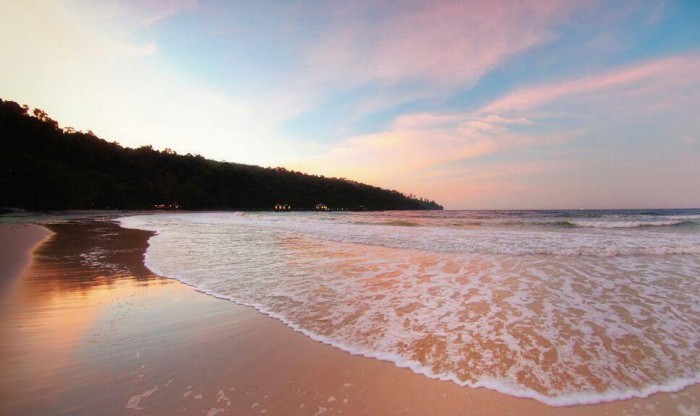 Image credit: Bunga Raya Island Resort & Spa Facebook Page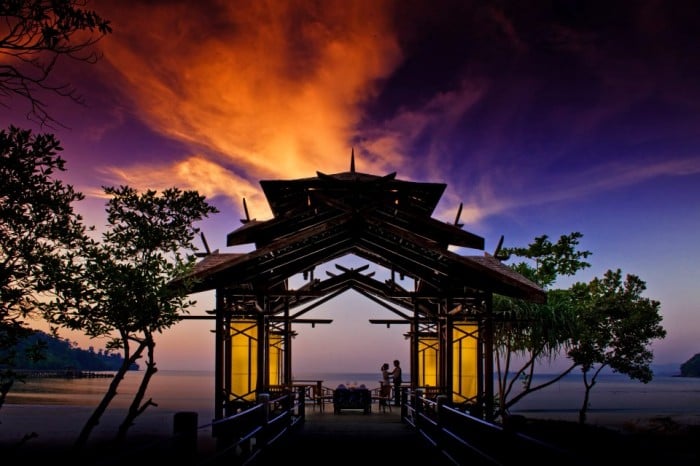 Image credit: Bunga Raya Island Resort & Spa Facebook Page
The Bunga Raya Island Resort & Spa on Gaya Island –one of Sabah's best kept secrets – is exactly where your once-in-a-lifetime and everything-must-be-perfect wedding needs to be! It also serves as an ideal place for a romantic pre-wedding getaway. Anything first, the Borneo-styled beach villa looks sexy, and even sexier with the private plunge pool, not to mention the stunning scenery right on your doorstep! Gaya might not be as famous as Redang or Sipadan, but travellers from around the world have been greatly fascinated by the unique ambience as well as the royal-like indulgence on the island, and I can't wait to be one of them!
Backed by thousands of positive reviews, Bunga Raya Island Resort & Spa has certainly lived up to its reputation as a 5-star hotel and is highly recommended to those who would like to enjoy exotic island experience and exclusive privacy with first-rate hospitality. The resort also provides special honeymoon packages and wedding services to help create lasting memories on the gorgeous island.
Also read: 8 Luxurious Water Villas in Malaysia For Your Next Vacation
Price: From MYR 1,150 per villa (the resort has 48 timbered villas and villa only) per night
Address: Polish Bay, Gaya Island, Tunku Abdul Rahman Park, Kota Kinabalu, Sabah, Malaysia
For the Kampung Kids
When you feel like taking a break from the seemingly endless work; you need some fresh air for a fresher mind; you are dying for something different or you'll die of boredom – mates, I feel you! We all have our down time, and sometimes we just...want to escape even when we have no reason to justify the wild act, and who says we need one? So chop chop! Pack your bags and make your way to the kampungs – don't think, you will not regret!
9. Southern Home @ Sungai Lima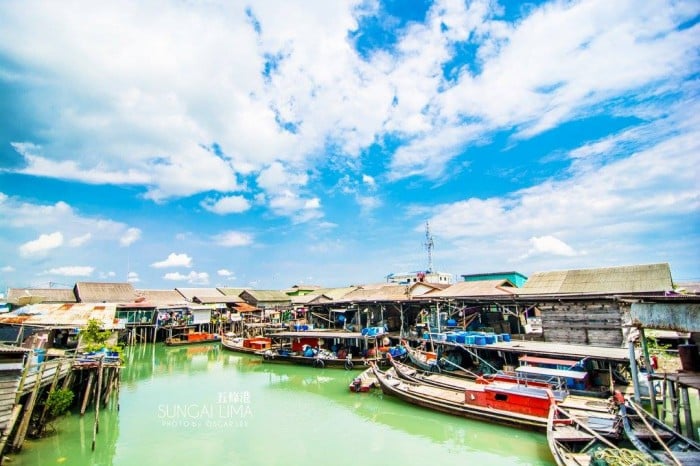 Image credit: Southern Home Facebook Page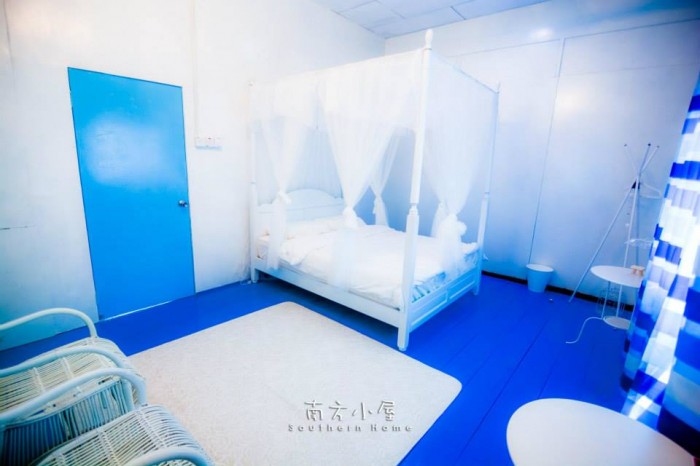 Image credit: Southern Home Facebook Page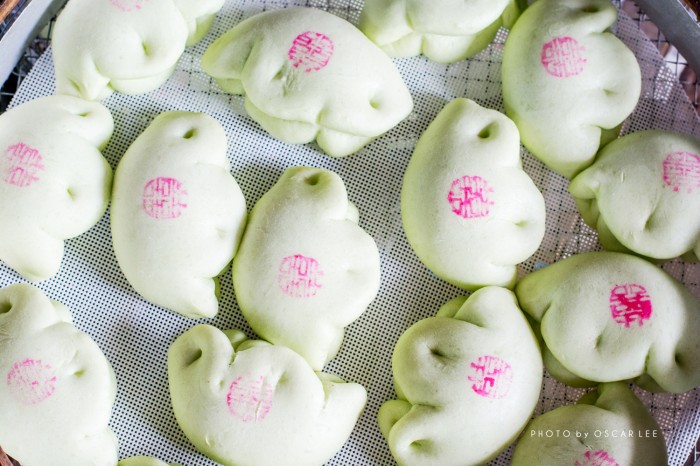 Image credit: Oscar Lee
I was first attracted by the Santorini-like blue and white decorations, and then by the fact that Southern Home is located at a traditional fishing village in Selangor. And if you are still wondering what's so good with the location...I...I can't blame you because you just happened to be one of very, very few Malaysians who is yet to understand this golden rule: any fishing village serves great food using the freshest ingredients! I found an article online dedicated to the traditional delicacies at Kampung Sungai Lima, it is written in Chinese but you don't need to know the language to appreciate the Sungai Lima's special prawn balls, crispy fried sotong and the genuinely good (looking and flavor) handmade paus.
Mouth-watering food aside, Southern Home is an awesome place for a worry-free and budget-friendly staycation where you can laze off in a sophisticatedly designed waterhouse and indulge yourself with great food and unsurpassed fishing village scenery. Also, the helpful host and the friendly villagers are more than happy to show you around their lovely hometown!
Price: From MYR 40 per person (in the 6-bed mixed dormitory) or MYR 150 per room (private double room) per night
Address: 850L1, Bagan Sungai Lima, 42940 Pulau Ketam, Selangor, Malaysia. (GPS coordinates: 3.033708,101.274893)
10. Bamboo Village, Kuala Lumpur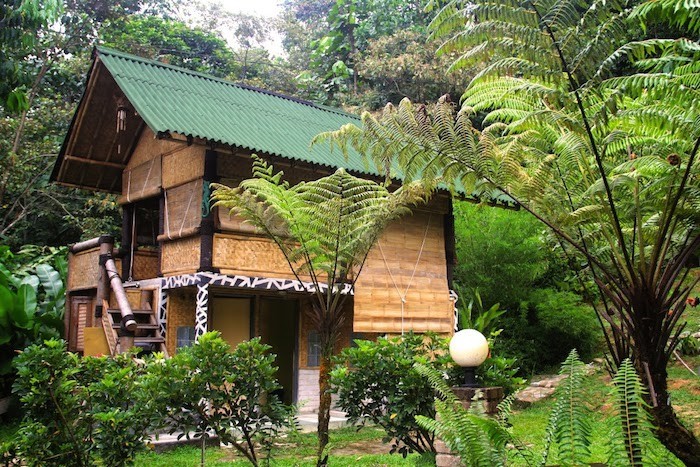 Image credit: Bamboo Village Kuala Lumpur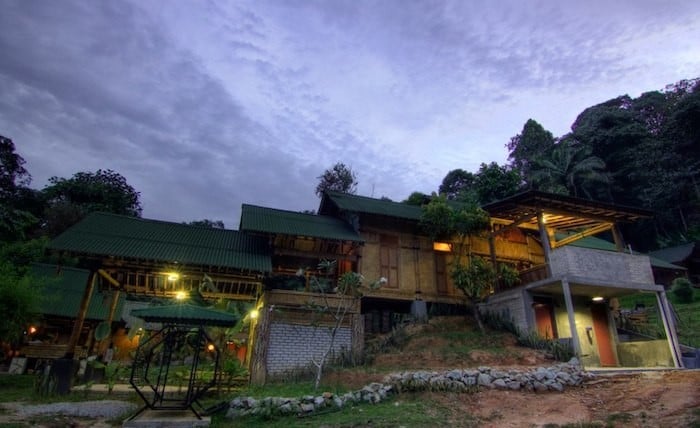 Image credit: Bamboo Village Kuala Lumpur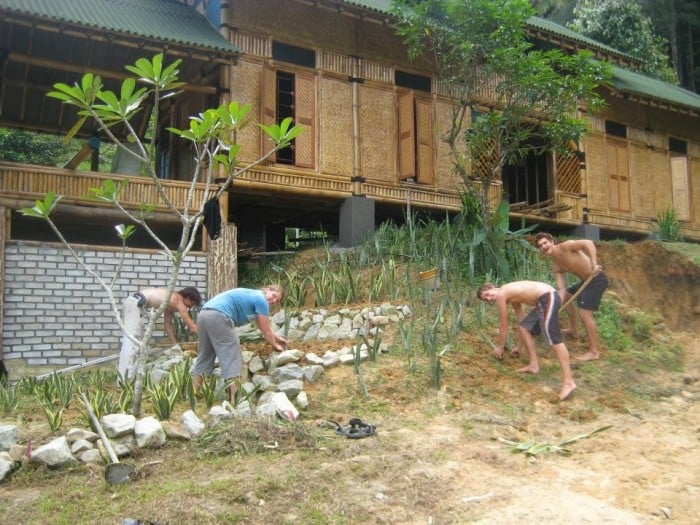 Image credit: Bamboo Village Kuala Lumpur
Bamboo Village has opened its door to visitors and volunteers from around the world since 2013. I hope you did not miss the word 'volunteer' as it is now a more common phrase for free accommodation on top of the unique experiences that you can't buy with money and you don't need to. A few hours of housekeeping, gardening or maintenance work a day in exchange of accommodation and meals sounds like a great steal to me! Not to mention the volunteers are encouraged to explore around the village in their free time – which is most of the time during their stay at Bamboo Village –from jungle trekking to waterfall hopping, and even taking a short trip (back) to the Kuala Lumpur city, as I would like to call it 'an escape from another escape'.
If you are not so into the volunteering programme or you simply don't have enough time for that (volunteers need to stay for a minimum of 7 days or will be charged MYR 20 per day which is still a good bargain!), also consider Bamboo Village as your next weekend getaway destination – grant yourself and your loved ones a zen-filled kampung-styled retreat, where there will be no nerve-racking itinerary and certainly not overwhelming crowd!
Price: From MYR 20 per person per night
Address: Off Lorong Serai 4, Sungai Serai, Batu 11, 43100 Hulu Langat, Selangor Darul Ehsan, Malaysia
Also read: Alternative Getaways: Experience Real Kampung Life in Malaysia's Bamboo Village
So take your pick my fellow friends! I am sure there is at least one that fits your liking as well as your budget. Plus, you only need two or three days, typically one weekend (aim the long weekends or take one day leave if necessary) to enjoy a so-good staycation without leaving the country.If, however, you've been yearning for a good holiday, here are some of our top weekend getaway picks in Singapore, Thailand, Batam and Indonesia!
My last advice: you should really start putting some effort to keep up with your new year's travel resolution before the year silently ends. Happy planning!