Endowed with the best of nature, Indonesia is perfect for a getaway to recharge the mind, body and soul. Glamping has taken off in Indonesia with a variety of tent experiences for those who wish to relax and adventure-seekers alike. What better way to experience the outdoors while keeping the comforts of home?  From forest glamping to beachside glamping, read on and take your pick from these eight stunning glamping spots in Indonesia!
If you're looking for a getaway on a quiet peninsula with sugar-white beach views and sapphire blue waters, then look no further. The Menjangan Dynasty Resort is a stunning luxury glamping resort priding itself for an all-inclusive experience. For the outdoor junkie, partake in an array of activities such as snorkelling, diving trekking, kayaking, mountain biking, bird-watching and horse-riding.
Feast your eyes on the beautiful surroundings of Northwest Bali with the picturesque Banyuwedang, lowland forests of the West Bali National Park, the island of Menjangan, Tiga Saudara Mountains and East Java's volcano alley.
The interior of the safari-style tented rooms and villas presents modern, clean and neutral designs which promises luxury and utmost comfort. Indulge in the all-day dining at the resort's Pasir Putih Beach Club with excellent service from a  team of safari-suited staff. At Menjangan Dynasty Resort, you're in for a retreat of a lifetime.
Address: Pejarakan, Gerokgak, Buleleng Regency, Bali 81155, Indonesia
Learn more about Menjangan Dynasty Resort on TripZillaSTAYS.
2. Escape Nomade, Bali
A gem yet to be discovered, Escape Nomade proffers a chic glamping experience that exudes a colonial charm. Get ready to immerse yourself in the woodland ambience and rejuvenate your weary bodies with a Balinese massage and high tea by River Ayung.
A perfect antidote to stress, Escape Nomade provides a respite from the toils of city life. Embrace an exquisite tent experience, inclusive of a secluded picnic lunch, which unveils the river view and picturesque terraced hillside.

Address: Banjar Umah Anyar, Semana, Mambal, Abiansemal, Kabupaten Badung, Bali 80352, Indonesia
3. Sebatu Sanctuary, Bali
If you're looking for an all-rounded experience, Sebatu Sanctuary will not disappoint. Home to sacred springs and a waterfall near the historic village of Sebatu, Sebatu Sanctuary emanates a back-to-nature ambience amidst the tropical forest and rice paddies. Explore Bali's backcountry with white-water rafting and canyoning or embark on bicycle tours along sparsely travelled roads.
Bonus! With its strict adherence to the Green Globe Standards (a global certification for sustainable tourism), Sebatu Sanctuary contributes two percent of their revenues towards reforesting Bali's critical watersheds and gaining access to clean drinking water for local communities.
What are you waiting for? Melt your worries away with a revivifying and eco-friendly experience amidst nature at Sebatu Sanctuary.
Address: Sebatu, Tegallalang, Gianyar, Bali 80561, Indonesia
4. Jeeva Beloam Beach Camp, Lombok
In need of a secluded getaway? Jeeva Beloam Beach Camp promises you just that. A hidden gem located on a secluded cove deep in a 55-hectare nature forest preserve, Jeeva Beloam boasts views across the Alas Strait to the island of Sumbawa.
Its wooden architecture and alang-alang thatched roof amidst the picturesque natural setting is simply an aesthetic of its own. Magical, secluded, exclusive… You've got to experience it for yourself!
Address: Jl. Pantai Beloam, Tanjung Ringgit, Sekaroh, Jerowaru, Kabupaten Lombok Timur, Nusa Tenggara Bar. 83672, Indonesia
5. The Canopi, Bintan
Up next is The Canopi! Set within the Chill Cove @ Treasure Bay Bintan, a fun-packed experience awaits you at the region's largest man-made seawater lagoon with family-friendly bumper boat rides, fun slides and wakeboarding. Hop on your ATV for more thrilling fun on the private jungle trail!
Its tents are complete with modern luxuries such as air-conditioning, Wi-Fi, spa and all-day dining. The Canopi is sure to provide an exciting nature and outdoor retreat on Bintan Island, tinged with class and comfort.
Address: Jln. Raja Haji KM 01 Kawasan Pariwisata, Teluk Sebong Lagoi, Bintan, Kepulauan Riau 29152, Indonesia
6. Legok Kondang, Bandung
The Legok Kondang glamping experience is a beautiful blend of nature and modernity. Only about two hours from downtown Bandung, Legok Kondang is home to beautiful scenery ranging from hill views to sunrise views directly from the tents. This is perfect for a family vacation or getaway with your significant other.
There are a variety of activities to partake such as rafting, paintball, trekking, archery, fishing, shooting range and deer feeding. You can also catch the sunrise from the Sunrise Balcony!
Address: Jalan Kurunangan, Lebak Muncang, Ciwidey, Lebakmuncang, Ciwidey, Bandung, Jawa Barat 40973, Indonesia
7. Sandat Glamping Tents, Bali
Nestled in natural surroundings, Sandat Glamping offers an experience like no other with its charming East-West atmospheric fusion and the picturesque views of green rice fields and meandering terraces.
With a four-poster bed overlooking the forest and a private pool to soak in while enjoying your wine, Sandat Glamping is simply a marriage of tranquillity, nature and majestic grandeur.
There are only eight tents in Sandat Glamping. Five of these tents are Luxury tents in 'safari' style with a private pool overlooking the forest surrounded by tropical gardens. Three Lumbung tents adopt a quirky interior, featuring furniture made from colourful Balinese boats and old iron suitcases turned into bedside tables. This exclusivity ensures privacy and tranquillity as you connect with nature and simultaneously bask in sophisticated luxury.
Address: Jl. Subak Sala, Banjar Sala, Pejeng Kawan, Ubud, Pejeng Kawan, Gianyar, Kabupaten Gianyar, Bali 80552, Indonesia
8. Amanwana, Moyo Island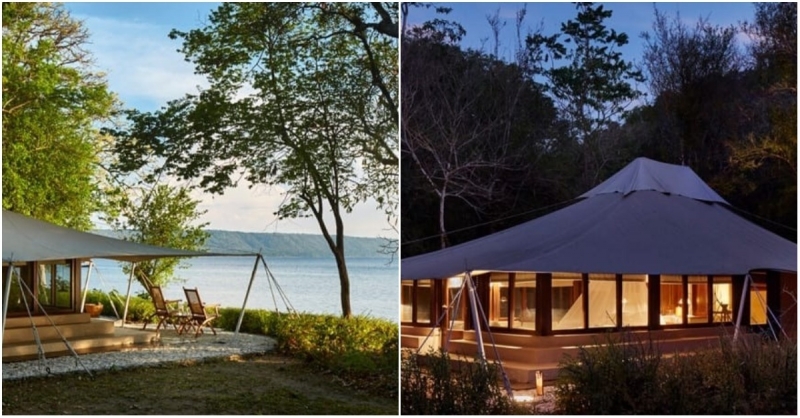 If you're looking for a luxury glamping experience with the best wildlife encounters on land and in the Flores Sea, Amanwana is the place to be. Located in the east of Bali facing Sumbawa Island, the Amanwana tent experience does not only boast a magical splendour but also an all-inclusive experience.
Approximately 10 minutes from Amanwana, the turquoise waters of the Flores Sea are home to colourful reefs and rich marine life such as sea turtles, puffer fish, parrot fish, moray eels and more, providing unique scuba diving and snorkelling experiences for all levels.
The tropical forests which host deer, macaques and wild boars are accessible through hikes or jeep expeditions. In fact, macaque monkeys and rusa deer might make an appearance outside your tented suite! Trek to the cascading limestone pools of Barry's Falls, a spring-fed waterfall at the heart of the island or venture through the deep jungle to the batcave. After your adventure, the Jungle Cove Spa is sure to provide a tranquil experience and revitalise your weary bodies!
Address: Pulau Moyo, Labuhan Badas, Labuan Aji, Sumbawa Barat, Kabupaten Sumbawa, Nusa Tenggara Bar. 84351, Indonesia
Glamping brings you to places that hotels can't. With its exotic locations, comfort, affordability, eco-friendliness and fuss-free outdoor camping experience, glamping makes for an excellent getaway option.
Imagine waking up to the sounds of nature... it doesn't get any better than that. With the aforementioned eight glamping spots in Indonesia, get ready to camp in style and comfort!
---
Looking for more places to stay in Indonesia? Check out TripZillaSTAYS.