For those who feel like travelling to Seoul, browsing through houses and apartments must feel exciting. If you're looking for a place to stay on your future vacation in this energetic city, then you're in luck! We've gathered the best Seoul Airbnb vacation rentals; from the glamorous homes in Gangnam and Myeongdong to wide apartments in Hongdae and rooftop lookouts in Itaewon. Each of these will give you the best bang for your buck.
There's no point in staying too far from the attractions you want to visit — not if you want to save time and energy. So, we've arranged our rentals according to their location and proximity to tourist sites as well.  Hit up all the stops in your itinerary at these highly recommended Airbnbs in Seoul!
Also read: 20 Stunning Hanoks in South Korea You Can Book on Airbnb
Airbnbs in Seoul near popular tourist sites
1. This spacious apartment near Namdaemun Market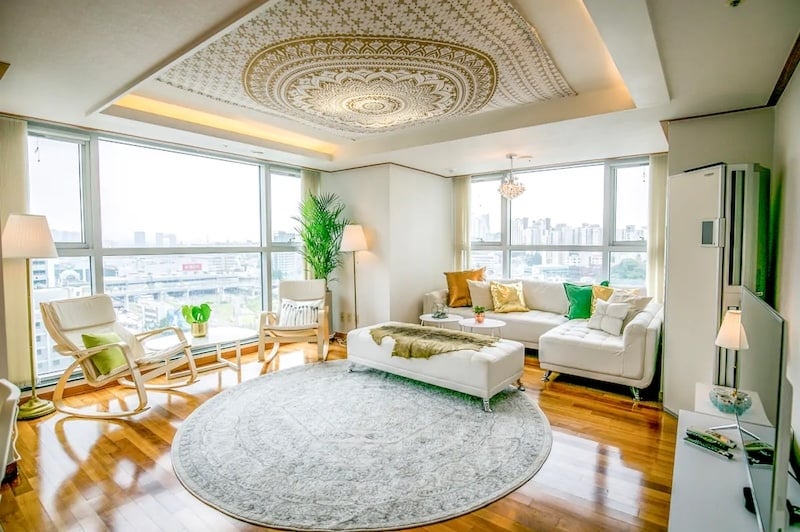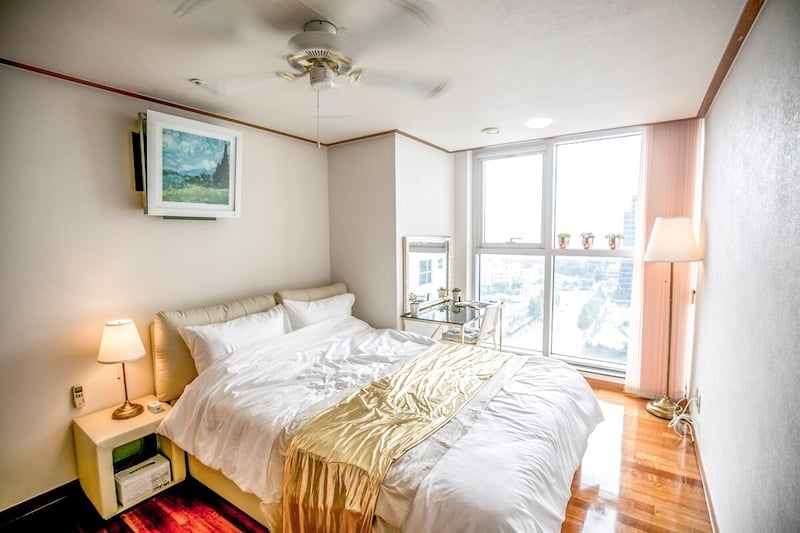 Listing name: Superior Cozy Home 3BR 2BATH 3M Walk@SEOUL STN
Listing type: Entire apartment
Max. no. of guests: 12
No. of bedrooms: 3
Of course, we can't ignore the importance of being close to foodie destinations. Located near Namdaemun Market and Seoul Station, this Seoul Airbnb apartment can fit up to 12 guests: a very generous perk, considering most apartments in the city. Inside this three-bedroom apartment, a sizable bathtub, a fully-equipped kitchen. Besides, it's also supplied with child-friendly essentials like the foldable baby bed and child-appropriate tableware, making it ideal for guests who are travelling with small kids.
2. This charming home in Bukchon Hanok Village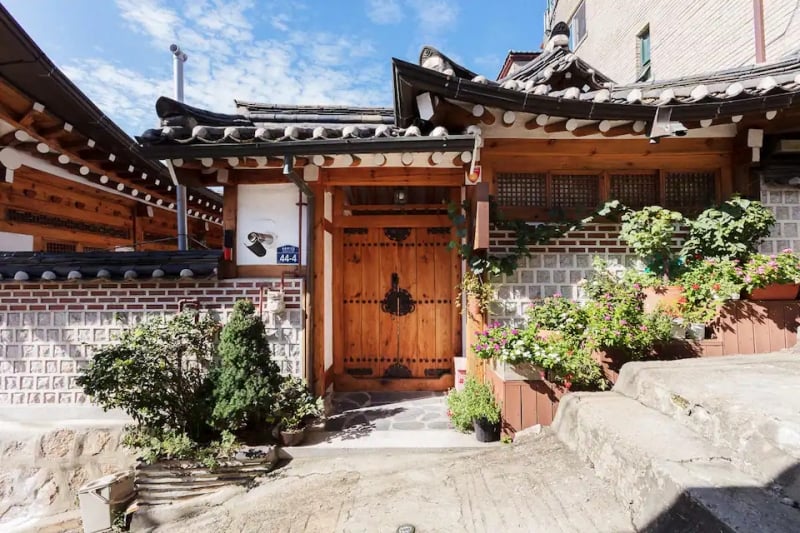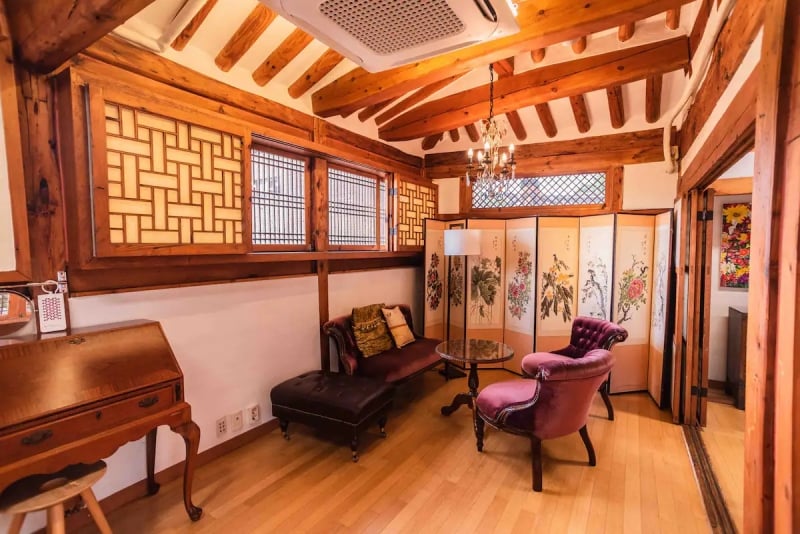 Listing name: Korean traditional house in Bukchon Hanok Village
Listing type: Entire home
Max. no. of guests: 7
No. of bedrooms: 3
How about staying in a hanok within Bukchon Hanok Village, one of the most popular tourist attractions in Seoul? This traditional Korean house is very close to nice restaurants and shopping places like Insa-dong Street; perfect for those who want easy access to the city. 
Expect a harmony of old and new, like a wooden structure with modern amenities like a bathtub. There's also a large courtyard for guests to enjoy afternoon tea. Besides two normal queen beds, this Seoul Airbnb also comes with traditional Korean-style futons (yho) for a genuine hanok experience.
3. This family-friendly hanok near Seoul Station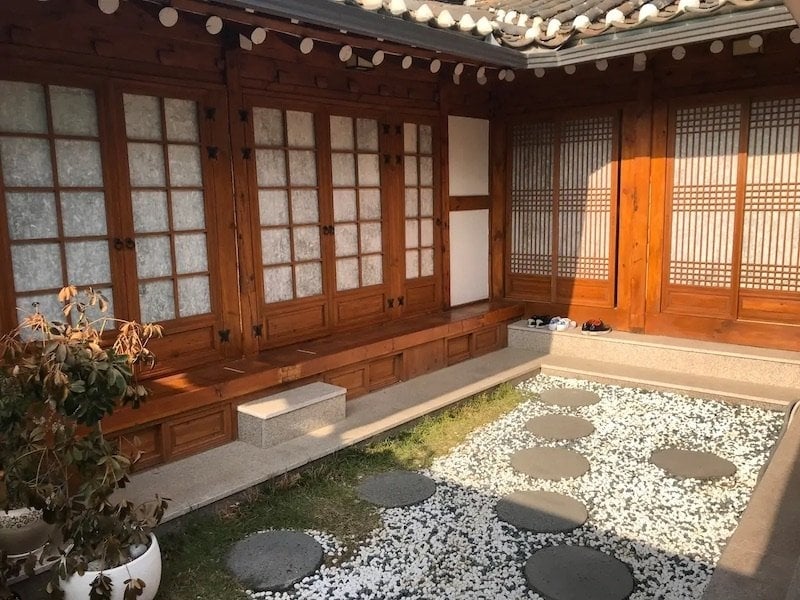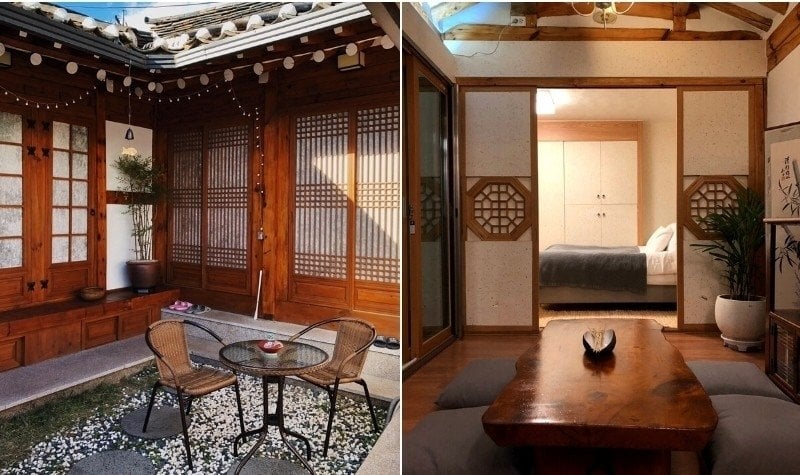 Listing name: ★Seoul Station★5Min KOREA TRADITIONAL HOUSE HANOK
Listing type: Entire home
Max. number of guests: 7
No. of bedrooms: 3 
Just like the well-preserved homes of Bukchon Hanok Village, this Airbnb near Seoul Station will surely transport you to the olden days of South Korea. Complete with essential amenities, this traditional 70-year-old house offers a unique and relaxing stay for visitors with its wooden furniture, antique doorways, and garden. Even better, it's a budget-friendly home that won't hurt your pockets.
4. This Korean guesthouse near Gyeongbokgung Palace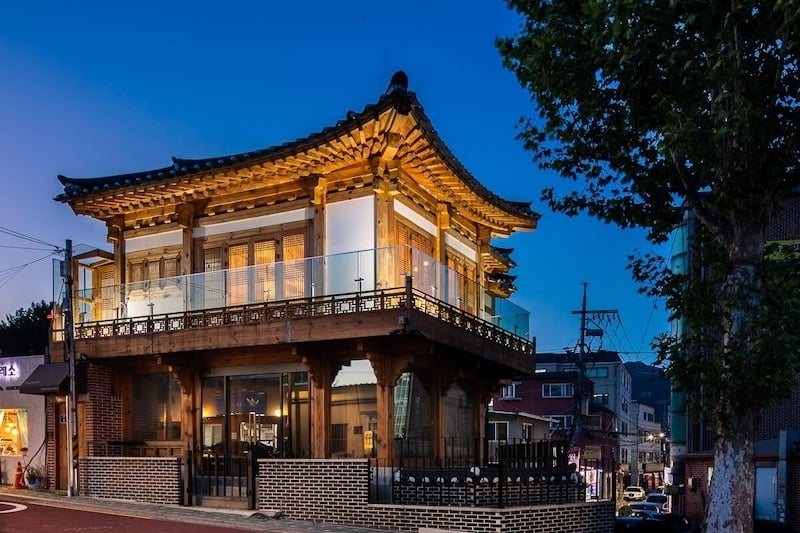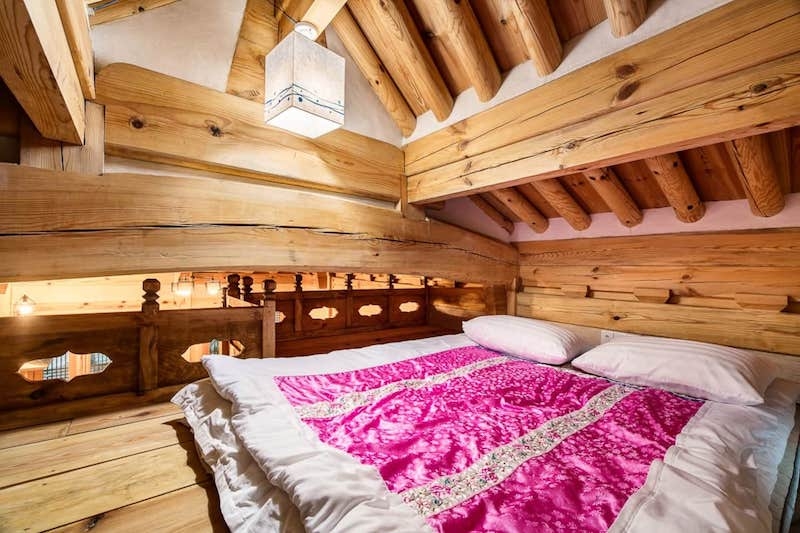 Listing name: Traditional korean house w/modern interior
Listing type: Entire guesthouse
Max. no. of guests: 5
No. of bedrooms: 3
For a vacation rental that looks like an attraction in its own right, this two-storey Korean guesthouse near Gyeongbokgung Palace is a star. Featuring traditional Korean architecture and a wraparound balcony on the second floor, this well-designed home offers a stunning backdrop from which you can absorb the sights and sounds of Seochon neighbourhood. Outside, the street is lined with restaurants and street food vendors — perfect for your food crawls through Seoul! 
Myeongdong, Seoul Airbnb homes worth bookmarking
5. This pretty-in-pink studio close to Myeongdong Shopping Street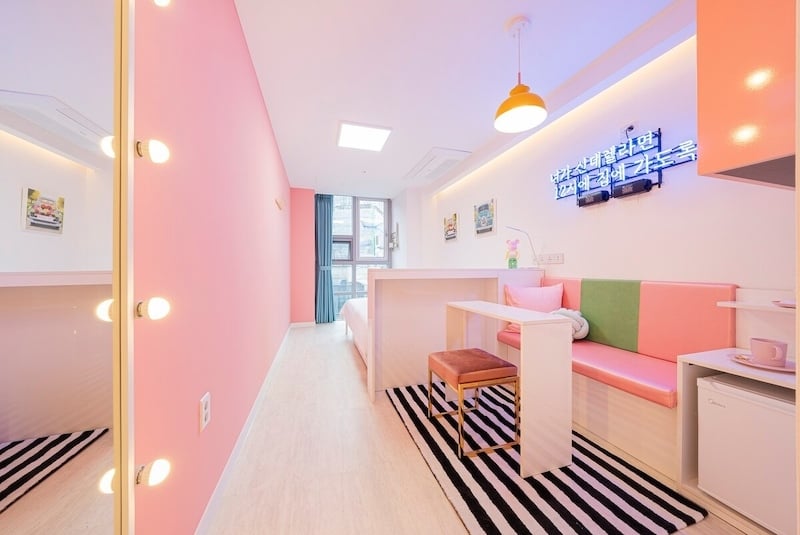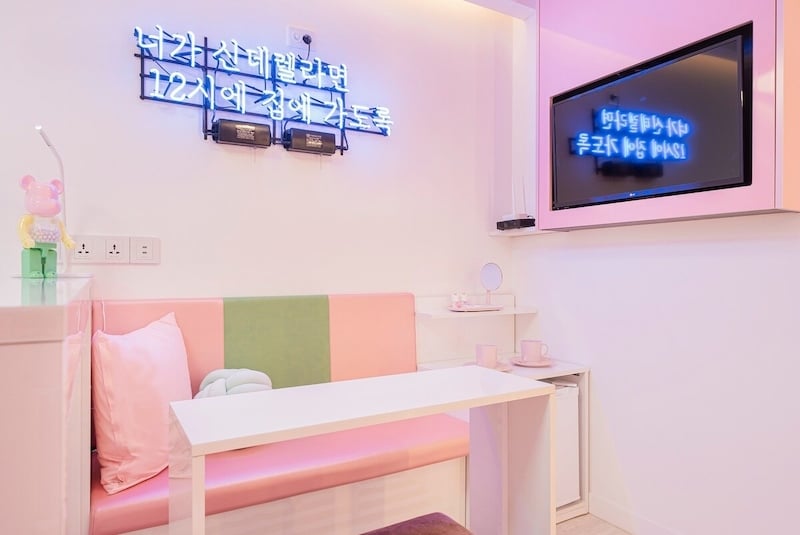 Listing name: PINKVILLE #1 / Myeong-dong(明洞)
Listing type: Entire apartment
Max. no. of guests: 2
No. of bedrooms: 1
Looking for a picturesque Airbnb in Myeongdong? Pinkville is a retro-inspired studio that appears to take a page from Korean fashion and beauty store Stylenanda; meaning, it's stylish, playful, and pink as can be. With neon signage in Korean and its own IG-worthy photo corner, this Seoul Airbnb offers a glimpse of the vibrant aesthetic that awaits you in Myeongdong Shopping Street: just a few minutes from the apartment. With department stores and street markets nearby, the studio is also close to Cheonggyecheon stream and Insadong for your sightseeing activities. 
6. This minimalist home near Myeongdong Station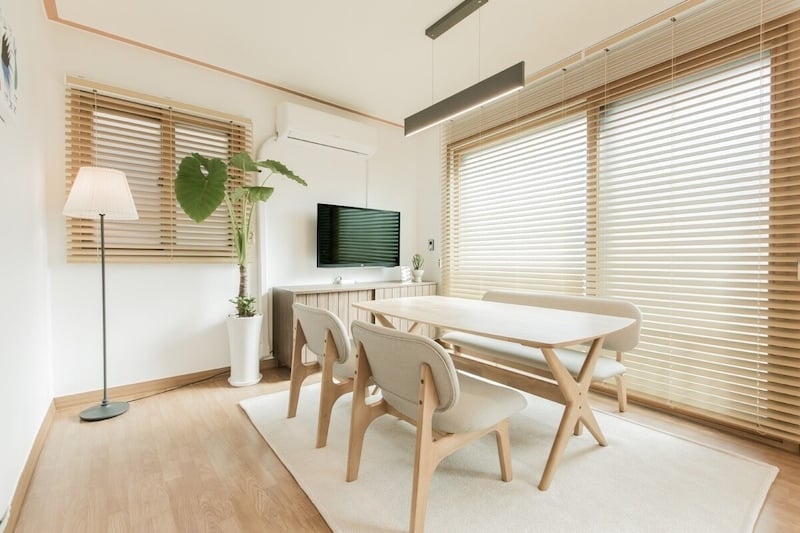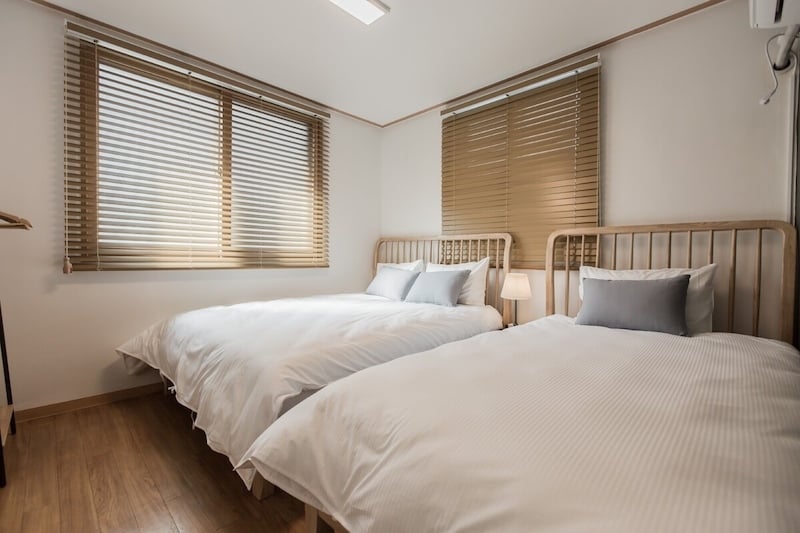 Listing name: Modern house (Superb Location, Comfortable)
Listing type: Entire house
Max. no. of guests: 5
No. of bedrooms: 2
If comforting amenities and a good location are what you prioritise in picking a vacation rental, then this clean and minimalist house in Seoul should do the trick. Only a two-minute walk from Myeongdong Station, this house grants easy access to tourist attractions such as Myeongdong Shopping Street, Insadong, Gyeongbokgung Palace, Dongdaemun, and more. 
7. This serene space secluded from the metro's busy streets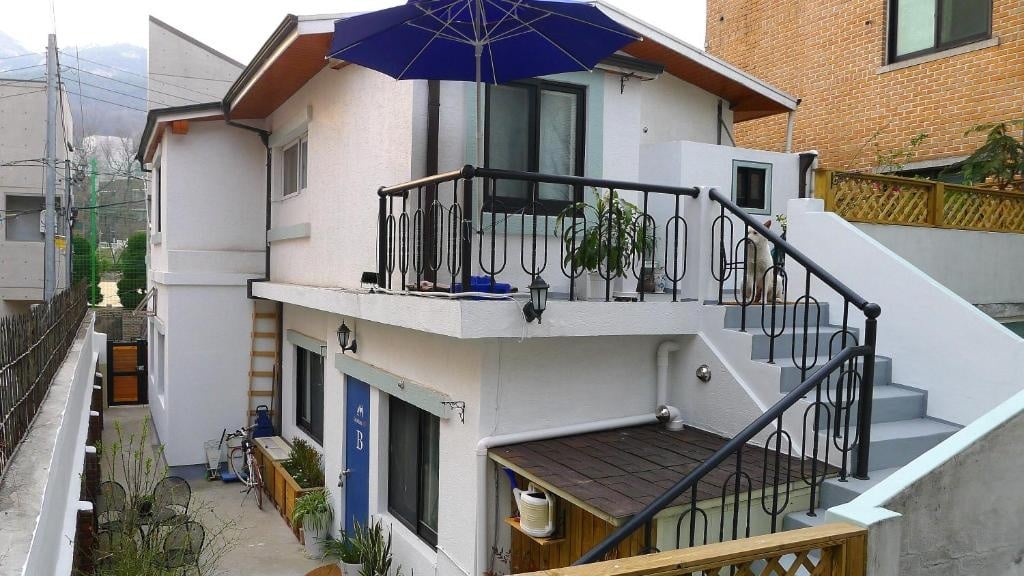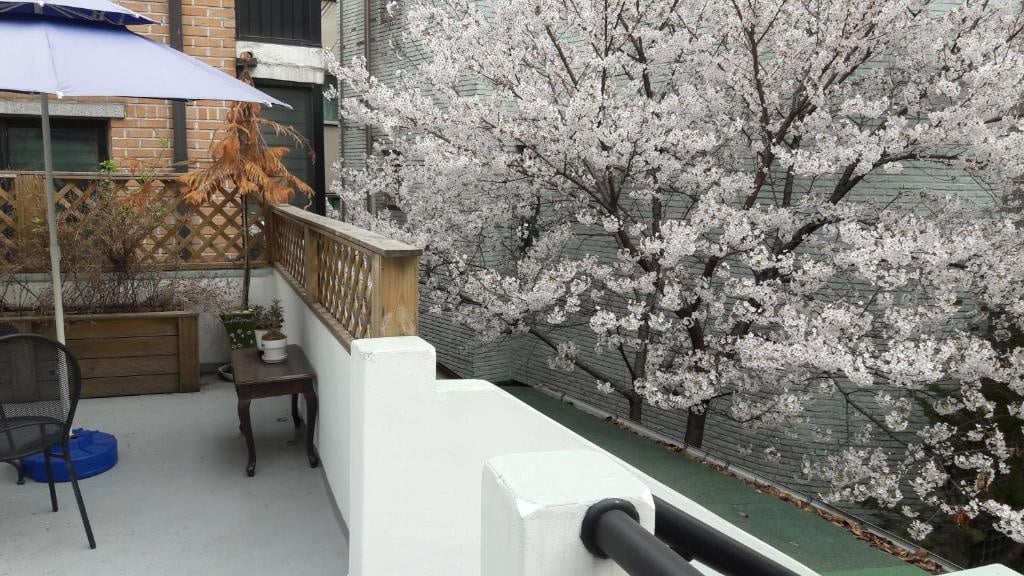 Listing name: OhMyGuesthouse_DoubleRoom with Comfy large bed
Listing type: Room in a home
Max no. of guests: 2
No. of bedrooms: 1
It can be arduous to find a place to relax from the urban traffic in Seoul. Fortunately, this guesthouse located in Jongno-Gu is a few metres away from Gyeongbokgung Station. Gyeongbokgung Palace and Jogyesa Temple are also near the accommodation, should you want to visit tourist spots without going too far. After enjoying the attractions, you can pass by Tongin Market on the way home for high-quality ingredients and grill these on the lush patio for a delicious barbecue.
Itaewon, Seoul Airbnb vacation rentals
8. This Airbnb with a breathtaking view of the city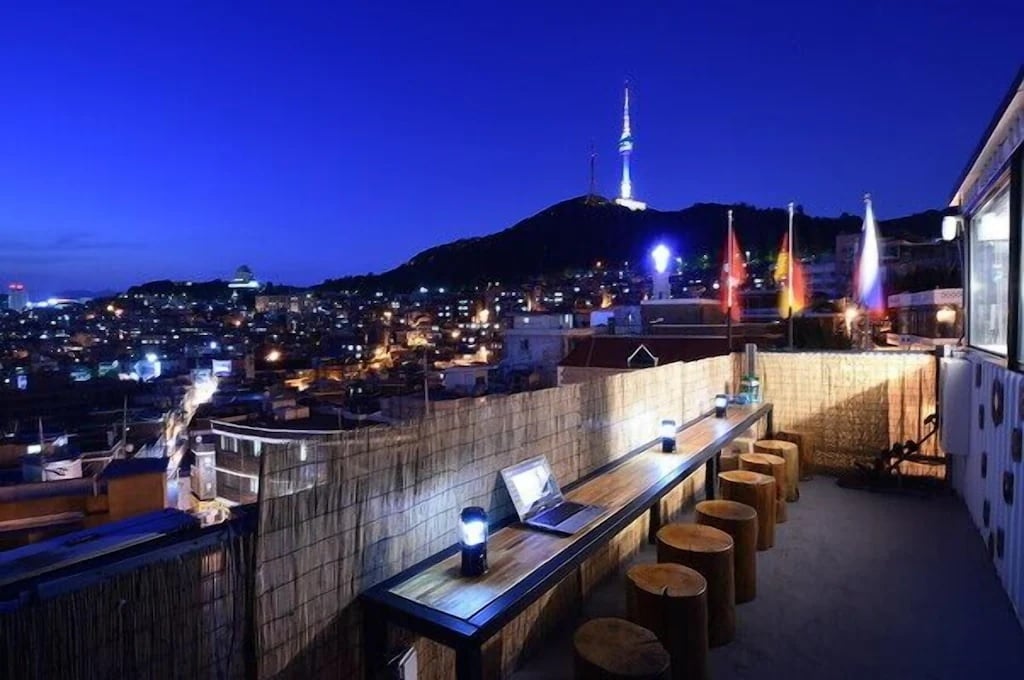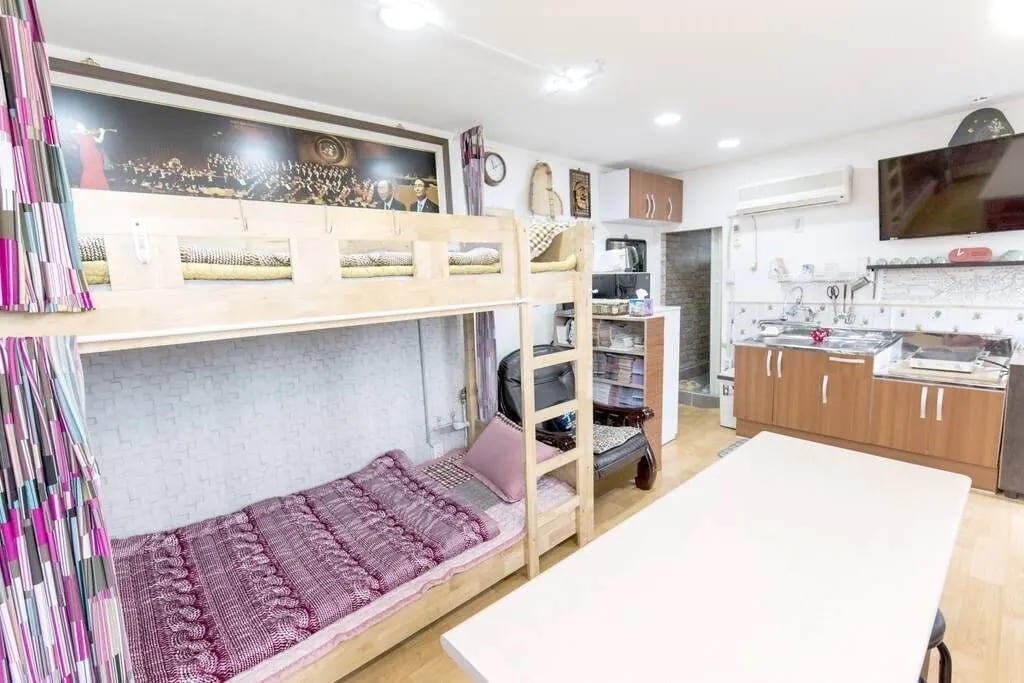 Listing name: 4 beds) Namsan Hbc Rooftop PhotoPark Guest House
Listing type: Entire home
Max no. of guests: 4
No. of bedrooms: 1
This apartment in the residential neighbourhood of Haebangchon is a peaceful retreat. It's about a 30-minute train ride away from Myeongdong and around 20 minutes of it from Itaewon. While it provides convenient routes to major tourist attractions in Seoul, the streets beside it are also popular among tourists for its bars and restaurants. It also boasts a truly scenic view of the city lights and easy access to the foot of Namsan Mountain. You can also rent the other floors if you're travelling with a group.
9. This newly renovated apartment with a view of N Seoul Tower
Listing name: New* Beautiful space with amazing view in Itaewon*
Listing type: Entire apartment
Max. no. of guests: 2
No. of bedrooms: 1
Sweeping views of mountains and high-rise buildings greet you from the moment you step into this newly renovated apartment in Itaewon. But the view that's guaranteed to catch your eye is the Namsan Tower (or N Seoul Tower). Head to the rooftop for a breezy, postcard-perfect moment. 
Plus, this overlooking apartment is conveniently located on a trendy street lined with cafes, bars, and restaurants. It is also just three minutes away from the subway and public transport.
10. This warm and inviting Seoul Airbnb that looks straight out of a K-drama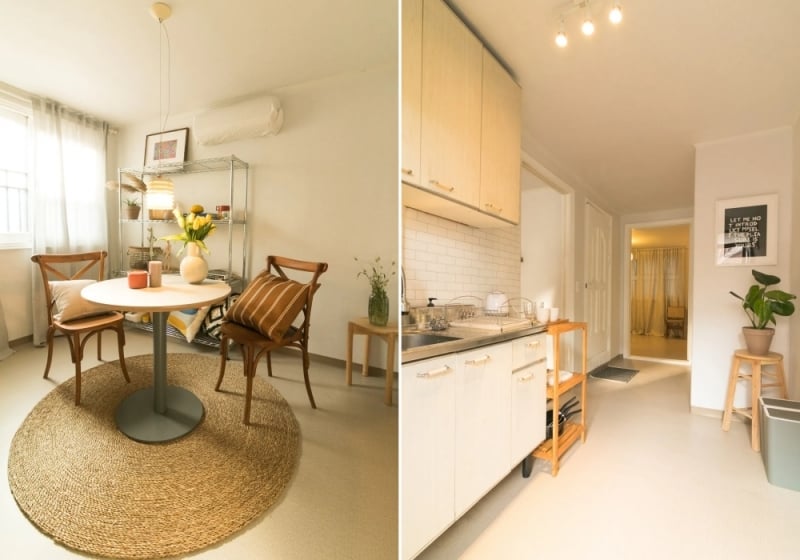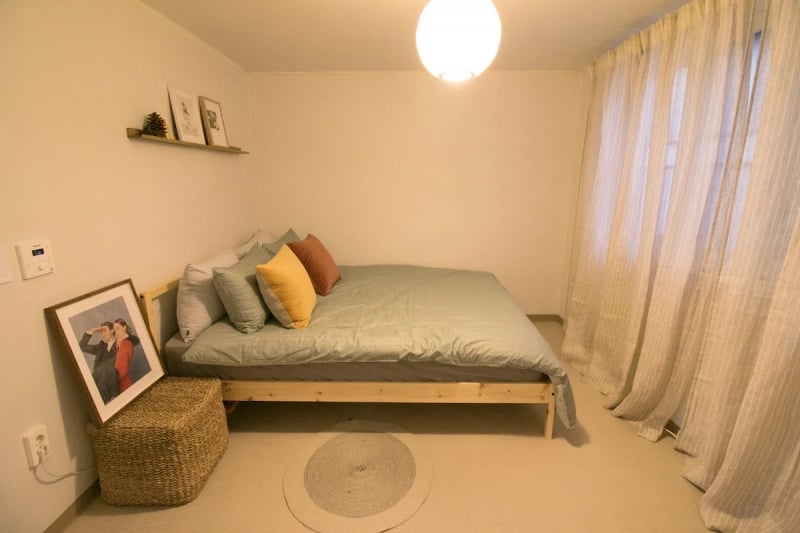 Listing name: *NEW* Beautiful+stylish 2br middle of itaewon area
Listing type: Entire rental unit
Max no. of guests: 2
No. of bedrooms: 2
Imagine being in a Korean drama; this Airbnb in Seoul is just like one of those places where the main characters live. Think wooden furniture, cute vases, photo frames, romantic yellow lights, and textiles in warm tones, doesn't it feel cosy and homey? Located near subway stations, restaurants, cafes, and night bars in Itaewon, it's certainly an ideal place to stay for youngsters who enjoy the city nightlife. 
Also read: 14 Must-Visit Coffee Shops in South Korea Featured in K-Dramas
11. This house with a hanok-style interior and a large rooftop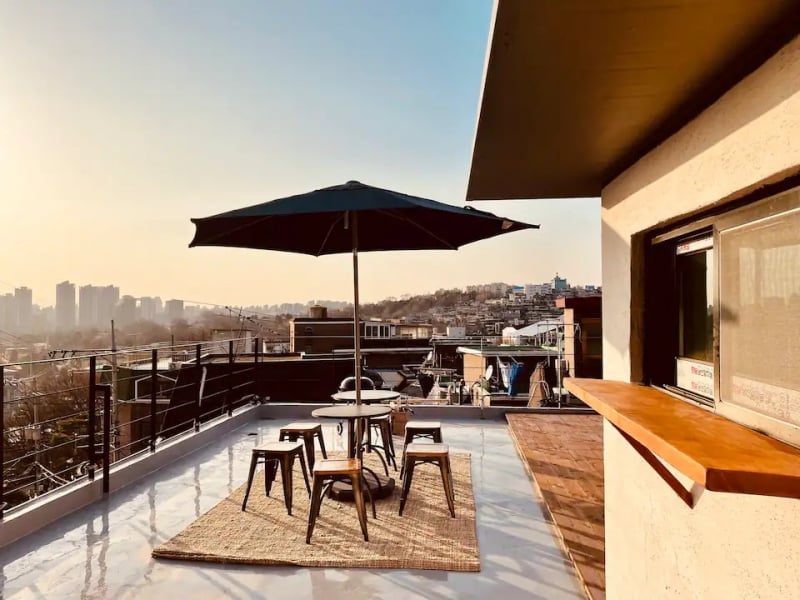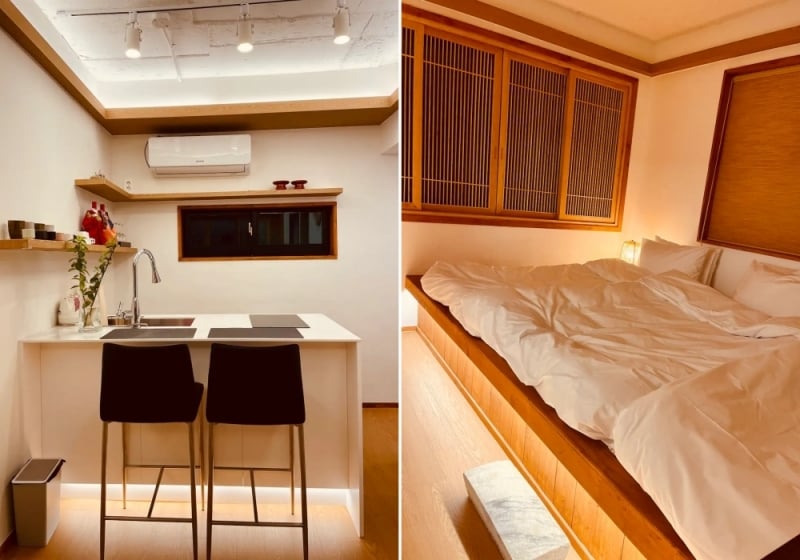 Listing name: [Riwon 2F] Newly built Korean-style house with rooftop barbecue (7-minute walk from Noksapyeong Station)
Listing type: Entire home
Max no. of guests: 5
No. of bedrooms: 2
Newly remodelled in 2022, this accommodation named "RIWON" is only around a 10-minute walk away from the Noksapyeong Station. Its interior showcases a traditional hanok design, where there are classic Korean wooden floors and windows, yho beds, and dolls dressed in hanbok. It also has a floor-heating system that will keep you warm during wintertime. Another appealing feature of the house is the massive rooftop terrace with a patio umbrella and chairs, allowing guests to sit back and enjoy the charming city skyline view. 
12. This house that's perfect for small families and gatherings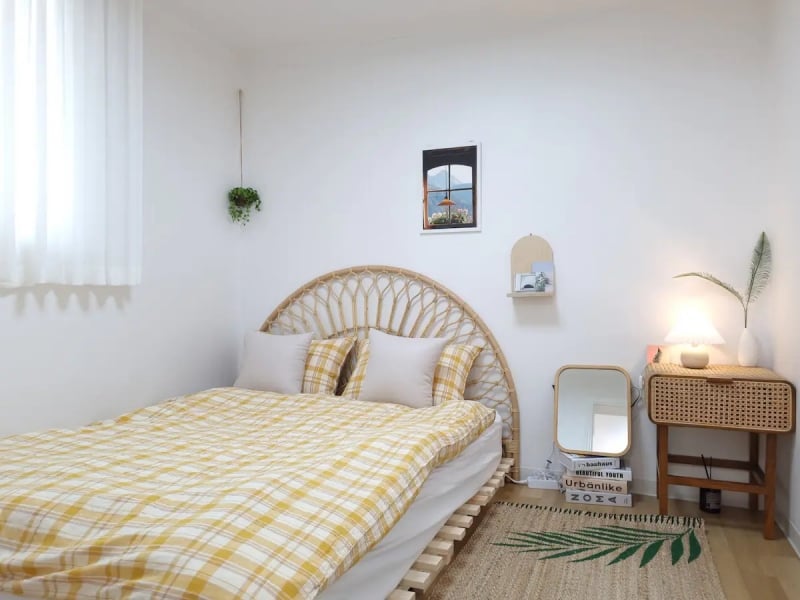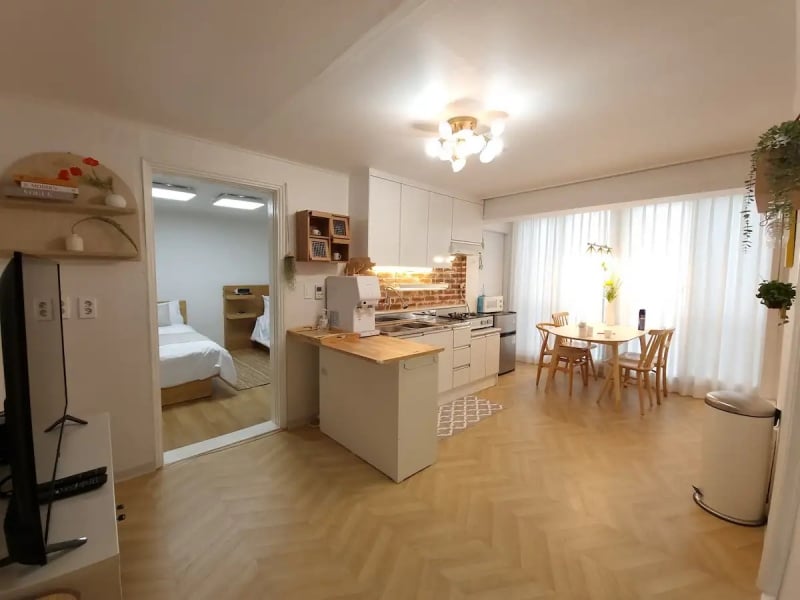 Listing name: WEZIP-W rooftop air conditioning, 1 bottle of wine free, Netflix, Quyon Street (Wehome Apple for Koreans)
Listing type: Entire home
Max no. of guests: 5
No. of bedrooms: 2
This comfy apartment unit is located on Itaewon's Quinnon Street: an area famous for its nightlife and restaurants. It's also only 20 metres from Itaewon Station. Therefore, you need not worry about getting to popular attractions or finding places to eat, because everything is nearby. 
Able to accommodate up to five people, it also makes a great space for small events like friend get-togethers and family gatherings. What's more, there's an air-conditioned sheltered rooftop that comes with an exclusive barbecue room! Isn't it cool?
Gangnam, Seoul Airbnb stays
13. This luxurious serviced residence that overlooks trees and city skylines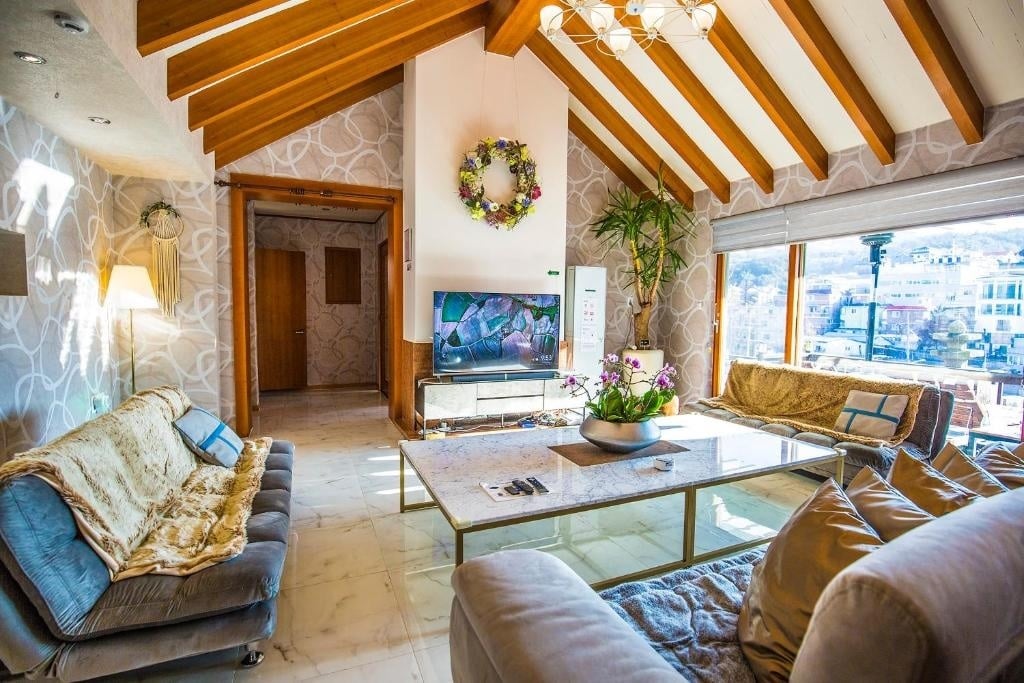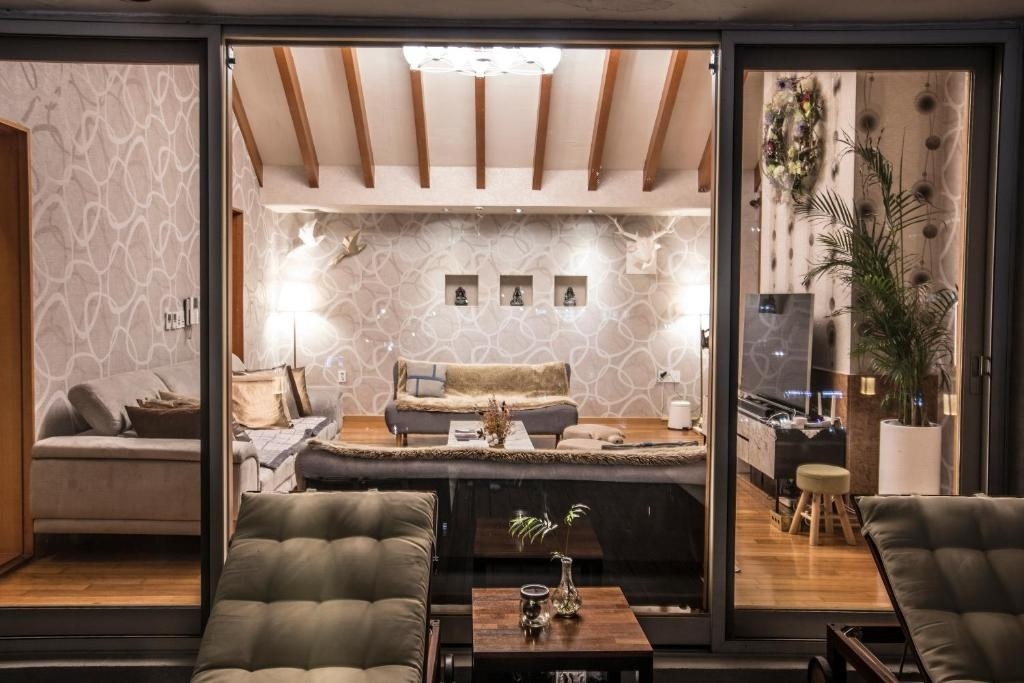 Listing name: BS-Entire Serviced Residence & Home Concierge
Listing type: House
Max no. of guests: 5
Want to splurge during your stay in Seoul? This lavish house, separated from the urban traffic with a border of trees, will give you your money's worth — maybe even more. The views here are amazing any time of the day, from the bright sunrise passing through trees to streams of light from the city at night. If you've come prepared to spend, this Seoul Airbnb is near Dongwha Duty Free Shop for when you feel like treating yourself or your friends.
14. This Airbnb in Seoul that is as wide as it is immaculate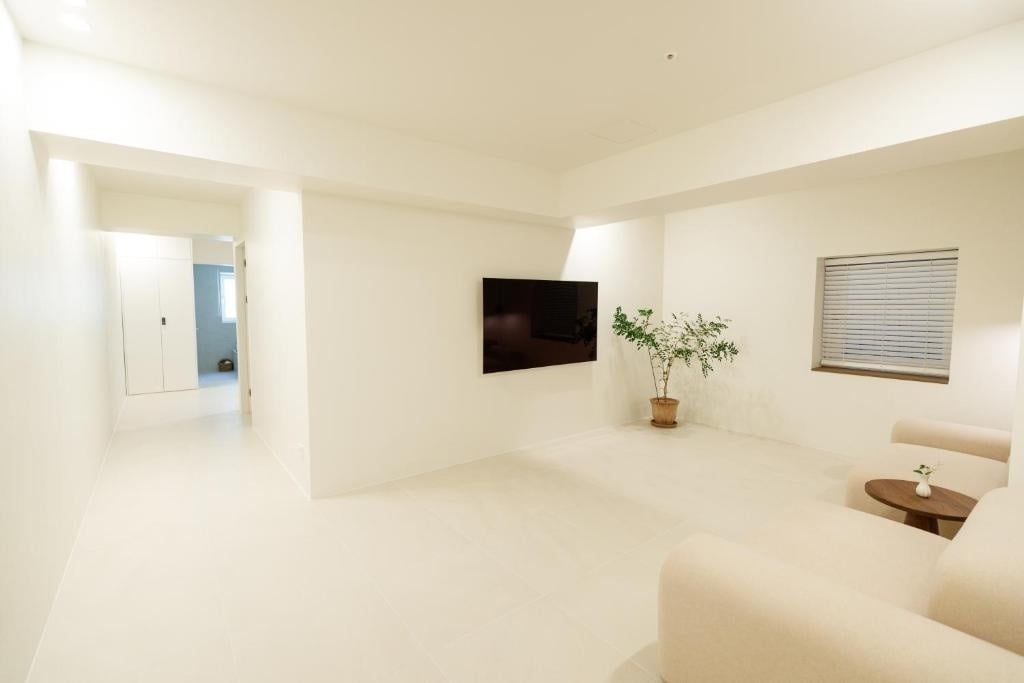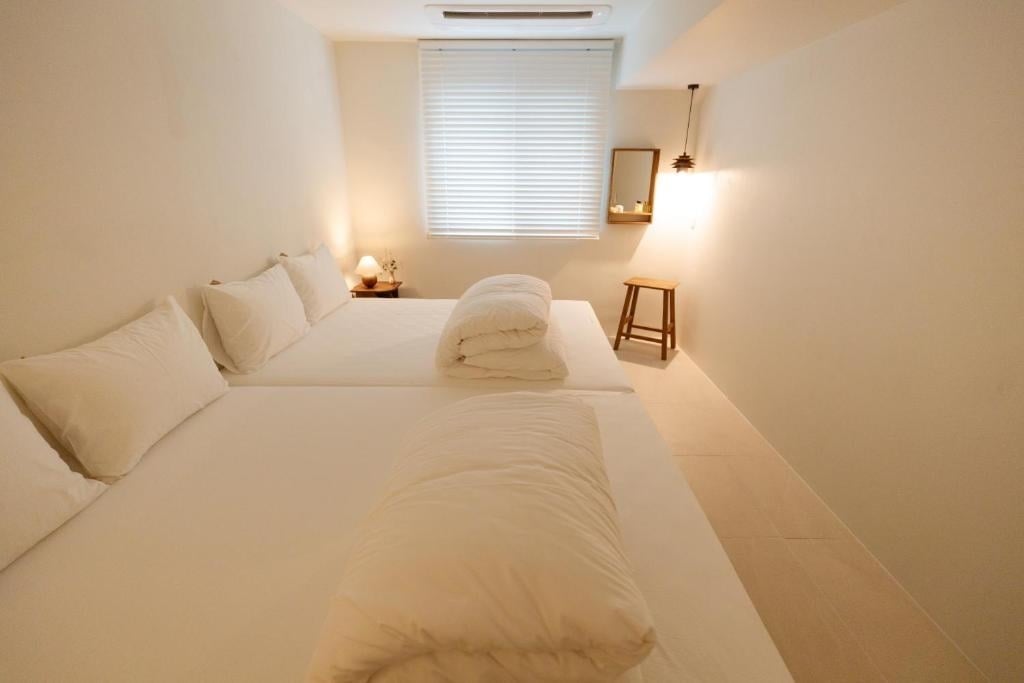 Listing name: White Linen House
Listing type: Apartment
Max no. of guests: 6
No. of bedrooms: 1

Has it been divined that this spacious apartment is located quite near Bongeunsa Temple? It's as if the suite is inviting you to meditate once you step inside! The rooms are soundproof and the walls are as clear as a blank slate, ensuring that peace is not far off once you rest here. If you so choose, the suites are also fully furnished, complete with a nice TV as a functional piece for the walls. It's also only a stone's throw away from Garosu-gil: a place known for its restaurants and an Instagrammable walkway filled with trees.
15. This Seoul Airbnb overlooking the Lotte World Tower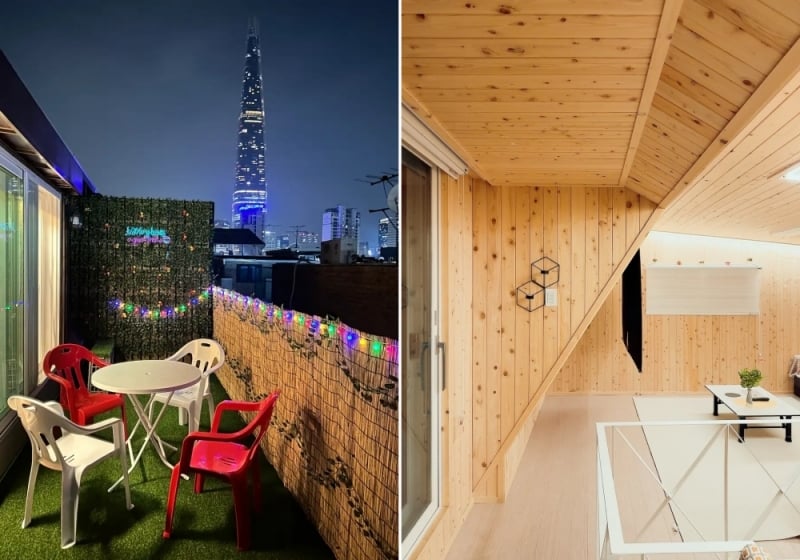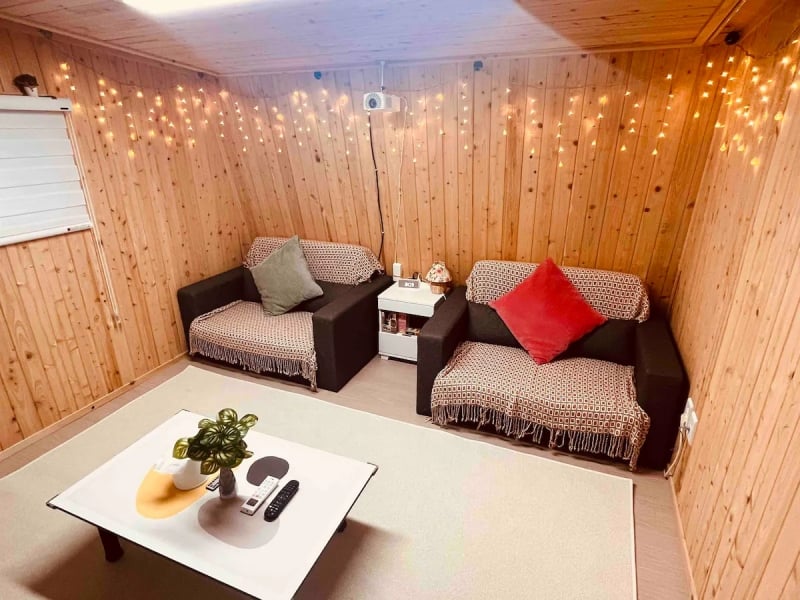 Listing name: [open] Shiny Peak # Lotte Tower View # Outdoor Terrace # Beam Projector # Netflix # Songnidan Road # Seokchon Station
Listing type: Entire home
Max no. of guests: 5
No. of bedrooms: 3
This duplex Airbnb in the Gangnam District is furnished with minimalistic furniture and colourful fairy lights, giving the place a comfy vibe. Spend your vacation night in the house engaging in therapeutic activities, such as watching Netflix via its beam projector, playing board games, or chilling in the attic living room. You'll also enjoy a gorgeous view of the majestic Lotte World Tower — aka the tallest building in the country — right from its outdoor terrace!
16. This studio that's just steps away from Gangnam station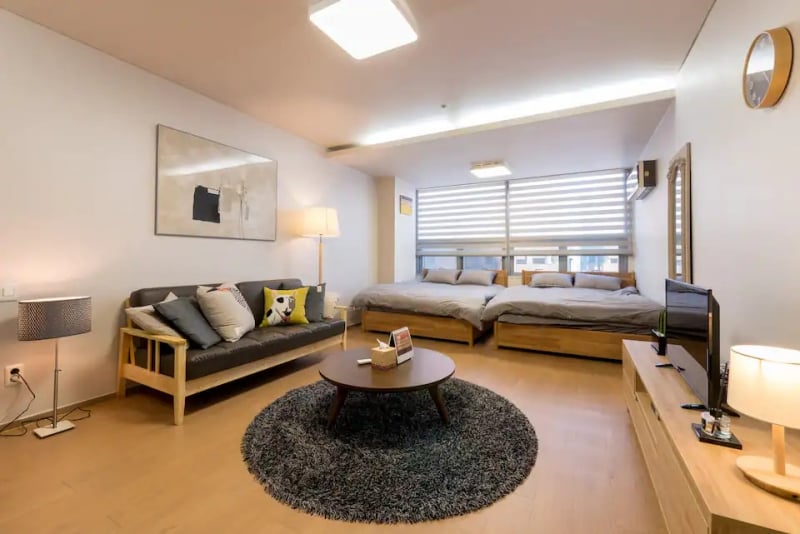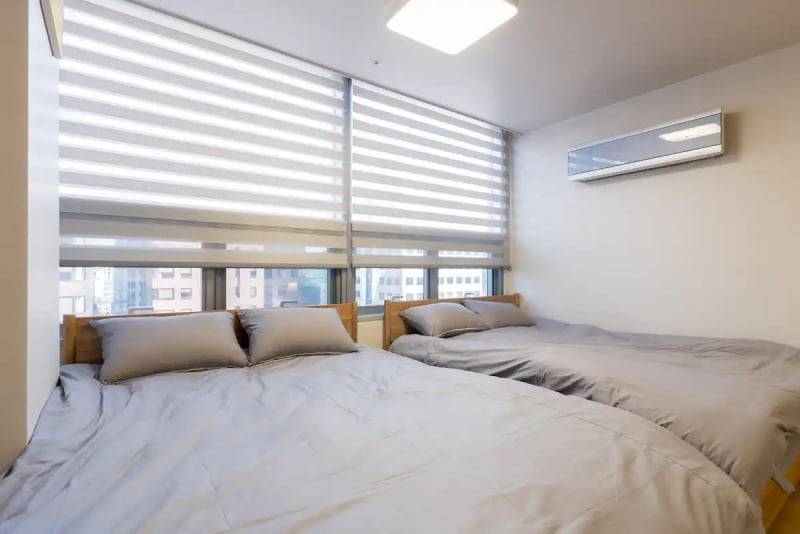 Listing name: Modern luxury studio in gangnam! 5Sec to station!!
Listing type: Entire rental unit
Max. no. of guests: 4
No. of bedrooms: 1
This stylish studio makes a perfect stay for travellers who want to explore Gangnam, as it's only a short walk away from Gangnam station and the airport bus stop. Upon entry, guests will be greeted with modern table lamps, a huge fur rug, wooden tables and chairs, and other cream-coloured furniture pieces. It's also conveniently equipped with kitchenware and a washing machine.
Best Airbnbs in Hongdae, Seoul
17. This apartment filled with cute art on every corner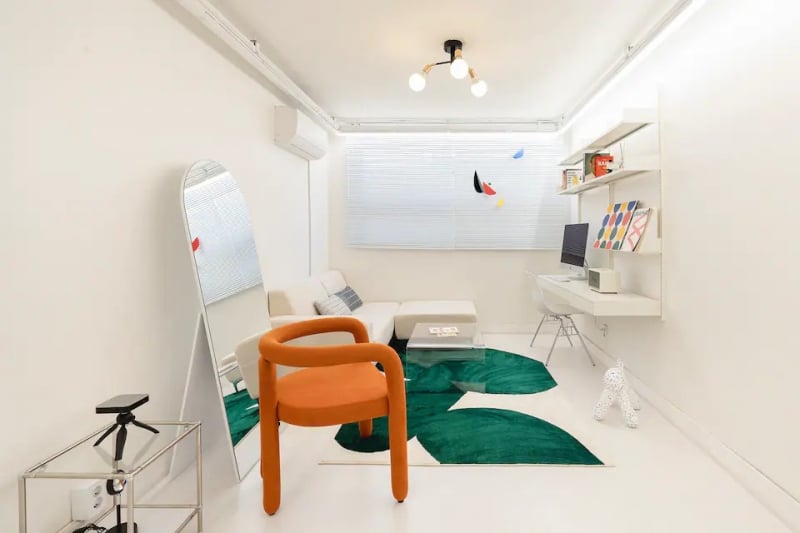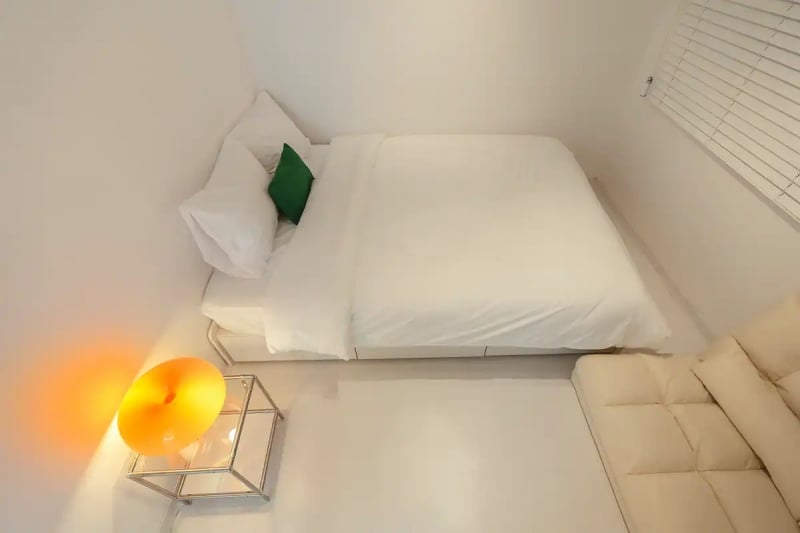 Listing name: [Space Log] Yeonnam-dong, Hongdae Subway Station, Eclectic Space
Listing type: Entire home
Max. no. of guests: 6
No. of bedrooms: 2
One of the most adorable Airbnbs in Seoul, Space Log is situated in a secluded residential area in Yeonnam-dong. Guests can easily explore the famous cafe street nearby, Gyeongui Railway Forest Park, as well as the Hongdae area. 
Nevertheless, the convenient location is not the major appeal of this place. It features mostly white furniture and white walls, yet is adorned with bits of vibrant elements, like a quirky dark orange chair, emerald green carpet, and other tiny but colourful decorations. You can also play music via its Marshall speaker, browse the internet with its iMac, or watch movies via the projector. It's certainly one of those Airbnbs in Seoul that brighten up your mood from the moment you step in!
18. This safe and spacious apartment right in the heart of the city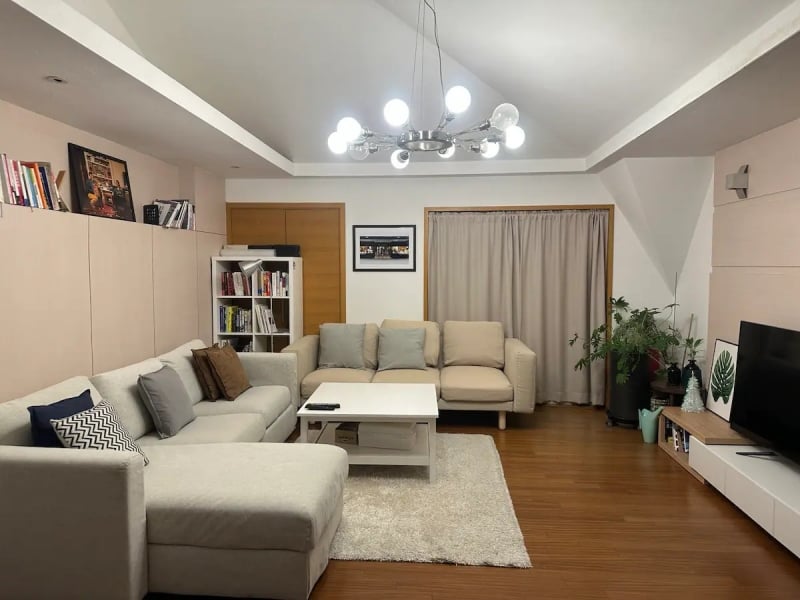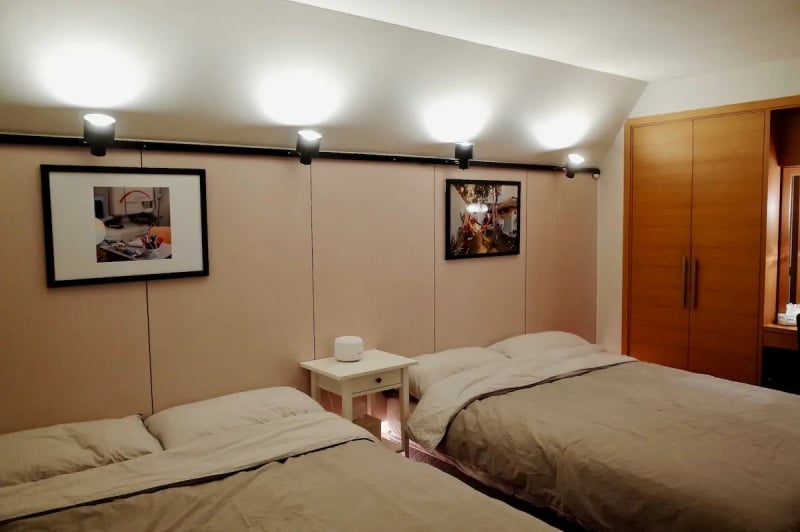 Listing name: Spacious! 2BR 2BA @Hongdae
Listing type: Entire rental unit
Max no. of guests: 7
No. of bedrooms: 2
This spacious Seoul Airbnb offers a straightforward accommodation option for a medium group of travellers. Located in the heart of Hongdae Shopping Street and near Hongik University Station, multiple shopping districts, bars, and cafes surround this apartment. That said, it's certainly a great starting point for an urban adventure in Hongdae. It also has a personal computer, a large TV, and a home video game console for spending lazy nights when you want to relax and chill indoors.
19. This elegant house with IG-worthy spots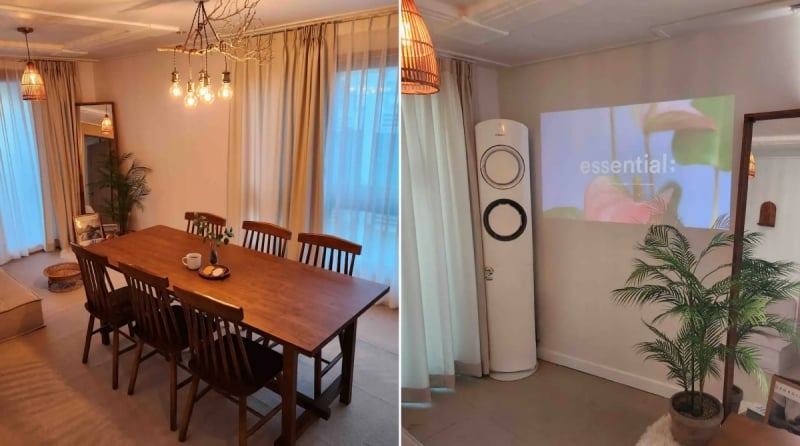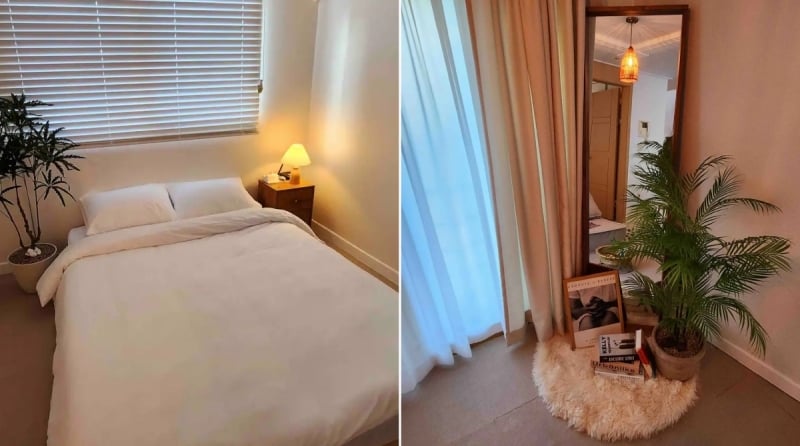 Listing name: [Hongdae Accommodation] Hongdae 4 minutes on foot # Air conditioner # Beam projector # Washing machine # Dryer # Outdoor terrace # Duplex two-room
Listing type: Entire home
Max no. of guests: 4
No. of bedrooms: 2
Only a four-minute walk from Hongik University Station, this Instagrammable duplex is another one of the Airbnbs in Seoul you should consider. Featuring a Japandi aesthetic, such as a blend of wooden and contemporary furniture with green plants, almost every corner of the house makes for a photogenic spot. If you don't want to be cooped up in the room all the time, head to the outdoor terrace and enjoy a cup of tea in the sun. There's also a movable beam projector, so how about a movie night outdoors, under the beautiful night sky?
20. This dreamy apartment unit near several landmarks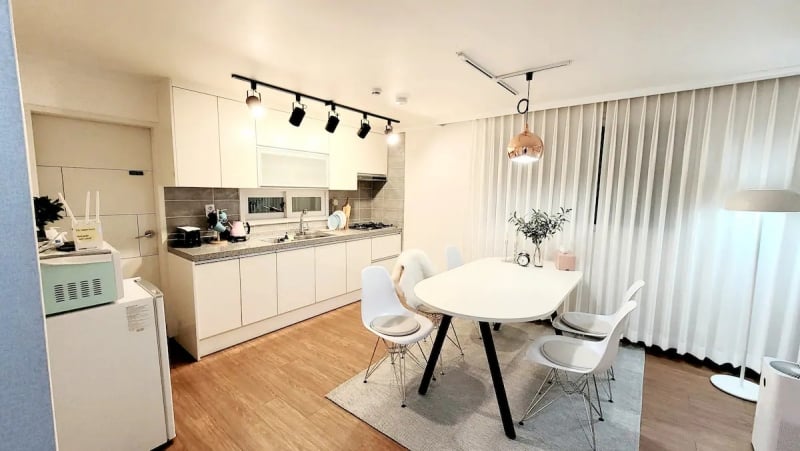 Listing name: [Sweet Story] Hongdae/Stn 5min/open view/legal Apt
Listing type: Entire home
Max no. of guests: 5
No. of bedrooms: 2
This Airbnb in Hongdae, Seoul is near the subway station, guaranteeing you convenient access to one of the coolest hangout spots in Seoul. True to its name, Sweet Story, it boasts a massive living room and two bedrooms, one of which looks so pink and romantic. The other bedroom, however, features a mix of Scandinavian style and trendy elements, making it an aesthetically-pleasing place to stay in. 
If you're coming with your other half, why not consider having a candlelight dinner on the balcony? It will surely leave you with nothing but fun memories!
Also read:  13 Magical Cabin Retreats in South Korea to Book on Airbnb
Take your time to pick the best Airbnbs in Seoul that provide what you're looking for, whether that's affordable prices, a strategic location, or aesthetically pleasing interiors. We hope that you find the right accommodation that makes your stay in South Korea's capital worth it. Happy travel planning!
Got a property you'd like TripZilla to feature? Inquire with us here.
---
This article contains affiliate links. When you book through these links, we may earn a small commission at no additional cost to you. All images courtesy of the respective property listings.