Where are you off to next? We think Osaka is a pretty good idea! Whether you're travelling solo, with friends, or with family, there's much to enjoy around this vibrant Japanese port city. It helps that they've got a super efficient train system, too — many of Japan's gems (and even Korea!) are just a few train stops away. So, how about you get started on planning your trip? We've already found several Airbnbs in Osaka for you to choose from! (And yes, we think they're even better than hotels!)
We all know that travelling to Japan often means spending more than we'd like on small, minimalist hotel rooms. But consider this dilemma a thing of the past — the following list consists of Osaka Airbnbs that cost less, offer more space, and come with perks like free mobile Wi-Fi and amenities that will make you feel right at home. Plus, most Airbnb hosts are more than happy to help improve your travel experience with their own local tips and tricks!
Also read: A 7D6N Itinerary to Explore Osaka and Its Surrounds (Cherry Blossoms, Hello Kitty Bullet Train & More!)
Must-book Airbnb homes in Osaka
1. This simple yet beautifully decorated apartment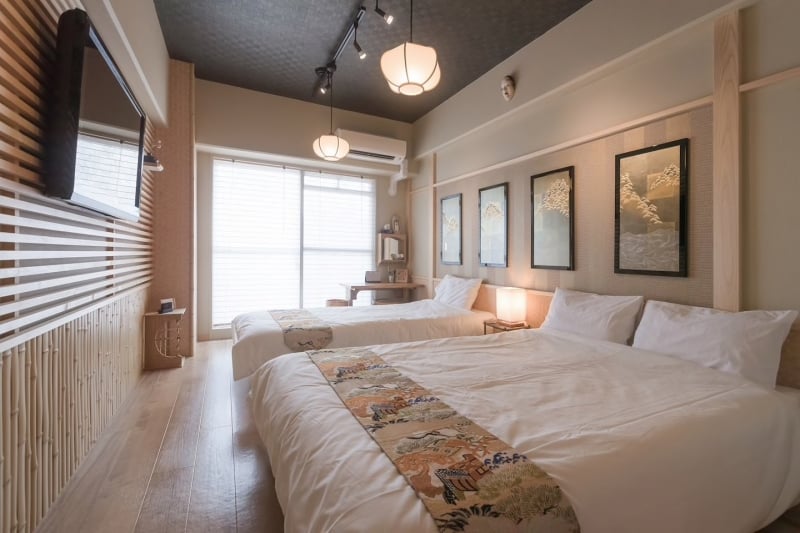 Listing name: Cozy Japanese Room TD Shin-Osaka 8min walkFreeWifi
Listing type: Entire apartment
Max. no. of guests: 3
No. of bedrooms: 1
Upon laying eyes on this elegant apartment, you can just tell that it was very thoughtfully put together. Simple as it may be, it's beautifully decorated (we just love the traditional Japanese touches!) and offers more than enough space for three people.
Set at a comfortable distance from the train station and well-equipped with amenities, it's among the Airbnbs in Osaka you'd book again and again. A bonus? Your host will happily keep your luggage for you before and after check-out! Learn more about this Airbnb here.
2. This family-friendly tatami house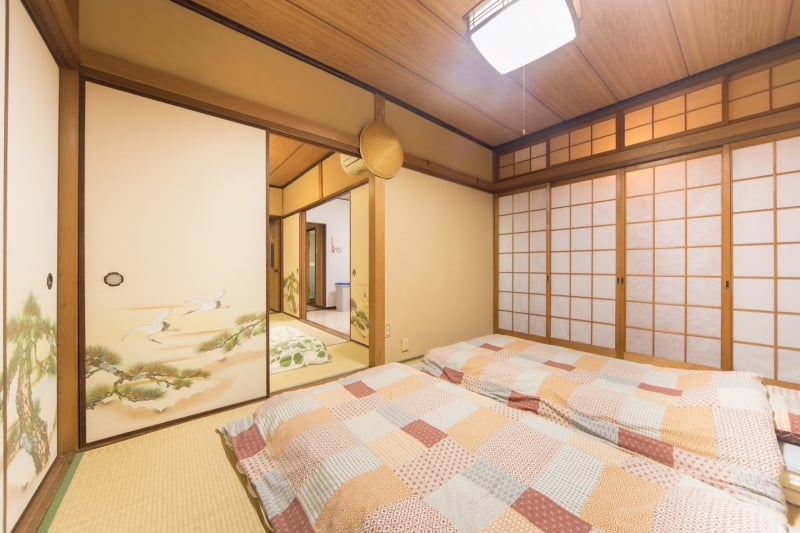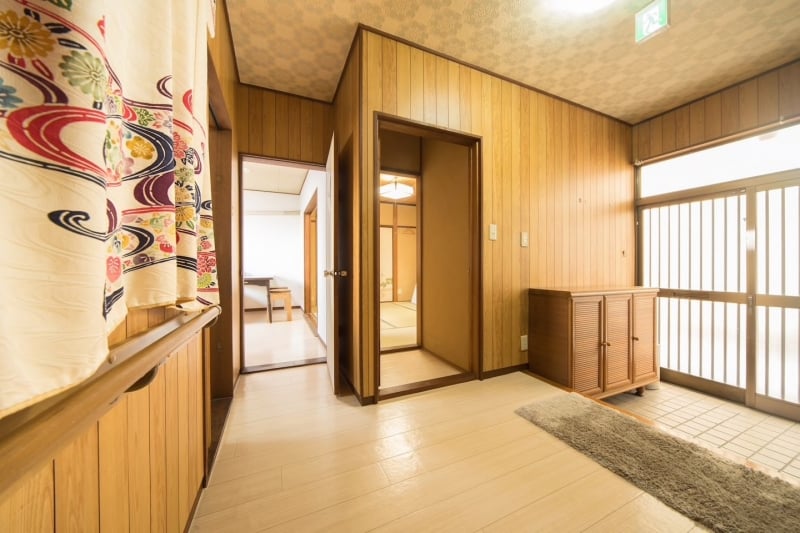 Listing name: Japanese style "Tatami" house!
Listing type: Entire house
Max. no. of guests: 6
No. of bedrooms: 2
For a taste of traditional Japanese living, how about a stay at a tatami house? This roomy rental, in particular, is one of many family-friendly Airbnbs: It's spacious, provides easy access to the famous spots in Osaka, and even comes with amenities for babies!
In addition, it's located in a peaceful neighbourhood, with convenience stores and local restaurants just around the corner. Equipped with everything you'll need to feel at home, it's the kind of place that's hard to leave behind. Learn more about this Airbnb here.
3. This stylish home with a traditional feel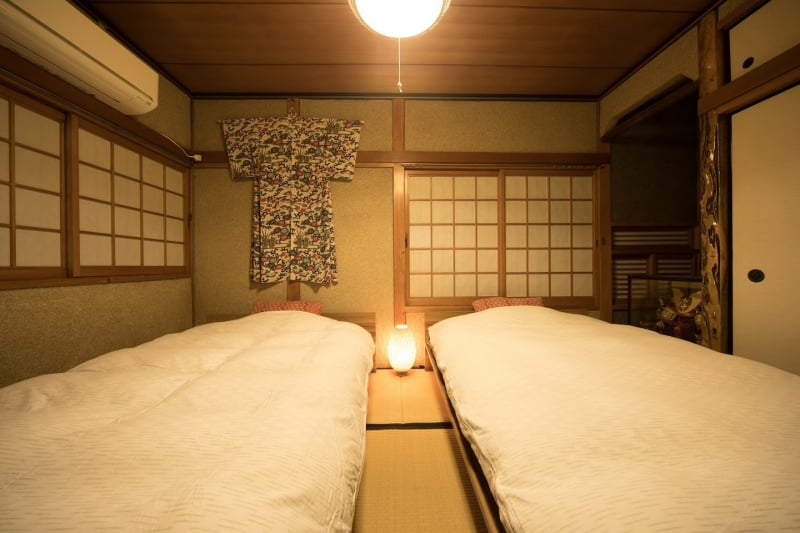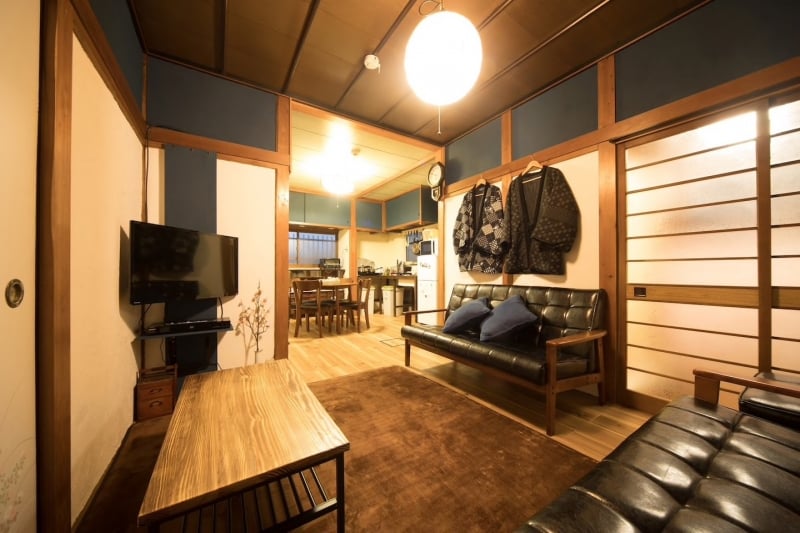 Listing name: Japanese House *:.。.Yukifuku.。.:*
Listing type: Entire house
Max. no. of guests: 6
No. of bedrooms: 3
If you're travelling with family or a group of friends, take note: This two-storey, three-bedroom home is probably the most spacious Osaka Airbnb on this list! Tucked in a quiet residential area, it's just a 15-minute walk to and from the Shin-Ōsaka railway station.
According to reviews, Airbnb host Kazuma truly goes above and beyond for his guests — as evidenced in the many amenities you'll find around the house. The bathroom, laundry, and kitchen essentials are great perks, but the foot massager is probably everyone's favourite! In the winter, hantens (traditional Japanese winter coats) are also provided for guests to use at home. Learn more about this Airbnb here.
4. This solo traveller's dream come true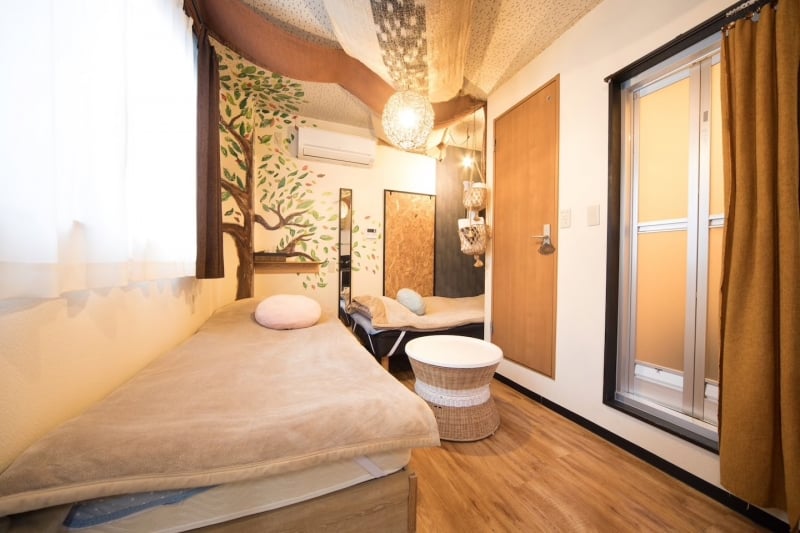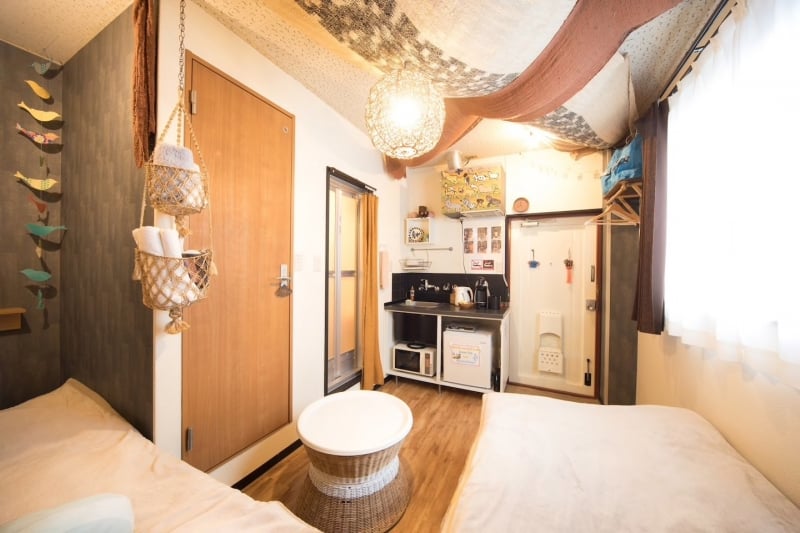 Listing name: *Cute*Tiny* Japanese single room
Listing type: Entire apartment
Max. no. of guests: 2
No. of bedrooms: 1
This listing is truly one of Osaka's hidden gems. Despite its compact size, this first-floor apartment is equipped with two single beds, a private bathroom, and some kitchen items like a refrigerator, microwave, and coffee maker. It's big enough for two, but solo travellers will particularly enjoy this well-utilised space!
Around the vicinity, you'll find lots of convenience stores, supermarkets, and restaurants. At the same time, a major subway line is located close by, giving guests easy access to Osaka's major sights! Pocket Wi-Fi is also provided for guests to take around with them as they get to know the city. Learn more about this Airbnb here.
5. This light-filled home in a quiet neighbourhood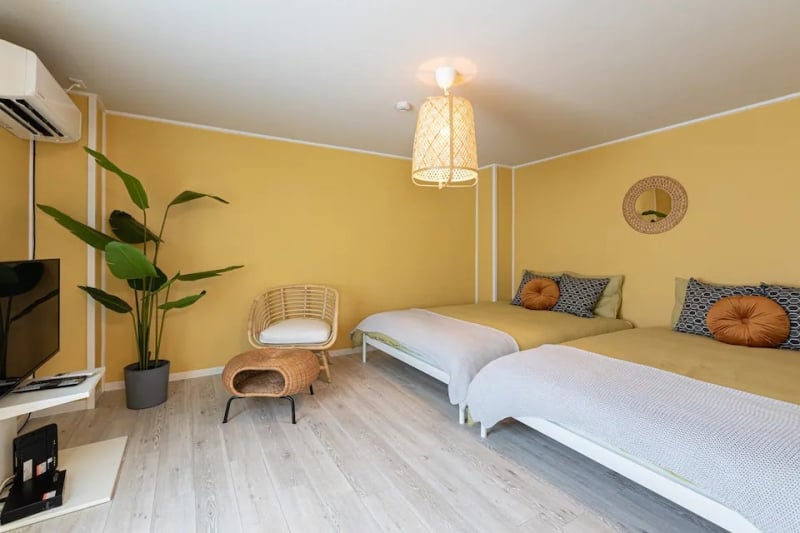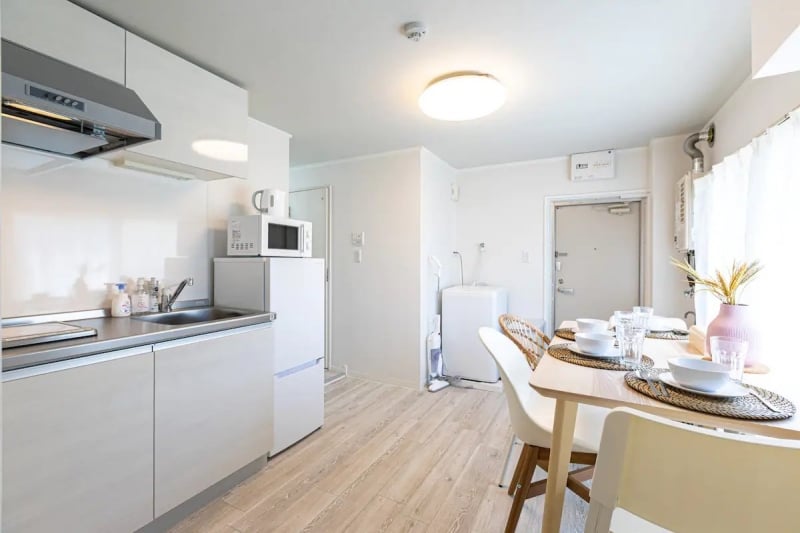 Listing name: Light and Salt 402 Bethlehem | Walk to Dotonbori, Shinsaibashi, Nipponbashi, Namba | Walk to Tanimachi 9-chome 5min, Nipponbashi 6min | Brand New Apartment
Listing type: Entire apartment 
Max. no. of guests: 4
No. of bedrooms: 1
Just a quick stroll away from the closest station, this bright Airbnb is a great base for sightseeing around Osaka. Clean, tidy, and way more spacious than a hotel room, this minimalistic apartment is a comfortable place to come home to after exploring the city.
As this home is nestled in a quiet area with lots of supermarkets and convenience stores nearby, expect that it'll be quite tempting to spend some extra time indoors. Grab your favourite snacks, kick back and relax on the cosy couch, and enjoy the high-speed Wi-Fi. Learn more about this Airbnb here.
6. This modern apartment outside of the city centre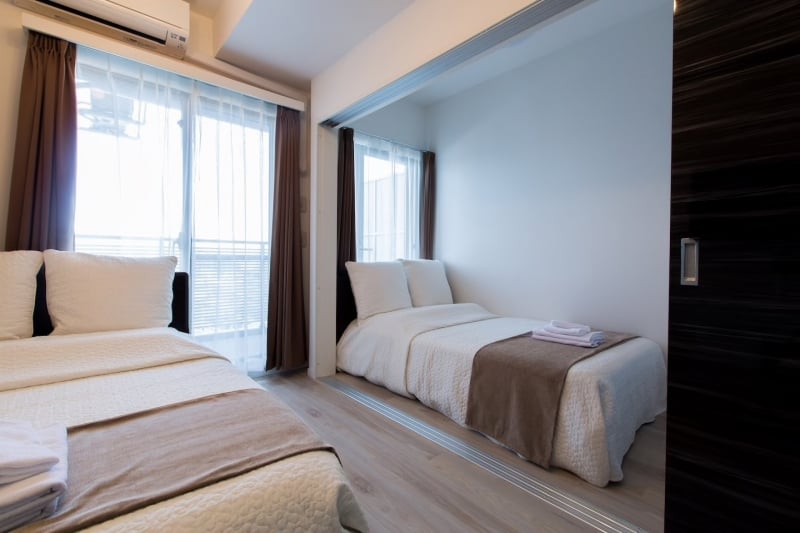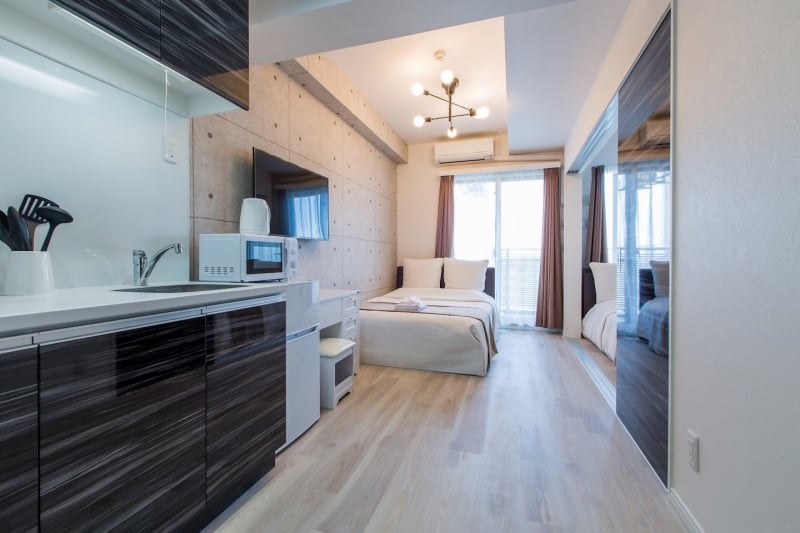 Listing name: GrandouceNishiTengachaya☆Namba 9min/4ppl stay
Listing type: Hotel room in serviced apartment
Max. no. of guests: 4
No. of bedrooms: 1
Perfect for those who prefer to be away from the buzz of the city centre, this modern home sits just a 10-minute train ride away from Namba. It is actually located in a serviced apartment building, and the multilingual staff will be more than happy to assist you! In addition, this Airbnb in Osaka comes complete with a bedroom, living room, kitchen, and private balcony (we hear it has a great view of the city!).
The best part? With its sleek design and plenty of amenities, this apartment offers more than your typical hotel room — and at a reasonable price, too! Learn more about this Airbnb here.
7. This spotless apartment that's close to everything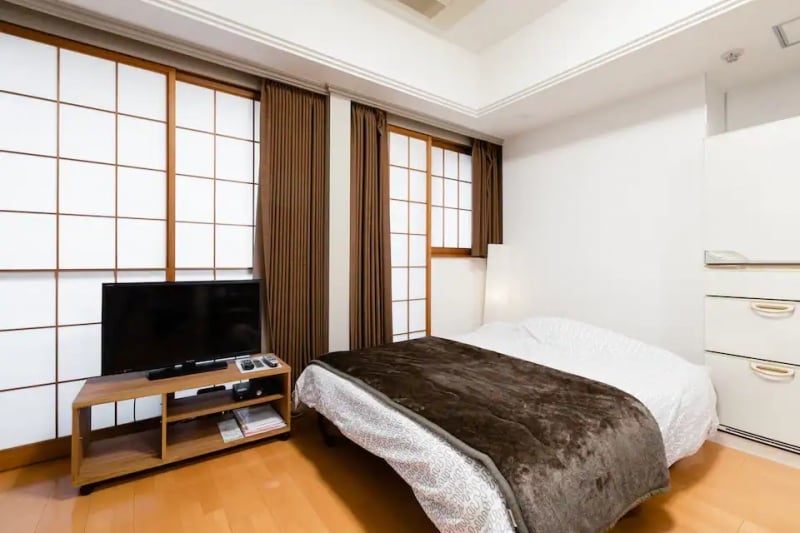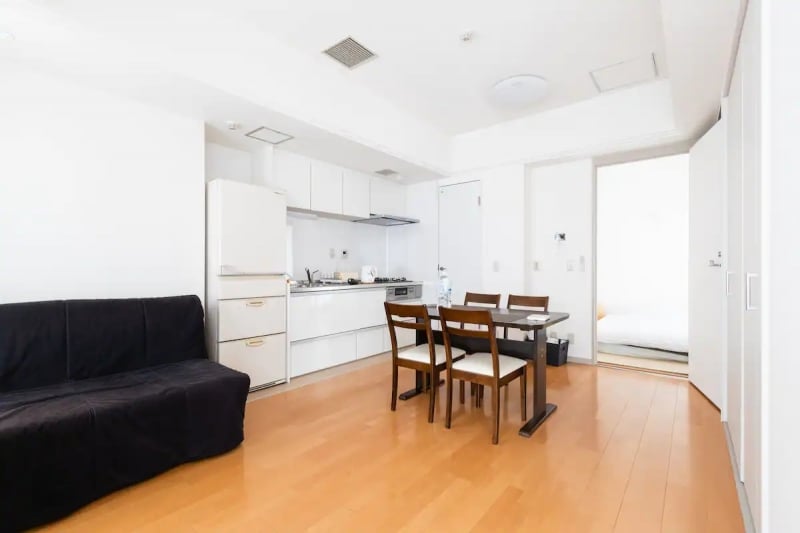 Listing name: Perfectly Located Castle - Near Osaka Castle
Listing type: Entire apartment
Max. no. of guests: 4
No. of bedrooms: 1
Cool and clean: These two words pretty much sum up what it's like at this spotless apartment. With its minimalist yet stylish interiors, this home away from home is perfect for those who believe that less is more. And despite that its host has kept its furnishings to a minimum, it's still got everything you'll need to make yourself comfortable (Wi-Fi is one of them!).
In addition to its style and function, this is among the Airbnbs in Osaka that comes highly recommended for its location. A great base for exploring the city, it's situated close to prime spots like Umeda, Dotonbori, and plenty of restaurants, convenience stores, and subway stations. It's even within walking distance to Osaka Castle. Learn more about this Airbnb here.
8. This pretty retreat near Namba and Dotonbori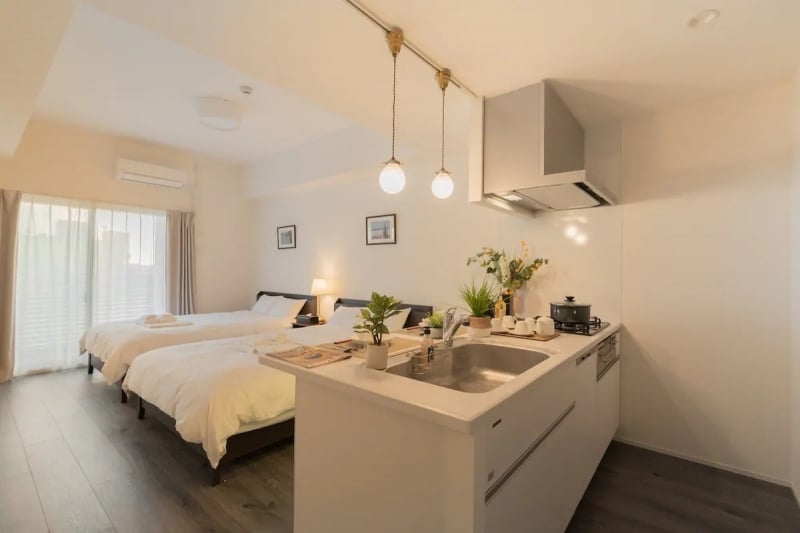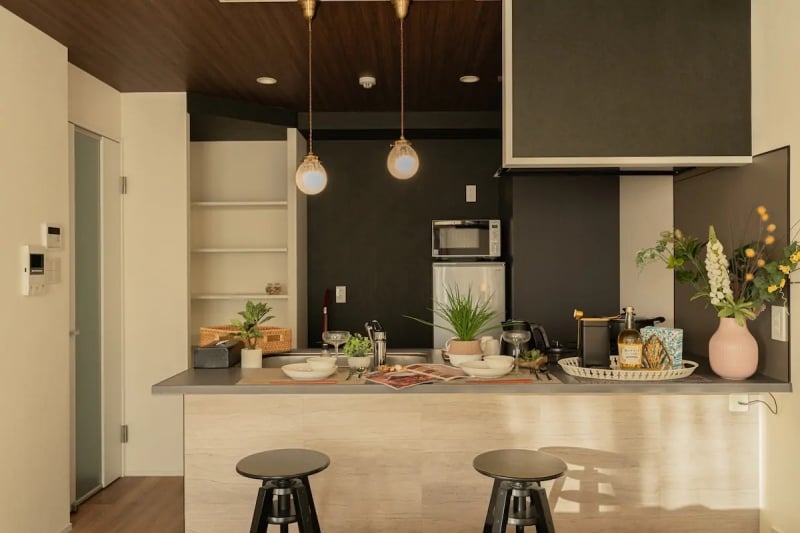 Listing name: ★Up to 70% promotion★ Executive Twin
Listing type: Entire apartment
Max. no. of guests: 4
No. of bedrooms: 1
If you don't mind getting a little cosy with your friends or family, this studio apartment has enough space to fit four people. It's perfect for those kinds of trips where you plan to do nothing but spend time with one another! Plus, wouldn't you want to stay in Instagram-friendly Airbnbs in Osaka, too?
Complete with a kitchen and living area, this simple apartment has all the basic amenities you'll need for a comfortable stay. It's also centrally located, making it easy for you to get to multiple train stations, restaurants, and convenience stores. Learn more about this Airbnb here.
9. This immaculate home where you can live like a local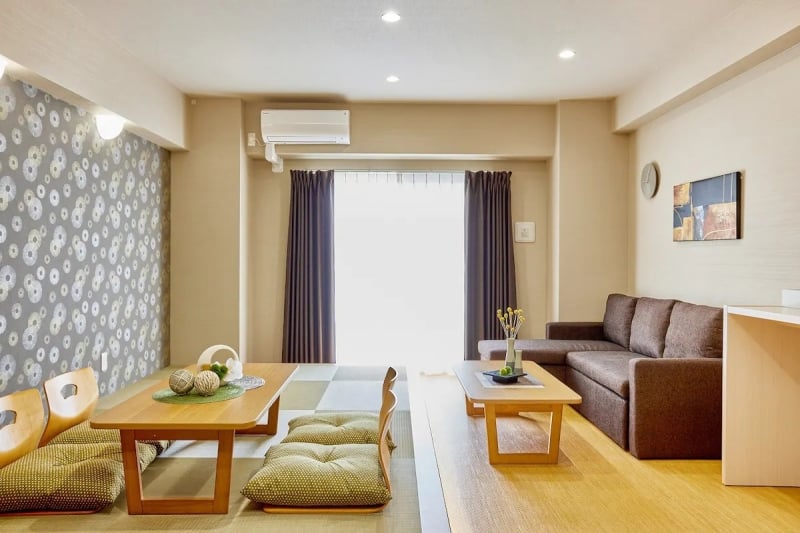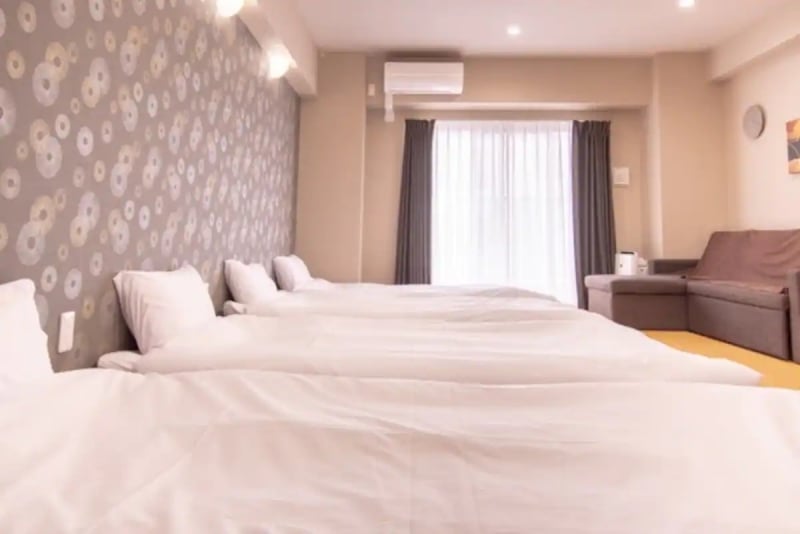 Listing name: NEW OPEN! 5 Min from Namba OCAT! A.A.O BLDG NAMBA
Listing type: Entire apartment
Max. no. of guests: 6
No. of bedrooms: 1
Live like a local at this Japanese-styled Airbnb in Osaka! Expect an assortment of delightful perks, including free use of the home's takoyaki maker and hot plate.  A mix of contemporary and retro elements, this home allows you to experience traditional Japanese living with a modern twist.
Start your mornings with a cup of tea in the quaint living room, and move on to explore Osaka by train for the rest of the day. This home is a cosy and quiet place to rest after a day full of walking around Japan's busy streets! Learn more about this Airbnb here.
10. This vibrant home that's off the beaten path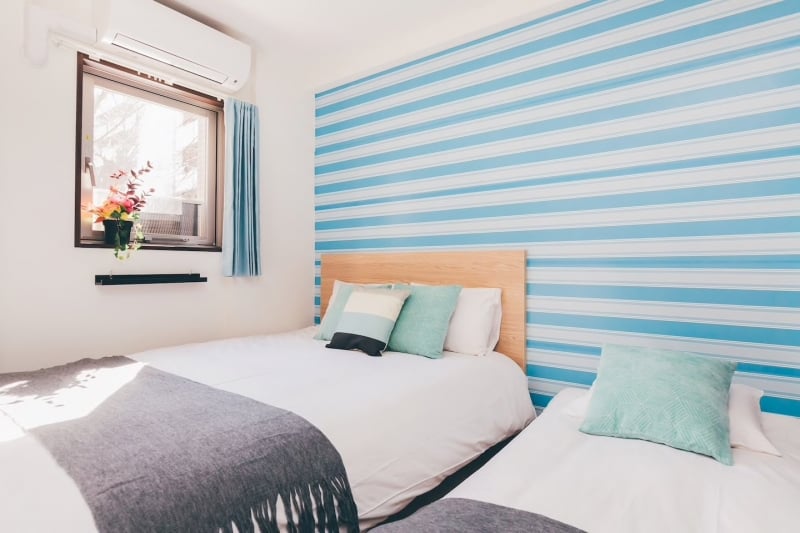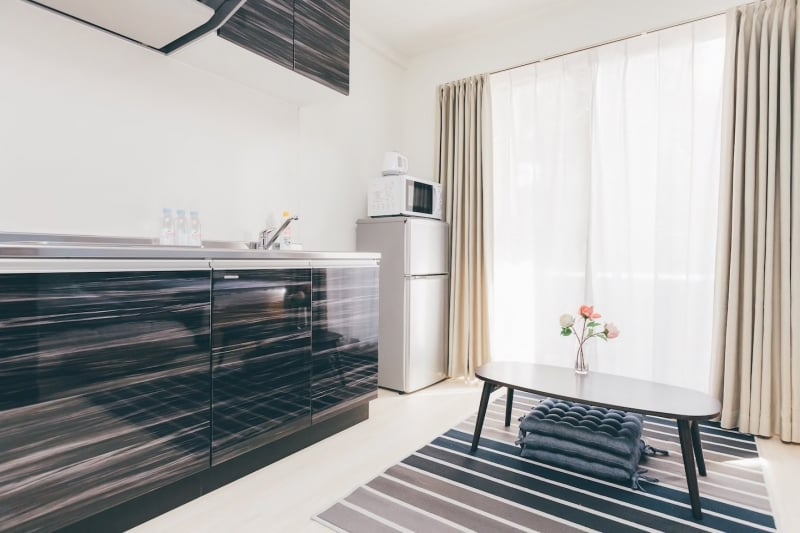 Listing name: 1 Station to Umeda!Good location!
Listing type: Entire apartment
Max. no. of guests: 3
No. of bedrooms: 1
Travelling on a budget? This one-bedroom apartment is one of the more wallet-friendly Airbnbs you'll find in Osaka, and it'll certainly get you more bang for your buck! It's spacious, clean, well-equipped with amenities, and even has a balcony with stunning views. 
Though it's located off the beaten path, it's still an ideal jump-off point for exploring the city. As it's located quite close to the train station, you won't have a difficult time travelling to popular spots like Kobe, Nara, and Tokyo! Learn more about this Airbnb here.
11. This ninja house in the centre of Osaka
Listing name: NINJA HOUSE!! ☆Free Pick up☆
Listing type: Entire hut
Max. no. of guests: 8
No. of bedrooms: 2  
Ninja houses are typically full of tricks and traps, but the surprises you'll find in this two-bedroom Airbnb in Osaka are sure to be good ones. Painstakingly built in the Chuo Ward for an entire year, this ninja house features hidden doors and secret rooms throughout the property. Even the front door is concealed, blending as part of a wooden wall.
Although its style is vintage, modern perks fill this Japanese home. There's a 4K TV, a fully automatic washer and dryer, and a pristine bathroom with a Japanese-style bidet, of course. Free bicycles are included in this rental, so you can roam the Osaka neighbourhoods just like a local. Learn more about this Airbnb here .
12. This spacious home for group vacations
Listing name: 【 moco ・ morinomiya 】 10 min Osaka Castel/6 min sta
Listing type: Entire home
Max. no. of guests: 10
No. of bedrooms: 4  
Space is a luxury in Japan. Luckily, this stylish residence has plenty to spare. Boasting four bedrooms that can fit up to 10 guests comfortably, it's that rare treat in Osaka that gives big groups a sprawling place to stay. Plus, you'll enjoy a private kitchen, dining area, and laundry facilities. Light colours and delightful decorative touches add warmth to the space, making it one of the Airbnbs in Osaka you'll want to live in permanently.  
Moreover, this home is conveniently positioned just a few minutes on foot from the Morinomiya train station, Osaka Castle, and a supermarket. Learn more about this Airbnb here .
13. This elegant home with a magnificent bath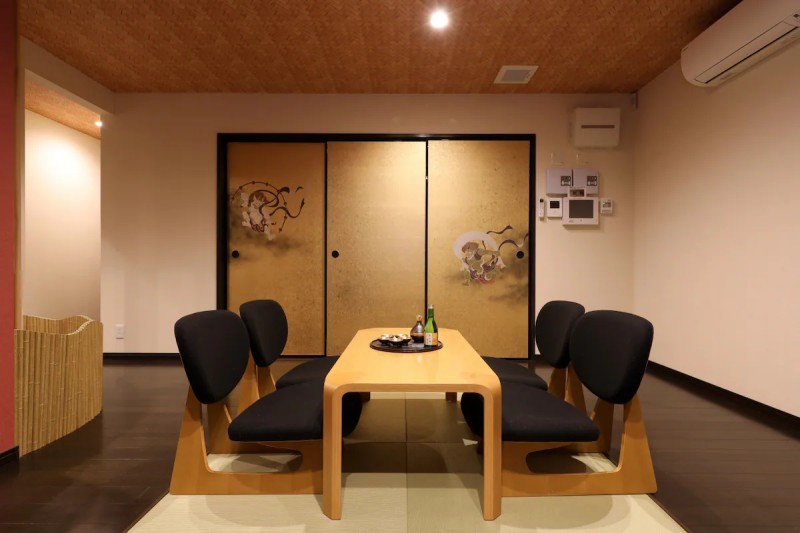 Listing name: 【 Shukuhonjin gamo 】 120 ㎡ ★100y Machiya★Delicate Yard
Listing type: Entire bungalow
Max. no. of guests: 8
No. of bedrooms: 2
A classic building established in 1909, this exquisitely designed home is one of the most spacious Airbnbs for your Osaka adventure. Highlights include a magnificent main bath and a picturesque courtyard. Two bedrooms allow a restful place for sleep; one is Western-style and the other Japanese-style.
Although the rental is in a quiet neighbourhood near Osaka Castle, multiple train stations nearby mean the popular attractions are always a quick ride away. Travellers rave about owners Yaya and Winnie's hospitality, revealing that they go above and beyond to make guests feel at home and comfortable. Learn more about this Airbnb here .  
14. This boho-chic apartment with outstanding river views
Listing name: Central Osaka RiversideView[AquaCiteKITAHAMA]QC24
Listing type: Entire home
Max. no. of guests: 7
No. of bedrooms: 2  
Perched above the banks of the Osaka River, this two-bedroom apartment enjoys unfettered views of the waterfront. But there's plenty to love about this Osaka Airbnb besides the scenery. This luxuriously appointed home calls to our bohemian dreams, mixing Japanese-style prints with Moroccan-type elements and rich shades of blue, brown, and gold. And although the space is big enough for up to seven guests, everything is warm and cosy.  
Nestled on the eighth floor, this vacation rental takes up the entire floor, so you'll enjoy ample privacy. Additionally, you'll find it convenient that the subway is only a few steps away. Learn more about this Airbnb here .
15. This hip house perfect for work and play
Listing name: It's a very nice big charter party house
Listing type: Entire home
Max. no. of guests: 16
No. of bedrooms: 3  
Exploring Osaka with an extremely large group? You won't find a cooler place to crash than this three-bedroom guesthouse for 16 travellers. Whether you and your crew are sharing a drink at the bar counter or watching movies via the projector, it's as easy to have fun in this spacious pad as it is outside. This Airbnb in Osaka comes fully equipped with all the essentials, including a well-appointed kitchen. But if you'd rather check out local dining spots, there's a really good yakiniku joint nearby. Learn more about this Airbnb here .
Also read: UPDATED: 8 Affordable Airbnb Homes in Tokyo for Budget Travellers
Which one of these Airbnbs in Osaka will you be booking? Choose wisely!
Got a property you'd like TripZilla to feature? Inquire with us here.
---
This article contains affiliate links. When you book through these links, we may earn a small commission at no additional cost to you. All images courtesy of the respective property listings.