Kuala Lumpur, the capital city of Malaysia, is a bustling metropolis in every sense of the word. Filled with glitzy malls, crowded streets, an uncountable number of eateries, and a vibrant nightlife, Kuala Lumpur is truly a city that never sleeps. 
However, as many can attest, the fast pace of life in the city can be hectic and mentally draining. Thankfully, there are plenty of awesome Airbnbs near Kuala Lumpur that are steeped in nature for those dreaming of a quiet escape from city life. The best part? They're all less than an hour away from the city centre! 
Also read: 18 Must-Visit Attractions in Kuala Lumpur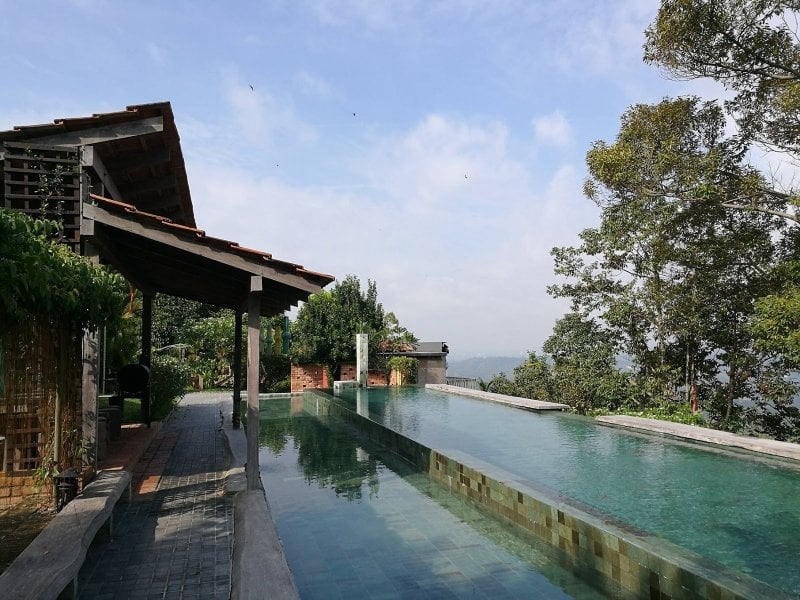 Listing type: Entire cabin
Max. no. of guests: 4 - 6 
No. of bedrooms: 1 - 2
Surrounded on all sides by lush greenery, this ambient Airbnb is located at the misty hills of Jelebu, Negeri Sembilan. Resembling a cosy traditional village house, this secluded accommodation offers privacy and a chance to break away from the usual hustle and bustle of the city. Put your feet up, chill on a hammock, or go for a swim at the infinity pool that looks out over the verdant hills and rejuvenate your soul! If you're feeling adventurous, you can also explore the rainforest and take a refreshing dip in the river nearby.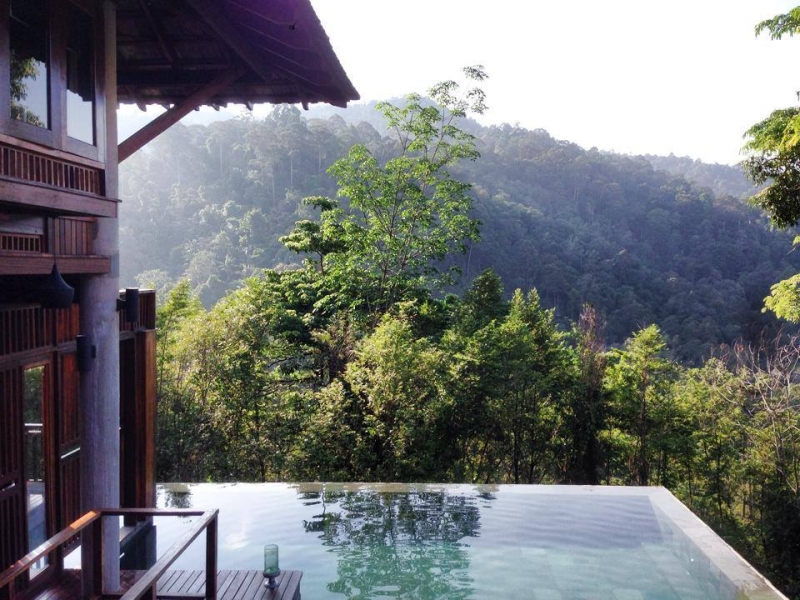 Listing type: Private room in resort
Max. no. of guests: 2
No. of bedrooms: 1
Missing the romantic ambience of Bali? Then check out this alluring boutique resort located right next to the Berembun forest reserve. Secluded wooden villas, an infinity pool overlooking a lush rainforest reserve, AND floating breakfast by the pool? It certainly passes the Bali vibe check in our book! What's more, there are no TVs on the premises, making this the perfect place for couples to spend some quality time together and simply enjoy each other's company.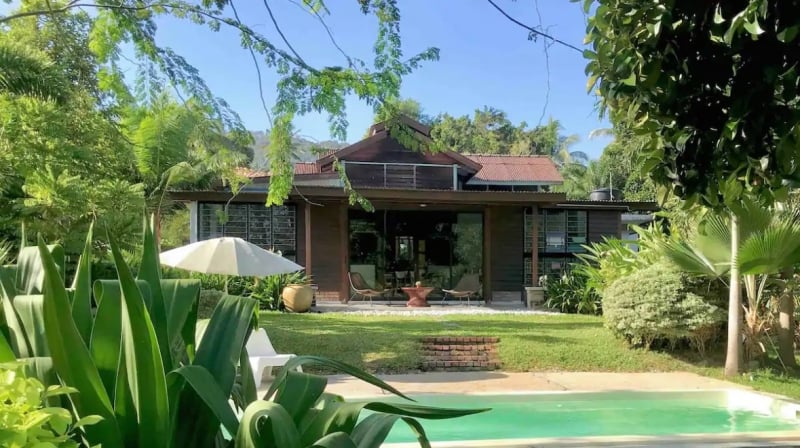 Listing name: Laman Tamara. Sri Menanti, Malaysia
Listing type: Entire villa
Max. no. of guests: 15
No. of bedrooms: 5
Laman Tamara in Negeri Sembilan is a traditional village home that helps guests to temporarily forget city life and enjoy the peace and quiet of living on a tropical farm. Boasting five spacious bedrooms, this Airbnb can easily accommodate up to 15 guests at a time. Apart from waking up to the lovely melody of chirping birds, guests can also enjoy a variety of activities ranging from playing a game of badminton, riding a bicycle around the farm, or firing up the BBQ pit for an awesome feast and more!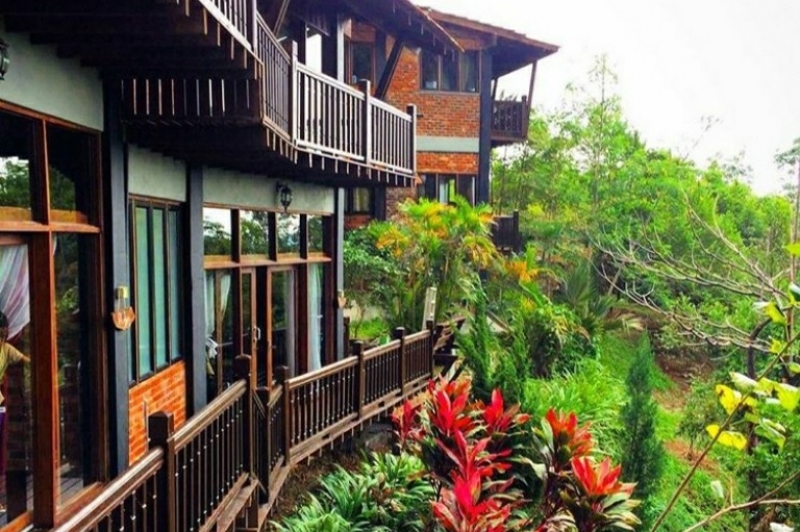 Listing type: Private room in cottage
Max. no. of guests: 2
No. of bedrooms: 1
Among the many Airbnbs near Kuala Lumpur, this one is perfect for those looking to escape the perpetual heat of Malaysian weather. The private chalets are located in the hills of Pantai, Negeri Sembilan, nestled within a lush rainforest reserve. Some of the most popular activities enjoyed by guests here include yoga and meditation, lively BBQs, jungle trekking, and admiring the awe-inspiring view of the starry night.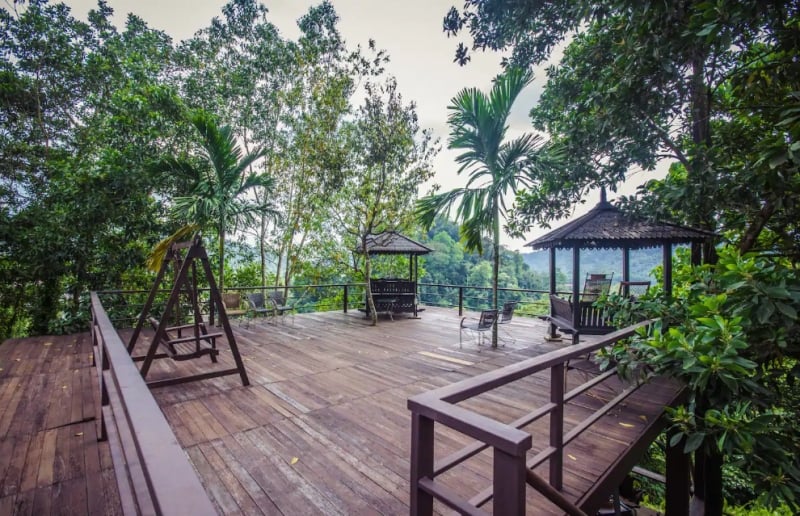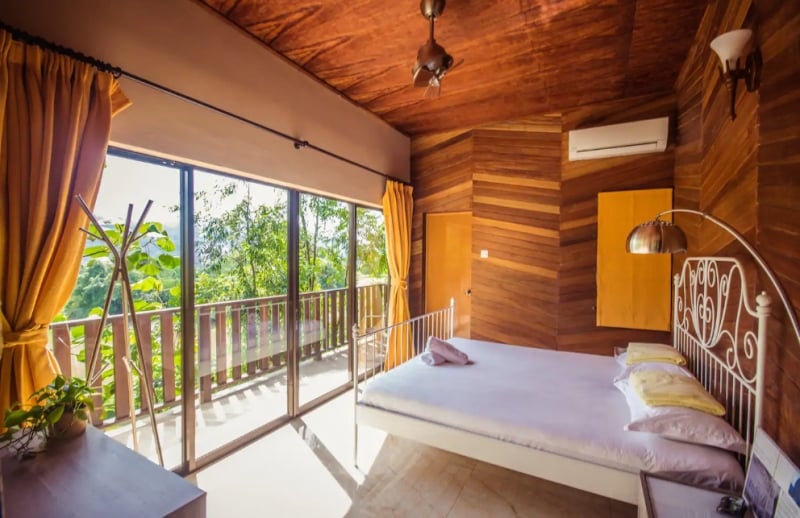 Listing name: Templer Park Rainforest Retreat
Listing type: Entire guesthouse
Max. no. of guests: 16
No. of bedrooms: 4
Even though this Airbnb is only a 30-minute drive away from Kuala Lumpur, it certainly looks and feels worlds apart! Gone are the towering skyscrapers and busy roads, replaced by lush greenery and the pleasant symphonies of the rainforest in which the retreat is located in. In terms of facilities, Templer Park Rainforest Retreat boasts a shared infinity pool, an outdoor sauna, and even a trampoline for the young at heart. With only two guesthouses on the entire premises, it's the ideal choice for a private family getaway. Learn more about this Airbnb here . 
Also read: 7 Affordable Airbnb Apartments in Kuala Lumpur With Great Reviews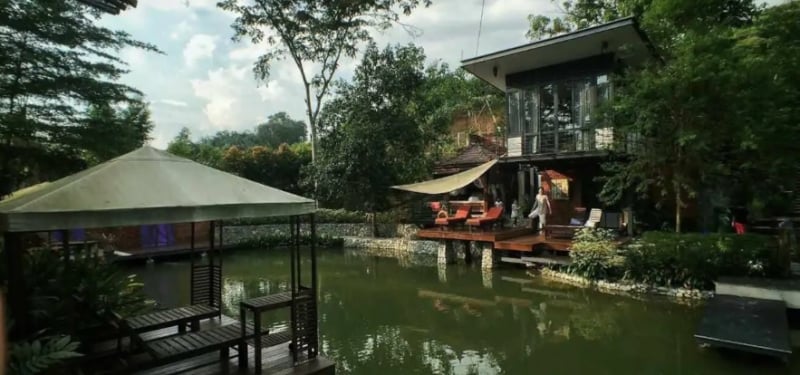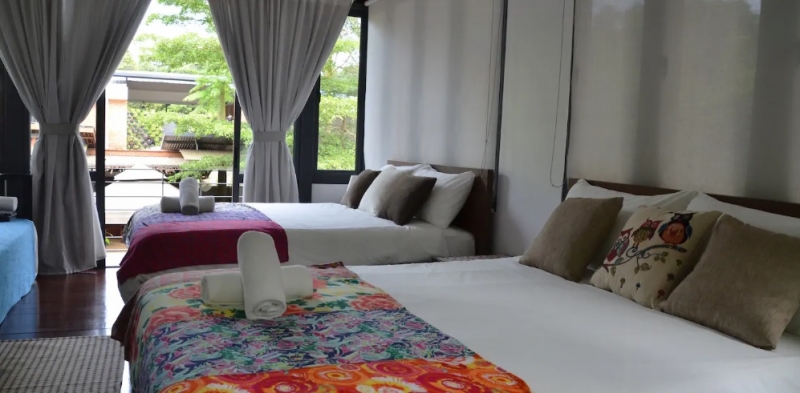 Listing name: Dusun Raja @ Ratu Rening Residency
Listing type: Entire villa
Max. no. of guests: 16
No. of bedrooms: 3
Built around an emerald green pond, this Airbnb is a secret ecological retreat that not even the locals know about. It is located in Batangkali in Selangor and provides a lovely setting for a private family vacation away from the city. The biggest draw of Dusun Raja is the fact that guests can choose to forego staying in the comfortable villas and instead opt to sleep in a floating tent! In the daytime, you can choose to relax by the pond, trek to a nearby river, or simply show off your license to grill by preparing a sumptuous BBQ meal.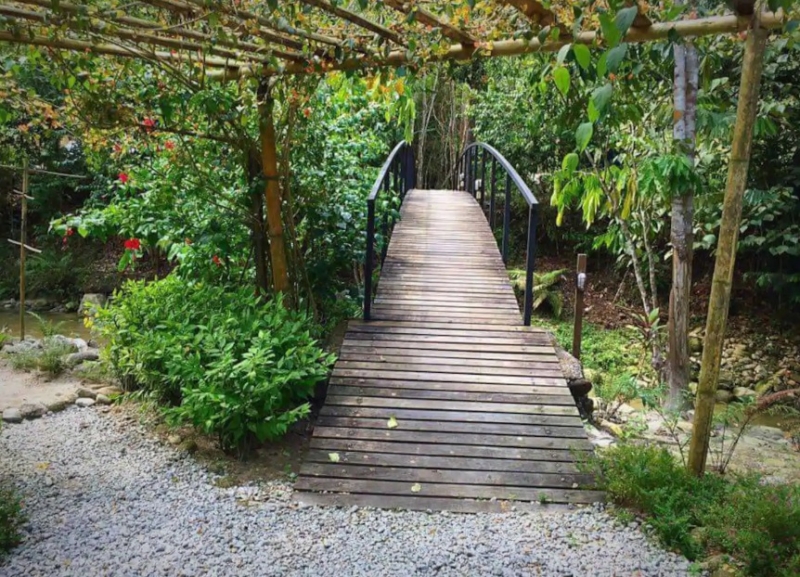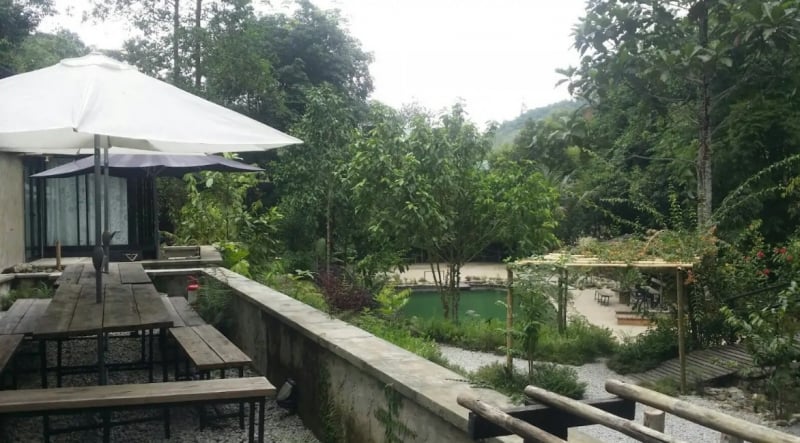 Listing name: Home Garden - ideal getaway
Listing type: Entire villa
Max. no. of guests: 16
No. of bedrooms: 4
Being able to fit up to 16 guests comfortably, this Airbnb in the lush hills of Hulu Langat is a great place for a gathering among close family and friends. The pool here contains natural spring water and the shared kitchen is well equipped to cater to home-cooked meals. For an outdoor adventure, trekking to Semungkis River to a dip in its chilly waters is an experience unlike any other. Learn more about this Airbnb here .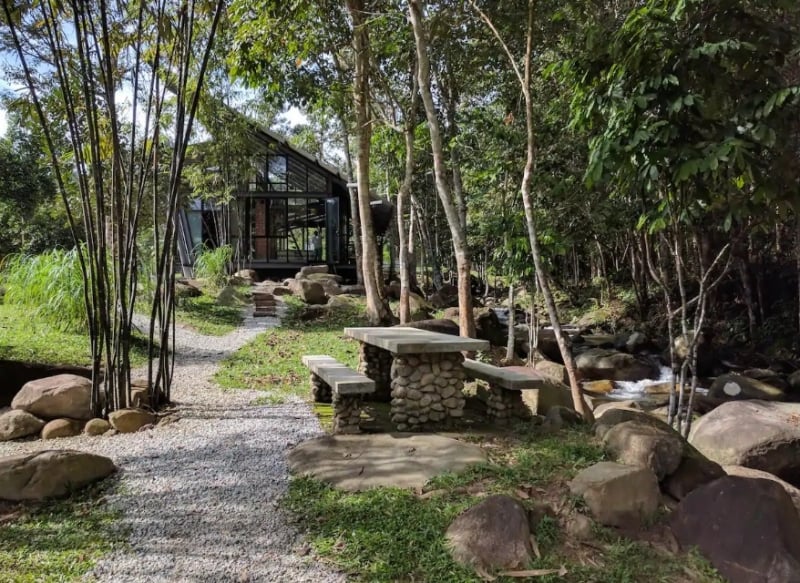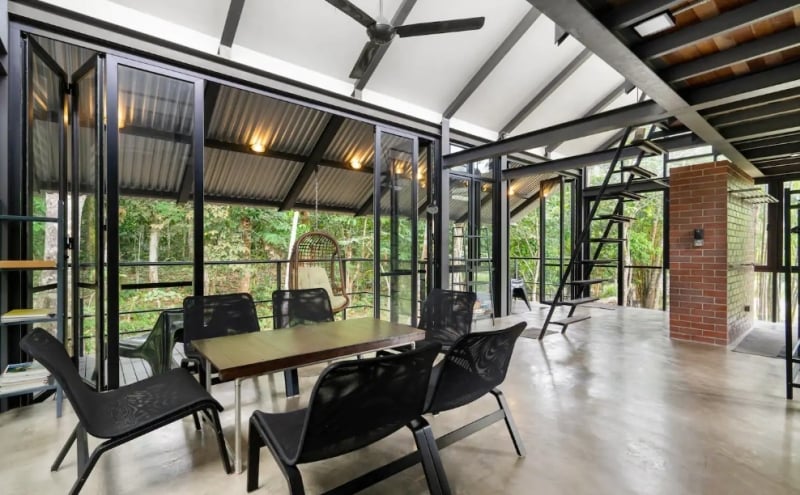 Listing name: Tanah Larwina Retreat
Listing type: Entire house
Max. no. of guests: 8
No. of bedrooms: 1 (+ 2 additional pods) 
If you adore cute farm animals, you'll probably fancy this Airbnb the most out of all the ones on this list. Apart from the verdant scenery and cascading streams, Tanah Larwina Retreat is also home to ducks, horses, chickens, goats, and geese, all of which roam freely throughout the three-acre wide orchard and farm. 
For the human occupants, this chic-looking Airbnb comes with floor-to-ceiling windows that allow plenty of natural light and modern bedrooms that can accommodate up to eight people. Be warned, though: You will find no TVs here, and Internet connection is unstable at best. In short, out of the Airbnbs near Kuala Lumpur, this is the ideal place to disconnect from your phone and enjoy the comforts of a simpler lifestyle!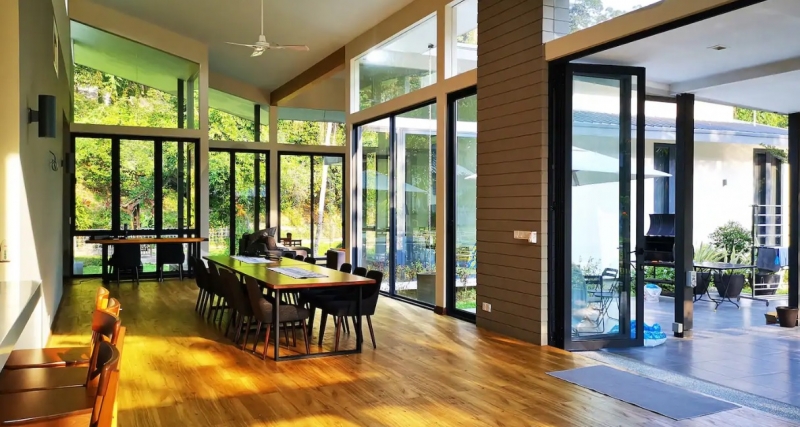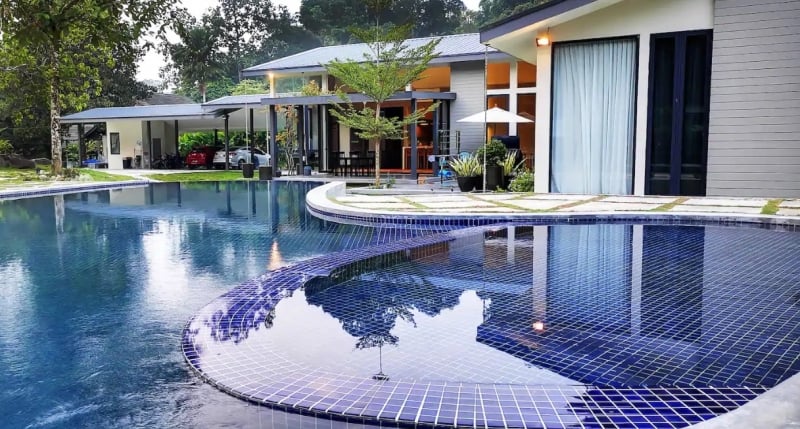 Listing name: Nouri Villa
Listing type: Entire villa
Max. no. of guests: 16
No. of bedrooms: 7
If the Kardashians had a summer home in Malaysia, this luxurious glass villa would most likely have been it! Situated in a picturesque hillside, Nouri Villa combines the best of both worlds, pampering guests with modern comforts (there's even a jacuzzi!) while also allowing them to enjoy the close company of Mother Nature. For families looking for a taste of a life of luxury, Nouri Villa certainly offers a tantalising preview.
Also read: 10 Super Gorgeous Airbnb Homes in Kuala Lumpur You'll Want to Live In
And there you have it, 10 awesome nature-filled Airbnbs near Kuala Lumpur to escape the hustle and bustle of city life! The next time you feel jaded from the fast-paced environment of Kuala Lumpur, book a stay at one of these establishments and recharge your batteries!
---
This article contains affiliate links. When you book through these links, we may earn a small commission at no additional cost to you. All images courtesy of the respective property listings.