Are you on the lookout for the best Airbnbs in Shanghai? Whether you're set on staying right by The Bund or just steps from the city's top shopping districts, you'll certainly find the perfect place for you on this list!
CHECK BOOKING OPTIONS IN SHANGHAI
Also read: 5 Must-Visit Attractions in Shanghai
Must-book Airbnb homes in Shanghai
1. This chic all-white loft that's close to Disneyland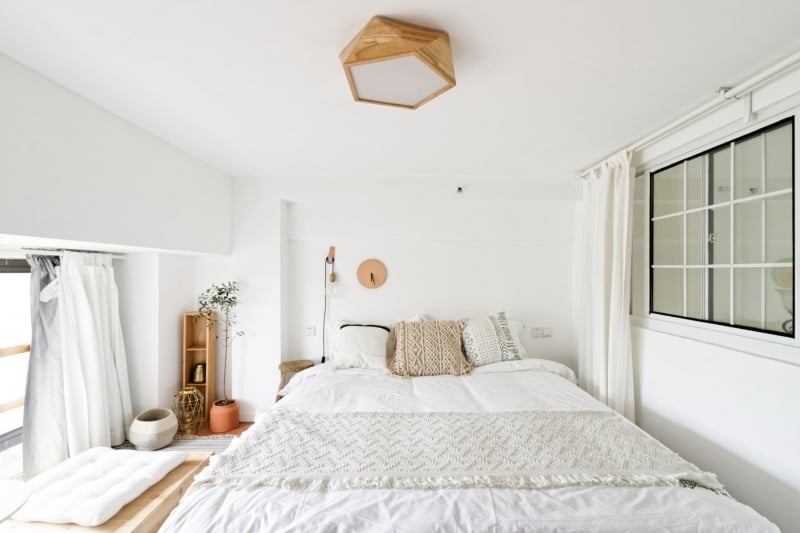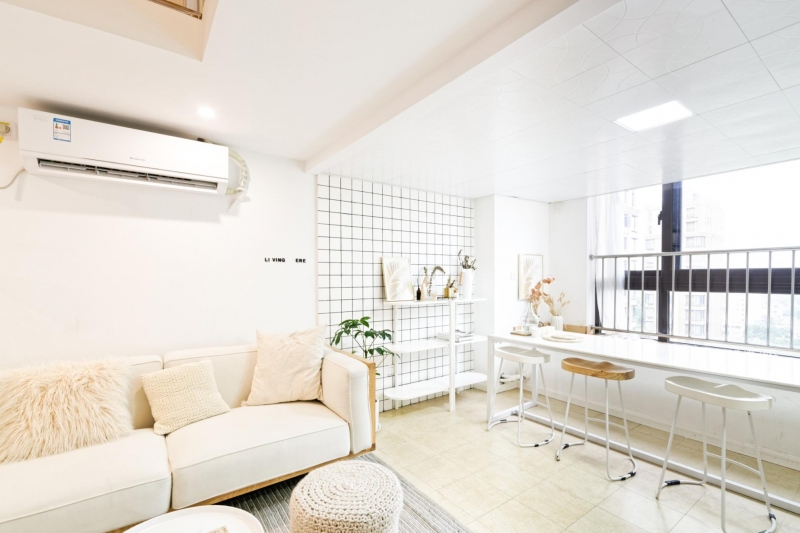 Listing type: Entire loft
Max. no. of guests: 4
No. of bedrooms: 2
Looking for an Airbnb in Shanghai that's close to Disneyland? This two-bedroom apartment is a great pick, especially if you're travelling with a group! The subway station, convenience stores, restaurants, and shops are nearby as well. To add to its ideal location, this all-white loft is both chic and well-equipped. Reviews reveal that this listing will not disappoint — previous guests swear exactly as it appears in photographs!
2. This eclectic studio with hundreds of books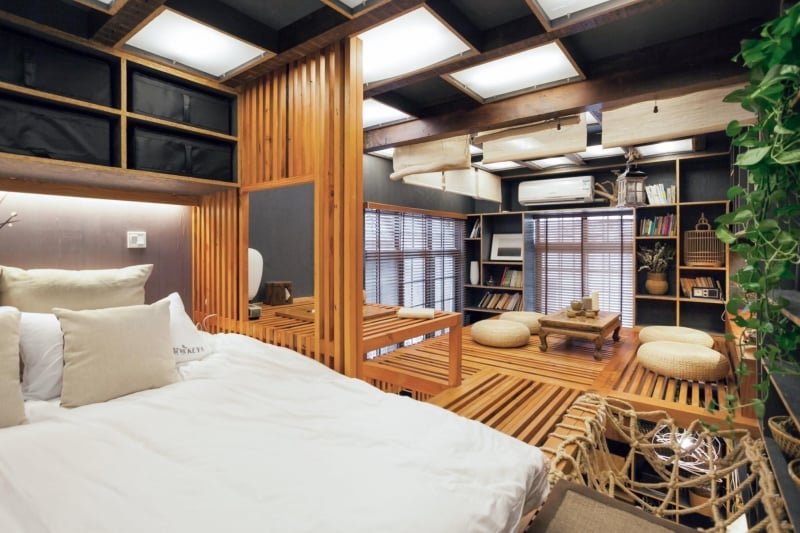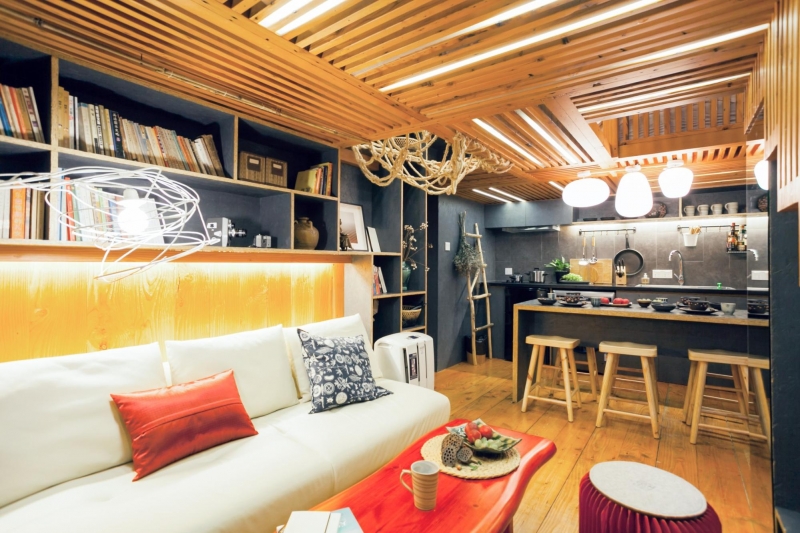 Listing type: Entire apartment
Max. no. of guests: 2
No. of bedrooms: 1
A perfect choice for those travelling in twos, this cosy little studio is divided into four parts. Here, you'll find a bedroom, living room, kitchen, and meditation hall. Each corner is beautifully decorated with modern East Asian-style decor, plus cool touches like the 300 books you'll find throughout this apartment! Close to the metro, restaurants, and cafes, this listing is within walking distance of Shanghai's popular attractions!
3. This trendy loft that's near The Bund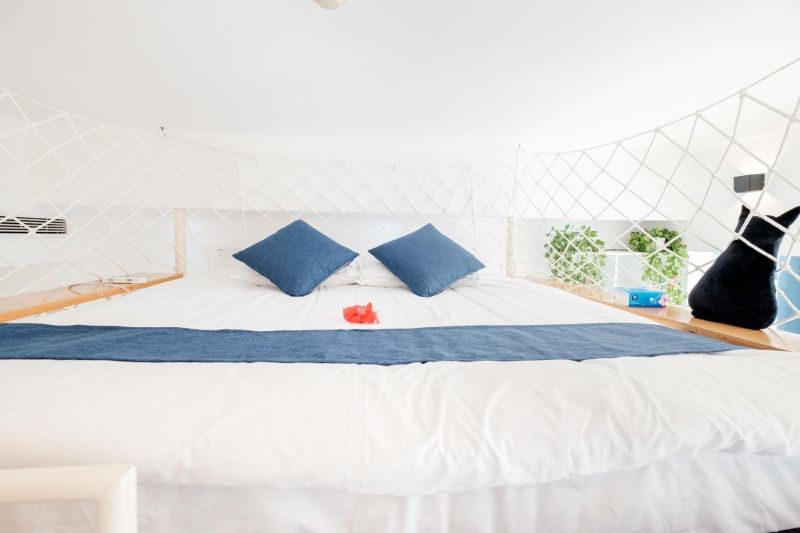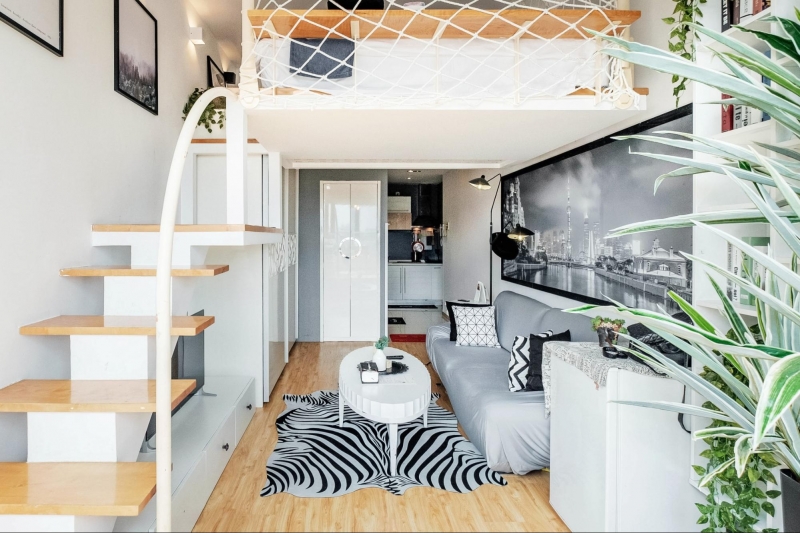 Listing type: Entire apartment
Max. no. of guests: 2
No. of bedrooms: 1
If you're set on staying at an Airbnb in Shanghai that's close to The Bund, then this trendy loft is an ideal pick! As cosy as it is stylish, it's furnished with everything you'll need to feel right at home. Our favourite feature? The floor-to-ceiling windows that offer stunning views of The Bund and of the city skyline at night! You'll find that this apartment is also within walking distance of popular spots like Nanjing Road and People's Square!
4. This charming townhouse that's both retro and modern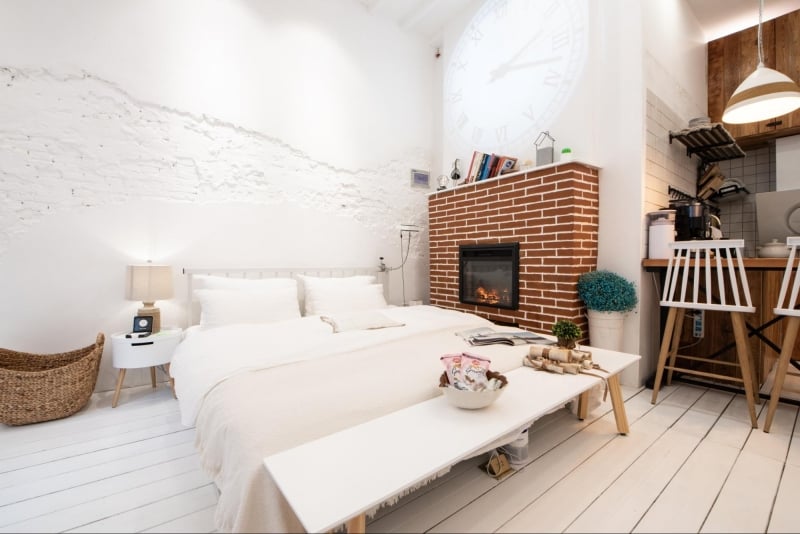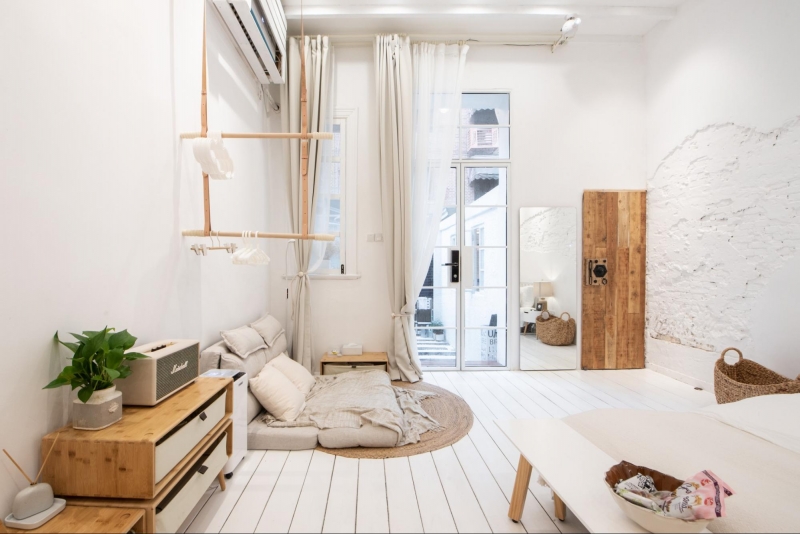 Listing type: Entire townhouse
Max. no. of guests: 4
No. of bedrooms: 1
Find this charming townhouse tucked in a quiet residential area in Old Shanghai. Guests will love its combination of modern and retro touches, from the vintage-style Bluetooth speakers and the red brick fireplace, to the projector on the wall! The little garden patio is one of our favourite spots, too. Close to this beautiful old district, you'll find Nanjing West Road, Wujiang Road Leisure Street, and the largest Starbucks in China!
5. This Instagrammable apartment in the city centre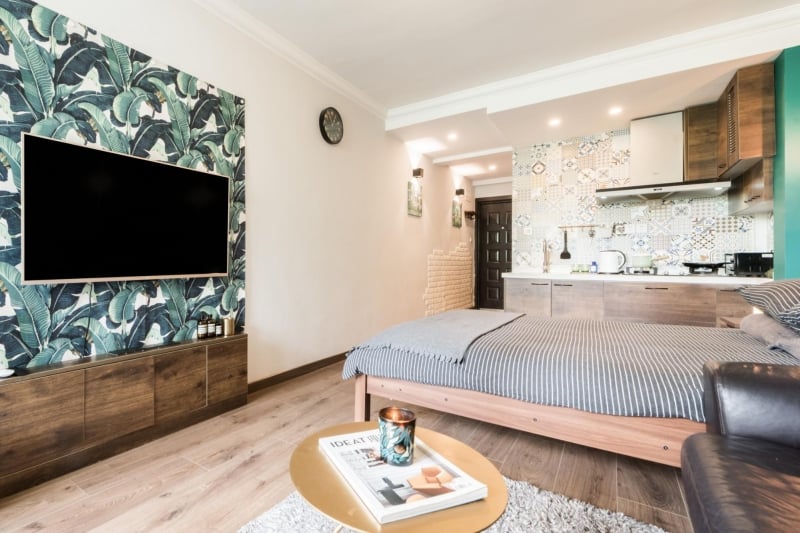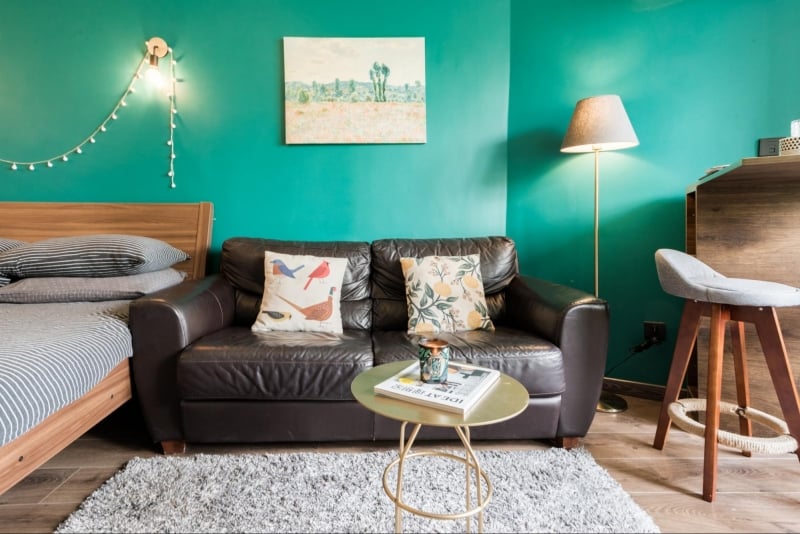 Listing type: Entire apartment
Max. no. of guests: 2
No. of bedrooms: 1
On the hunt for an Airbnb in Shanghai that's central to everything? This Instagram-worthy apartment is located at the junction of Xiangyang South Road and Huaihai Middle road — the perfect base for exploring the city! The subway station is within easy reach, and you'll have great restaurants, bars, and shopping malls just steps away. This fifth-floor apartment is conveniently situated above a Family Mart, too!
Note: There is no elevator in the building, so you may want to take into consideration that you'll have to take the stairs to the fifth floor!
6. This traditional Shanghainese home with a modern twist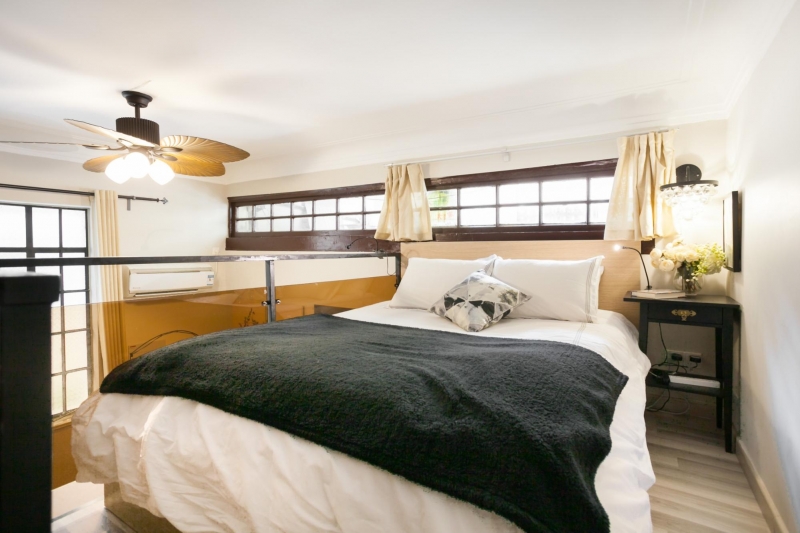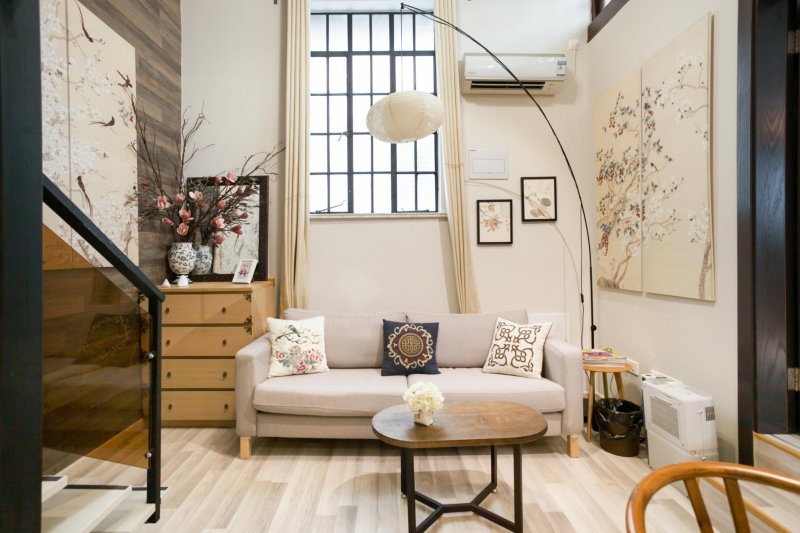 Listing type: Entire house
Max. no. of guests: 2
No. of bedrooms: 1
Fancy a stay at one of Shanghai's Shikumen houses? A traditional architectural style native to Shanghai, 'Shikumen' is a combination of Chinese and Western elements, and dates back to the late 1800s. While you'll find a lot of traditional Chinese touches, this home has been renovated with a chic, contemporary design. According to reviews, guests are guaranteed to love the hosts and charming neighbourhood just as much as this cosy home!
7. This minimalist, wood-furnished apartment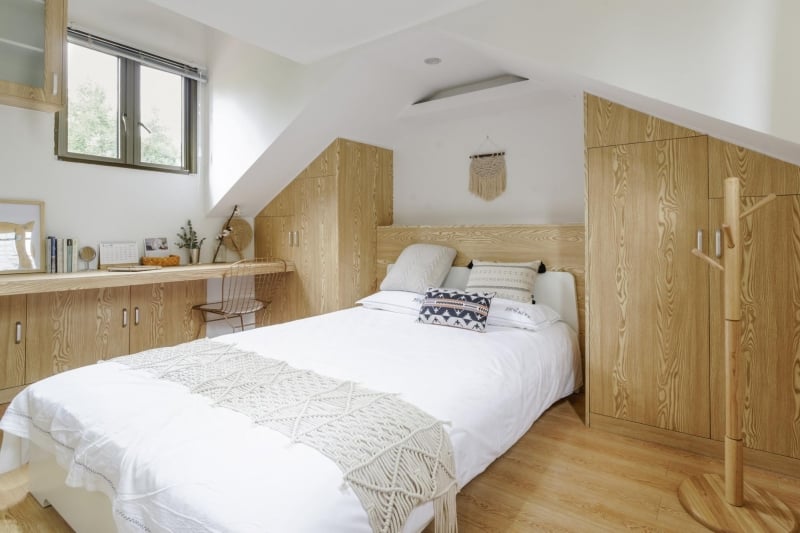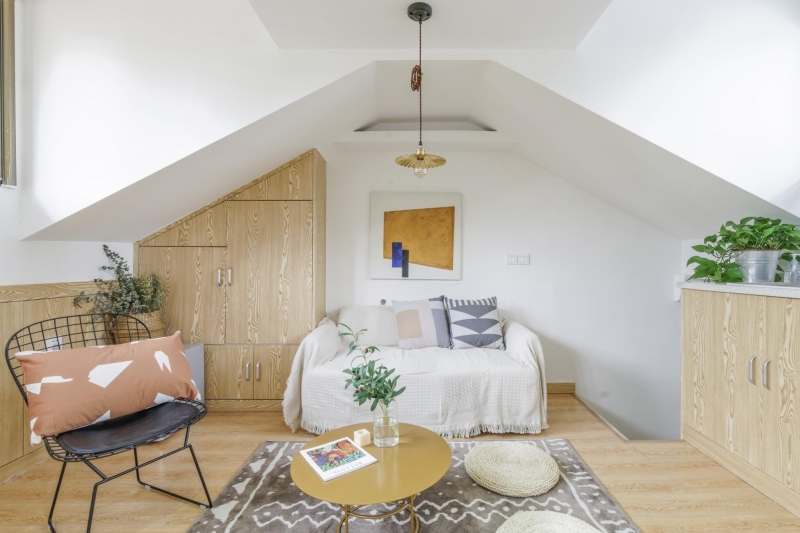 Listing type: Entire apartment
Max. no. of guests: 2
No. of bedrooms: 1
Simple yet well-equipped, this apartment is ideal for solo or couple travellers up for an authentic Shanghainese experience. With its minimalist aesthetic and beautiful wood furnishings, this home looks straight out of a Muji catalogue! Nestled in the middle of downtown Shanghai, it's positioned just within walking distance of Huaihai Middle Road — one of the city's major shopping districts!
Note: This third-floor apartment is located in a building with no elevator.
8. This sunny loft in a traditional Shanghainese neighbourhood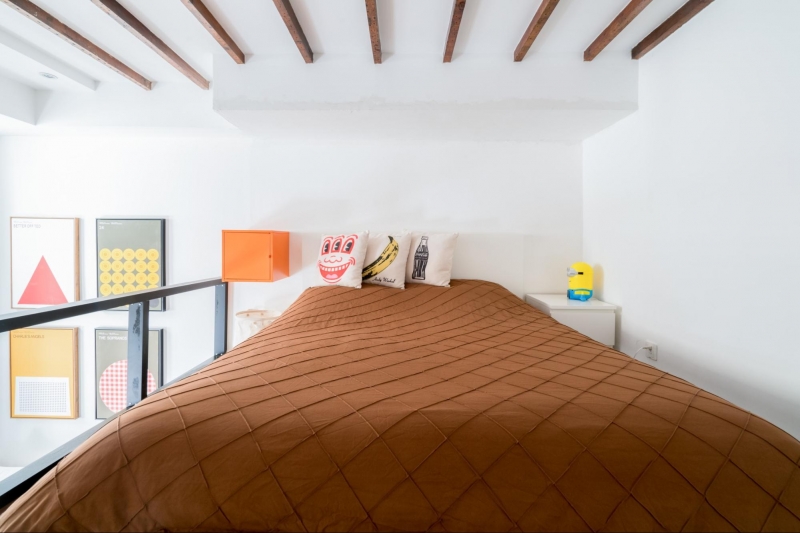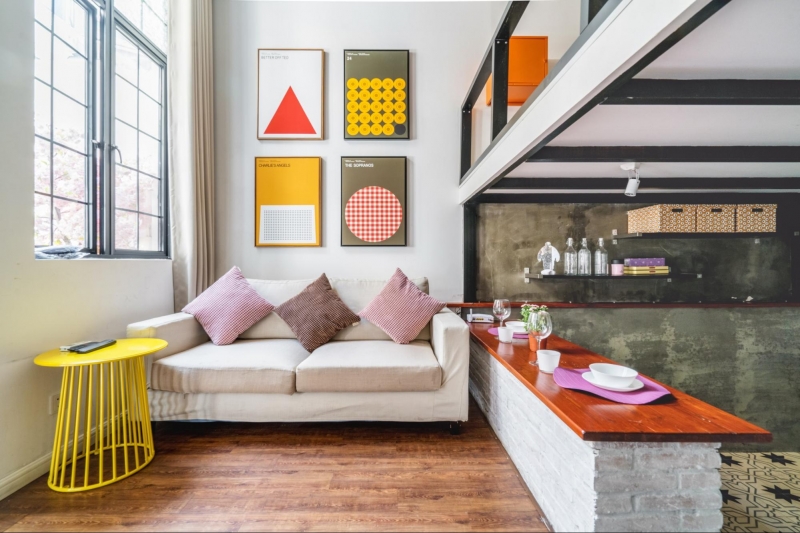 Listing type: Entire loft
Max. no. of guests: 2
No. of bedrooms: 1
Another Shikumen house in a quiet neighbourhood, this modern loft lies behind a traditional facade. Cheery and bright, it's a spacious pick for those travelling in pairs! Guests will love the homey atmosphere, as well as the little patio that's great for enjoying a cup of coffee. This sunny home is located just a few minutes from Tianzifang, a popular arts and culture hub in the former French Concession area.
9. This clean, exquisitely designed home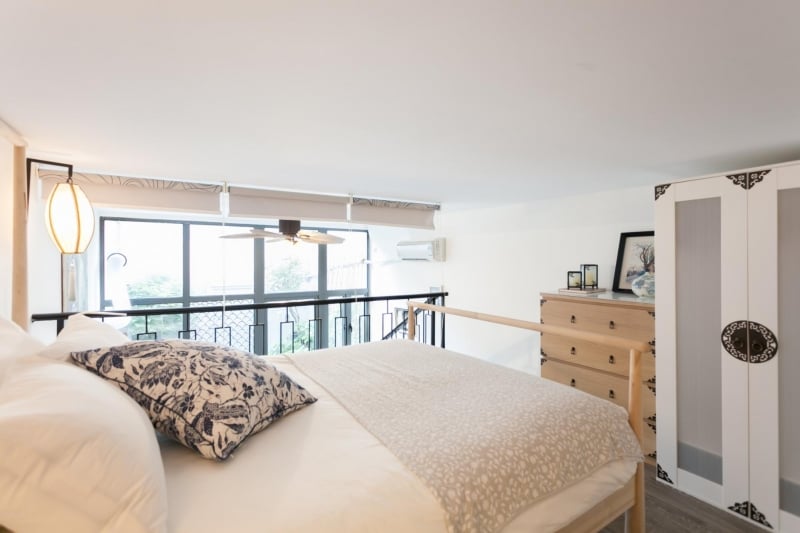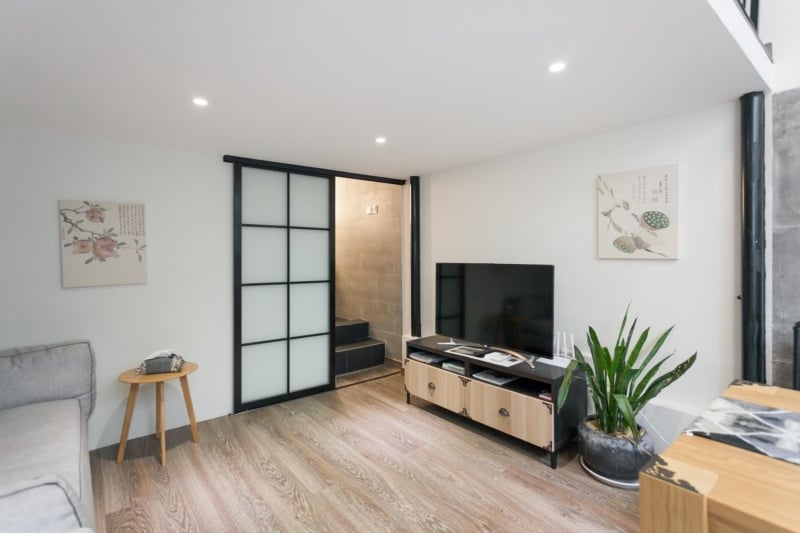 Listing type: Entire house
Max. no. of guests: 4
No. of bedrooms: 1
Comfort meets style at this exquisite downtown home. Tastefully designed with traditional and modern elements, its relaxed ambience will tempt you to stay indoors for the duration of your trip. Its quaint courtyard garden is ideal for meditating or contemplating with a cup of tea. From here, you can easily walk to popular tourist spots, restaurants, and bars. If you prefer to travel via the subway, the station is nearby, too!
10. This villa that's perfect for meeting fellow travellers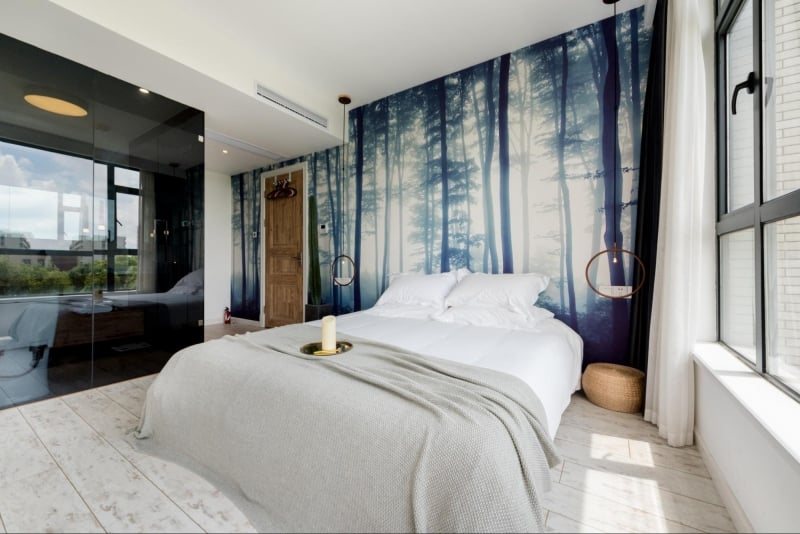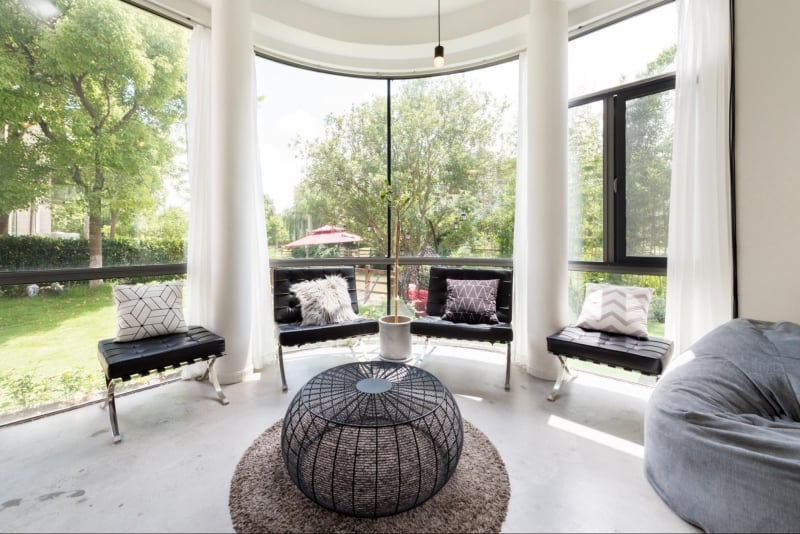 Listing type: Private room in villa
Max. no. of guests: 2
No. of bedrooms: 1
If you're on the lookout for Airbnbs in Shanghai that are ideal for solo travellers, make sure to consider this one. A private room in a villa with 24-hour security, it will surely provide you with the safety that you're after. And if you're looking to meet new people, this Airbnb has lots of shared spaces where you can get to know your hosts and fellow travellers, too! In addition to this, your stay comes with delicious complimentary breakfasts and free transfers to and from Disneyland!
Also read: 8 Budget-Friendly Airbnb Apartments in Taipei for Your Next Trip
CHECK ACCOMODATION OPTIONS IN SHANGHAI
Take your pick of these Airbnbs in Shanghai! Then, make sure to put these must-see attractions on your itinerary. Enjoy your trip!