Exploring Vietnam's capital on a budget? No problem at all! There's no need to sacrifice comfort at these top-notch Airbnbs in Hanoi. Whether you're exploring the city with family, friends, or on your own, you can save a few bucks as long as you pick the right accommodations. Plus, they come teeming in style, too. Check out these gorgeous homes — each one is perfect for a budget-friendly trip in Hanoi!
Also read: Top Things to Do in Hanoi
Beautiful Airbnbs in Hanoi that are surprisingly affordable
1. This modern studio in an artist space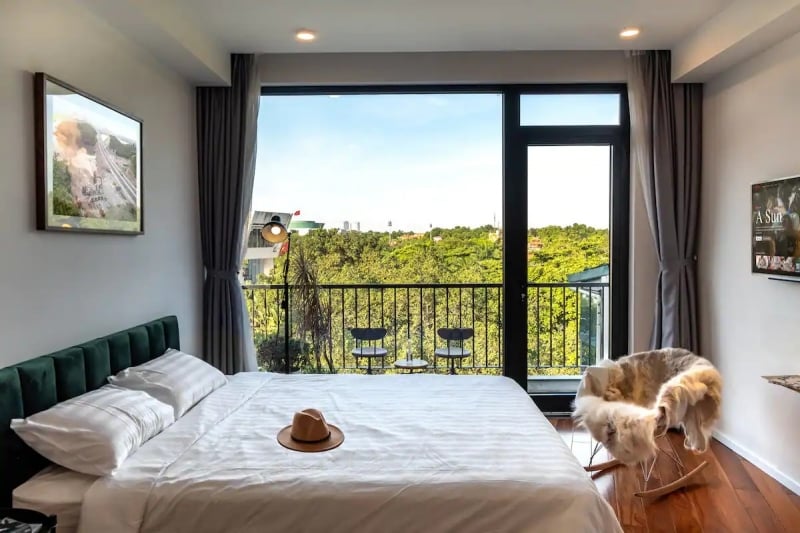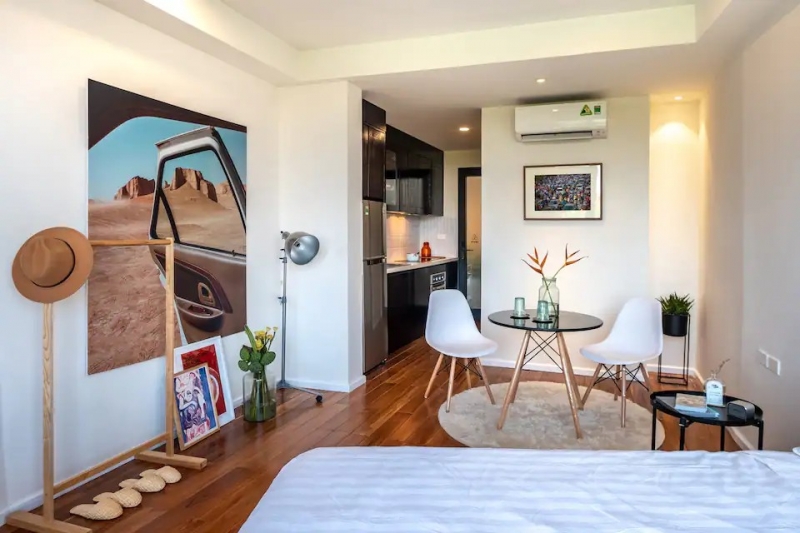 Listing name: Modern Art Studio Apartment w/ Rooftop Access
Listing type: Entire apartment
Max. no. of guests: 2
No. of bedrooms: Studio
Set in the most historic neighbourhood in Hanoi, this sleek apartment promises easy sightseeing in must-see sites like Imperial Citadel of Thang Long and Ho Chi Minh Mausoleum. Truly, it offers much more than just a simple bed and bathroom to get you through your trip. 
With its beautiful sunlit interiors and private garden terrace, you'll be just as eager to spend time relaxing indoors as you do exploring Hanoi's sights, nightlife, and local cuisine. Moreover, the building is a well-known artist studio complex; there's a photography gallery here, plus the charming Song Sanh Cafe on the first and second levels.
2. This comfy hideout with Pinterest-worthy touches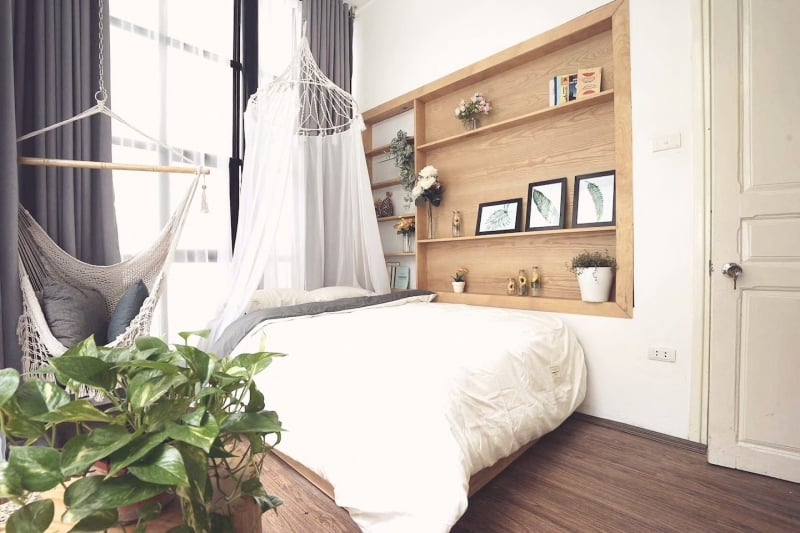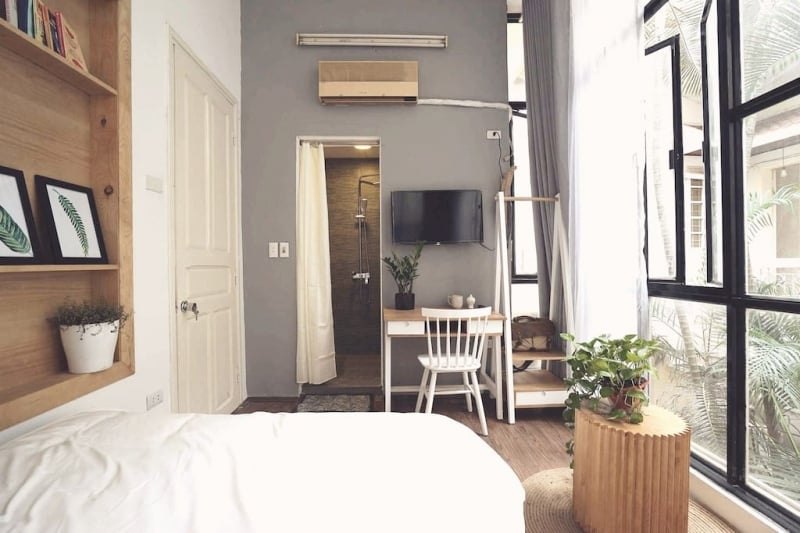 Listing name: Vequehomestay✩Villa7✩Phòng kính✩NetflixTV✩Bếp
Listing type: Private room in townhouse
Max. no. of guests: 2
No. of bedrooms: 1
You'll find this stylishly decorated room inside a nondescript building, just 10-15 minutes from the popular Old Quarter. Conveniently located in a safe neighbourhood close to tourist attractions, this is one of the Airbnbs that solo travellers shouldn't overlook in Hanoi!
Its host, Rose, has covered pretty much anything that guests may need: free luggage keeping for early check-ins, a list of restaurant and tour recommendations, and shared kitchen and laundry facilities. But of all the special touches and amenities, the complimentary pocket Wi-Fi is definitely a winner! 
3. This photo-ready space with all the comforts of home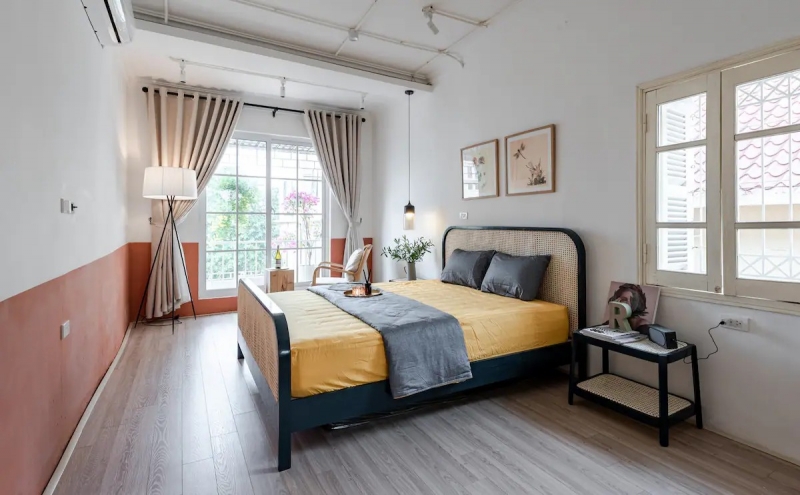 Listing name: 🔥CHILL🎢SHOCK DEAL‼️AWESOME KITCHEN ♥MotNua♥️Cozy apt
Listing type: Entire condominium
Max. no. of guests: 3
No. of bedrooms: Studio
Probably one of the most picturesque Airbnbs in Hanoi, this sun-soaked studio is for travellers also looking for a striking backdrop for their Instagram snaps. The furniture arrangement is definitely quirky, but that's what gives this Airbnb its character and makes it so endearing.
You'll love every corner of this pretty condo: the spacious living space, cosy sitting area, and rattan furniture — not to mention the thoughtfully curated decor! Without a doubt, you'll love your time inside this Airbnb as much as you'll enjoy exploring its vicinity. 
4. This charming, light-filled studio apartment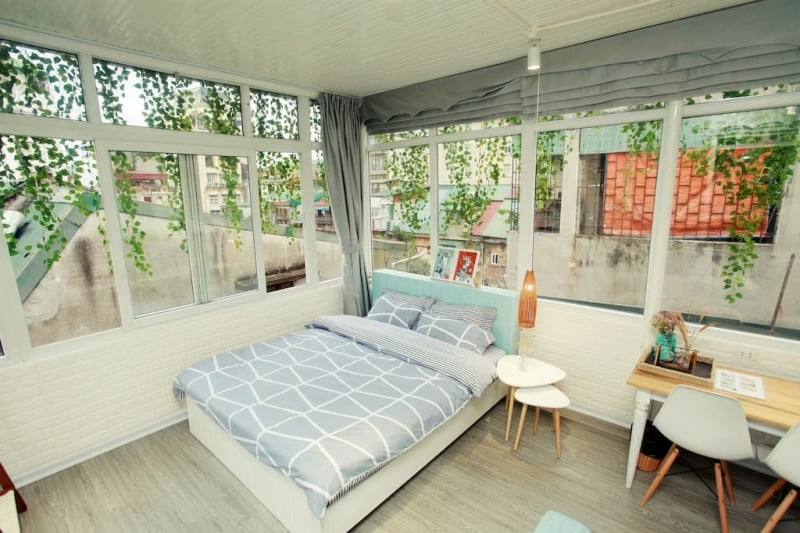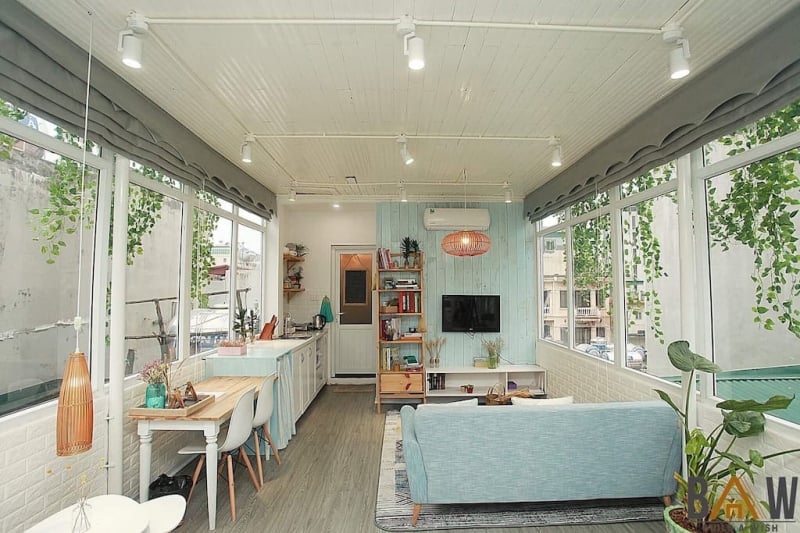 Listing name: BAWhome - Komorebi
Listing type: Entire apartment
Max. no. of guests: 2
No. of bedrooms: Studio
Those who prefer to stay outside the city's hustle and bustle (but still walking distance to popular sites) will appreciate the peaceful atmosphere at this contemporary home. That it's on the fifth floor is something you might want to keep in mind, especially if you're carrying a lot of luggage — but over a hundred good reviews reveal that it's worth the climb!
This spacious Airbnb has everything you'll need and more, including city views that are truly an amazing sight at nighttime! To ease your worries, its host, Nam, assures guests that someone will always be ready to assist you (definitely comforting for those arriving in the wee hours of the day). 
5. This colourful condo for groups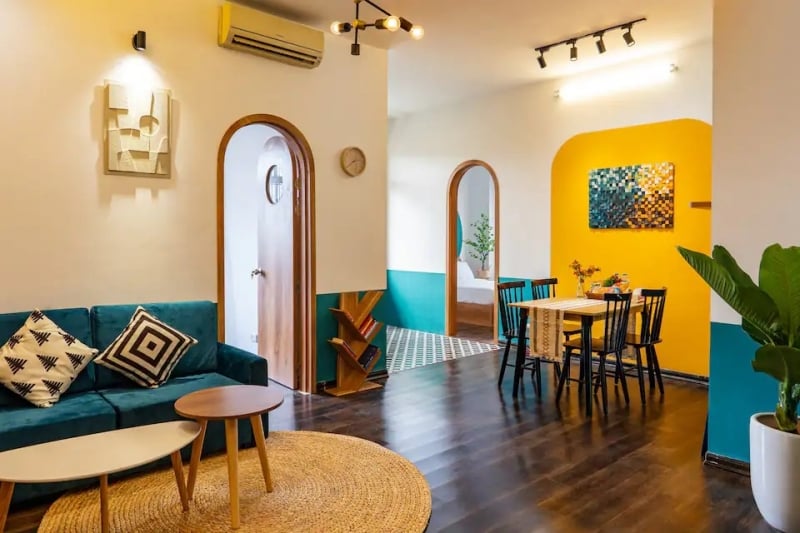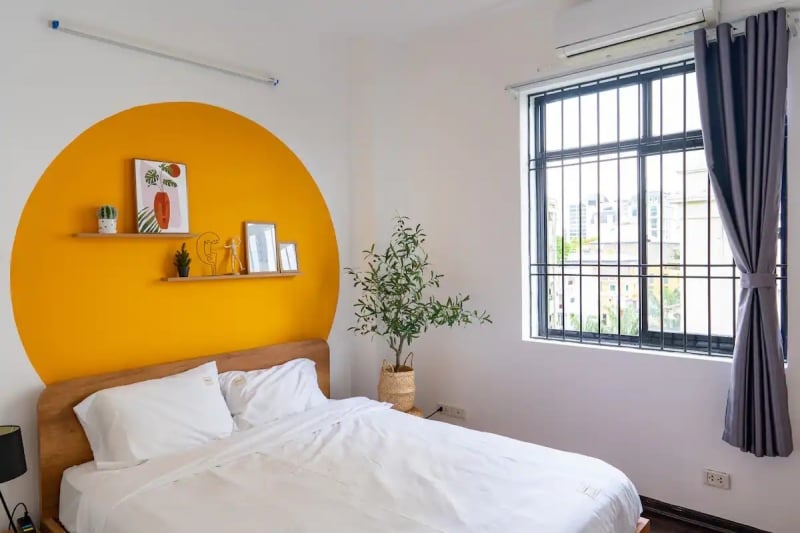 Listing name: Spacious 2BR w/lift 5' walk to HoanKiem Lake
Listing type: Entire condominium
Max. no. of guests: 6
No. of bedrooms: 2
Vibrant, tastefully decorated, and in the middle of everything — this listing is unquestionably one of Hanoi's gems! At this sixth-floor apartment, the bright and friendly aesthetic makes travellers feel right at home. To add, it's got all the essentials for a comfortable stay: large beds, a fully equipped kitchenette, WiFi, and air-conditioning. 
Looking for Airbnbs that will put you in the centre of all Hanoi action? This one could be exactly what you're seeking. It puts you within walking distance of popular spots, including Hoan Kiem Lake, Old Quarter, and Dong Xuan Market.
6. This stylish apartment overlooking the Old Quarter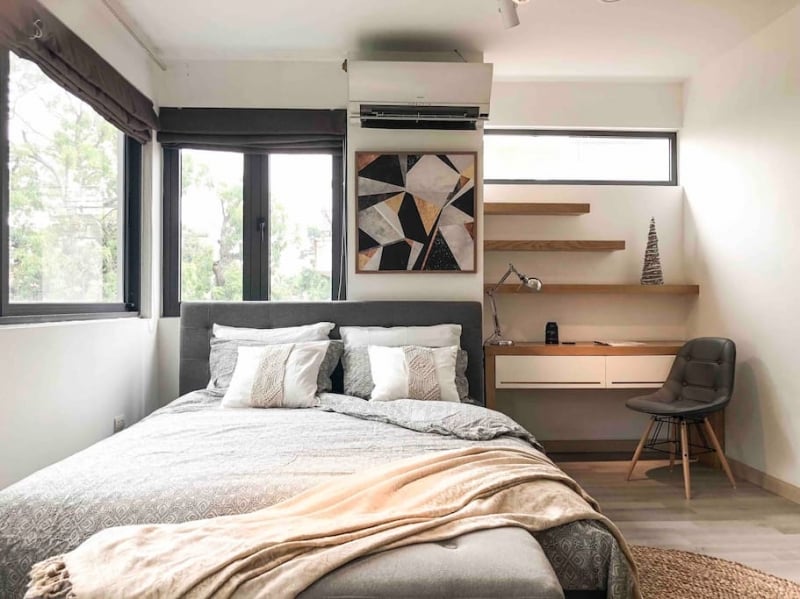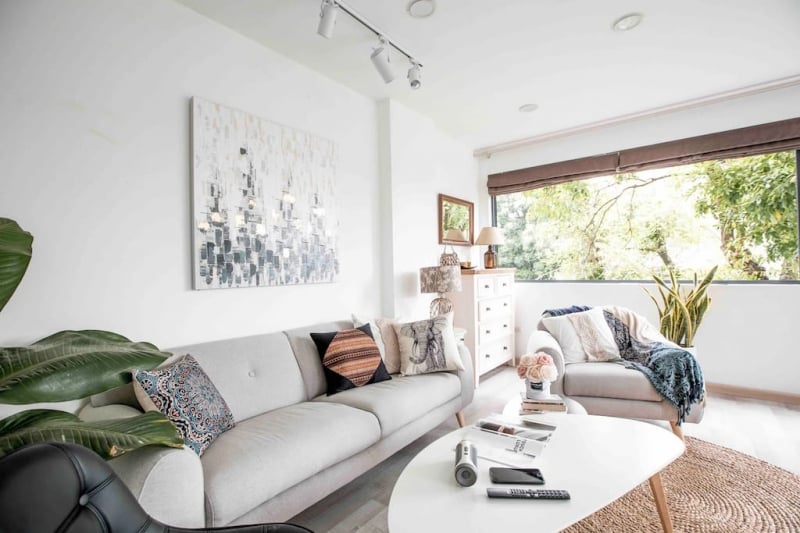 Listing name: 2-BEDROOM | BALCONY | OLD QUARTER | ROOFTOP GARDEN
Listing type: Entire serviced apartment
Max. no. of guests: 5
No. of bedrooms: 2
If there's one thing you need to know, it's that most Airbnbs in Hanoi require you to lug your suitcases up a few (or a lot of) steps. So for those on the lookout for one that comes with an elevator, or one that's handicap-friendly — congratulations. You've found it!
Located in the Hoan Kiem District, this stylish and fully equipped apartment overlooks Hanoi's famous Old Quarter. With both heating and cooling air conditioning options, this one's a great choice, regardless of what season it happens to be when you pay a visit. 
7. This studio apartment with gorgeous wooden furnishings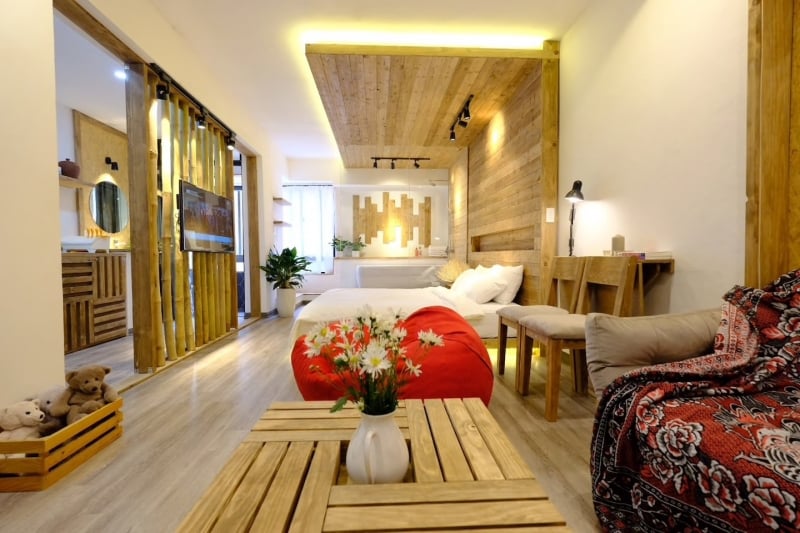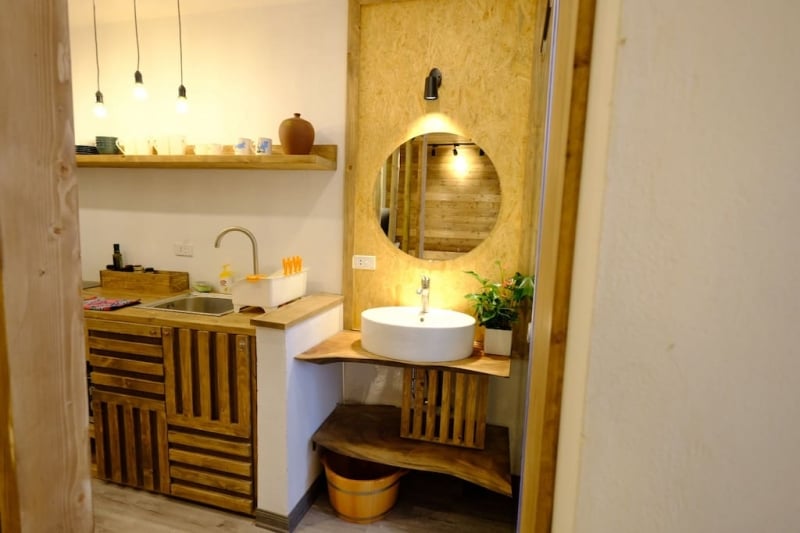 Listing name: HanoianHearths - HV3 - Lotus Home - Cozy - Netflix
Listing type: Entire apartment
Max. no. of guests: 3
No. of bedrooms: 2
This cosy apartment's unique wood aesthetic is enough to draw anyone in — and just imagine, guests swear it's even more gorgeous in real life! An experienced traveller herself, this Airbnb's superhost, Hao, is well aware of what guests might need, and it certainly shows.
Not just easy on the eyes, this apartment is cosy, well-equipped, and centrally located. A bicycle is even available for your use. On top of all that, Hao is also more than happy to share her local tips and help you plan out your vacation. No complaints here! 
8. This villa with lots of cosy corners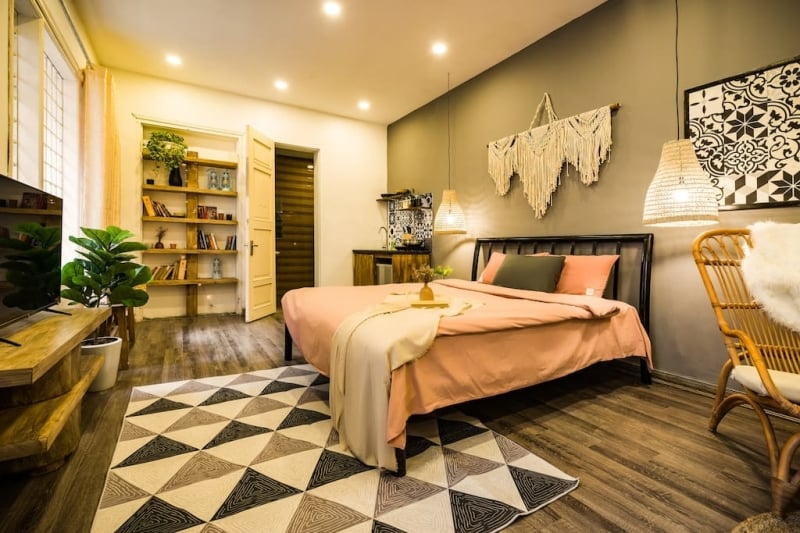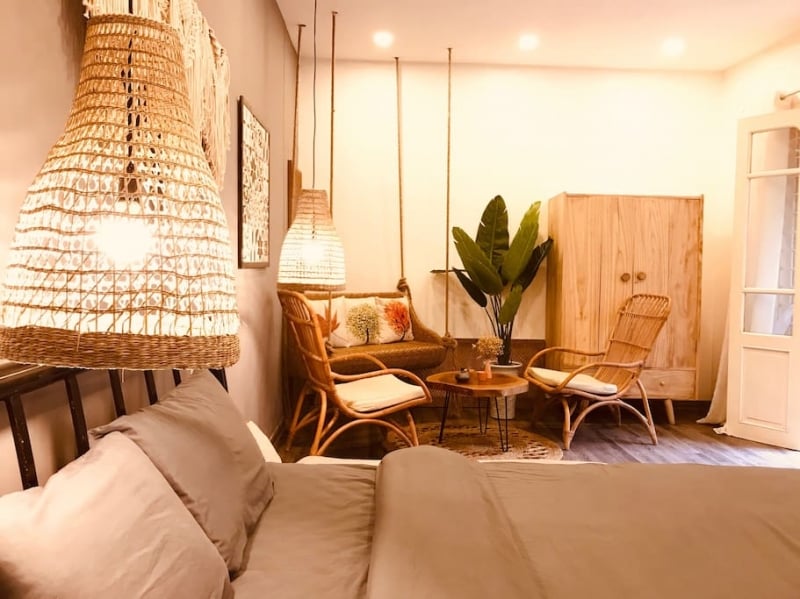 Listing name: Vequehomestay✩Villa2✩NetfilxTV✩Bếp✩Vs riêng✩Sân
Listing type: Entire villa
Max. no. of guests: 4
No. of bedrooms: 1
Find this warm and welcoming villa in Hoan Kiem, just a stone's throw from Hoan Kiem Lake and the Old Quarter. Despite being close to popular tourist spots, it still manages to provide a restful escape from the buzz of the city.
Guests will surely love its cute decor, beautiful rattan furniture, and little reading nook — elements that make for such a homey Airbnb. The luggage keeping area for early check-ins and free pocket Wi-Fi are great bonuses, too! 
9. This art-filled home in a not-so-touristy area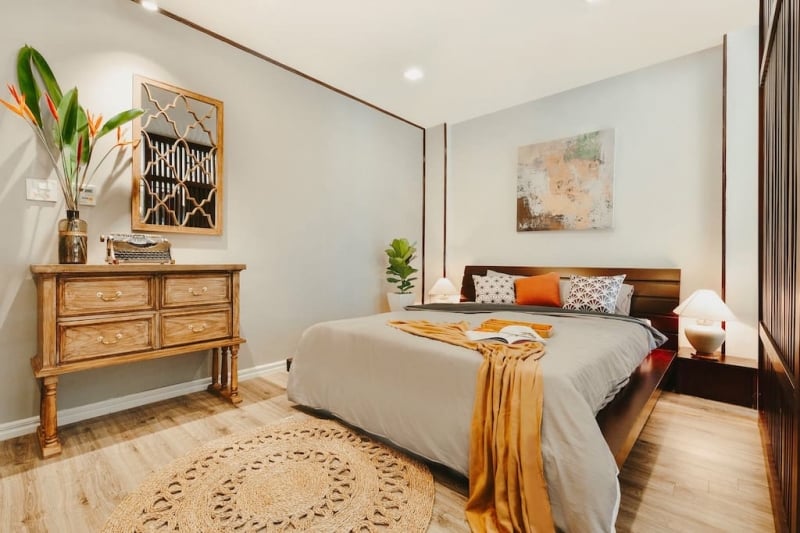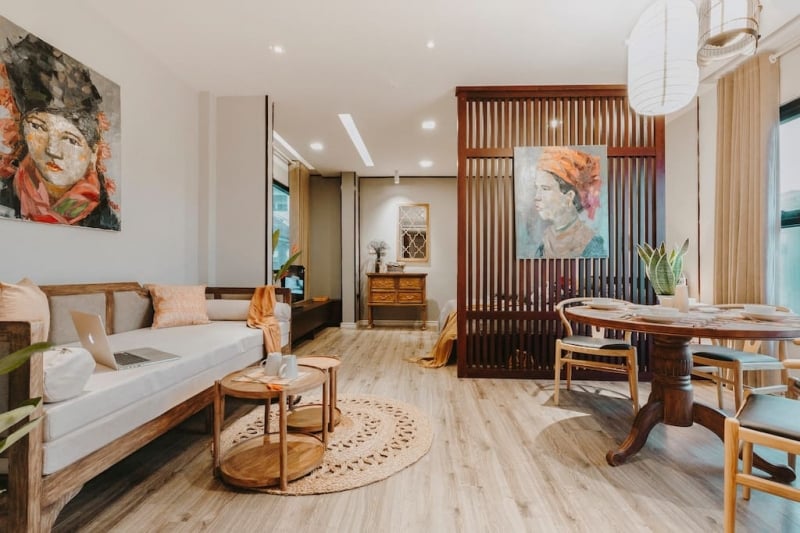 Listing name: Indochina Apt- Elevator- 10 mins to Old Quarter
Listing type: Entire serviced apartment
Max. no. of guests: 4
No. of bedrooms: 1
A beautiful art-filled apartment outside of the city centre, this Airbnb is a sweet escape from the hustle and bustle of Hanoi. Clearly designed by someone with great taste and passion for art, this hideout is as homey as it is Instagrammable.
With large windows that offer great views of the city, the living area is the cosiest spot to curl up with a book, enjoy a cup of tea, and watch the sunset over Hanoi. The rooftop patio is a cool spot to hang out, too. As for the cherry on top? The building has an elevator! 
10. This homelike apartment close to the Opera House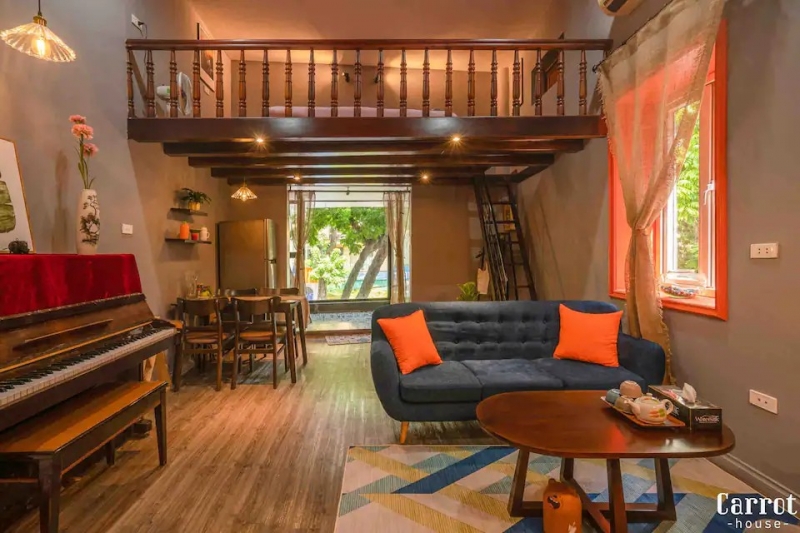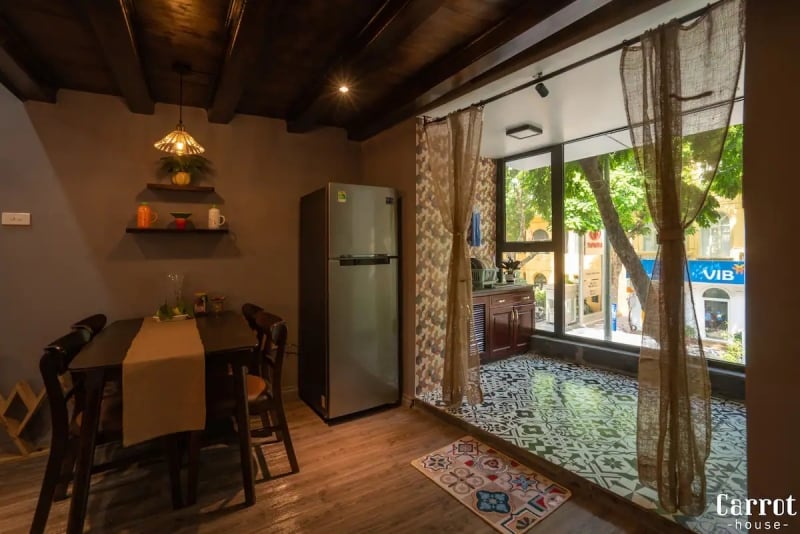 Listing name: Carrot Homestay*Step to Opera House*old quarter
Listing type: Entire apartment
Max. no. of guests: 4
No. of bedrooms: 1
With its warm interiors and its hosts' thoughtful touches, it's hard not to feel at home at this charming home. An oasis in the middle of the city, this Airbnb's comfy bed and delightful furnishings will be calling out to you the moment you come back from a day of sightseeing.
Located right next the Opera House, this apartment will provide you with easy access to many tourist attractions that include the Hoan Kiem Lake, Vietnam National Museum of History, and Vietnamese Women's Museum. 
Also read: 10 Ho Chi Minh Airbnb Homes That Are Stylish & Budget-Friendly
How could you not fall in love with these Airbnbs in Hanoi? At these beautifully designed and conveniently located — not to mention affordable! — homes, you'll be getting way more bang for your buck!
Got a property you'd like TripZilla to feature? Inquire with us here.
---
This article contains affiliate links. When you book through these links, we may earn a small commission at no additional cost to you. All images courtesy of the respective property listings.