There's so much more to Australia than the bustling streets of Sydney and the populous city of Melbourne. And if you really think about it, even that would have to be an understatement. To paint you a picture, Western Australia (just a fraction of the continent!) is larger than Europe alone. Isn't that mind-blowing?
Picture-perfect flower fields, pink lakes, wildlife parks, and pristine beaches: All these, and more, await at this underrated part of Australia. Given its vast size, however, we can imagine that it might be challenging to find a starting point for exploring this part of the continent. But here's a thought: What better place to start than in Perth, Western Australia's capital? 
Those who are torn between the buzzing city life and the quiet countryside will certainly love Perth. This big city is marked by its botanical gardens, beaches, bush walking trails, and other natural attractions ; at the same time, it's dotted with shops, restaurants, and a nightlife well worth exploring. For the ultimate experience, we recommend booking an Airbnb in Perth — and lucky for you, we've already done our research!
Below are our top Perth Airbnb picks:
1. This cosy studio in a quiet suburban area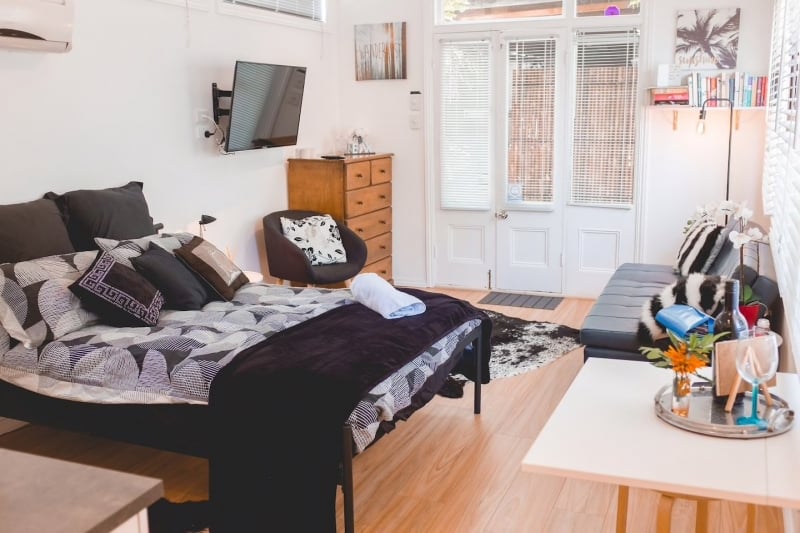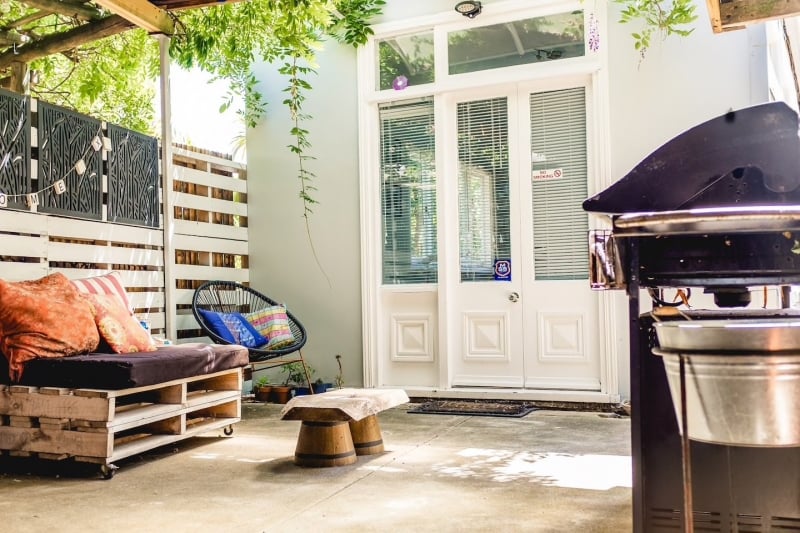 Listing name: Private & Airy Studio
Listing type: Entire home
Max. no. of guests: 2
No. of bedrooms: Studio
This self-contained studio is truly a gem for those visiting Perth. For an affordable price, guests will be treated to a homey suite, a cosy outdoor sitting area, and a private Jacuzzi. Thoughtful Airbnb host Rose has also been known to provide breakfast supplies like milk, coffee, and cereal!
You'll find this home in a quiet neighbourhood just a few minutes from Fremantle, a vibrant port city with a fascinating history (its most popular attraction is an old prison!). From here, you can easily take a stroll around the city, or take advantage of the bikes available at this Airbnb — we hear it's the best way to explore the vicinity! Learn more about this Airbnb here.
Also read: Luxe for Less: Experiencing the Luxury of Perth on a Budget
2. This luxurious townhouse that's perfect for families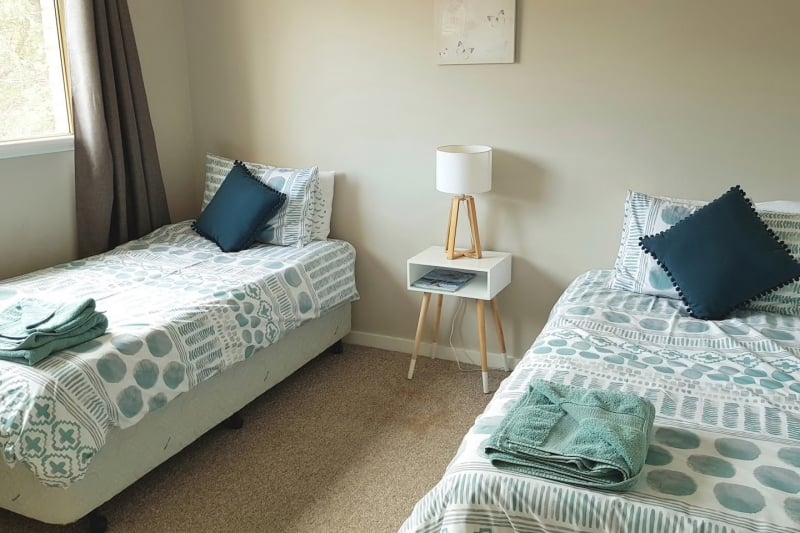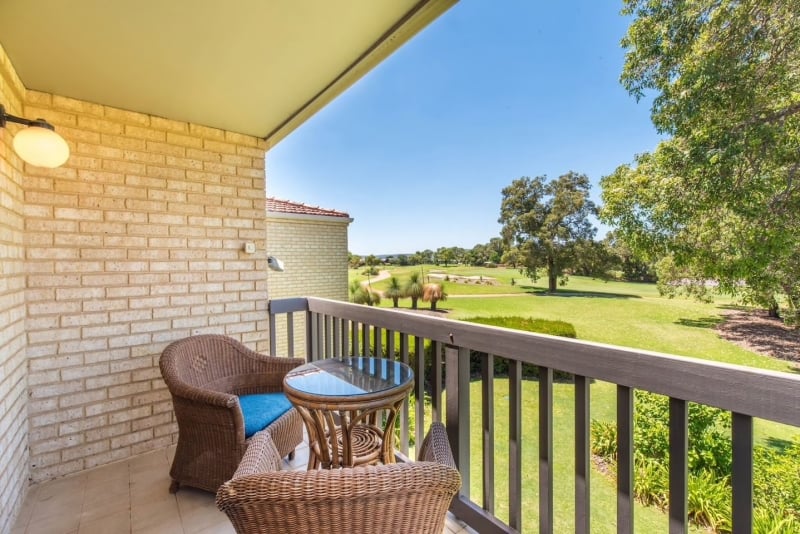 Listing name: Paradise Re-discovered in the Vines
Listing type: Entire home
Max. no. of guests: 6
No. of bedrooms: 3
Those travelling with family, especially with young children, will love staying at this particular Airbnb in Perth. A three-bedroom townhouse at a country club, it's surrounded by lush and seemingly endless greenery. And believe it or not, kangaroos, ducks, and other local wildlife frequent the garden located just steps away. Imagine that —  you can observe them up close from the comforts of your own home away from home!
With breathtaking nature views, a nearby pool, and a selection of DVDs and boardgames for you to enjoy, there'll never be a dull moment at this Airbnb. Or, you can even head over to The Vines Resort and Country Club — guests will be given complimentary access and discounted rates for the resort's recreational and dining facilities! Learn more about this Airbnb here.
Also read: 10 Must-Do Activities During Your Family Vacation to Perth
3. This romantic retreat in the middle of nature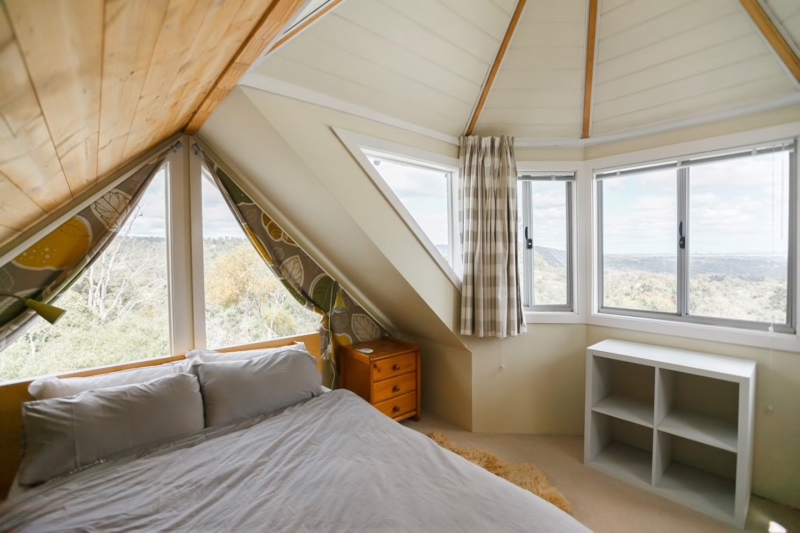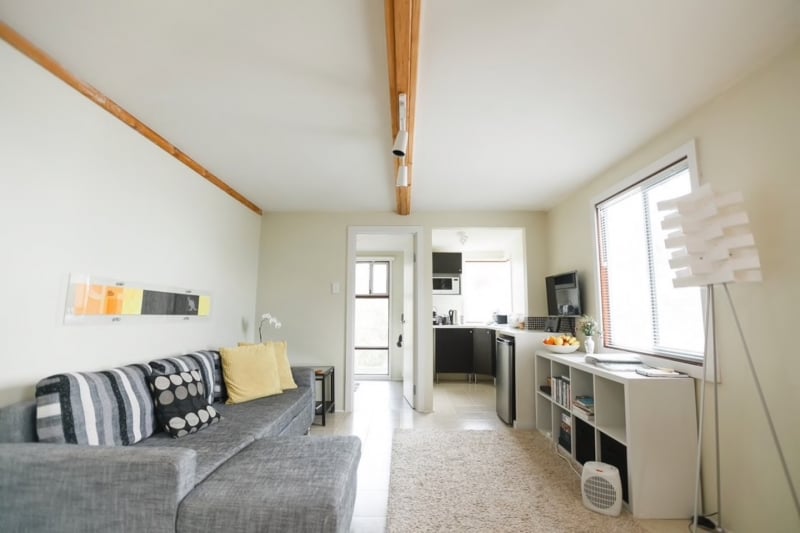 Listing name: The Perth Hills "Tiny House"
Listing type: Entire home
Max. no. of guests: 2
No. of bedrooms: 1
An excellent choice for those who love the great outdoors, this hilltop home doubles as the ideal setting for a romantic getaway. Tucked away from the busy areas of the city, its quiet and picturesque location makes it the perfect place to relax, unwind, and reconnect with your significant other. Wildflower fields, as well as scenic hiking trails and bushwalks, are just a stone's throw away!
The bedroom takes up the entire mezzanine floor — from there, you'll witness some of the most beautiful views of Perth. And what's more, the views are possibly even better after dark, when the night sky is studded with stars! Learn more about this Airbnb here.
Also read: 10 Romantic Things to Do in Perth to Get the Sparks Flying
4. This Scandinavian apartment on the outskirts of the CBD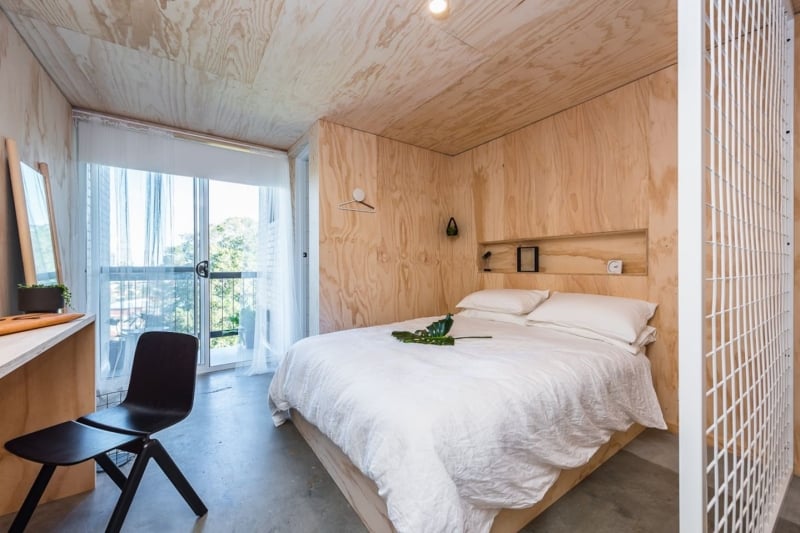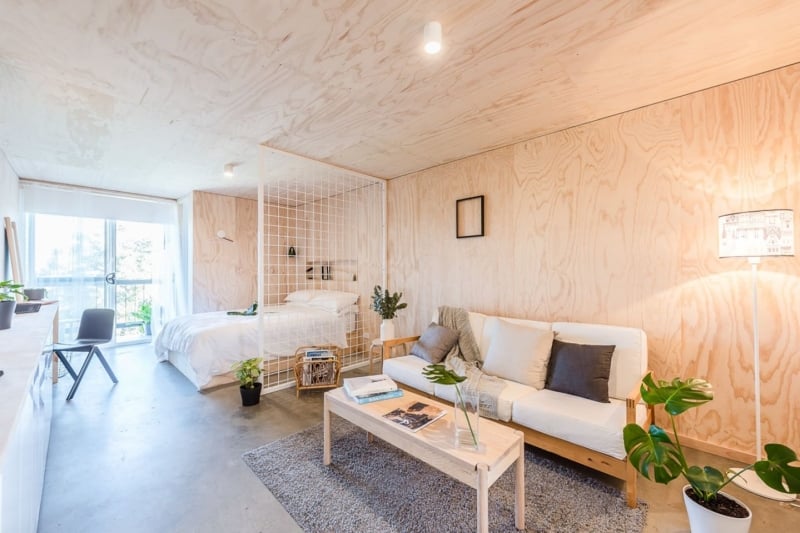 Listing name: plywood box on hyde (10% to bushfire support)
Listing type: Entire home
Max. no. of guests: 2
No. of bedrooms: 1
An ideal base for exploring Perth and its surrounding areas, this home is situated close to popular attractions like Kings Park and Botanic Garden, as well as Elizabeth Quay. Northbridge, a cultural hub lined with trendy restaurants and boutiques, is also located close by. From this Airbnb's balcony, you'll be able to enjoy views of Hyde Park and the city skyline, too!
With its minimalist interiors, this Scandinavian home is equal parts cosy and stylish. To add, it's well-equipped with amenities like Wi-Fi, Netflix, and a workspace for anyone mixing business with leisure. Oh, and did we mention a stay here comes with free parking, too? Sounds perfect to us! Learn more about this Airbnb here.
Note: 10% of bookings made in January and February 2020 will go towards Australian bushfire support.
5. This eclectic homestay in a quiet neighbourhood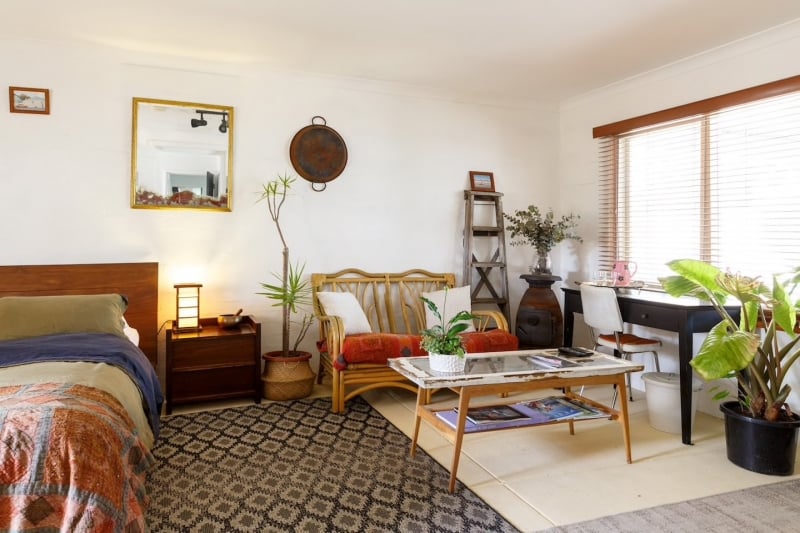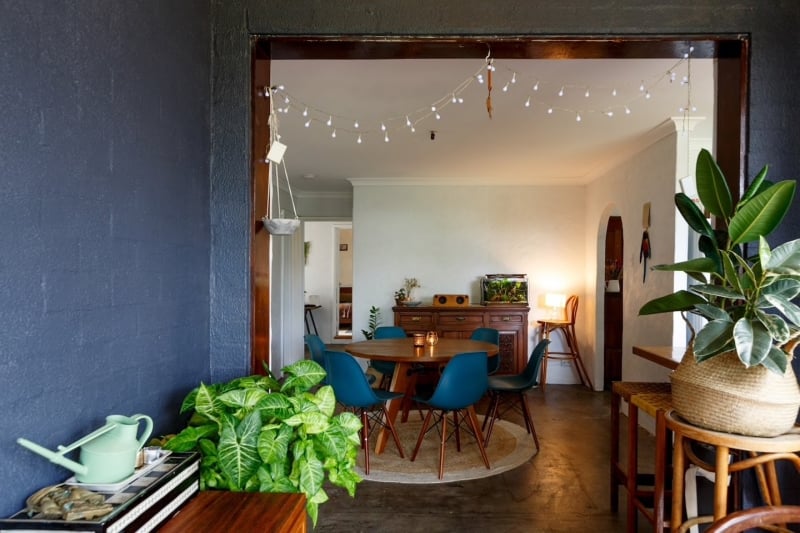 Listing name: Haven on Whatley
Listing type: Private room in house
Max. no. of guests: 2
No. of bedrooms: 1
If you're the type of person who enjoys meeting new people — whether they're locals or fellow travellers — while visiting a new place, then this Airbnb in Perth is definitely one you should consider. Ideal for those travelling solo or in twos, this private room is found in Airbnb host Jessica's very own eclectic home, just a 10-minute train ride away from the city centre.
A seasoned globetrotter herself, Jessica goes above and beyond to make her guests feel right at home. Breakfast is available for those who'd like it, and everyone is free to make use of all the shared spaces; the backyard area is designated for socialising, and she even hosts "crew dinners" on Monday nights! Learn more about this Airbnb here.
6. This well-appointed home reminiscent of a luxury resort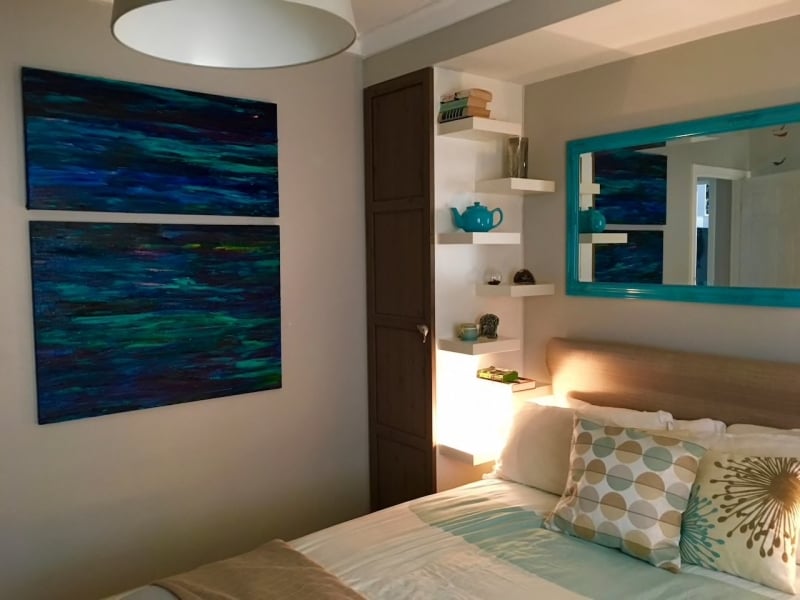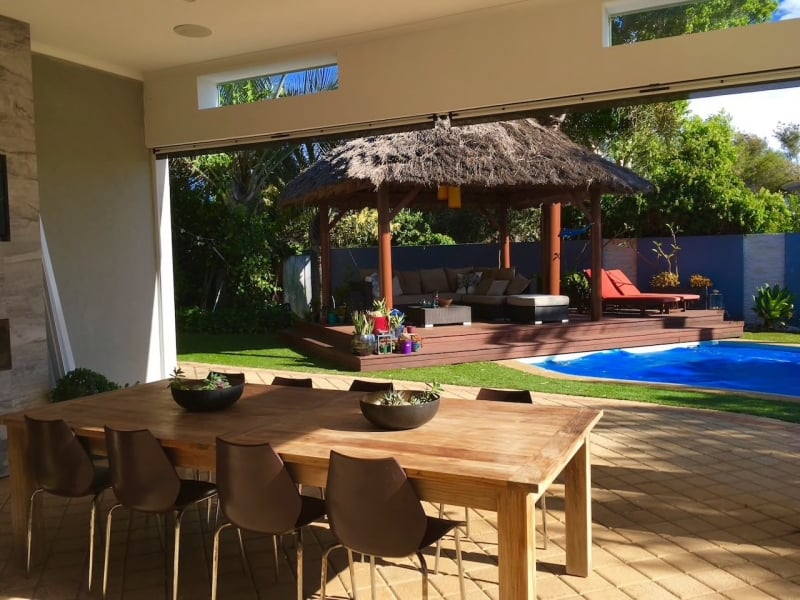 Listing name: Luxury Resort Home Awaits You!
Listing type: Entire home
Max. no. of guests: 12
No. of bedrooms: 5
If "go big or go home" is your motto, then look no further than this Airbnb in Perth. A home that seems more like a resort, it's decked out with five bedrooms and a backyard straight from our dreams — it comes with a pool, a Bali-inspired hut, and a life-sized chess board!
While you'll certainly be tempted to spend much of your vacation within the confines of this luxurious home, make it a point to take advantage of its excellent location. From here, you can easily venture out to Perth's must-see attractions, such as Swan River, Elizabeth Quay, and Kings Park. Don't forget to explore nearby beaches like Sorrento Beach and Cottesloe, either! Learn more about this Airbnb here.
7. This centrally located home for couples or solo travellers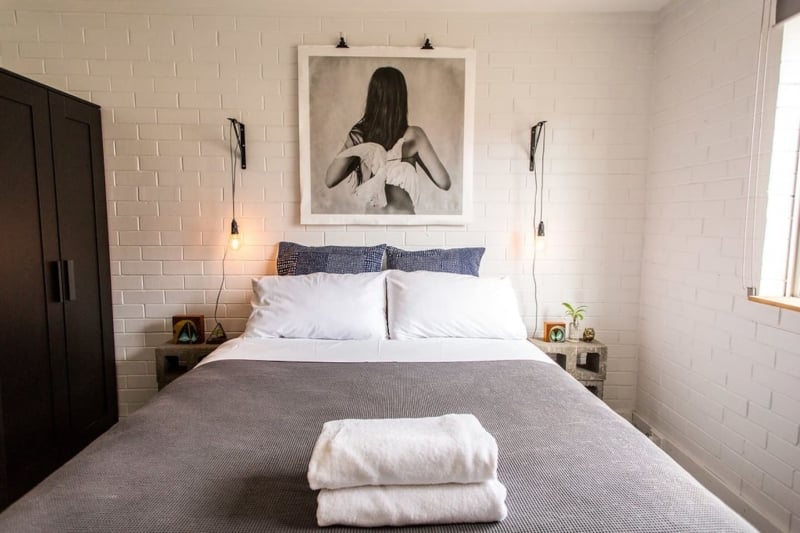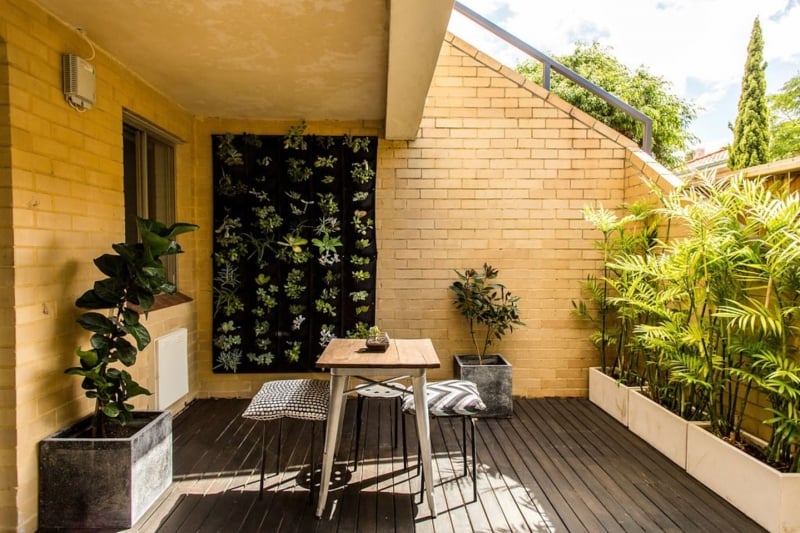 Listing name:  CHIC APARTMENT with WIFI + PARKING | 5 STARS!
Listing type: Entire home
Max. no. of guests: 2
No. of bedrooms: 1
Are you the type of traveller who prefers getting around your chosen destination on foot? This centrally located home will allow you to enjoy the convenience of having just about everything within walking distance: the famous Swan River, must-try restaurants and cafés, supermarkets, and public transportation. It's the perfect starting point for getting around Perth, especially for those travelling alone or in pairs!
Its location isn't the only thing that makes this Perth Airbnb such a gem. It's a charming mix of modern and rustic, with beautiful touches that give it a homey feel. The quaint outdoor sitting area is a sure favourite — it's just the place to start your day with a little meditation or your morning cup of coffee! Learn more about this Airbnb here.
Also read: Hiking Trails in Perth: The Top 7 With Stunning Views
8. This warehouse-style abode that's close to everything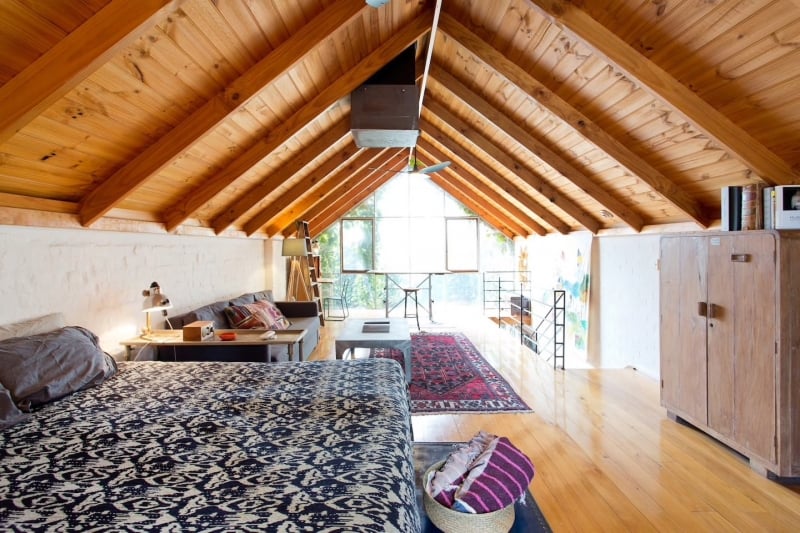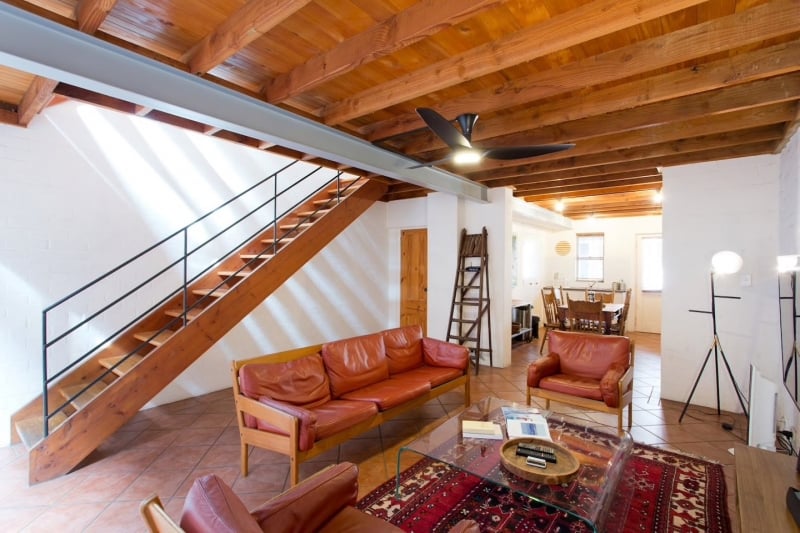 Listing name: HERITAGE HOME IN HEART OF CITY
Listing type: Entire home
Max. no. of guests: 6
No. of bedrooms: 3
Nestled within an iconic heritage building, this three-storey home is a spacious and cosy choice for those travelling in groups. With a mix of rustic and industrial elements, it's certainly got as much character as the famed building itself! As for the home's best-loved feature? The spacious top-floor bedroom with floor-to-ceiling windows, of course!
It's located just a short distance from the CBD, making it perfect for travellers who prefer to situate themselves in the middle of everything. Attractions are just nearby — and so are buses that offer free rides around the city! Learn more about this Airbnb here.
So, which one of these Airbnbs in Perth is to your liking? We had a difficult time just choosing one!