We're almost halfway through the calendar year and you know what that means– it's time to start planning for a well-deserved break! Nothing like a rejuvenating staycation to reward yourself after all that hard work.
But amidst that pile of work and responsibilities to fulfill, how do you even start planning? Where can you go on such a short notice without burning a hole in your pocket? Fret no more.
Introducing to you eight  different staycation locations (and their amazing deals) for your ultimate weekend escape! Need a good rest without breaking the bank? This list has got you covered.
1. M Social Singapore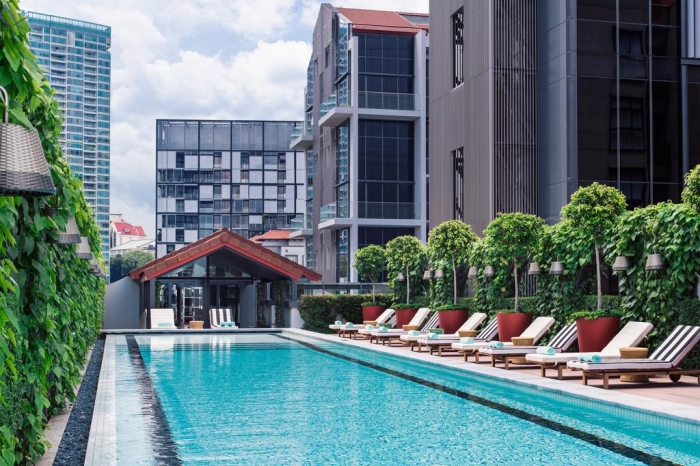 Image Credit: M Social Singapore
Located in the heart of River Valley, within the walking vicinity of Robertson Quay, is the vibrant, chic and quirky M Social Singapore. Where do we start? From the slick outdoor pool to the guests DJs, you'll have the best of both worlds when it comes to keeping yourself entertained.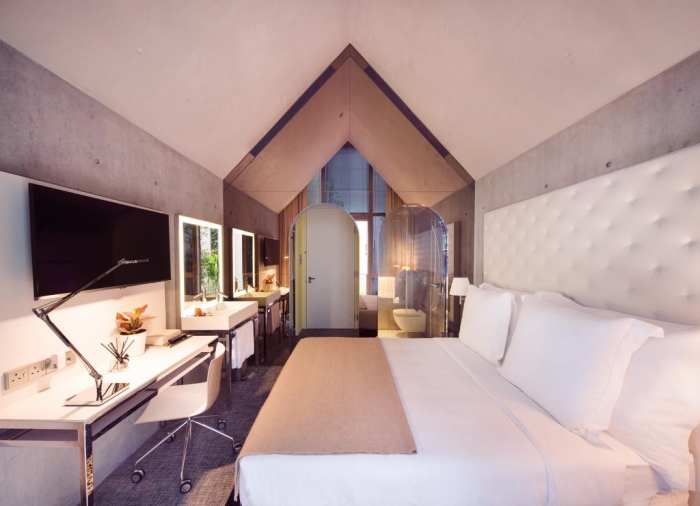 Image Credit: M Social Singapore
The rooms have been designed for your utmost comfort, with its snug furnishing and mellow lighting. Don't you just love the sleek design and minimalist colour palette that just makes you room look so stylish? Chill within the soft, cosy confines of your bed and you'll never want to leave. Kickstart your day by indulging in a complimentary buffet breakfast for two after your dreamy night!
They even have loft rooms to meet your lofty expectations of a staycation with a unique twist.You'll also get a private balcony or terrace amidst lush greenery where you can just lie on the sofa, with a good book and refreshing drink in hand to while away the hours. Sounds like a perfect afternoon plan!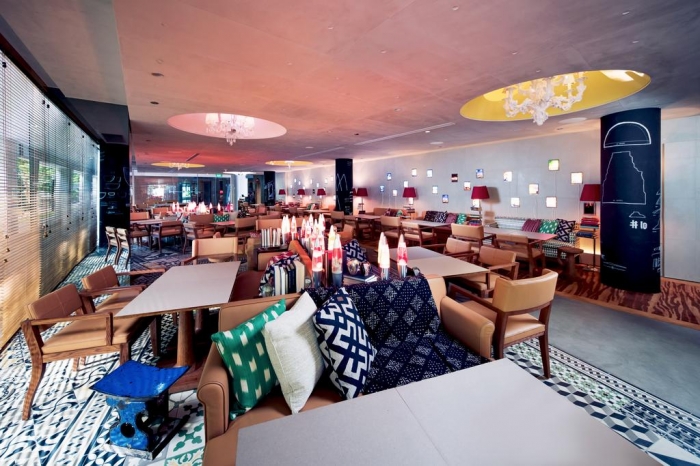 Image Credit: M Social Singapore
As night falls, you can head to their very own Beast & Butterflies bar, which serves an eclectic fusion of Asian and Western food. Just take a look at their fancy decor featuring glistening chandeliers, lava lamps, video projections, table-top TV screens and more! From savoury hot dishes to sweet delectable delights, you'll never run out of options for breakfast, lunch or dinner here.
Being in a central location also means that getting to places is a piece of cake! Robertson Walk and UE Square Shopping Centre are less than 5 minutes away and the hotel provides free shuttle services to places such as Great World City, Paragon, Dhoby Ghaut MRT and even Chinatown, all for your convenience! Awesome or what?
Benefit from greater savings with M Social Singapore's latest promotion!
Enjoy 20% off your stay, with room rates starting from as low as $160 for an Alcove Cosy Room! These attractive rates are inclusive of complimentary buffet breakfast for two, on-the-go connectivity with unlimited mobile internet and local calls, as well as 15% off  in-house food and beverage outlets!
What's more, My Millennium members get an additional 15% off! Wait no further, sign up now and book your next staycation with M Social Singapore!
2. The St Regis Singapore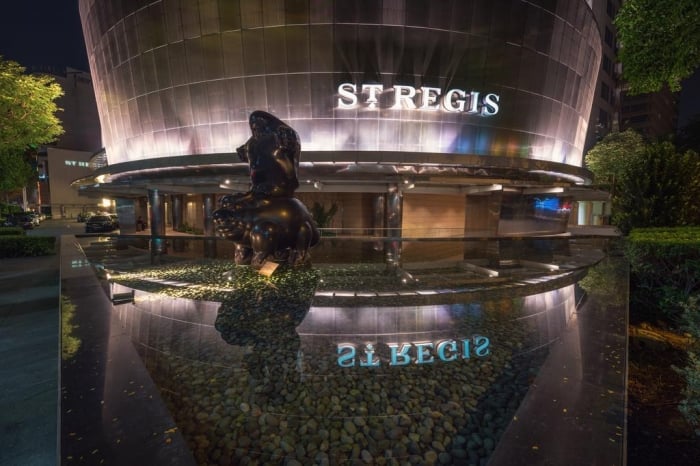 Image Credit: The St Regis Singapore
For an unparalleled experience, look no further as The St Regis Singapore ticks all your checkboxes and more. Nestled in the heart of Orchard Road, St Regis provides a quiet respite amidst the hustle and bustle of Singapore's premier shopping destination. With chauffeured Bentleys, an exquisite private art collection, the Tropical Spa Pool and a chartered nature tour, a staycation here will certainly be an unforgettable experience.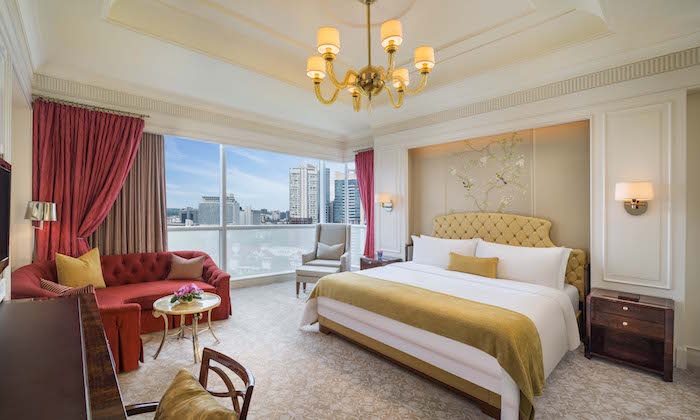 Image Credit: The St Regis Singapore
What's more, indulge in the famous St Regis butler service where your needs will be personally attended to, down to even the nitty gritty details of your preference for coffee or tea! With a smorgasbord of hotel amenities, you'll definitely feel rejuvenated and refreshed after your stay in this fantasy dream-like palace.
What's the best part about all this? St Regis Singapore is now having a " Stay Longer, For Less" deal starting at only S$345+ per night! Offering a complimentary night, wait no longer and book your stay worthy of a king or queen!
Find out more about a staycation experience at St. Regis Singapore right HERE!
3. The Westin Singapore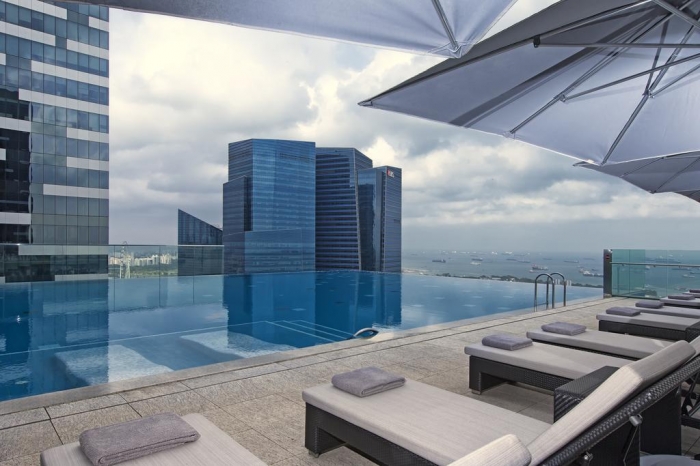 Image Credit: The Westin
Boasting an infinity pool overlooking the Marina Bay area, The Westin Singapore is sure to take work off your mind – despite its location in the heart of the Central Business District (CBD). Pamper yourself at the Heavenly Spa by Westin that offers soothing massage and aromatherapy treatments, ranging from 25-minutes to 90-minutes, that are sure to leave you invigorated! And have we mentioned that every room has a Heavenly Bed? Comprising ten layers – yes, TEN – the bed is so soft that you're guaranteed to fall asleep within seconds.

Image Credit: The Westin
The hotel also houses countless dining options! You'll be spoilt for choice having to choose between the Daily Treats Deli, gastrobar Cook and Brew or the contemporary Seasonal Tastes. Each option beckons for a different, unique experience which will be sure to have you extending your stay! Chill at the Lobby Lounge over a glass of mojito or wine as you gaze out onto the port and the South China Sea.
The Westin Singapore offers a panoramic view of Singapore's eclectic CBD and skyline that's sure to make your stay an eventful one– but don't take our word for it, find out for yourself!
Reserve a weekend stay for exclusive weekend perks of savings up to 15%, complimentary access to Heavenly Spa by Westin and extended breakfast hours at Daily Treats till 3.00pm – you can sleep in and still have breakfast! They have everything you could possibly need for a relaxing weekend. What else are you waiting for?
4. The Scarlet Singapore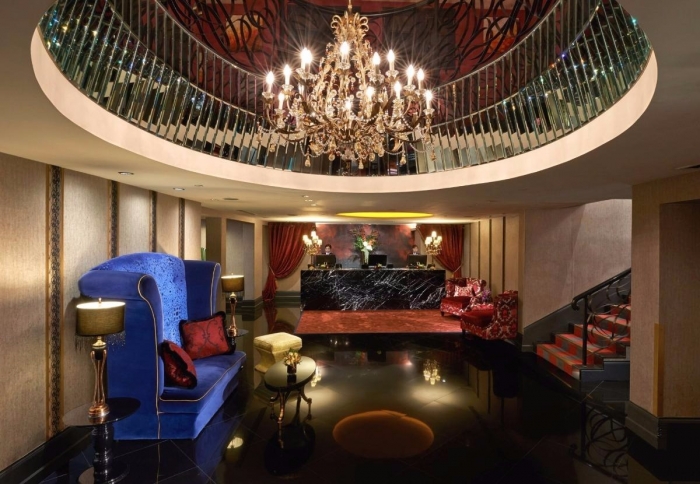 Image Credit: The Scarlet Hotel
Indulge yourself in a lavishly personalised boutique hotel that promises to offer you comfort and respite. The Scarlet Singapore, nestled amongst the many archaic shophouses of Chinatown and the vibrant Club Street, promises to provide you with a doorway to the best of both worlds – a quiet retreat or a pulsating adventure.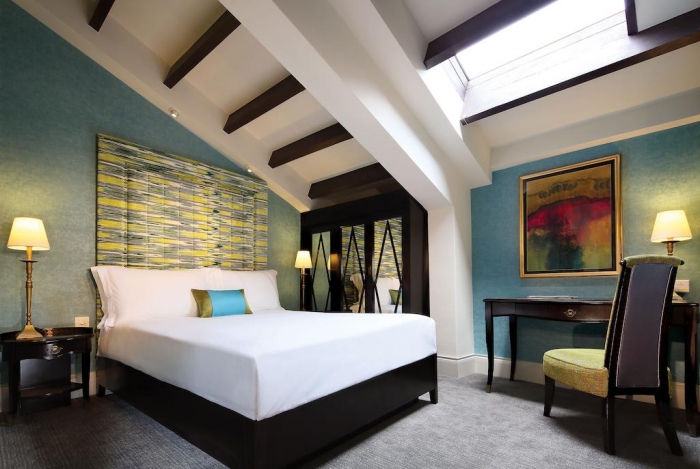 Image Credit: The Scarlet Hotel
The room's vibrant colours and intricate designs of a heritage building are sure to give you your own personal oasis of calm. You'll be inclined to stay in bed all day and just lap up the nostalgia and comfort of your little, albeit temporary, home. But don't forget to visit the open-air jacuzzi and let those water jets massage away your stress at the SODA jacuzzi! For the fitness fanatics, head to the FLAUNT gym for a refreshing workout session!
Starting from S$160++ for a Deluxe Room, enjoy a complimentary evening drink every night from Casa Tartufo and complimentary use of the FLAUNT gym and SODA jacuzzi. Treat yourself and your partner to a much-needed getaway right here in this quaint and charming hotel.
Book your stay on their website to enjoy their " Sunday Break" deal!
5. Park Regis Singapore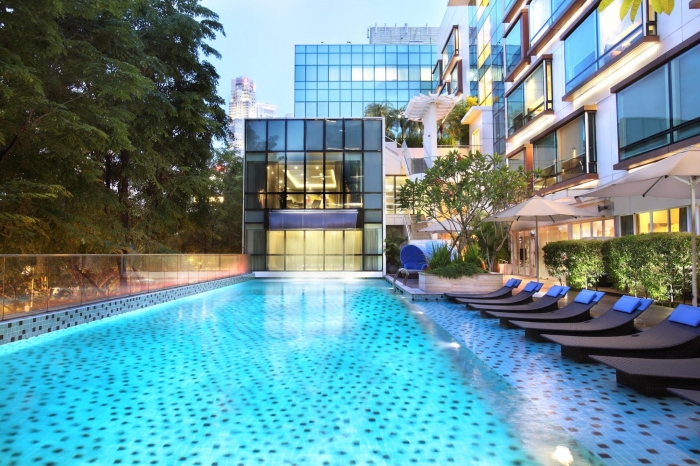 Image Credit: Park Regis Singapore
Park Regis Singapore sure takes the cake when it comes to swimming facilities. Not only is its 25-metre swimming pool ideal for sunbathing, it also comes with a cascading waterfall feature! Their semi-submerged sun soakers also allow for you to lounge in the sun and still enjoy the cooling waters! How cool is that?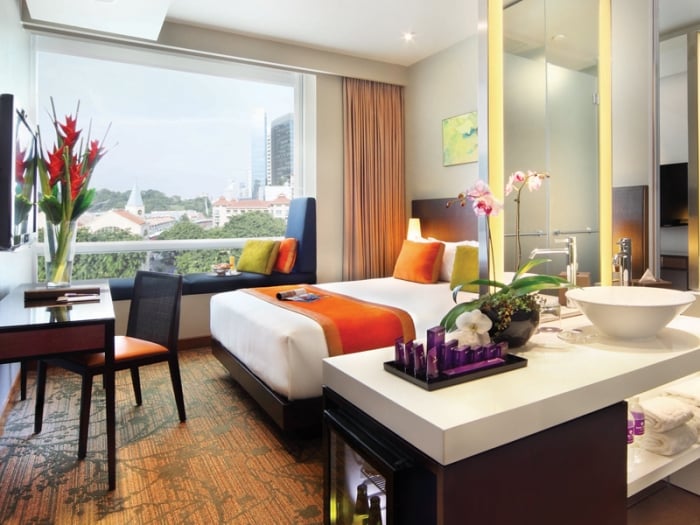 Image Credit: Park Regis Singapore
For those who prefer the indoors, the gymnasium provides a workout that overlooks the outdoor pool. For bookworms who prefer a more passive pastime, peruse the Bondi Book Corner for a selection of novels, travel and coffee table books of your choice. The hotel also provides bicycle hires for your travel needs! Hit the streets with a bike to explore the neighbouring Chinatown and Clarke Quay at your own leisurely pace. You'll be spoilt for choice with the variety of activities at your disposal throughout your stay, or in any case, just lounge within the confines of your room.
Speaking of rooms, fancy a complimentary upgrade? Yes, you heard that right, a complimentary upgrade at no additional cost!
Park Regis Singapore is offering a complimentary upgrade to the Merchant Room (subject to availability), a buffet breakfast for two, complimentary bicycle rentals for two hours for two pax and late check-out under their #sginsiders Weekend Staycation! Prices start from just $199.
6. Royal Plaza on Scotts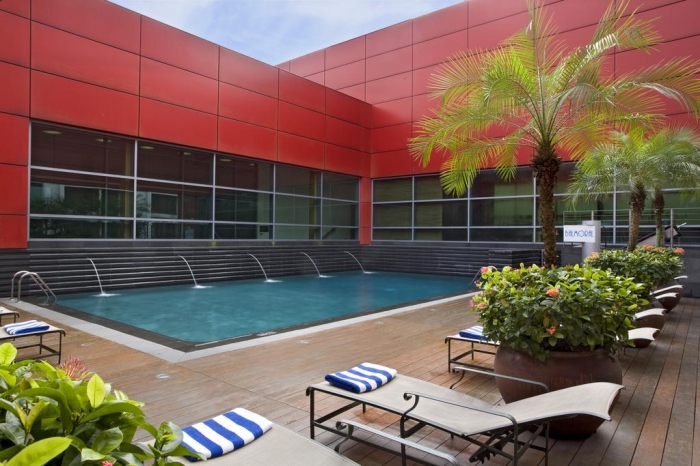 Image Credit: Royal Plaza on Scotts
Right smack in the middle of the hustle and bustle of Orchard Road is the Royal Plaza on Scotts. Housed a mere five-minute walk from central Orchard and featuring an award-winning buffet restaurant, what more could you ask for? With ION Orchard, Ngee Ann City and Paragon within a 10-minute walk, Singapore's shopping haven just calls out to those who just can't resist great deals.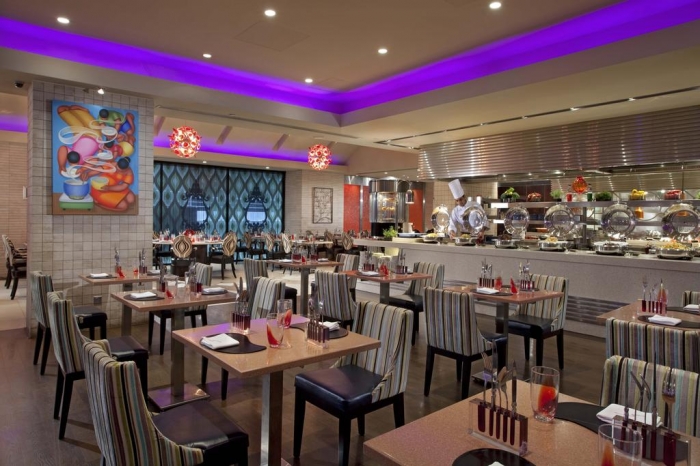 Image Credit: Royal Plaza on Scotts
Not really up for some shopping? Don't worry, the hotel has got you covered. The hotel features a swimming pool for you to splash around and chill at, and a gym for you to sweat off all the extra calories you're going to be putting on. That's right, you're going to need to hit the gym after dining and the hotel's award-winning buffet restaurant, Carousel! The tantalising spread on offer is sure to entice you and frankly, who can blame you?
If you've booked a Premiere room or Suit, be sure to check out the Royal Club Lounge during your stay to enjoy their assortments during breakfast, afternoon tea and evening canapes. In-house guests can also pamper themselves at the Mosche Hair Salon to enjoy 30% off all services!
Book online on their website to ride on the current " Staycation Deal", where rooms are available from S$215 and complimentary breakfast for two is included, at Carousel! Don't say we didn't let you in on this great deal!
7. Grand Copthorne Waterfront
Image Credit: Grand Copthorne Waterfront Hotel Singapore
Grand Copthorne Waterfront is within walking distance of the bustling Clarke Quay and Robertson Quay, as well as the cultural enclaves of Tiong Bahru and Chinatown – making it an ideal vantage point to visit these locations for some grub! On the other hand, for those unwilling to leave the comforts of the hotel premises, you have an array of gastronomical choices to decide on. With Food Capital's international buffet, Grissini's South Italian fare and a cocktail bar at Tempo, you'll be able to satisfy your palates during your stay.
The spacious rooms, furnished with wooden trimmings ooze pure elegance, especially after their hefty makeover. Coupled with stunning views of the Singapore River, the Grand Copthorne is surely the place to have your staycation at and given the great promotion at hand, is there any other reason to think otherwise?
Get straight to booking your stay here with the amazing " Spring Break" deal at hand– up to 25% off your stay, a complimentary buffet breakfast for two, extra 15% off for My Millennium members and 30% off in-house dining!
8. Regent Singapore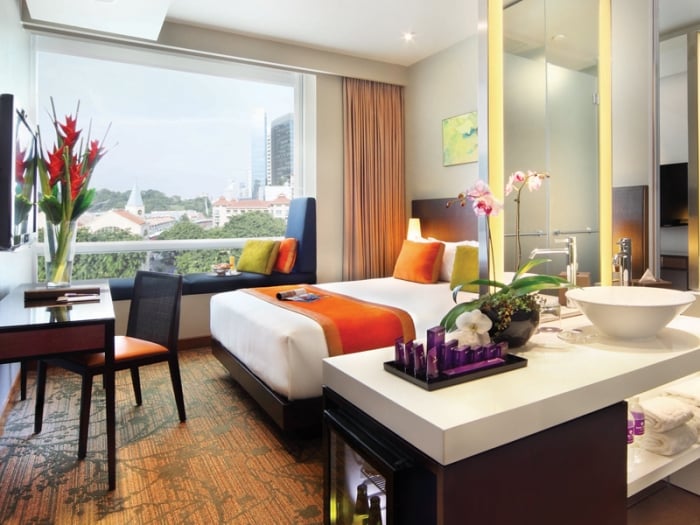 Image Credit: Regent Singapore
Infusing modern contemporary designs with classic styles, the Regent Singapore exudes a posh aura that's sure to promise you a luxurious stay. This lavishly designed rooms, with its carpeted floors and marble furnishings, is a temporary haven for those seeking exceptional comfort and some downtime from the hustle and bustle of daily life.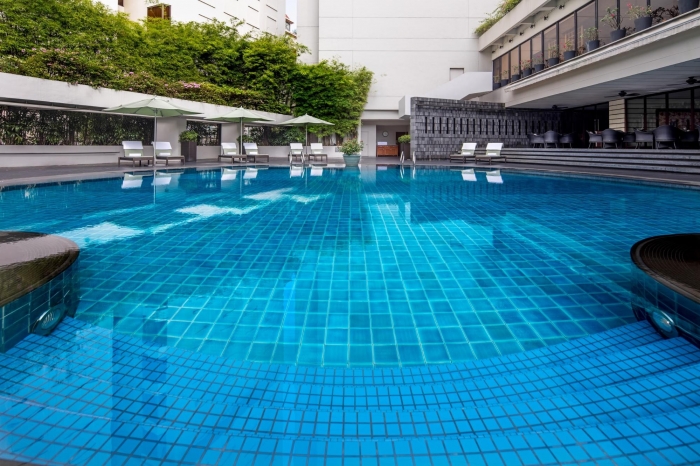 Image Credit: Regent Singapore
Your stay is substantiated by the 24-hour gym, coupled with personal fitness trainers upon request, to help cater to your workout regime! Prefer the outdoors? The Regent has an outdoor pool, with goggles, sunscreen and newspapers available, for you to cool down and refresh in. Sip on a cocktail and munch on some poolside snacks from the Pool Bar, while you're at it!
For those who need some pampering, indulge in a therapeutic massage of your choice! Choose from Balinese, Swedish, Japanese or the hotel's exclusive Regent Signature Massage for your own personal needs. The best part? All this pampering can be done within the confines of your own room, at your convenience and privacy! For further pampering, head to the Salon Le Point for a hair spa experience that you'll never forget.
Certain the Regent Singapore is your go-to hotel for the weekend? You're in luck!
The Regent Singapore is offering rooms from S$217 per night! Their " Regent Weekend Renewals" come with complimentary internet, breakfast buffet for two at Basilico and late checkout till 4.00pm. Go ahead and get booking!
Convinced that the luxurious yet affordable vacation that you've been dreaming of is within reach? Well actually, it's not just within reach – it's right in front of you! With this list of great hotels and deals, we've provided all you need for your luxurious stay. Now, it's your turn to make that dream a reality.