If you've heard of Seoul, chances are you've heard of Jeju Island as well. The sunny little island just off the coast of South Korea that welcomes tens of thousands of visitors each year. With gorgeous views, crystalline waters, an abundance of delectable food AND enchanting sunsets to tie it all together, there's no reason not to love Jeju.
What's more, enjoy beautiful Jeju both indoors and outdoors with the plethora of cosy homes waiting to host you throughout your stay there. We've gone ahead and listed ten affordable Airbnb homes on Jeju Island, so take your pick! From quaint guest houses to luxurious seaside cottages, there's a place for everyone.
1. The trendy container-style guest house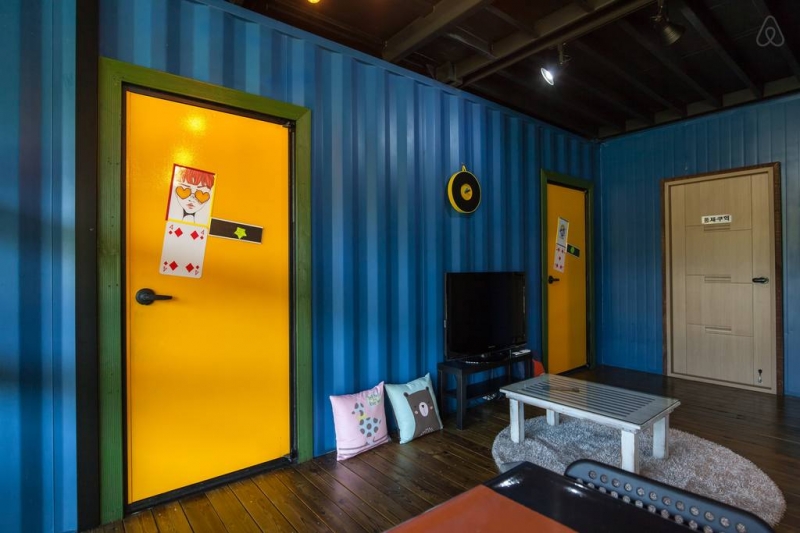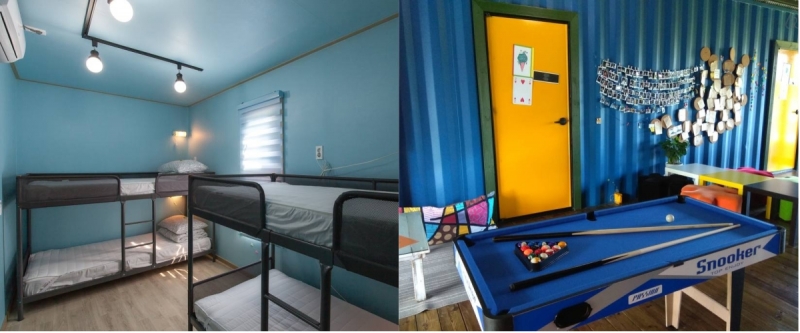 Listing name: 큐브하우스입니다/개인 욕실이 있는 4인 개인실(2층침대2개) 입니다 (4인까지 사용가능)
Max no. of guests: 4
Location: Namwon-eup, Seogwipo-si
Price: ~S$77/night /~S$19 for 1 guest/night
Fancy staying in a striking blue container? This is the place for you! Catered for budget travellers, this guest house furnishes its rooms simply as seen above. But venture out of your room and you'll be rewarded with a variety of amenities.
In the common area, choose from an assortment of games available and unwind with your friends. There's also a kitchenette for you to prepare your meals – and we hear there's an espresso machine that guests can use! Located outside of the busy districts of Jeju, this trendy guest house on Airbnb provides a tranquil environment for you to rest up each day. Learn more about this Airbnb here. 
2. This townhouse with beautiful ocean views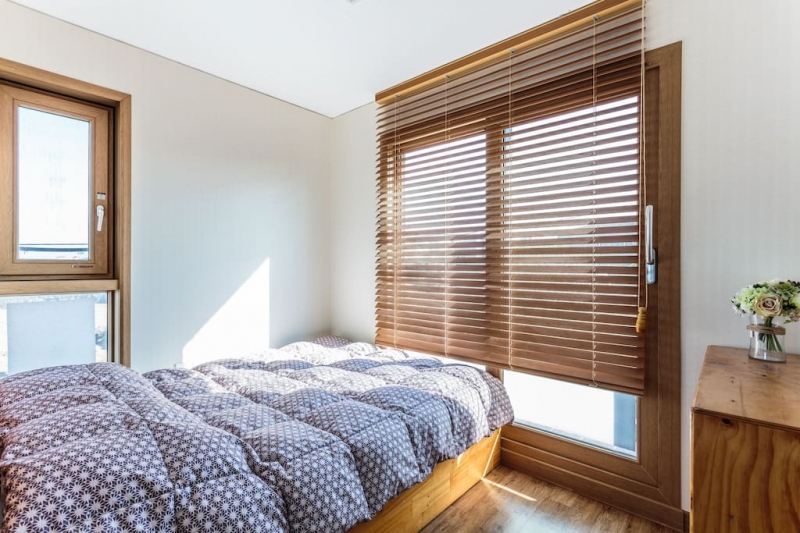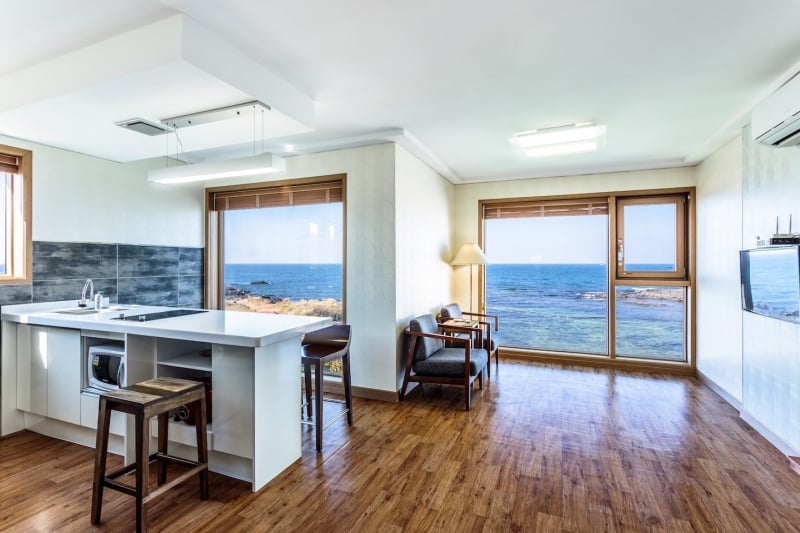 Listing name: Enjoy ocean view,10min from airport
Max no. of guests: 4
Location: Jeju-si
Price: ~S$136/night / ~S34$ for 1 guest/night
When in Jeju Island, taking advantage of the amazing views is a must! The ocean views at this townhouse are definitely something you and your friends will want to wake up to every morning. You can even enjoy a leisurely stroll along the shore just right outside this Airbnb on Jeju Island!

Just 10 minutes away from the airport, this home is a little farther from Jeju's popular downtown area. But if you're looking for a quieter, off-the-beaten-path location, then this is something you certainly won't want to miss out on! Learn more about this Airbnb here. 
3. The quirky caravan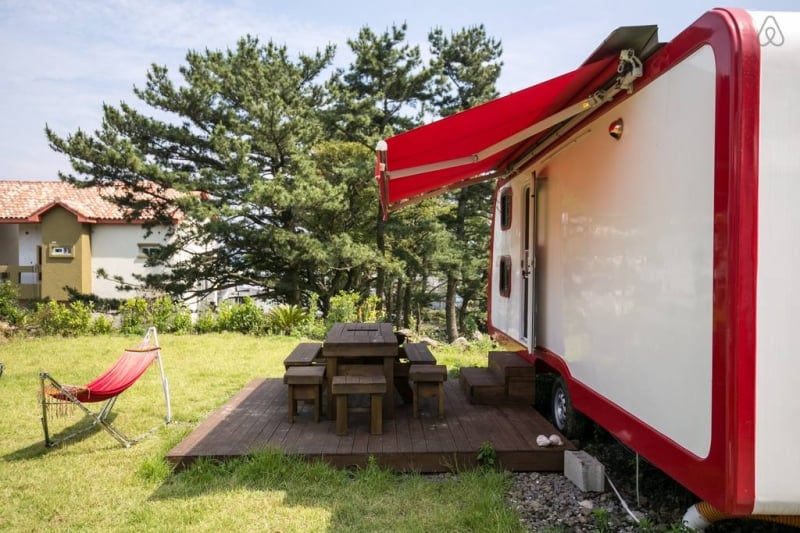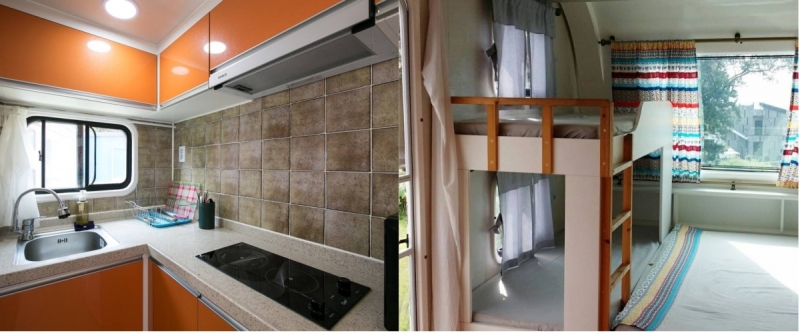 Listing name: A아이들과 가족, 연인들이 머물기 좋은 '작은바람언덕카라반
Max no. of guests: 4
Location: Seogwipo-si
Price: ~S$105/night /~S$26 for 1 guest/night
Why not step out of your comfort zone and stay in something a little more unconventional? Since Jeju is famous for its nature, get closer to your surroundings by staying in Hyeyoung's cute little caravan!
Although it might not look like much in the pictures, the space within the caravan is big enough for a group of four, and even includes a small kitchen. The lodging also offers a vast grassy area just at your doorstep, along with a barbeque pit for guests to grill and chill. To top it all off, the place comes complete with unforgettable ocean views! Learn more about this Airbnb here. 
4. The handcrafted eco-friendly house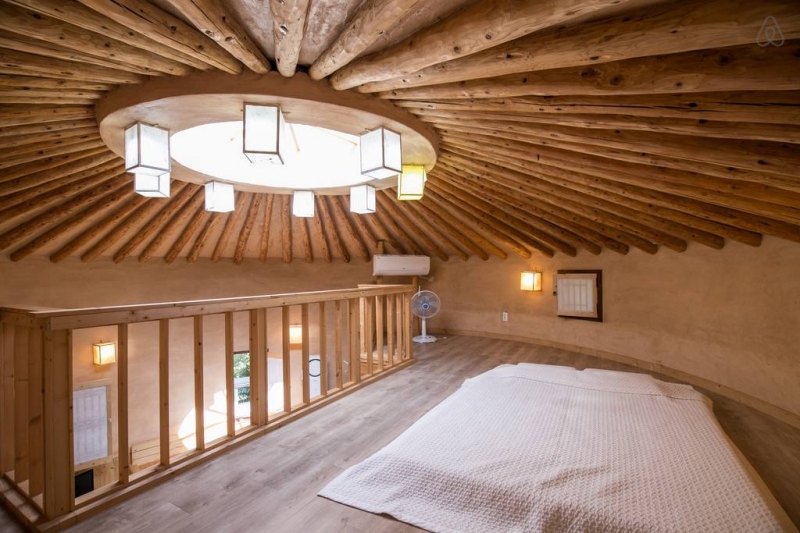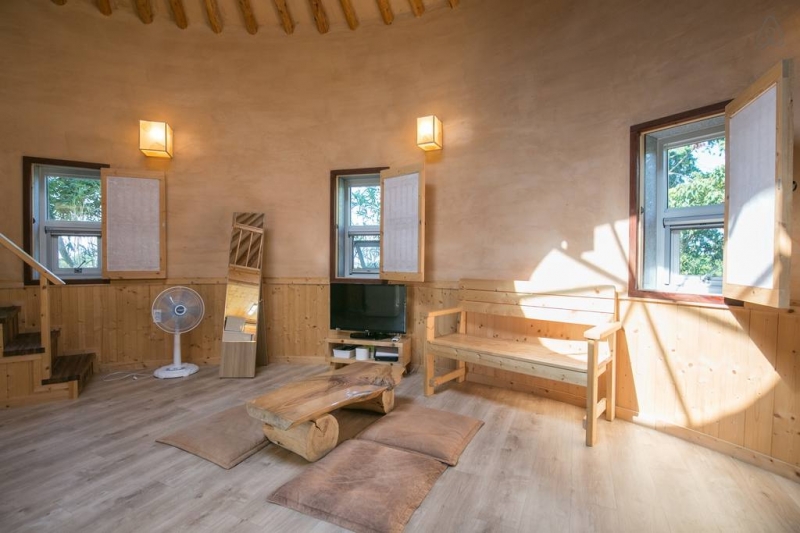 Listing name: The Earth House 'Hue'
Max no. of guests: 4
Location: Aewol-eup, Jeju-si
Price: ~S$115/night / ~S$29 for 1 guest/night
This moment you step inside 'Hue', a wave of zen washes over you. With its all-wood interior, this Earth House embodies its name perfectly. Let the stress seep out of your bones when you stay in this eco-friendly house — constructed out of cypress, cedar, Jeju volcanic clusters and painstakingly put together by the owners themselves.
Go a step further to appreciate the owner's hard work and visit their surrounding orchard as well, where they grow organic hallabong (a tangerine native to Jeju island)! Learn more about this Airbnb here. 
5. The vibrant playground for those looking to socialise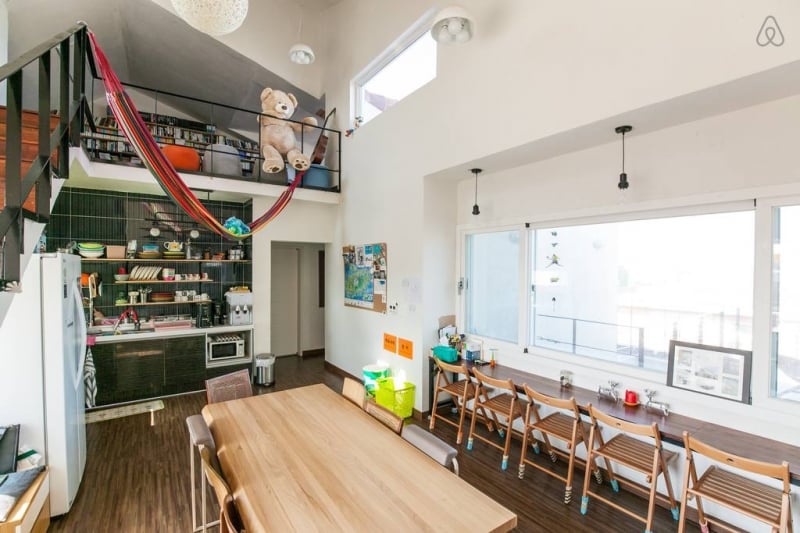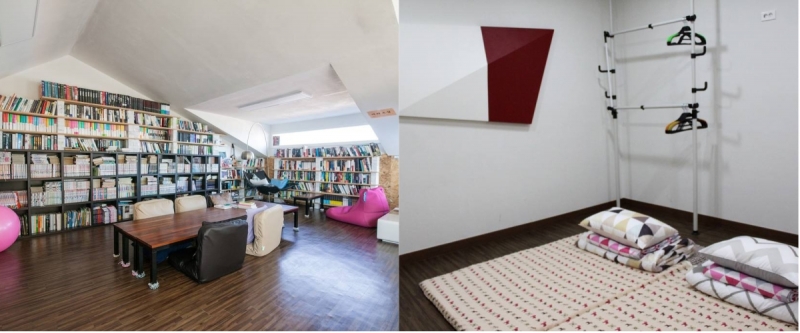 Listing name: A room for family-clean room
Max no. of guests: 4
Location: Jeju-si
Price: ~S$125/night / ~S$31 for 1 guest/night
If meeting new people is right up your alley than Warak Guesthouse is the place for you! With an open common area furnished with more things than you can count, guests can mingle and lounge freely. The first thing you'll notice is the picturesque view of Port Sehwa in the vast living room window, followed by the vibrant colours that pepper the kitchen and the attic. With over a thousand books filling the attic and a dizzying array of arcade and board games, you'll never be bored!
The best part? John, the host, puts his guests' comfort at the forefront. Not only does Warak Guesthouse provide breakfast, it also provides all sorts of essentials. From hair bands to nail clippers, the place is stocked to ensure you have everything you need. Just be aware that the guesthouse has a strict 11pm lights out rule, so be sure to abide by it. Learn more about this Airbnb here. 
6. The traditional 80s' house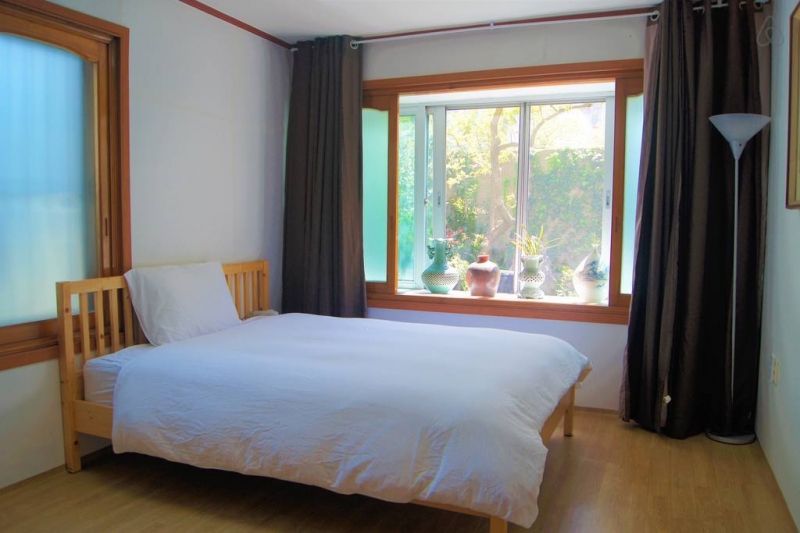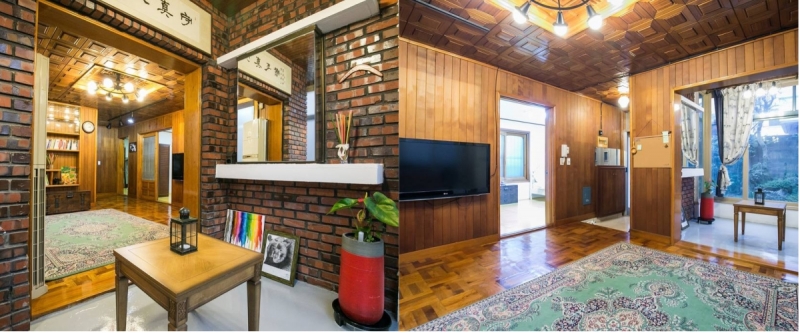 Listing name: Entire Big 80's Traditional House Downtown
Max no. of guests: 6
Location: Jeju-si
Price: ~S$230/night / ~S$38 for 1 guest/night
Looking for a taste of traditional Korea in the heart of Jeju City? Well, look no further. Conveniently located near attractions like Black Pork Street and Jeju City Hall, take a blast to the past when you step foot into Soozy's estate — big, spacious and rooms aplenty!
The deep wooden interiors, vintage style furnishing and lush garden are sure to invoke a sense of nostalgia when you set foot in the house. Make this your accommodation of choice, and Soozy will even provide you with complimentary portable wifi so that you can stay connected throughout your trip! We recommend this place for groups of five to six, in order to get the most bang for your buck. Learn more about this Airbnb here. 
7. This cosy home in a quiet neighbourhood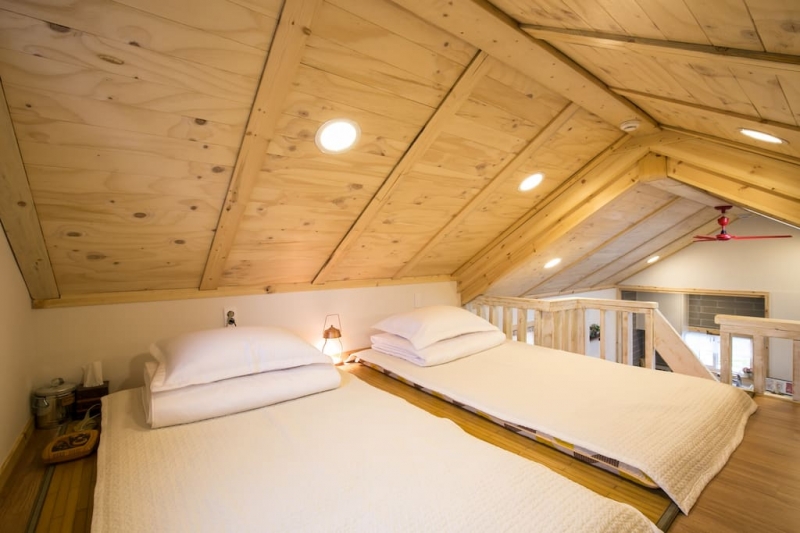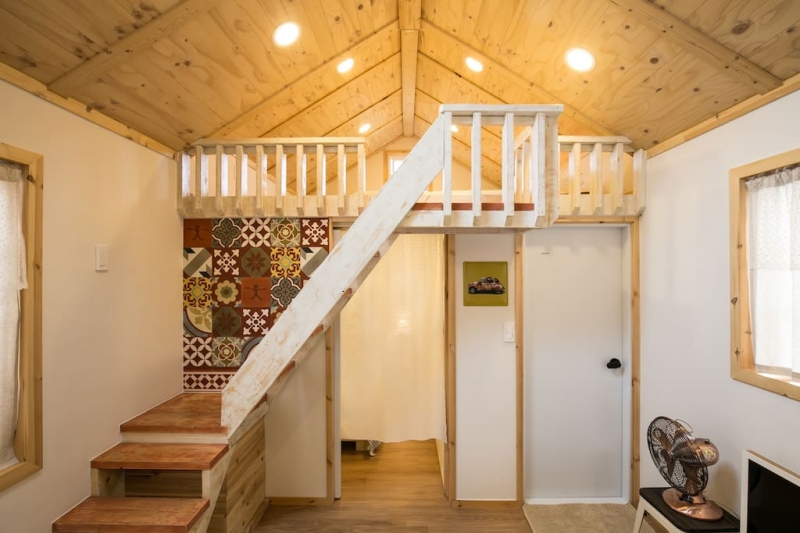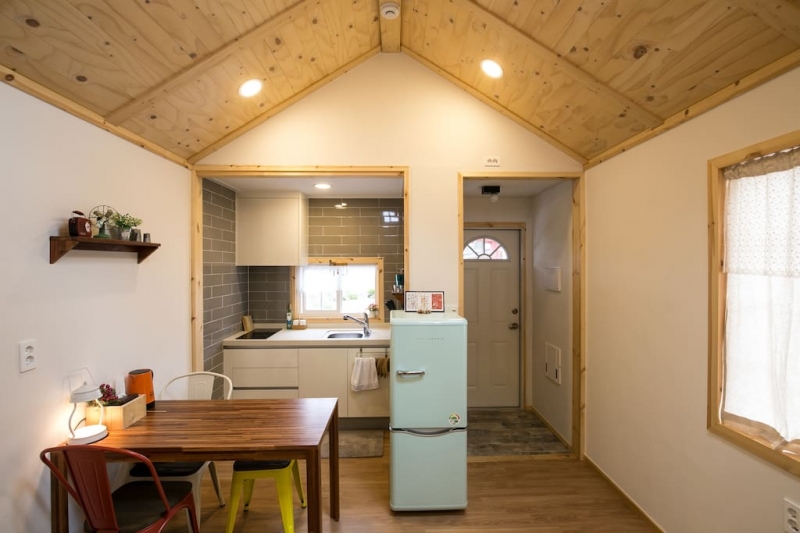 Listing name: 성산일출봉 차로 10분거리 복층형 독채펜션 제주리하우스
Max no. of guests: 4
Location: Seogwipo-si
Price: ~S112$/night / ~S28$ for 1 guest/night
This quaint two-bedroom home feels like a cosy little cottage in the countryside. It may be on the small side, but you'll find it has everything you need! Amenities include a well-equipped kitchenette, heated floors, and a comfy couch. An added bonus? Breakfast is also served at this Airbnb on Jeju Island. Host Yuna and her mother have truly made it their mission to make guests feel at home!
A short drive from Seongsan Ilchungbong, this home is an ideal choice for travellers who plan to visitJeju's famous Sunrise Peak! Taking a car rental will definitely be helpful (this Airbnb offers free parking!), but if not, Yuna will be happy to arrange your transportation! Learn more about this Airbnb here. 
8. The quaint hostel reminiscent of a treehouse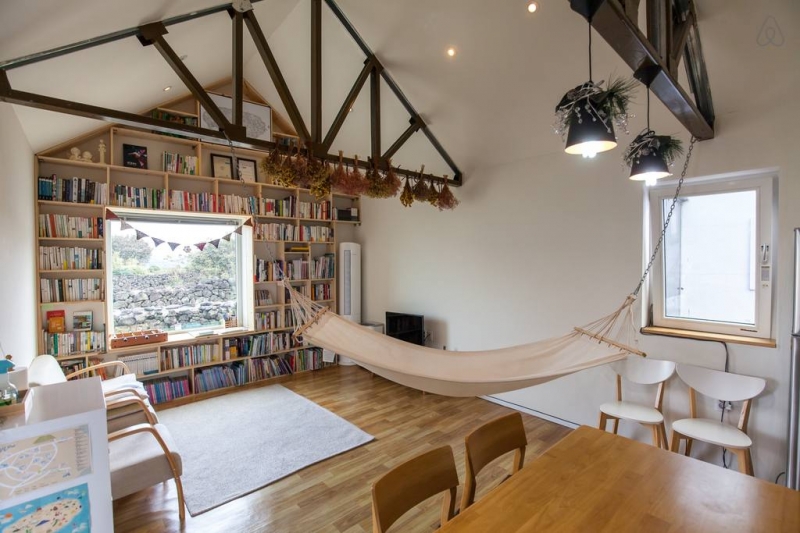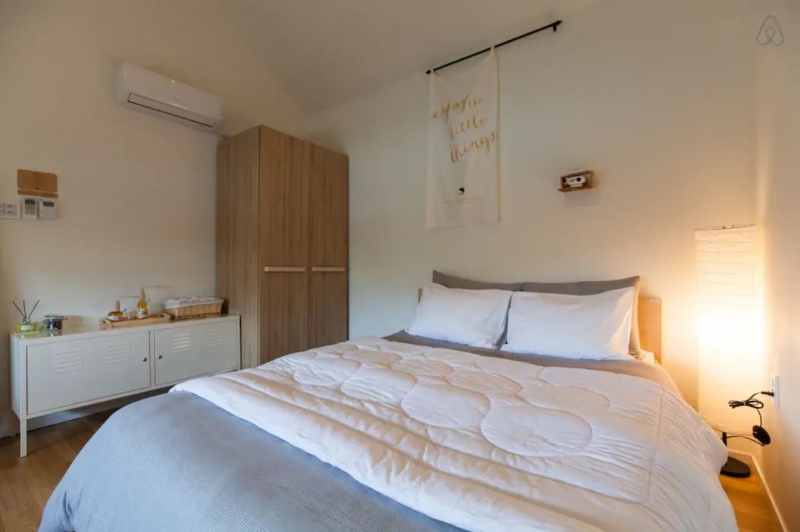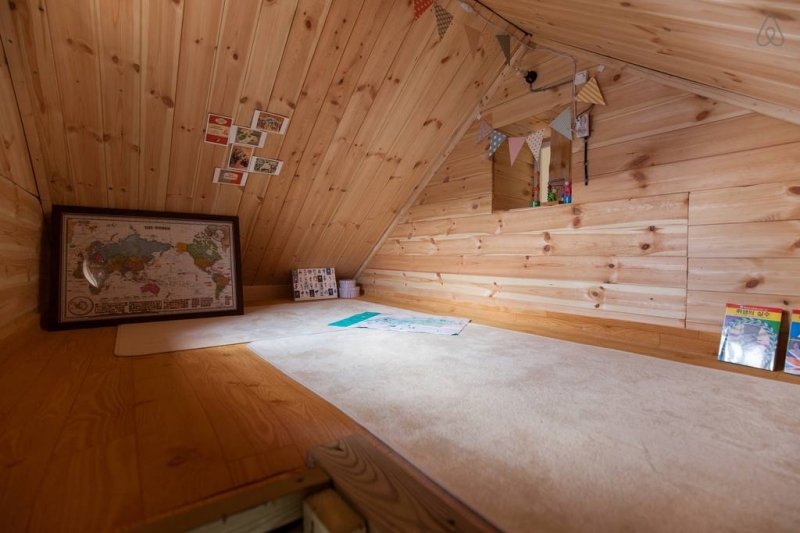 Listing name: 구좌읍 종달리 독채펜션 북스테이 블랙페이지
Max no. of guests: 5
Location: Jeju-si
Price: ~S$205/night / ~S$41 for 1 guest/night
Rest, relax and rejuvenate in Sanghyun's enchanting hostel, rated five stars for its cleanliness and value! With comfy rooms furnished to look every bit like a home away from home, you're sure to get a good night's rest here. Warm hues and heavenly duvets welcome you as you enter the room, but don't just stop there.
Head over to the shared space and laze on the hammock while reading a book from the extensive collection, or grab a beer and take in the fresh air on the rooftop. Otherwise, climb up into the lovely loft with your friends to plan your next day's itinerary or simply chill! Learn more about this Airbnb here. 
Also read: Treehouse Airbnbs: Fall in Love with These Listings from Around the World
9. The chic, minimalist home with an industrial touch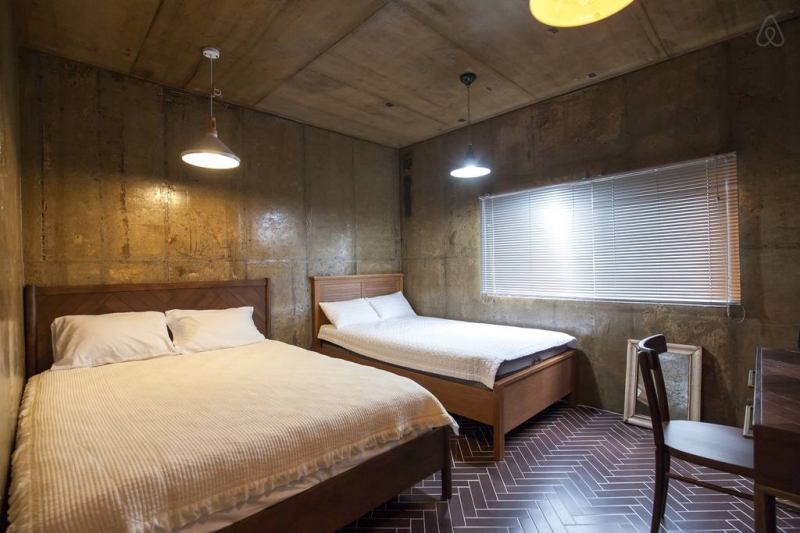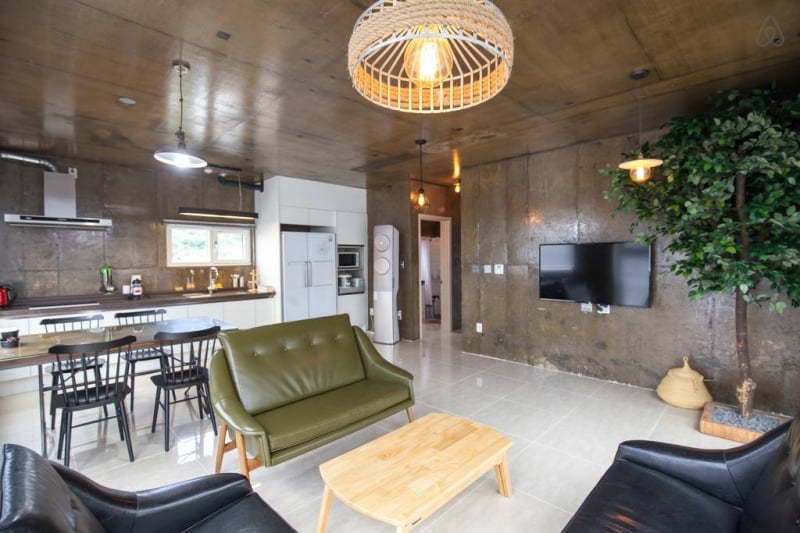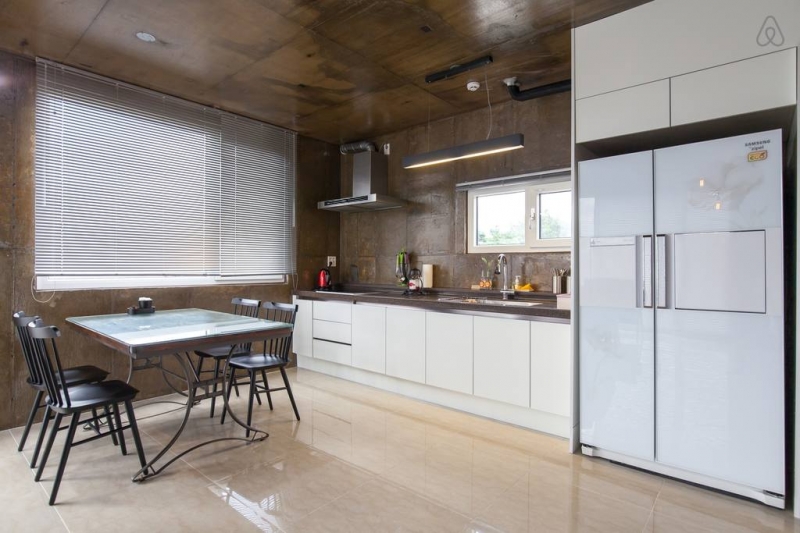 Listing name: 보보스테이[BOBOSTAY] _ modern and vintage private house
Max no. of guests: 5
Location: Aewol-eup, Jeju-si
Price: ~S$205/night / ~S$41 for 1 guest/night
Fancy starting your day with a stunning view of Mount Hallasan, and ending it with the captivating sunset flooding your home? Do so in this sleek and modern house! Accentuated by clean-cut lines, earth tones and pristine marble flooring, the apartment is furnished with one single bed and one queen-sized bed, allowing it to house four guests comfortably.
The only downside is the need for a rental car in order to access the location, so if you don't plan to drive, this might be out of the question for you. Otherwise, this Airbnb on Jeju Island is in the vicinity of the famous O'sulloc Tea Museum, Teddy Bear Museum and the ever-popular Shin Jeju Shopping Street. Shopaholics, rejoice! Learn more about this Airbnb here. 
10. The gorgeous seaside cottage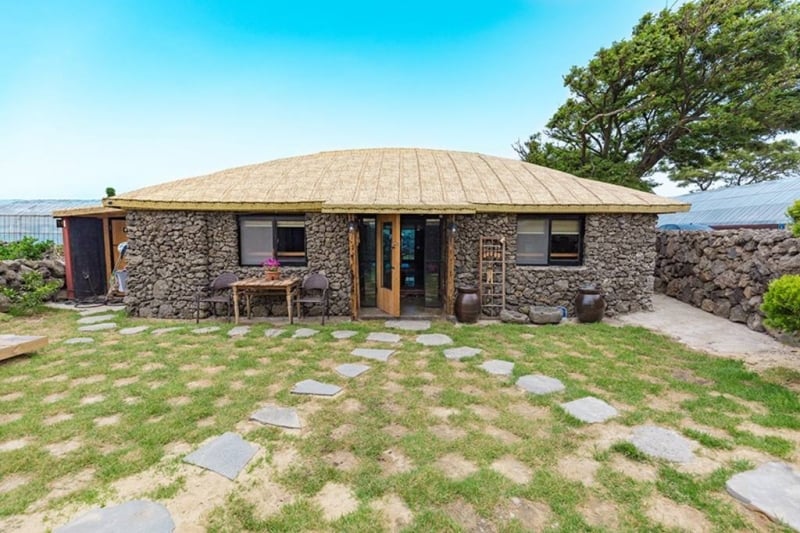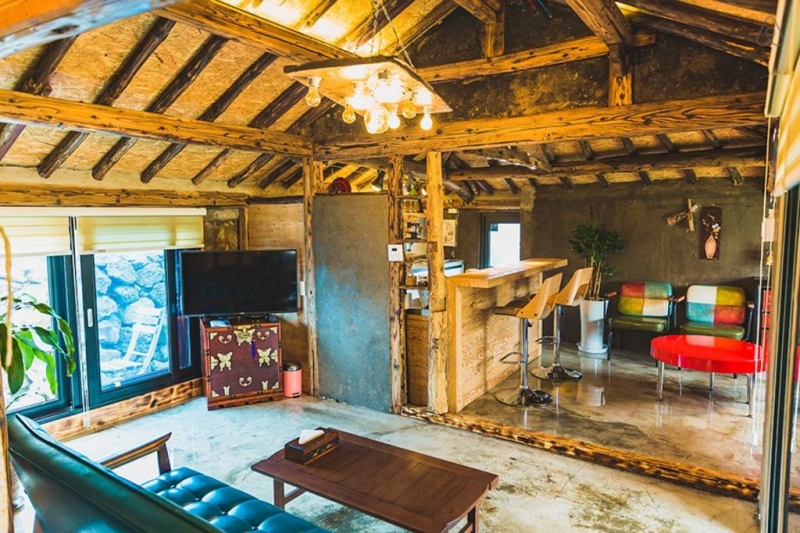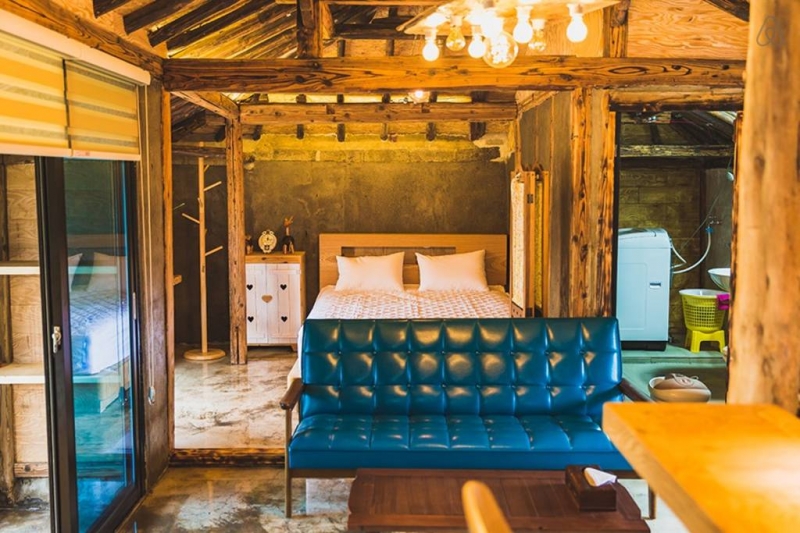 Listing name: 지꺼지게(안거리)는 곽지해변 가까이 위치한 제주전통가옥 독채펜션입니다.
Max no. of guests: 4
Location: Aewol-eup, Jeju-si
Price: ~S$205/night / ~S$51 for 1 guest/night
Tucked away on Kwaji Beach, this Airbnb home combines both traditional and modern elements to produce an exquisite yet authentic Jeju experience. Its location and price provide guests with utmost privacy and tranquillity, making it a highly sought after getaway home. Think picnics on the beach, evening strolls along the sandy shore and sunsets on the horizon — all in your backyard, less than three minutes away! Learn more about this Airbnb here. 
Also read: 14 Awesome Attractions in Jeju Island You Shouldn't Miss
Whether you're in the midst of some last-minute vacation planning or simply getting some inspiration for your next trip, our advice is to stay away from typical resorts and hotels. Instead, opt for a one-of-a-kind Airbnb experience on Jeju Island.
Your host is sure to extend a helping hand to you throughout your trip and provide that personal touch you can't find elsewhere. Be sure to remain courteous and respectful to both the owner and their home. Happy planning!