Who doesn't love long weekends? I know I do.
Although nothing beats a proper holiday where you can linger longer, there's something very refreshing about a three-day sojourn. It's like taking a power nap. You always come back from it with enough drive to power through anything.
There are a lot of long weekends coming up, and we thought we might tempt you with a quick getaway to Palawan. If you don't know where to start, here's a 3-day Puerto Princesa itinerary for you and your go-to travel buddy (or buddies, the more the merrier!). You can even catch up on some me time and go on a solo trip — whatever floats your boat.
How to get there
Direct flights from the Ninoy Aquino International Airport in Manila to the Puerto Princesa International Airport usually take an hour. There are many to choose from, and you can get them for cheaper rates if you come across a seat sale. Airlines that ply the Manila-Puerto Princesa route are AirAsia, Cebu Pacific, and Philippine Airlines. If you're coming from the Cebu-Mactan International Airport, though, it would only take 45 minutes before landing in Puerto Princesa. The same airlines fly this route.
Where to stay
The Legend Palawan remains to be one of the city's most trusted accommodations. The hotel is just minutes away from the main commercial district and Puerto Princesa's international airport. If it's convenience and mobility you're after, there's no better choice. This three-star establishment has everything you need including airport transfers, free WiFi, a decadence of Filipino dishes served in the hotel's restaurant, and great tour packages courtesy of its tour service provider — Legendary Tours. If you're not keen on crafting your own itinerary, this is a pretty good option. Legendary Tours' tagline is "Travel with no hassle." All you have to do is show up and The Legend Palawan  will do the rest.
Tip: If you're staying at The Legend Palawan , make sure to order their famous banana bread. It's so good, you'll want to bring some home.
Read more about The Legend Palawan on TripZillaSTAYS.
There's no denying that Canvas Boutique Hotel is one big work of art. Each floor has a theme, with murals painted by Palaweño artists and functional art installations seen everywhere. Local craftsmen also made the furniture found inside and no two rooms share the same design! If you're lucky, you can even chat with some of the local artists who collaborated with Canvas Boutique Hotel.
Other hotel highlights include a 20-metre outdoor lap pool and The Painted Table, Canvas' in-house restaurant. While it serves Filipino comfort food, The Painted Table also offers fusion cuisine. You can also check out the Canvas Wander List if you'd like to know which local hangouts come highly recommended by the boutique hotel. For those wondering, Canvas Boutique Hotel is just a two-minute drive from the Puerto Princesa International Airport.
Tip: When dining at The Painted Table, don't miss the restaurant's centrepiece — an actual painted table. It's a five-metre, 18-seater hardwood obra maestra by popular street artist AG Saño. We've been told that the artwork depicts icons of Palaweño heritage so ask the staff about the images you'll see.
Read more about Canvas Boutique Hotel on TripZillaSTAYS.
One of the newest establishments in the Palawan, Hue Hotels and Resorts Puerto Princesa just opened in 2017. But those who've already stayed there will attest that Hue has already mastered that trademark Filipino hospitality. Its crisp, modern interiors make the hotel Instagram-worthy from every corner. Artfully done patterns that adorn each room and amenity were inspired by images of Filipino culture. Even the pool features colourful tiles reminiscent of fiesta flaglets called banderitas . Rooms at Hue Hotels and Resorts Puerto Princesa are both tasteful and homey, much like staying in your very own posh serviced apartment — with curated interiors to boot.
Tip: There's no better way to end a day filled with adventure than taking a relaxing dip in the pool. Hue Hotels and Resorts Puerto Princesa's outdoor pool offers a little something extra, though. It provides a magnificent view that overlooks the city. You can only imagine taking in that scenery at sunset with a fruity shake, or maybe a refreshing cocktail.  
Read more about Hue Hotels and Resorts Puerto Princesa on TripZillaSTAYS.
What to do
Day 1: Be one with nature and go on an eco trip
Start the day with a splash — observe dolphins in the wild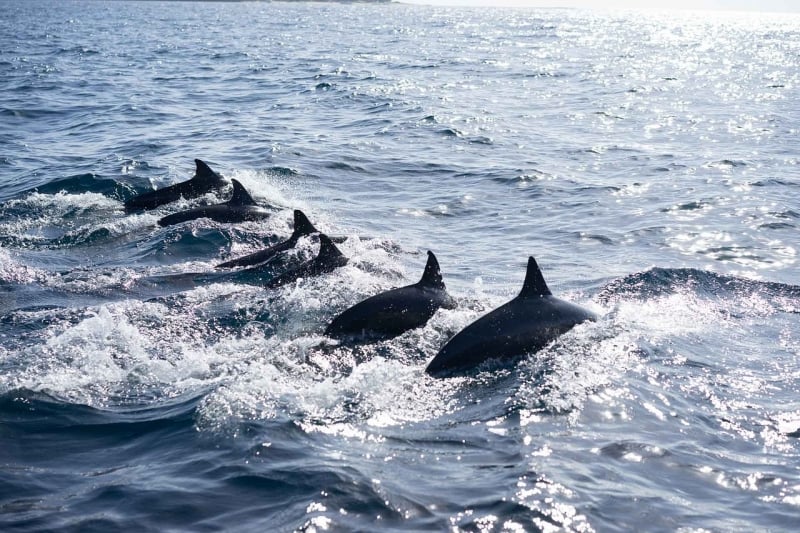 Witnessing wild dolphins swimming and splashing about puts a smile on anyone's face. Don't believe us? Sign up for dolphin watching in Puerto Princesa and see for yourself. This activity usually begins early in the morning so an early flight is highly recommended. Flying in the night before is also an option. Coordinate with your hotel so that they can make the necessary arrangements. You may also talk to the tour operator and see if they can store your luggage while waiting for check-in.
Remember to be a responsible tourist when you're out at sea with the dolphins. You're visiting these creatures in their natural habitat, after all.
Explore the natural wonders of the Puerto Princesa Subterranean River National Park
A UNESCO World Heritage site, the Puerto Princesa Subterranean River National Park is probably the area's busiest tourist spot. Its mountain-to-sea ecosystem is one of the world's most diverse. This is why it is also a hub for biodiversity conservation. Visitors never forget the park's limestone landscape and its 8.2-kilometre underground river that's filled with spectacular stalagmites and stalactites. The area is a haven for wildlife so don't be surprised to see monitor lizards and monkeys roaming freely.
Make a starry night more magical with the fireflies at Iwahig
The Iwahig Firefly Watching site is a 45-minute drive from the city's centre so make sure you allot time for road travel, too. For obvious reasons, this activity is done at night. Do note, though, that the weather plays a huge role in determining whether or not the fireflies will make an appearance. If you do get the privilege of observing these fascinating insects flashing their lights, we promise you it'll be one enchanting experience.
Day 2: Be a beach bum and go island-hopping
Have fun in the sun on the Honda Bay Island Tour
Honda Bay is known for the group of smaller islands within its waters. Those who want their fill of island-hopping will love this area. The best part is you can decide which islands to visit. Take note that travelling to the drop-off point from the city centre takes about 30 minutes via car. Getting ferried from one island to the next can take the same amount of time. Here are the islands you can check out and what you can do there.
Watch the waters slowly reveal Luli Island
Although Luli Island has a habit of disappearing, seeing it when it resurfaces is quite the treat. This charming little sandbar was dubbed "Luli" because it sinks ( lulubog in Filipino) at high tide and reappears ( lilitaw in Filipino) during low tide.
Swim and snorkel at Isla Pandan
Aside from having beach huts for rent, Isla Pandan is a favourite among snorkellers because it features a coral reef not far from the shore. 
Keep count of the creatures at Starfish, Cowrie, and Bat Islands
Some tourists skip this trio, but we recommend getting the most out of your island-hopping experience by visiting each one. Here, you'll see healthy populations of starfish, mollusks, and bats.
Spend the day at Dos Palmas Island
Dos Palmas Island is technically not in Honda Bay but across it. Going on a day tour here comes with lunch and limited access to amenities, although it will mean skipping all the other islands. Its highlights are lush mangrove forests, vibrant coral reef, and a pristine beach. 
Day 3: Immerse in the culture and shop to your heart's content
Learn to work a handloom at the Binuatan Weaving Center
Binuatan Weaving Center is a handicrafts specialty store that's also known as Binuatan Creations Handloom Weaving. It spotlights Palawan's rich weaving tradition and gives artisans the chance to earn a living from their craft. There, you can watch them in action, too.
The word binuatan roughly translates to "creation," which is perfect because the place showcases handcrafted creations such as buri mats and abaca accessories. Paying a visit to Binuatan Weaving Center is a great way of supporting local craftsmen and safeguarding Palawan's heritage.
Know the basics of craft beer at Palaweño Brewery
Most people are surprised to discover that Puerto Princesa has its very own craft beer brewery. Well, it does and it's called Palaweño Brewery. The best part is the microbrewery also holds tours every afternoon. Consider it a crash course on craft beer. Aside from the tour, visitors can also have a few drinks and know more about beer and food pairing. But do note that they don't do tours on Wednesdays.
Go on a museum tour at the Palawan Heritage Center
Oddly enough, most tourists skip this stop, but we highly recommend dropping by the Palawan Heritage Center. Essentially, it's a mini museum, and it'll give you a comprehensive overview of Palawan's history and heritage.
Buy giftables at the MCA Pasalubong Center and Pinoy Souvenir Center
If you want to buy keepsakes and local delicacies, there are many shopping centres to choose from. The MCA Pasalubong Center, formerly known as the LRC 908 Market Mall, has outdoor and indoor areas filled with souvenir stalls. The bazaar-type shopping hub is definitely a favourite for both locals and tourists.
But if you want the convenience of shopping in a mall, Robinson's Place Palawan also has a Pinoy Souvenir Center located at the ground floor. Many tourists swear that prices there are the same, if not lower. You'll also see a wide array of handicrafts and pearls. Although it's located inside the mall, haggling at the Pinoy Souvenir Center is possible. And if you want to take a break, a coffee shop called Bead Cafe is just across it. If you have time to spare, make your own trinket while having your caffeine fix. The cafe also has a collection of pearls that you can browse.
Also read: Puerto Princesa, Palawan: An Urban Day Tour Guide for First Timers
There you have it, a jam-packed adventure for vacationers planning a quick trip to Puerto Princesa. Keep in mind that there are many places to grab a bite, too. Just ask your hotels for recommendations. They're sure to point you in the right direction.
Just a heads up: Palawan is a pretty popular destination in the Philippines. Most of its tourist attractions get fully booked quickly. If you want a sure slot, don't just walk in. Make reservations — The Legend Palawan, Canvas Boutique Hotel, and Hue Hotels and Resorts Puerto Princesa will gladly help you with this. If the must-see spots are fully booked by the time you finalise your itinerary, just wing it and go on a food crawl in the city. Or turn your adventure into a staycation. You'll be chilling in city's best stays anyway.