Can anybody guess the top 2 favourite hobbies of every Singaporean? That's right – they're SHOPPING and EATING, of course! To complete your perfect holiday getaway – where you can shop till you drop and feast your heart out – all you need is a convenient and comfortable accommodation to house your spoils and collapse after your food coma.
That's where we've got you covered! Stay at these resorts for a good night's sleep and you'll be well-rested and recharged to shop and eat – ALL DAY, EVERY DAY.
1. klapsons The River Residences Bangkok
klapsons The River Residences Bangkok has a very unique location right next to the Chao Phraya river. It is located on the 23rd to 31st floors of the North Tower of The River Condominium, giving you a panoramic view in every direction. Offering an exclusive collection of 69 private and serviced residences, be rest assured that you'll be in good hands when you choose to stay with them. If you need a break from trawling the streets and malls, the hotel boasts not one, but THREE infinity pools, a state-of-the-art fitness centre and two multi-purpose courts. You'll never run out of things to do!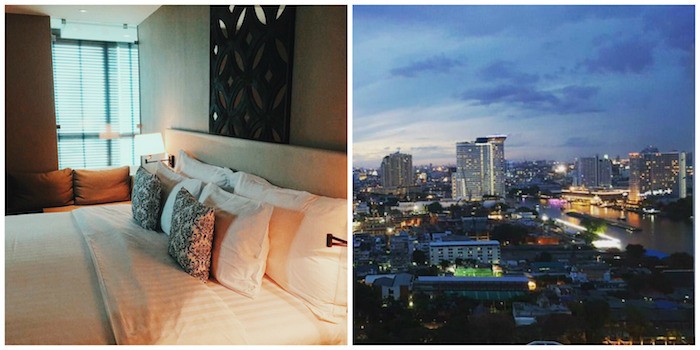 The vibrant and colourful interior of the hotel exudes warm, homely vibes that will perk up your holiday no matter what. You also get to enjoy spectacular views of Bangkok's city skyline or a soothing view of the Chao Phraya river from the comfort of your room! Don't you just want to come back to this huge plush bed after a tiring day of shopping and eating?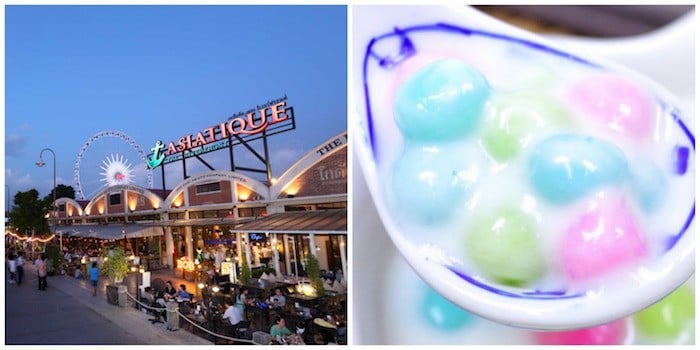 In addition, the location of klapsons Bangkok is such a huge plus factor! Asiatique: The Riverfront – home to a large variety of shopping and dining spots – is pretty much right at your doorstep. It is home to retail outlets offering cutting-edge fashion and unique gadgets at the Factory District. Upscale dining options are also widely available in the Waterfront District, with restaurants offering Thai and Italian cuisine, as well as fresh seafood. Alternatively, you can also head to Thonburi, which is just a short ferry ride away, and shop at the many quaint local markets.
Right outside klapsons Bangkok lies Charoen Nakorn Road, where you can find an assortment of delicious Thai delicacies! Feast on Bua Loy Kai Wan (taro balls in coconut milk), Nuea Kwang Gata Ron (stir-fried deer in hot pan), or Guay Tiew Moo Krob (noodles with fried crackling pork).
Check out the hotel's sweet
FLEXI STAY Package
where you can purchase 30 nights for just US$2,500! Choose to stay consecutively for a whole month, or split the nights up over the span of a year – it's entirely up to you. You can share these nights with your friends and family, how sweet is that! We did the math, and it adds up to about US$83 (~S$118) per night, which is way cheaper than if you book night by night!
Guests can choose to stay either a one-bedroom or two-bedroom suite for this FLEXI STAY Package, with some rooms even overlooking the famous Chao Phraya River. P.S. You can even stand a chance to win a 3D2N stay in the klapsons The River Residences Bangkok's 1 Bedroom Premium Deluxe!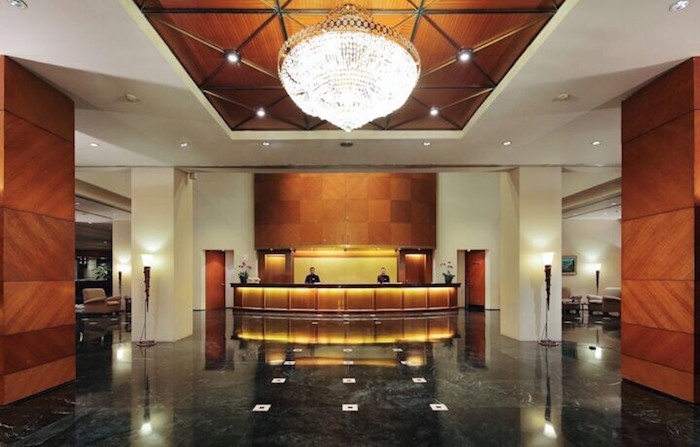 Image credit: Allium Batam
Allium Batam Hotel is an unpretentious, 4-star hotel in Batam that guarantees a comfortable stay in a convenient location, perfect for leisure travellers who are looking for a relaxing escape away from the hustle and bustle of city life. Being just a few steps away from Batam's business and shopping district, there's no reason for you choose any other accommodation over Allium Batam Hotel!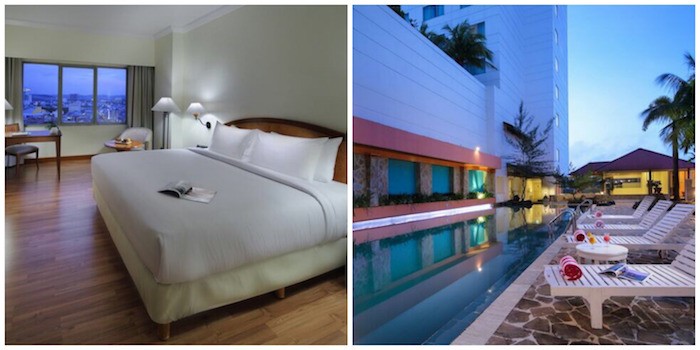 Image credit: Allium Batam
With its minimalistic wooden furnishings and white walls, the hotel rooms provide a soothing and tranquil ambience for you to get the ample rest you need. Enjoy unparalleled views of the ocean or the lively Nagoya Street without having to leave your room at all! Head to the pool for a relaxing afternoon just splashing around, or lounge on the deck chairs and bask in the warmth of the sun.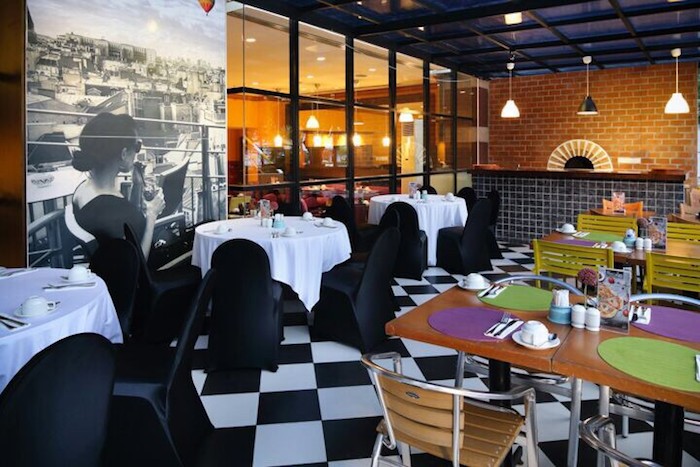 Image credit: Allium Batam
For the shopaholics, you'll be delighted to know that Allium Batam Hotel is near to Batam Mall, Ramayana Mall, Diamond City Mall, Nagoya Hill Shopping Mall, Plaza Avava, and more. You can literally shop till you drop with so many malls to cover! There are also plenty of dining options available right beside the hotel, such as McDonald's, KFC, Martabak Har Indian Restaurant, Sederhana Padang Restaurant and others. For an authentic meal, indulge in some delicious murtabak or mee goreng if you wish!
Bonus: If you're feeling particularly adventurous, you'll be glad to know that Allium Batam Hotel also provides Allium Batam Adventure packages that will take you exploring the beauty and wonders of the Kepri Islands – perfect to top off your shopping and eating vacation in Batam!
Can't wait to shop and eat (and perhaps explore) till you drop? Here's everything you need to know about a staycation at Allium Batam Hotel!
3. Bintan Lagoon Resort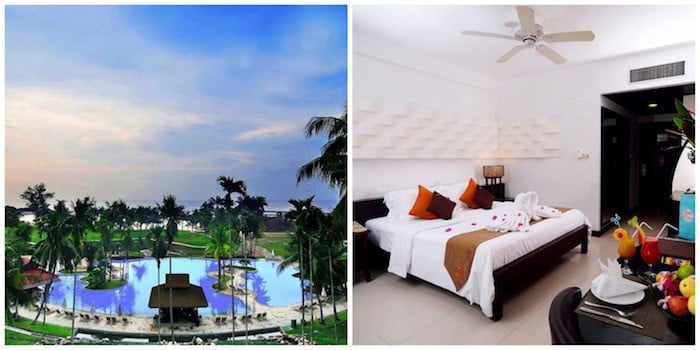 Intricately styled for laidback sophistication, the Deluxe Sea Facing Room at Bintan Lagoon resorts is the perfect location for a tropical getaway. Enjoy majestic views of the azure seas and blue skies from your room as you struggle to even tear yourself away from the luxuriously plush bed. With a huge assortment of water and land activities for you to choose from, you'll never be bored at Bintan Lagoon Resort! From riding ATVs, to Batik painting, banana boat rides and snorkelling, there's definitely something for everyone.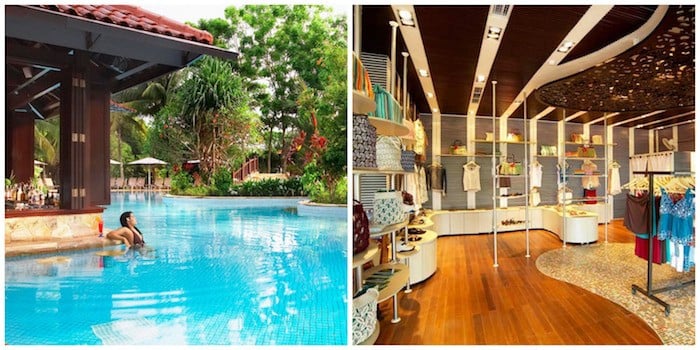 If you thought that Bintan Lagoon Resort is all about leisure activities with no shopping, you're horribly wrong! The resort has a retail area on the lobby level, known as the Bintan Shopping Galleria. Browse through chic resort apparel, funky gift ideas and ethnic souvenirs that you can buy for family and friends. Polo Ralph Lauren apparels are also available at the shopping galleria!
In addition, with 12 dining options to choose from, you'll never go hungry! Head to Nelayan, a beachfront seafood bar and restaurant or Miyako for some authentic Japanese and Korean dishes. Or even better, take a break from your swim and head to the poolside bar for a refreshing Pina Colada or freshly squeezed fruit juice. That's what a relaxing holiday is all about, isn't it?
4. Nirwana Beach Club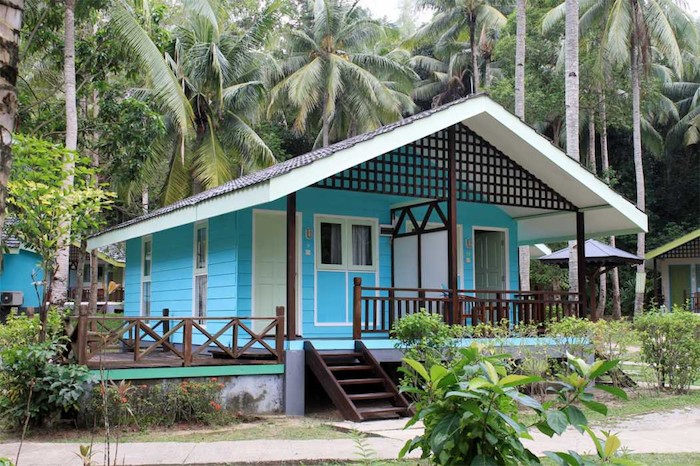 Image credit: Nirwana Gardens
If you're looking for a unique and rustic beachfront experience, Nirwana Beach Club is just the place for you! Indulge in lush greenery and village-style living that seems timeless in this tranquil sanctuary. For those who've always wanted to escape the cosmopolitan city life, these exquisite and modern chalets offer a stay like no other. With a colourful facade, surrounded by coconut trees and aquamarine waters right at your doorstep, you'll never want to leave this haven.
Image credit: Lagoi Bay
For those in need of retail therapy, there are shuttle buses from Nirwana Beach Club to Plaza Lagoi, a contemporary Indonesian shopping mall with over 60 shop units. The retail outlets offer a wide variety of Indonesian gifts, cultural artefacts, fashionable clothes, accessories and more.
In addition, Indonesia's leading retail operator, Pasaraya, is an anchor tenant at Plaza Lagoi, so prepare your wallet for some intense shopping! There are also many food outlets and stores selling local delicacies, so you can treat yourself to some delicious food after a long day of shopping.
5. Shangri-La Rasa Sayang Resort & Spa, Penang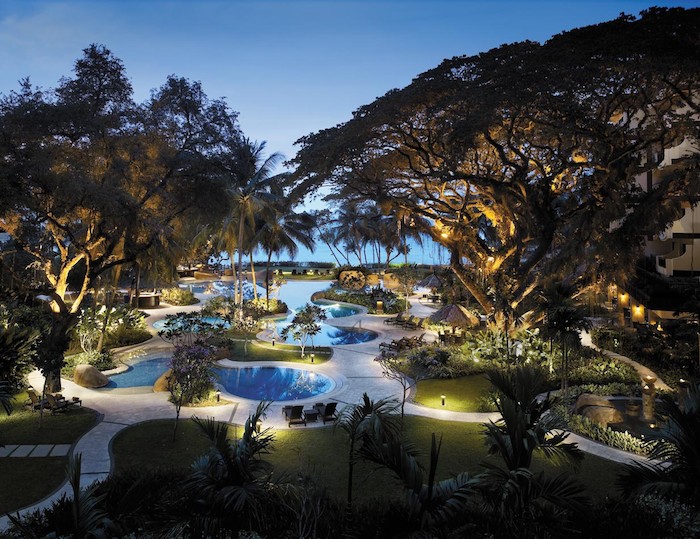 Image credit: Shangri-La
This secluded paradise beneath a verdant canopy is literally what dreams are made of. The sprawling gardens, and distinctive Minangkabau culture infused into the architecture and the interior of the hotel, will lure you into wishing you could stay here forever. Unleash your shopaholic tendencies at the Lobby Shop, or catch the shuttle bus to Gurney Plaza and Gurney Paragon for even more shopping. Delight your stomach at any of the three restaurants and bars within the resort, or the numerous food and beverage outlets in Gurney Plaza and Gurney Paragon!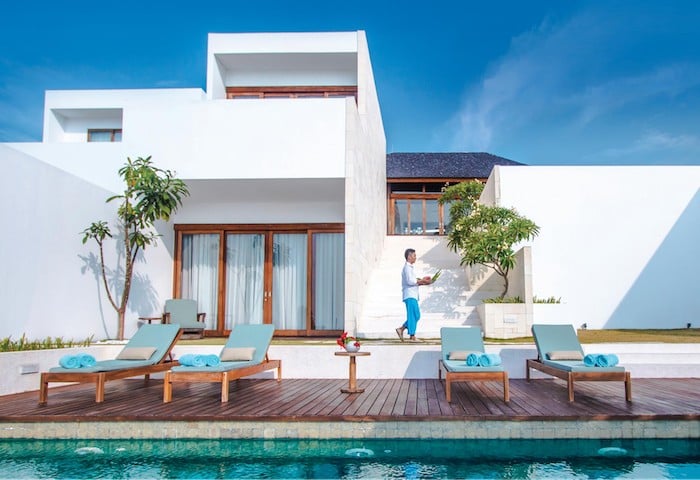 Image credit: Montigo Resorts Batam
You're definitely in for a luxurious experience when you stay at Montigo Resorts Batam! The splendour of their sea-view villas and the private pool within your room guarantee a relaxing getaway like no other. You also get to choose from wide a variety of activities such as watersports, fishing, mangrove tour, kampong bike tour, vintage car tour and more! Dining has also never been so convenient, with seafood restaurant Pantai, Asian-Western fusion cafe Tadd's, Tiigo Beach Club, private dining, or in-dining options to suit your holiday mood. There's even a Montigo Cabin, for you to get your retail fix which include resort wear, unique handicrafts, and other exclusive Montigo Resorts products!
THIS is exactly what this luxe staycation will be like. Start booking your next weekend getaway now!
7. Bali Garden Beach Resort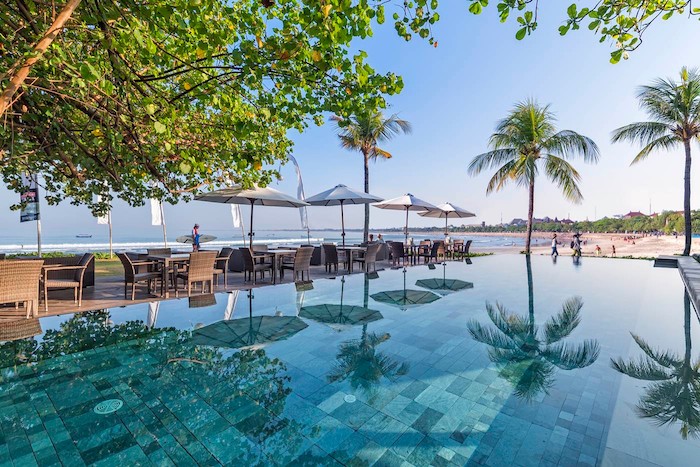 Image credit: Bali Garden Beach Resort
Stay at this tranquil oasis to experience the best of Bali right by the coastline. Watch as the waves crash against the shore and the coconut trees swaying in the wind – all while relaxing in the gorgeous infinity pool. Besides its perfect location next to the beach, it is also adjacent to Discovery Shopping Mall and a short stroll away from the Matahari Shopping Square and the Seni Art Market. Choose from 9 whopping dining locations WITHIN the resort to satisfy your stomach cravings, the outlets comprising a variety of Mediterranean, Italian, Mexican, Indonesian, German, and Indian cuisines.
8. Sheraton Bali Kuta Resort
Offering breathtaking views of the Indian Ocean right at your doorstep, the Sheraton Bali Kuta Resort is a paradise of its own. Its central location is also perfect for a relaxing getaway – you don't have to travel much in order to shop, eat or simply enjoy yourself all day!  It is located just steps away from Beachwalk shopping mall, the newest lifestyle retail destination in Bali.  In addition, don't forget to head to the traditional art markets to pick up inexpensive souvenirs, Legian Street for trendy boutiques, and the Surf Factory Outlet for beachwear at amazingly low prices! It is also home to some of the finest restaurants in Kuta, so prepare your stomach for a delicious feast.
9. Ao Nang Cliff Beach Resort, Krabi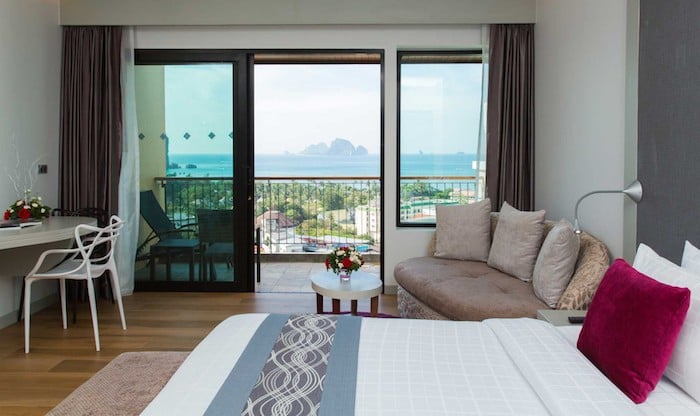 Image credit: Ao Nang Resort
Perched on a hilltop, this 4-star luxury resort offers majestic views of limestone cliffs and the Andaman Sea like no other. Feel rejuvenated and refreshed as you soak in the infinity pool or have a pampering session at the spa. Located in the centre of Ao Nang, you have easy access to the beach, shopping, dining, and nightlife entertainment! Head to Ao Nang's Catalunya Walking Street to shop for exotic souvenirs, handicrafts, as well as clothing, and you can reward yourself with a delicious meal at their numerous restaurants and bars thereafter.
10. Sunway Resort Hotel & Spa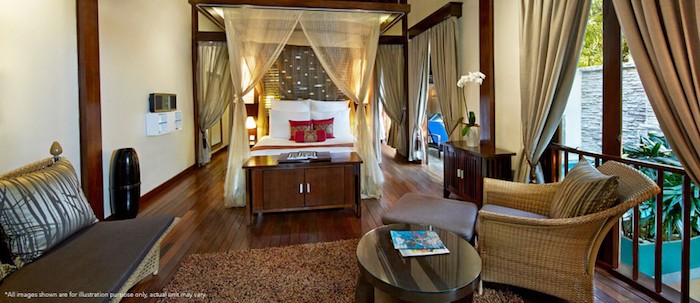 With direct access to Sunway Pyramid, Sunway Lagoon, and a mega shopping mall, there's no reason to leave Sunway Resort Hotel & Spa at all! You'll never go hungry with 8 dining options within the hotel, and many more within Sunway City. Savour the best of Malaysian cuisine from local fast food favourites to popular street food, all available within Sunway Pyramid Shopping Mall. Endless shopping also awaits you at Sunway Pyramid Shopping Mall with more than 600 outlets inclusive of designer boutiques, department stores, and specialty shops!
Ready for your next resort getaway? Take it from us – a true Singaporean never stops eating and shopping… no matter where they go!