Seoul may be South Korea's dazzling metropolis and capital, but the coastal city of Busan is just as worthy of a visit. Laid-back and picturesque, the city is a favourite of locals in search of beaches and relaxation. To add to that, Busan is typically more affordable, and dare we say, less touristy than the capital.
Whether you're brainstorming for your next holiday or planning a return to the beach, you'll want to check out these stylish Airbnb listings in Busan for your upcoming trip to South Korea. We've even categorised them based on popular spots: Haeundae, Gwangalli, Nampo-dong, and Seomyeon — you can thank us later!
Also read: 20 Stunning Hanoks in South Korea You Can Book on Airbnb
Airbnb homes near Haeundae Beach
1. This lovely abode just steps from Haeundae Beach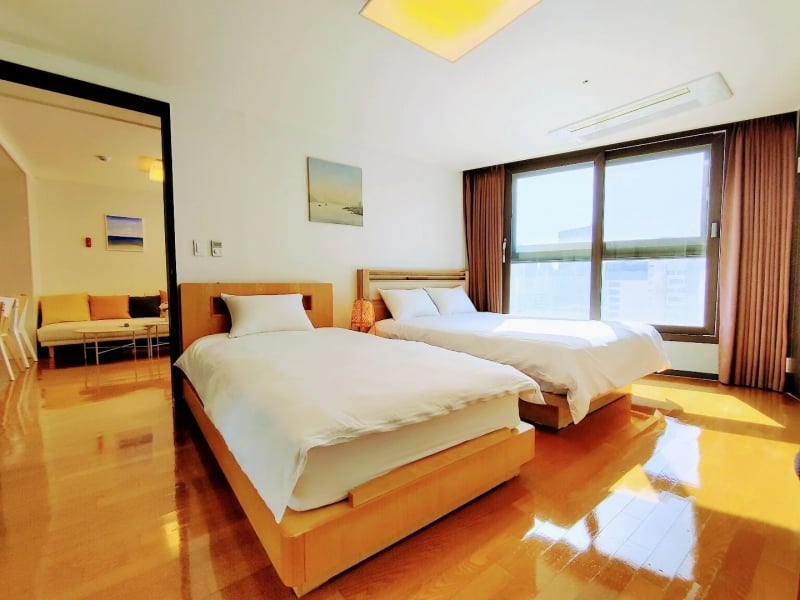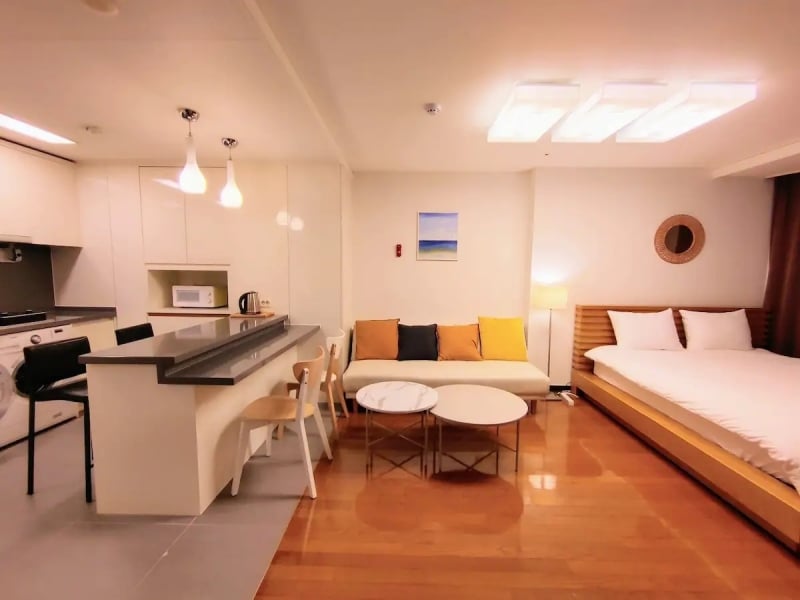 Listing name: 💚New해운대파라다이스시티뷰&해변2분@May the healing be with you!
Listing type: Entire serviced residence
Max. no. of guests: 5
No. of bedrooms: 1
Looking for an Airbnb on Haeundae Beach for your Busan adventure? This modern apartment puts you just several steps away from the sandy shores and the bustling dining scene of the city. Designed to host up to five guests, it houses a master bedroom with a queen bed and a single bed, plus a spacious living room with another queen bed and a sofa bed — perfect for those travelling with family! 
2. This minimalist apartment offering sweeping sea views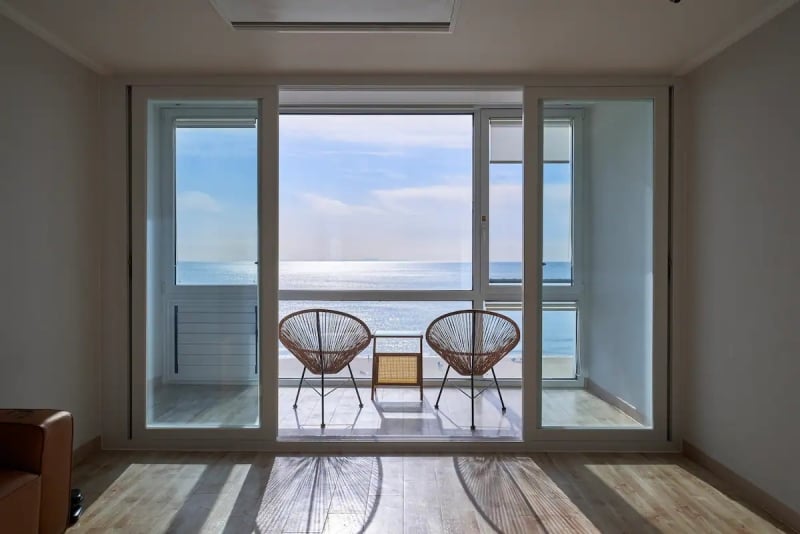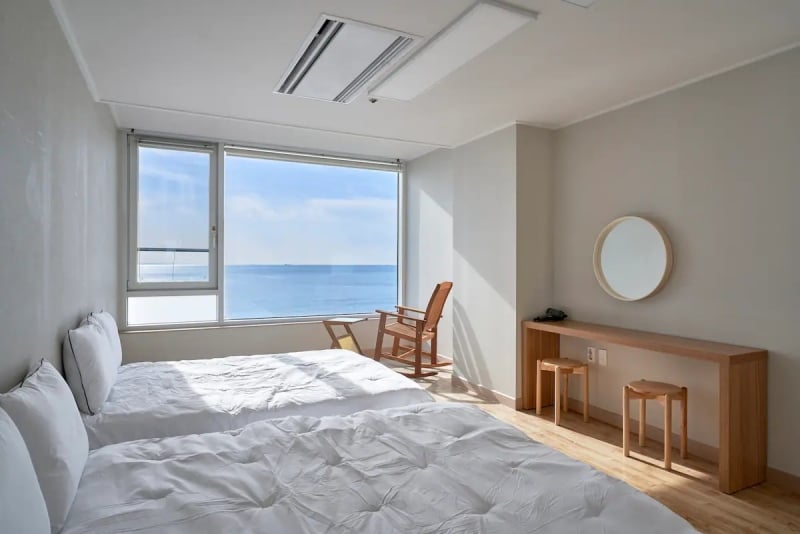 Listing name: Rest,/Haeundae Ocean View 30 pyeong/1 minute from the sea/Beam projector Netflix, YouTube, TV
Listing type: Entire apartment
Max. no. of guests: 6
No. of bedrooms: 2
An Airbnb perched right in front of Haeundae Beach, this high-rise apartment offers breathtaking views of the sea and Busan's beachfront landscape. If you're planning to spend as much time in the water as possible, then you'll enjoy being able to tumble straight onto the sands from the building. 
Apart from that, this Busan Airbnb features a spacious common area with a Netflix-subscribed TV and a projector for cosy movie nights. It's also within walking distance of The Bay 101 and Dongbaek Island.
3. This picturesque Busan Airbnb for couples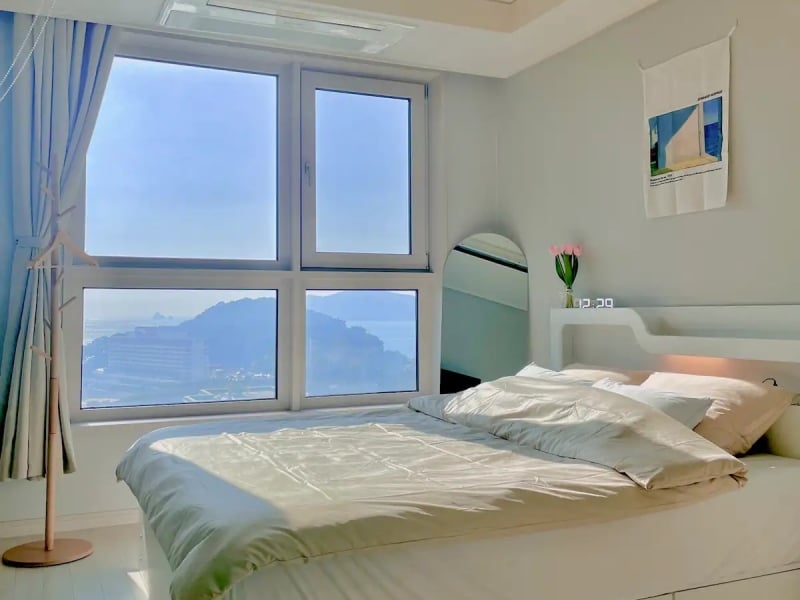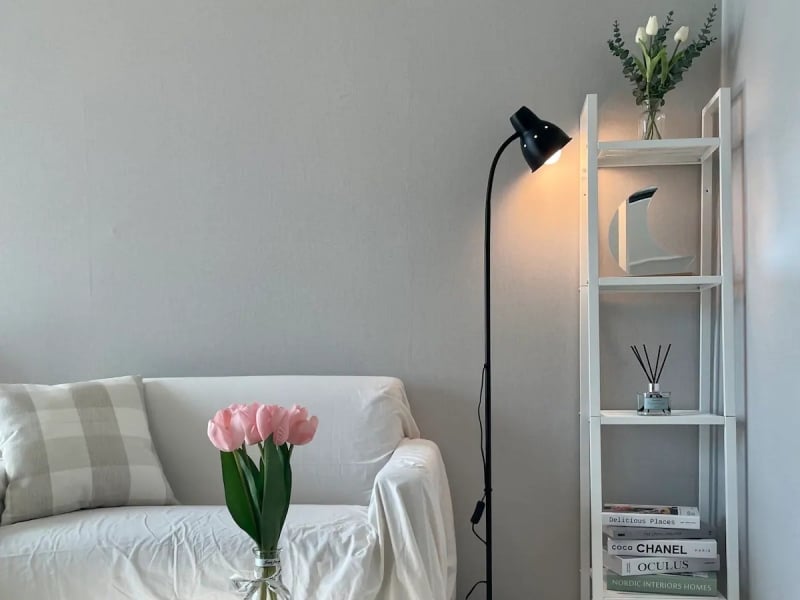 Listing name: New Open! # Haeundae Elementary Floor # Ocean View # Night View Restaurant # Beach 3 minutes # Instagramable # Beam Projector # Netflix
Listing type: Entire apartment
Max. no. of guests: 2
No. of bedrooms: 1
Wake up to views of the sparkling sea every day from this pretty little studio just a short walk from Haeundae Beach. It's a superb Airbnb for travellers wondering where to stay in Busan for ultimate convenience. Plus, the interiors are thoughtfully put together, creating a photo-worthy backdrop for your romantic holiday. Previous guests also hail the apartment for being clean and tidy.
Where to stay in Busan near Gwangalli Beach
4. This cosy hideout with a balcony over the ocean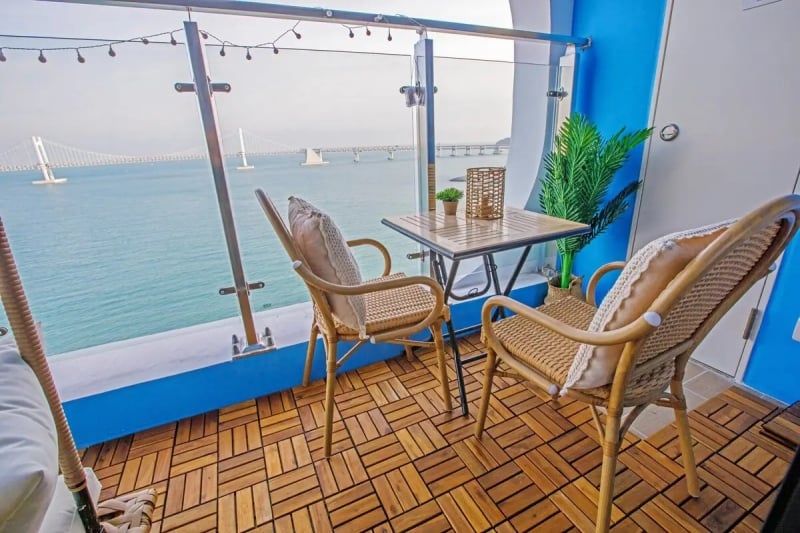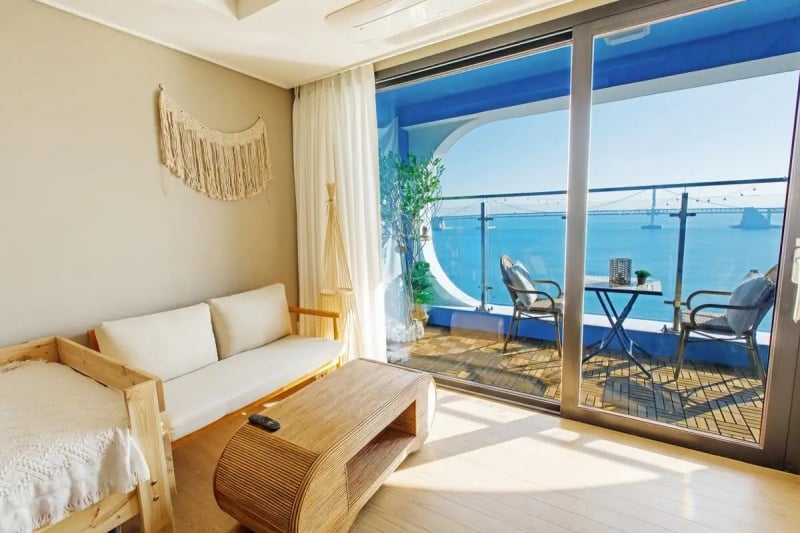 Listing name: Gwangalli Beach 1 second, terrace, new, ocean view, Netflix available, best ocean view in the country
Listing type: Entire apartment
Max. no. of guests: 6
No. of bedrooms: 2
Whether you're travelling with your family or your best buds, this cosy apartment is one of the best Airbnbs to stay at while you're in Busan. The balcony is a great space for unwinding and get-together time over coffee, K-BBQ, or chimaek (chicken and beer). From here, enjoy the sea breeze and fantastic view of Gwangalli Bridge at sunrise and sunset — or anytime, really. 
5. This Insta-worthy Busan Airbnb facing Gwangalli Beach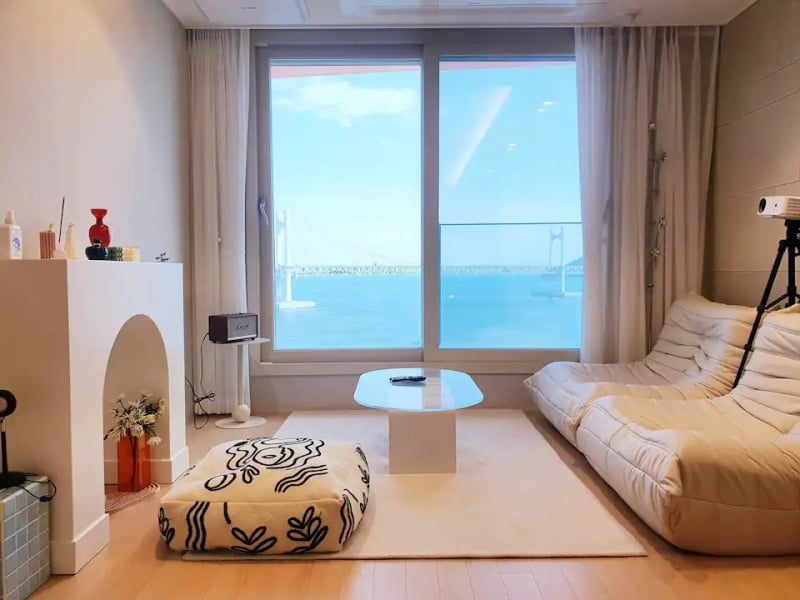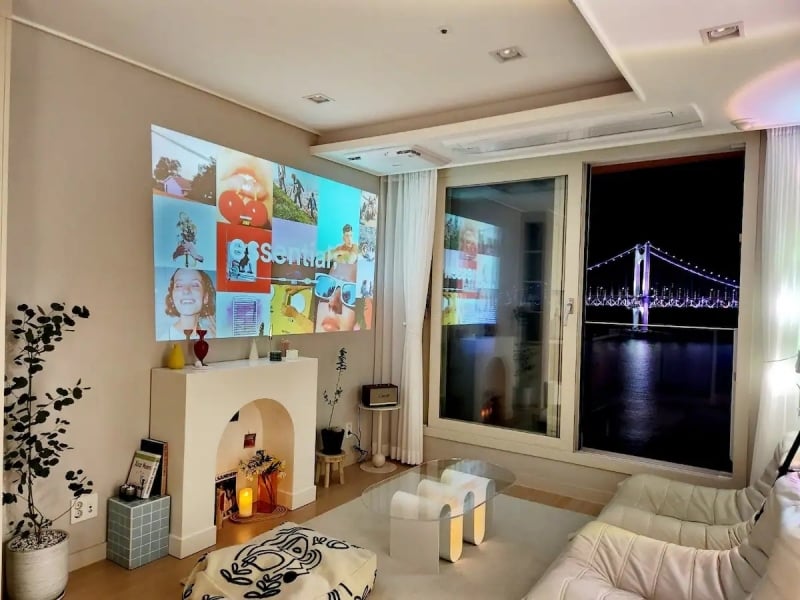 Listing name: Gwangan Bridge @ Gwangalli @ Milak The Market @ Minrak Waterfront @ Free Parking @ Netflix @ 2 Bedrooms @ 2 Queen size beds
Listing type: Entire apartment
Max. no. of guests: 5
No. of bedrooms: 2
Other than being a stone's throw away from Gwangalli Beach, this compact apartment features chic and minimalist decor, making it an overall picturesque Airbnb for your stay in Busan. Hotel-style furnishings in every room promise a comfortable stay, whether you're in town for a day, a week, or you're settling in for a longer vacay. 
6. This vintage family home near the beach strip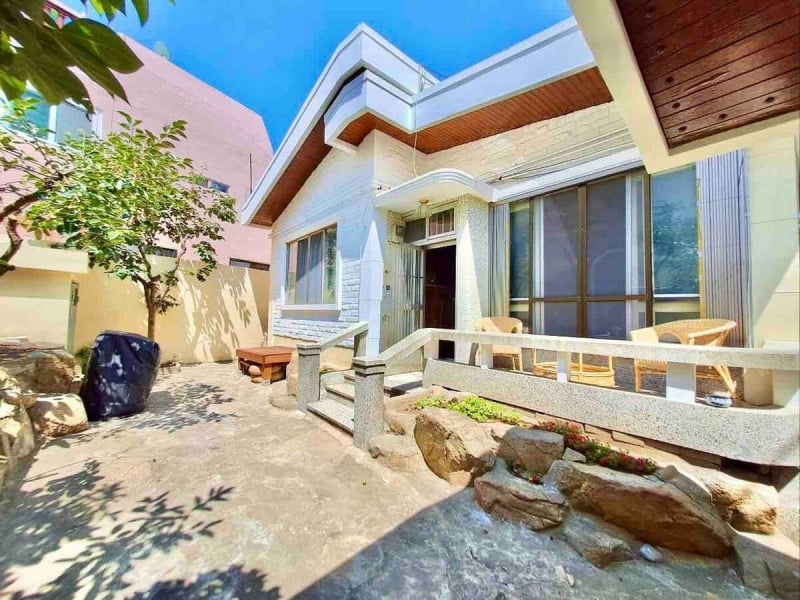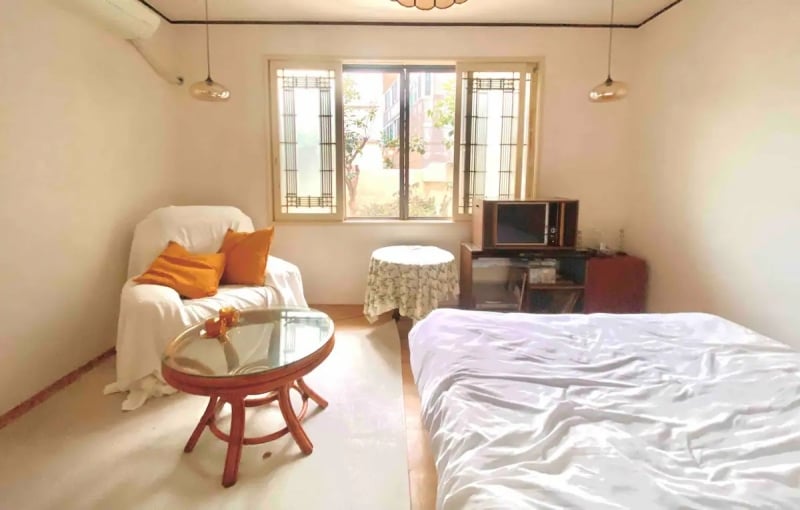 Listing name: Gwangaller # Open special # Single-floor house with yard # Parking available # BBQ # 5 minutes by the sea # 80 '90Style
Listing type: Entire apartment
Max. no. of guests: 8
No. of bedrooms: 3
Travellers on the lookout where to stay in Busan that feels like home will enjoy booking this cosy family house in Suyeonggu. Furnished with retro knick-knacks like a vintage radio and well-loved instruments, this vacation rental feels like a step back in time — in the best way possible, of course! It's one of the best Busan Airbnb picks, especially for beachgoers who prefer the comforts of a single-storey residence rather than a high-rise condominium. Ready to live like a local in South Korea? 
Airbnb rentals in Jung-gu (Nampo-dong)
7. This pristine Airbnb flat surrounded by the best of Busan's dining scene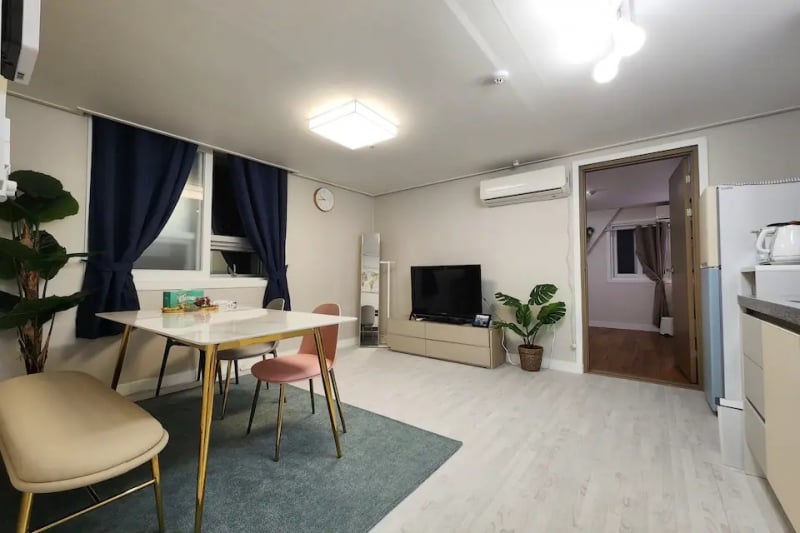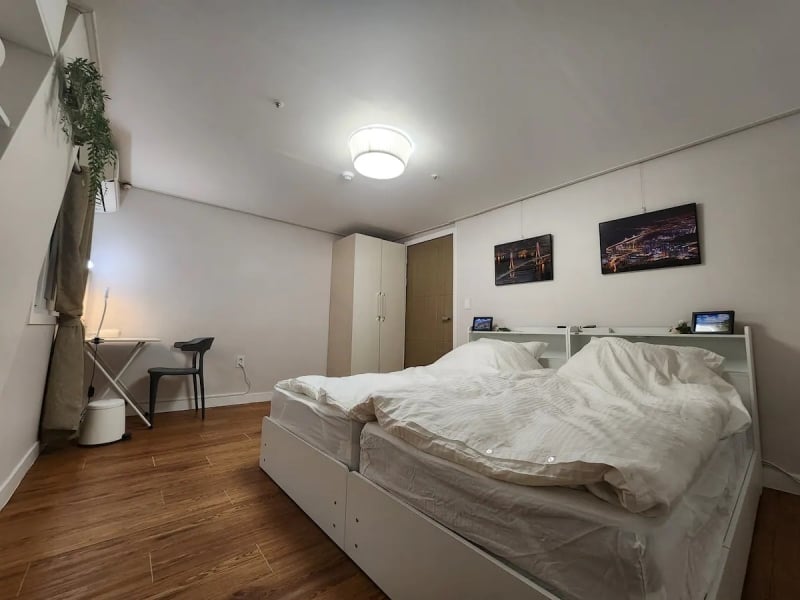 Listing name: #nampodong#busanmarket
Listing type: Entire home
Max. no. of guests: 4
No. of bedrooms: 2
There are many reasons to visit Busan, and food is one of them. If Bupyeong Night Market is on your itinerary, why not make things easier by staying in this modern flat located just a quick stroll away? A wide range of dining and shopping spots are also within walking distance. According to previous guests, it's close to BIFF Square, Yongdusan Pake, Songdo Beach, and Gamcheon Village, too! 
Moreover, the Airbnb is clean and roomy, equipped with all the essentials guests need for a stress-free stay in Busan. What more do you need?
8. This comfy home with a convenient location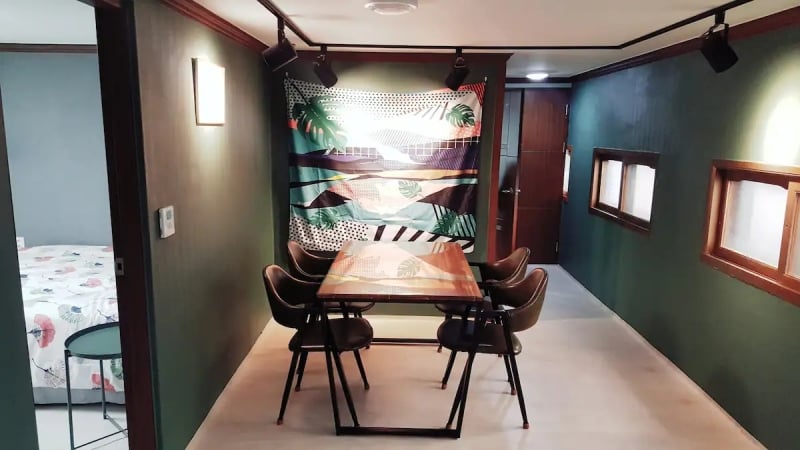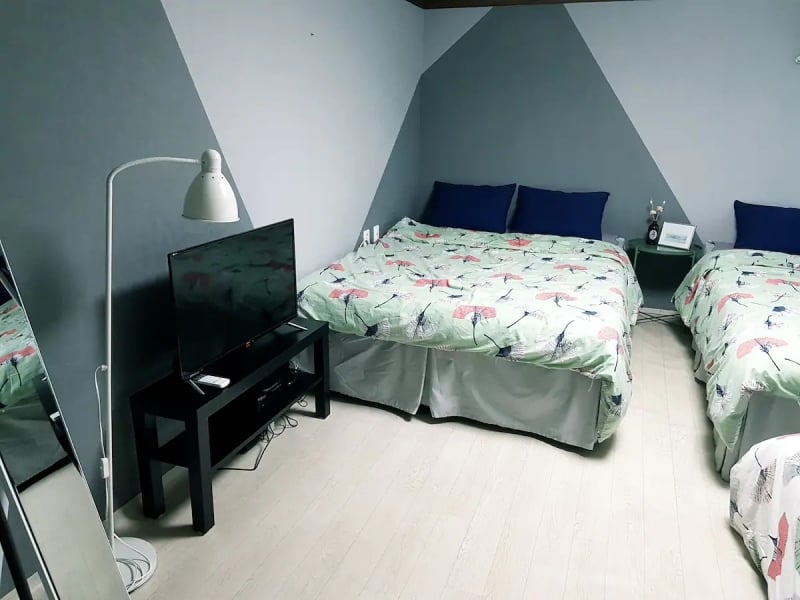 Listing name: 03nampo jagalchi subway 5minutes
Listing type: Entire home
Max. no. of guests: 4
No. of bedrooms: 2
Planning to be constantly on the move in South Korea? An Airbnb near Busan Station might be a good idea. Consider this cosy home away from home in the Nampo area in Junggu. Not only is it easily accessible by train, but it's also close to many traditional Korean markets, restaurants, and cafes. 
Keep in mind that there's no lift in the building. But since the apartment is only on the third floor, most travellers won't have a problem with it!
9. This quaint house tucked away in the quieter areas of Jung-gu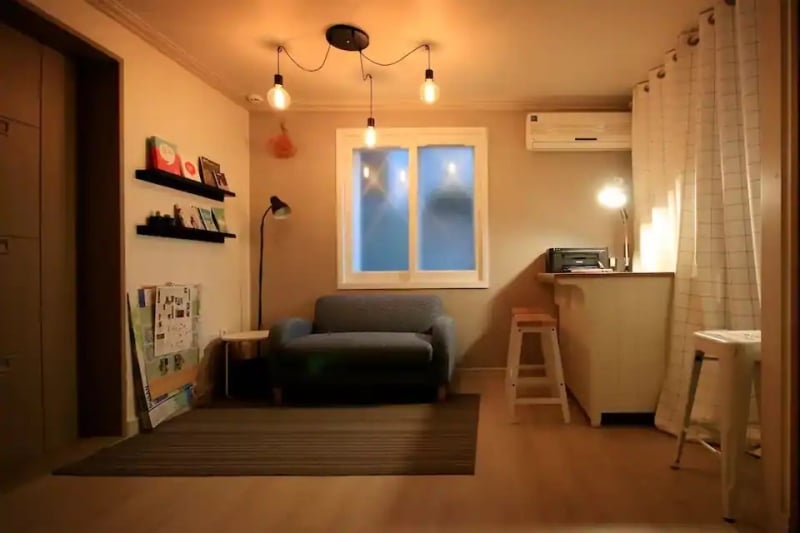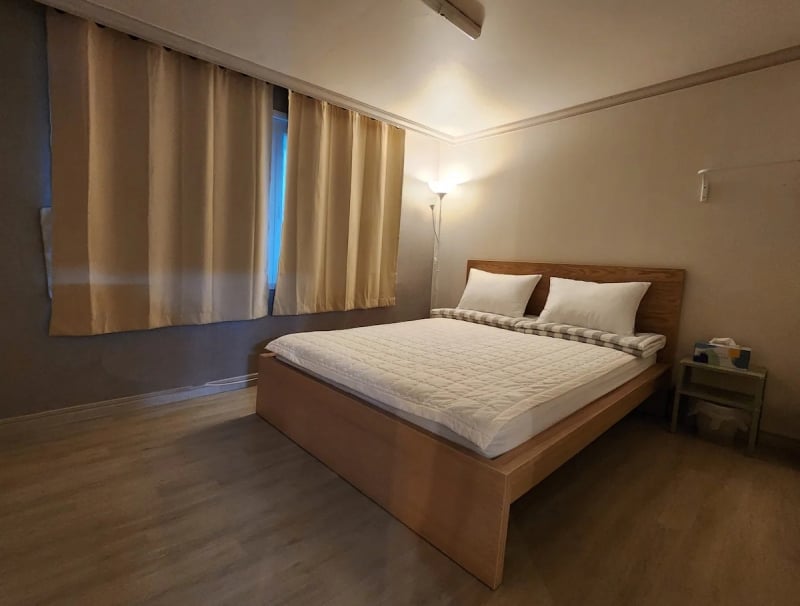 Listing name: 4 bedrooms & 2 bathrooms near Nampo
Listing type: Entire home
Max. no. of guests: 16+
No. of bedrooms: 4
If you happen to be travelling with a huge group and you don't know where to stay in Busan, this sprawling house is just the perfect spot for you. It has seven beds, four bedrooms, and two bathrooms, catering up to 14 guests in total. 
Moreover, this Busan Airbnb is right next to the Culture and Tourism Street, with an abundance of cafes and restaurants in the area. Jungang Station is a four-minute walk away, while Nampodong Street, Lotte Mart and Department Store are merely 500 metres away. 
Where to stay in Seomyeon, Busan
10. This sun-soaked escape in the heart of Busan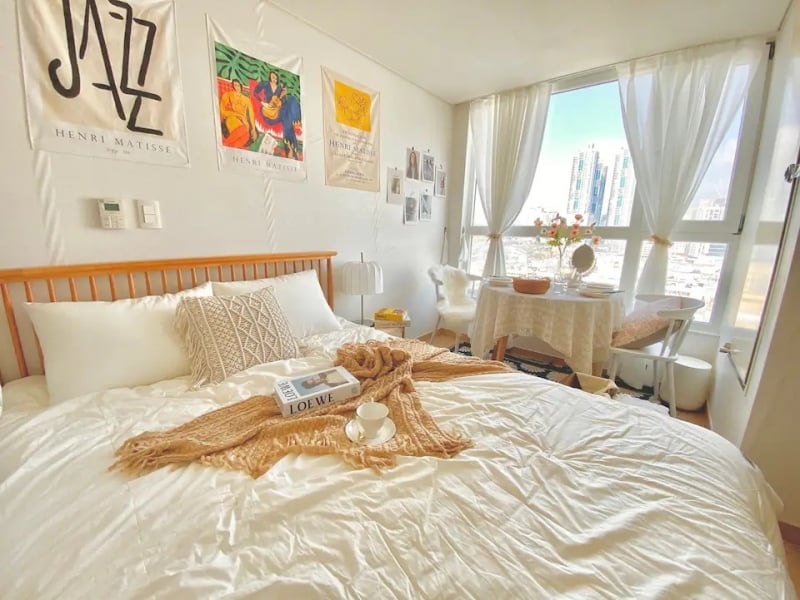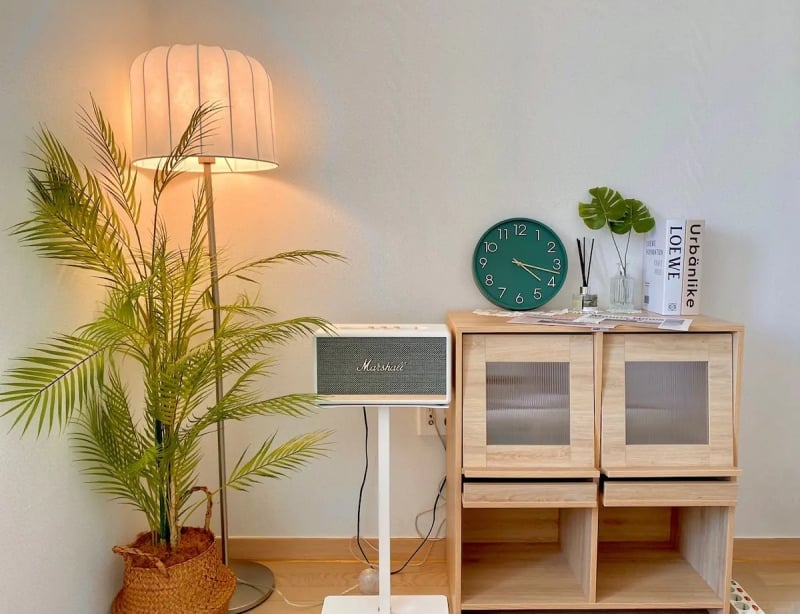 Listing name: Sunny House #9 Northern Europe stlye
Listing type: Entire apartment
Max. no. of guests: 2
No. of bedrooms: 1
An Airbnb in Seomyeon, the centre of Busan, this beautiful Euro-inspired apartment is surrounded by tourist favourites: Jeonpo-dong Cafe Street, Jeonridan-gil, Hocheon Village, and Hwangnyeongsan Mountain for forest bathing. If you're all about the location, then it's certainly one of the best Airbnbs in Busan worth considering. 
On top of that, the apartment is also sparkling clean, stylishly decorated, and thoughtfully appointed with everything you need — including coffee facilities for your morning brew. That's not all: It offers a gorgeous view of the Busan cityscape. All this at an affordable price tag! 
Also read: 12 Best Cafes in Busan for Your Coffee & Instagram Fix
And we've reached the end of the list! Hopefully looking at pictures of these Insta-worthy stays and breathtaking views has given you some inspiration to find the perfect Busan Airbnb for your South Korea adventure. Happy planning!
Got a property you'd like TripZilla to feature? Inquire with us here .
---
This article contains affiliate links. When you book through these links, we may earn a small commission at no additional cost to you. All images courtesy of the respective property listings.