Seoul may be South Korea's dazzling metropolis and capital, but the coastal city of Busan is just as worthy of a visit. It's laid-back, picturesque, more affordable, and dare we say, less touristy.
Whether you're in the midst of brainstorming for your next holiday or thinking of returning to this wonderful beach destination, you'll want to check out these 10 stylish Airbnb listings to ease your trip planning. We've even categorized them based on popular spots: Haeundae, Gwangalli, and Nampo-dong – thank us later!
Haeundae Beach
1. This spacious studio apartment right at the edge of Haeundae Beach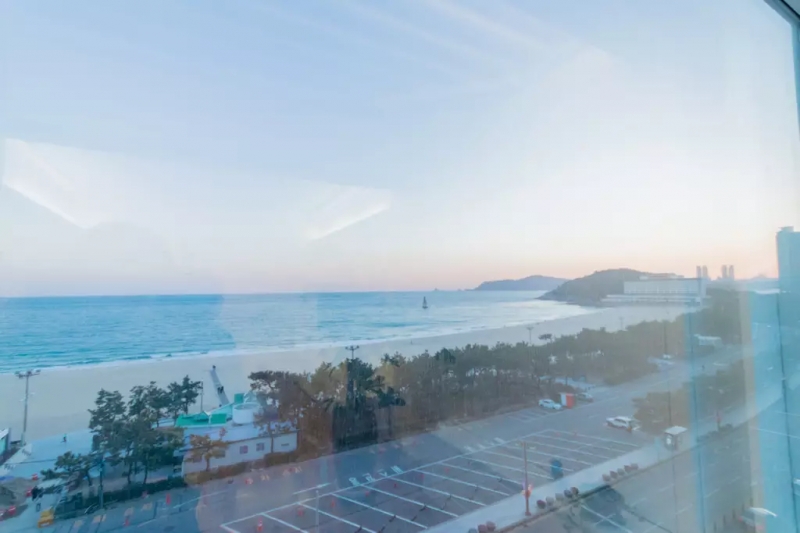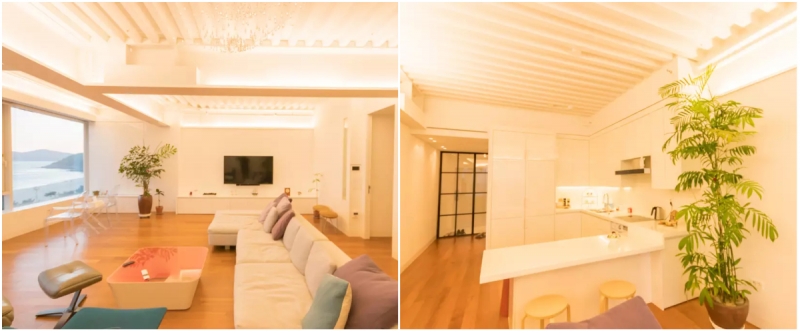 Listing name: lovely. 해운대 오션뷰 스튜디오
Max. no. of guests: 5
Location: U 1(il)-dong
It costs a bit more than usual to stay in this studio apartment , but after stepping into its spacious and chic interiors, you'll probably say it's worth it. The apartment is located in a building literally right in front of Haeundae Beach, offering panoramic views of the shore and bustling activity in the streets below. It houses a double bed, a floor mattress, and two sofa beds, housing five guests – perfect for those travelling with family!
2. This high-rise apartment offering sweeping sea views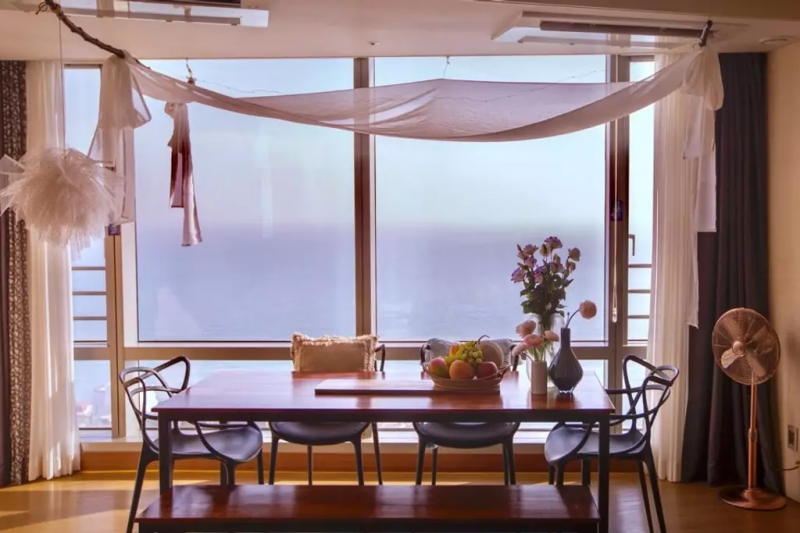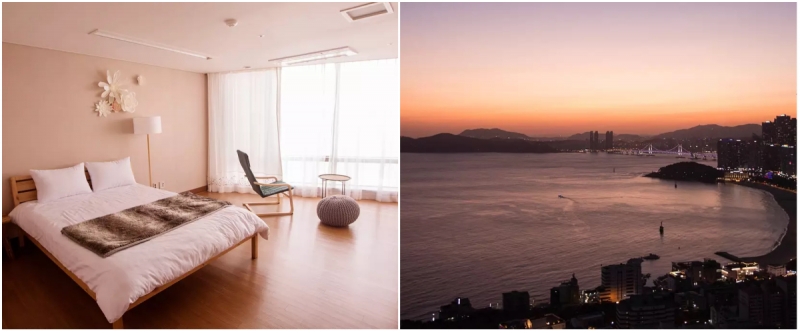 Listing name: • Fabulous View Place • Like floating on the sea!
Max. no. of guests: 8
Location: Jung 2(i)-dong
While it's not the closest to Haeundae Beach (it's 1km away), this high-rise apartment offers breathtaking views of the sea and Busan's beachfront landscape. If you're planning to catch the fireworks show which happens every Saturday, you could do so from the comfort of this home. Apart from all of that, the apartment is equipped with a kitchen with tableware and cooking tools and even a PS4 and Netflix-subscribed TV.
3. This bohemian-esque apartment with a balcony overlooking the sea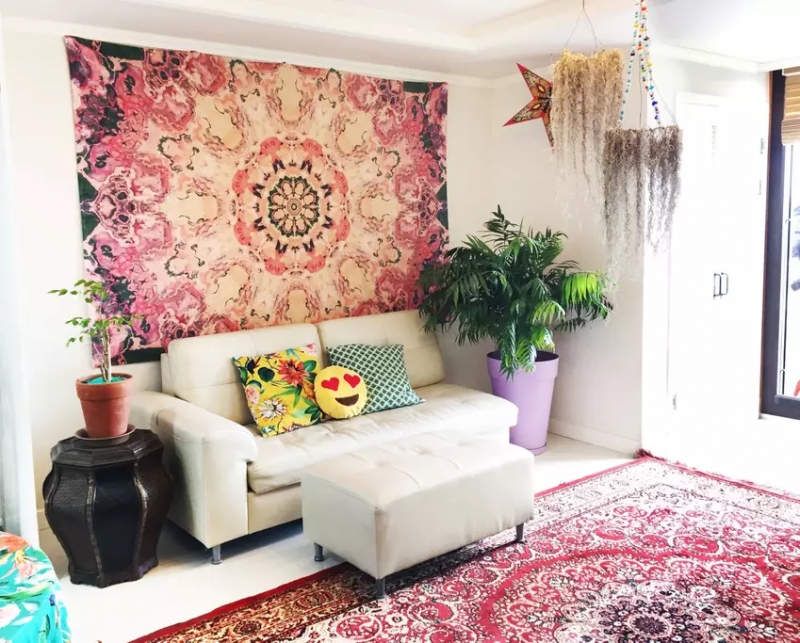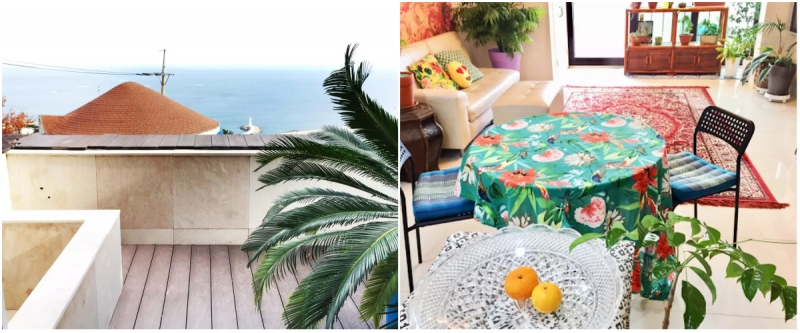 Listing name: Stylish apartment with huge balcony
Max. no. of guests: 2
Location: Haeundae
Going on holiday with your partner? Consider staying in this apartment with a stylish bohemian decor . It's just right for two, and it has a balcony overlooking the ocean (talk about romantic!). You'll be able to stroll to Haeundae Beach along the picturesque Dalmaji-gil Road, or even to Cheongsapo Fishing Village, where you'll get to enjoy fresh seafood – all without having to stay in Downtown Busan, which doesn't quite offer the same peace and quaintness this apartment and its neighbourhood has.
Gwangalli Beach
4. This picturesque rooftop apartment facing Gwangalli Beach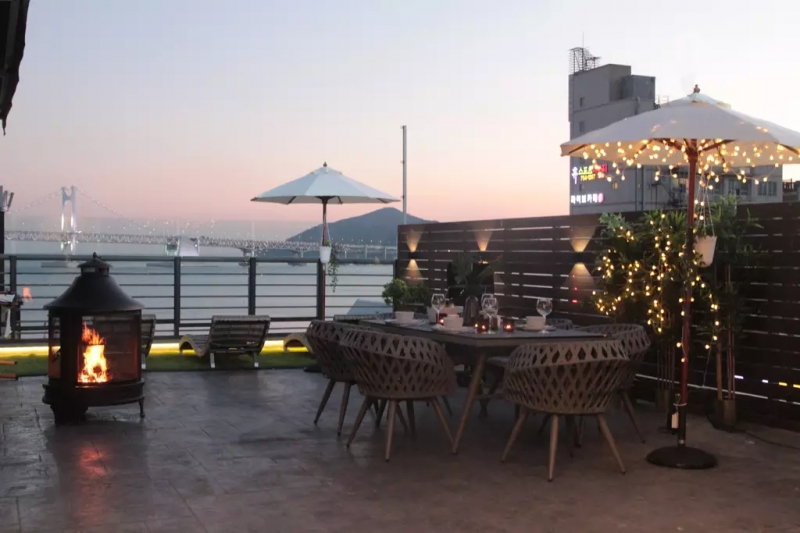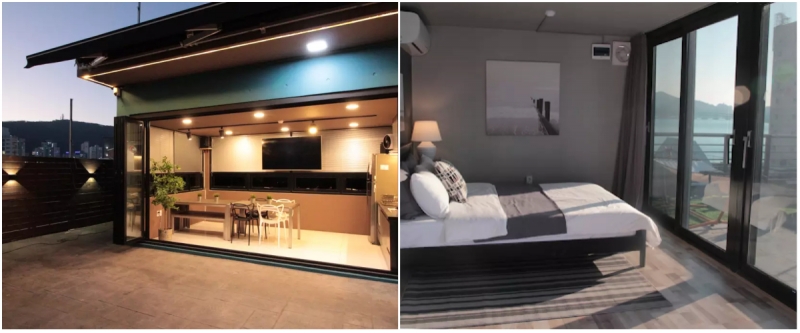 Listing name: Gwangalli Beach Oceanview rooftop 광안리 해수욕장 루프탑
Max. no. of guests: 6
Location: Suyeong-gu
Whether you're travelling with your family or your best buds, this rooftop apartment is the ideal stay for you while you're in Busan. Its rooftop alone is a great space for unwinding and get-together time, whether it's over a K-BBQ or Chimaek (chicken and beer) session. Enjoy the sea breeze and fantastic view of Gwangalli Beach at sunrise, sunset – anytime, really – from your bedroom.
5. This minimalistic and compact apartment facing Gwangalli Beach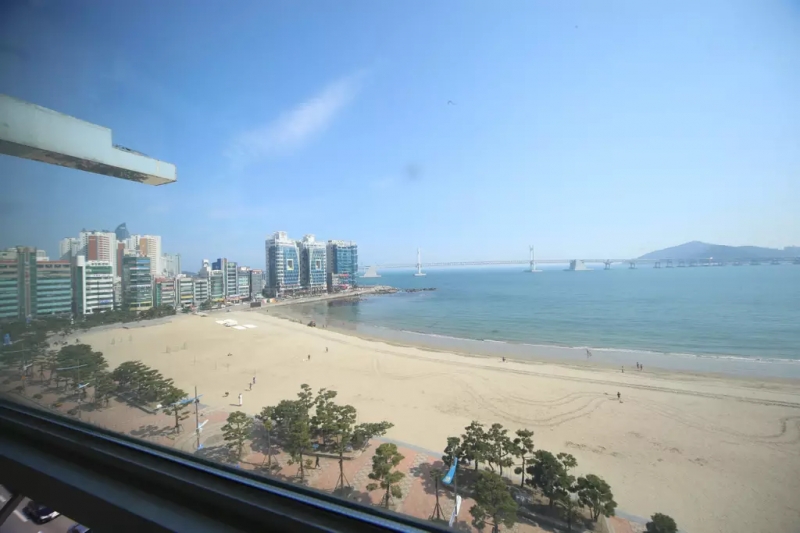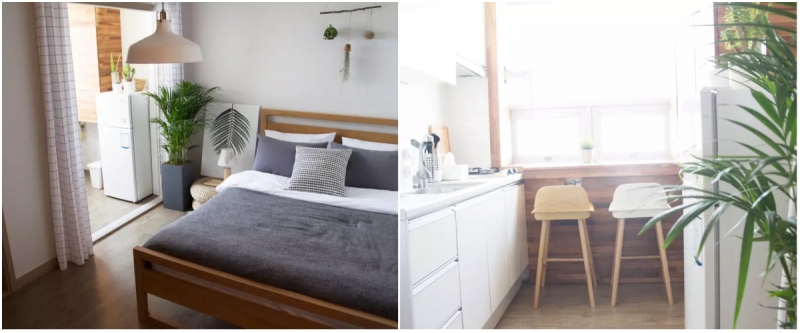 Listing name: 501# Gwangalli Beach Oceanview 광안리해수욕장 오션뷰 해변가#501
Max. no. of guests: 3
Location: Suyeong-gu
Other than being a stone's throw away from Gwangalli Beach, this compact apartment features chic and minimalistic Scandinavian decor, making it an overall picturesque spot for your stay in Busan. It's also close to Gwangalli Cafe Alley, and a ten-minute walk away from Gwangan Station.
Jung-gu (Nampo-dong)
6. This airy, modern flat surrounded by the best of Busan's dining scene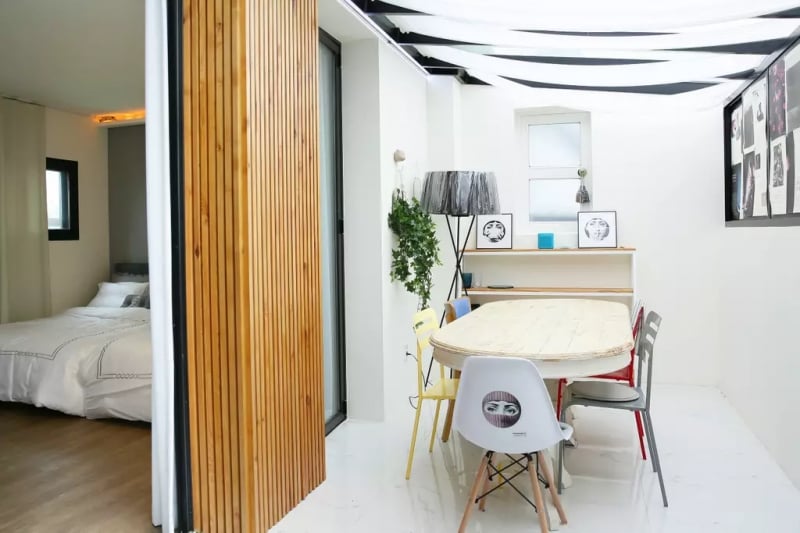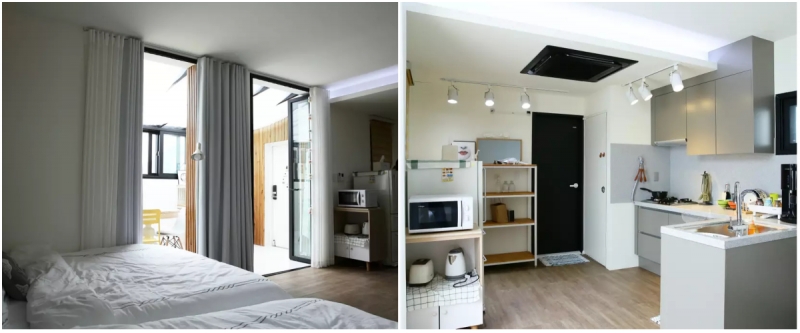 Listing name: [New] F5_Lab#남포동#부평동시장#용두산공원#Tourfriend Apartment
Max. no. of guests: 5
Location: Jung-gu
There are many reasons to visit Busan, and food is one of them. If Jagalchi Seafood Market or Bupyeong Night Market is on your itinerary, why not make things easier by staying in this modern flat located less than seven minutes away from both places? It's close to Jagalchi Station, and Songdo Beach is only a ten-minute taxi ride away. Although you won't be able to watch the sea from the apartment, you'll be greeted with a warm and homey feel as you return from a long day of exploring. Moreover, the space is clean, and houses two queen beds and one single bed, catering up to five guests.
7. This cosy and affordable studio apartment facing Busan Tower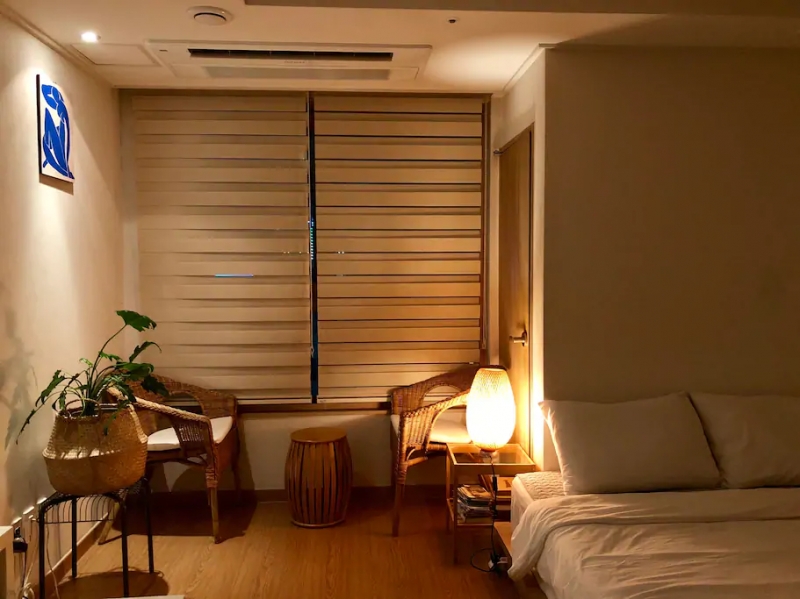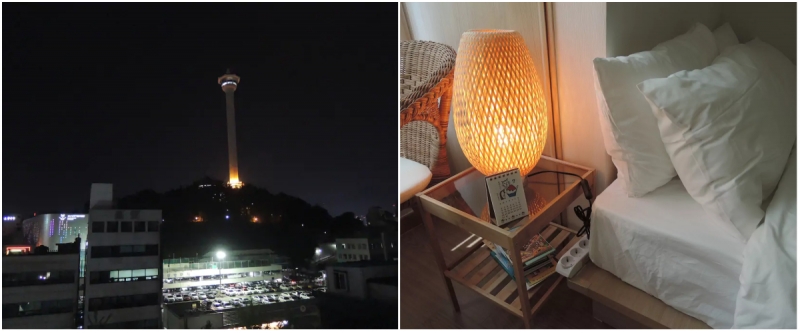 Listing name: [AREKA2] 3min walk from Nampo-dong Clean & Cozy
Max. no. of guests: 4
Location: Jung-gu
Haeundae Beach aside, the Busan Tower is another icon of the city. With that said, you don't have to miss out on a good view if you're looking for an affordable place! Why not consider this studio apartment , located just two minutes away from the landmark and Yongdusan Park? It's a three-minute walk from Jungang-dong Station and is surrounded by many popular spots including Bosu-dong Book Alley and Lotte Department Store. Above all, it's clean and quiet, offering a peaceful retreat despite being close to the bustling activity in the neighbourhood.
8. This quaint house tucked away in the quieter areas of Jung-gu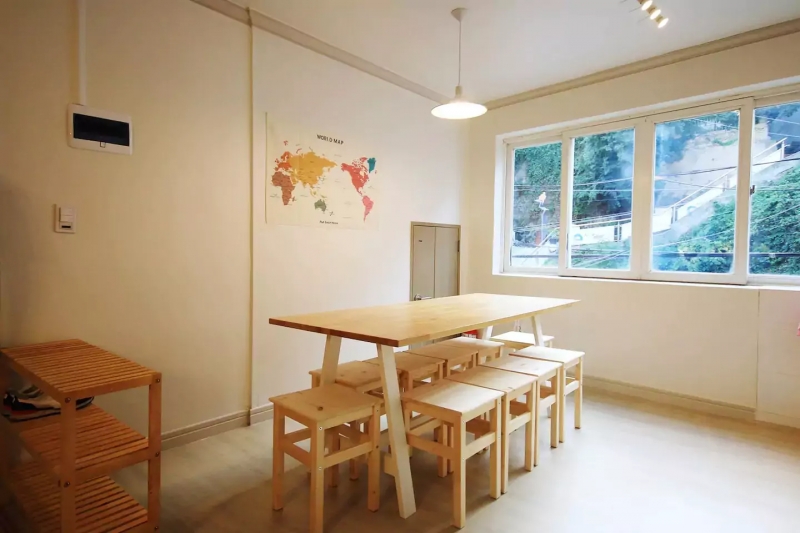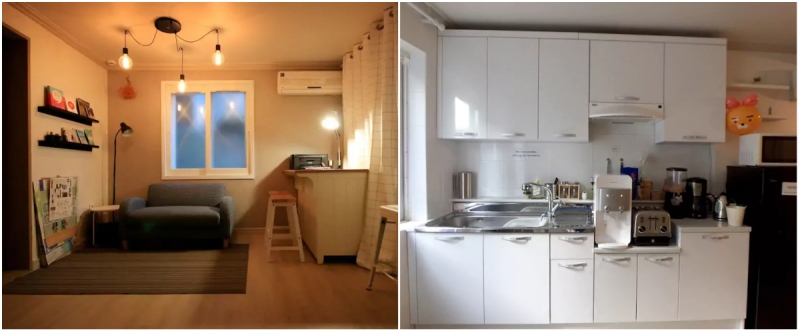 Listing name: 4 bedrooms & 2 bathrooms near Nampo
Max. no. of guests: 14
Location: Jung-gu
If you happen to be travelling with a huge group, this house is just the perfect spot for you. It has seven beds, four bedrooms, and two bathrooms, catering up to 14 guests in total. The house is also right next to 40-step Culture and Tourism Street, and many cafes and restaurants can be found in the area. Jungang Station is a four-minute walk away, while Nampodong Street, Lotte Mart and Department Store are merely 500 metres away.
9. This clean and bright apartment situated right next to Jungang Station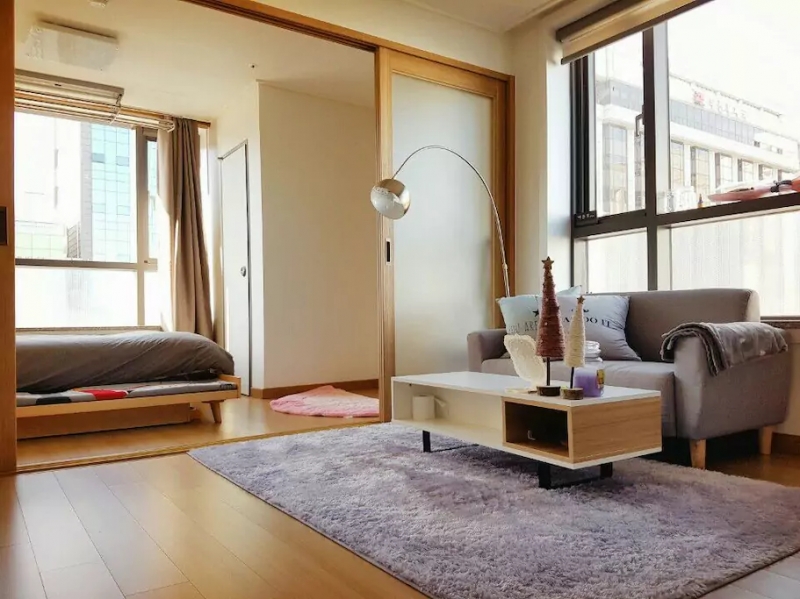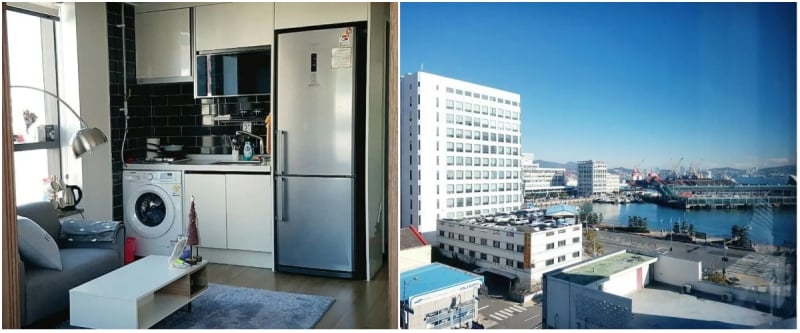 Listing name: Location(Nampo), View, Super-Clean, What else?
Max. no. of guests: 2
Location: Jung-gu
This apartment is surrounded by Busan's major attractions: Jagalchi Seafood Market, Yongdusan Park, Lotte Mart & Department Store. On top of that, it's also, clean, bright, stylishly decorated, and located above a cafe and convenience store. That's not all: it faces the port, offering a gorgeous view of Busan's waterfront. All this at an affordable price tag!
And… we've reached the end of the list! Hopefully looking at pictures of these Insta-worthy stays and breathtaking apartment views has given you some inspiration. Happy planning!