Famed for its iconic whitewashed buildings against the backdrop of azure blue seas, Santorini does not disappoint if you're seeking a jaw-dropping travel destination. However, the crowds in Santorini can get overwhelming — especially during the peak season when tourists throng the streets, wielding cameras and brushing shoulders against one another. Carefully choosing a sanctuary to retreat to after a long day would be something to take seriously, in order to maximise your enjoyment. But don't just look into hotels; there's a huge range of unique Airbnbs in Santorini for you to pick from.
Most of them boast incredible lookout points, while a few are tucked away in lesser-known yet still charming corners of this Greek island. Here, we've gathered a few of the best options for your next Airbnb in Santorini.
Also read: 15 Picturesque Airbnb Homes & Vacation Rentals Along the Amalfi Coast of Italy

Best Airbnbs in Santorini, Greece
1. This picture-perfect old bakery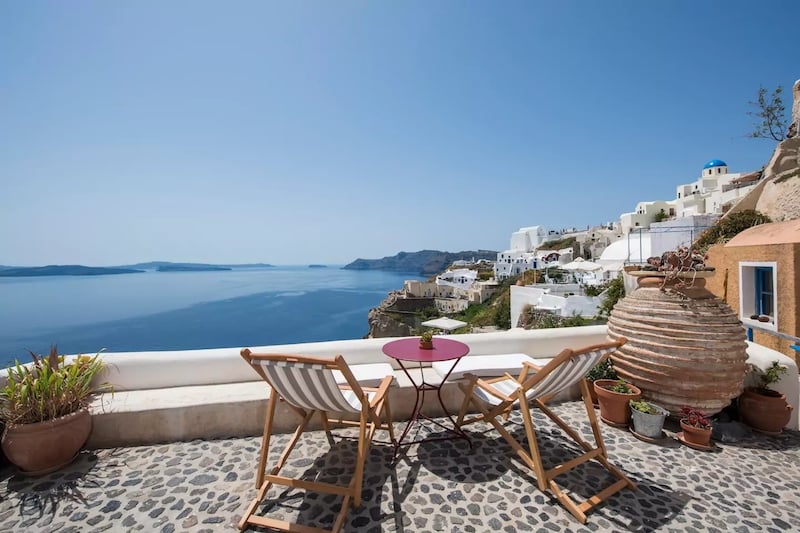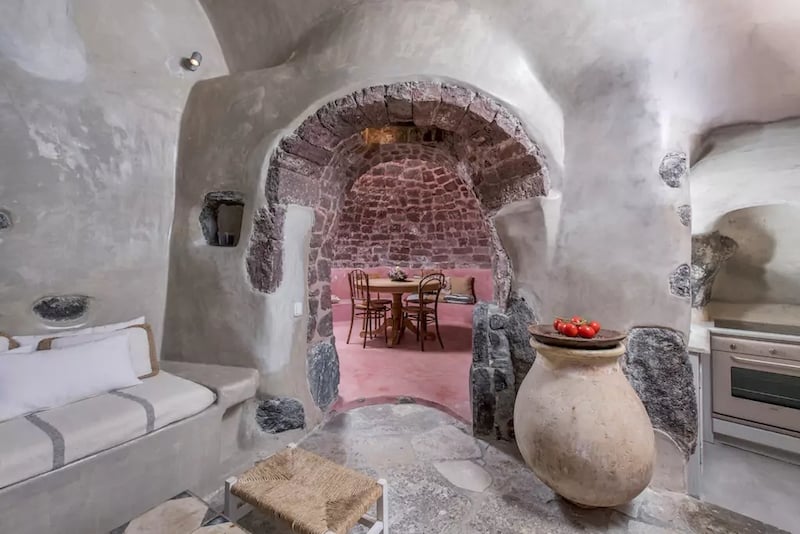 Listing name: Historic cave house, the old bakery by Cycladica
Listing type: Cycladic home
Neighbourhood: Oia, Santorini
Max. number of guests: 4

Tucked just two minutes from the central square in Oia and carved into the mountain is what used to be a bakery. It was recently restored as a cave house, but this idyllic Airbnb in Oia, Santorini still exhibits all the rustic charm of an old Greek hideout. Look out for unique details such as reddish pumice stones, marble floors, and handcrafted furniture.
Staying here certainly makes you feel somewhat connected to the history of the space. The dome-shaped dining area was once the baking room, and much of the house was furnished to keep the architectural integrity of the old bakery. Step outside of your literal cave and you'll be on your private veranda.
2. This luxurious cave house in Oia with a hot tub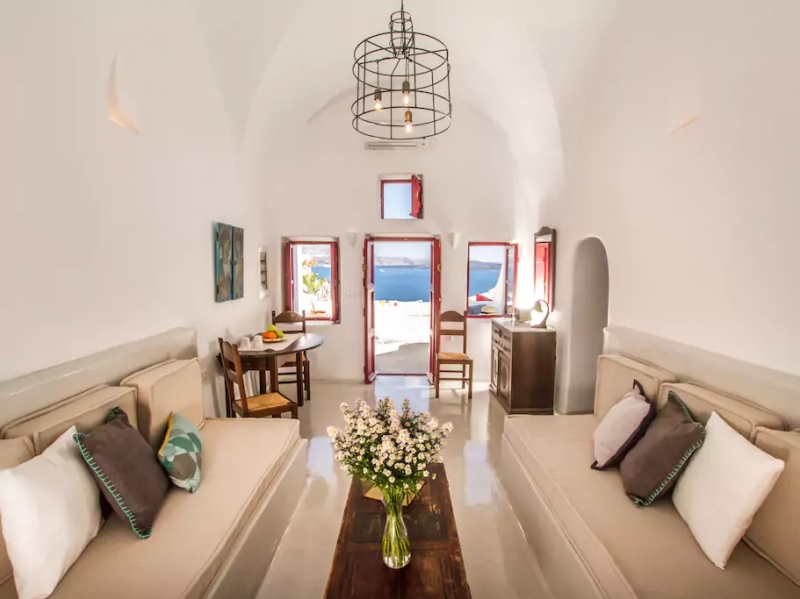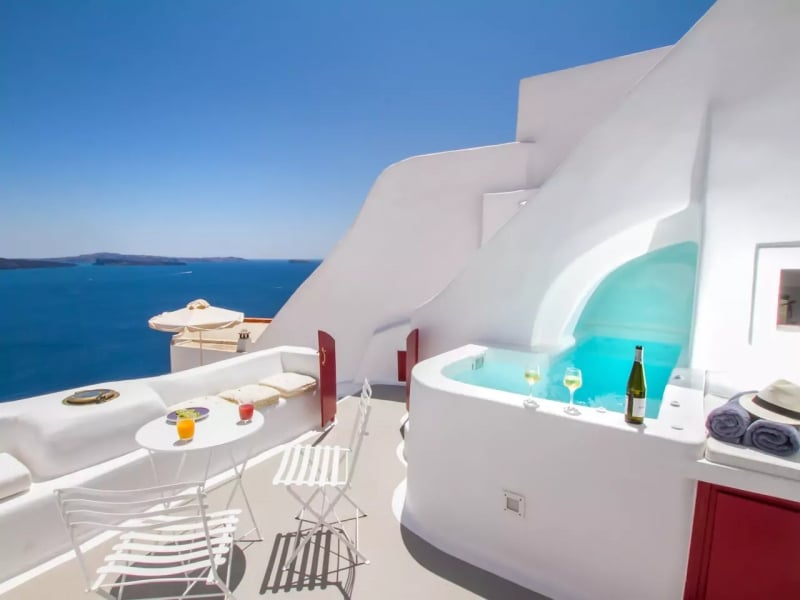 Listing name: Hector Cave House
Listing type: Cave
Neighbourhood: Oia, Santorini
Max. number of guests: 5
A 250-year-old cave house carved into a cliff, this rental certainly has its place among the one-of-a-kind Airbnbs in Santorini. Originally a wine cellar, the Hector Cave House combines modern comforts with a traditional setting. Indeed, the bedroom, living room, and kitchen are all fully equipped to cater to the needs of the indulgent traveller. A king-sized bed rests on the loft, while three sofas can be converted into beds, making this cave suitable for a party of five.
From April to November, you can enjoy this Airbnb in Santorini with a pool on the private veranda, while sipping on complimentary wine. According to previous guests, it is certainly worth it to plan your dates in Santorini based on the availability of this cave house!
3. This lava cave suite with a cool jacuzzi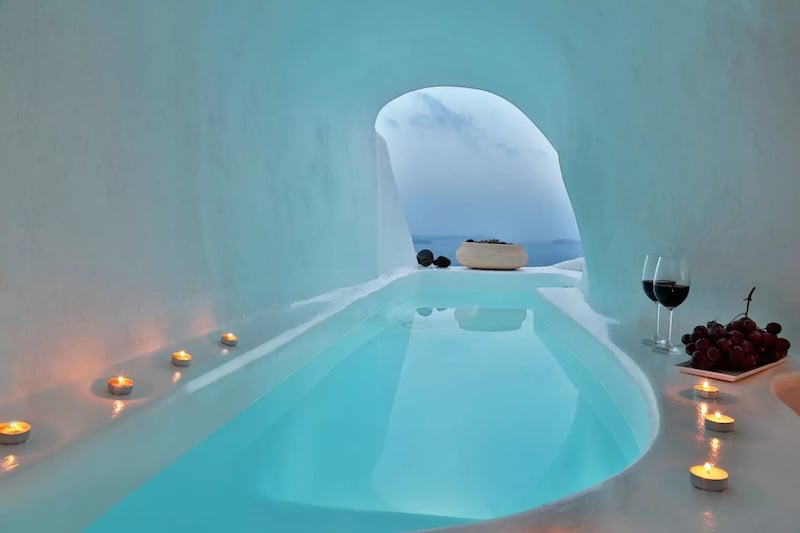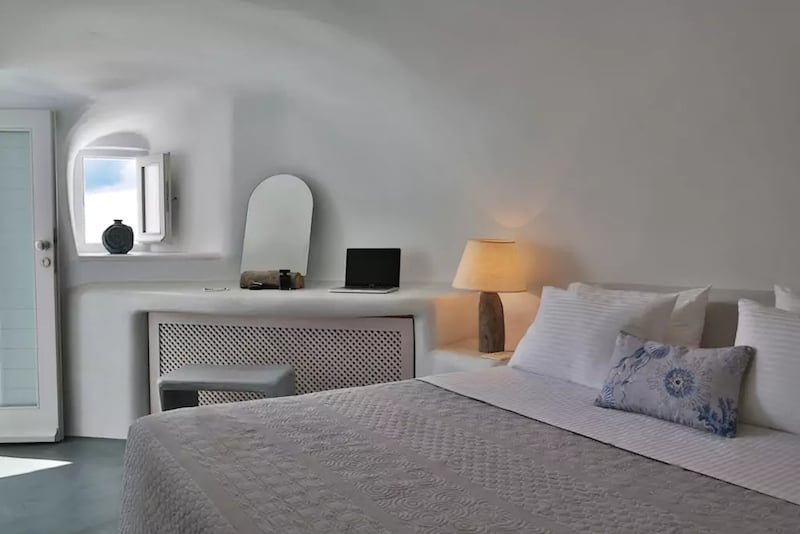 Listing name: Lava Cave suite 1BR/Private Plunge Pool+Panoramic View
Listing type: Cave
Neighbourhood: Oia, Santorini
Max. number of guests: 3
If you are big on having a hot tub in your Oia Airbnb, this lava cave could be what you're looking for. The heated indoor-outdoor Jacuzzi is no doubt the highlight of this accommodation, while the great views, helpful host, and complimentary wine and snacks are additional icings on the cake.
If that isn't appealing enough, the lava cave is just steps away from the hustle and bustle of Oia, so shops and restaurants can be easily reached. Also, take advantage of the free luggage delivery service of this Airbnb, so you do not have to start your Santorini vacation sweating it out while walking up the stairs!
4. This little studio loft for two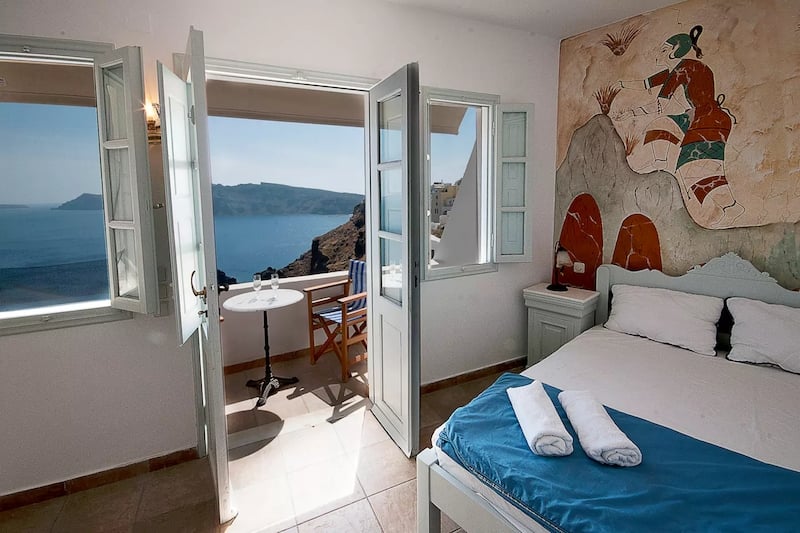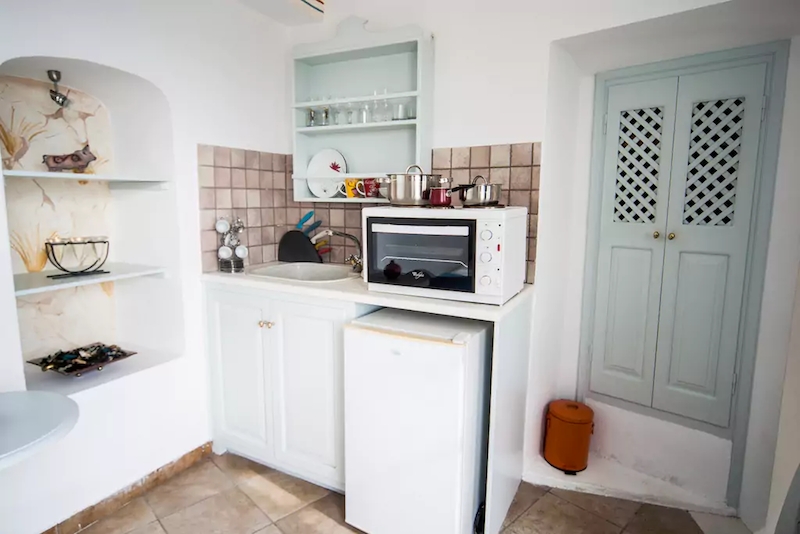 Listing name: Studio 2 persons Oia Amazing view!!
Listing type: Entire loft
Neighbourhood: Oia, Santorini
Max. number of guests: 2
One for the practical traveller who's looking for a comfortable base to explore Santorini, this cosy studio comes with a double bed, a kitchen area, a bathroom, and a small private balcony. Open the windows or simply step out of the loft to enjoy the sight of blue domes peppering the cliffside, as well as the magnificent vistas beyond.
The Airbnb host, Jackie, can help with organising activities and transfers from the port or Santorini Airport. Additionally, there are buses running near the apartment from which you can get to other parts of the island.
5. This suite with stunning sunrise views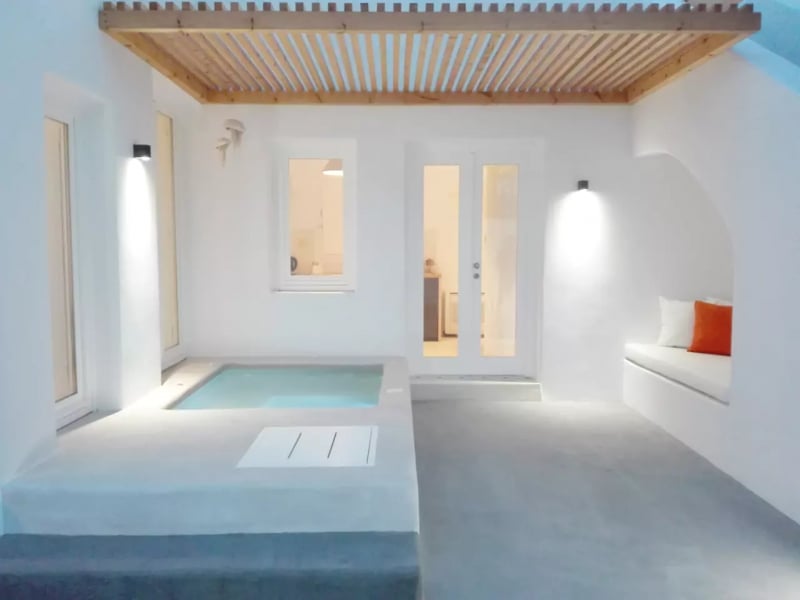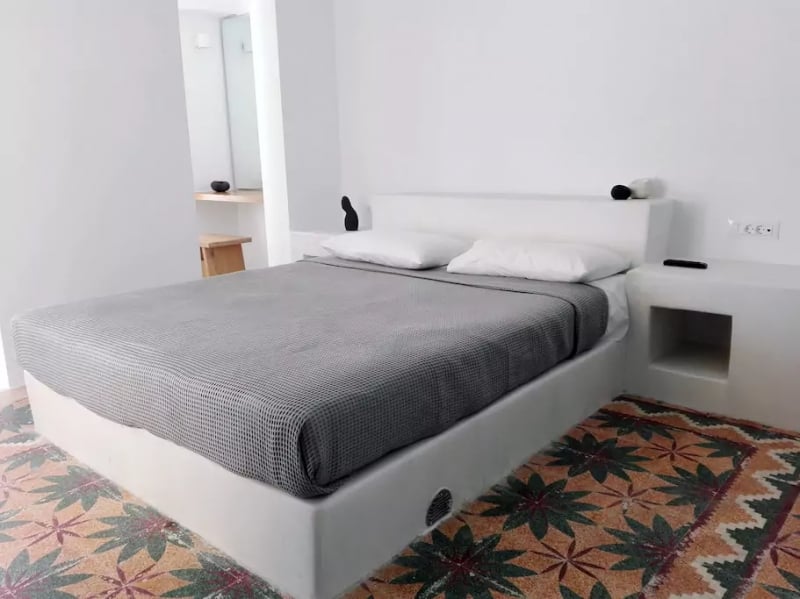 Listing name: Deluxe Suite with outdoor jet tub
Listing type: Entire rental unit
Neighbourhood: Thira, Santorini
Max. number of guests: 3
Hidden in central Fira — just 50 metres from your shopping and dining needs — is this minimalist suite with a beautiful little rooftop pool. Spacious, modern, and comfortable, it's among the Airbnbs in Santorini that are ideal for couples seeking a quiet location away from the crowds but not too far from all the action. From the suite's upper deck, you can watch fantastic sunrises and hear the soft jingle of bells on roaming donkeys.
6. This earthy cave house with caldera views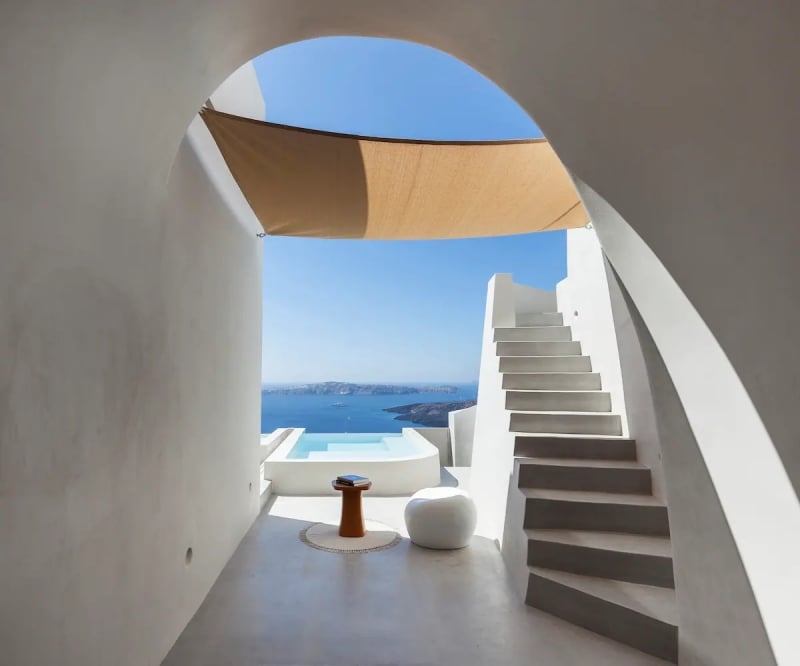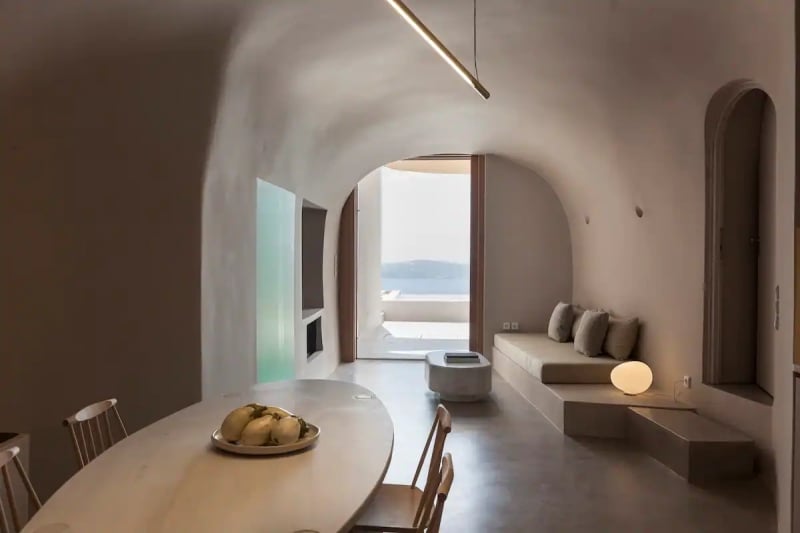 Listing name: Villa Cave, heated plunge pool, caldera view
Listing type: Cave
Neighbourhood: Thira, Santorini
Max. number of guests: 5
A short walk from central Fira is this beautiful two-bedroom cave house, the kind of place you dream about in Greece. Neutral hues and minimal decor create a tranquil atmosphere inside this Santorini villa. Meanwhile, the outdoor area features a private plunge pool and breathtaking views of the caldera — the perfect space for socialising. As a plus, the host is also generous with helping guests book restaurants, transportation, and activities.
7. This spacious villa with a rooftop jacuzzi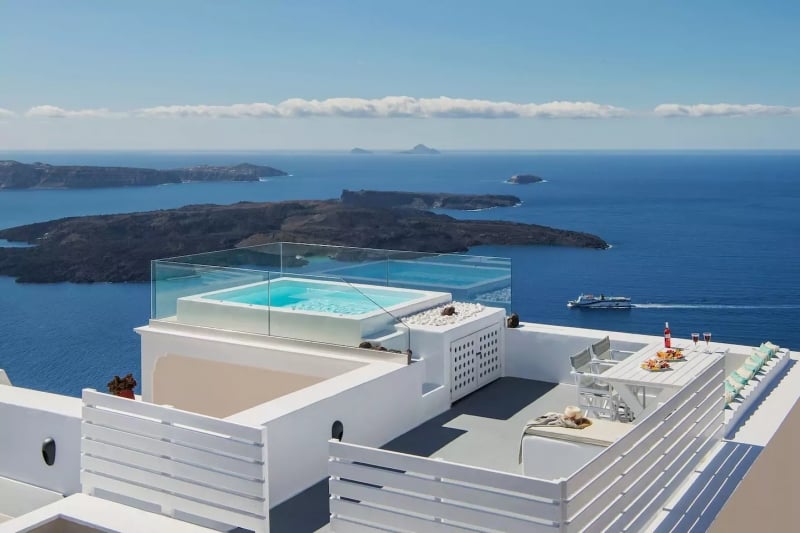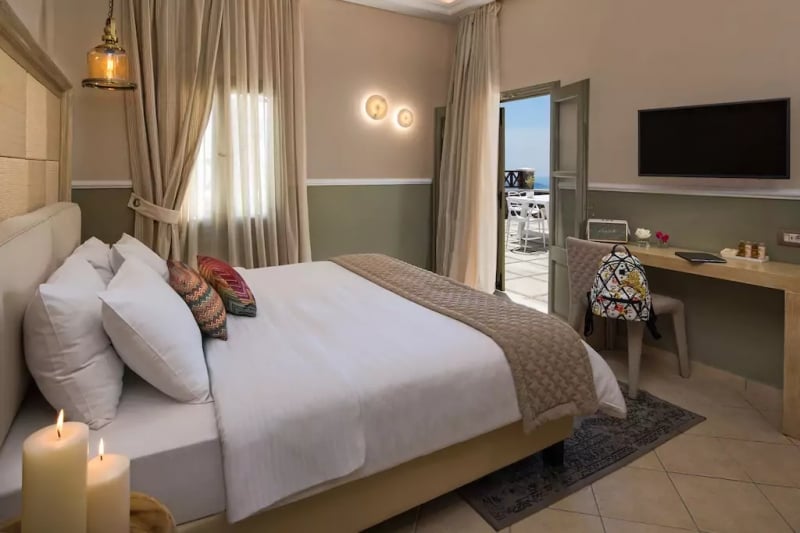 Listing name: Malteza Private villa with unique view location
Listing type: Entire villa
Neighbourhood: Imerovigli, Santorini
Max. number of guests: 6
This stylish escape promises accommodations that you'll remember your whole life, especially if you're on the hunt for an Airbnb in Santorini with a rooftop pool and lounge area. Indoors is a spacious living room where the neoclassical theme is most apparent, and two bedrooms. There's also a full kitchen equipped with a stove, oven, microwave, and even a Nespresso coffee machine.
Besides the incredible amenities, service is impeccable with the villa cleaned every day. Additionally, a highly-raved sumptuous breakfast spread is served on the terrace each morning.
8. This homely, value-for-money apartment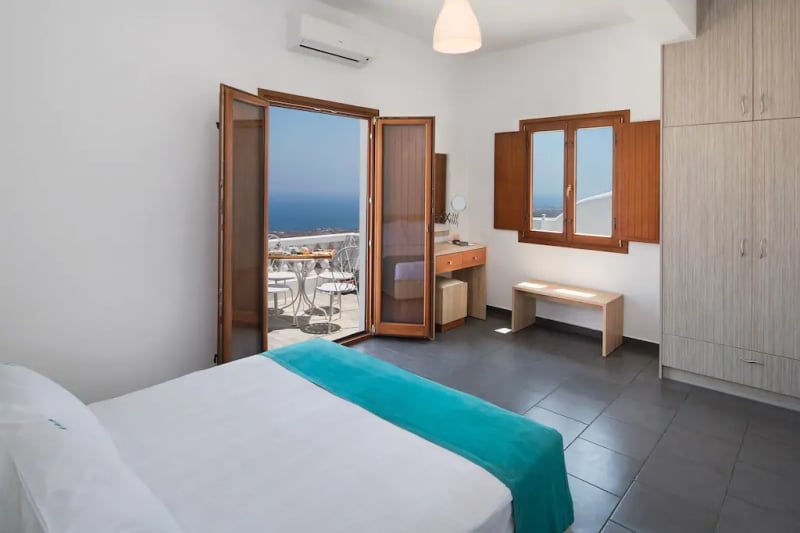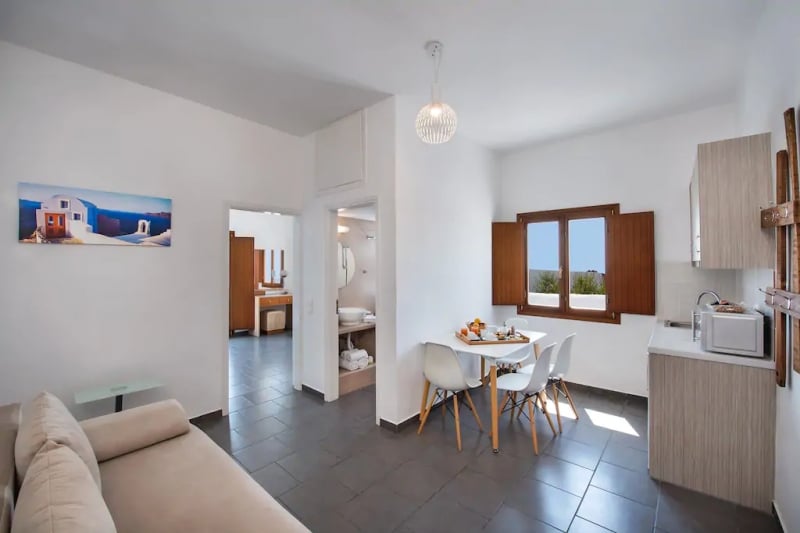 Listing name: Belle Etoile "Sea View"
Listing type: Entire apartment
Neighbourhood: Thira, Santorini
Max. number of guests: 4
A beautiful slice of heaven built high on a hill, this homely apartment is highly-raved for its friendly hosts and breathtaking views. This Airbnb requires a bit of a walk (15 minutes) from Fira and Imerovigli. But if you don't mind this, or if you're renting an ATV or car, you'll be thoroughly pleased by your selection. Compared to the rest of the Airbnbs in Santorini, this apartment is relatively cheap. Plus, it also comes with complimentary room service and daily breakfast! 
9. This charm-filled hideaway for a taste of authentic Greek life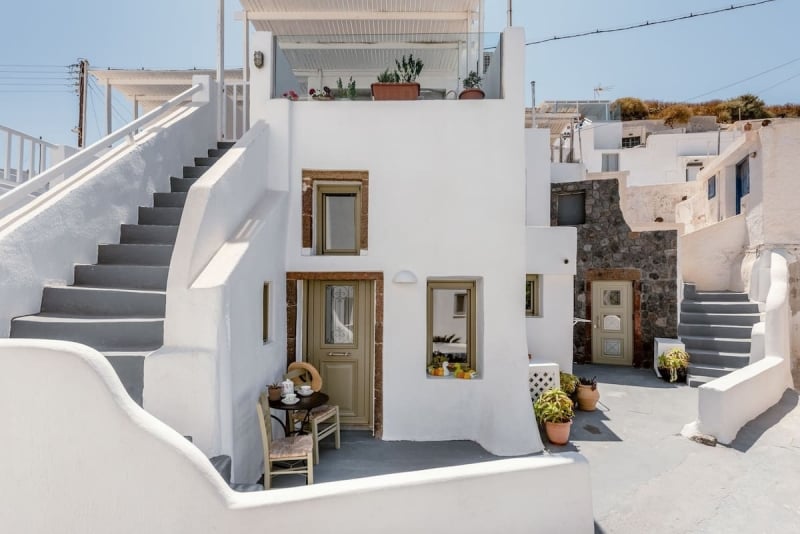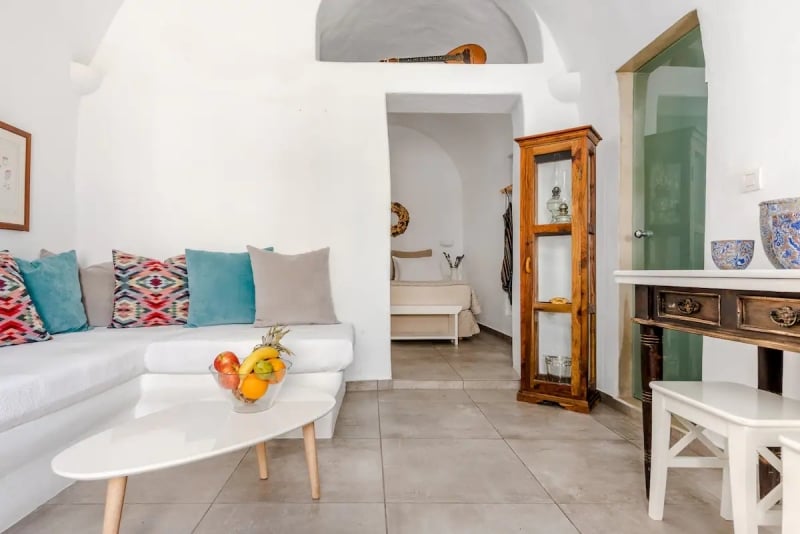 Listing name: Savor Simple Living at an Intimate Hilltop Cave Hideaway
Listing type: Entire home
Neighbourhood: Akrotiri, Santorini
Max. number of guests: 3
Head to the quiet village of Akrotiri and stay in this idyllic hilltop abode for a chance to live like a true Greek local. Tucked in an 18th-century complex of caves and houses, this is one of the best Airbnb homes in Santorini for an authentic escape that also offers all the modern comforts of home.
Guests say that Superhost Katerina goes above and beyond to help travellers with their vacation, whether they need assistance with car rentals or great restaurant recommendations. If you want to get away from the hustle and bustle of the touristy spots, this cave house is a good bet!
10. This lovely beach house in Kamari overlooking the Aegean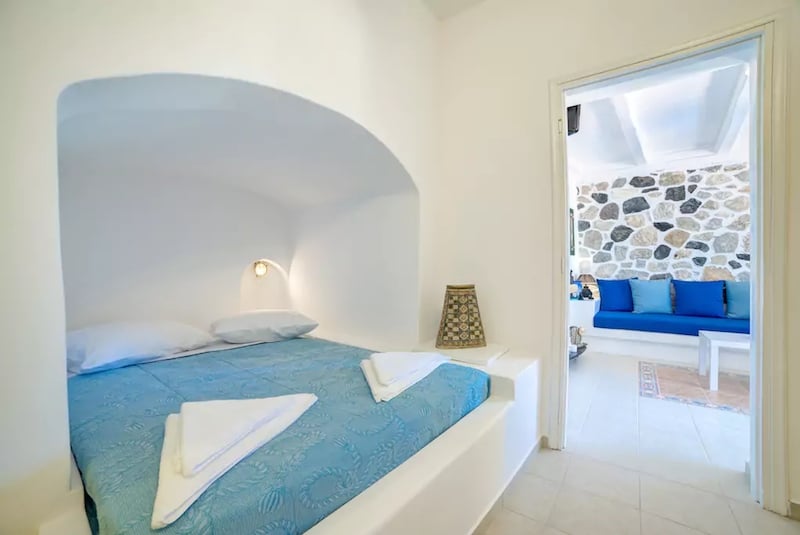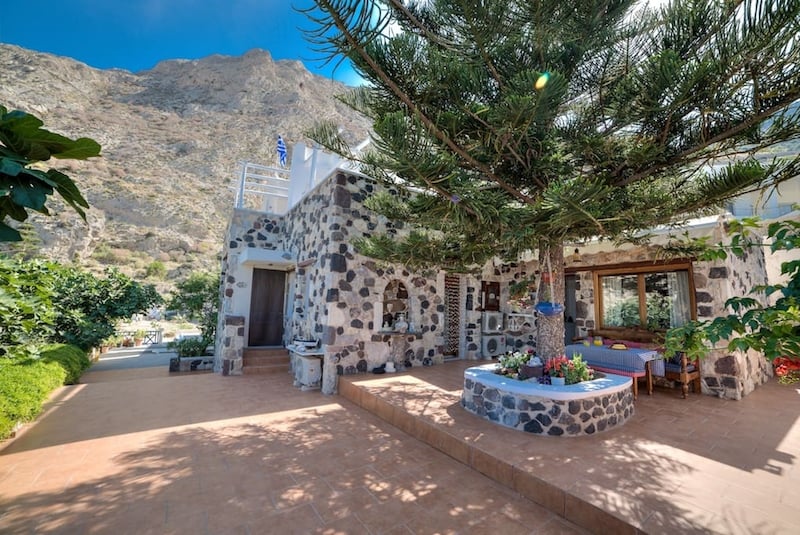 Listing name: MOSCHATOS BEACH HOUSE
Listing type: Entire house
Neighbourhood: Kamari, Santorini
Max. number of guests: 3
Another one for beach lovers, this lovely house in the village of Kamari offers a different kind of Santorini experience — one that does not involve staying in the typical towns of Oia or Fira.
Here, you can enjoy the best of many worlds: the local vibe, the black-sand beach, and Greek hospitality at its very best. The hosts, Giannis and Adriana, will treat you like family. Previous guests also say that they're always ready to help with booking excursions and renting cars at the best prices. Moreover, they even offer free airport pickups and at times give guests a mini-tour of Santorini. How wonderful is that? This Airbnb in Santorini is ten minutes from a local bus stop, which connects Kamari to the rest of the island.
Also read: Beyond Santorini and Mykonos: 8 Fairytale Islands in Greece You Need to Visit

With this list of Airbnbs in Santorini, your dream vacation is one step closer. So, go ahead, plan your trip and start booking the best Airbns in Santorini for your much-deserved Greek getaway!
Got a property you'd like TripZilla to feature? Inquire with us here.
---
This article contains affiliate links. When you book through these links, we may earn a small commission at no additional cost to you. All images courtesy of the respective property listings.