Hawaii is more than a beach destination. Beyond sandy coasts and legendary surf breaks, it offers coffee farms, hiking trails, volcanic landscapes, zip-lining adventures, opportunities to see dolphins and humpback whales, and the list goes on. Hawaii is also the place to try out unique accommodations , whether that means a treehouse in a fern forest, an off-the-grid cabin with a waterfall, or a studio in Waikiki. Full of charm and character, the best Airbnb homes and vacation rentals in Hawaii will make your trip an unforgettable one. 
Here are some of the top-rated ones to book: 
Best Airbnb homes & vacation rentals in Hawaii
Hawai'i or the Big Island
1. The bamboo treehouse in a fern forest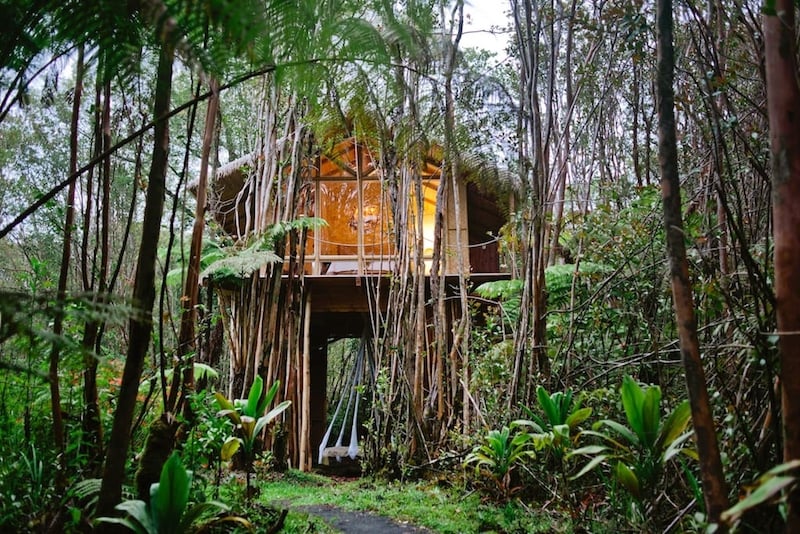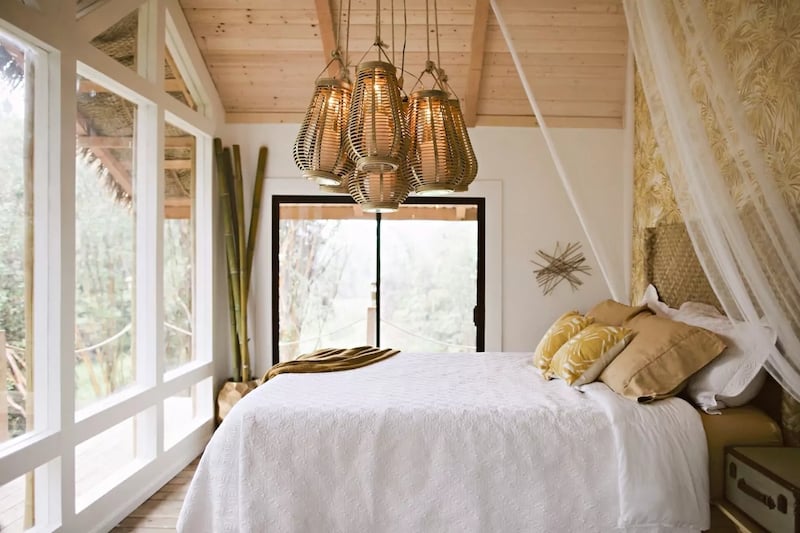 Listing name: Dreamy Tropical Tree House
Listing type: Island
Neighbourhood: Fern Forest
Max. number of guests: 2
This one-of-a-kind treehouse , as described by a past guest, is "glamping at its very, very best." It brings you closer to nature in a remote and secluded location, yet it's as luxurious as a treehouse can be. With a cosy space and a comfortable bed in peaceful surroundings, it's exactly the kind of place that makes a memorable honeymoon. To make things even more special, this treehouse was hand-built by the Airbnb host herself; you can find a book where she pens down the construction process. While there's no WiFi, this Airbnb in Hawaii comes with coffee, snacks, card games, and a pair of binoculars for birdwatching. 
Also read: Treehouse Airbnbs: Fall in Love with These Listings from Around the World
2. The dreamy treehouse overlooking the sea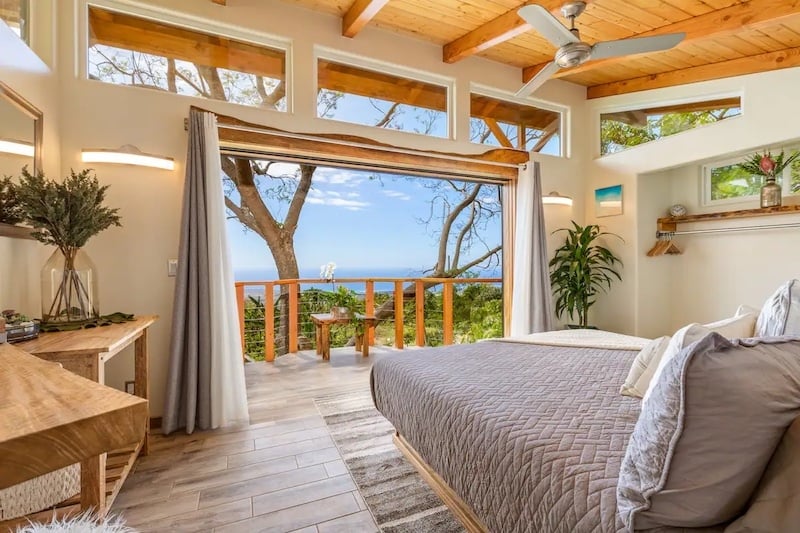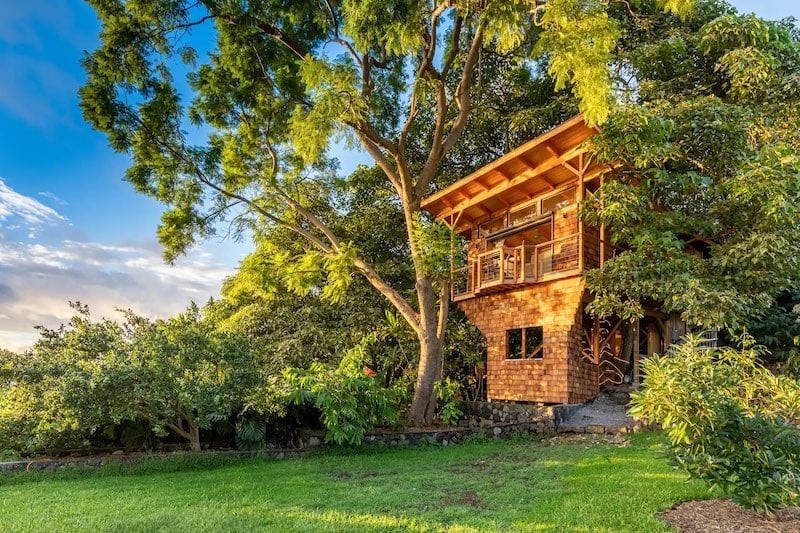 Listing name: Kona's 1st Luxury 1 BR/1B Treehouse w/ Ocean View
Listing type: Treehouse
Neighbourhood: Kailua-Kona
Max. number of guests: 2 
Have you ever had the childhood dream of living in a treehouse? Now is your chance to turn that fantasy into a reality. Take your Hawaiian vacation to new heights at this handcrafted treehouse on the Big Island, which lets you sleep 15 feet above the ground while taking in jaw-dropping views of the ocean. This Airbnb in Hawaii features many unique touches, such as the tree trunks growing through the open floor plan, a wrap-around lanai, and a private hot tub that you can access from a spiral staircase. Better yet, it's only a 10-minute drive from Kona Airport, so you'll have no trouble finding this treehouse as soon as you land.
3. The off-the-grid cabin with a private waterfall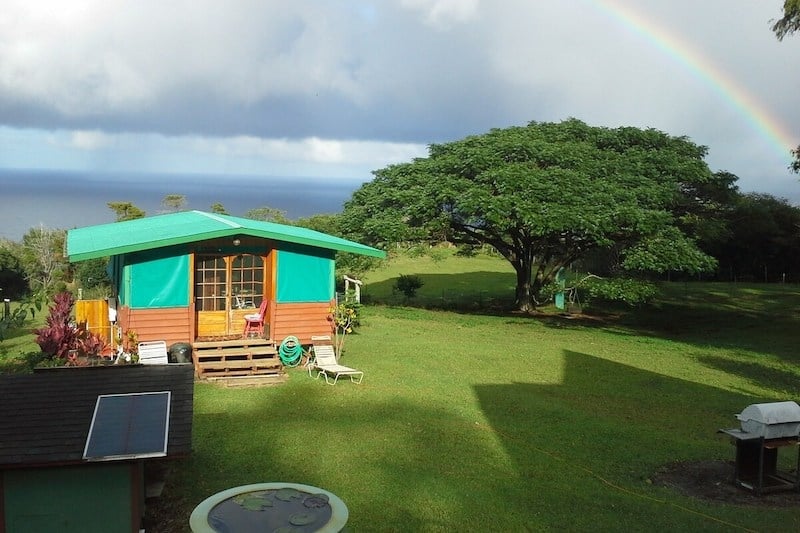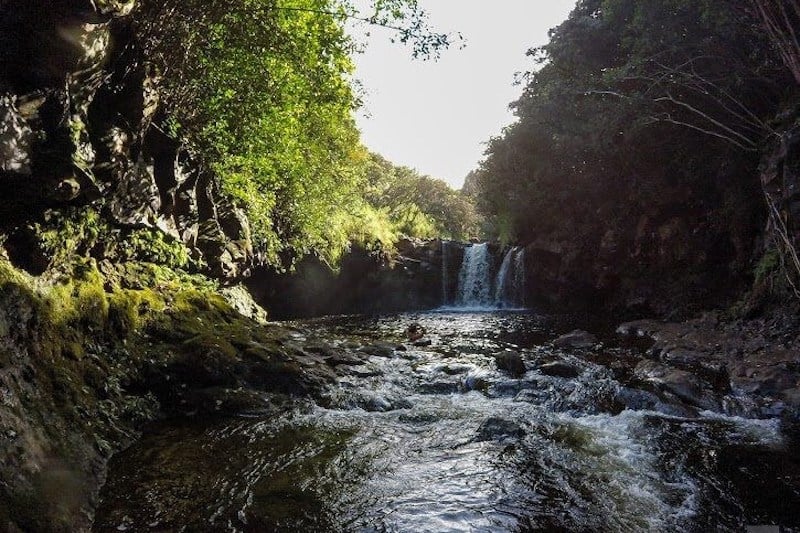 Listing name: Aloha Nature Lovers
Listing type: Entire cabin
Neighbourhood: Pāpa'aloa
Max. number of guests: 2
Want to go off the grid? This cabin located between Waipio Valley and a national park offers just that and more. It's best to rent a four-wheel drive to get here as access is along the back roads. Just a few minutes away from this Airbnb in Hawaii are hiking trails, private waterfalls, and swimming holes you can easily walk to. Wildlife lovers will be delighted to know that there are horses and free-roaming peacocks and chickens in the backyard. Meanwhile, t he gas stove and fridge in the cabin are available for your cooking needs. And fret not about your comfort: hot showers are available as well.
4. The Aolani House with a resort-style infinity pool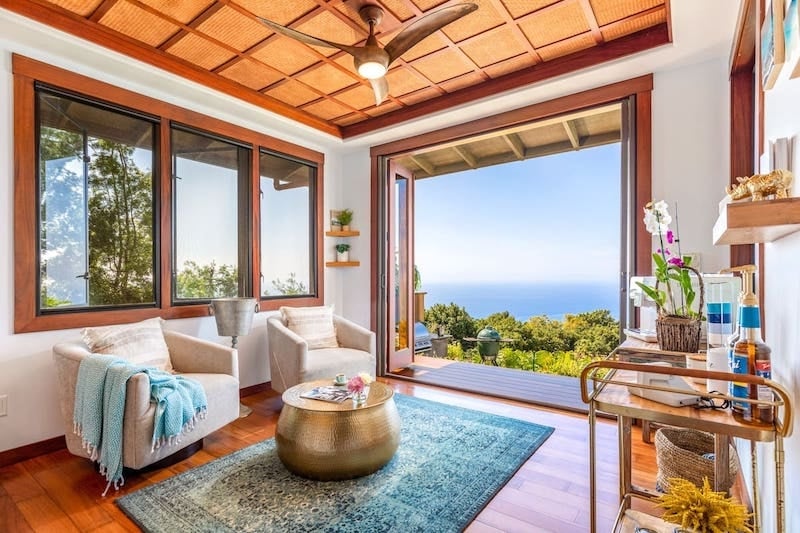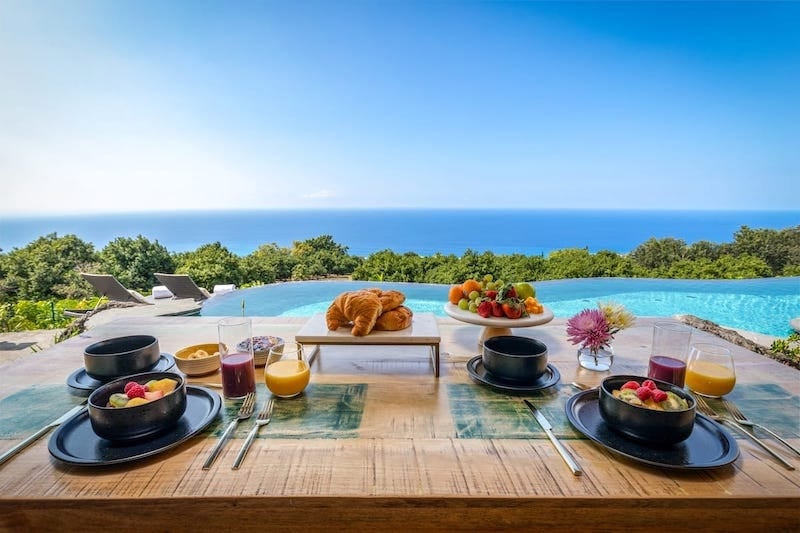 Listing name: "Aolani House" Resort Style Home w/ Infinity Pool
Listing type: House 
Neighbourhood: Holualoa
Max. no. of guests: 8 
Some accommodations are worth travelling for, as many guests will tell you about the Aolani House. Setting the gold standard for vacation rentals on Hawaiʻi or the Big Island, this massive four-bedroom oasis in Holualoa creates an effortless harmony between indoor and outdoor living. It blows nearly every luxury hotel out of the water with its resort-style amenities, including a private spa and infinity pool with epic views of the ocean. If you're planning to visit nearby Kona coffee farms and taste the best coffee in Hawaii, this is the place to be. But if this Hawaii vacation rental is already fully booked for your travel dates, try the Aolani Coffee Cottage for a similar experience.
5. The farm retreat amid orchards and gardens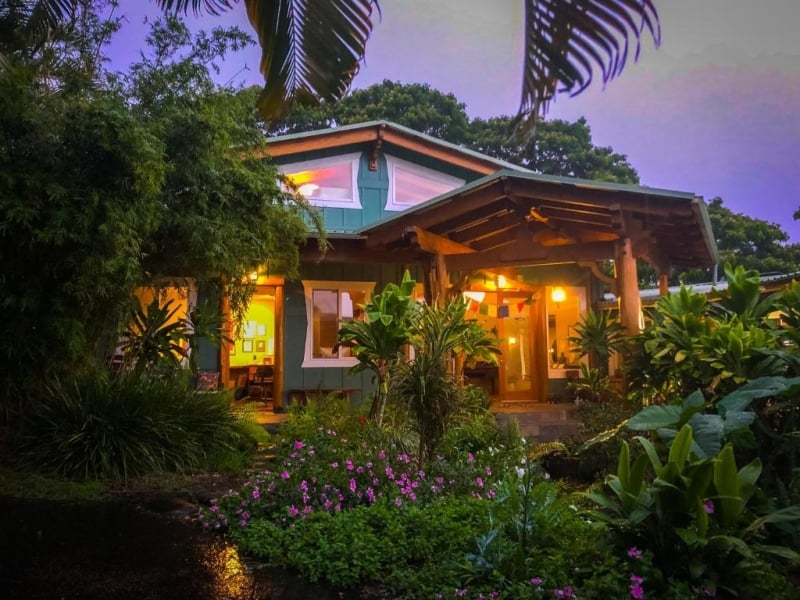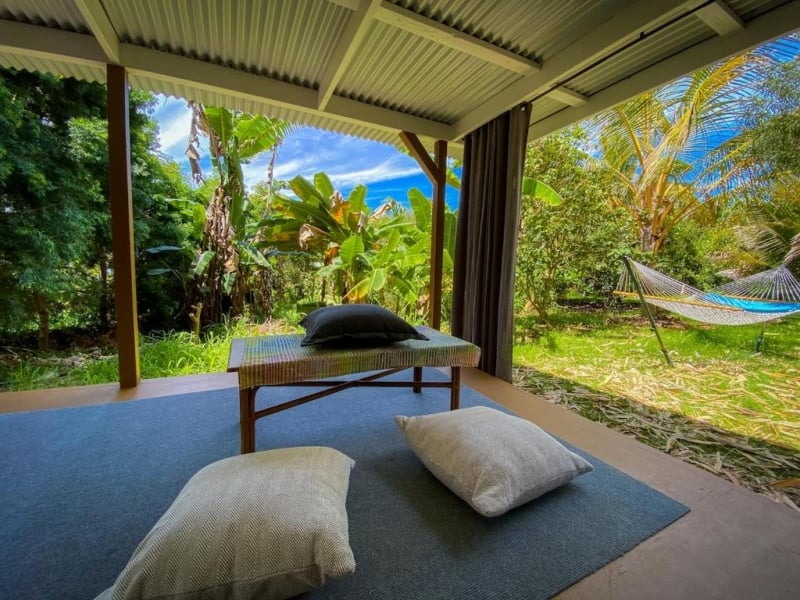 Listing name: Gingerhill Farm Retreat
Listing type: Entire guest cottage or suite 
Neighbourhood: Kealakekua
Max. number of guests: 3
Nestled amid organic orchards and gardens, this farm retreat lets you wake up to the most amazing views on the Big Island. Capturing the warmth of aloha, this vacation rental in Hawaii features Pinterest-worthy interiors and island-themed décor for a relaxing getaway. More importantly, you're just above Kealakekua Bay, a black-sand beach with beautiful coral reefs and spinner dolphins. If you're coming to Hawaii for the beaches, then look no further — this serene home is an excellent jumping-off point.
6. The secluded cabin near a national park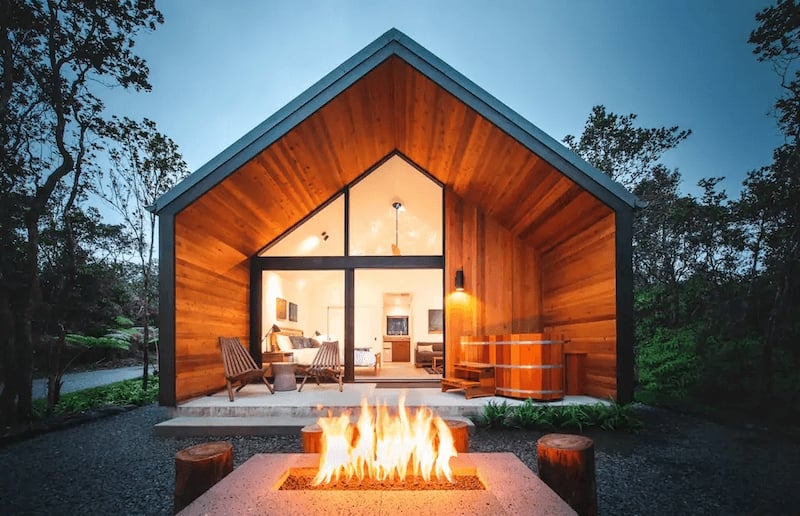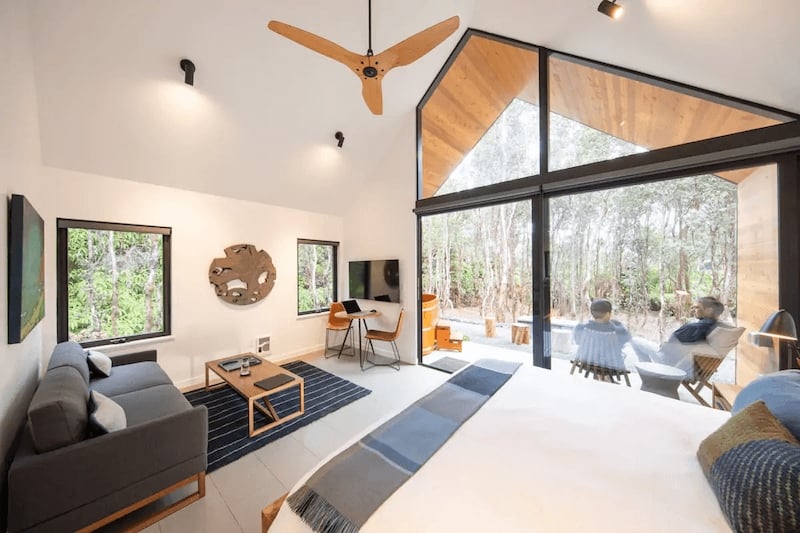 Listing name: Kuono at Volcano
Listing type: Cabin 
Neighbourhood: Volcano 
Max. no. of guests: 4 
Located in a native forest, this modern volcano cabin sits only five minutes away from the Hawai'i Volcanoes National Park. This isolated retreat in Hawaii is available for rent on Vrbo and Airbnb, and it has a fire pit, a minimalist living room, and a cedar wood hot tub. But the real highlights are the experiences it offers. Guests at this vacation rental in Hawaii can enjoy a wide range of activities, from drinking Kona coffee on the patio to blasting their favourite songs on the Bluetooth speakers. Perfect for couples or a family of four, this hidden gem will rekindle anyone's love for the great outdoors.
7. The cosy bed and breakfast with coastal views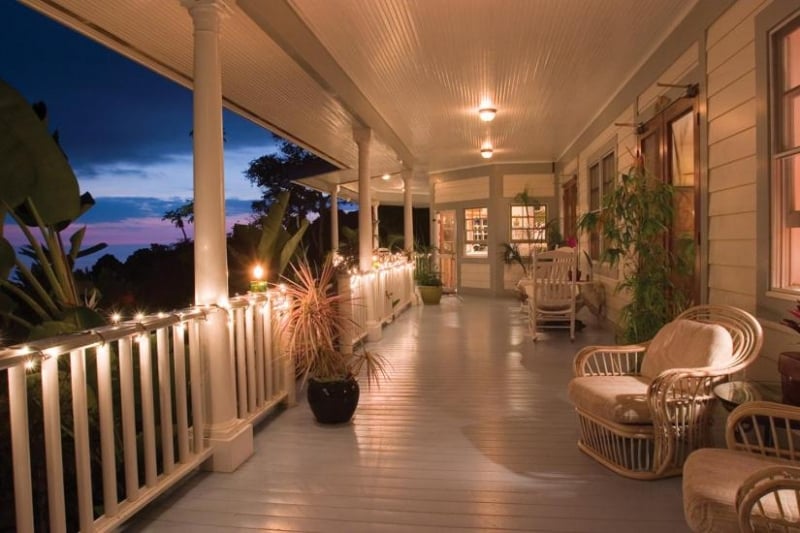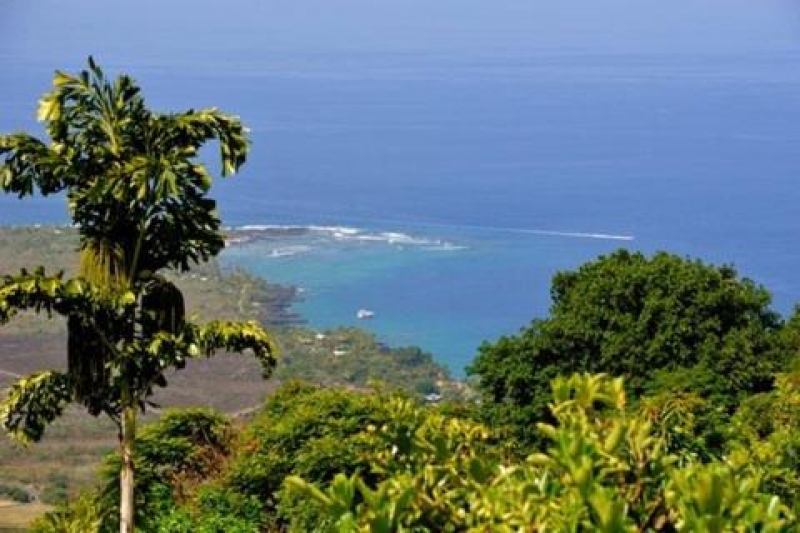 Listing name: Ka'awa Loa Plantation
Listing type: Entire guesthouse
Neighbourhood: Captain Cook
Max. number of guests: 2
Located near Kealakekua Bay and Manini Beach, this gorgeous Hawaii bed and breakfast offers breathtaking views of the Kona coastline. Couples particularly love this vacation rental in Hawaii for its good location, close to nature without sacrificing modern comforts. You will be delighted to know that breakfast is served daily where you get to indulge in fresh plantation produce, homemade baked goods, and Kona coffee. Isn't this your idea of a dream holiday in Hawaii?
Maui
8. The tropical treasure studio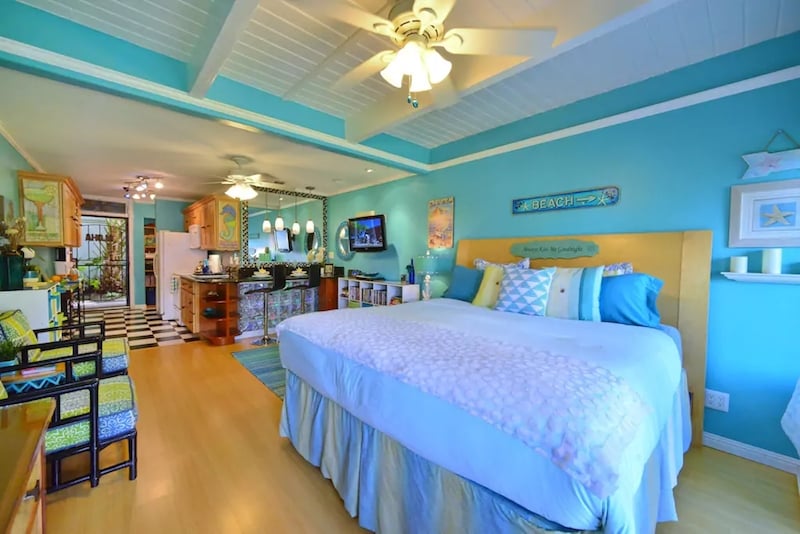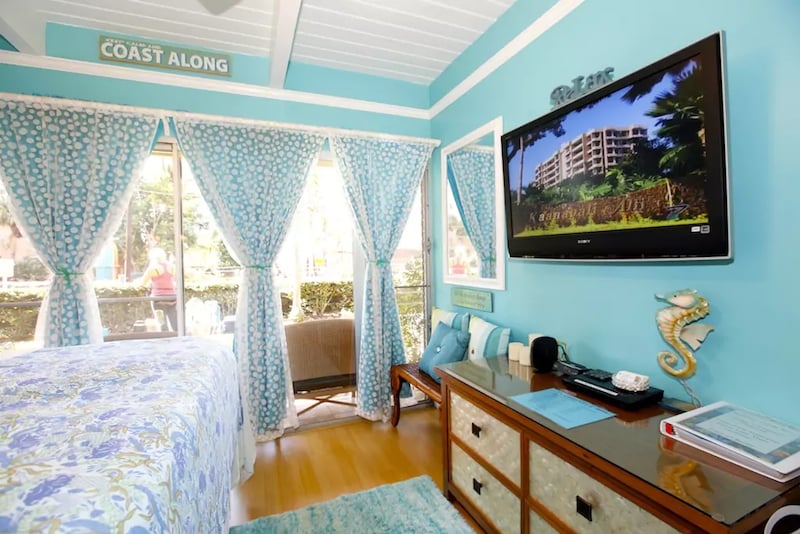 Listing name: TTT#1 of 4: Best in Kihei for 2022 & 2021!
Listing type: Studio
Neighbourhood: Kihei
Max. number of guests: 2
If you're planning to visit Maui, the second-largest of the Hawaiian Islands, check out this apartment which proudly claims to be the #1 vacation rental in all of Maui. The space looks fantastic, designed with accents of blues to fit the tropical theme. Even the bed itself exemplifies this: a plush king-size mattress that's covered with a 100% bamboo bed sheet, a 1,200 thread count duvet, and fluffy down-filled pillows. Two flat-screen TVs allow you to stream videos and choose from over 150 movies on DVD, and there's even a PlayStation to keep you entertained. Evidently, the host has gone above and beyond to furnish the house in a manner that pampers guests to the fullest.
9. The Insta-worthy condo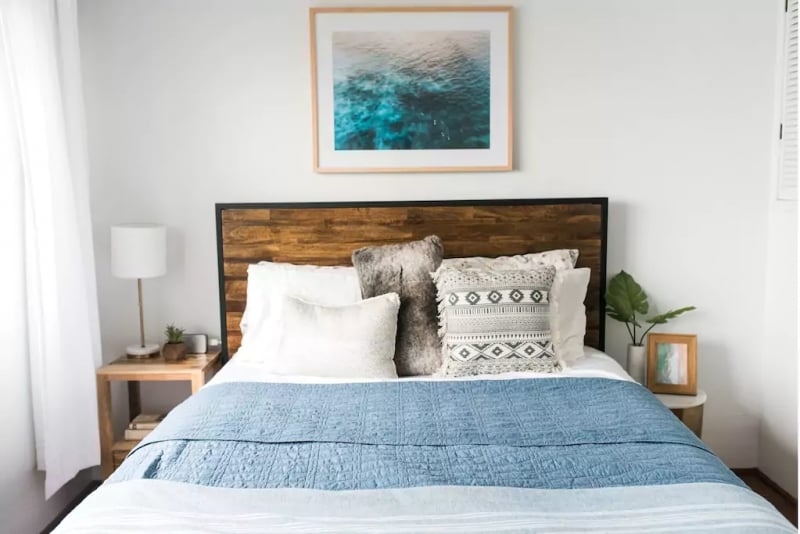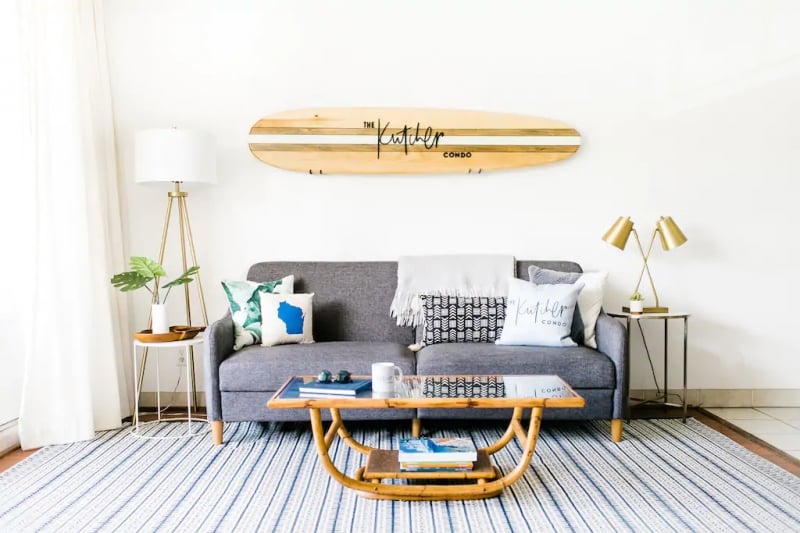 Listing name: Everything you need to enjoy true paradise!
Listing type: Entire condominium
Neighbourhood: Kihei
Max. number of guests: 4
Now, here's an Airbnb in Hawaii that screams gorgeous. Every corner of this modern home is pleasing to the eyes. Close to downtown Kihei and Wailea in Maui, this condo is a short stroll to the beach and has excellent dining options nearby. Furthermore, the hosts provide beach towels and chairs, which is a testament to their attention to detail. Plus, the queen-sized bed in the bedroom is brand new, and there's a fold-out couch in the living room for extra sleeping space.
10. The adorable gingerbread house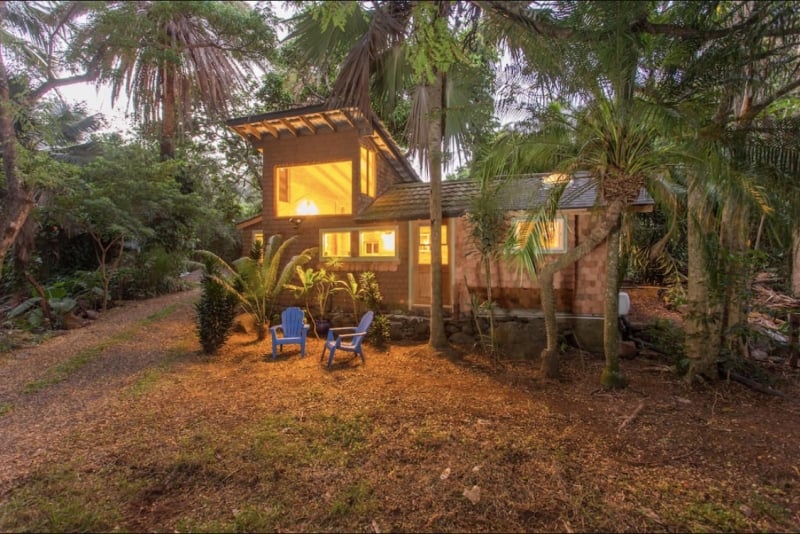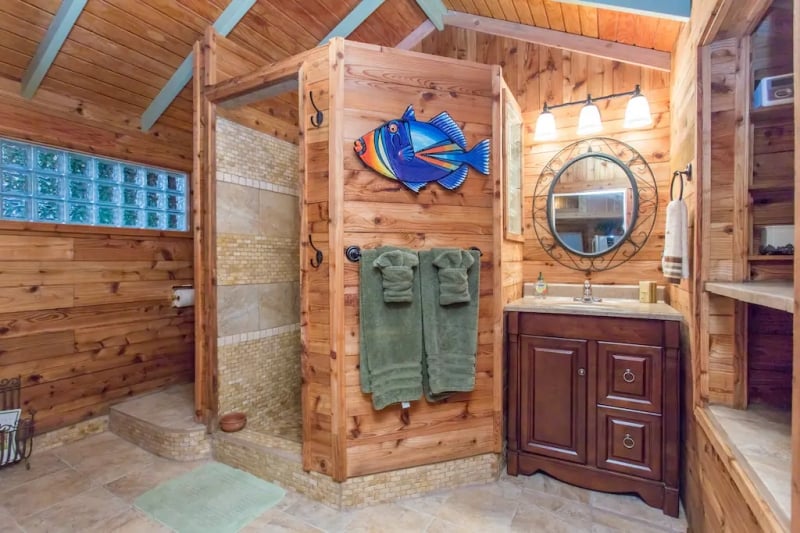 Listing name: Adorable 1930's Gingerbread House....Permitted!
Listing type: Cottage
Neighbourhood: Makawao
Max. number of guests: 2
A gorgeous hideaway surrounded by greenery, this remodelled 1930s cottage is the ideal place for travellers who'd like to spend quiet time alone. It's fully equipped with a kitchenette and a spacious bathroom with custom tiles and woodwork. Though you'll be greeted with rustic cabin vibes, fret not, there's still wireless internet and a TV with Netflix access. Still, it's best to have a rental car to get to the cottage; from there, it's only 10 minutes to the beaches and two minutes to shops and restaurants in Maui.
Oahu
11. The scenic oceanfront home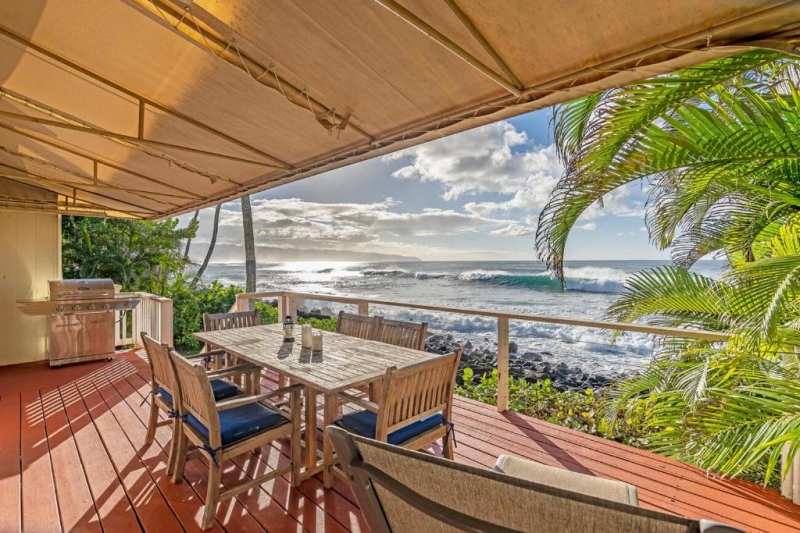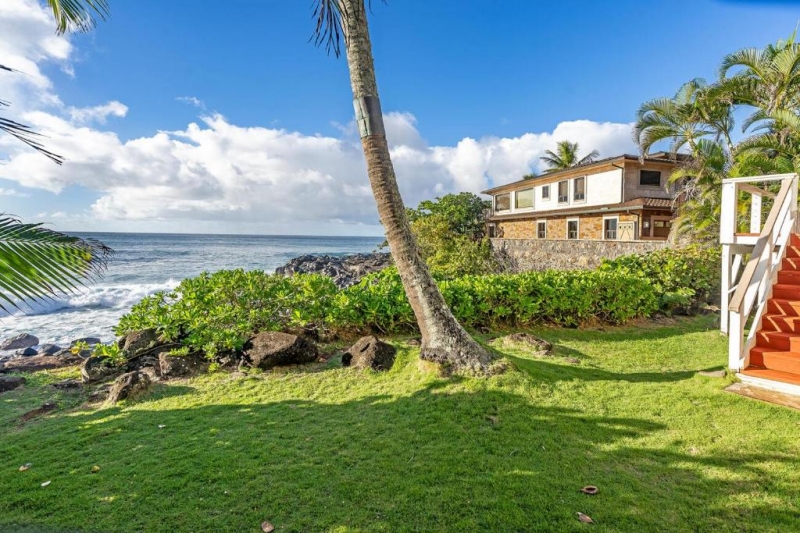 Listing name: Waimea Point Oceanfront House
Listing type: Entire house
Neighbourhood: Haleiwa
Max. number of guests: 5
Wake up to views of the ocean when you stay in this remodelled oceanfront home in Haleiwa, on the North Shore of Oahu. It is close to the famous beaches, surfing, scuba diving, and snorkelling spots. In fact, it is just a walking distance to Waimea Bay, Three Tables Beach, and Sharks Cove. This lovely home has a fully stocked kitchen and a BBQ on the ocean front deck, so you'll have everything you need if you want to cook your own meals.
12. The treehouse with the sound of the ocean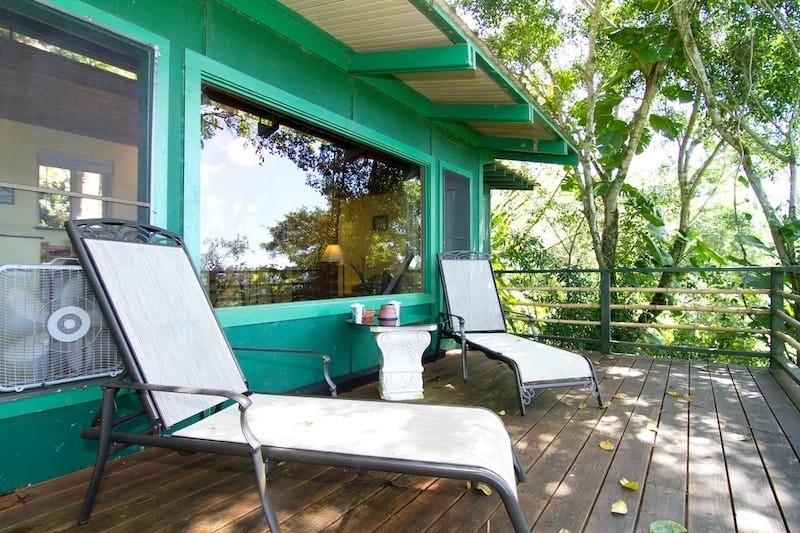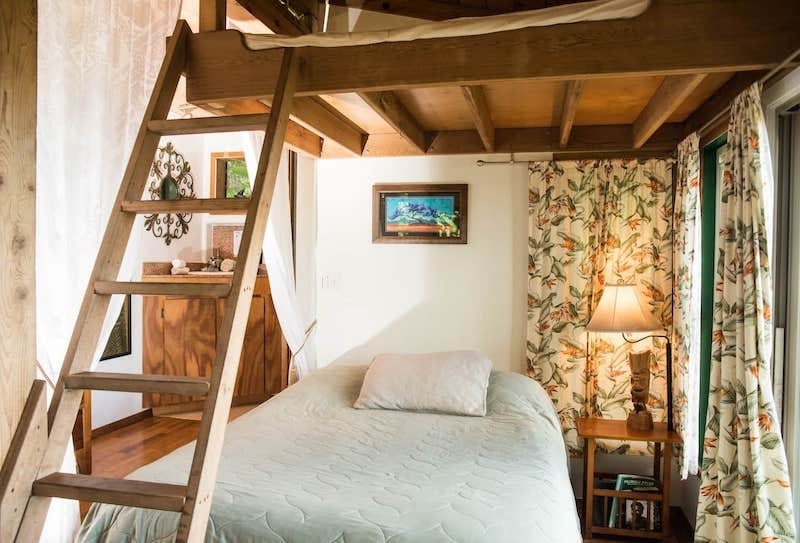 Listing name: Treehouse Bungalow !!!
Listing type: House 
Neighbourhood: Haleiwa
Max. no. of guests: 2 
Step inside this treehouse bungalow for a home that blends in with the jungle. Situated on the North Shore, it makes a fantastic base for nature lovers, adventure seekers, surfers, and yoga enthusiasts alike. In fact, yoga classes take place in a communal yoga deck that overlooks the ocean. There are also kayaks, surfboards, paddleboards, bicycles, and snorkelling gear for visitors. Fair warning that the bungalow can be accessed via a flight of 80 steps — it's quite a workout, but just imagine the views from the hilltop!
13. The Waikiki studio near the beach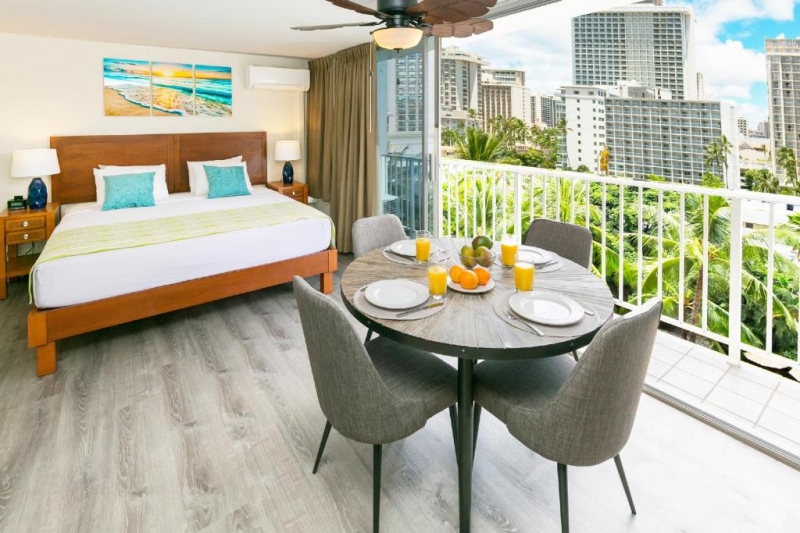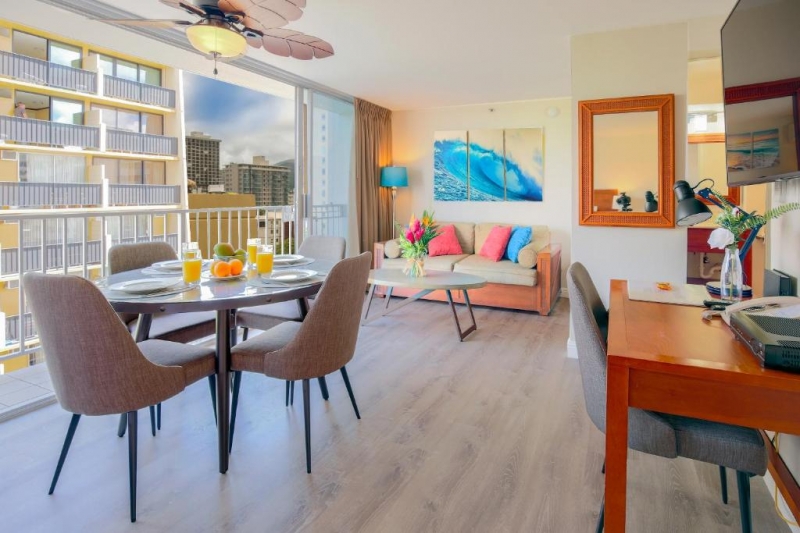 Listing name: Beautiful Studio in Waikiki
Listing type: Entire condominium
Neighbourhood: Honolulu
Max. number of guests: 3
This airy studio in Waikiki offers not just a balcony with a view, but also a strategic location in Honolulu's most in-demand neighbourhood. This vacation rental is only one block away from Waikiki Beach and Kuhio Beach, and about 600 metres from Queen's Surf Beach. For less than the price of a glitzy hotel, you can sip your Kona coffee in peace and pat yourself on the back, knowing that you just scored the best stay in the entire city.
Also read: 8 Honolulu Airbnbs to Bookmark for Your Next Hawaiian Holiday
14. The Honolulu waterfall retreat for group trips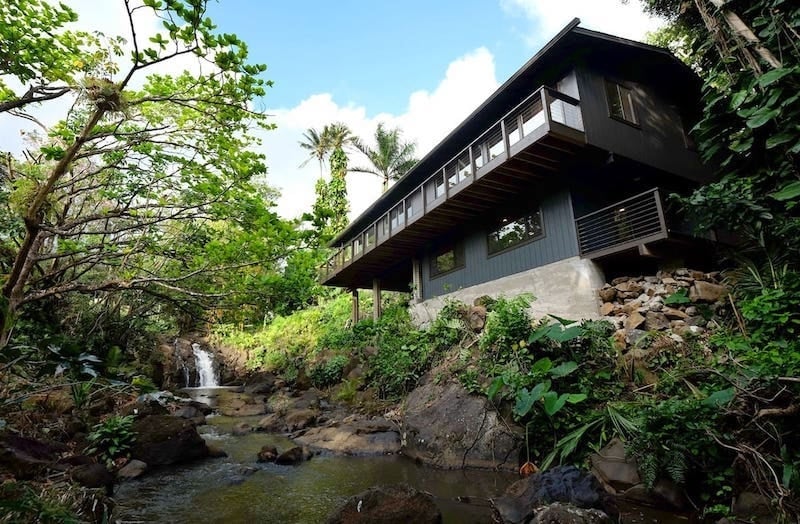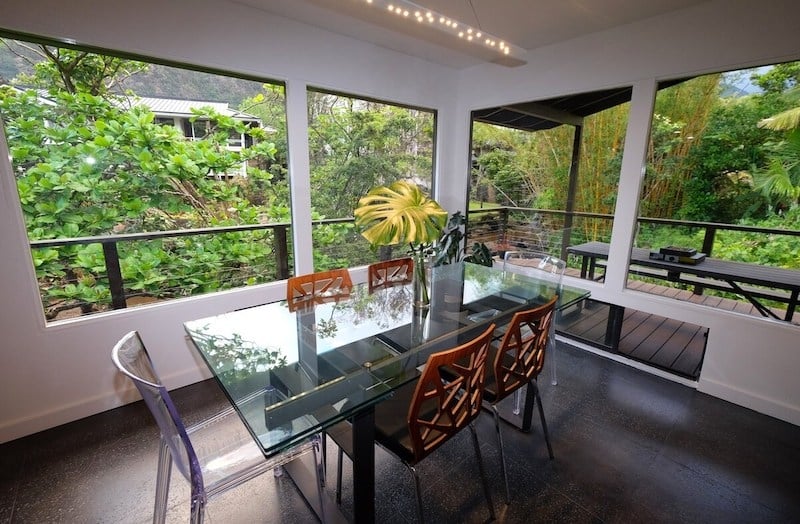 Listing name: Hawaii's Best Waterfall Retreat in Honolulu
Listing type: House 
Neighbourhood: Honolulu 
Max. no. of guests: 6
If you've never experienced having a forest pool in your backyard, then staying in a private home with a waterfall deserves a spot on your bucket list. Nestled in a rainforest, this three-bedroom residence lets you enjoy many exciting activities in Honolulu, from drifting off to the gentle sounds of the water to taking a quick drive to Lanikai Beach. Best of all, this vacation rental provides everything you'll need for a long-term stay in Hawaii's largest city, complete with high-speed WiFi and desk space for working remotely.
15. The spectacular beachfront estate for a family-friendly escape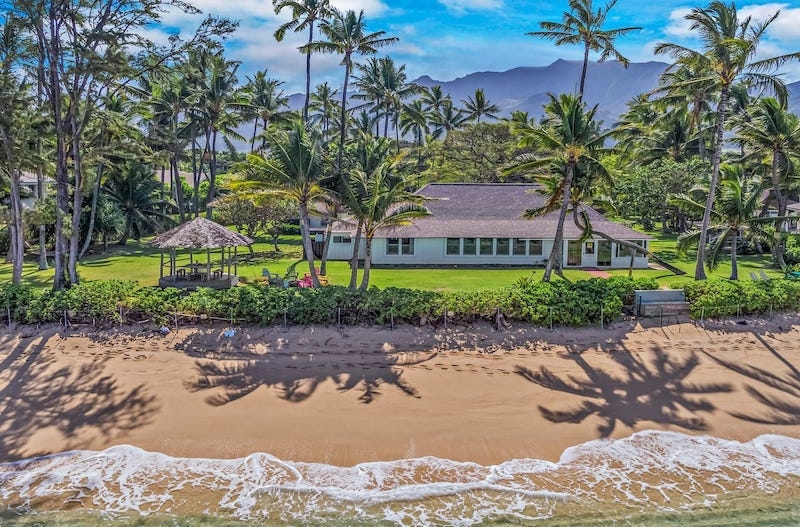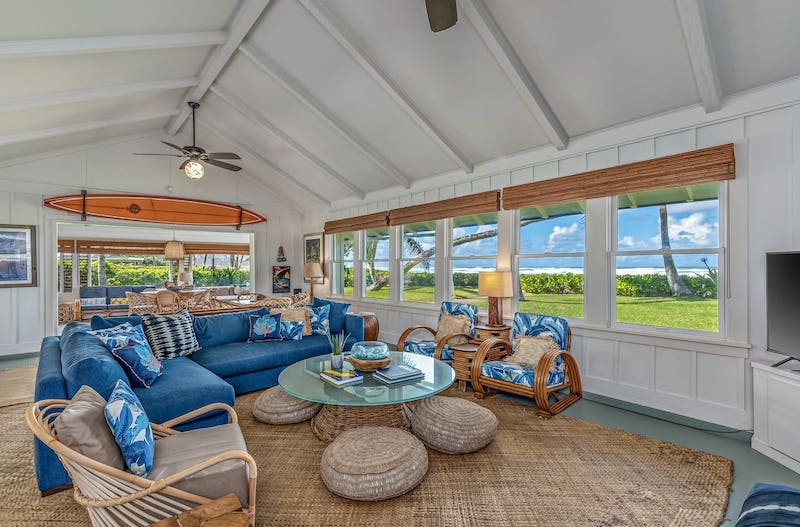 Listing name: Historic Hawaiian Beachfront Estate w/ Modern Furnishing and Park sized Yard
Listing type: House 
Neighbourhood: Waialua
Max. no. of guests: 14
Welcome to the ultimate beachfront escape on the North Shore: a sprawling five-bedroom estate right on the water's edge in Waialua. Described as a "historic" country home, this palm-fringed getaway is perfect for multi-generational family trips because it has everything: complete amenities, ocean-facing bedrooms, and a feeling of exclusivity. Given the property's ideal location, it packs in plenty of outdoor activities as well, including swimming in the beach and conquering the waves in North Shore's famous surfing spots. Without a doubt, you're looking at one of the best vacation rentals on the island of Oahu.
Kauai
16. The Hawaiian plantation home with incredible scenery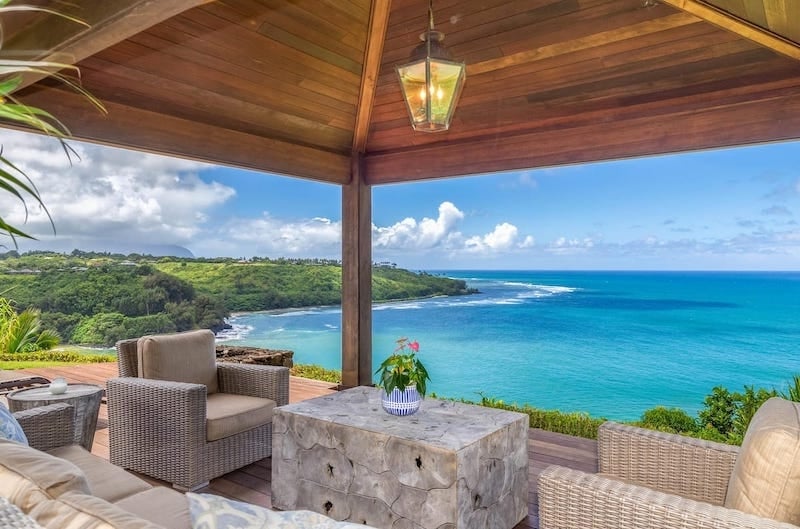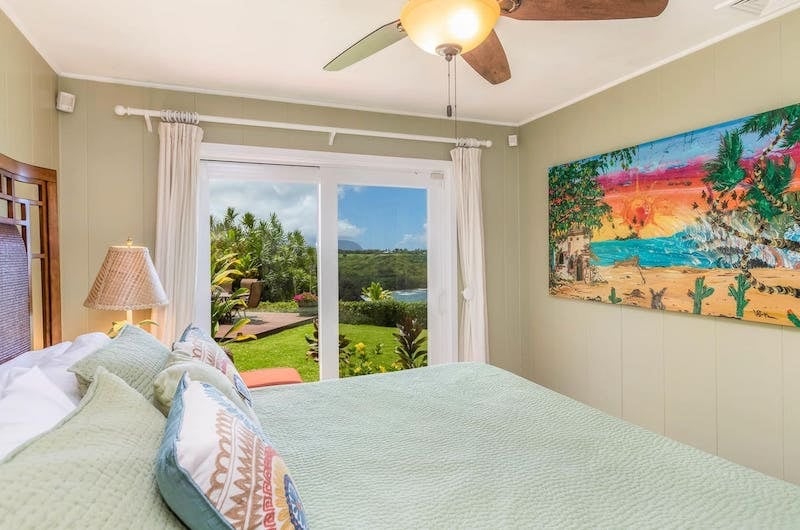 Listing name: Air-Conditioned Hawaiian Plantation Home with Breathtaking Ocean Views
Listing type: House 
Neighbourhood: Kalihiwai
Max. no. of guests: 8
For a calming retreat overlooking the waves in Kauai, it's hard to top this Hawaiian plantation home. Named the "Kaohe Sunset View House," it stands out among other Kauai vacation rentals with its art-filled bedrooms and highly-rated amenities, which include a hot tub, a fire pit, a covered lanai, and a telescope for stargazing. Spend your days and nights at the gazebo outside, where you can drink in sweeping views of the Pacific Ocean. If you're lucky, you just might spot dolphins and whales emerging from the water.
17. The seaside condo with stunning views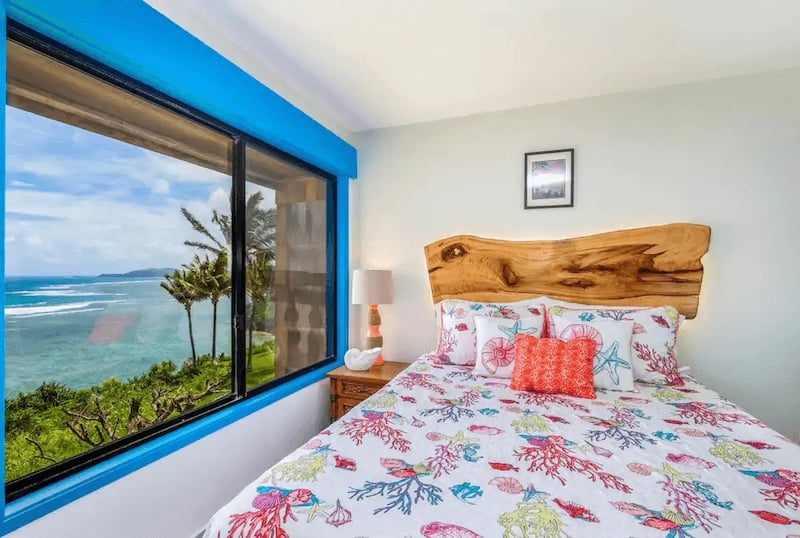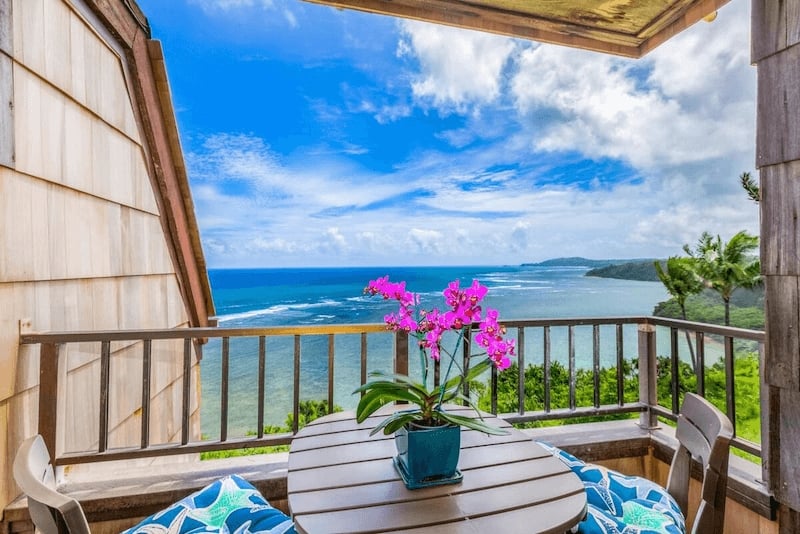 Listing name: Gorgeous, Newly Remodelled Ocean Front Retreat-Sea Lodge II G6
Listing type: Condo
Neighbourhood: Princeville 
Max. no. of guests: 3
Ready to embrace life on a tropical island? Breathtaking views of Kauai's North Shore will greet you in every corner of this seaside condominium in Princeville. From your bedroom windows overlooking the sea to the private lanai with a hammock, this Kauai vacation rental can be summed up in one word: paradise. Nearby attractions include the town of Hanalei, Anini Beach, Kilauea Lighthouse, and the Napali Coast Trail.
Also read: 15 Dreamy Airbnbs and Vacation Rentals in Maui That Are Worth the Splurge
Have you picked a favourite among these Airbnb homes and vacation rentals i n Hawaii? Enjoy the experience, but don't get too comfortable; you'll need to eventually set foot outside and explore the outdoors!
Got a property you'd like TripZilla to feature? Inquire with us here.
---
This article contains affiliate links. When you book through these links, we may earn a small commission at no additional cost to you. All images courtesy of the respective property listings.