Buckle up, ladies and gents, because FORMULA 1 SINGAPORE GRAND PRIX is coming up again with the best nosh ever and plenty of beer, and the post-race concerts!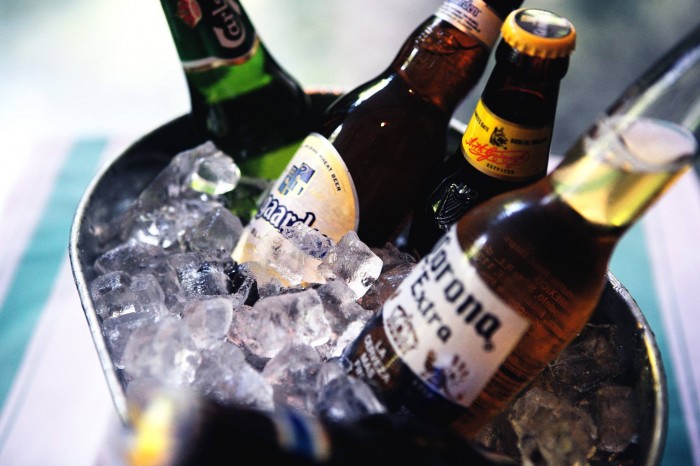 Image credit: Furama RiverFront, Singapore Facebook
But you don't actually have to sweat it out along the tracks to catch some of that F1 Fever! Why not plan a staycation around it? We've fished out the hotels with the best F1 Deals, views and parties! Grab some friends, book, and start party planning!
Hotels with Smashing F1 Deals
1. Furama RiverFront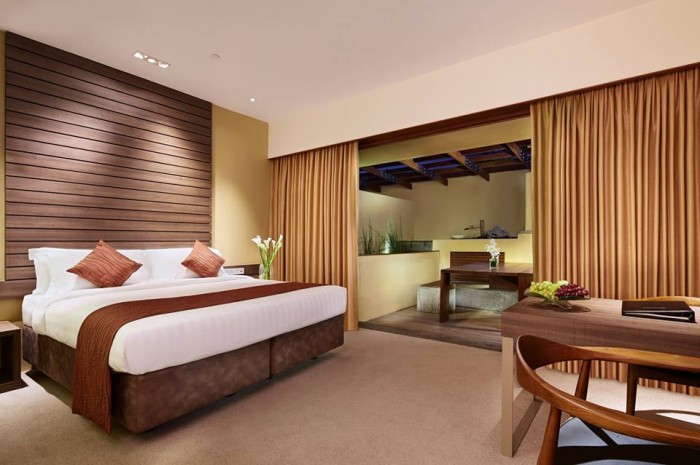 Image credit: Furama RiverFront, Singapore Facebook
Furama RiverFront is extremely well-situated, giving you pretty much the best of both worlds. On one hand, it's a 25-30 minute scenic walk away from Gate 4 and Gate 5 of the F1 Marina Bay Street Circuit, making it pretty easy to head on over to watch the race. It's also walking distance from the Singapore River, so after shouting your hoarse voice for your favourite racer, head on over to indulge in the numerous after parties dotted all along the very vibrant night scene of this area! On the other hand, situated strategically at the fringe of the CBD, this hotel offers you quite a bit of rest and respite away from the track and the parties, once you decide to call and end the night! Sounds pretty good, aye?
2. Marina Mandarin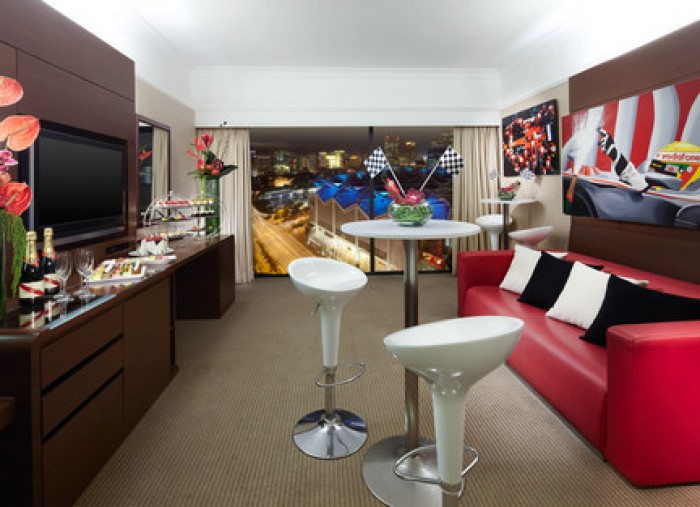 Image credit: Marina Mandarin Singapore
Yet another hotel by the tracks, but with an additional flair! I mean, just look at their F1 Hospitality Suite – does this not look super cool or what?! Revel in the party atmosphere right in your themed suite as you look upon the race from the comforts of your luxurious room. If not, never fear, there's also the F1 Earlybird Package for you to to choose from, and with the F1 Marina Bay Street Circuit surrounding this Marina Mandarin hotel, you're almost guaranteed a great view whilst staying here for the F1 weekend!
3. Furama City Centre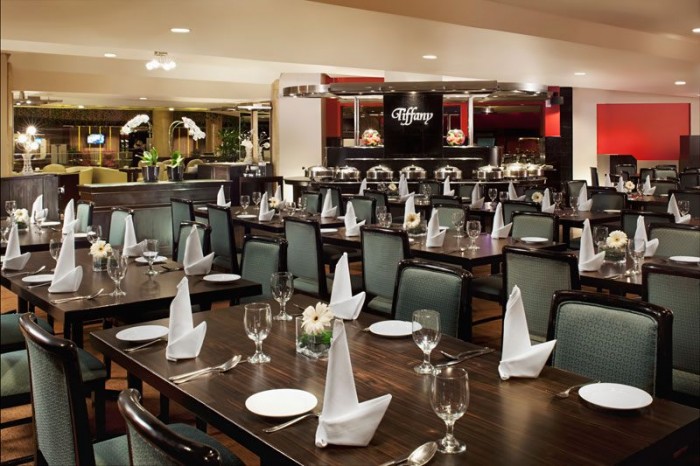 Image credit: Furama City Centre, Singapore Facebook
Okay, so this one's a little further compared to the other hotels. Nevertheless, their F1 Special Deal sounds pretty good to us! With up to 25% off the hotel room, daily breakfast at Tiffany's (yes, their restaurant is called Tiffany's!), and a complimentary upgrade to their Deluxe room if you're staying 3 nights and above (and of course you are, aren't you, what with the Singapore Grand Prix taking place over 3 nights), your F1 experience would definitely be made much sweeter with Furama City Centre! This is also one of the more affordable hotels of the lot, with prices for the Superior Room starting from SGD 299.7 – great location plus no hole in my wallet? I'm totally sold!
4. Royal Plaza on Scotts

Image credit: Royal Plaza on Scotts
Royal Plaza on Scotts offers its very own F1 2016 hotel promotion as well! And here's an even sweeter deal: sign up for their mailing list and enjoy 10% off your booking IMMEDIATELY. It can't really get any better than that, can it? Along with its dirt-cheap prices (hotel rooms going from SGD198!) and its apparent love for Formula 1 Singapore (a race car made out of chocolate in 2008 and another one made out of shells in 2014), this hotel will be sure to add on to your fabulous F1 experience!
Hotels with the Best Views of F1 Races
5. Swissotel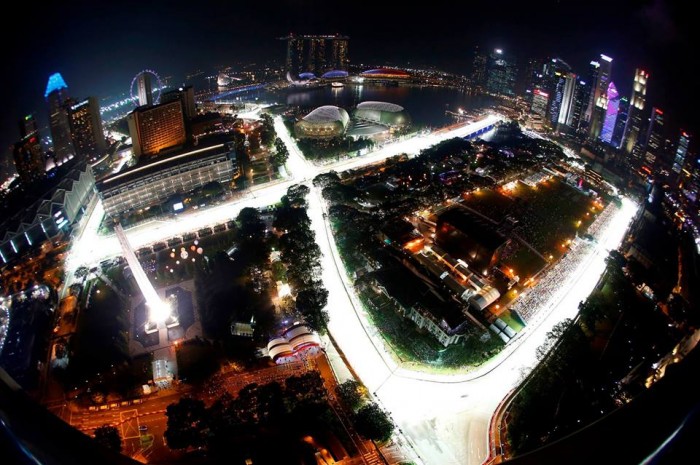 Image credit: Swissotel The Stamford Facebook
What's better than watching the race from the sidelines?  Watching the race with a panoramic view, of course! This one's for all those who really just want to concentrate on the race itself, never mind the food and drinks! With Swissotel, which is located right by Turn 9 of the F1 Marina Bay Street Circuit, enjoy an unparalleled view of the F1 track from the comforts of your lush and exquisite hotel. Hey, beats having to squeeze with the crowd and sweating like mad, aye? Bonus: no need to pay for the F1 tickets!
Better grab their Singapore Grand Prix Early Bird Offer before the 15th of July, my friends. And, yes, don't worry, with this deal you'll definitely get a view of the track!  
6. The Fullerton Hotel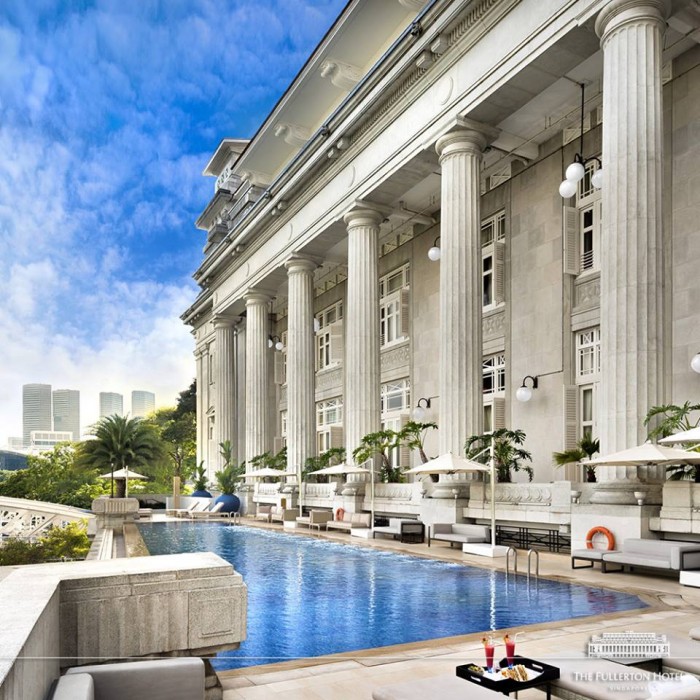 Image credit: The Fullerton Hotel Singapore Facebook
Get up close and personal with Turn 13 of the F1 Marina Bay Street Circuit at The Fullerton Hotel! What makes this hotel more unique than the other hotels, you may ask? Well, for the simple reason that the hotel rooms are much lower compared to the other high-rise hotels due to its colonial architecture, and with no other buildings blocking it from the track, you'll certainly get a great vantage point to watch the race from! And, of course, not having to squeeze with the crowds, if chillin' in the hotel is more of your thing.
Also Read: Staycations in Singapore: 12 Hotels With Infinity Pools You Will Love
7. Pan Pacific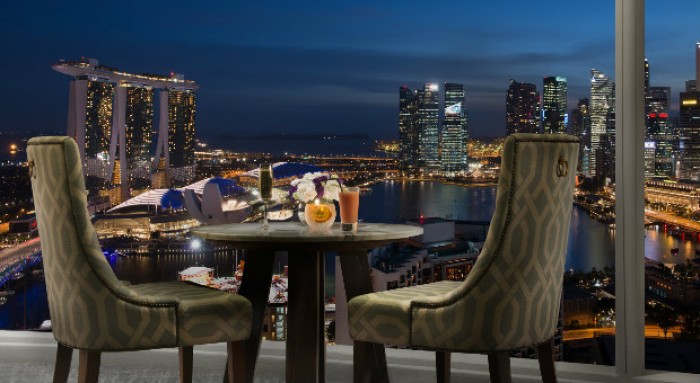 Image credit: Pan Pacific Singapore
Pan Pacific is really one of the more convenient hotels around, with it being extremely strategically located near the more popular seats, the Grandstand and the Paddock Club! Or, if you're too lazy to go down, never fear, some hotel rooms overlook the F1 Marina Bay Street Circuit as well, for your viewing pleasure. Nothing to do in the day? That's alright, because with malls such as Marina Square and Suntec within walking distance (away from the sun!), you can take a leisurely stroll around these malls -- perfect for some last-minute shopping!
8. Mandarin Oriental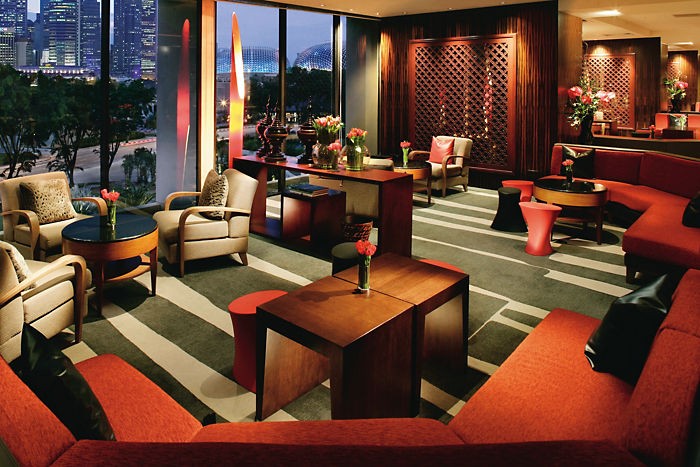 Image credit: Mandarin Oriental Singapore
So maybe you would love to have a drink to go with the excitement of the race, but honestly, you'd rather not be squeezing with the crowd, spilling your beer from your plastic cup everywhere. Well, then, Mandarin Oriental is totally the one for you! When the race starts, simply head on over to their Axis Bar and Lounge which overlooks the city skyline, and cosy up in your chair as you watch cars racing below you! Ahh, bliss.
Best Hotels for F1 After Parties
9. Conrad Centennial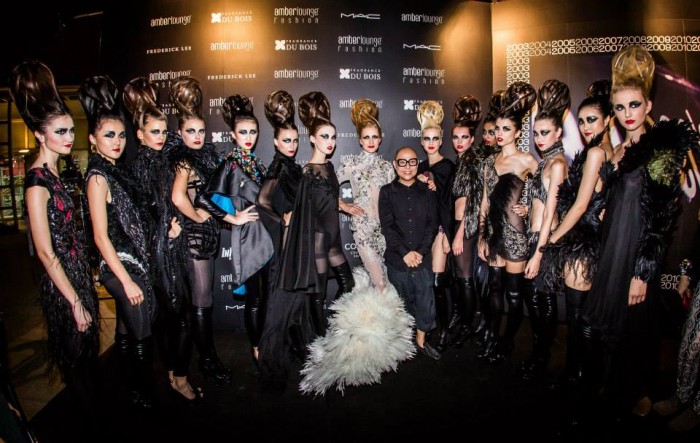 Image credit: Amber Lounge Facebook
Party people, this is another great one for you! Located right next to the Conrad Centennial is the Amber Lounge, which, aforementioned, is the ultimate F1 VIP Party! Get ready to be wowed by famous racers and celebrities alike, amazing fashion shows, and a totally electric atmosphere at this paddock-to-party event, and when you've had enough of all that extravaganza, take a short stroll back to your luxurious hotel right beside. Simply delightful.
10. The Ritz-Carlton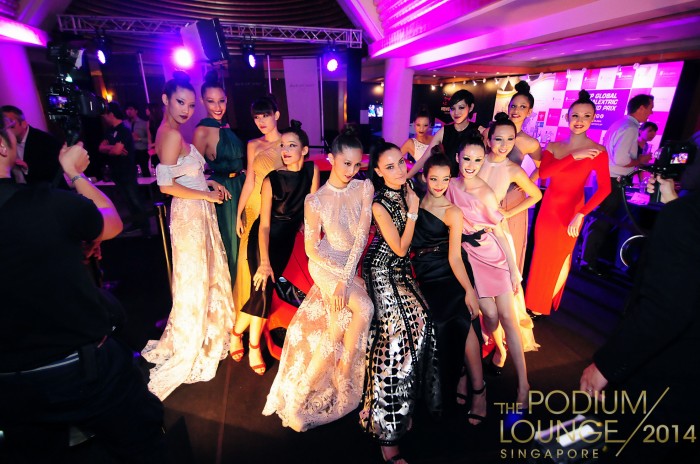 Image credit: The Podium Lounge
Other than being super close to the tracks, The Ritz-Carlton is the hotel to stay at if you're looking to party hard after the heart-pumpin' F1 race! For one thing, the Amber Lounge, which is known as the ultimate VIP F1 Party, is a totally walkable distance from this hotel! Located at Temasek Reflections, away from the hordes of paparazzi, eat your heart out as you get dazzled by celebs such as Lewis Hamilton and Jennifer Lawrence! If not, my money's on this hotel bringing back their "Race-After-Party" package from last year – featuring complimentary tickets to The Podium Lounge, otherwise known as the "The Ultimate A-List Party For The Racing Community"! Either ways, you're sure to have a partyin' good time at The Ritz-Carlton.
Also Read: New Staycation Ideas in Singapore: 10 Designer Hotels for the Chic-est Staycay of Your Life
With all these F1 Singapore hotels -- talk about fantastic views, strategic locations, affordable rates, and electrifying party events there's really something for everyone from this list! So what are you waiting for?? Time to start planning and booking your hotel rooms for the most unforgettable Formula 1 Singapore time of your life!