Away from the crowded tourist beaches, popular floating markets, nightclubs and glitzy temples, Thailand is home to numerous cool offbeat attractions and fun things to do that are a bit different to the norm. From hundreds of holes in the bed of the Mekong River, prehistoric rock paintings, lakes filled with pink lotus flowers , and hell temples ,  to waterfalls with rocks so sticky that you can actually walk up them, museums dedicated to corpses, caves, and interesting rock formations, you definitely don't have to stick with the herd in the Land of Smiles.
If you're a fan of things that are a bit unusual, here are some of Thailand's quirkiest accommodations to stay in:
1. Swiss Valley Hip Resort, Ratchaburi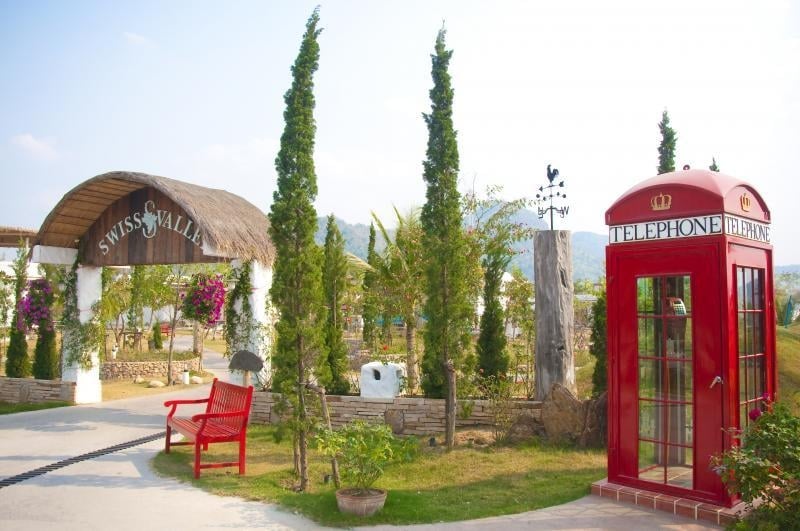 Travel to the alpine landscapes of Switzerland—without the cooler temperatures and winter snow—at Swiss Valley Hip Resort. Located in the mountainous area of Suen Peung in Ratchaburi Province, it's an enchanting show stealer.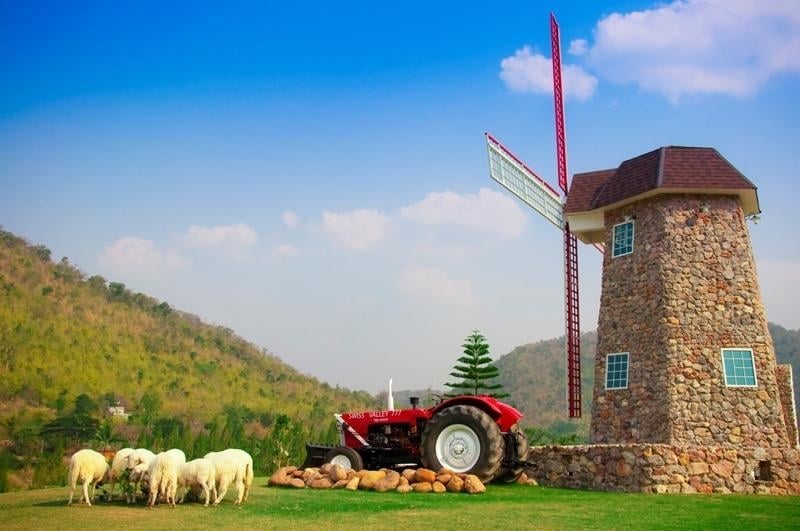 A full-sized windmill graces the verdant grounds and the European-style villas are a rather odd sight in the Thai countryside. The whitewashed structures look like they've been lifted straight from the Mediterranean or a Greek island. Throughout the grounds, you'll also find numerous cute statues, a British telephone box, floral displays, a large "Love" sign, a garden of hearts, a kid's play area, wine casks, bales of hay, tractors, a swimming pool, and an old aeroplane.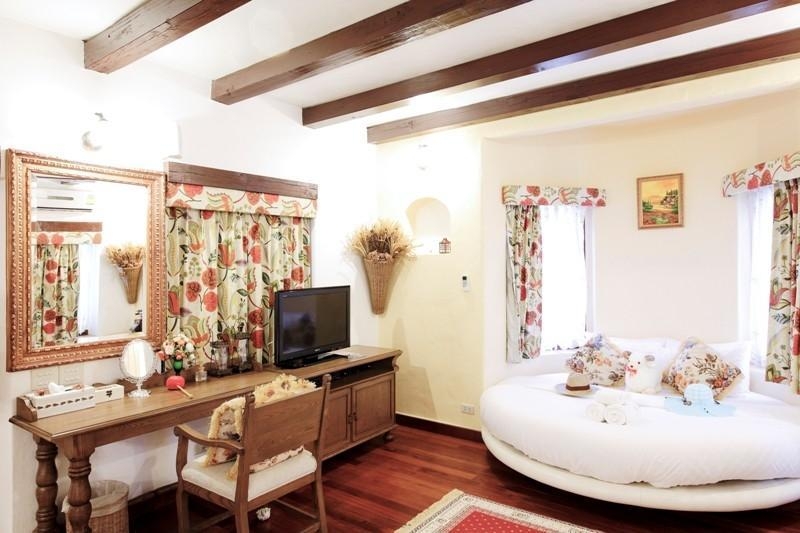 Each lovely villa has a shaded roof terrace with BBQ facilities. You'll also find a TV and lots of rustic touches. The ambience is peaceful and quiet, the air is fresh, the views are incredible, the staff members are friendly, the food is tasty, and the rooms are spacious, clean, and comfy. Relax by the swimming pool, visit the sheep farm and hand feed the creatures, or take part in varied activities like hiking, biking, archery, and horse riding.   
2. Baanphasawan, Kanchanaburi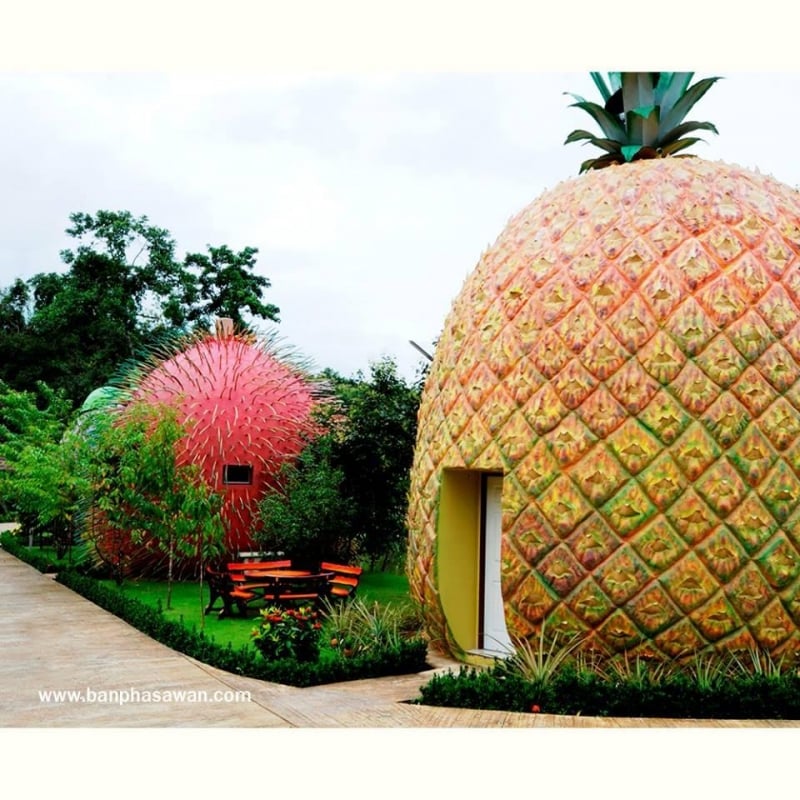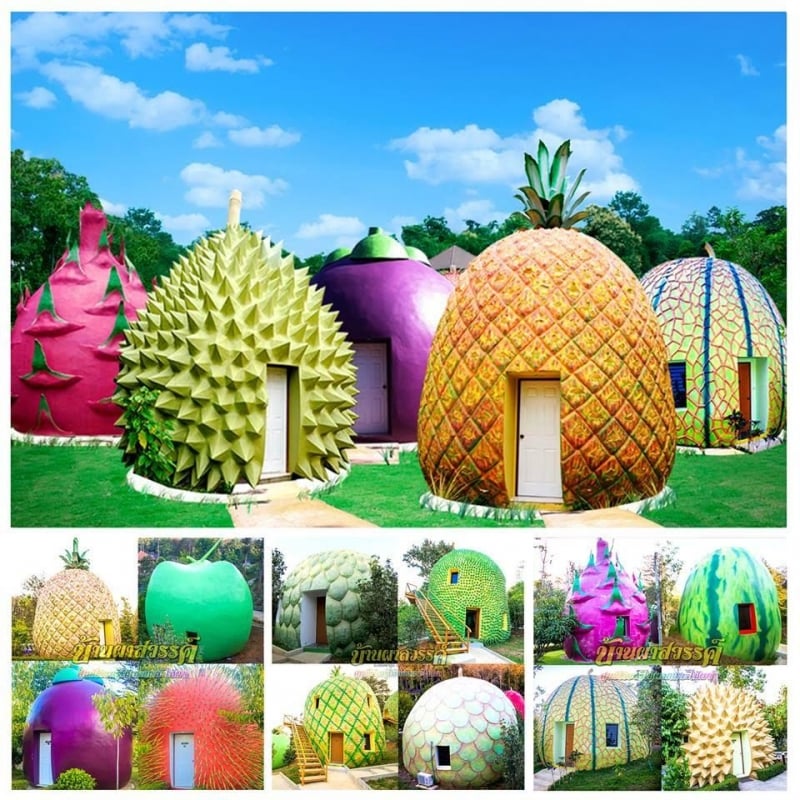 In a remote part of Kanchanaburi province, Baanphasawan is a true visual delight. Situated close to the border with Myanmar, the funky resort offers heaps of peace and quiet. There's little to do in the surrounding area except enjoying nature and the great outdoors. There are few tourist facilities, and the nearest town is almost 30 kilometres away. So, why would people want to stay here?
The resort itself is the pull factor, offering high standards of service and high-class amenities. Oh, and many of the charming chalets are contained within a giant fruit or vegetable! Larger-than-life durians, mangoes, pineapples, dragon fruit, mushrooms, rambutan, apples, and more dot the resort. There are also cute wooden cabins and cave-like accommodations, and you'll even find awesome little tree houses. All are en-suite and very comfortable.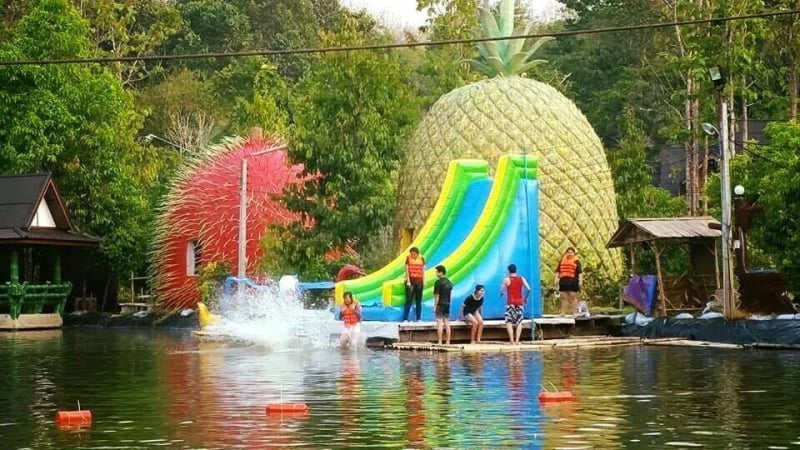 The large pool-cum-lake offers varied fun in the water, including swimming, a slide, peddle boats, and aqua zorbing (where you can seal yourself in a giant bubble to bob across the water's surface). The zipline provides great views of the surroundings as well as an adrenaline rush. The onsite restaurant dishes up tasty Thai cuisine.
3. Eakachai Boathouse, Chiang Mai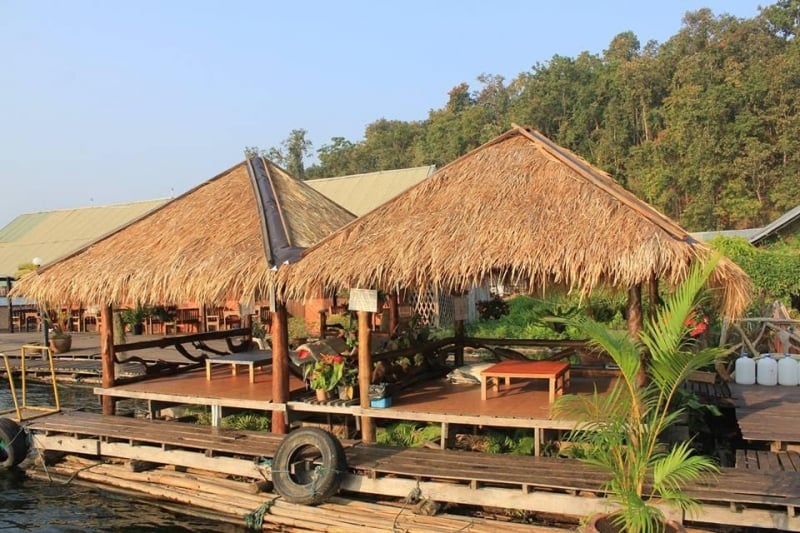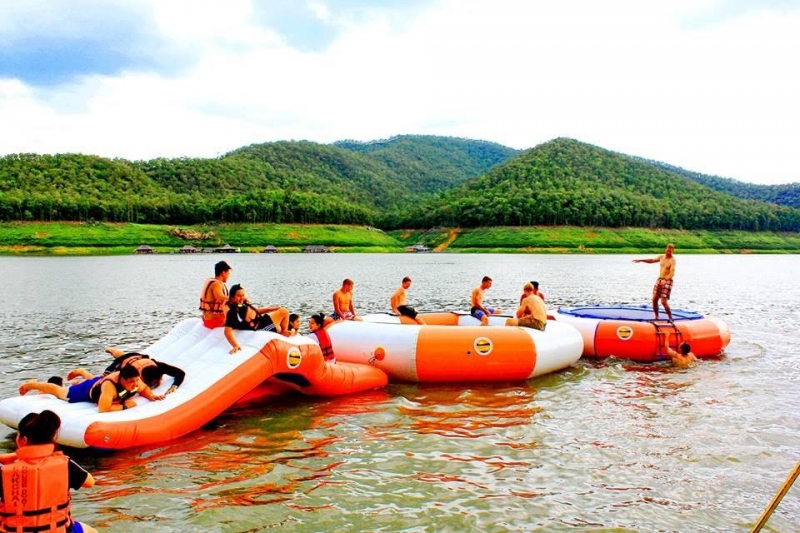 Located at, or rather on, the waters of the Mae Ngat Dam in Northern Thailand, Eakachai Boathouse is a cool accommodation that lets you appreciate the remote and off-the-beaten-track nature of the lake and wake each morning to glorious views and fresh air. Kayaks are available for even more watery fun, and there's a slide into the refreshing waters as well as a selection of inflatable toys and floats.
Rooms may be fairly basic, but they are comfortable. Besides, with Eakachai Boathouse it's all about location, location, location!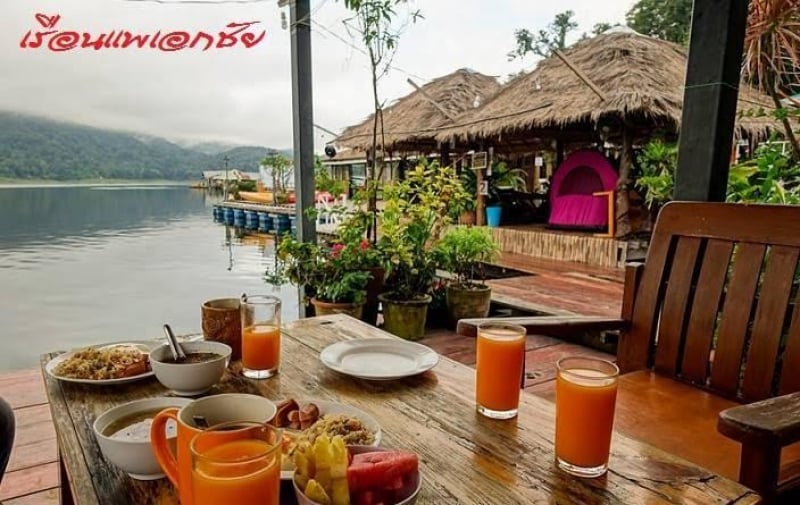 Individual en-suite rooms, many made from wood and with traditional thatched roofs, sit along a central wooden platform. Each has space outside for relaxation, though there are also plenty of communal areas where you can chill out and mingle. Otherwise, hop into a hammock for a leisurely swing.
Access is by boat from shore. The journey should take around 15 minutes. Of course, once out on the water your dining options are limited by the establishment's menu. Luckily, they offer a good selection of Thai dishes at reasonable prices. There's no need to go hungry!
4. Panorama Farm, Khao Yai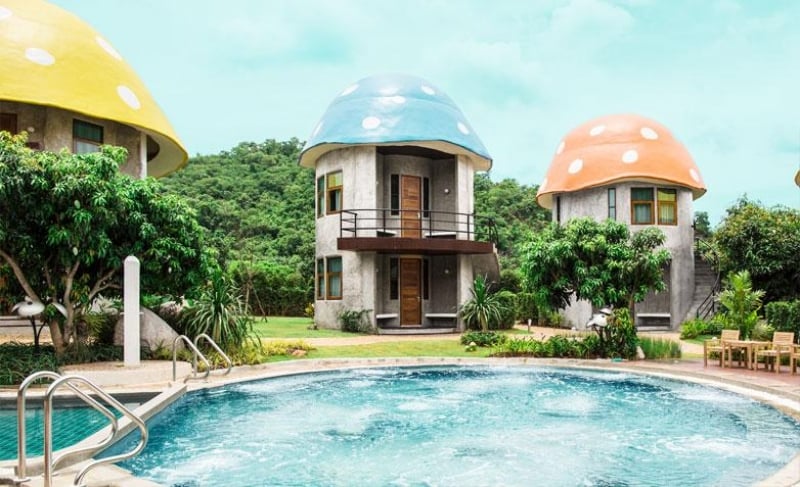 Located in the Pak Chong area of Nakhon Ratchasima Province, Panorama Farm is ideally located for accessing the popular Khao Yai National Park and other nearby attractions, such as Chokchai Farm and Thongsomboon Club (itself home to some pretty cool accommodations). Undulating mountain views are all around. The quirkiness factor comes from the imaginative design of the resort; guests sleep in cute homes that resemble giant mushrooms.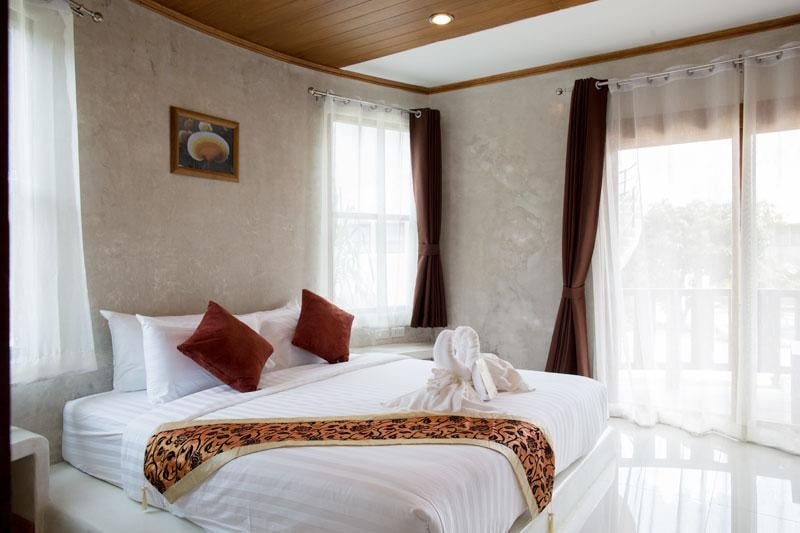 Round with colourful roofs, each split-level mushroom has two private guest rooms. Each abode has a private bathroom, a balcony or terrace, crisp, white linens, interesting artwork, and a chic, minimalist sense of style. Large windows let plenty of light flood in.
The resort is small, giving it an intimate vibe. There's a large pool, perfect for cooling down, as well as an onsite restaurant and gift shop. A unique touch is the small onsite mushroom farm, where you can learn more about the conditions needed to grow different varieties of edible fungi. There's also lots of open space for kids to run and play.    
5. Keemala, Phuket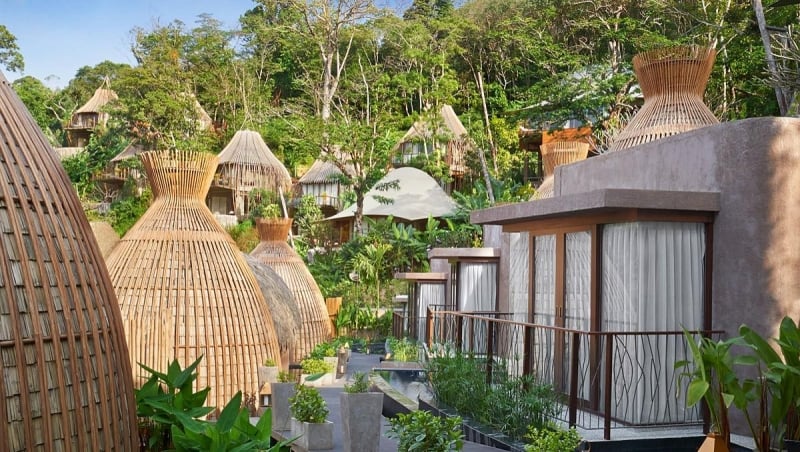 Surrounded by verdant foliage and away from the hedonism and hustle and bustle of Phuket, yet only a five-minute drive from the stunning beach, Keemala is a luxurious resort with more than a hint of the unusual.
The room types include chalets built from different materials and tree houses. Each accommodation type has a private bathroom and modern, high-class amenities. This is a place to be delightfully spoilt!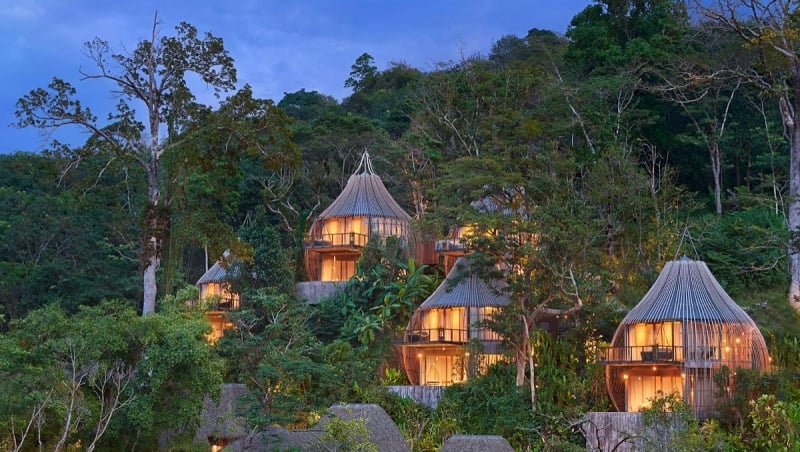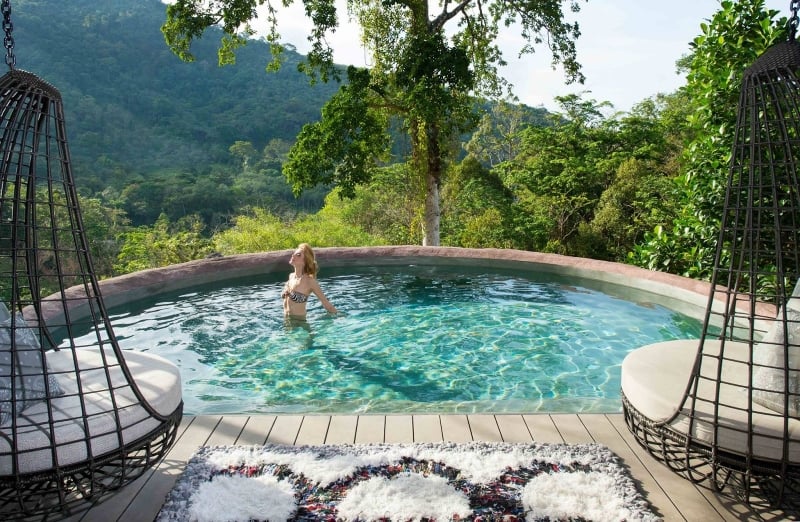 The double-level Tree Pool Houses are spacious, with a master bedroom, a lounge and dining area, and a private pool and sunbathing area. Choose between a soak in the top or a wash in the shower. Just as the rooms themselves are suspended through the trees, the furnishings within each charming room hang enticingly and imaginatively. The snug beds make one feel safe, secure, and cocooned.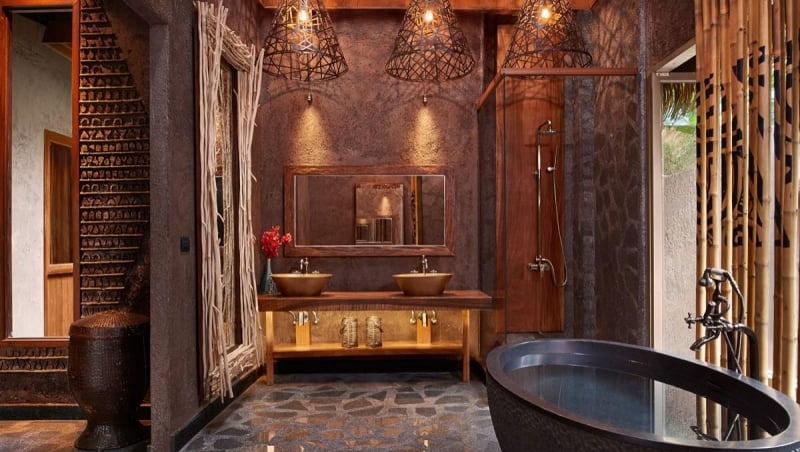 The villas are equally as enchanting. Arranged over two floors, each has a private pool. The Clay Pool Cottages is built – as the name indicates – from clay, and also have a private pool and a terrace. The attractive Tent Pool Cottages have, you guessed it, a private pool too. Created to resemble tents, the nomadic vibe is strong in these exquisite rooms.   
The resort boasts a spa, a restaurant, and a cocktail bar. With a heavy focus on wellness, relaxation, and bliss, the resort often hosts people who specialise in holistic therapies, traditional remedies, healing, massage, and more.
6. Big Joey County Resort, Saraburi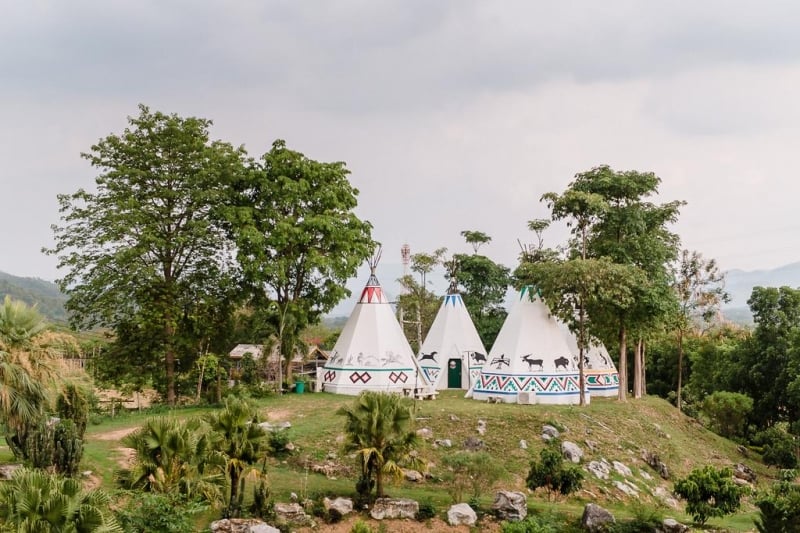 In the Central Thai province of Saraburi, the area of Muak Lek is widely considered to be a cowboy country. It's not quite like the Wild West, but Big Joey County Resort centres itself wholeheartedly around the cowboy theme. Think wagon wheels, carts, wigwams, feather headdresses, bows and arrows, and Native American artwork.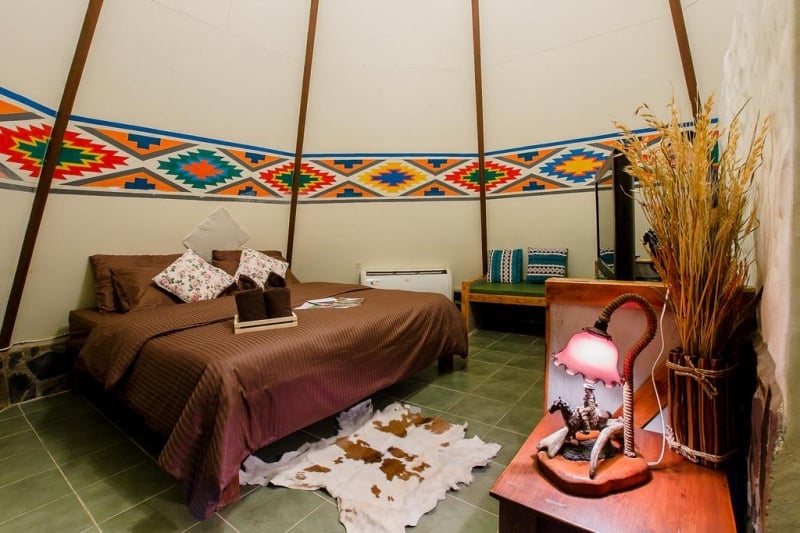 Almost like a small cowboy town in the heart of nature, the resort has teepees, stone dwellings, and replicated Mexican-style buildings among its accommodation options. Camping is also possible. Variety really is the spice of life here!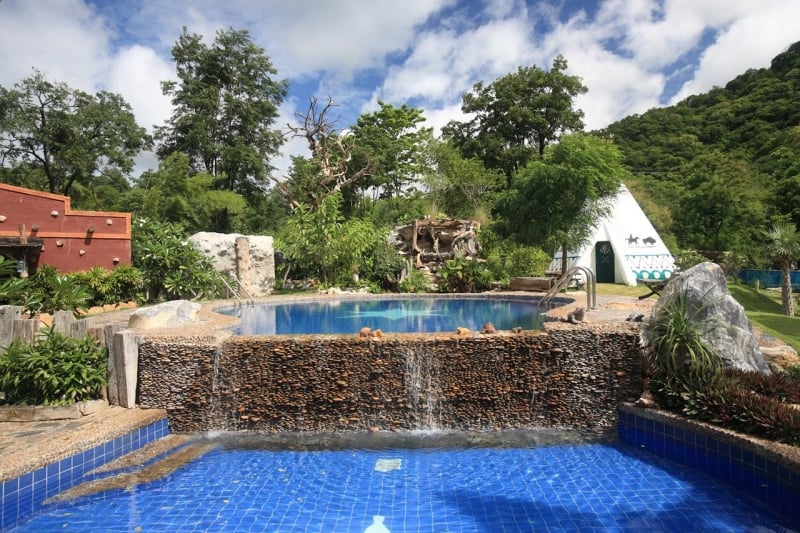 The resort regularly holds cowboy-themed events and evenings. There's an onsite restaurant, complete with a stern Indian chief keeping a watchful eye over diners. The grounds are leafy and expansive, and numerous activities are available right at your fingertips. Need to cool down? Hop right on into the swimming pool.    
7. Amari Buriram United, Buriram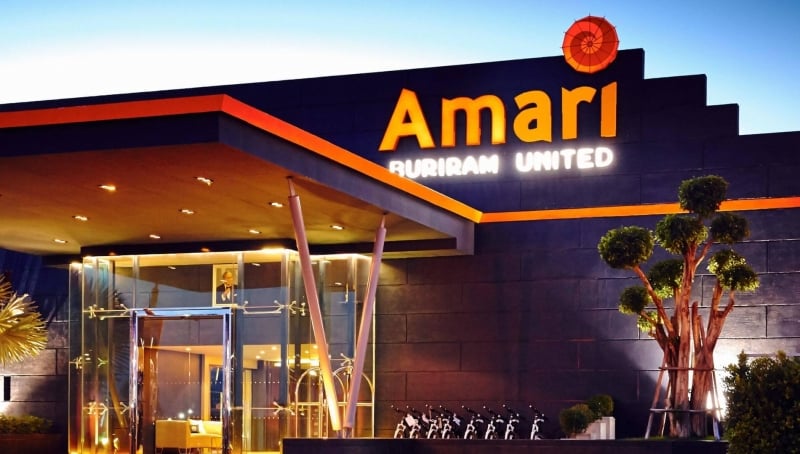 The first (and possibly only) football-themed hotel in Thailand, the Amari Buriram United pays homage to Buriram's local team. Located in Isan's province of Buriram, all rooms here are kitted out in the team's colours and logo. Sporting fanatics can keep fit in the modern and well-equipped gym, swim laps in the large pool, enjoy a game of tennis, enjoy the mini football pitch, or hop on a bike and explore the surroundings. The Thunder Castle Stadium is right next door.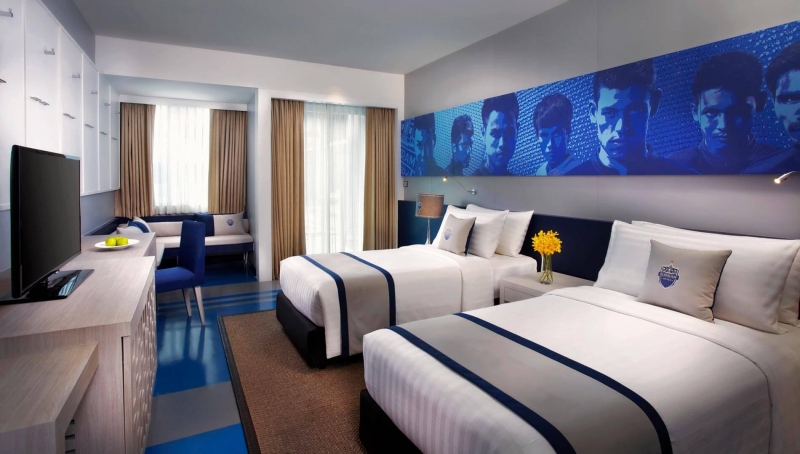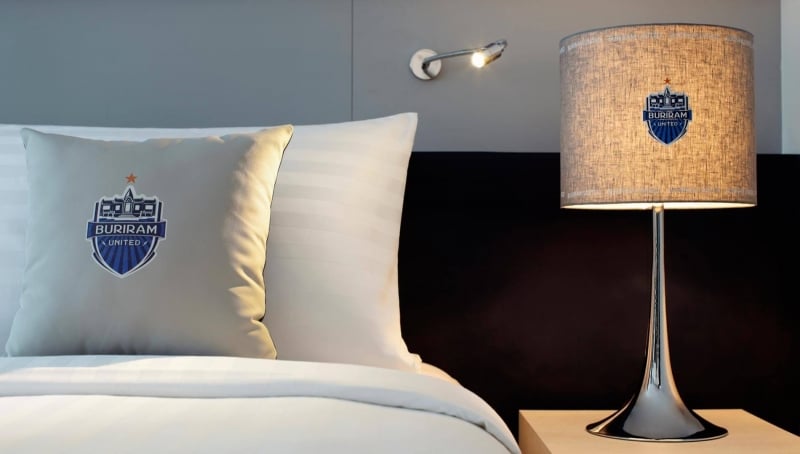 Rooms are modern with comfortable beds, plump pillows, and plenty of light. Each has a balcony. Players' faces peer down at you from the walls. Amenities include a TV and WiFi.  
The onsite restaurant prepares traditional Thai dishes, Asian fusion fare, and European favourites, and there are two chilled-out bars where you can take it easy.  
8. Red Rose Hotel, Chiang Rai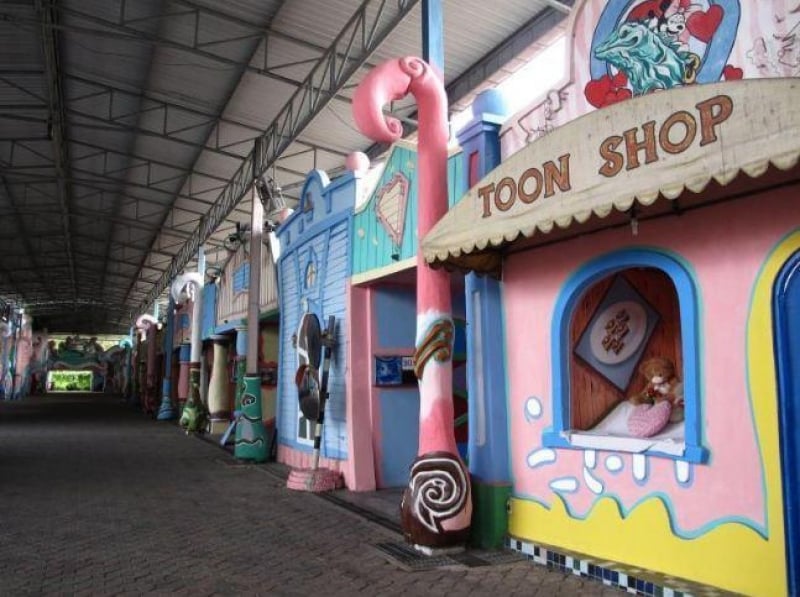 More of a love motel than a hotel proper, this seedy underside doesn't detract from the awesomeness that is the Red Rose Hotel. Located in Chiang Rai and just a hop, skip, and a jump away from Khun Korn Waterfall, the hotel is in a great place for discovering the natural charms of Northern Thailand. Or, alternatively, it's the place just for a giggle!
Ladies of the night are a common fixture here and the place is somewhat notorious locally. Rooms can be rented for short-term fun or for longer durations.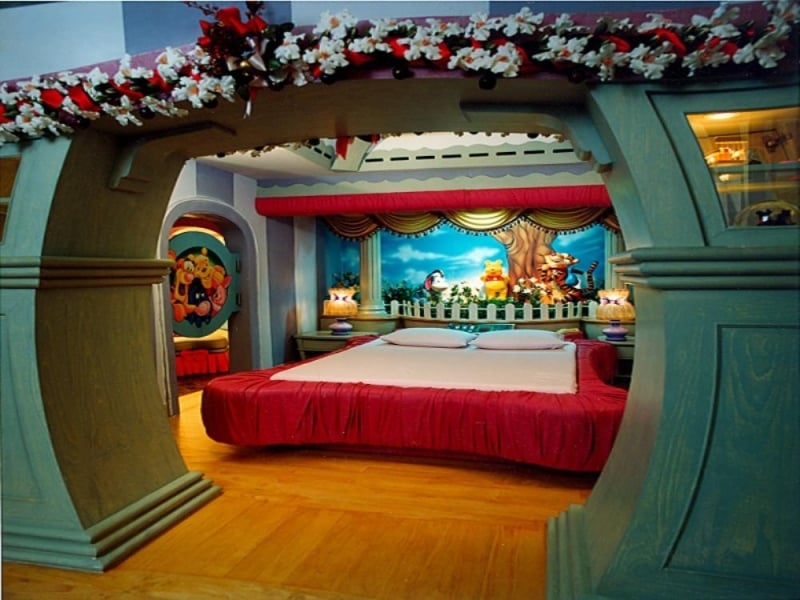 All rooms have a private bathroom, complete with both a shower and a bathtub, and rooms also have a TV, a balcony, a minibar, and a separate seating area.
Enough about the room facilities though! The OTT décor and themed rooms are what this place is about. Set out like a typical motel, with rooms in a strip on one level with a private parking in front, the facades are colourful and cartoon-like. Step into Aladdin's cave, the Toon Shop, a Star Wars set, a spaceship, Adventure Land, a jungle hideaway, the love boat, and more.    
Need more to add to your list?
Try this: Villa Tuscany Country Resort in Ratchaburi, the PlayHaus Thonglor, Sook Station, and Shanghai Mansion in Bangkok, Time Movement in Chiang Mai, Hidden Holiday House in Nakhon Prathom, Kaengkrachan Boathouse Paradise and Santorini Park Stay in Phetchaburi, Wave Hotel in Pattaya, Villa Maroc Resort in Prachuap Khiri Khan, the Float House River Kwai in Kanchanaburi, W Koh Samui, Romrudee: The Passion Hotel in Nonthaburi, and Nakhon Ratchasima's Hobbit House, My Ozone Khao Yai, Belmont Village, Mister Mushroom, and DNA Resort & Spa.