Singapore is small, I know. There's nothing to do in Singapore – I KNOW! What can couples do over the weekends other than walking down the same old tired streets of Orchard or wasting away a few hours in a movie theater?
In our bid for more adventure, my boyfriend and I checked out The Quincy Hotel's Qool Weekend staycation package and all we can say is that it's bigger, it's better, and downright kickass. Every bit of it was like a cool glass of champagne on a hot Saturday afternoon - heavenly!
From start to end, here's why you and your other half might not even want to leave the hotel – Trust me, I felt the same!
Also read: 12 Trendy Hotels in Singapore for that Ultimate Weekend Staycation
An Art Gallery Welcome
Checking in was a breeze, especially with that gorgeous reception. Absolutely couldn't resist taking lots of photos... Kudos to your other half – patience is a virtue he needs to have on this one.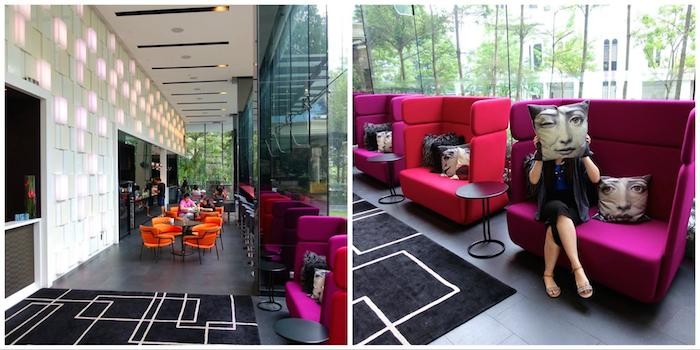 Can you believe that this is a toilet?! Yep, jaw definitely dropped.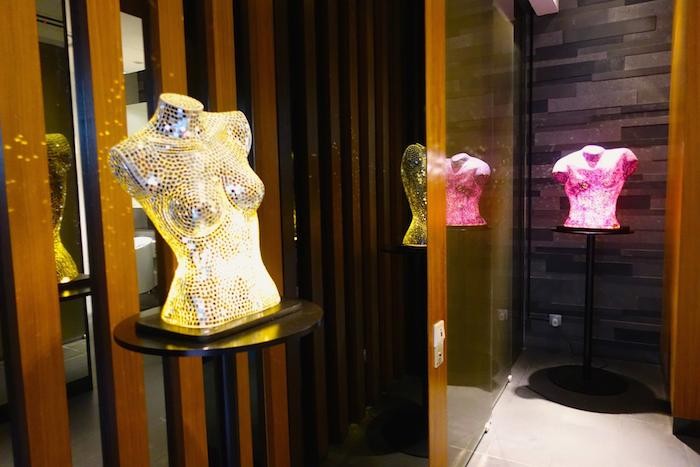 Also, all-day light refreshments? And ON THE HOUSE?! Boy oh boy, just keep them coming! I had to drag the boyfriend away from the fizzy drinks, cupcakes, coffee, juices, scones, cakes… the works!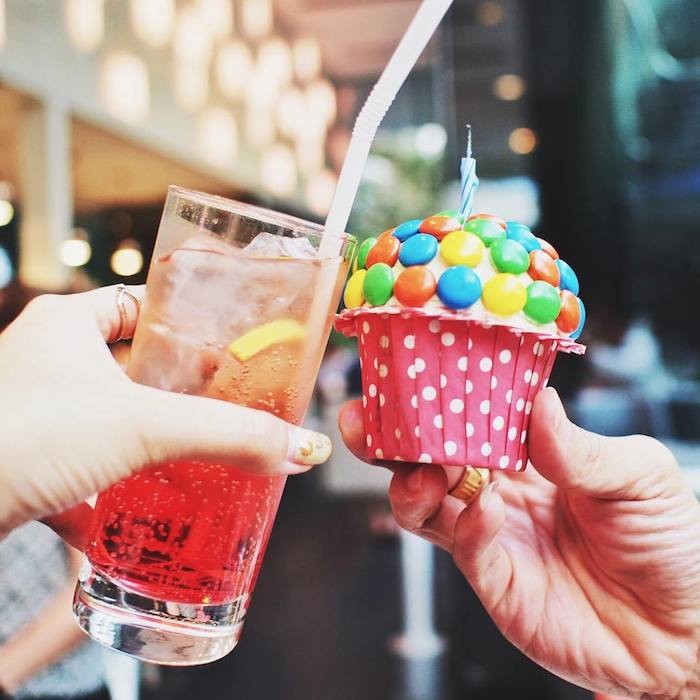 Image credit: The Quincy Hotel Facebook (instagram): @yingagoh
It was SO HARD to get out of Bed!
Nothing quite does it like a stylish and ultra comfortable room. The icing on the cake? The gorgeous bay window seat and THE VIEW. My first thought: 2 hours, 1 book. Done and done!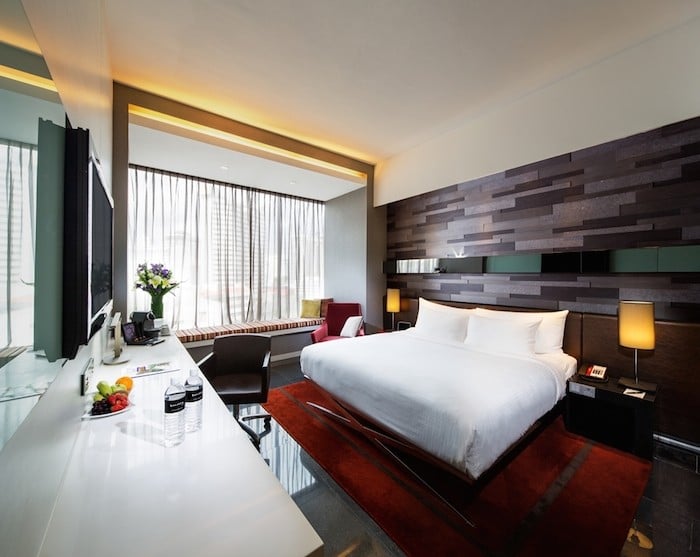 Image credit: The Quincy Hotel
The room comes with both a rain shower AND a bathtub. Sweet! Called first dibs on the bathtub – plus the complimentary bottle of wine? Per-fec-tion.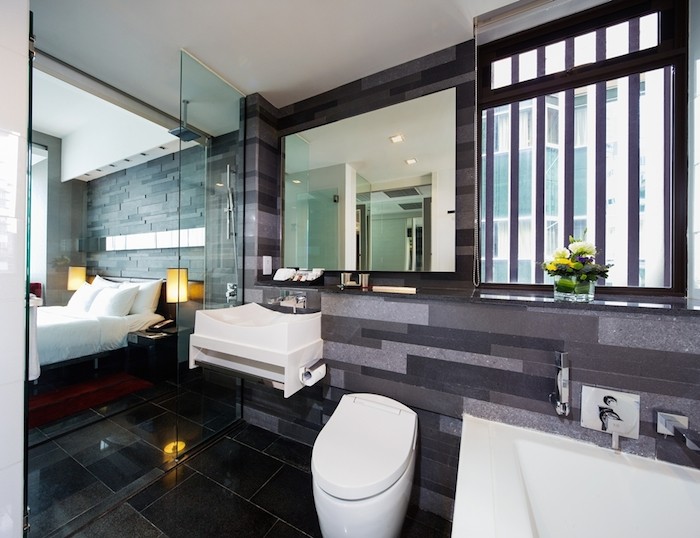 Image credit: The Quincy Hotel
Personally, I was excited to try The Quincy Hotel's infamous complimentary in-room mini-bar!  ( Gasp! Did you say FREE?) Yep, you heard that right. Plus, everything is replenished daily – Wow-ee! Swallow that saliva, and join me in grabbing those snacks and drinks with two hands. Read: Two hands!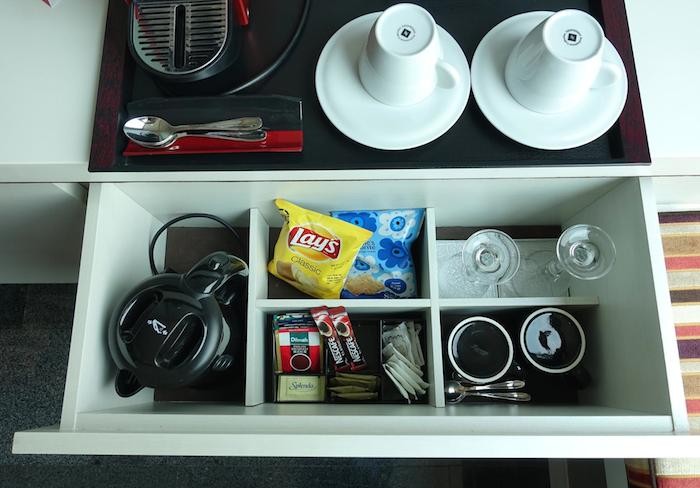 Coffee junkies would be pleased to spot the Nespresso machine available in the Studio Deluxe Rooms. I know, what on earth would we ever do without coffee?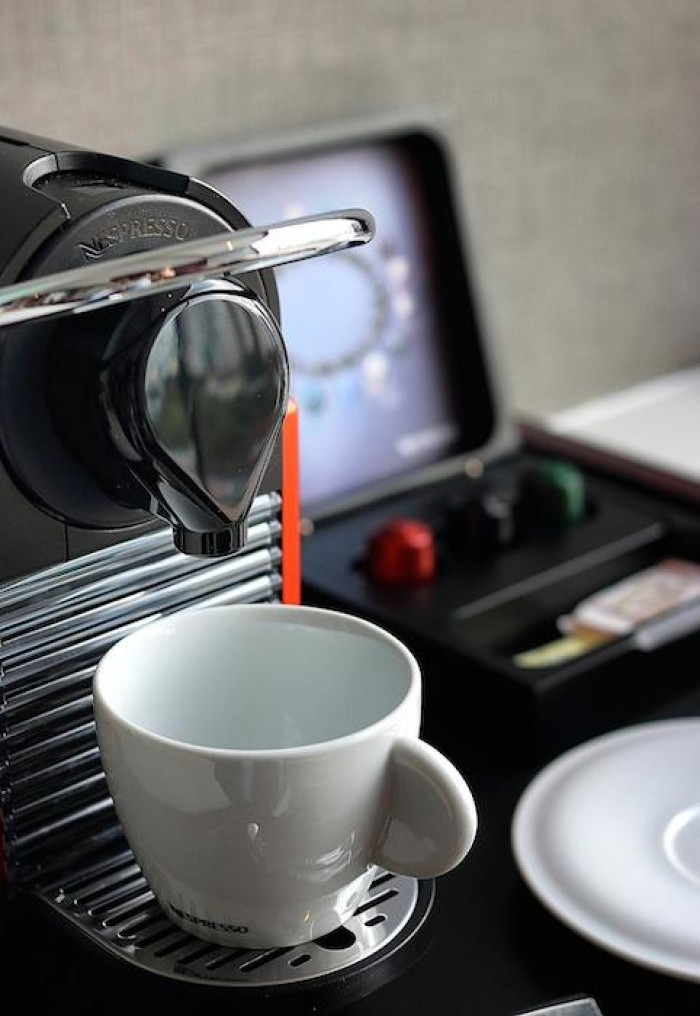 Image credit: The Quincy Hotel
Because nothing beats an ice-cold beer on a hot Saturday afternoon. Beer belly? Meh, it's worth it!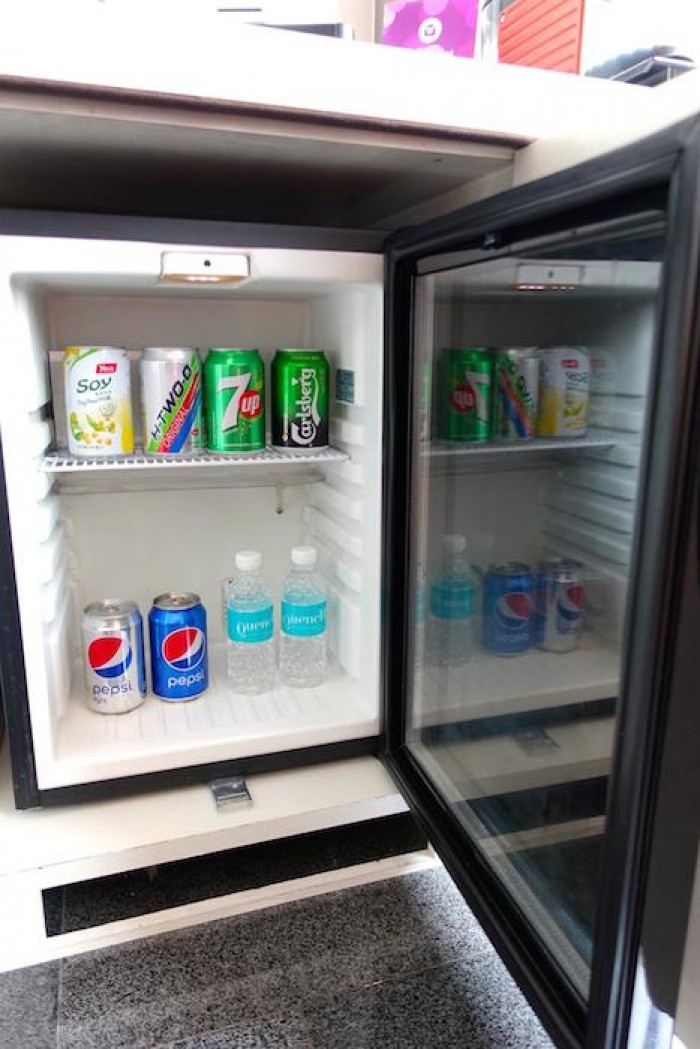 Don't mind me if I hug the free drinks and snacks. It's basically like all my childhood fantasies coming true!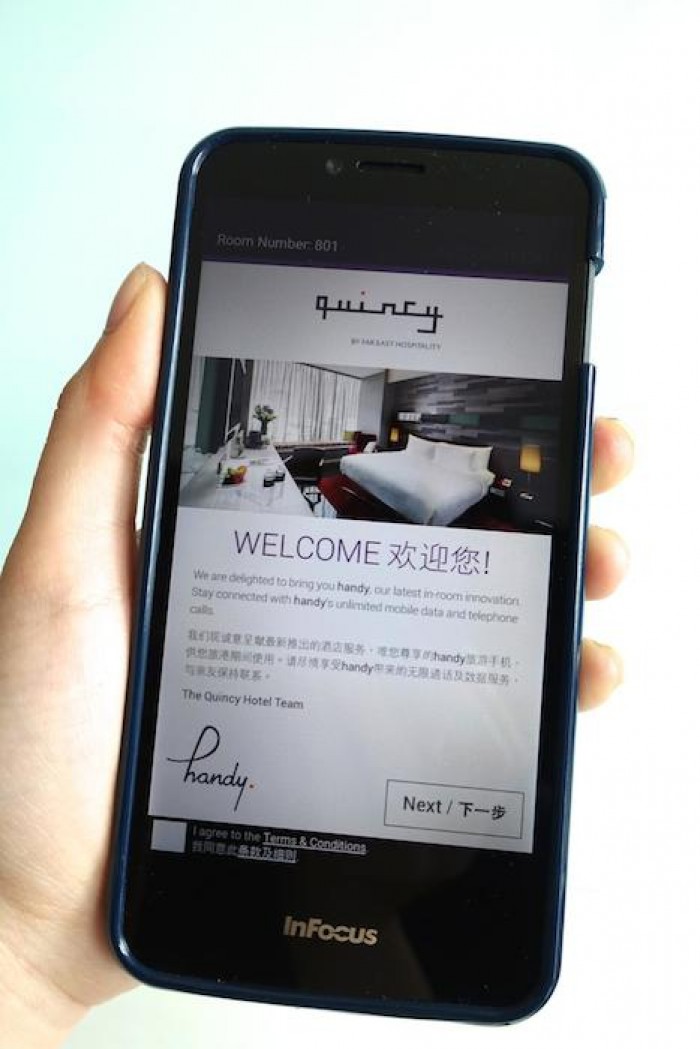 Also, check this out! It may not appeal as much to us locals, but for foreigners, it's a godsend! Hello, free unlimited mobile data and phone calls?! Pretty good deal, if you ask me!
Food + Art – Can You Make It as A Couple?
Joining a chocolate truffle making class was the HIGHLIGHT of our staycation! It's included in the Qool Weekend staycation package. Of course we signed up for it. Why ever would we not?
My man in a spiffy pink apron. Pink is everyone's colour, whether they admit it or not!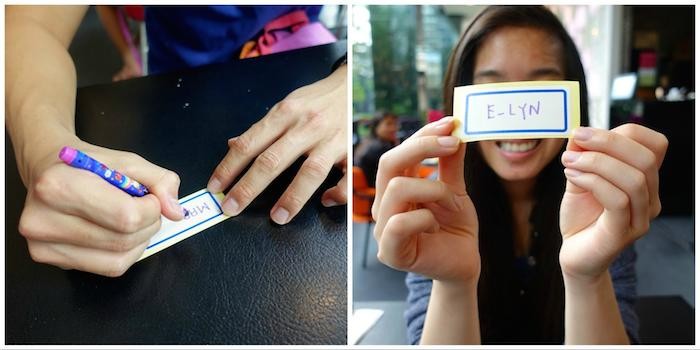 I unleashed that inner domestic goddess within, it's time to whip up a storm!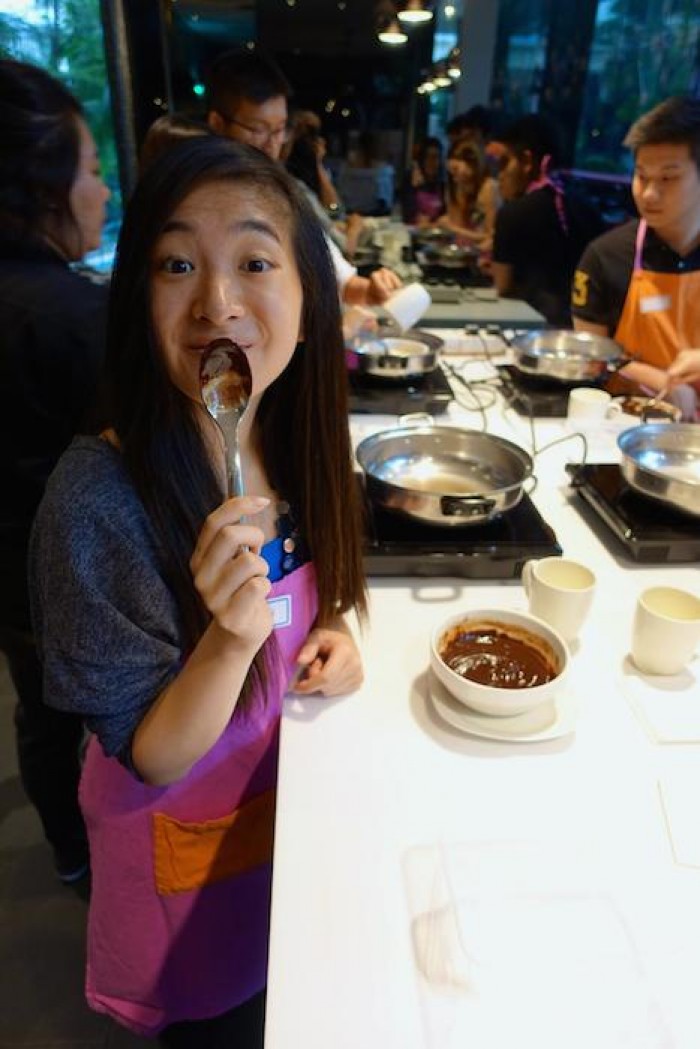 So we swished, flicked, mixed, ground, and churned our way to some pretty darn-good chocolate truffles.

Bet you've never seen your other half so hard at work! Check out that look of immense concentration. Must... Grind… finely….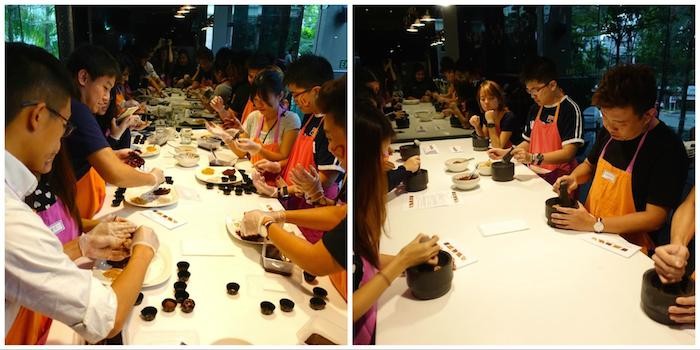 While waiting for the chocolate to set, the staff conducted a pretty fun dating game to keep us eager couples occupied.
Answered any of the questions wrong? Out comes the lipstick! No one is spared – all's fair in love and war! Hey, we even heard chocolate makes a pretty good foundation as well.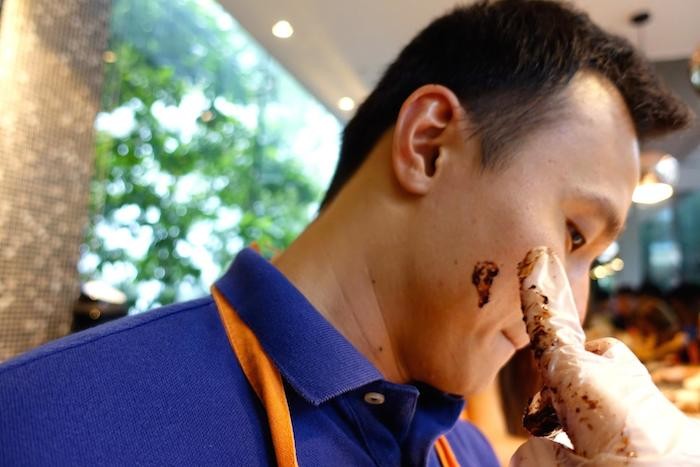 Overall, it was an afternoon of good food and new-found friends. Pretty nice!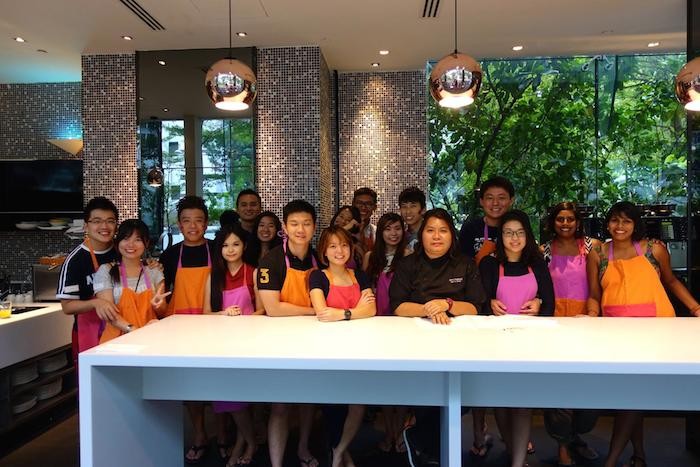 We even got to bring back the home-made truffles! They might look pretty misshapen, but just hear your taste buds sing. Our very own Godiva, served straight up!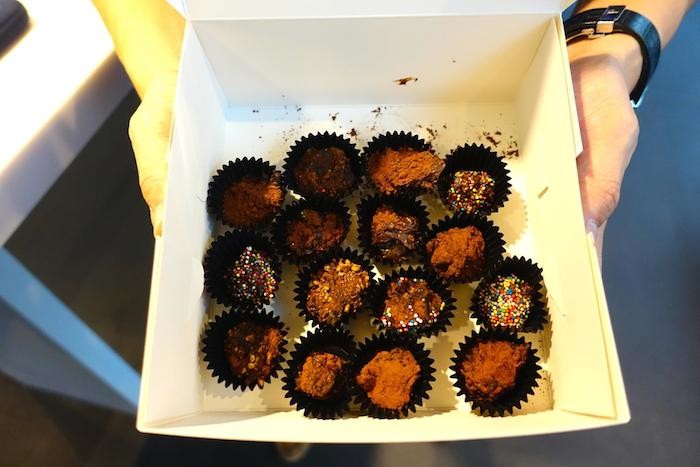 If chocolate truffles aren't your thing, you can choose to unleash your creative juices in a couple art jamming session on Sundays! We didn't take part, but it looked pretty fun. You never know, your partner – or even yourself! — might actually turn out to be a Vincent Van Gogh in disguise!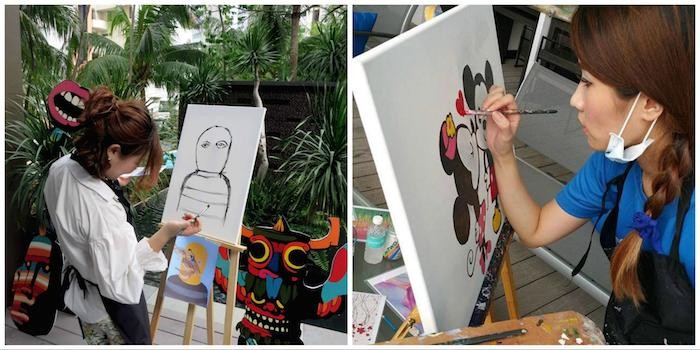 Image credit: The Quincy Hotel Facebook ; The Quincy Hotel Facebook (instagram): @missyest
Paint, paint, paint. It's artistic therapy at its best! You'll even get to bring back the canvas for your wall back home. I'm definitely going for this when I next stay at Quincy!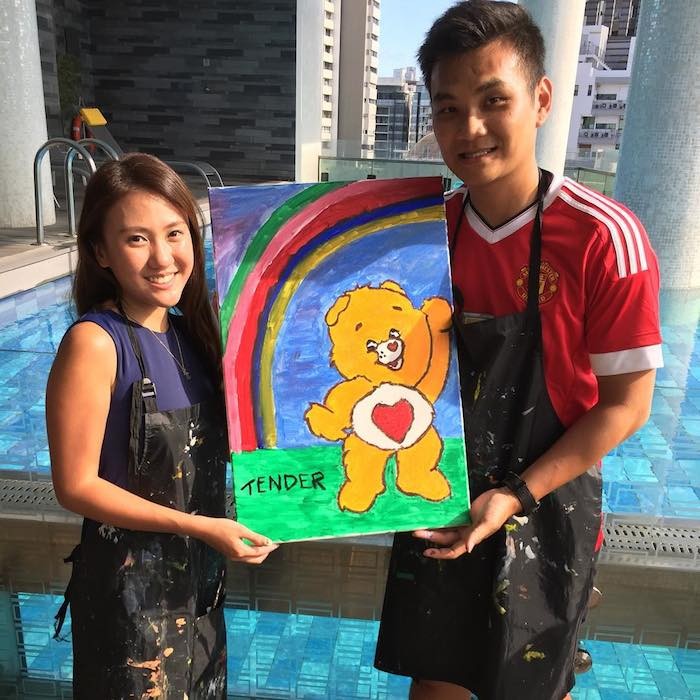 Image credit: The Quincy Hotel Facebook (instagram): @laurawonglw
So who's the better cook or painter? Guess you gotta find out!
Bubbly on The House? Man, Those Freebies Just Keep On Coming!
When the evening came, we were looking for somewhere to unwind. Think: birds chirping, the sound of falling water, the feel of a cool breeze on your neck. Okay I might have taken it a little too far, but the outdoor verandah at The Quincy Hotel does come pretty close!

From 6 - 8.30pm everyday, we got to enjoy FREE FLOW of cocktails, mocktails, wine and beer on the house! Don't think we didn't see those eyes of yours light up – everyone loves a good freebie and here at The Quincy Hotel we got tons. What a perfect way to wrap up a date – arms intertwined, bubbly in one hand and a couple of canapes in the other. *dreamy-eyed*
Pool-Side Shenanigans – The Best Way to Spend Any Saturday Night
But wait – the fun hasn't stopped! Break out your floats, it's time to party!
Image credit: The Quincy Hotel Facebook (instagram): @brenwho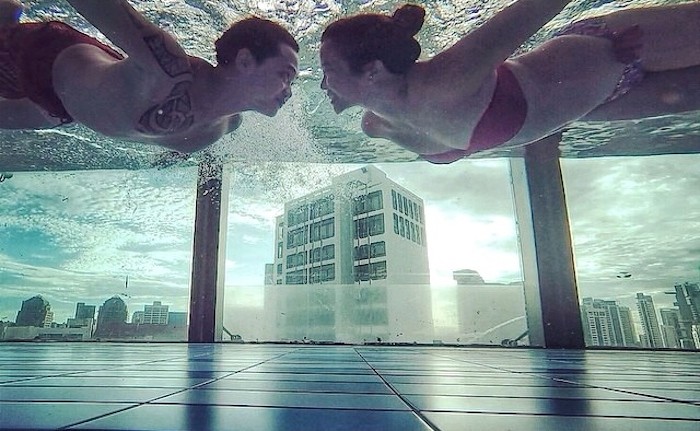 Image credit: The Quincy Hotel Facebook (instagram): @melvimagno
The Quincy Hotel's got its own infinity pool to boast of; take THAT, MBS! Feasted our eyes on the stunning view from up above –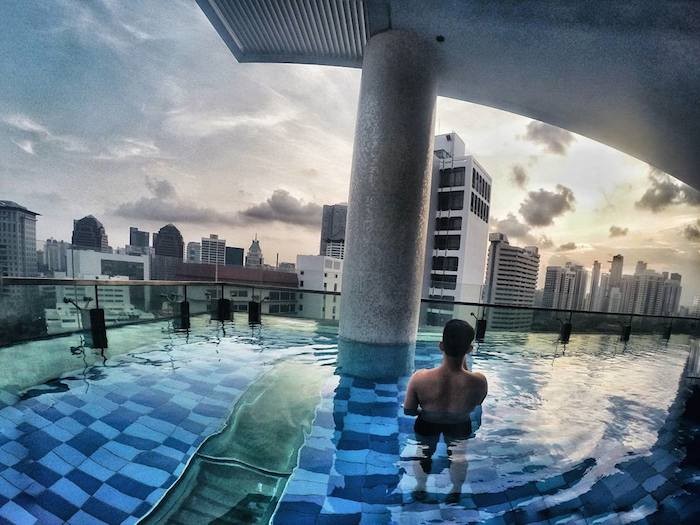 Image credit: The Quincy Hotel Facebook (instagram): @hafizzuan
– and from down below as well! Can you spot the overhanging strip of blue? Pretty cool, huh!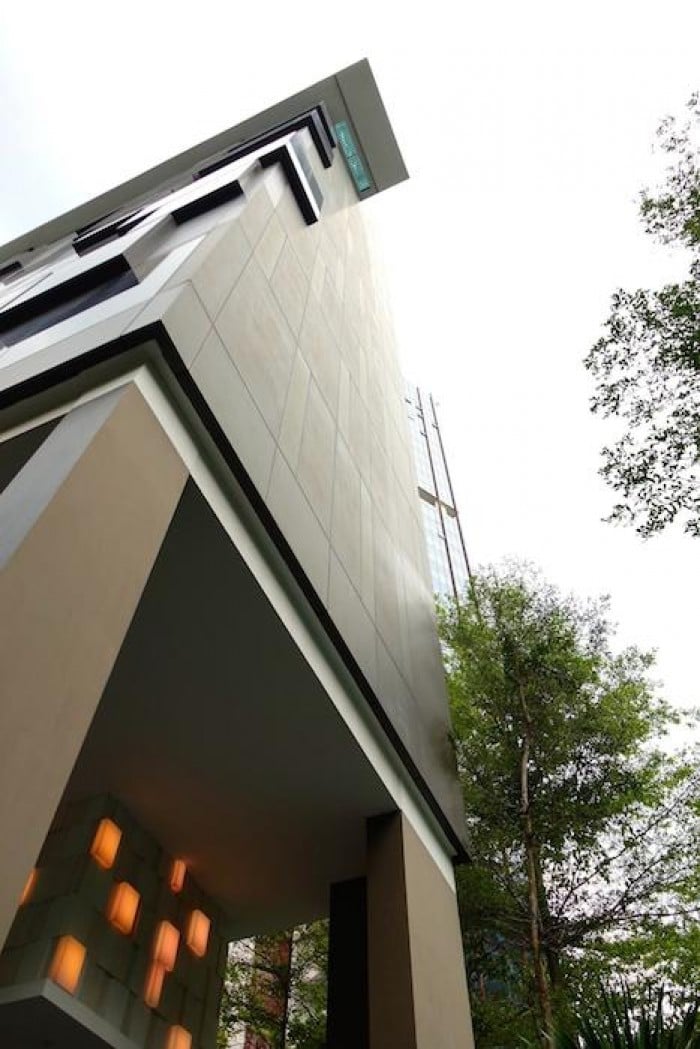 They even have movie screenings by the pool every Saturday night. The movie changes every week, and they're all pretty good!
Four words – All. You. Can. Eat.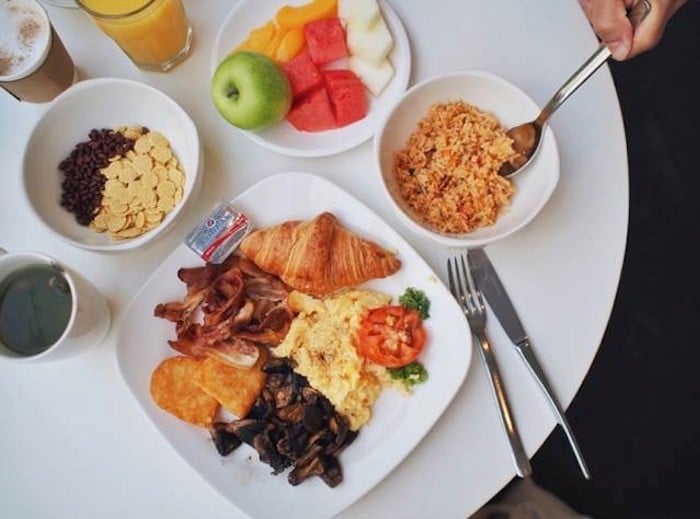 Image credit: The Quincy Hotel Facebook (instagram): @yinagoh
Haven't you heard? Breakfast is the most important meal of the day. And man, did we dig into that buffet. Rounds one, two, three, four… The staff literally had to chase us out.
I'm just going to put it out there – this weekend at The Quincy Hotel was everything we needed and more. The complimentary bottle of wine, FREE all-day dining, FREE in-room mini-bar, FREE cocktails, and FREE CHOCOLATE TRUFFLE MAKING/COUPLE ART JAMMING CLASS?! The Quincy Hotel really knows how to hook us Singaporeans.
I highly recommend the Qool Weekend Staycation for couples who need something more refreshing to spend that quality time together! My boyfriend and I enjoyed ourselves thoroughly. We will definitely come back again!
[DEAL ALERT]
Book your Qool Weekend staycation at the The Quincy Hotel and enjoy up to 5% off their usual package rates with the promo code 'QUINCY'!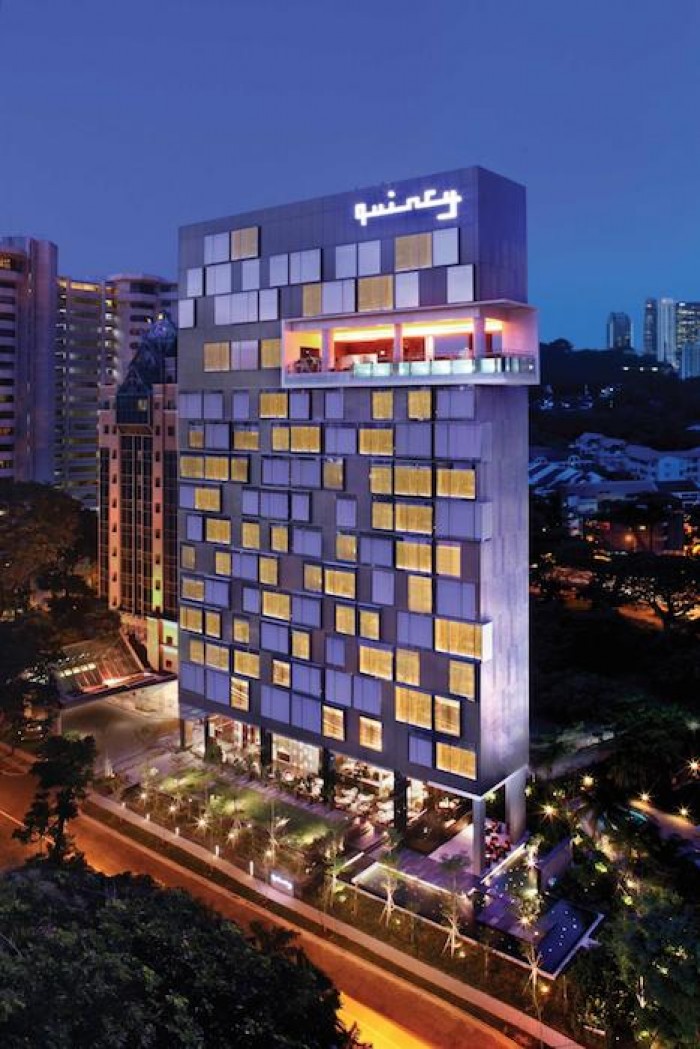 Image credit: The Quincy Hotel
Have your date planned out from start to end. You can thank us later!
---
Brought to you by The Quincy Hotel