Time and time again, Palawan has been deemed among the world's most beautiful islands.
In fact, this 2018, it is third on Conde Nasté Traveler's list of best islands in Asia — the first and second spots taken by two other equally breathtaking paradises in the Philippines. From its culture to the satisfying cuisine and the countless natural wonders it holds, Palawan is an undeniable gem. Tourists who've been there will attest to its unparalleled allure, and first-timers will leave the place with a strong desire to return.
Also read: 10 World-Class Islands in the Philippines Travellers Rave About
If you haven't been to Palawan, though, it's good to note that its capital city, Puerto Princesa, is the perfect gateway to the rest of the province. Aside from being the ideal base to get to other parts of Palawan, Puerto Princesa is an adventure in itself — and one that you shouldn't miss. Here are the top things to do in Puerto Princesa to kickstart your grand Palawan adventure.
1. Tour the Puerto Princesa Subterranean River National Park
No trip to Puerto Princesa is complete without touring the famous Puerto Princesa Subterranean River National Park. It's a UNESCO World Heritage site — and a busy one at that, so make sure you book a tour before anything else. You'll be riding a small boat or bangka ; dress to get a bit wet or at least bring extra clothes.
Inside the cave, you'll see spectacular stalactite and stalagmite formations, which took hundreds of years to develop. The entire underground river spans 8.2 kilometres, but only a fragment of that is open to the public.
2. Try the famous Banana Bread at The Legend Palawan's Tanglaw restaurant
When translated in English, the Filipino word tanglaw means "guiding light". And The Legend Palawan's in-house restaurant does exactly that — it serves as your guide to Filipino cuisine and enlightens you about its many flavour profiles. Sample all-time Filipino favourites such as Sinigang, Kare-kare , and Pinakbet . And for dessert, have a bite of an absolute must-try, Tanglaw's famous Banana Bread. Locals and frequent visitors love ordering a loaf or two for bringing home. We're sure you will, too! Local magazine show Rated K even featured the baked specialty and declared it the most delicious banana bread they've come across.
If it's all-out convenience you're after, choose The Legend Palawan as your accommodation. The hotel has partnered with a tour organizer, The Legendary Tours, so all you have to do is pick a package and they'll make it happen.
Learn more about The Legend Palawan on TripZillaSTAYS.
3. Appreciate the art at Canvas Boutique Hotel
If you're the artsy type, then drop by Canvas Boutique Hotel. The entire structure is one big work of art; each floor showcases the masterpieces of various Palaweño artists. Every nook and cranny of Canvas Boutique Hotel is well curated, not to mention Instagram-worthy.
Enjoying a meal at its in-house restaurant, Painted Table, is also an artful culinary experience. The restaurant houses an actual table with an artwork painted on it by street artist AG Saño . Dine at Painted Table, or if you're still looking for accommodations, why not book at stay with Canvas Boutique Hotel? When you're done exploring the hotel, you can refer to its Wander List, a sort of Palawan bucket list that was thoughtfully created by Canvas Boutique Hotel for first-timers like you.
Learn more about Canvas Boutique Hotel on TripZillaSTAYS.
4. Eat crocodile meat and woodworms at Kinabuch's Grill and Bar
Crocodile meat is a delicacy in Palawan. Luckily for you, there's a grill and bar called Kinabuch's (or simply, Kinabuch) that is a popular choice for big groups eager to get a taste of local cuisine. It's outdoor dining and is also a well-known watering hole so dress comfortably — you might have to deal with the humidity and the crowd.
Kinabuch serves a wide array of Filipino food and bar chow, but while you're there, go authentic. Try the Crocodile Sisig (yes, it's real croc meat) and Tamilok , a ceviche made of...err...woodworms. Tamilok is also known as woodworm or shipworm, and even if it may look it, those with queasy stomachs can take comfort in the fact that it's actually a mollusk found in rotting tree bark. Yum.
5. Hop from one island to the next at Honda Bay
There are many beaches in Palawan, but if you're in Puerto Princesa, the most convenient way of having your fun in the sun would be to head to Honda Bay. This part of Palawan's surrounding waters is a popular go-to for snorkelling and island-hopping. Some islands are known for thriving populations of marine life and other native fauna, so make sure you respect these natural habitats when you pay a visit. 
6. Sip on some Rain Coffee at Eightynine Cafe Palawan
Aching for some good brew? Eightynine Cafe Palawan certainly delivers. If you don't mind having your coffee with a sugary fix, try the Rain Coffee. It makes for quite the unique experience. It's coffee with a "cloud" of cotton candy suspended over it, allowing cotton candy "rain" to drop into your mug as its heat melts the candy above. The cosy restaurant-café also serves breakfast favourites and a good selection of comfort food and Filipino fusion specialties. Now, how about some Lechon Pasta before your cuppa joe?
7. Trek your way up to Mt. Magarwak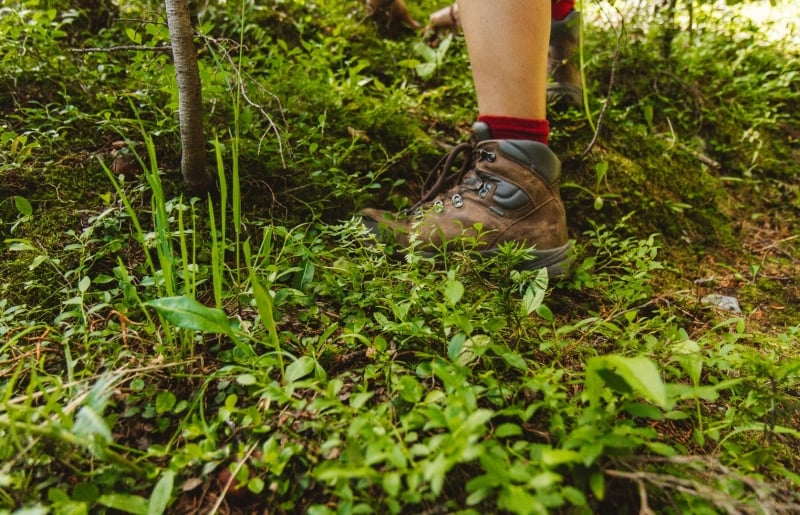 Tourists know very well that Palawan is home to countless beautiful beaches, but not a lot know that you can also conquer one of its peaks in Puerto Princesa. Mt. Magarwak is about 30 minutes away from the city centre by car. Once you reach the drop-off point, it takes about an hour of hiking before you reach the top, where you are rewarded with breathtaking views of Honda Bay, Maoyan River, and Mt. Pusong.
The best part is that Mt. Magarwak is suitable for all kinds of climbers. It's the perfect day hike for beginners, and avid mountaineers will find the relatively leisurely trek invigorating. After all, with scenery like Palawan's, who wouldn't? 
8. Dine by the ocean at Badjao Seafront Restaurant
The Badjao is an ethnic group in the Philippines that are often referred to as "sea gypsies". They usually live near the sea, if not directly on it through houseboats and homes on stilts, so it is no surprise that the Badjao Seafront Restaurant gives visitors inviting views of the mangroves and its surrounding ocean. Pair that with the sea's freshest bounty cooked the way you want and what you get is one satisfying meal.
9. Watch the enchanting fireflies at Iwahig
About a 45-minute drive from the city centre is the site for Iwahig Firefly Watching. Most tourists are told not to leave Palawan until they see the glowy creatures that call it home, but we must remember that only nature can dictate if the fireflies will make an appearance. If the weather and the season permit, the fireflies light up Iwahig and the visitors leave the place with quite the magical encounter. 
10. Explore — and listen to — Ugong Rock
Thrill seekers and adrenaline junkies must include Ugong Rock Adventures in their itineraries. Zoom down a zip line, go spelunking at rock formations, or explore some caves! The word ugong actually refers to a reverberating sound much like moaning, which is infamously made by a limestone formation found on the property. At 75 feet, Ugong Rock is no easy climb, but narrow passageways make it easy for tourists to reach the viewing deck above. 
11. Cruise through the mangroves in Sabang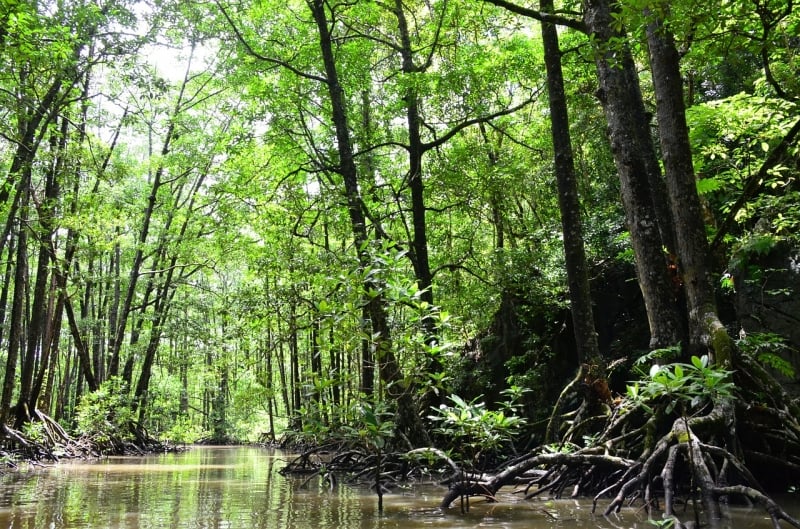 As you might have noticed by now, Palawan makes for the ultimate nature trip — and this is only the tip of the iceberg. But for first-timers, there's only more thing we'd recommend you shouldn't miss. Take the Mangrove Paddle Boat Tour in Barangay Sabang, where you'll be treated to an introduction to sustainable tourism. You'll see thousands of mangroves growing in the area and there's a beach you can also explore nearby. Just ask your tour guide to let you soak in the sun and feel the seaside breeze if you find yourself wanting to linger a little bit longer.
12. Pig out at KaLui Restaurant
We know there are already many restaurants on this list, but we just had to add this very popular dining place. Homey and  reminiscent of a cosy bahay kubo or nipa hut, KaLui Restaurant comes highly recommended by people who've tried their dishes. It's another great joint for getting your seafood fix, but they also offer other Filipino specialties if you're in the mood for some tasty stews and meat dishes. Our advice? Forget your diet when you visit KaLui, or go on your cheat day so you can make room for one big gastronomic adventure — Filipino-style.
13. Taste the craft beer at Palaweño Brewery
Puerto Princesa has its own microbrewery called Palaweño Brewery, which specialises in the production of craft beer. Drop by to sample all their craft concoctions. You can also learn the ins and outs of a microbrewery through an educational tour the beer company holds everyday except Wednesdays. Did you know that there are foods best paired with craft beer, too? These are but a few of the handy things you'll discover if you take the tour.
14. Visit the critters at the Palawan Wildlife Rescue and Conservation Center
It's only natural that Palawan has its own Wildlife Rescue and Conservation Center, and you're in luck because it's in Puerto Princesa! Although it's mostly a crocodile farm and breeding center, the animal park also cares for other creatures — especially those that are endangered or have been rescued. There, you'll also see the Palawan bearcat, several species of eagles, and even some snakes. The facility also allow tourists to take photos with the animals, but make sure you aren't wearing strong perfume or are not covered with heavy lotion or sunscreen if you do choose to handle them.  Some critters react adversely to chemicals slathered on our skin, and you wouldn't that happening.
15. Shop for souvenirs at the Binuatan Weaving Center
Binuatan Weaving Center keeps local weaving traditions alive by showcasing how they're done. Tourists are given the chance to tour the facility and watch weavers at work. Afterwards, you can shop for handicrafts and take them home as unique souvenirs for keeping and for giving away.
Also read: 3-Day Puerto Princesa Itinerary for the Next Long Weekend Holiday
Now that we've kind of given you a virtual tour of Puerto Princesa's natural wonders and tourist go-tos, it's easy to understand why people fall in love with Palawan. When you're done getting to know its central city, you can start planning an adventure to see the rest of this beautiful tropical getaway. Let us know where that takes you!