Penang, Malaysia: a place where rich traditional heritage meets natural wonders meets mind-blowing food. How does one even begin to choose a good Airbnb in Penang?  
Most tourists opt to stay at the heart of George Town, which is just a stone's throw away from the picturesque alley of Art Lane. But then, you might also want to enjoy the sand and water at the famous Batu Ferringhi, where parasailing and windsurfing are par for the course. Or, you can go even further: stay in a durian farm that's so lovely you'll want to keep it a secret for the rest of your life. 
Regardless of your definition of fun, we've compiled a list of recommendations based on where all the action is happening in Penang. Whether you decide to trawl the streets for artsy murals or stay in an enchanting farm, these Airbnbs will have something special for you! 
Top Airbnb homes in Penang
1. This inviting Gurney Drive suite with a private balcony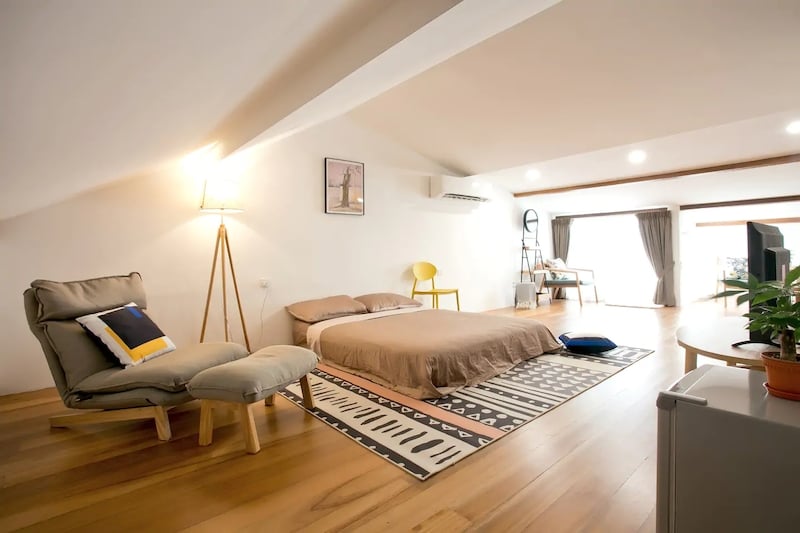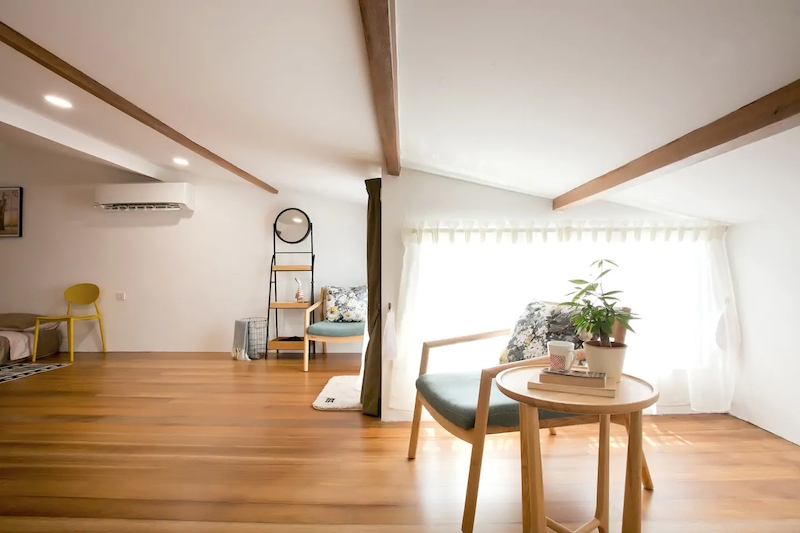 Listing name: Charming Suite at Gurney (Private Balcony + Bathroom)
Listing type: Private room in guest suite
Max. no. of guests: 2
No. of bedrooms: 1
Ready your bellies, folks, because this is an area where any foodie is bound to go absolutely nuts! We're no strangers to Penang's glowing reputation for belly-warming dishes that draw tourists from every part of the world. That's why we're choosing to stay where the food is! 
At this stylish, pristine condominium near the Gurney Drive promenade, you're just a few minutes away from all the delicious Malaysian cuisine at Gurney Hawker Centre. After chowing down on the local fare, you can head back to the suite and relax in a private balcony that greets you with the calming sight of palm trees. Learn more about this Airbnb here.
Also read: 2D1N Penang Itineraries: Traditional vs Modern
2. This rustic industrial house steeped in history and style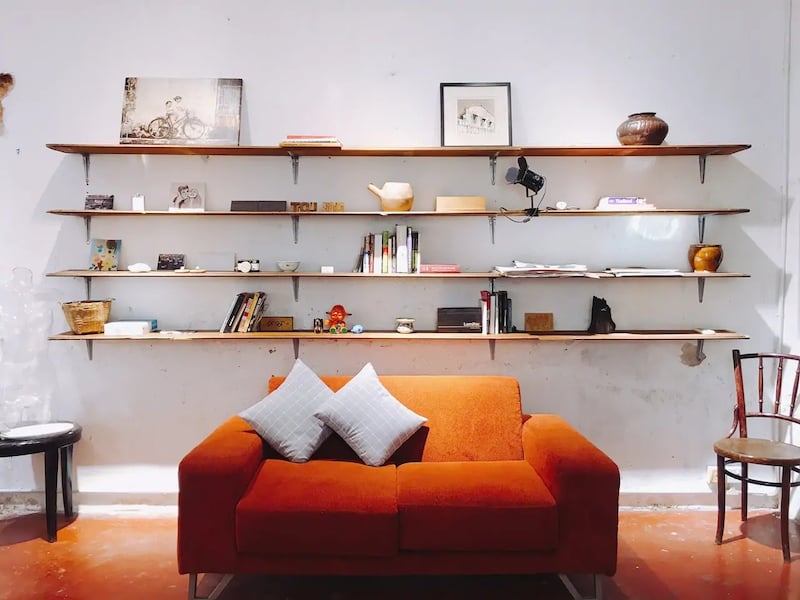 Listing name: Soo Hong (Off Lebuh Armenian) 
Listing type: Entire house 
Max. no. of guests: 4
No. of bedrooms: 1
If the down-to-earth vibe is more your style, and you're on the hunt for a more affordable Airbnb in Penang, this creative nook was made just for you! Hidden away in an alley off Armenian Street, this refurbished pre-war home evokes an interior designer's studio. Carefully arranged books and potted plants add playful touches to the house, while a rustic ambience gives you a glimpse of how the locals really live. 
With famous street art and speakeasies just around the block, this house couldn't be a more ideal spot to explore popular sites such as Kuan Yin Temple, Cheah Kongsi, and Khoo Kongsi. Learn more about this Airbnb here . 
3. This sunny holiday apartment with a panoramic view of the sea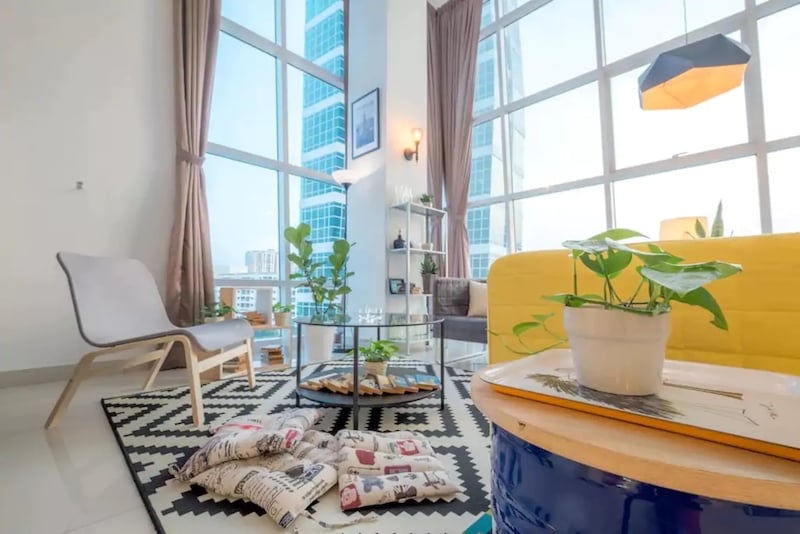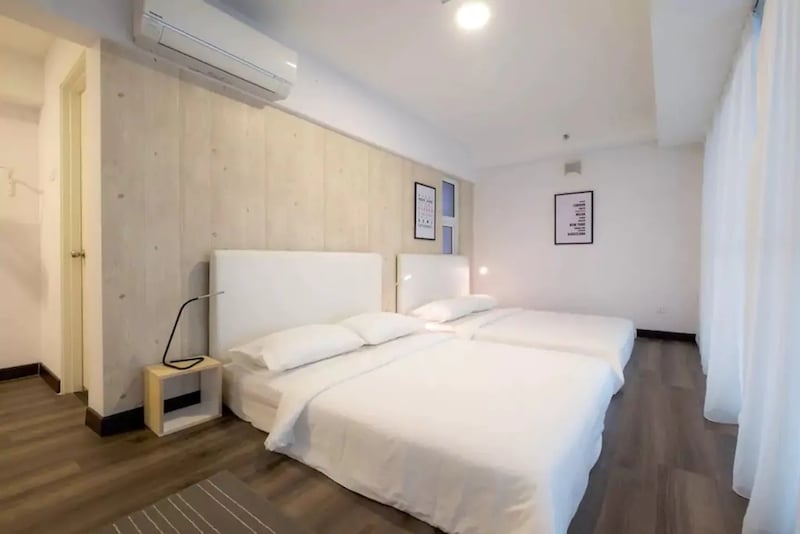 Listing name: Seaview Holiday Home  
Listing type: Entire loft  
Max. no. of guests: 8
No. of bedrooms: 2
Who doesn't want to wake up with a view of the sea in the morning? This gorgeous duplex apartment along Karpal Singh Drive boasts high ceilings and wide windows that will give you a sweeping view of the harbour. At sunset, you can watch the sun paint the walls of the living room in a golden summery light. 
Homey interiors and a strategic location near George Town make up a favourable base for anyone who wants to get a crowd together and have a great time in Penang. Learn more about this Airbnb here .
4. This lively beachside getaway with a Jacuzzi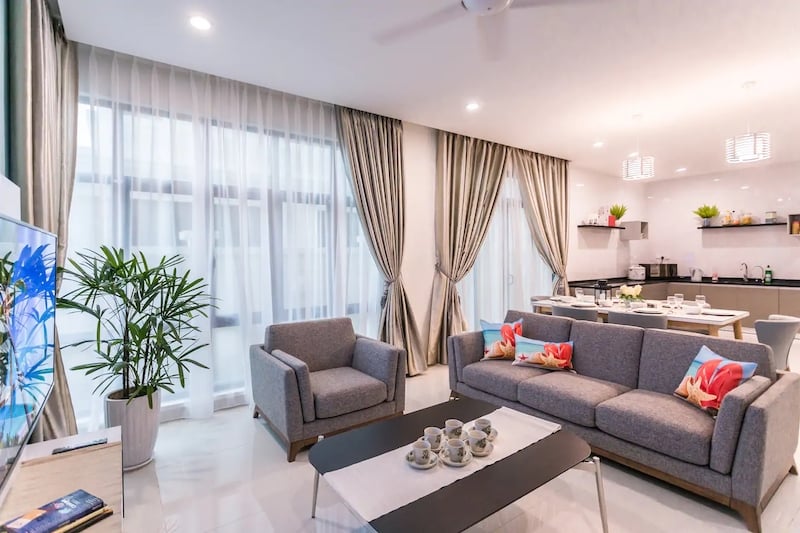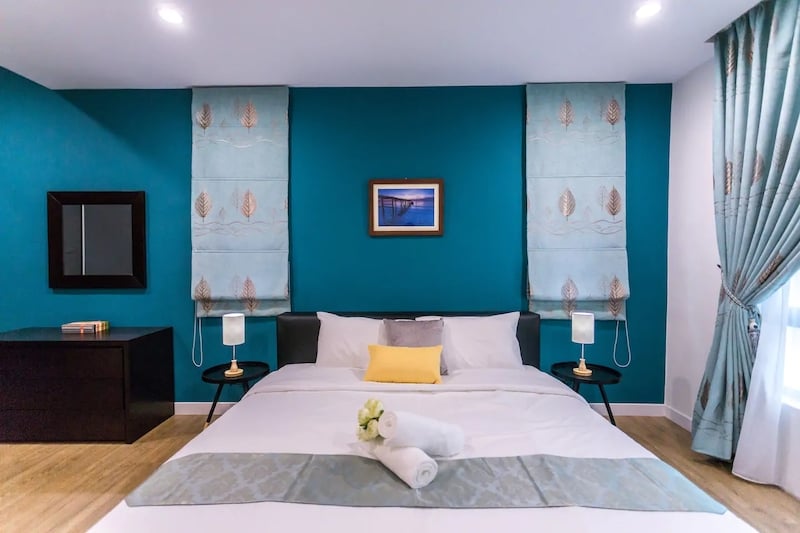 Listing name: Modern Luxury Holiday Home  
Listing type: Entire house 
Max. no. of guests: 11
No. of bedrooms: 5 
For your next family getaway, stay in a sparkling clean house with five bedrooms, four baths, one powder room, and an enormous living room in the Batu Ferringhi area. With the lure of the beach being, well, practically right there, this three-storey villa offers a more laid-back experience compared to the urban sprawl of city life. 
As you venture out to try the night markets and seafood eateries, be sure to take in all the refreshing views of the Andaman Sea! Learn more about this Airbnb here .
5. This serene Bali-style villa nestled in a farm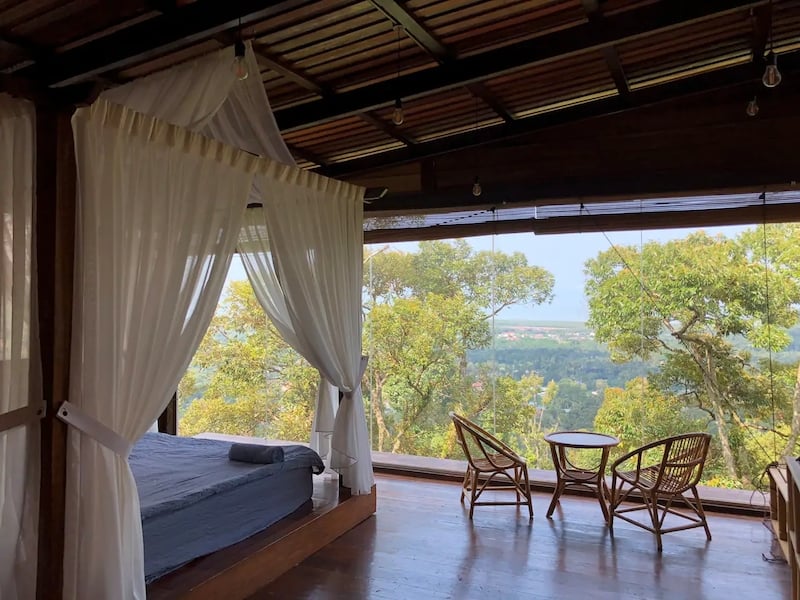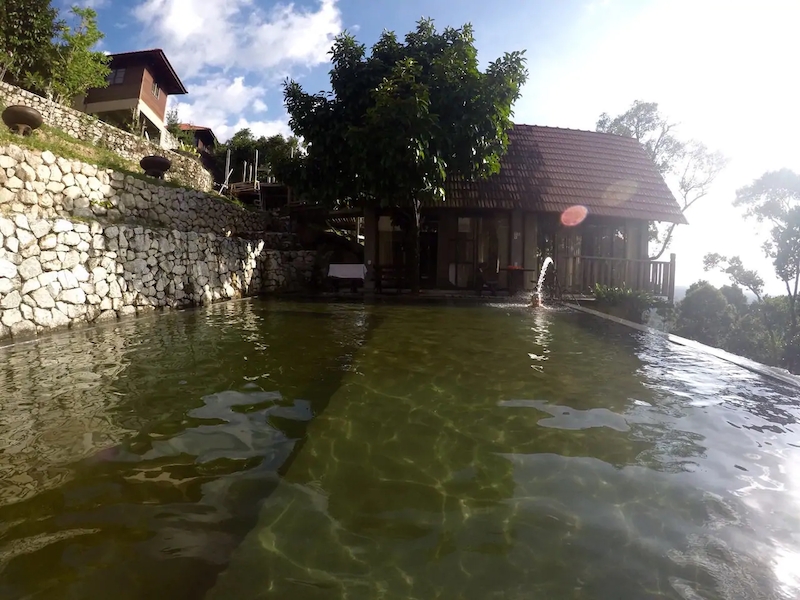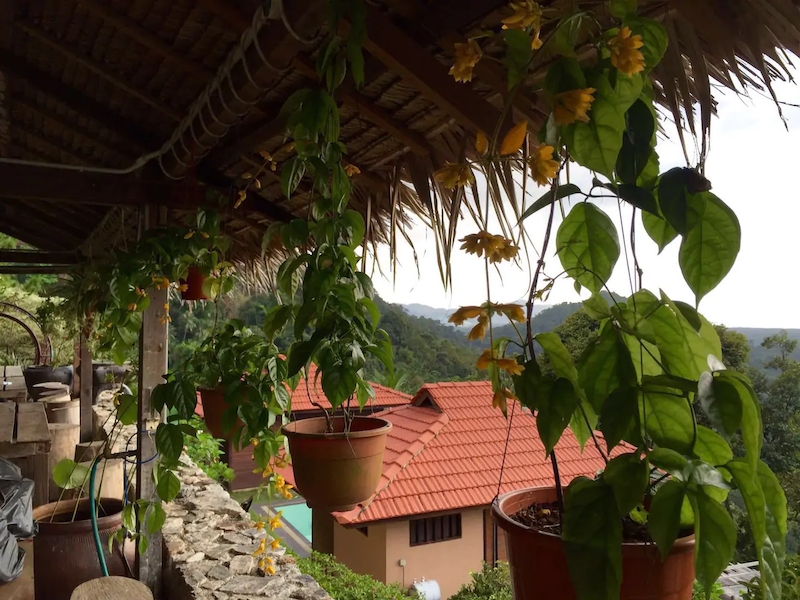 Listing name: Bao Sheng at The Passion Hut  
Listing type: Private room in nature lodge 
Max. no. of guests: 2
No. of bedrooms: 1 
This Bali-style villa in the middle of a farm surrounded by tropical fruit trees can't possibly be as magical as it sounds, yet it is all that and more. This nature lodge is one of the many villas in the Bao Sheng resort, a retreat teeming with endless greenery. 
Return to the arms of nature in this resort that reviewers have called "pure, nature magic," where there is a rushing waterfall just five minutes away from you. Zhi Vooi, your friendly host, will be happy to make you a cup of homemade coffee as you trade stories over breakfast. Previous guests have also gotten the chance to taste freshly picked durian and papaya during their stay! Learn more about this Airbnb here .
6. This vibrant apartment with a terrace and a hammock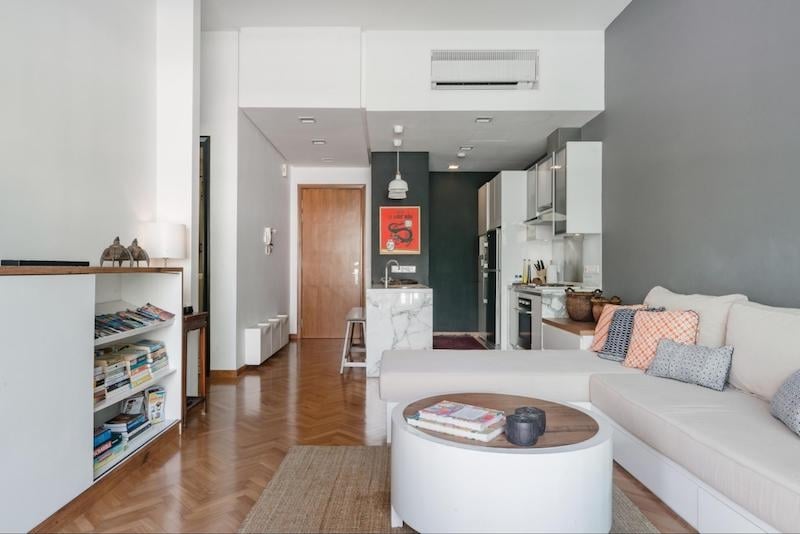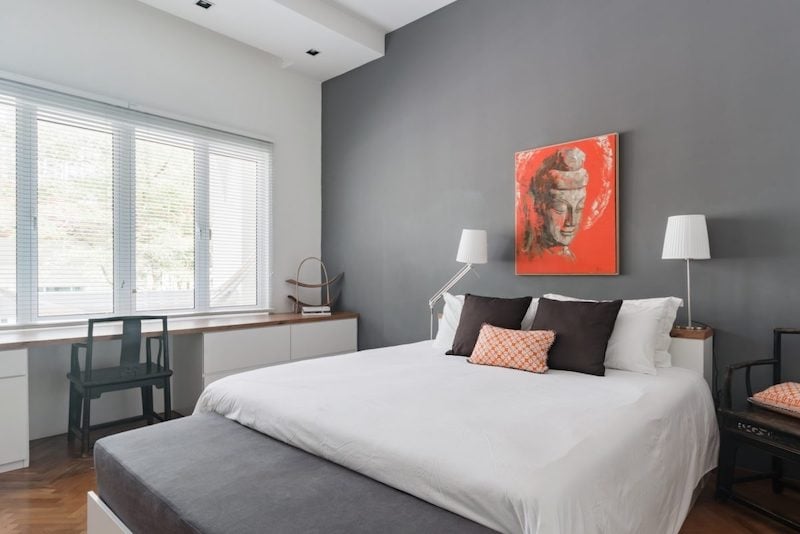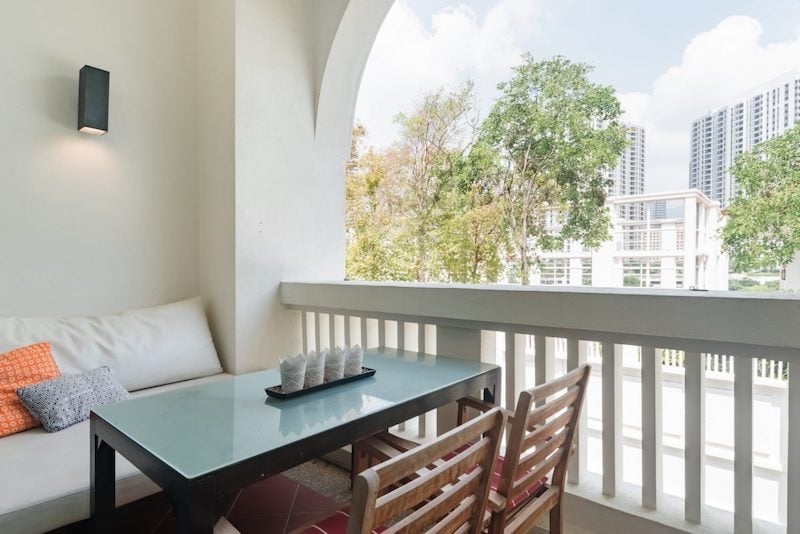 Listing name: Satrisna Home by Straits Quay Marina  
Listing type: Entire apartment 
Max. no. of guests: 2 
No. of bedrooms: 1
Let the hours scroll by in this breezy, chic apartment in Tanjung Tokong filled with artworks, chevron floors, and vintage decor. Outside, you can choose to wade in the spacious pool or wander along the waterfront. We hear the marina is especially beautiful in the evening! 
At this well-appointed apartment with a gym and a tennis court, you will have plenty of options for both rest and play. You'll even have a private terrace and a hammock all to yourself! This way, every day will feel like a holiday. Learn more about this Airbnb here .
7. This dreamy condo with bedrooms overlooking the city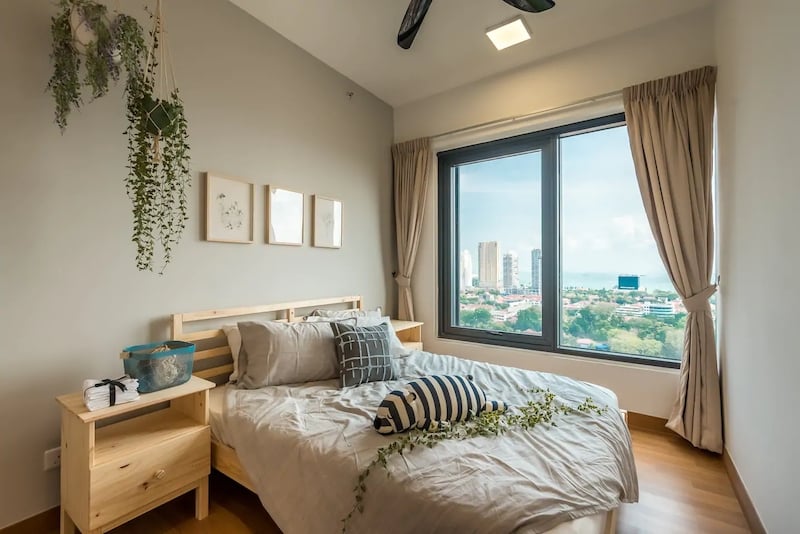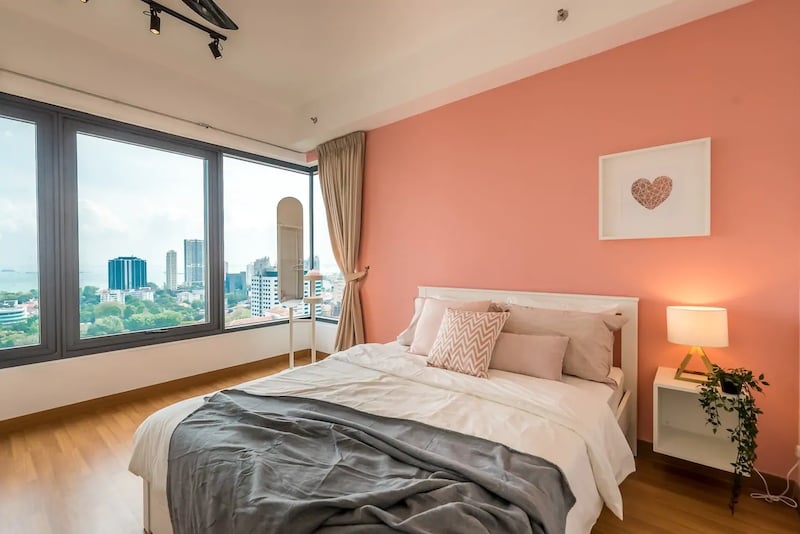 Listing name: Seaview 218 Macalister George Town  
Listing type: Entire condominium 
Max. no. of guests: 9 
No. of bedrooms: 3
All three of the bedrooms in this delicately furnished condominium embrace you in their soothing colours, while the large windows open into a bright blue sky. Roll back the curtains to bask in obstructed vistas of the city and the sea. 
Located right in the centre of George Town, this Penang Airbnb also promises wide-ranging amenities and facilities. If you stay here, you can enjoy the garden, playground, infinity pool, gym room, barbecue deck (reservation needed), and giant swing! Learn more about this Airbnb here . 
8. This spacious house with a fish pond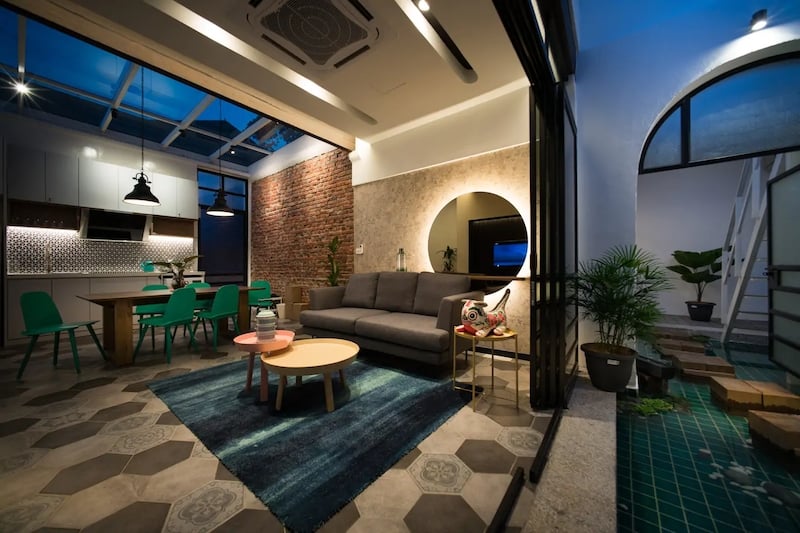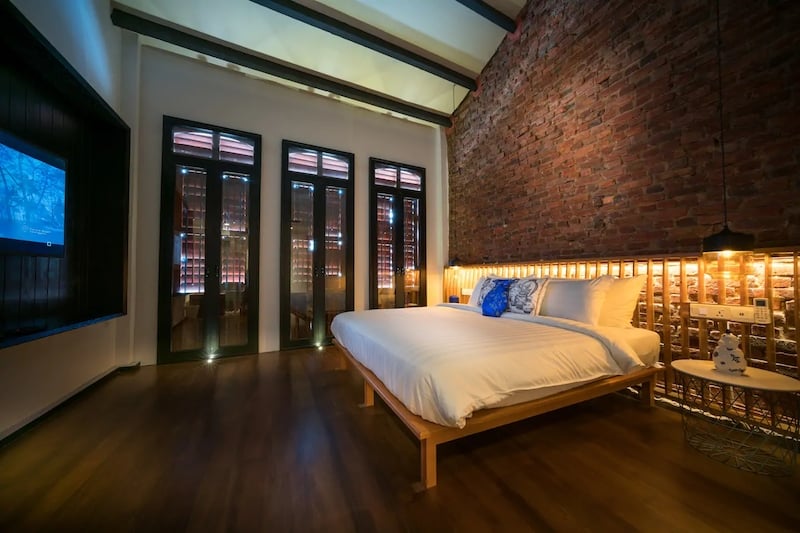 Listing name: Tien 186 Master Suite George Town  
Listing type: Entire house 
Max. no. of guests: 2
No. of bedrooms: 1
This house with an open-air balcony and a fish pond beckons to every weary traveller in need of a restful stay. Bold pops of colour are integrated with a practical approach to design that allows for plenty of space to move around in. This Airbnb in Penang will keep you cocooned from the bustling commotion around George Town, as you sink into the best sleep of your vacation. Learn more about this Airbnb here . 
9. A minimalistic executive room with a garden patio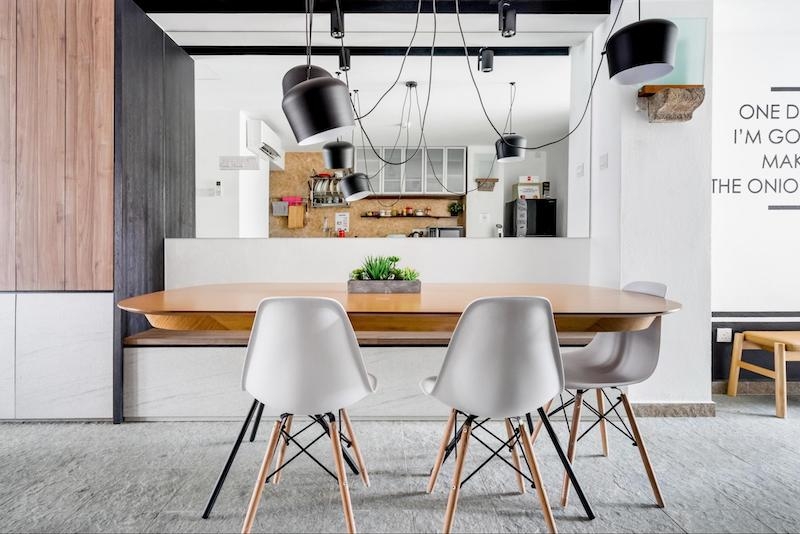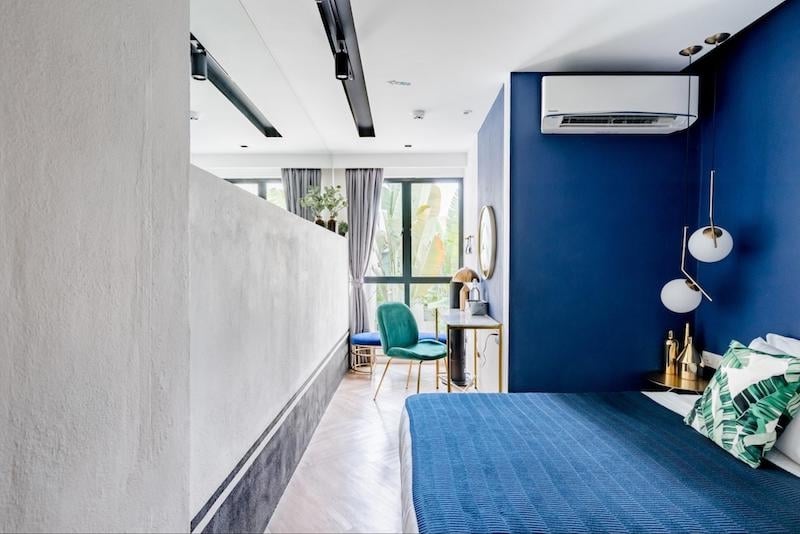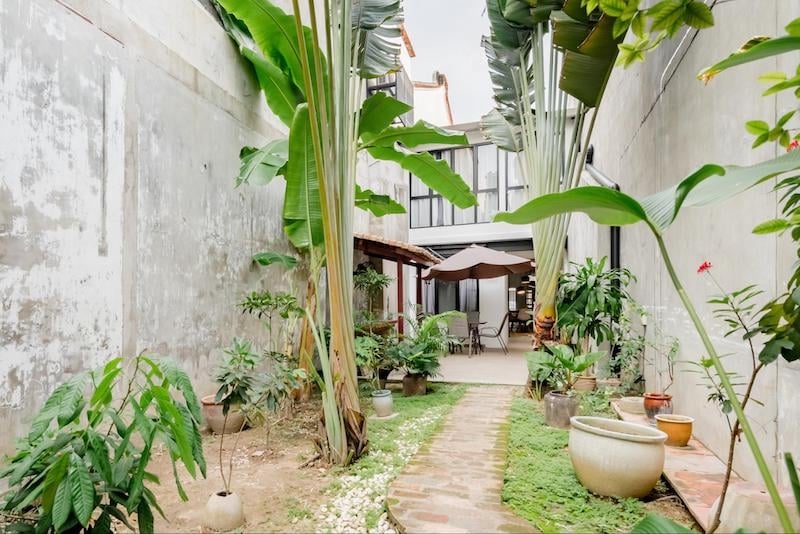 Listing name: Gen-Z Executive Room in an Exceptional Home
Listing type: Private bedroom in a house
Max. no. of guests: 2
No. of bedrooms: 1 
Decked with Scandinavian flair, this Airbnb in Penang is perfect for travellers who are looking for a clean, vibrant place to crash after a busy day. Step into this classic 1920s house and feel all your troubles and worries disappear, whether you lounge in front of the 60-inch Smart TV or walk through a patio fringed by garden plants. 
You won't need to look too far for activities near the area, as this listing keeps close to restaurants, cafes, and boutiques. Learn more about this Airbnb here .
10. This sophisticated renovated pre-war home with antiques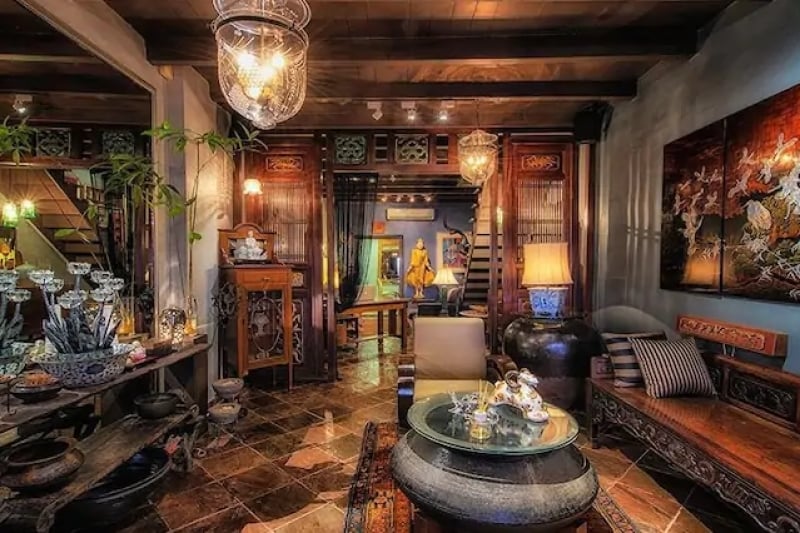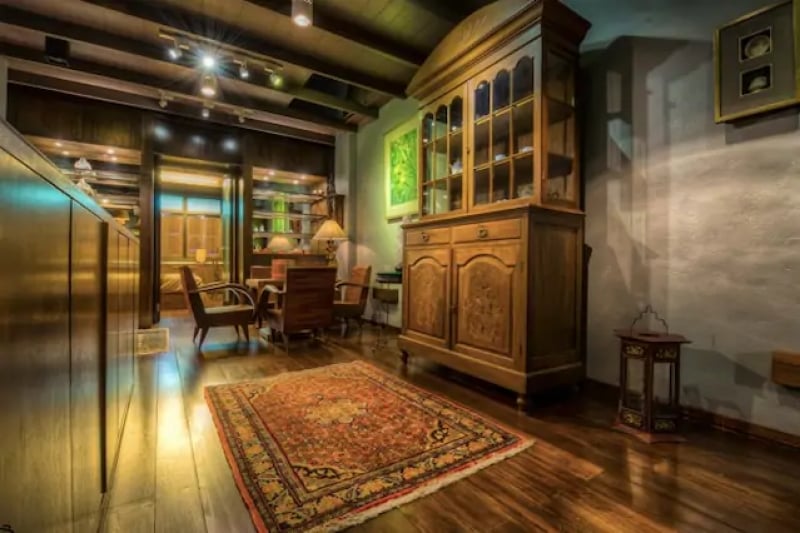 Listing name: Heritage Home George Town, Penang
Listing type: Entire townhouse
Max. no. of guests: 4
No. of bedrooms: 2
Sometimes your mind needs a break from all the classy and polished hotels. If you're in the mood for an Airbnb with a little more character, staying in this exquisitely decorated heritage shophouse will take your vacation to the next level! 
Tucked in a quiet neighbourhood, this pre-war home is adorned with antiques and vintage furniture that will make you feel like you're crossing into another era, one of endless mysteries and wonder. But don't fear: there's still Wi-Fi and a flat-screen TV! 
Additionally, this endearing heritage home puts you an easy distance from Chinatown and the main attractions of George Town. Learn more about this Airbnb here . 
Also read: 22 Fun Things to Do in Penang On Your First Trip [Updated 2020]

We hope this list of Airbnbs in Penang tickled your itch to explore Malaysia! Have a fantastic time!