Staycations are all the rage in Singapore, and boy are we excited to welcome Mercure Singapore Bugis! Boasting a sprawling 15 stories, the hotel is a perfect mix of charming local touches amidst a luxury boutique hotel experience.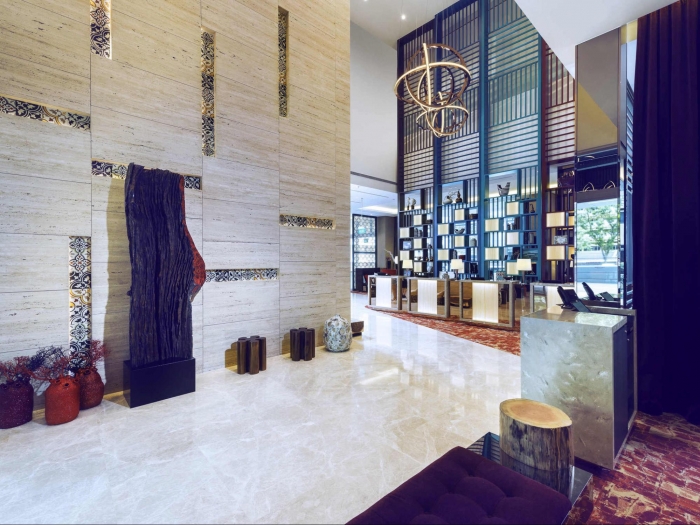 The first of the long list of things that we love is the location that is to die for . Have you ever browsed online to see countless of hotels all jostling to boast their "super convenient" or "perfect" location? These guys promise a lot, but often disappoint with unbearable noise pollution from the surrounding city hustle or annoy with frustrating traffic jams.
Sitting along the intersection of Middle Road and Queen Street, Mercure Singapore Bugis is discreetly tucked away from the crowded main roads yet still remaining a stone's throw away from Bugis MRT station. You'll definitely be getting the best of both worlds here!
We walked through the polished doors and became instantly enamoured with the swanky lobby. From the opulent sculpture suspending overhead to the delicate ornaments displayed on the quirky bookshelf, Mercure Singapore Bugis was impressively handsome and looked all things glamorous.
Comfort Beyond Compare
We absolutely love loft-styled rooms. So needless to say,  we rushed straight to the Loft Rooms the first chance we got and were duly impressed. The chic furniture and cosy layout is just what's needed for an unwinding getaway. The floor-to-ceiling windows are impressively hip, and not to mention the eye-catching collage of uniquely Singaporean icons that really brings out the local flavour that the hotel is gunning for!
Seriously though, who doesn't love a good loft? Mercure Singapore Bugis' stylish rendition certainly matched our sky high expectations. So for the double-decker diehards out there, here's something to add to your to-do list.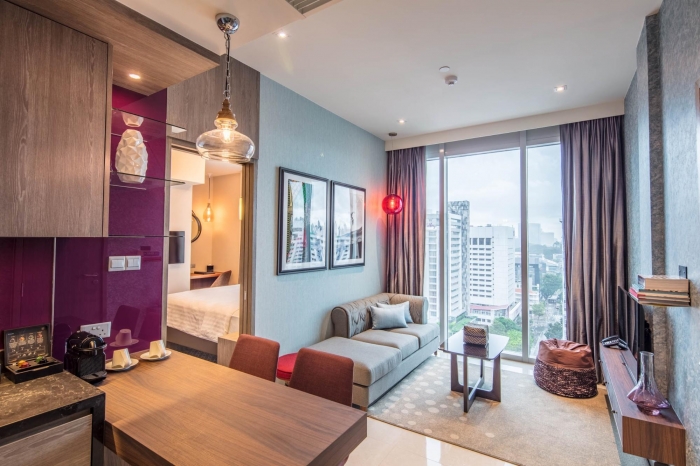 If you want to step it up a notch, the Privilege Suite Room simply screams elegance. With an attached bedroom and a spacious living room lounge area, this room looks just like a luxury condominium! For good measure, they even threw in a Nespresso machine. Guests that stay in this room can also enjoy access to Privilege Lounge with breakfast and cocktails.
Each room is fitted with free Wi-Fi, LED TV, a smartphone with unlimited mobile data and access to a PressReader application that has over 2,000 online publications. This way, you can complete that home away from home experience with a soothing afternoon spent reading in bed. A staycation here at Mercure Singapore Bugis will be the perfect recharger from your taxing work schedule!
Amenities on Offer
The worldwide Mercure establishments each have a signature space in their lobby dedicated to offering guests a conducive place to work. Out of all the countless corners amongst all their outlets, Mercure Singapore Bugis truly stands out as brightly as its golden-mahogany carpet.
This is basically any workaholic's dream! Decked with fluffy plush furniture, a miniature meeting table and even two iMacs, the READYTOWORK corner probably looks waayyy better than your regular office desk. But hey, you didn't come all the way here just to flip open your laptop to do more work. Relax , you're on vacation! That being said, this cosy little enclave is the perfect place to rush out that unavoidable deadline that has been weighing on your mind.
Since Marina Bay Sands installed its iconic sampan at the peak, infinity pools have become quintessential for that classy grandiose hotel vibe. If you're a sucker for infinity pools, then there's no way you can resist diving in for a luxuriantly refreshing swim in the Straits Poolside!
Pull on your swimsuit, order an exotic cocktail and splash around in the 25-metre long infinity pool. Wading around in the calm pool amidst the dizzying heights of the city skyline… This is probably the closest thing to seventh heaven money can buy. Fun fact: The Straits Poolside is very aptly located on the 7th floor!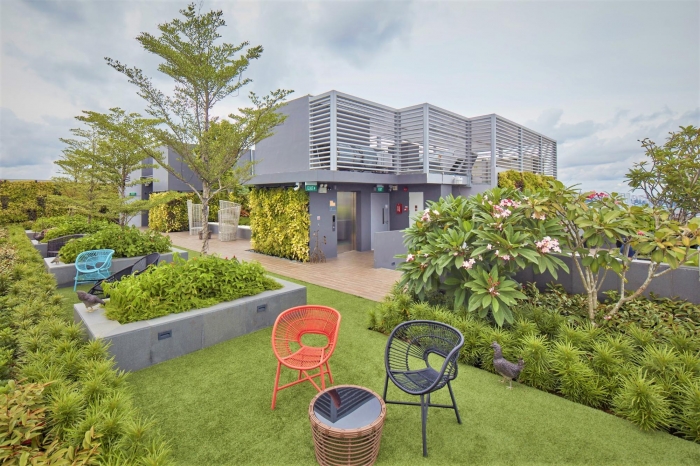 The top floor of the hotel will give you even more reason to fall head over heels with Mercure Singapore Bugis; be greeted by the luscious greens of the sky deck, consisting of pristinely groomed shrubs and carpet grass so smooth you'd just want to lie down and roll around on.
We can't get over how the seemingly simple rattan chairs and tables somehow blend perfectly with the garden to exude a stylishly clean look that just oozes serenity. A sunhat and gripping John Grisham novel is all you'll need for a truly relaxing morning.
What's Cooking?
While we're at it, let's not forget about Singapore's favourite pastime – eating! There's no need to venture out of the hotel to hunt down sustenance for your hungry tummies, as Mercure Bugis Singapore offers its own exciting spread to satisfy all your epicurean taste buds.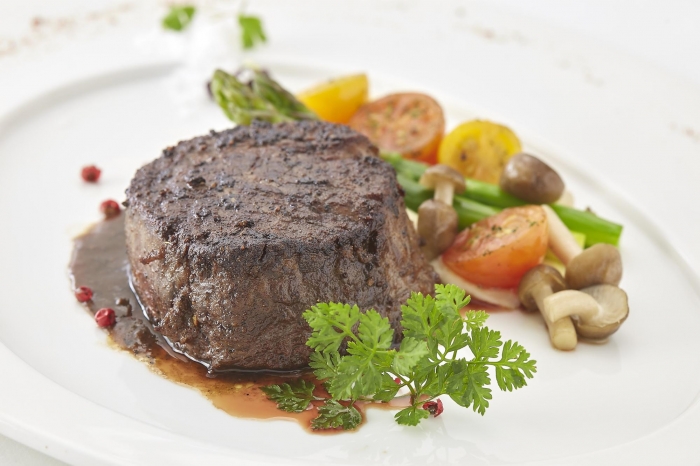 With its cool baroque-style decor and finishing that just exudes classiness, the all-day dining restaurant, Royale, serves up a tantalising menu to match. Featuring a delectable lineup that includes international and local favourites from Wok-charred Salmon and Braised Lamb Shank to yummy Briyani and Laksa , you're in for a tasty treat. If you're looking for an even bigger spread, there are also daily breakfast and weekend buffets.
If you're craving some some Asian cuisine, Song Garden Chinese Restaurant  and its contemporary Cantonese menu offers good value for money and some exquisite chinese dishes that will quell the traditionalist in you. With over 30 dim sum items prepared by acclaimed Hong Kong chef Leung Chi Man, you'll be spoilt for choice when dining in Song Garden's cosy ambience. This restaurant also includes six private dining rooms, making it perfect for holding large family gatherings.


For the hedonists at heart, the Privilege Lounge offers guests of the Executive Loft Rooms complimentary canapes and alcohol by the outdoor terrace. Imagine sipping a glass of fine wine whilst stretching your legs out on the comfy furniture overlooking a sea of apartment blocks and religious temples. Pure bliss!
If you don't have access to the Private Lounge, then you must head to BARtistry@One22 in the lobby. There, you can indulge in some post-dinner relaxation with a variety of premium coffee, beers, alcoholic beverages and tapas.
Now this is something we will gladly cheers to.
Now to walk off that heavy meal
Explore beyond your hotel and discover a slew of landmarks like religious temples, museums and shopping districts such as Kwan Imm temple, Sri Krishnan temple, Singapore Art Museum, Sim Lim Square, Bugis Junction and Bugis Street. Right across the road is Artichoke, the go-to Middle Eastern eatery for foodies where you have to try the smoky eggplant-based baba ghanoush and charred broccoli. No matter what you're looking for, everything is just a short walk away!
Need we say more? Mercure Singapore Bugis is, indeed, the newest hotel on the block and we loved finding out what they had in store. For more information, check out the official Mercure Singapore Bugis website.
We just can't get enough. So come next weekend, book a stay and see exactly what we're talking about!
---
Brought to you by Mercure Singapore Bugis.