Many of Thailand's Europe-themed accommodations are even more beautiful and evocative than regular accommodations across the seas in Europe. More than a place to comfortably rest your head, you can enjoy the feeling of travelling further when you stay in one of Thailand's beautiful European-like hotels.
So travel more, at least in spirit, and book a stay in one of these fantastic hotels in Thailand where you can experience a slice of Europe without leaving the Land of Smiles:
1. Kensington English Garden Resort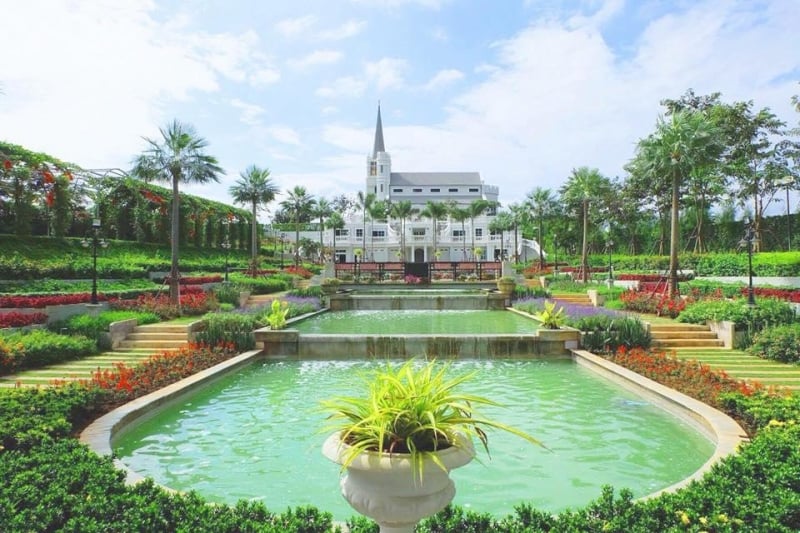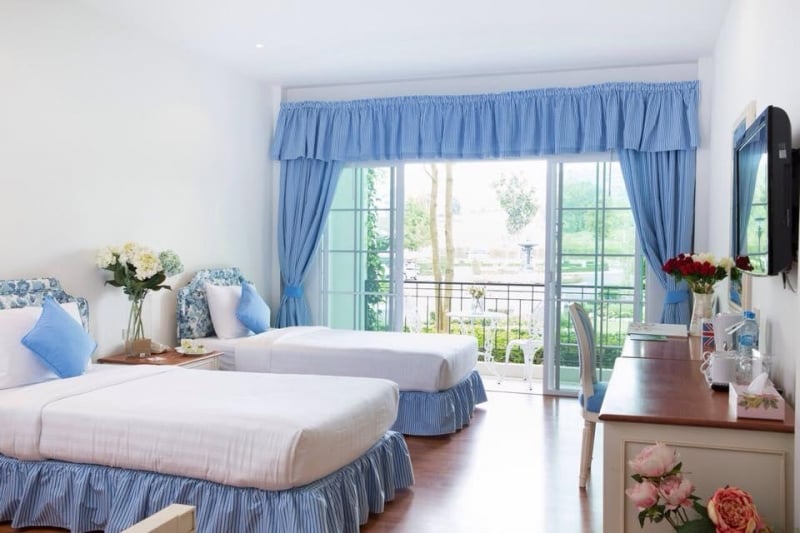 Experience all the olde worlde charms of the English countryside at the lovely Kensington English Garden Resort in Nakhon Ratchasima. Close to Khao Yai National Park, the resort tries hard to emanate an English style with its architecture.
A gleaming white castle-like structure stands next to the main building. You can stroll through elegant formal gardens set out in a traditional English style, complete with ponds and fountains. You'll even find a church on site, complete with colourful stained glass windows, large chandeliers, and religious artwork. Mass is held here every Sunday morning.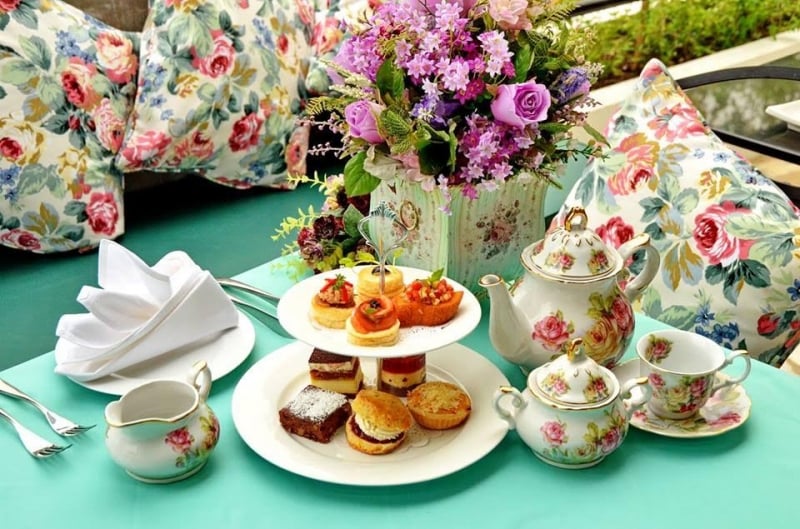 Rooms have plenty of floral patterns and artwork of the British countryside, and drapes and lamps add to the English appeal. Take afternoon tea, with scones and home-baked sweets, in the Kensington Bakery & Coffee Corner, soak up the English vibe in the King George library bar, and feast on international and Thai cuisine at Four Season. The resort also has a swimming pool and a fitness centre, or you can practice your skills on the oh-so-English croquet lawn.    
2. Scenery Vintage Farm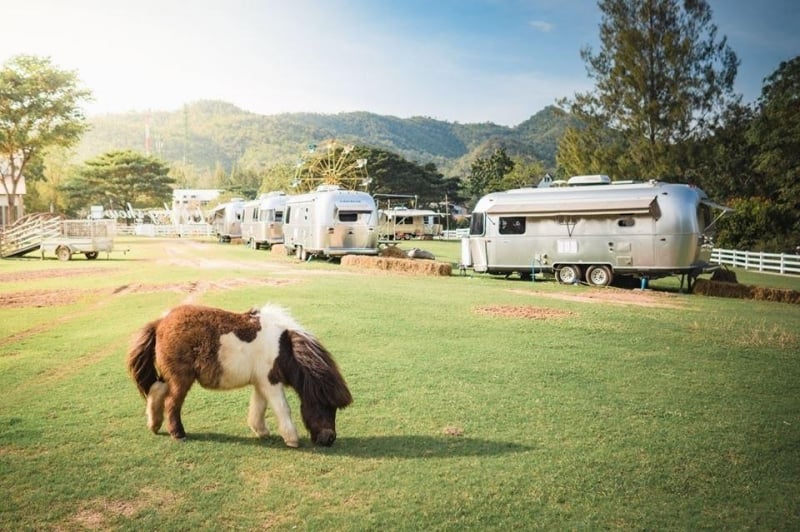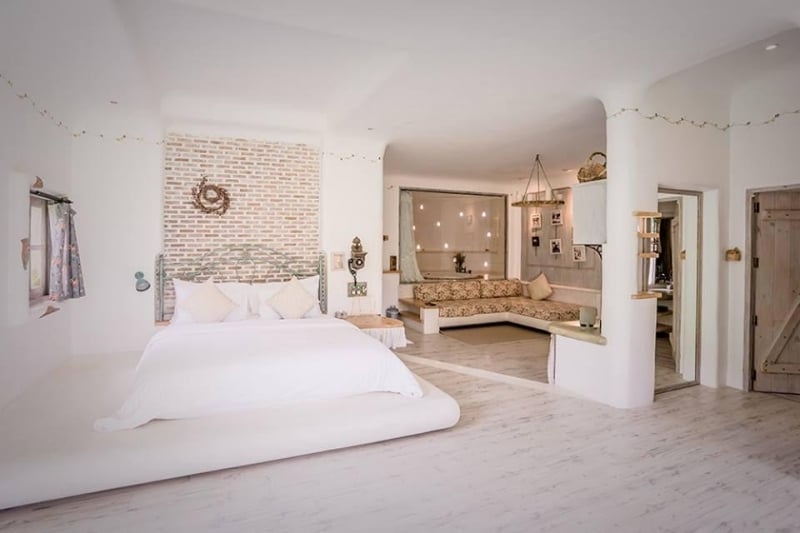 Set in the lush mountains of Ratchaburi's Suan Phung (an area commonly referred to as Little Switzerland), Scenery Vintage Farm does its best to make guests feel as though they've been transported to the soaring Swiss Alps—only, without the snow!
Check into a caravan, spend the night in a wooden chalet, or treat yourself to a little more luxury in an elegant room with rustic chic. Spend your days having fun on the sheep farm, riding in a horse and cart, and getting to know the loveable sheepdogs. There are various shows and activities to enjoy.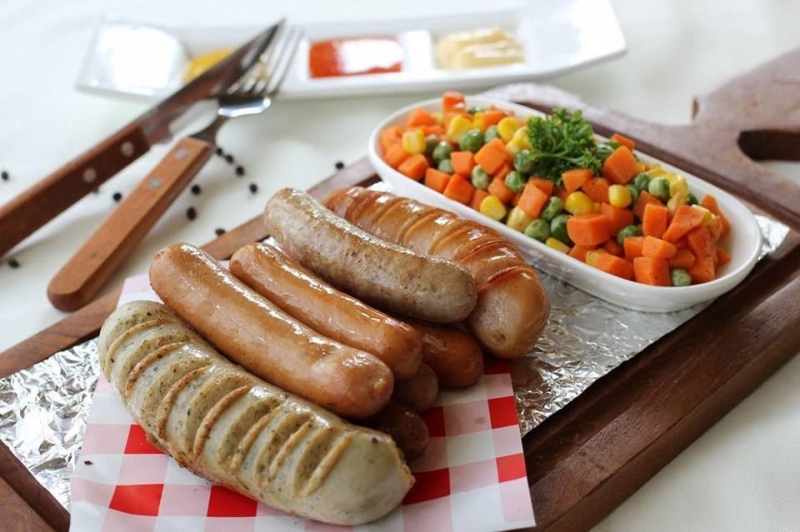 The large restaurant serves an assortment of Thai and Western meals and you can buy a range of sheep-related goods in the shop.  
3. KaokorSwiss Resort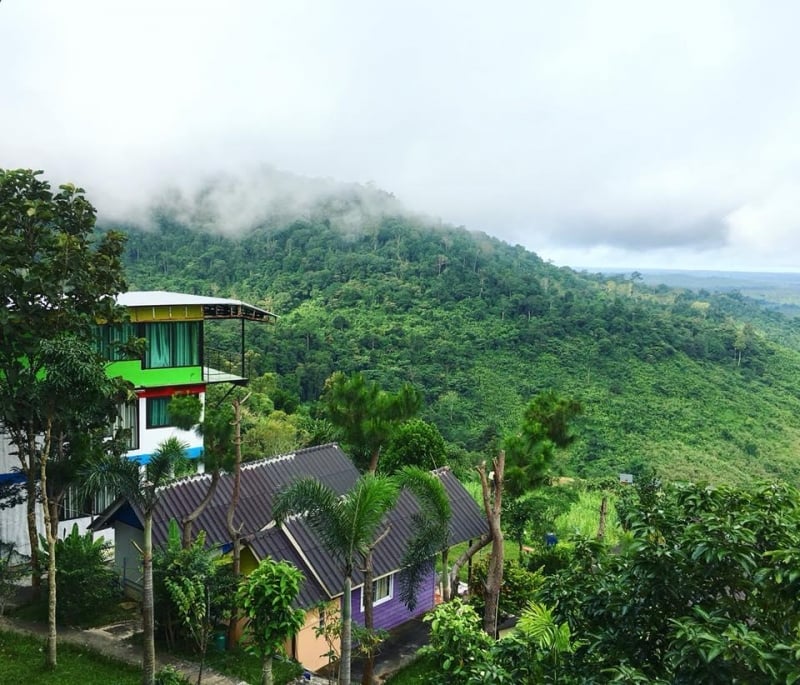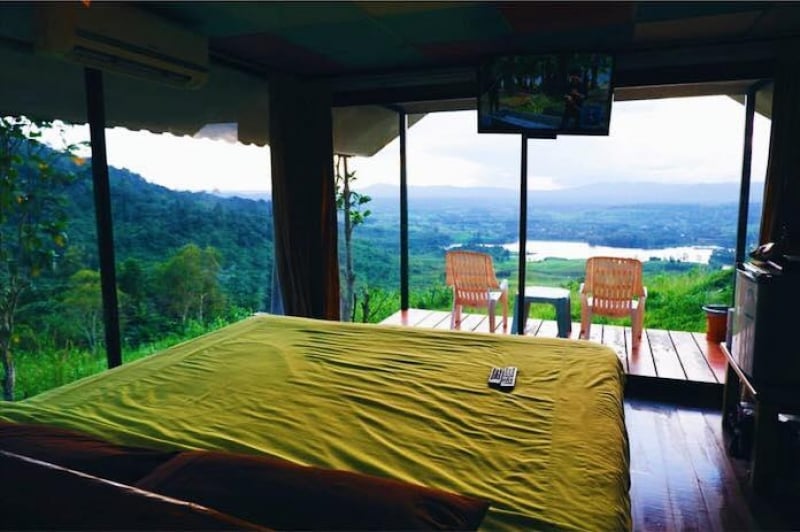 Located in Phetchabun, Northern Thailand, KaokorSwiss Resort is another accommodation that does its best to blend in with the scenic surroundings and offer visitors a little taste of Switzerland without leaving the Land of Smiles. The temperatures are lower here than in many other parts of the country, particularly in the cool season, so be sure to take some warm clothes on your trip.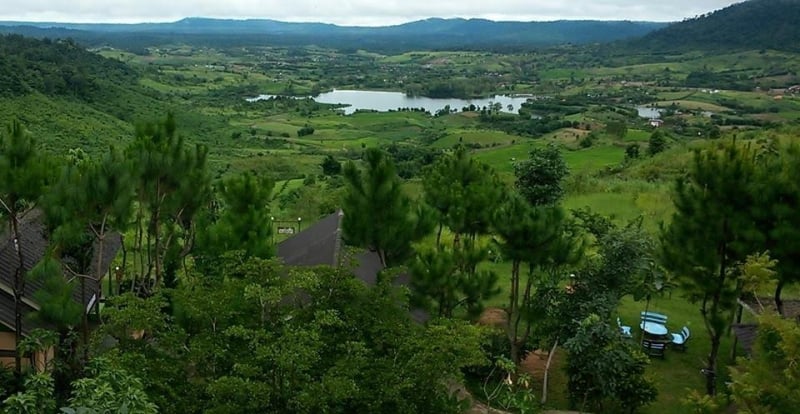 You can soak up the beautiful views of the nearby lake and farmlands. The surrounding greenery-covered mountains are often cloaked in thick fluffy clouds and dense mist, adding to the visual enchantment. Rooms are spread through cabins and chalet-type buildings and, although fairly basic inside, are comfortable and clean. The onsite restaurant serves typical Thai fare.
4. Santorini Park Stay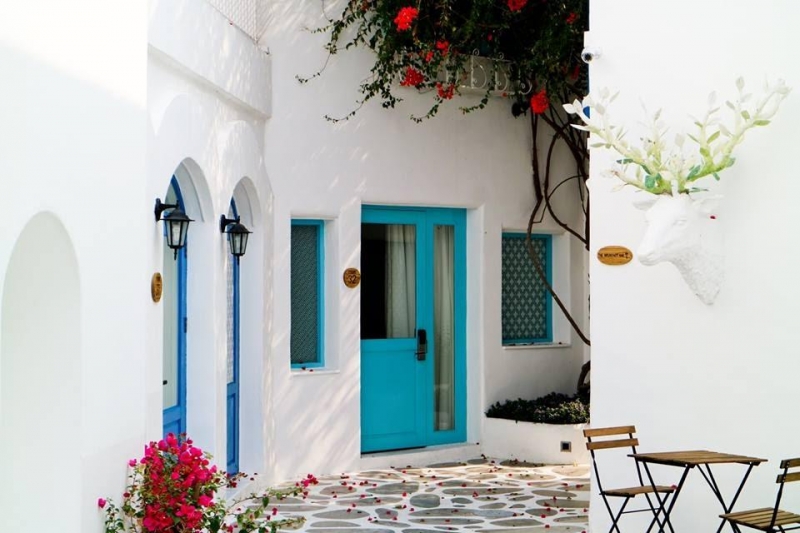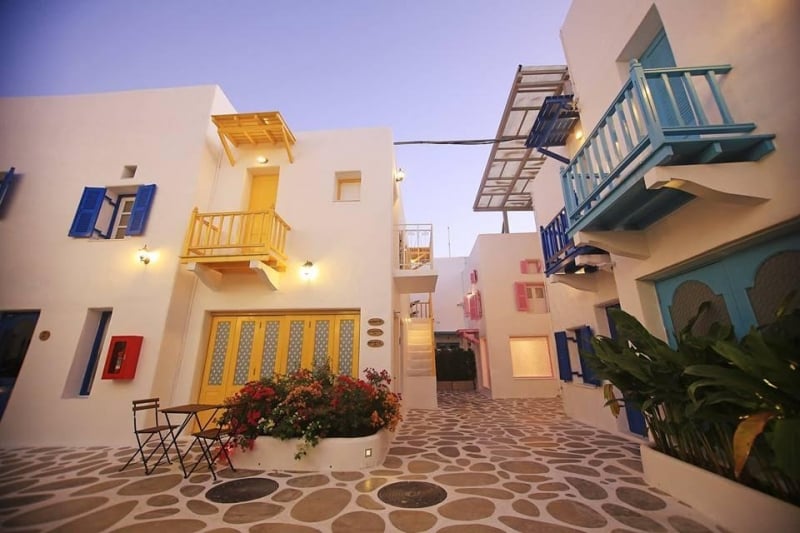 If you want to feel as though you've landed on a stunning Greek island, Santorini Park Stay in Cha-am could be just what you're looking for. The boutique Mediterranean-themed guesthouse is intimate, with fewer than 40 rooms, and all guests can start their day with a filling buffet breakfast in the Greek-style breakfast room. Blue and white buildings line cobbled walkways, and the larger resort area has several quaint shops and cafes, all housed in Santorini-style buildings.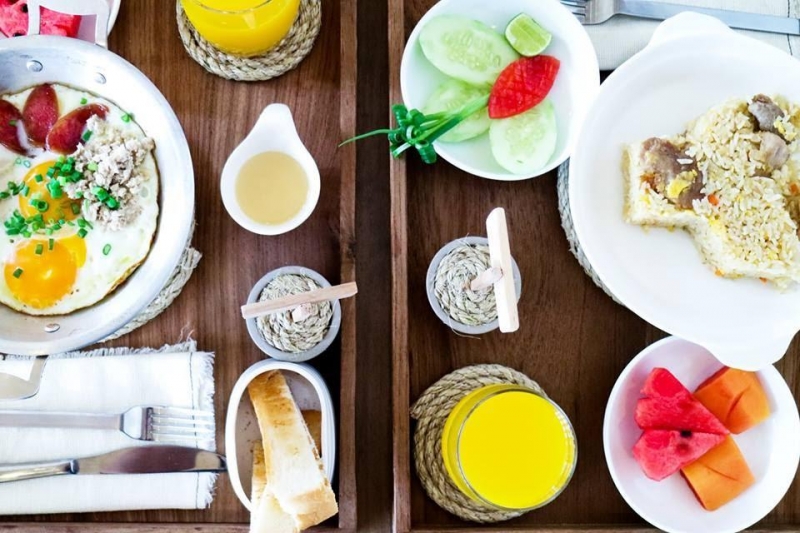 There's a common room that seeks to replicate the communal kitchens common in many European hostels. You'll find a microwave, fridge, and kettle, along with free tea, coffee, and hot chocolate, comfy seating, and vending machines. Younger guests are sure to love the indoor playroom, there's a games room for adults, and fitness fanatics can have a workout in the cycling room. Guests can also have heaps of fun at the water park and amusement park.
5. My Ozone Khao Yai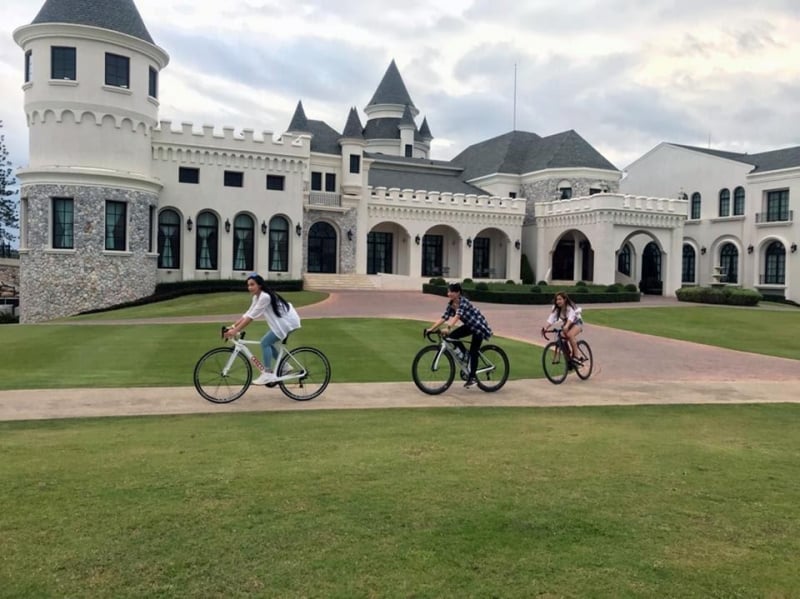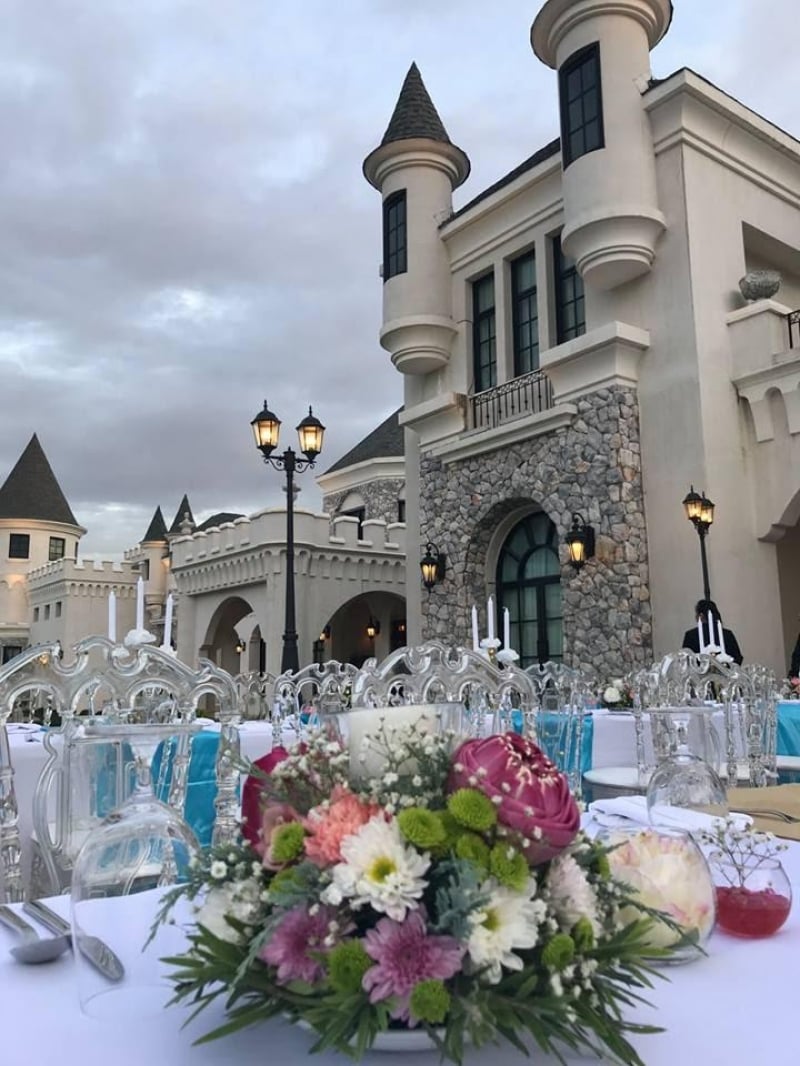 The stunning My Ozone Khao Yai in Nakhon Ratchasima Province looks like it's been lifted straight from medieval Europe. The castle-like building has turrets, towers, arches, and small windows—it's sure to inspire any lover of fairytales! There are also gorgeous villas that would be right at home in Spain, Portugal, the Tuscan landscapes, or somewhere else in Southern Europe.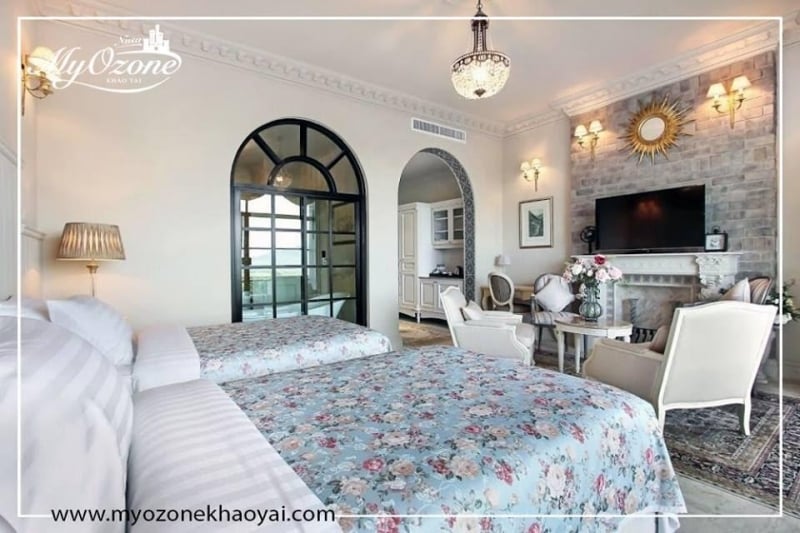 The resort boasts a blissful spa and wellness centre, swimming pools, a golf course, an organic farm, flower-filled gardens, and a stunning terrace restaurant with glorious views. Set in peaceful natural surroundings, it's a gorgeous retreat where every guest will feel refreshed. The plush rooms have lots of chintz and chic touches, including opulent mirrors and lamps, floral bedspreads, free-standing bathtubs, and patterned rugs and curtains. Unsurprisingly, it's a popular destination for weddings and romantic getaways.    
6. Rita Resort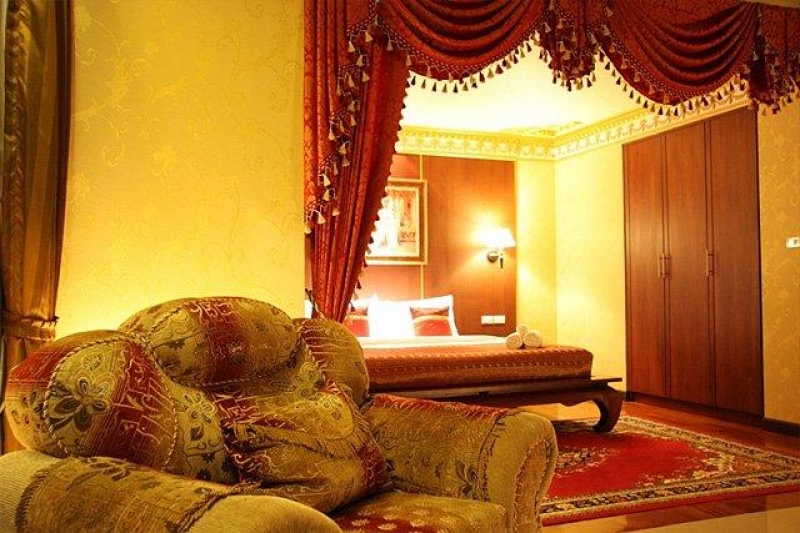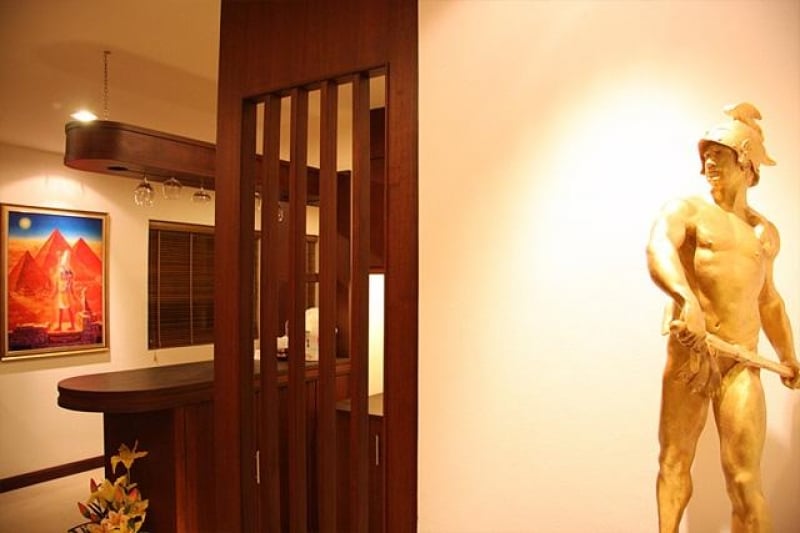 Pattaya's Rita Resort is a stunning gem that combines Baroque European splendour with Asian touches. Elegant and luxurious, check into a European-themed room to feel like you've travelled across continents. (There are also Chinese- and Thai-style rooms.) All rooms are spacious with a balcony and large windows, and luxury décor and furnishings really add to the feelings of grandeur.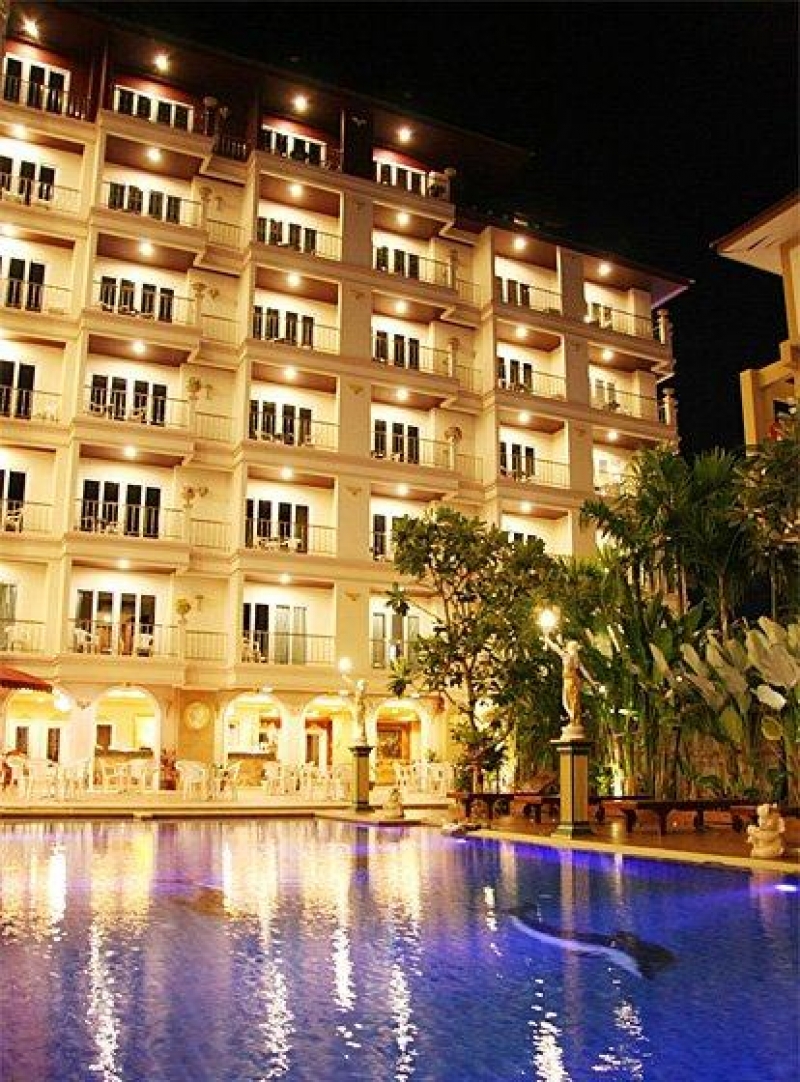 The stylish resort has a swimming pool, complete with a poolside bar, and you can savour Thai and international cuisines in Rita Hut Coffee Café.
7. San Pareni Hotel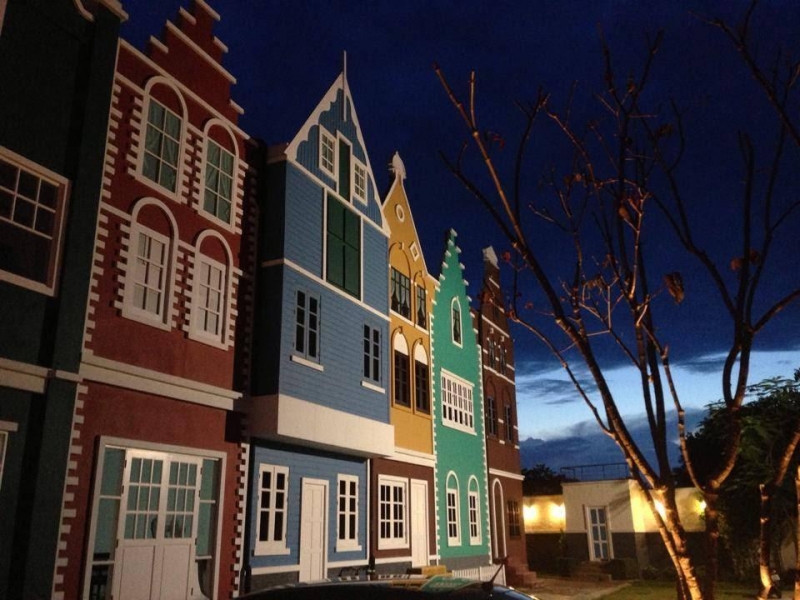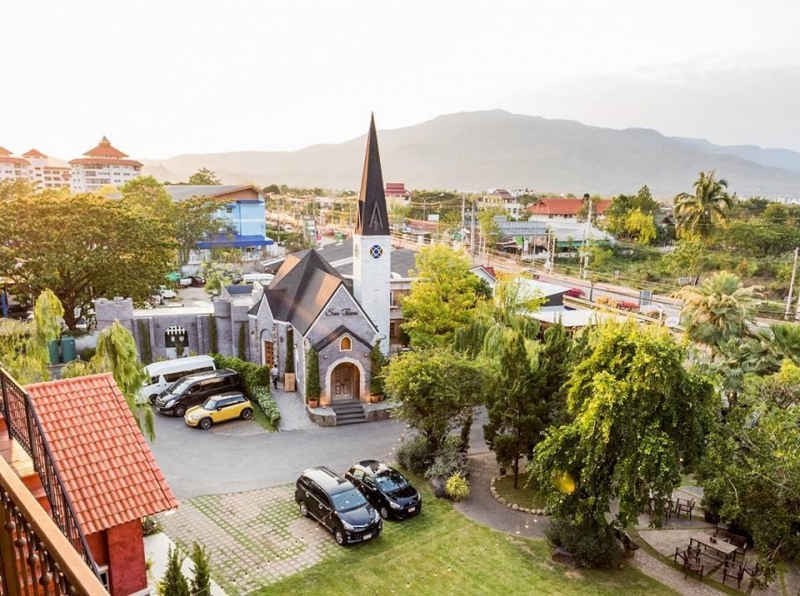 The lovely San Pareni Hotel in Chiang Mai is within easy reach of the Old Town, airport, and countryside, though having your own transportation would be highly advantageous. It has three zones that resemble Tuscany, the Swiss countryside, and a colourful European town in somewhere like the Netherlands, Belgium, or Denmark. The church is an especially delightful feature and the grounds are pretty with plenty of quirky ornaments. Rooms are bright, airy, and welcoming, each with a balcony and private bathroom.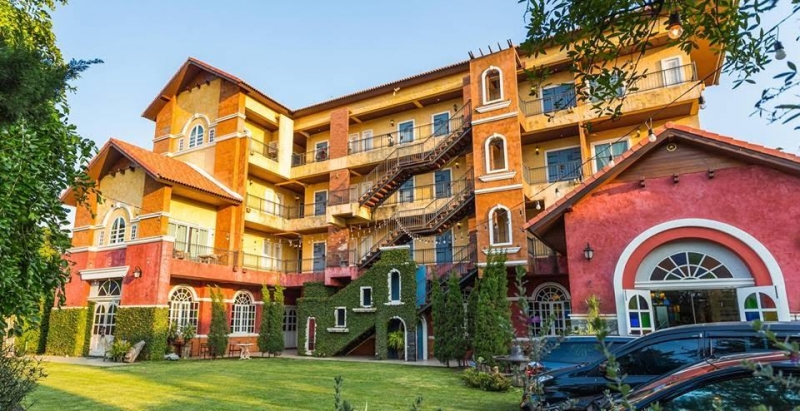 The hotel has a restaurant that serves a wide choice of Thai favourites and international options. Furthermore, you can tuck into home-baked goods and an assortment of imported wines.  
8. Montana Farm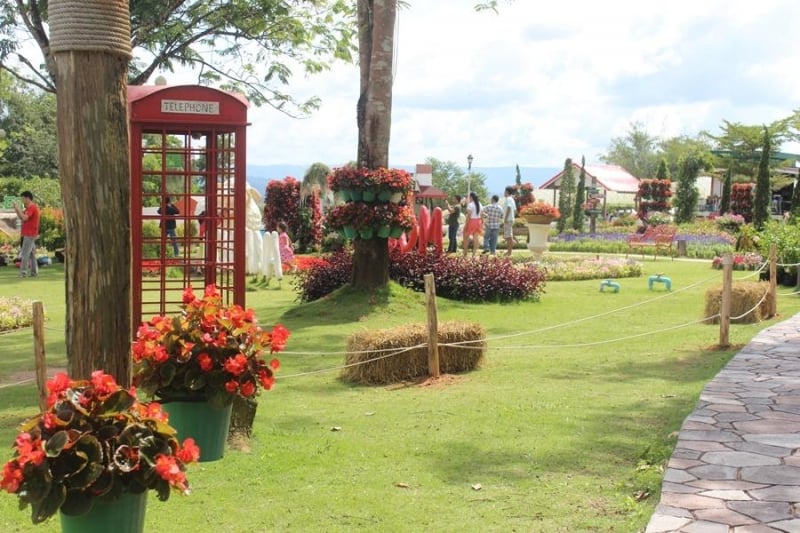 Located in Wang Nam Khiao, an area often referred to as the Switzerland of Isan, Montana Farm has a small selection of European-themed accommodations perched in the edge of a hill slope. Each small cottage has its own name; with names like Notting Hill, Cambridge, Oxford, and Kensington, keen geographers won't have to ponder too long what country is being represented! The signs are on quirky boards that look like stops on the London Underground, aka The Tube.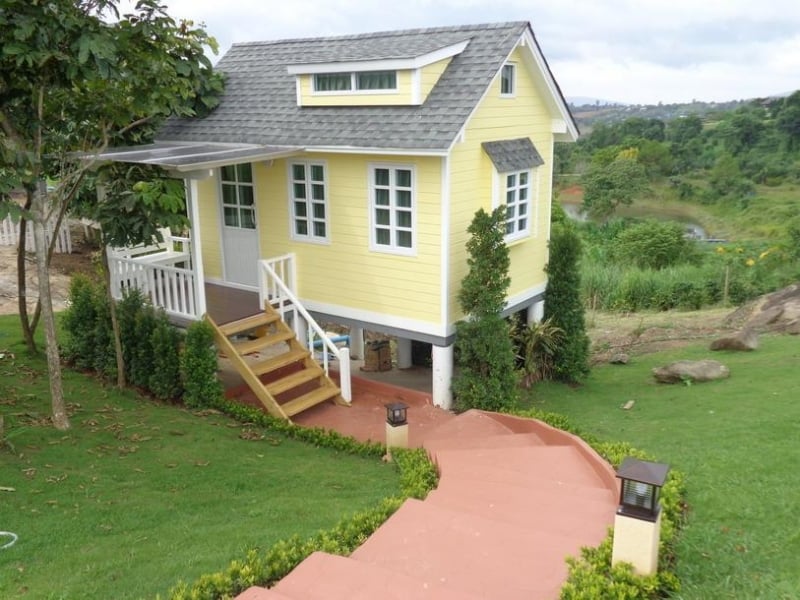 The wooden interiors are homey, and most cottages have beds that look like cars! Painted in pastel hues outside, each cottage is en-suite and has a terrace or balcony. Tucked away at the edge of the farm, guests can enjoy a sense of tranquility while still having heaps of fun at their fingertips.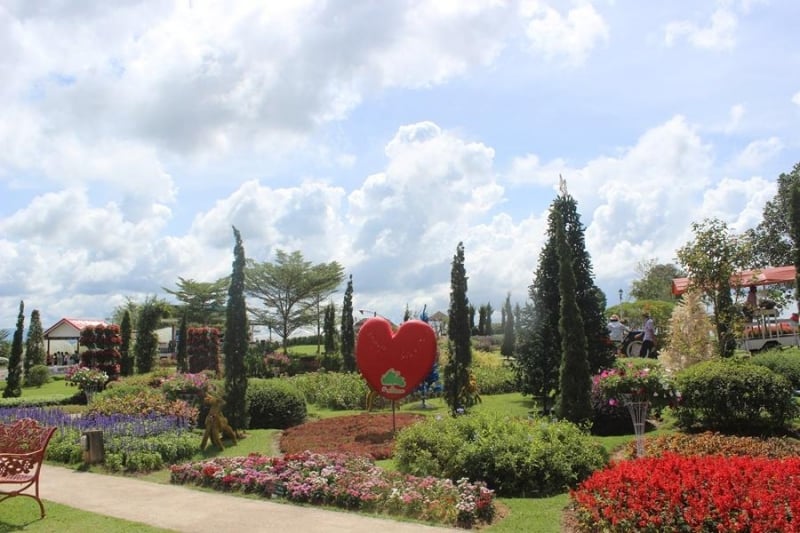 Onsite activities include horse riding and feeding sheep and alpacas, archery, tractor rides, and strolling through the attractive grounds. Visiting with a special someone? Lock your love on the cute bridge. The restaurant serves Thai and international foods and you can source local and organic goods in the shop.  
9. Hotel Muse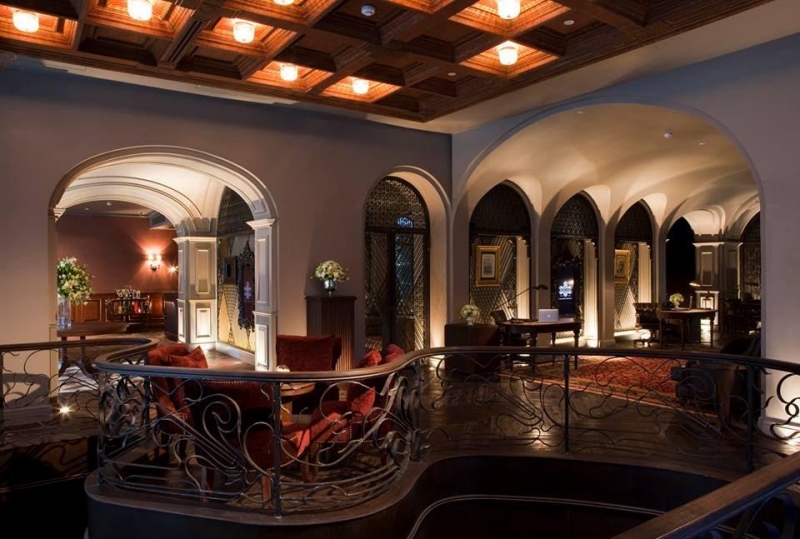 The award-winning five-star Hotel Muse in Bangkok fuses classic European style with Asian touches. The rooms are luxurious, opulent, and spacious. Service is high class and the hotel has excellent facilities and amenities, including a swimming pool.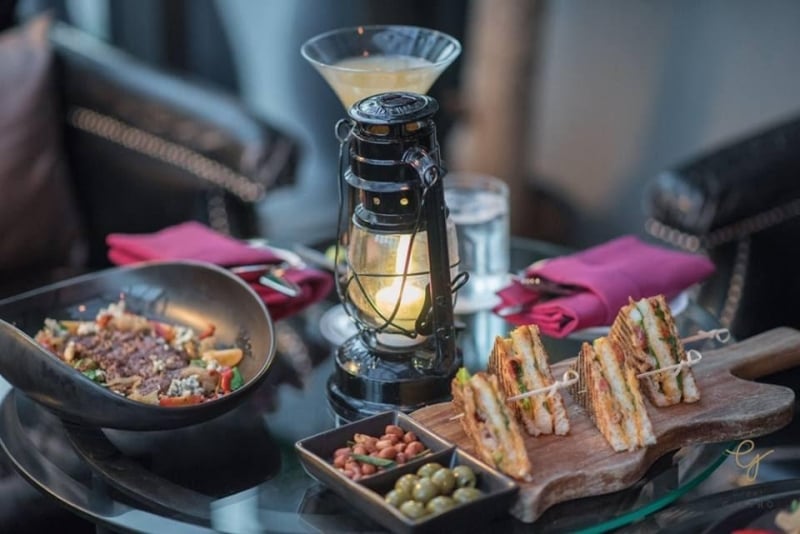 The Medici Kitchen and Bar serves delectable Italian cuisine to the sounds of live music and opera, and Babette's The Steak House takes you back to Chicago (we know it's not Europe!) in the 1920s. Head up to the Speakeasy Rooftop Bar for a nightcap and sip an expertly mixed cocktail while you enjoy the awesome skyline vistas.
10. Palio Inn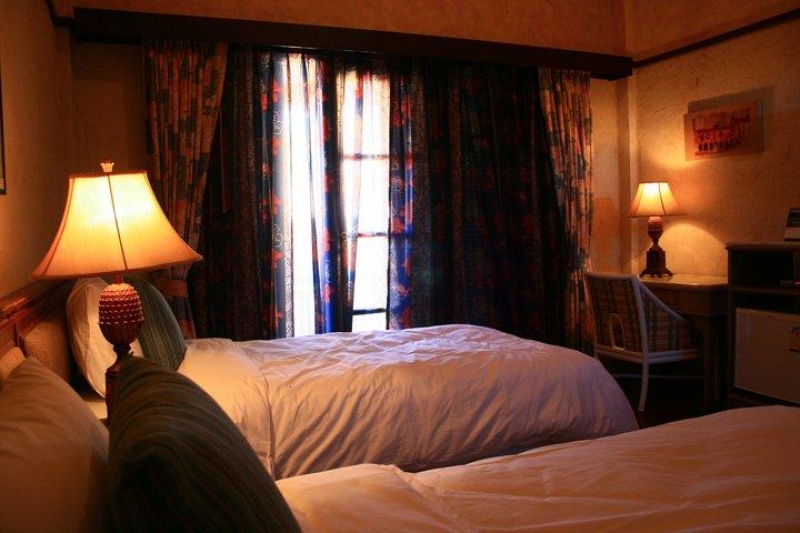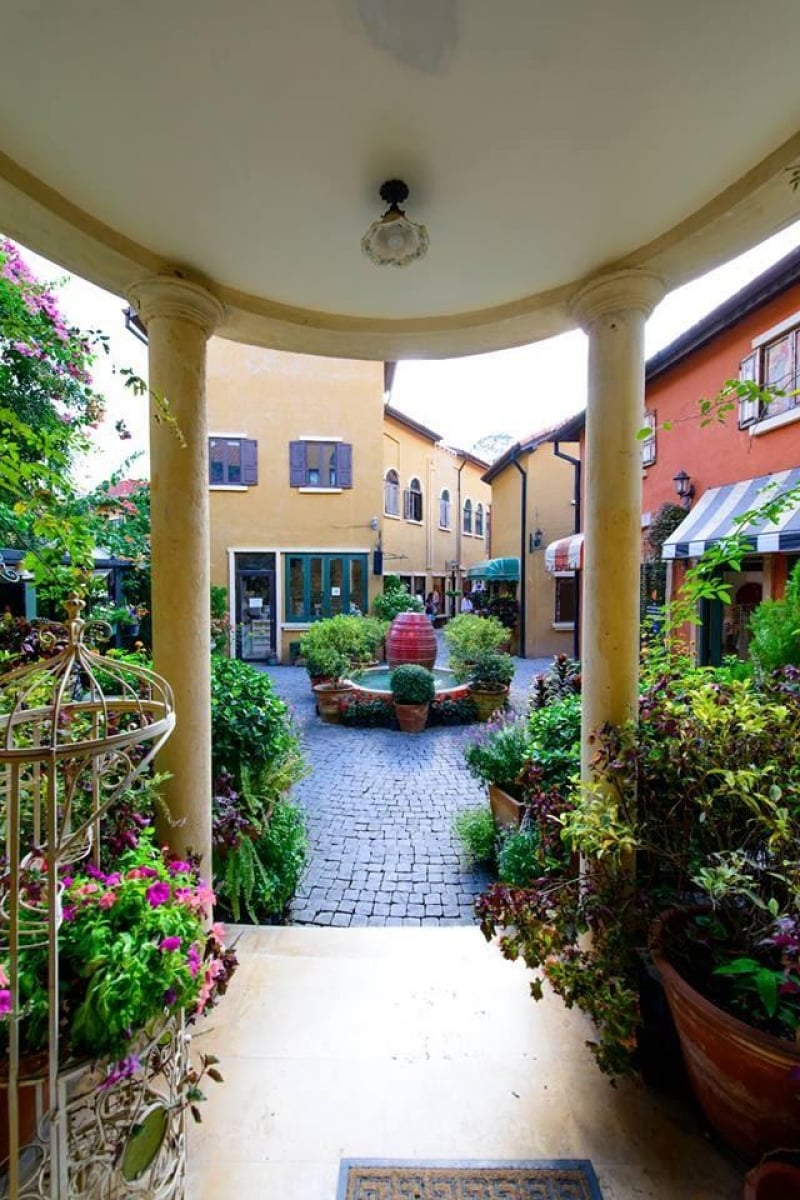 The enchanting Palio Inn is part of the larger European-themed Palio Village in Khao Yai. Designed to look like an Italian village, the main square of Palio Piazza has quaint lampposts, flower beds, benches, and statues, all surrounded by earth- and rust-coloured walls and plenty of autumnal shades. Small streets and paths lead from the square, lined with a large selection of fashionable shops and cute cafes. Antique stores sit next to boutique clothes shops and delicatessens. Ivy clings to the buildings and the overall atmosphere is rather like being in Tuscany.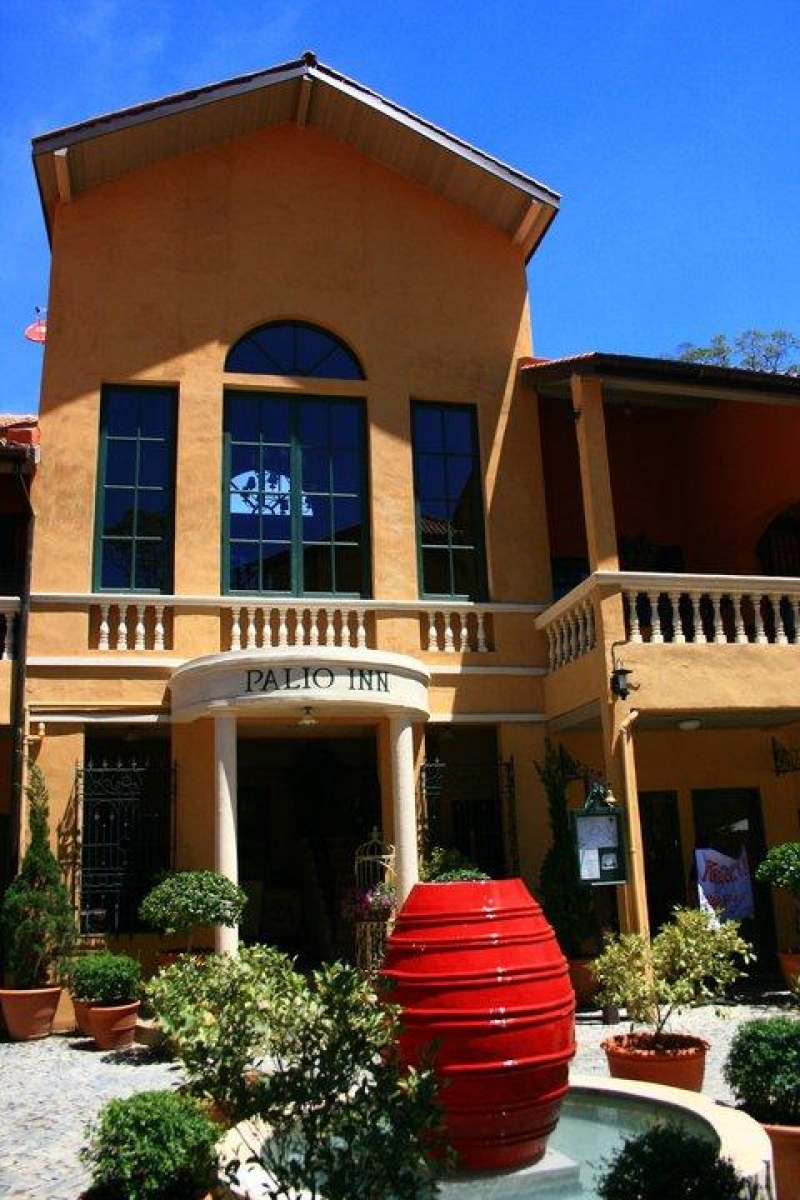 Rooms at the hotel are classy and tasteful, with neutral tones and comfy furnishings. All rooms are en-suite and lots have balconies. Amenities include a fridge, TV, and writing desk.    
11. Swiss Valley Hip Resort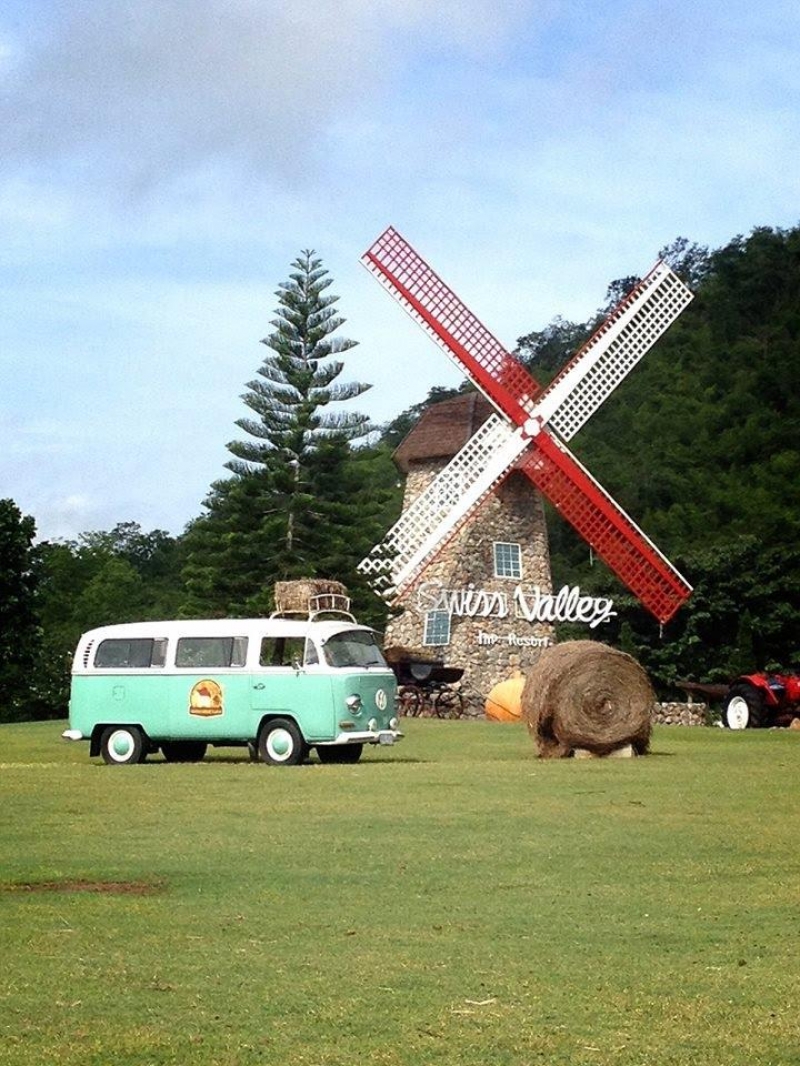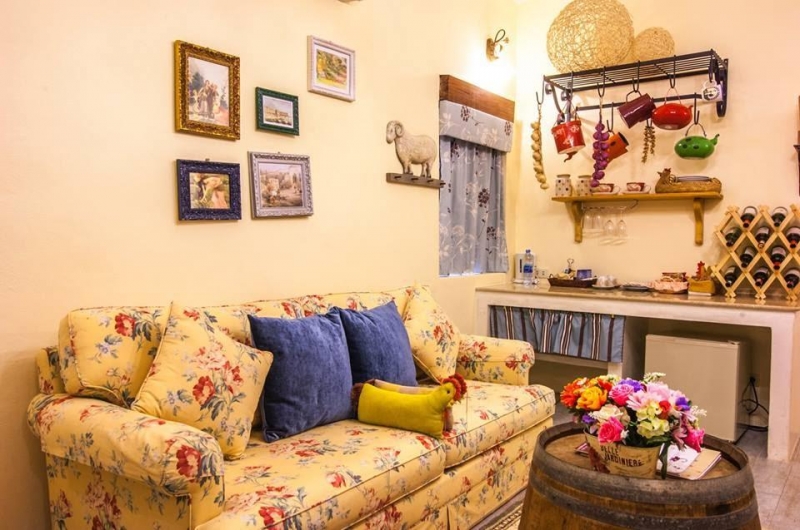 Swiss Valley Hip Resort in Ratchaburi is a great place to stay to feel as though you've woken up in the gorgeous mountains of Europe. One of the first things you'll notice as you arrive is a large windmill in scenic surroundings. The resort has plenty of rolling greenery and whimsical statues. Onsite amenities include a spa, restaurant, games, room, fitness room, and swimming pool. You can enjoy varied activities like hiking, archery, horse riding, golf, and feeding the sheep in the sheep farm.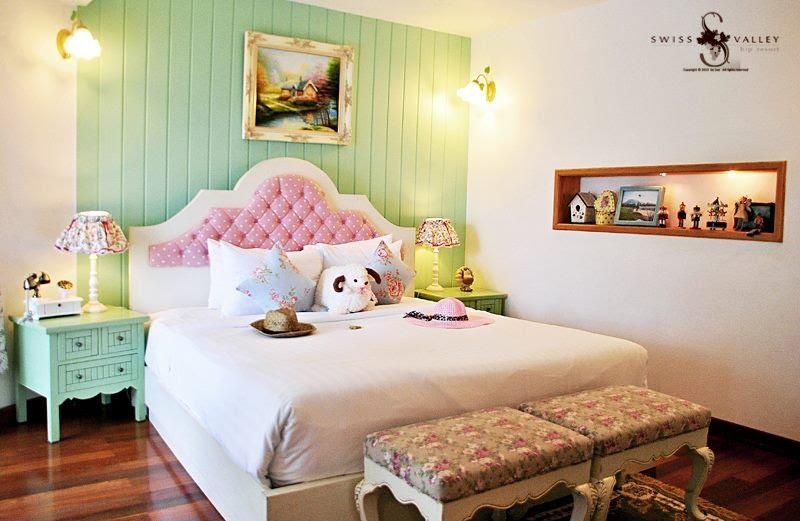 There's a choice of rooms and villas, all offering plenty of privacy. You'll find features like free-standing and deep-soaking bathtubs, rooms that have been designed as though expecting a fairytale princess, French touches and Spanish influences, sweeping views, hammocks, private pools, plush sofas, four-poster beds, open fireplaces, and more.   
12. Hotel La Casetta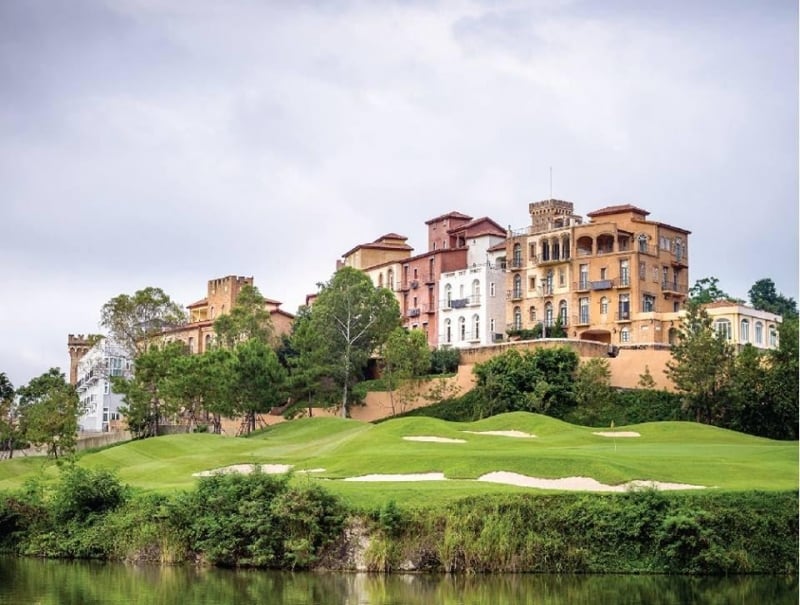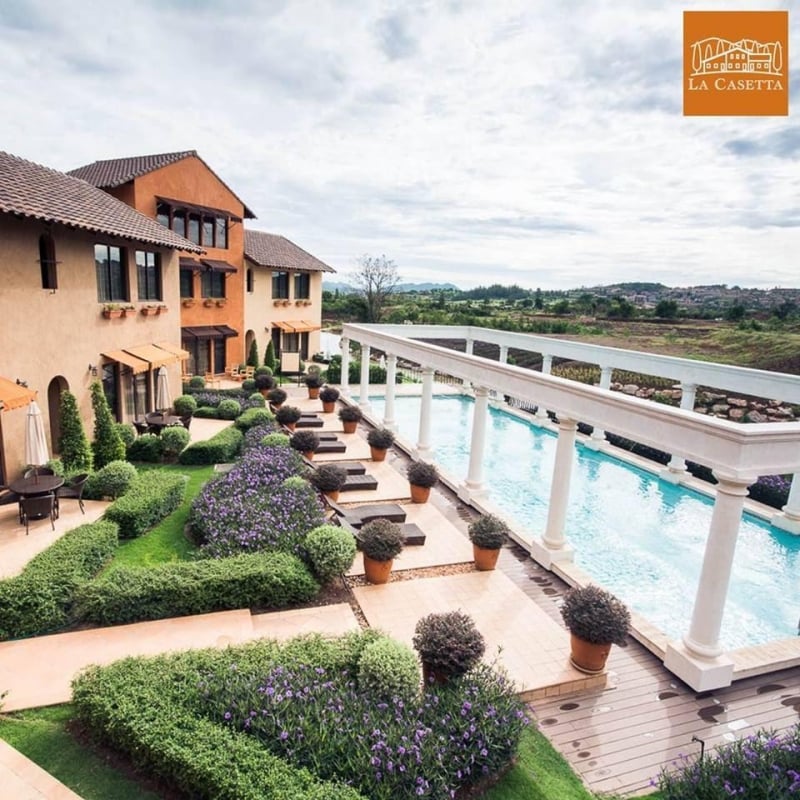 With a name that means cottage in Italian and a setting that looks like a stunning Tuscan Village, Hotel La Casetta in Khao Yai's Toscana Valley is a beautiful place to stay. Treat yourself to a few days here and unwind in attractive surroundings and with plenty of luxurious touches.
Tuscan-style farmhouses sit at the edge of a lagoon and in the shadow of mountains. Flower gardens sit outside the cute accommodations, while inside you'll find a private bathroom and simple rustic charms with sturdy wooden furniture and colours inspired by nature.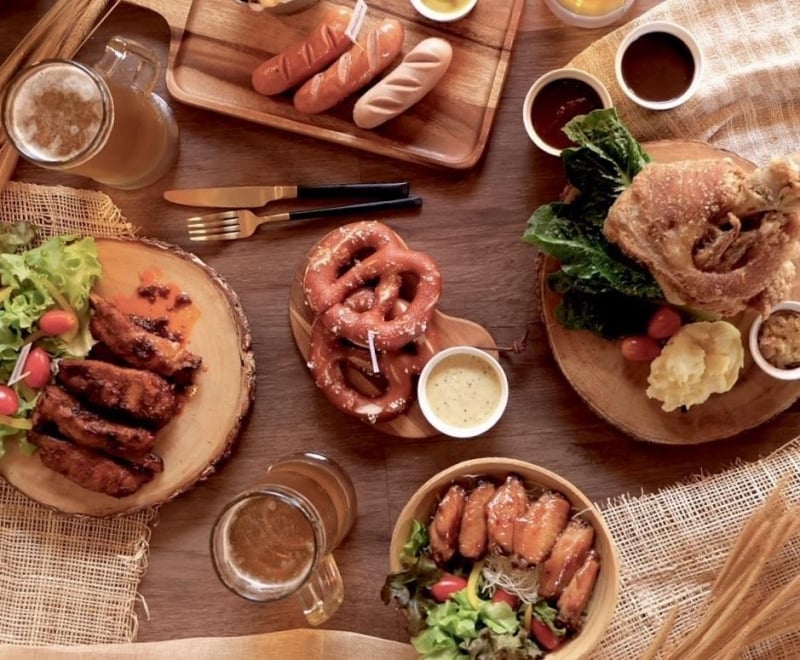 Guests can soak in the stepped pools and jacuzzis, and the spa offers even more ways to treat yourself to some TLC. The pavement cafes and restaurants are ideal for refueling and enjoying delicious global and local cuisine.   
And, if that's not enough, try these six hotels for even more European vibes in Thailand:
Phuchittaan Resort in Khao Yai

Kaomai Lanna Resort in Chiang Mai

Thames Valley in Khao Yai

Kosit Hill Hotel in Phetchabun

Belmont Village in Khao Yai

S Swiss Hotel in Ratchaburi