If you're heading to Hong Kong soon, it's definitely worth your time to peruse through the list of Airbnb apartments available in the city. This way, you could potentially land a value-for-money place to stay, one that may even have facilities that are more generous than those offered by hotels. To help you out in this aspect, we've scouted some of the best Airbnb apartments in four of the most popular areas: Tsim Sha Tsui and Mong Kok, both in Kowloon, and Causeway Bay and Central on Hong Kong Island.
Do note that due to the high population density and skyrocketing cost of housing, accommodation in Hong Kong is typically on the small side. So if you're on a budget, you can hardly escape living in cramped quarters during your stay in Hong Kong. But embrace it – that's just part of the local experience! Without further ado, here are some of the most affordable and highly-rated Airbnb apartments in Hong Kong.
Also read: 30 Things to Do in Hong Kong on Your Next Visit
Airbnb apartments in Tsim Sha Tsui
1. This comfy homestay just in front of the MTR Station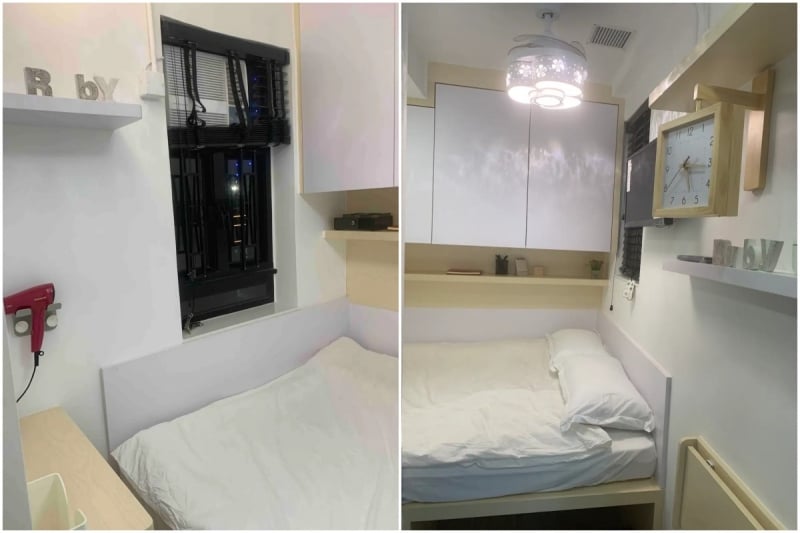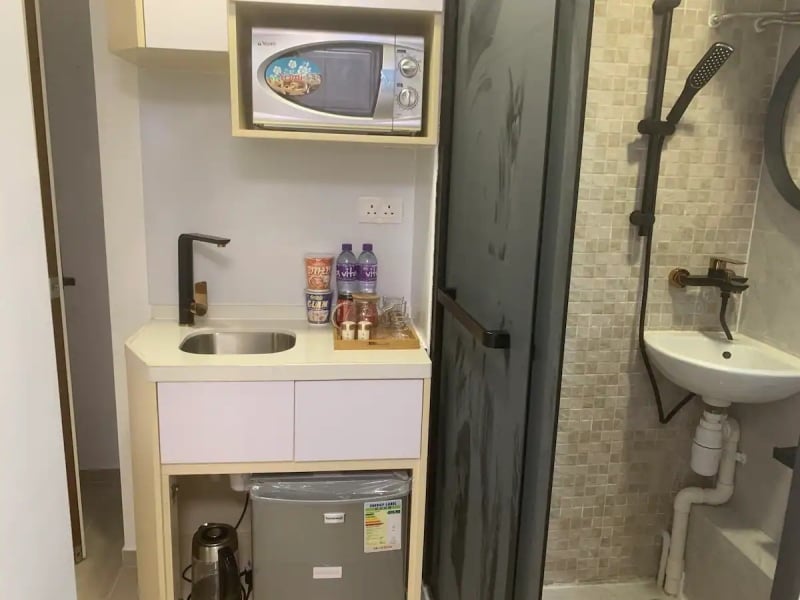 Listing name: Room No. 4 brings a different experience with a butler-style service than a small housekeeper. There is a washroom in the room opposite the Tsim Sha Tsui subway exit.
Location: Tsim Sha Tsui
Max. no. of guests: 2
No. of bedrooms: 1
This cute little apartment in a premium location in Tsim Sha Tsui has touches of greenery to add life to the modern space. While the space is small, it has all the essentials. This 15th floor Airbnb comes with air-conditioning, a fridge, a washing machine, free WiFi, and even complimentary snacks. 
Additionally, staying here will put you just minutes away from the Avenue of Stars, Star Pier, Harbour City, and a variety of shops and restaurants. Getting to other parts of Hong Kong is convenient as there's an entrance to Tsim Sha Tsui MTR Station just minutes from the building.
2. This cosy living space for three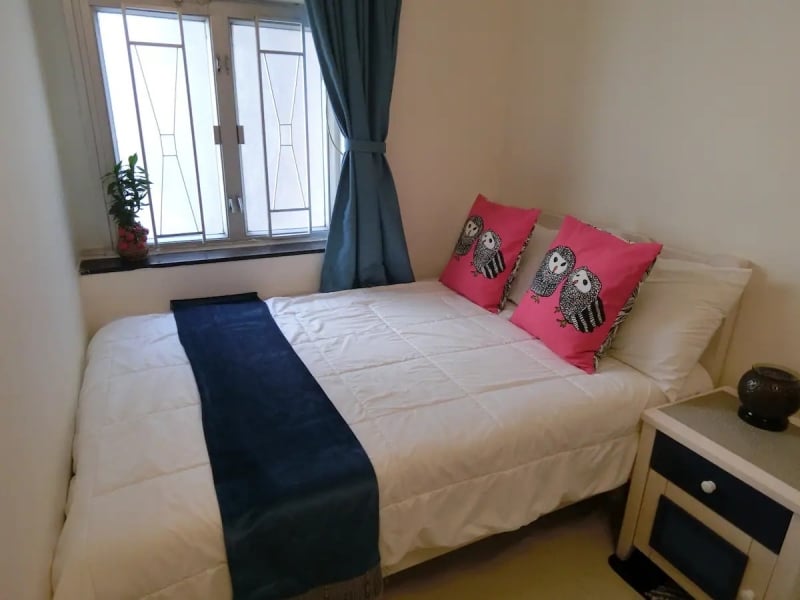 Listing name: Modern Newly Decoration Cozy APT ~
Location: Tsim Sha Tsui
Max. no. of guests: 3
No. of bedrooms: Studio
Another budget-friendly choice right in the middle of Tsim Sha Tsui, this studio apartment is ideal for couples or small groups of three. It's cosy to the extent that huge suitcases will fill up the space, but it's comfortable, tidy and homely. And with its location on Mody Road, there's no lack of places to shop and eat from the moment you exit the building. It's even within walking distance of Victoria Harbour. 
Previous guests have complimented the host of the apartment for her quick responses and help with information. Do note that this apartment does not have a kitchen so it's not suitable for those who are hoping to cook their own meals.
Airbnb apartments in Mong Kok
3. This bright studio that's newly renovated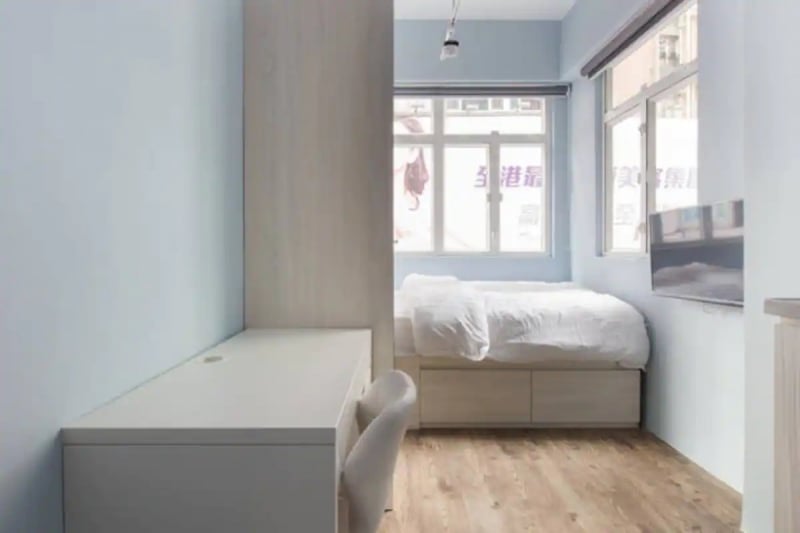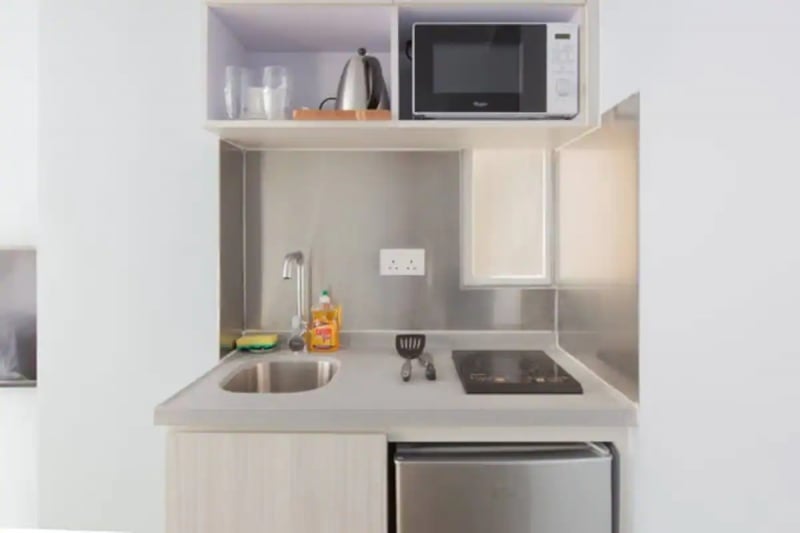 Listing name: Mong Kok Luxury Studio *3C
Location: Mong Kok
Max. no. of guests: 2
No. of bedrooms: Studio
While it's a small space that fits just up to two travellers, this cosy apartment comes highly recommended due to important selling points: its convenient location, the minimalist interiors, and of course, the price tag! The apartment is located in a busy area but it's nice and quiet since it's tucked on the third floor of the building. 
Places that are easily accessible from the apartment are the Ladies Market and shopping malls. While the apartment may just be a place to retreat to for the night, light cooking is also possible in its well-equipped kitchenette.
4. This pretty apartment for a group of six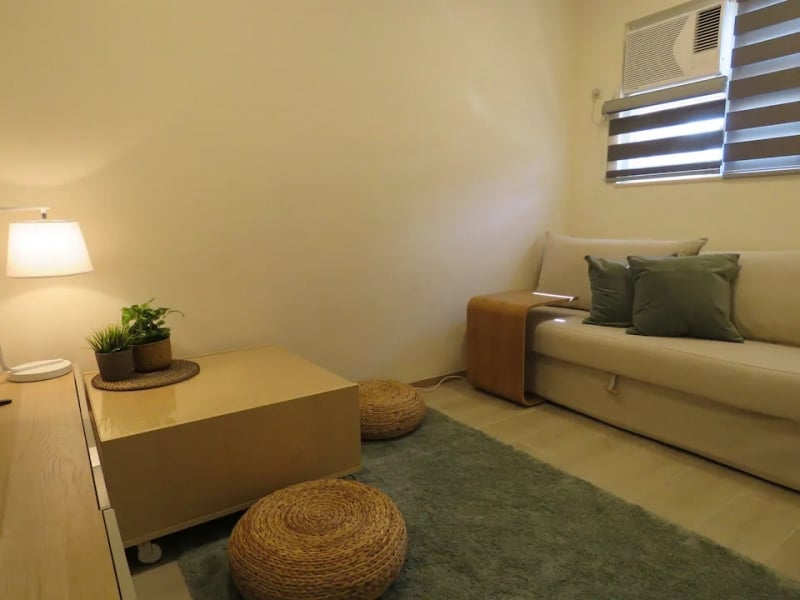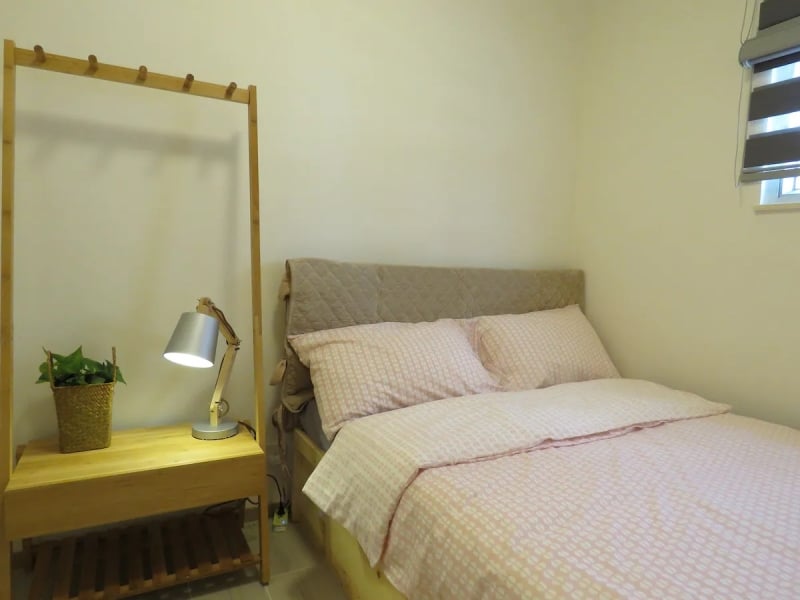 Listing name: 2/3 BR Main City Apartment above MTR
Location: Mong Kok
Max. no. of guests: 6
No. of bedrooms: 2
If you're travelling in a group of friends (up to six), it's possible to squeeze into this modern apartment and split the cost. There are two bedrooms plus a sofa in the living room that can be converted into a sleeping space. This Airbnb in Hong Kong comes with a well-equipped kitchen for all your cooking needs. What's more, there's even a small outdoor area for relaxation with a view. 
The location is great as well, a few minutes away from Mong Kok on foot. The MTR is directly adjacent to the building.
5. This cute home with lovely little touches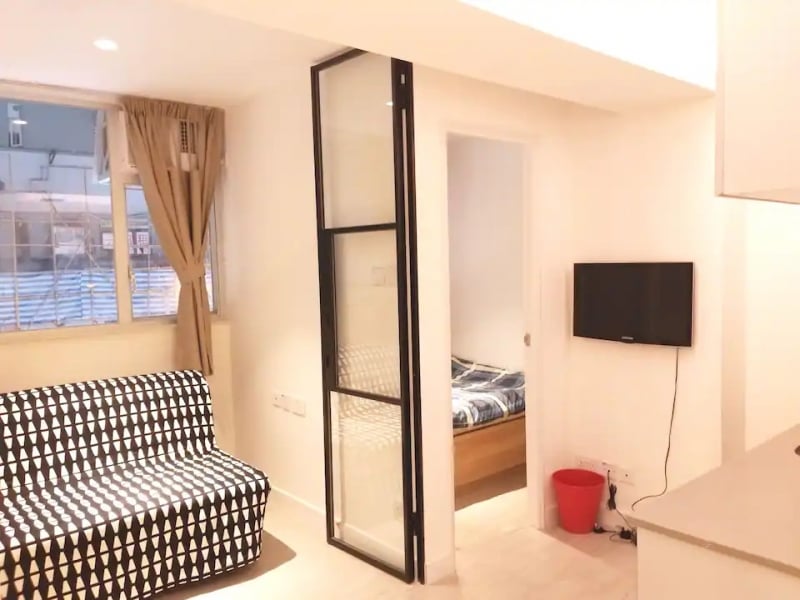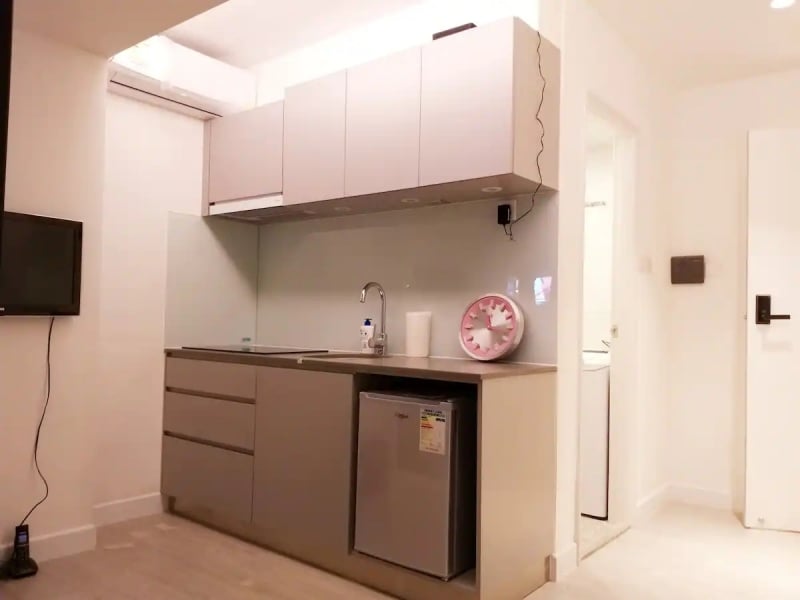 Listing name: ⭐10% OFF A - 4 GUESTS COZY HOME MONGKOK 旺角地鐵站一房一廳⭐
Location: Mong Kok
Max. no. of guests: 4
No. of bedrooms: 1
This well-furnished and spacious home can sleep four persons – two on the double bed and two on the sofa bed. The little things you will appreciate would be the free WiFi and TV, the roomy kitchen, and the free shampoo and body wash. The huge window beside the bed is a bonus too! 
On top of all these, this apartment is excellently positioned on Mong Kok's Argyle Street. Popular shopping malls and markets are within easy walking distance.
Airbnb apartments in Causeway Bay
6. This light-filled unit in a stellar location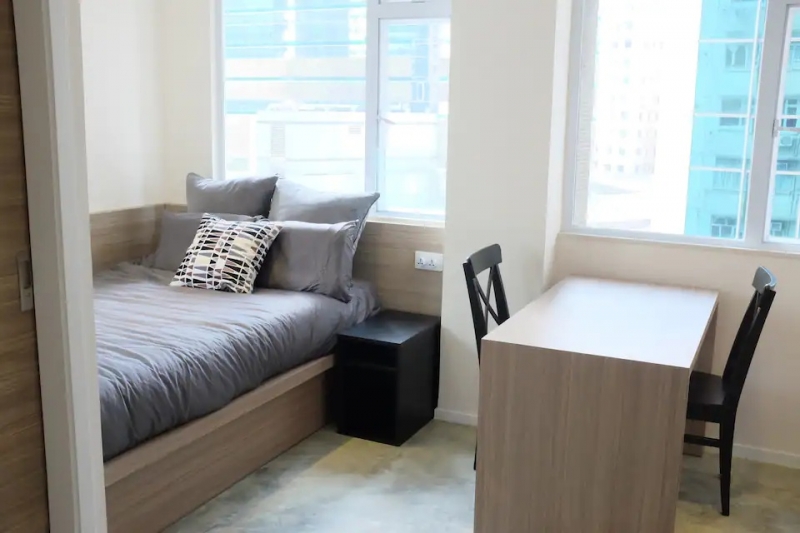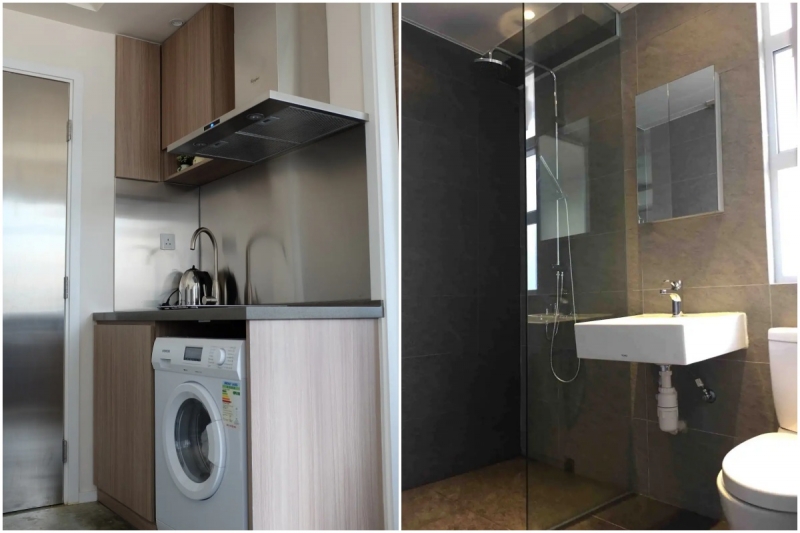 Listing name: Beautiful Studio In Causeway Bay - Newly Renovated
Location: Causeway Bay
Max. no. of guests: 2
No. of bedrooms: Studio
Adding on to the collection of small-and-functional studio apartments is this listing in Causeway Bay . It's fairly roomy for solo travellers and couples, at least according to Hong Kong's standards. Moreover, you'll be pleased to find that the modern unit is equipped with a TV, washer and dryer, fridge, air-conditioning, and even a hair dryer. 
Step out of the building and you won't be far from top-notch supermarkets, shopping malls, restaurants, and ATMs. Best of all, it's close to various transportation options like the MTR, buses and taxis.
7. This cosy haven in the heart of Causeway Bay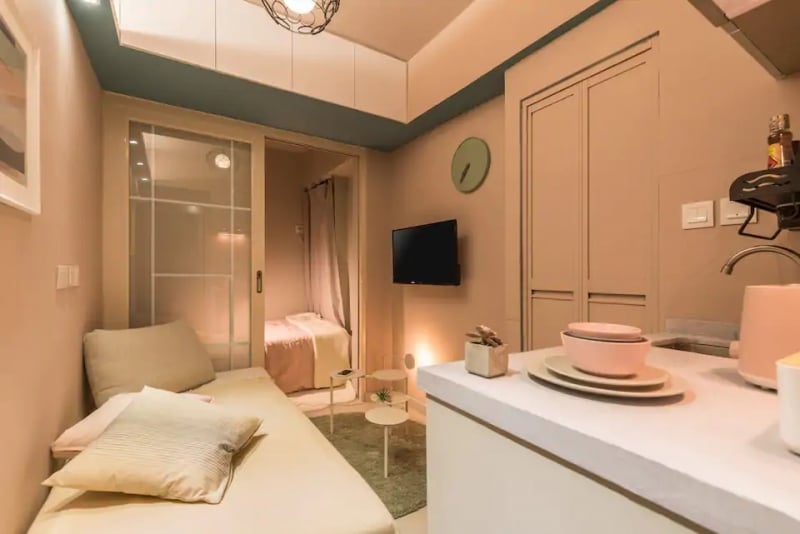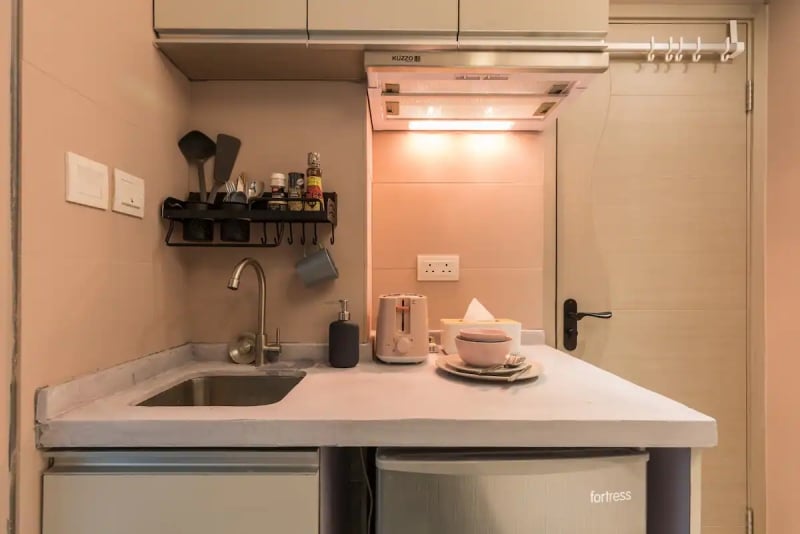 Listing name: BEST LOCATION! One Min Walk to Time Square / MTR!
Location: Causeway Bay
Max. no. of guests: 3
No. of bedrooms: 1
Near Times Square is this one-bedroom apartment thoughtfully designed for style and comfort. It can accommodate up to three persons if you don't mind the crowd; otherwise, one or two guests will fit nicely. Although there's limited space, this Airbnb in Hong Kong provides all the essentials, including WiFi, a kitchen, and a washer and dryer. 
In addition, the apartment is a great base in bustling Causeway Bay. Conveniently, it's within walking distance to train stations and bus stops.
8. This pristine studio with tasteful interiors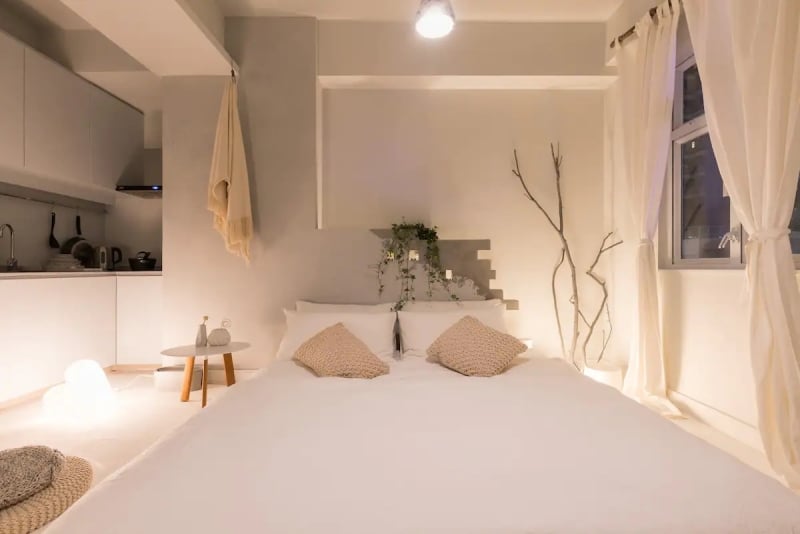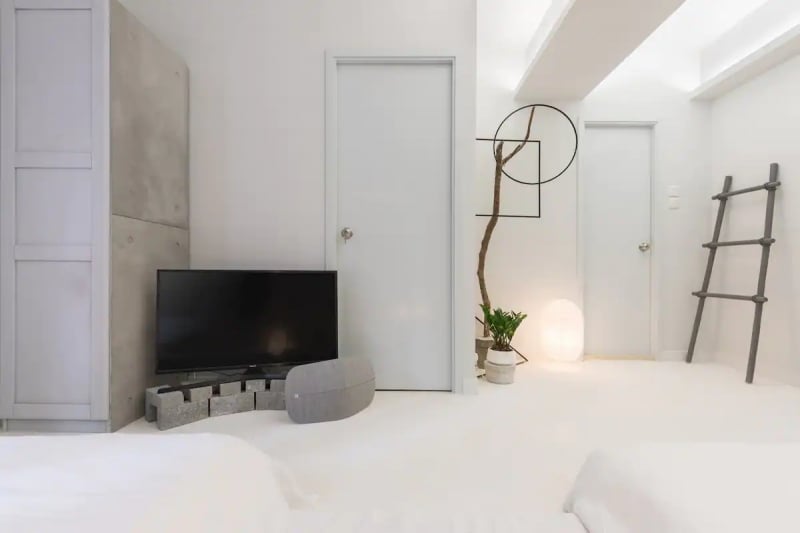 Listing name: 北角地鐵站簡約設計 North Point MTR station: Minimalist/Cozy
Location: North Point near Causeway Bay
Max. no. of guests: 5
No. of bedrooms: Studio
Looking for a pretty Airbnb in Hong Kong to host your travel group? This carefully decorated studio is clean and Scandinavian-chic, a cosy space for up to five travellers. Guests rave about the fully appointed kitchen, while the comfy queen bed can be converted into two single beds. 
Although this home isn't exactly in Causeway Bay, it's only five minutes away in North Point. Malls and transportation options are nearby.
Airbnb apartments in Central
9. This two-bedroom suite with vintage charm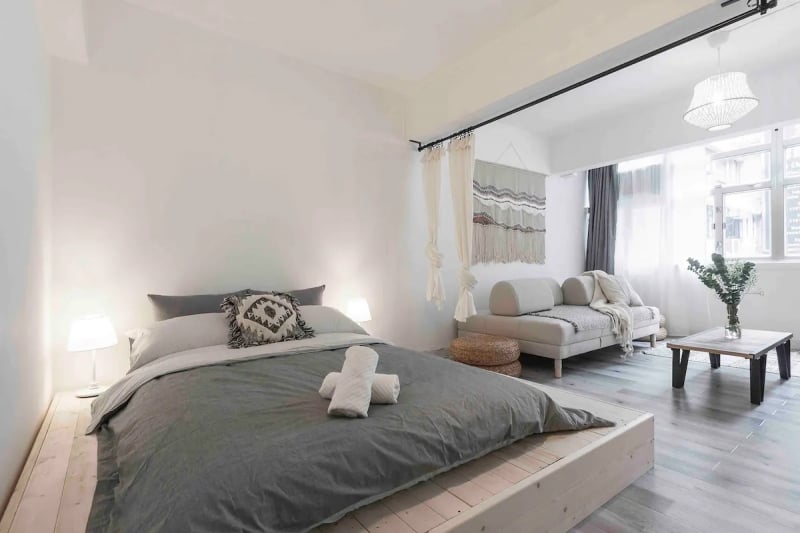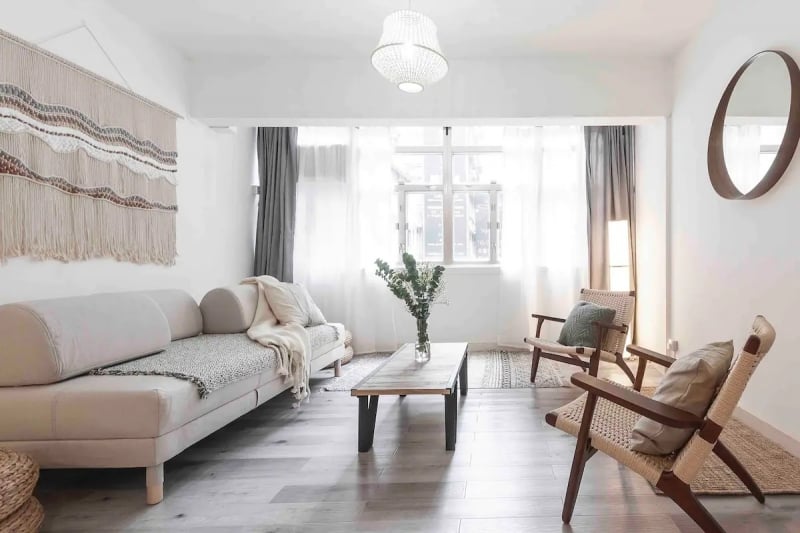 Listing name: LKF Apartment. 2 BR. Spacious & Cozy. Central MTR
Location: Central
Max. no. of guests: 4
No. of bedrooms: 2
Modern and retro vibes combine in this beautiful two-bedroom apartment in the heart of Central. If you'd like a place that's as chic as it is comfortable and convenient, then give this Airbnb some consideration. Inside, the home is bright and airy with a generously sized common area where the group can hang out and bond.
It's housed in a newly renovated old building, at a central location with a variety of cafes, restaurants, and bars around.
10. This condo with views of the cityscape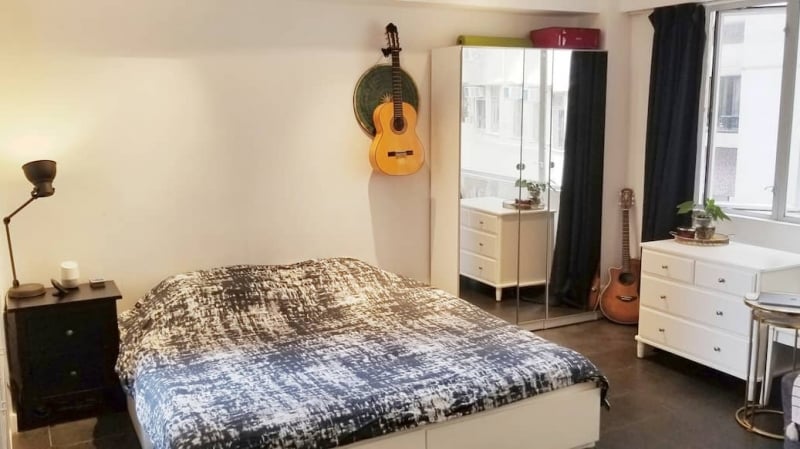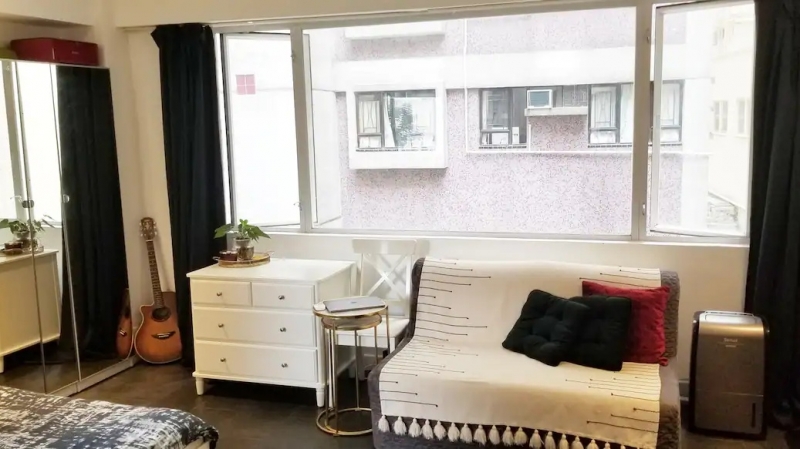 Listing name: Beautiful Clean HiTech Condo in Mid-Levels Central
Location: Central
Max. no. of guests: 6
No. of bedrooms: Studio
If you don't mind squeezing in with your friends in just one room, why not give this spacious studio a try? The high-ceiling condominium features an assortment of creature comforts that make it feel like home, from plush beds to a fully equipped kitchen. There's even a smart TV and Xbox for entertainment.
Additionally, this Airbnb is positioned in one of the best neighbourhoods to live in Hong Kong. It's only a few steps away from the Central–Mid-Levels escalator.
Also read: 10 Chic Airbnbs in Hong Kong for a Trendy Getaway

With this list, we hope that you've come closer to finding an agreeable place to stay in Hong Kong without busting your budget. That money saved is surely better spent on sampling local food anyway.
Got a property you'd like TripZilla to feature? Inquire with us here .
---
This article contains affiliate links. When you book through these links, we may earn a small commission at no additional cost to you. All images courtesy of the respective property listings.