If you're planning a trip to Ho Chi Minh City (still known to many as Saigon), you're more than likely in it for the gorgeous historical and cultural sights, steaming hot bowls of pho, and your fix of authentic Vietnamese coffee. What you might be surprised to find is that the city, an eclectic mix of traditional and modern elements, is home to some of the most interesting and beautiful residences — some hidden behind the most unexpected facades.
Instead of stumbling into a hotel room after a tiring day of sightseeing, why not opt to live like a local and come home to a gorgeous Airbnb in Ho Chi Minh City? An added bonus: More often than not, Airbnb Hosts are happy to help you find your way around the city!
We've narrowed it down to these wallet-friendly Ho Chi Minh Airbnb homes based on location, design, and amenities. We don't doubt you'll have a tough time just choosing one!
Also read: Hanoi or Ho Chi Minh: Which City in Vietnam Is Perfect for You?
Beautiful Airbnbs in Ho Chi Minh City that don't cost a fortune
1. This stylish studio downtown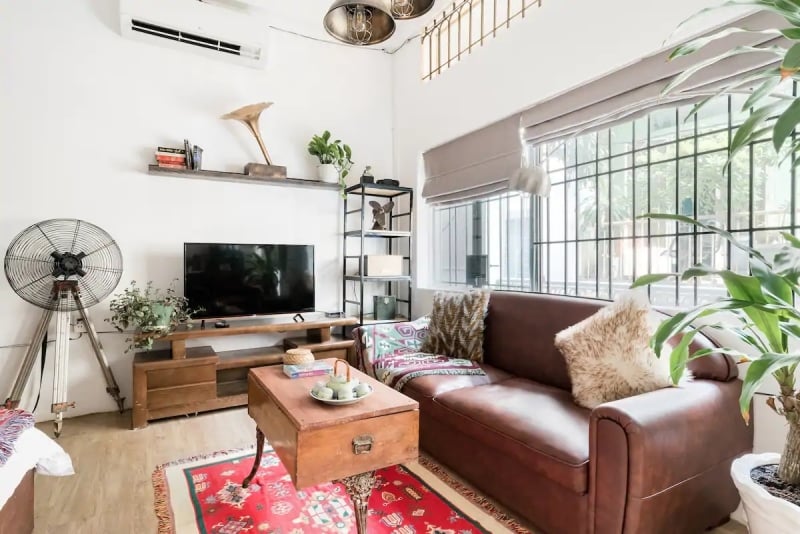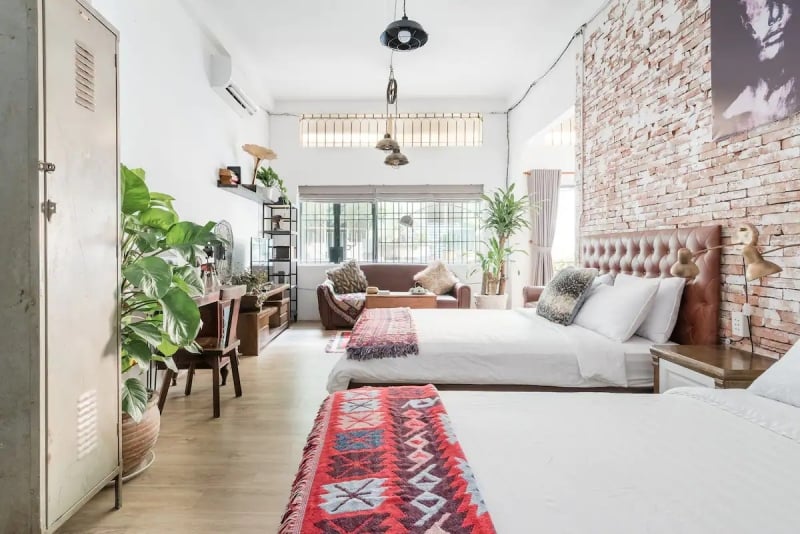 Listing name: Explore Downtown Sai Gon from a Hip Apartment
Listing type: Entire condominium
Location: District 1
Max. no. of guests: 4
No. of bedrooms: 1
Nestled in a small alley downtown, this beautifully designed abode was designed to provide guests with a top-notch experience at an affordable price. Perfect for solo travellers, couples, and small groups, this cosy studio comes with a stylish living room, two plush beds, a dining area, and a fully stocked kitchen with coffee and tea. Not to mention, it's easy on the eyes with its minimalist-industrial interiors!
In addition to this, the apartment sits in a convenient neighbourhood near cafes, restaurants, street food spots, and the famous backpacker area Bui Vien Street. Tourist landmarks are also close by, such as Ben Thanh Market, Fine Arts Museum, and Saigon Square. 
Also read: 10 Places to Visit in Vietnam for Culture & History
2. This sleek, minimalist abode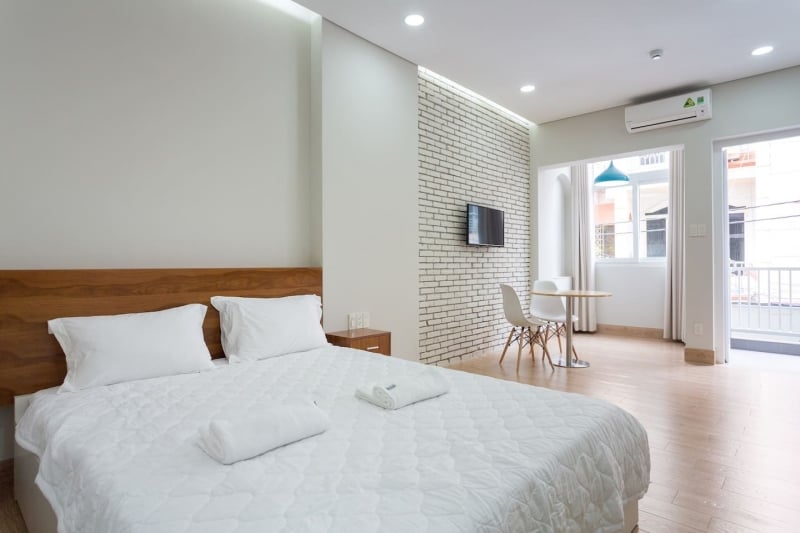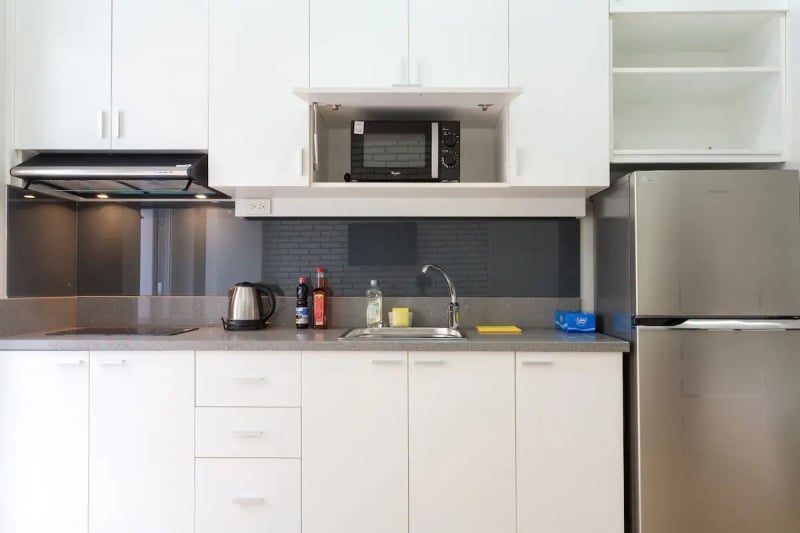 Listing name: Lighting Studio near Ben Thanh market
Listing type: Entire serviced apartment
Location: District 1
Max. no. of guests: 2
No. of bedrooms: Studio
This spacious accommodation in the heart of Ho Chi Minh City is commended for its perfect location: The house is right by the action, but isolated enough from the loud city noises. At first glance, you might notice its bare, minimal design — but don't be fooled. This apartment is equipped with everything you might need: a comfortable bed, a sofa bed, and a fully-equipped private kitchen.
The building also has an available laundry area for those who wish to use it. If you opt to rent a motorbike, this Ho Chi Minh City Airbnb also provides guests with free parking access! Superhost Peter and his co-Host Thanh are more than happy to assist their guests, and are open to hosting long-term stays. 
3. This beautiful rooftop sanctuary in the heart of the city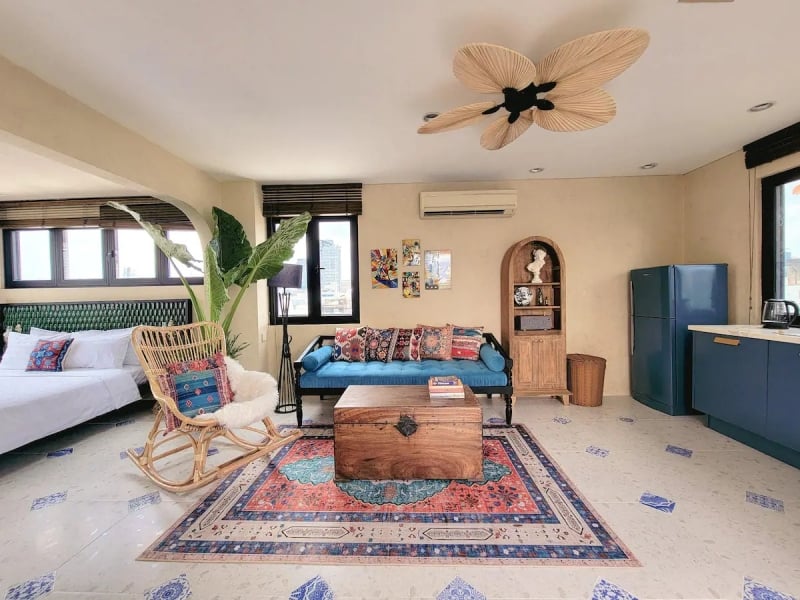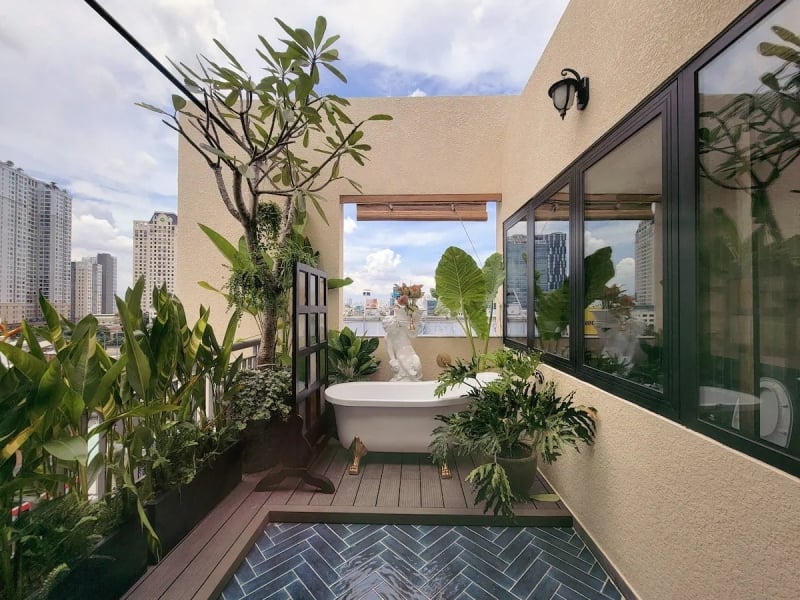 Listing name: P"m"P.10: Rooftop Hidden Gem* Incredible City view
Listing type: Entire loft
Location: District 1
Max. no. of guests: 2
No. of bedrooms: 1
Guests are sure to love this sunlit apartment for its boho-chic decor, generous living space, and overall homey feel. Despite its central location, this listing prides itself in providing a laidback escape from the hustle and bustle of the city — perfect for travellers who value their time indoors as much as their time spent sightseeing. The accommodation provides even those working on vacation with the peace and quiet they need!
Another reason to book this Airbnb in Ho Chi Minh District 1? An outdoor private bathtub overlooking the city is the perfect spot to wind down at the end of the day. This luxury definitely makes us feel like five-star tourists! 
4. This cool urban escape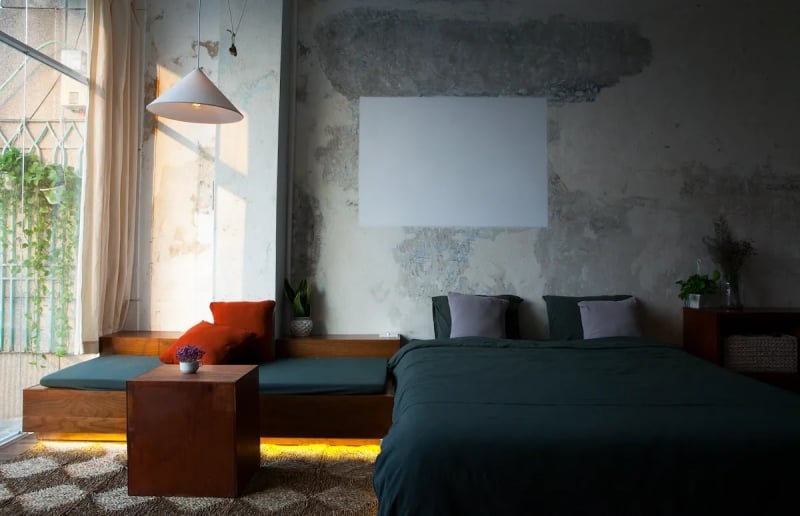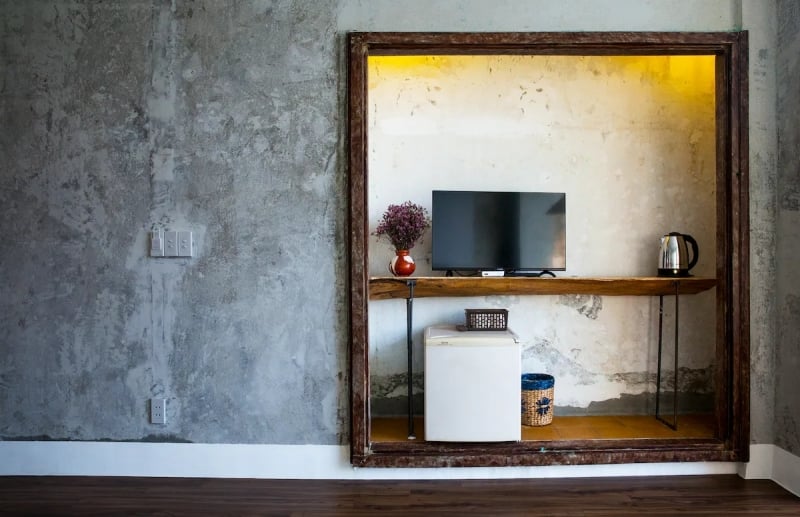 Listing name: Central District 1 - 5 mins to Independence Palace
Listing type: Entire apartment
Location: District 1
Max. no. of guests: 2
No. of bedrooms: Studio
A crowd favourite, this Instagram-worthy apartment just steps away from the city's main attractions is the epitome of chill. Located inside a vintage building built by Americans before 1975, this Ho Chi Minh City Airbnb has been thoughtfully renovated to comfortably host travellers. Solo travellers and couples will want to rent this studio, as they'll definitely be getting even more bang for their buck!
In addition to its industrial interiors and cool warehouse vibe, guests will love that the apartment also comes with a stellar sound system, a 52-inch TV (with ChromeCast and Apple TV available for guest use), and an iMac with high-speed internet. Another plus: it's a short walk to famous spots like the Saigon Opera House, Independence Palace, Ben Thanh Market, and several cool coffee shops!
Note: Guests should be prepared to walk and carry their luggage up the stairs. The studio apartment is situated on the fourth floor, and the building does not have an elevator!
5. This pristine space near famous tourist spots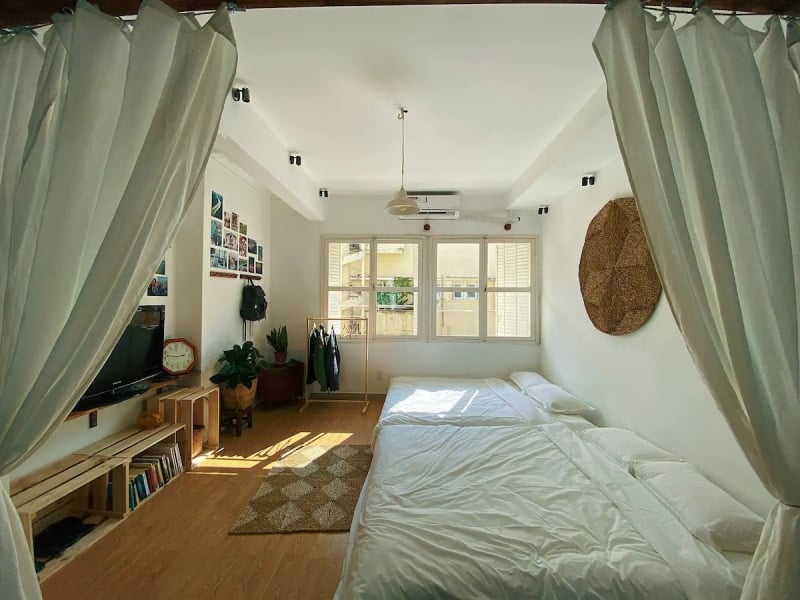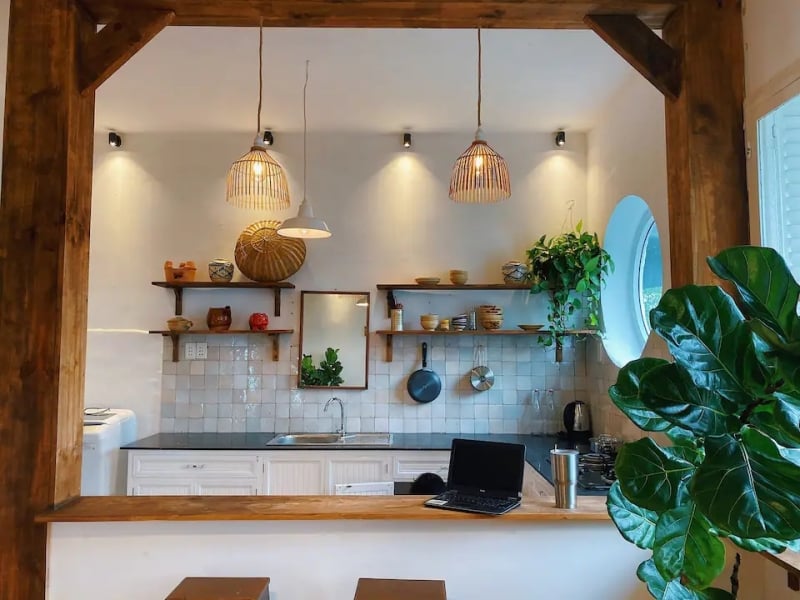 Listing name: 150m to Notre-Dame Cathedral 70sqm - Stay&Fun 04
Listing type: Entire apartment
Location: District 1
Max. no. of guests: 5
No. of bedrooms: 1
Looking for an Airbnb in Ho Chi Minh City District 1 for your crew? This open-plan studio, beautifully designed with tasteful Vietnamese elements, is a comfortable home away from home for up to five travellers. In addition to the spacious living space, guests will be delighted to see the well-appointed kitchen with everything you need to whip up a home-cooked meal. 
Perfect for exploring Ho Chi Minh City, this Airbnb is within walking distance from popular spots like Ben Thanh Market, Notre Dame Cathedral, and Independence Palace. As previous guests said in reviews, it's within 15 minutes on foot of nearly all of the main tourist attractions in the city! 
Keep in mind that this Airbnb in Saigon is on the fifth floor of a building with no elevator. Fret not; the Superhosts will provide assistance to guests who need it — you only have to tell them in advance. 
6. This artsy sanctuary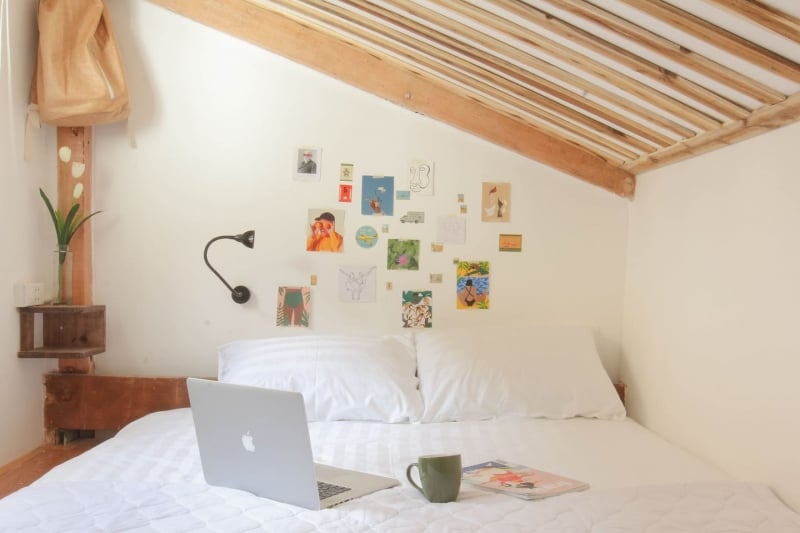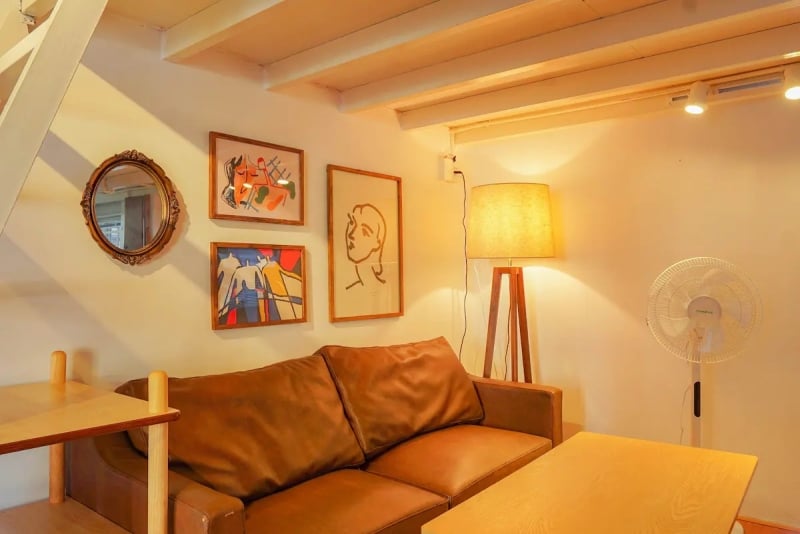 Listing name: 20% off tenten house- loft in central Ben Thanh
Listing type: Entire loft
Location: District 1
Max. no. of guests: 5
No. of bedrooms: Studio
Situated in an old French building, this three-storey loft is like a childhood mattress fort come to life. Climb a little ladder to get to the third-storey attic, where you will find a cosy and beautifully decorated bedroom. Below are a generous lounging area (equipped with a TV that has Netflix!) and a kitchen with a little breakfast bar.
Reviews note that it's a bit of a climb to get to the apartment — but the rooftop view is definitely worth it! The listing is in a central location that's just walking distance from the night market, convenience stores, and tourist spots.
7. This elegant Airbnb retreat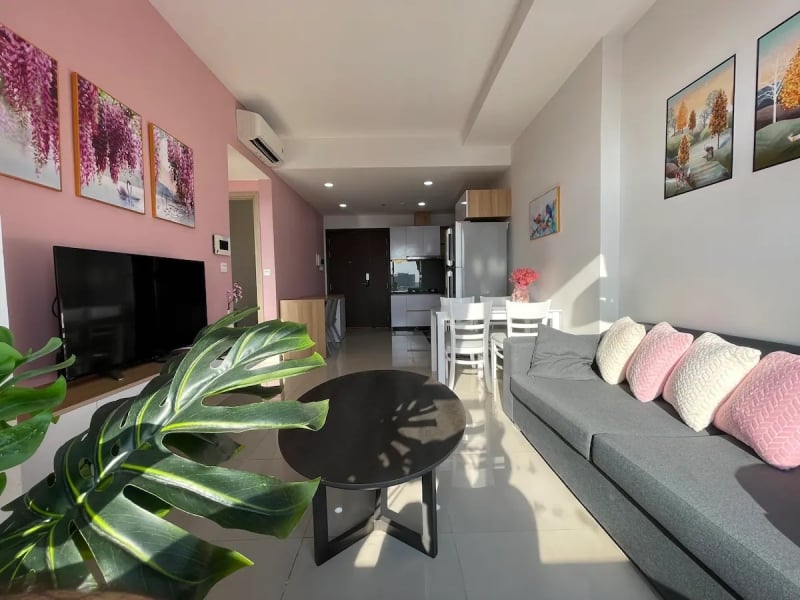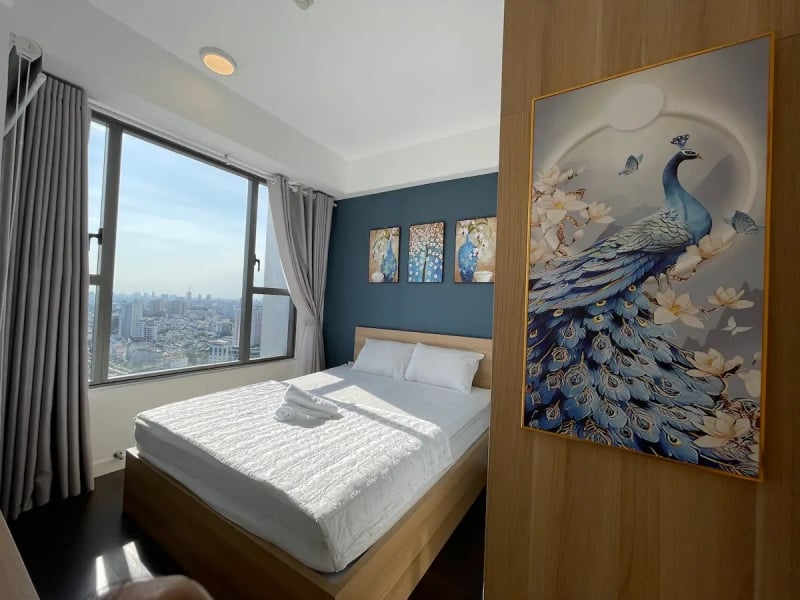 Listing name: 별똥별 2Br - 고층
Listing type: Entire apartment
Location: District 4
Max. no. of guests: 4
No. of bedrooms: 2
Get a hotel-quality experience at this tastefully designed apartment, praised for its being spacious, clean, and comfortable. Featuring two bedrooms, it's ideal for groups who want their own space to relax on vacation. The helpful Airbnb Superhost has worked to make sure that guests get their money's worth, offering an elegant stay in Ho Chi Minh City at a wallet-friendly price. Moreover, the apartment sits in a convenient location with a grocery store on the ground floor. 
8. This vintage-style hidden gem near the Opera House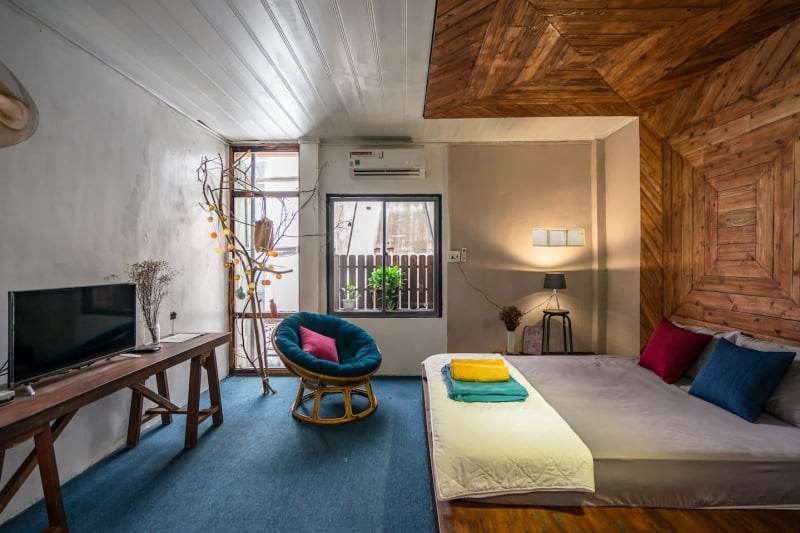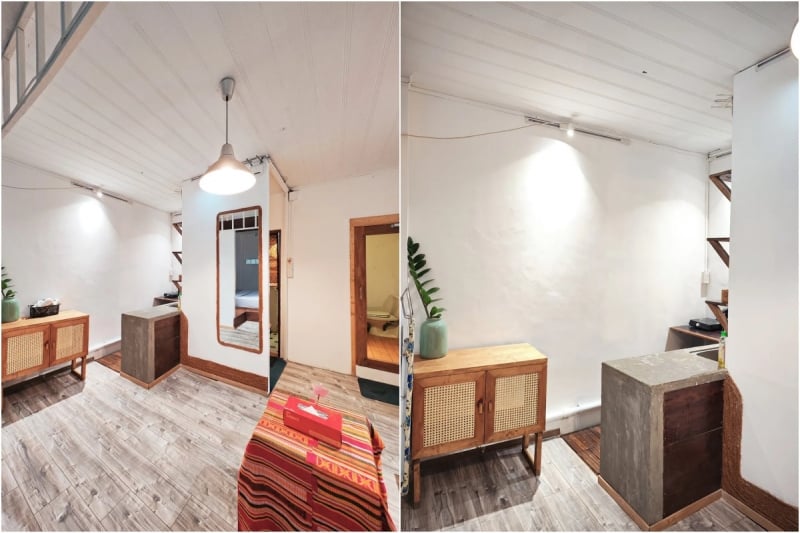 Listing name: Vintage Studio near Saigon Opera House * O2
Listing type: Entire apartment
Location: District 1
Max. no. of guests: 2
No. of bedrooms: 1
Hidden behind an unassuming facade (not unlike your favourite speakeasy bars), this vintage abode sits in the middle of busy Saigon. Its central location allows you to reach the city's tourist spots, restaurants, shops, and Ho Chi Minh City's nightlife on foot!
Perfect for solo travellers and those who travel in twos, this spacious apartment's beautiful interiors and cosy upstairs balcony make for the perfect retreat after a full day of sightseeing! Larger groups, on the other hand, are welcome to rent out multiple apartments in the same building. 
9. This contemporary Ho Chi Minh Airbnb for big groups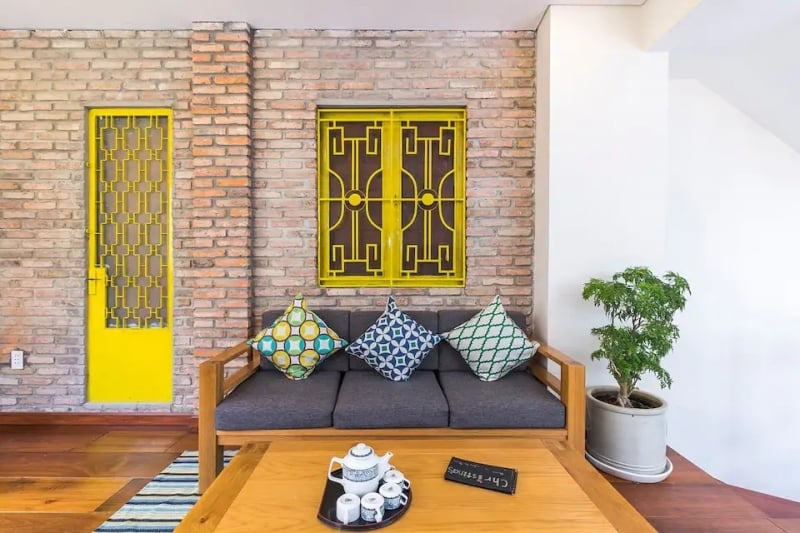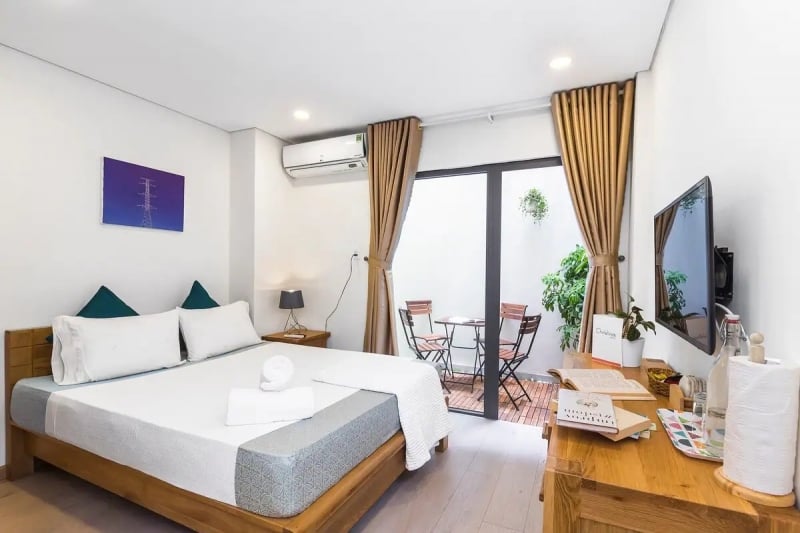 Listing name: Free Pickup from 3 nites|15% OFF weekly
Listing type: Entire home
Location: District 1
Max. no. of guests: 10
No. of bedrooms: 5
Nestled on a small street in District 1, this colourful home comes with enough space for travellers to create a home of their own in Vietnam. There's no need to leave anyone behind if you're booking this vacation rental; with five air-conditioned bedrooms, it's definitely one of the best Ho Chi Minh City Airbnb homes for big groups!
Explore the city on foot from this accessible stay. It's a leisurely walk from underrated attractions, including Le Van Tam Park, Pink Church and Tan Dinh Market. Well-loved local restaurants are also nearby. But on lazy days, there's no need to leave your space. The house makes for the perfect venue to Netflix and chill — the apartment's amenities include a huge TV and Netflix perfect for cosy nights in!
10. This charm-filled hideout that's newly renovated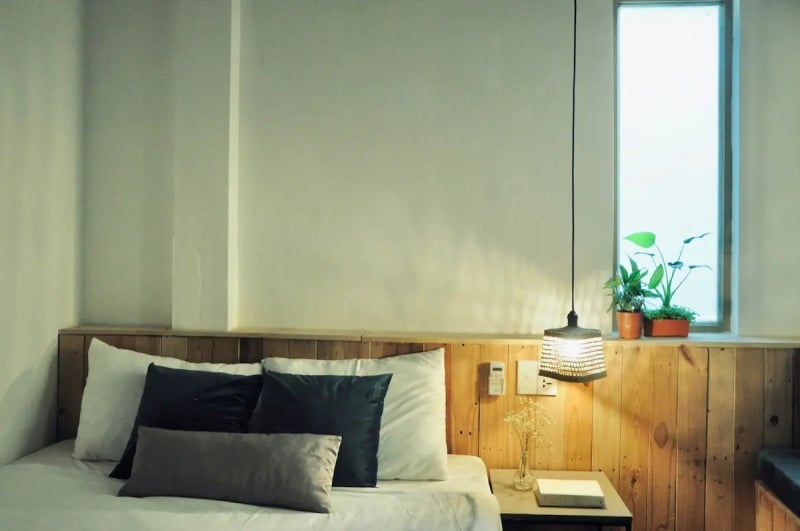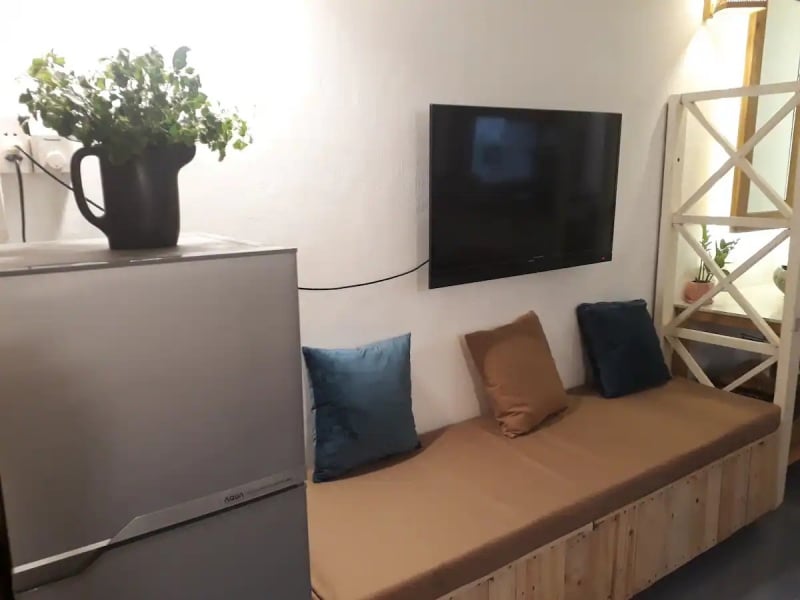 Listing name: The Blue- House (Old name: Red house)
Listing type: Entire house
Location: Ho Chi Minh City
Max. no. of guests: 4
No. of bedrooms: 1
The Blue House is a cosy, stylish retreat tucked away in a quiet residential area in Ho Chi Minh City. With two big beds, a kitchen, and a dining area, this house is ideal for small groups of friends or families. Hundreds of positive reviews commend this listing for its location, cleanliness, warm ambience, and amiable Host, Aunt Nga, who makes guests feel right at home!
Situated close to Ben Thanh Market, the museum, and countless shops, restaurants and cafes, the house's location will surely allow you to save up on extra travel expenses! Living close to a bus stop, you'll easily be able to venture to other cities in Vietnam and even Cambodia. 
Also read: 10 Airbnbs in Hanoi That are Both Gorgeous and Affordable
While you might be coming for the food, shopping, and sights, we won't be surprised if you found yourself wanting to come back for another chance to live in one of these beautiful Ho Chi Minh City Airbnb homes.
Got a property you'd like TripZilla to feature? Inquire with us here.
---
This article contains affiliate links. When you book through these links, we may earn a small commission at no additional cost to you. All images courtesy of the respective property listings.