Have you ever stayed in a boatel? Is this your first time ever hearing the word?
A boatel is a name given to a boat that has been repurposed into a hotel. Unlike a typical cruise ship, boatels are usually moored in one place, providing a permanent accommodation option in the same spot. You'll fall asleep on the water and wake up in the same place.
Some boatels are moored for just parts of the year, taking guests on exciting sea- or river-faring adventures during the other months. Boatels may be big or small, offering private accommodations for just your family or group of friends (rather like a houseboat), or big like grand hotels.
Feeling adventurous? Add a twist to your accommodation and book a stay at one of these cool boatels around the world.
1. Botel Pressburg, Slovakia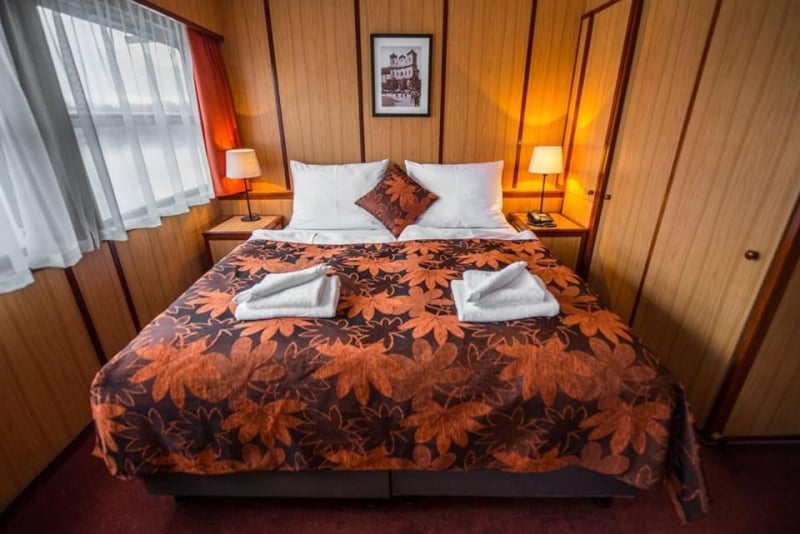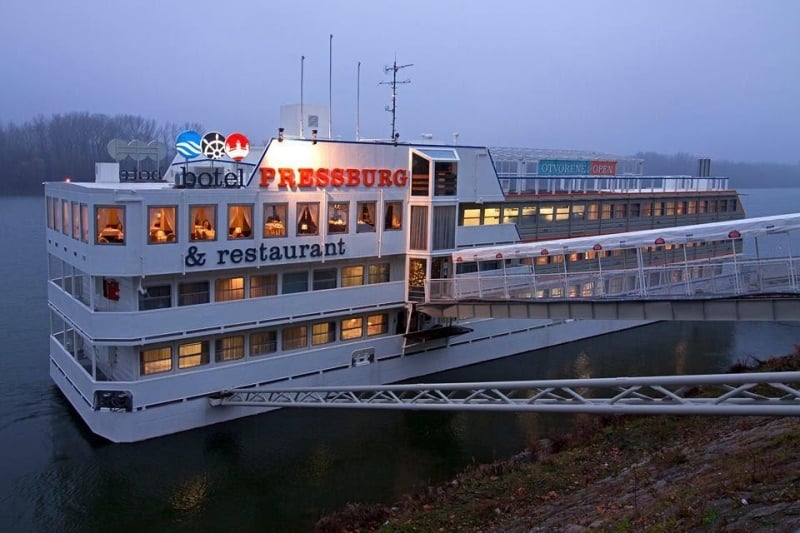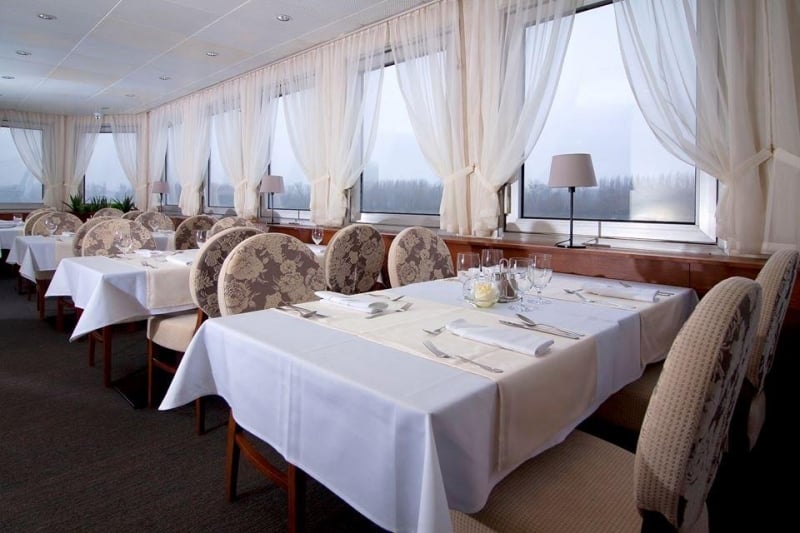 Firmly anchored at the edge of the River Danube, Botel Pressburg is just a short stroll from the heart of Bratislava. Spend your days exploring the quaint Slovakian capital before spending your nights in a comfortable and quirky former cruise ship.
All cabin-style rooms offer views through large windows, and there's plenty of natural light during the daytime. Some rooms look out over the river while others enjoy vistas of the atmospheric Old Town. Head up onto the sundeck for panoramic views that include the nearby and unusual UFO Bridge and Tower.
The comfortable rooms are spacious with ample storage space, a private bathroom, and a large dresser-cum-desk. Each has a TV, a fridge, a safe, and a phone too, and Wi-Fi can be accessed from all rooms and communal areas.
The onboard restaurant serves a range of delicious Slovakian dishes, including hearty soups, meatballs, meat skewers, and salads. You can unwind and mingle in the welcoming lounge, which can seat around 130 guests at any given time.     
2. Guntu Floating Hotel, Japan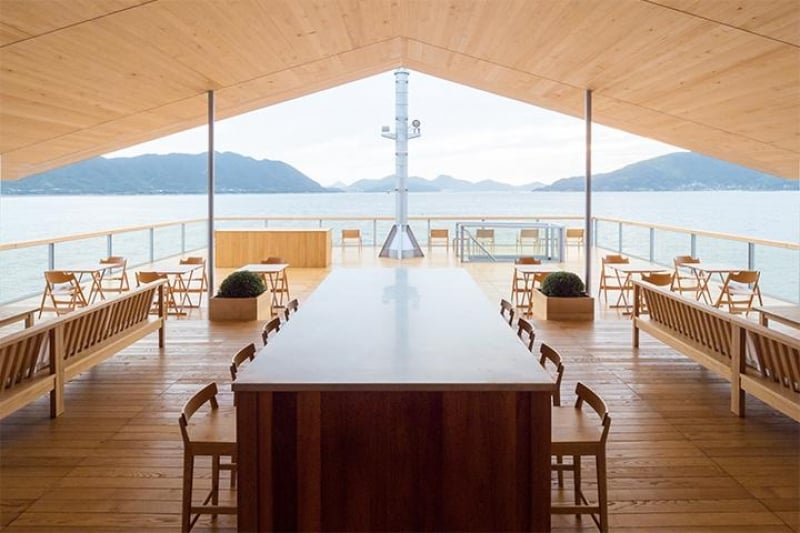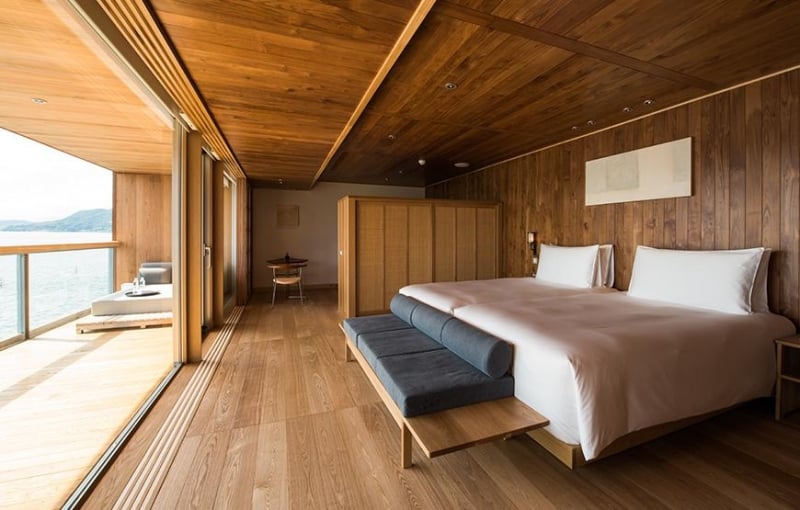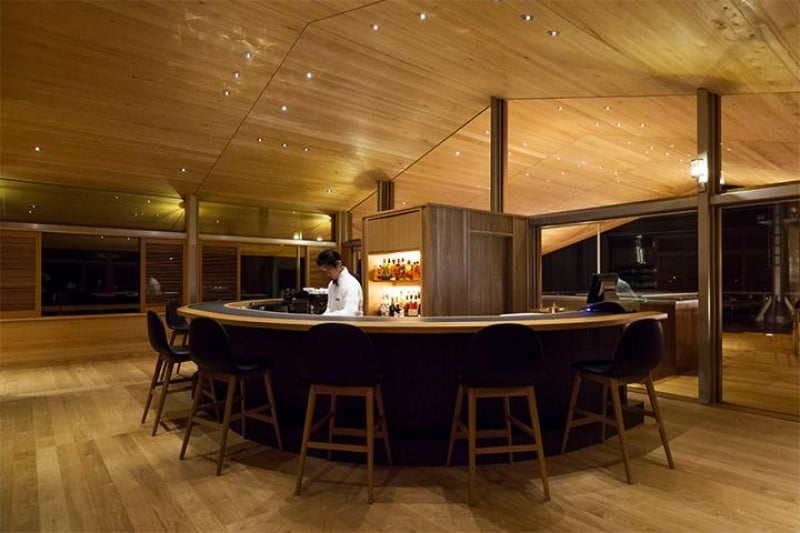 The intimate Guntu Floating Hotel can be found on the Seto Inland Sea, a large body of water that separates three of Japan's main islands. Leave all your cares behind as you sail from Bella Vista Marina to your tranquil floating home away from home.
Book a range of trips and activities to add more diversity to your stay, or simply relax on the comfortable boat as you soak up the splendid views.
All suites feature lots of wood to enhance the nautical vibe and each has a private bathroom, separate seating area, and terrace. Large windows provide terrific views and you can throw open (or slide open) the floor-to-ceiling windows to inhale the scents of the sea and listen to the waves gently lapping outside. Rooms offer the perfect blend of comfort and rustic touches.
Get active in the onboard gym or unwind in the sauna and spa. Indulge in a variety of blissful treatments to fully relax. Savour exquisitely prepared Japanese dishes in the welcoming dining room, with fresh seafood and seasonal ingredients expertly crafted into mouth-watering specialities by the professional chef.
3. Hotel Barken Viking, Sweden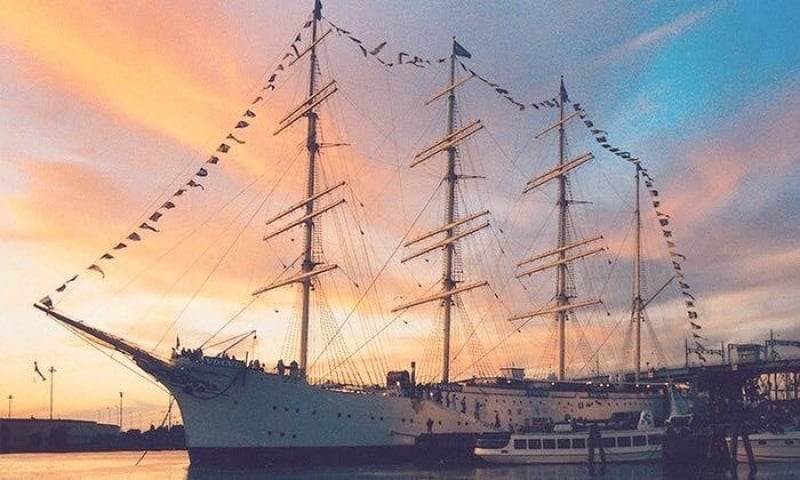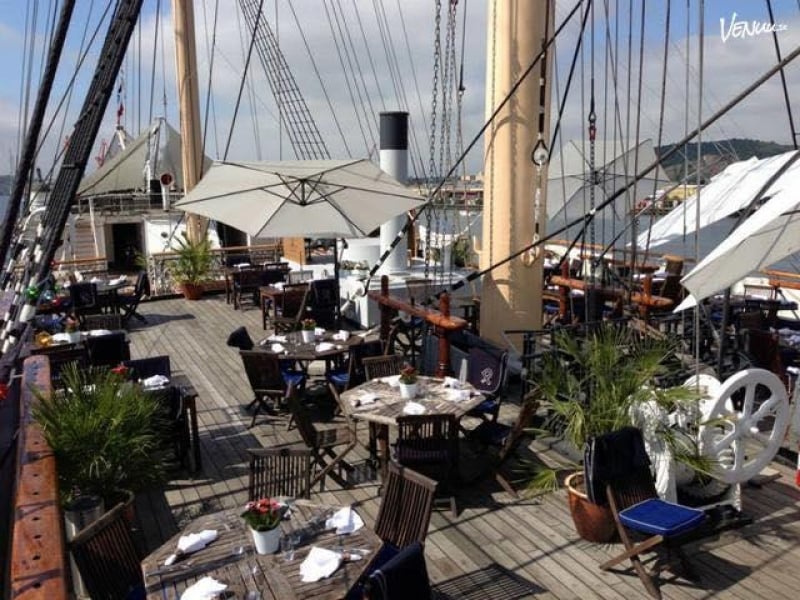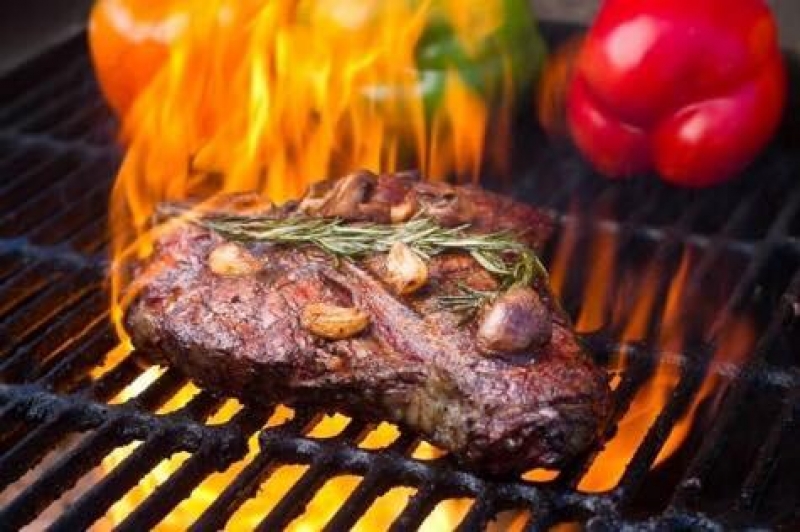 A beautiful accommodation in Gothenburg, Hotel Barken Viking does a great job of reminding guests of Sweden's history. Just a short stroll from Gothenburg Central Station and many of the city's main attractions, the restored ship from the early 1900s is definitely a novel place to stay. Tall wooden masts reach upward and the gentle lapping of water envelopes guests in a soothing calmness. Visitors can't help but feel that they've been transported back in time from the moment they set foot on the ship.
Moored in Gullbergskajen Quay, cabins follow a nautical theme. There are many pieces of original artwork by Franz Glatzl, a renowned oceanic artist. Wood panelling and bold splashes of colour make the rooms fresh, exciting and welcoming.
All rooms are en-suite with a TV, telephone, and separate seating area. Facilities on the boat include a swimming pool, a fitness centre, shops, a restaurant, and a library. Need to catch up on some work while on vacation? The business facilities will come in handy.
4. Ab Celestial, India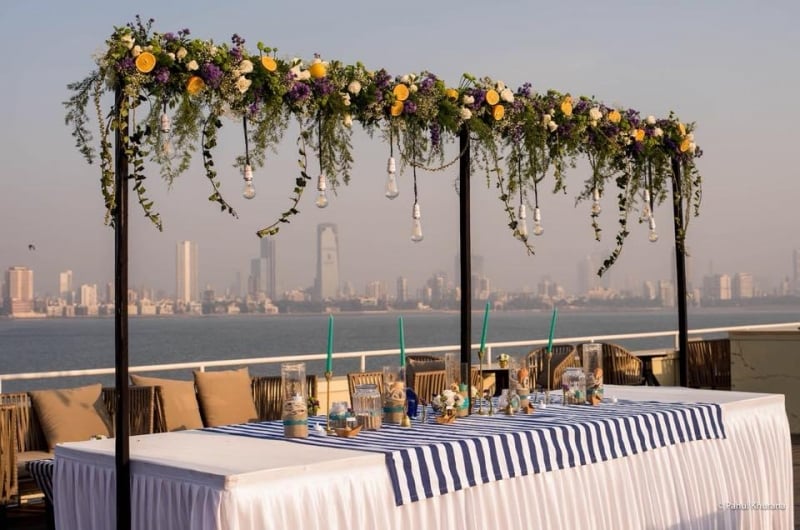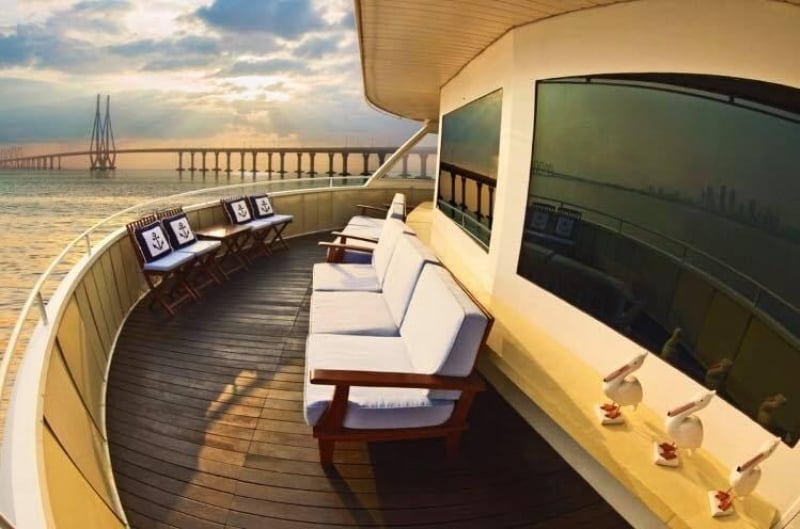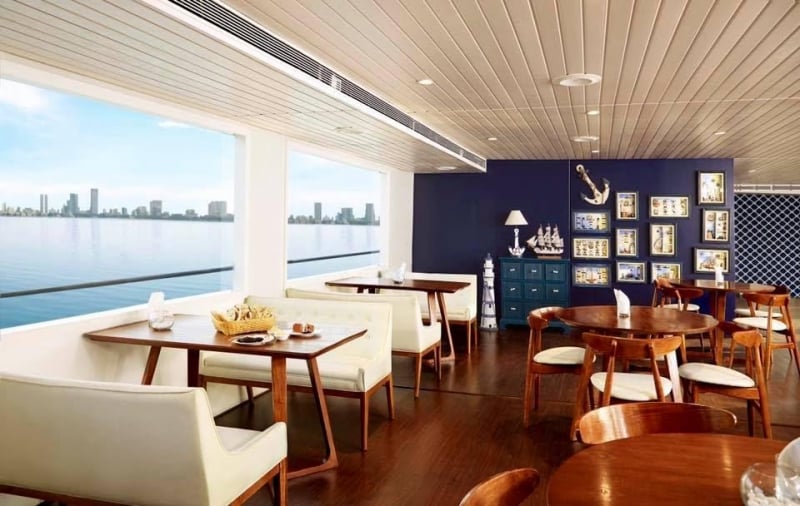 Ab Celestial is the first floating hotel and restaurant in India's exciting city of Mumbai. Geared towards high-end clients, it offers splashes of glamour and lots of luxury. It's moored at Bandra Jetty and provides great views of the sea.  
Rooms on the imported yacht are fancy with all modern trappings and everything anyone could want for a fabulous stay. The onboard facilities are also second to none, seeking to please and keep all guests entertained, no matter where their interests lie.
There's a 'round-the-clock coffee shop and two restaurants that serve international favourites and an enticing selection of Indian cuisine from the different regions. The nightclub offers heaps of nocturnal fun. A large events room is perfect for weddings and other special functions.
5. Botel, Netherlands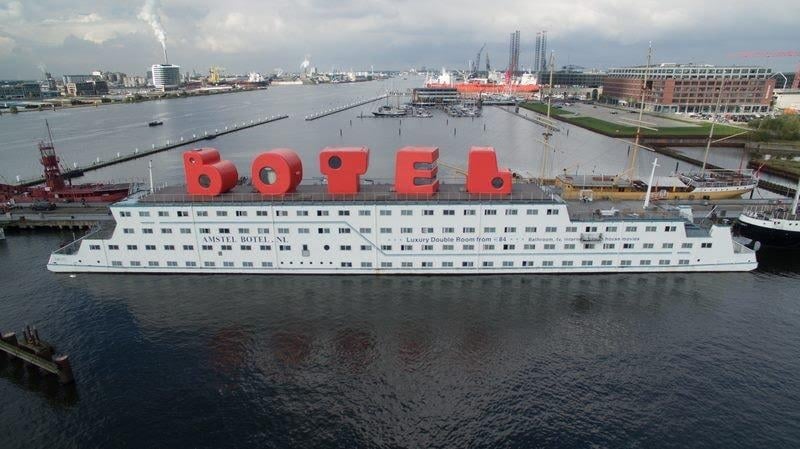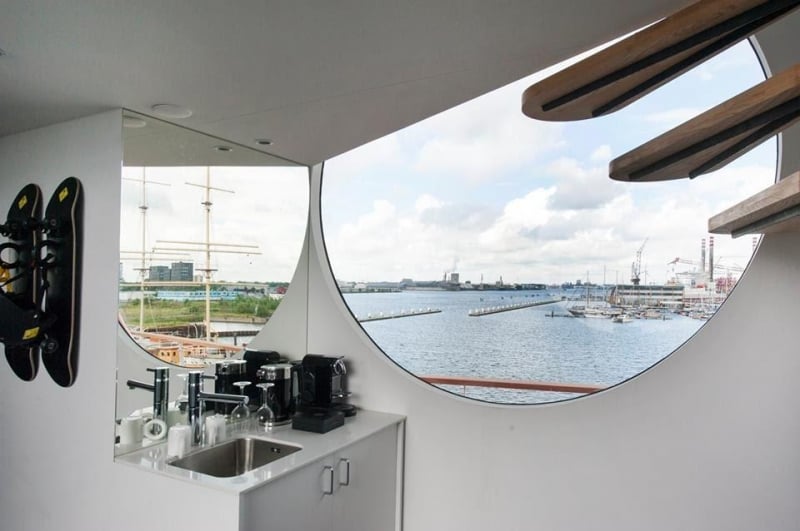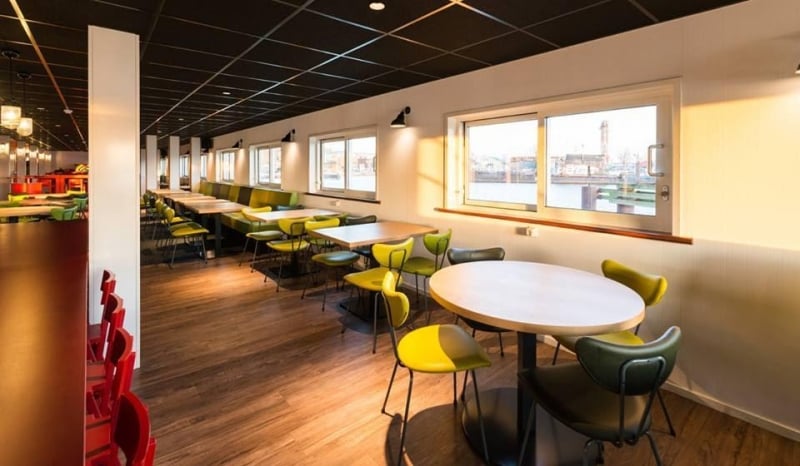 A cool accommodation in the Dutch capital of Amsterdam, Botel is moored at the historic NDSM Wharf. Within easy reach of Amsterdam's great attractions, the modern three-star accommodation is a great place to unwind at the end of a busy day and take time out to chill. The near surroundings were once a shipyard, but today it is a hip and happening area with plentiful restaurants, cafes, bars, and stores.
The boat has an elevator, meaning you don't need to lug your cases and bags up and down steps. All rooms are en-suite, and each comes with satellite TV, a hairdryer, a safe, and free Wi-Fi. River and pier views are available.
Tuck into a filling breakfast each morning (included in the room rate) and dine on tasty cuisine in the vibrant restaurant throughout the day. The lively bar is ideal for making new friends, and it has a jukebox, pool table, and pinball machine to help you break the ice. Alternatively, chat and catch some rays up on the sun deck.
Break the norm and stay somewhere a bit different on your next vacation. Why not go with the flow and book a boatel staycation?
Also read: 9 Uniquely-Themed Cruise Vacations You Won't Be Able To Resist