An Airbnb rental with a good location and useful amenities is always great, but throw impressive interior design into the mix and what you get is a win! Offering stunning living spaces and perhaps even inspiration for your future homes, these Airbnb apartments in Kuala Lumpur are all about travelling with style. To top it off, all of them are highly-rated by previous guests — evidence that they're not just pleasing to the eyes but fully functional as well. Let's have a look at 13 of the best Airbnbs in Kuala Lumpur:
Top Airbnb homes in Kuala Lumpur
1. The MUJI studio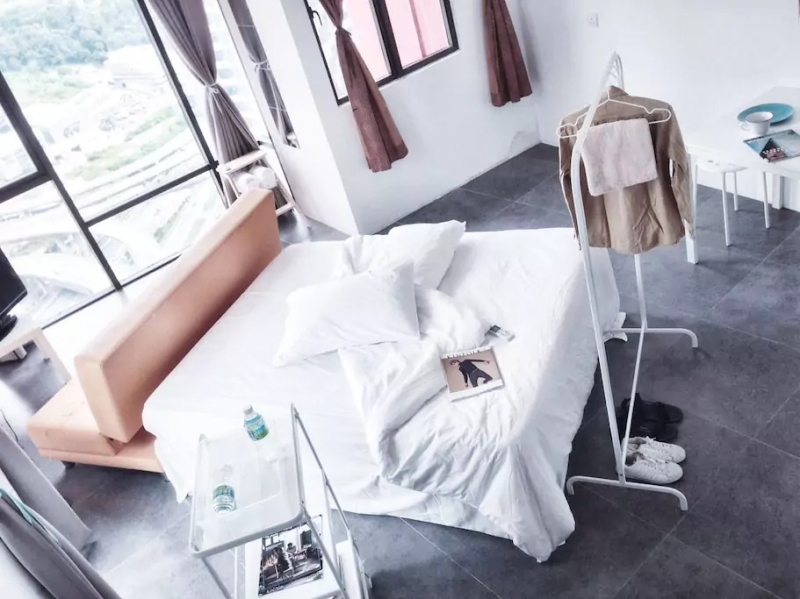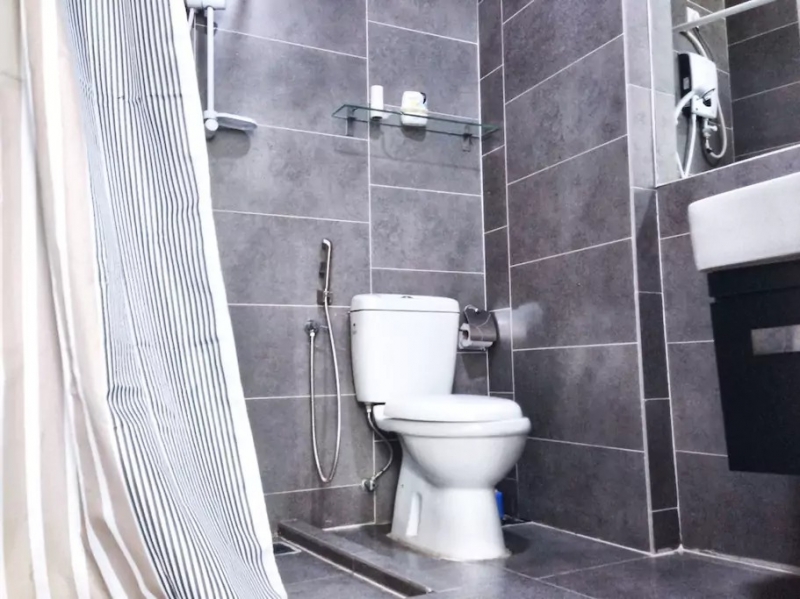 Listing name: [Featured!] Contemporary living in MUJI Studio
Location: Heritage Lane, Damansara
Max. no. of guests: 2
No. of bedrooms: Studio
As the brand name suggests, the MUJI studio is pared-down and minimalist but still utterly gorgeous. A rather unusual concept, the double bed is aligned diagonally in the room and not tucked into the corner. The floor-to-ceiling glass windows allow natural light to seep in from different sides of the room. Most items are displayed out in the open, which should suit travellers just fine. The MUJI studio is a short drive to Sunway Nexis, Sunway Giza, Damansara Uptown and One Utama.
2. The duplex loft overlooking the forest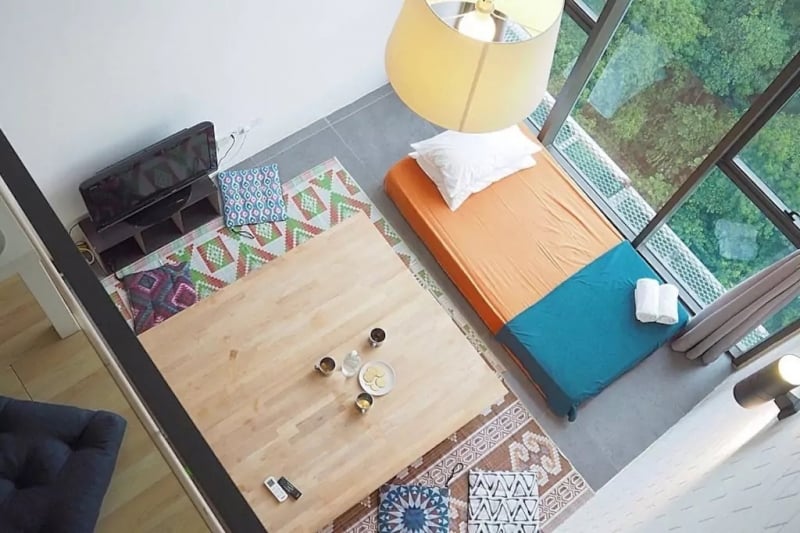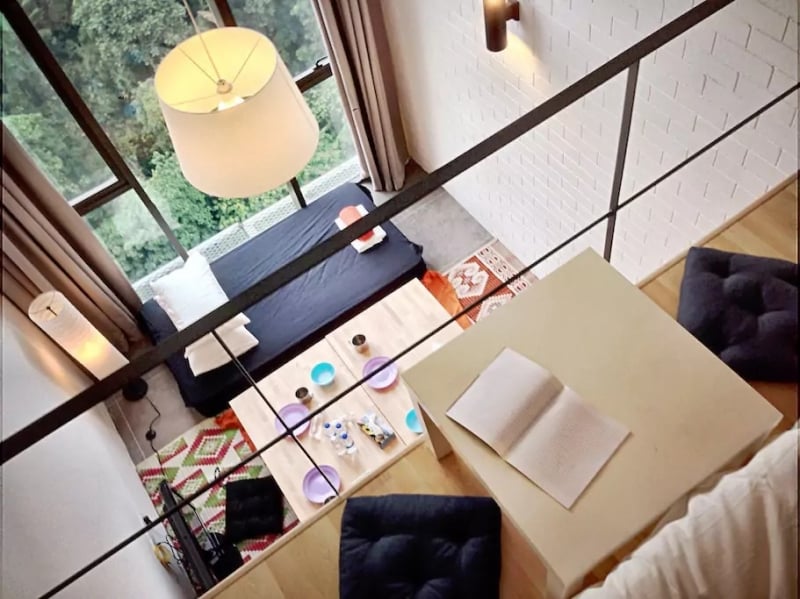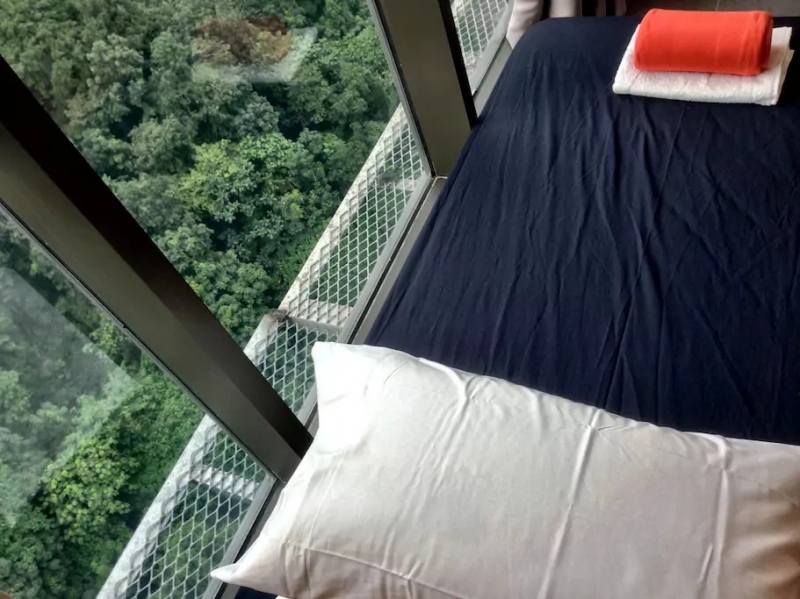 Listing name: [FEATURED!] Lanai Relaxation over a Green Forest!
Location: Heritage Lane, Damansara
Max. no. of guests: 5
No. of bedrooms: Studio
In the same area as the MUJI Studio is this duplex loft that overlooks the verdant forest below. The tall glass windows stretching two storeys allow the views to be fully appreciated. The loft comes with a queen-sized bed and a sofa bed on the bottom floor, and another queen-sized bed on the top floor, accommodating five guests comfortably. The two floors are connected via a timber staircase. This space is highly recommended as a gathering point for friends and family to bond over a getaway.
3. This boho-chic guesthouse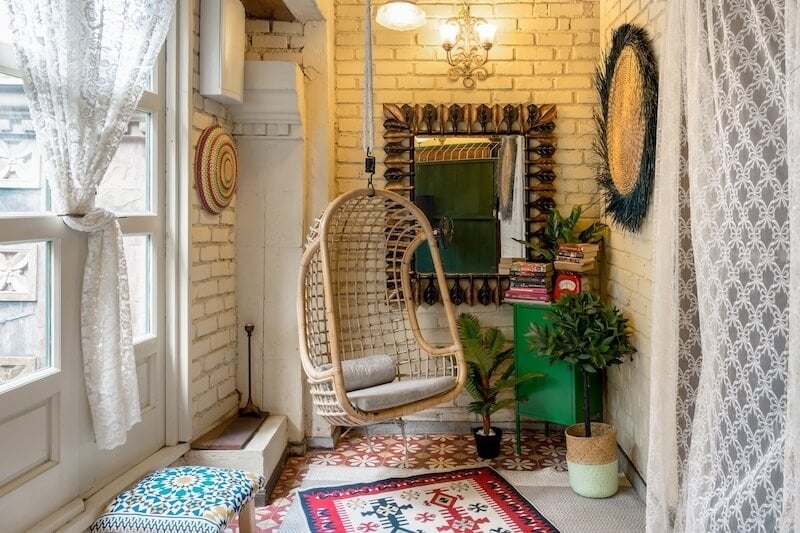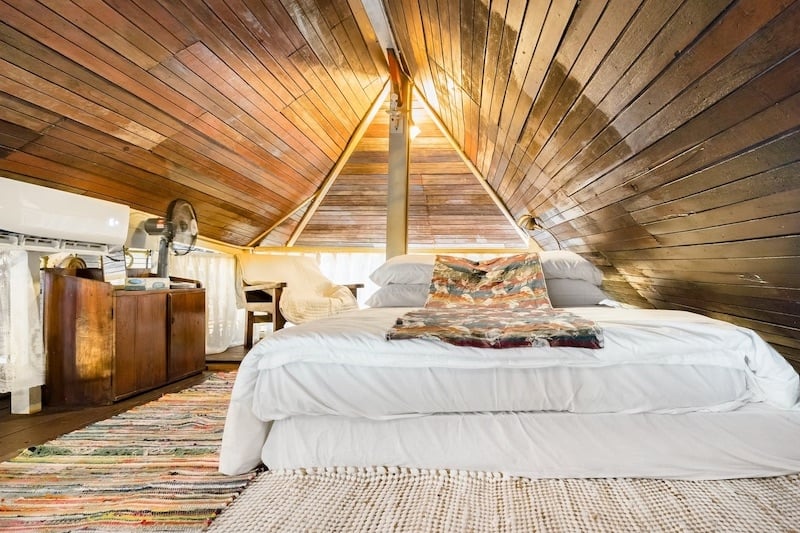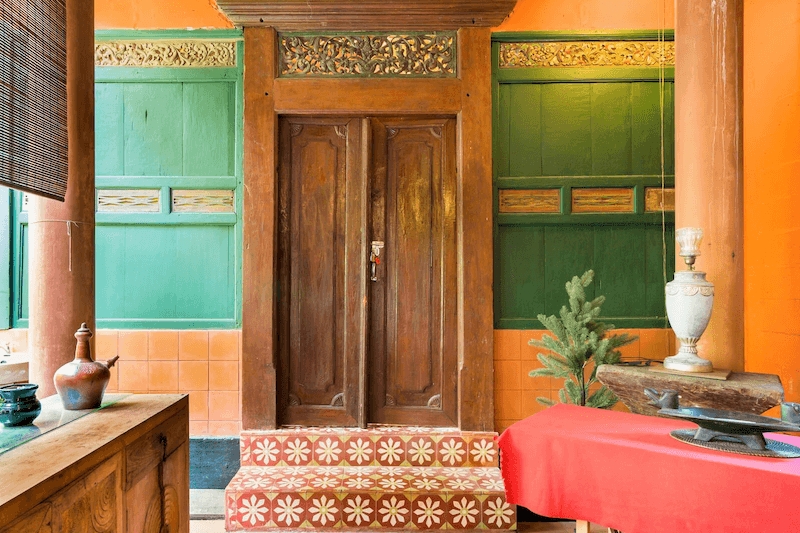 Listing name: Classic Bohemian Loft House in Kuala Lumpur City
Listing type: Entire guest house 
Max no. of guests: 6
No. of bedrooms: 2
When a prim and proper apartment just won't cut it anymore, consider this aesthetically pleasing guest house that looks straight out of a Pinterest dreamboard. A charming doorway opens into a vibrant space filled with indoor plants, colourfully patterned furniture, lace-covered windows, and a hanging swing chair for chilling with one of the paperback novels provided by the host. This guest house offers a taste of traditional Malaysian living at a very fair price. And if it inspires you to do some interior decorating of your own once you get home, well, that's just another bonus! 
4. The happiness home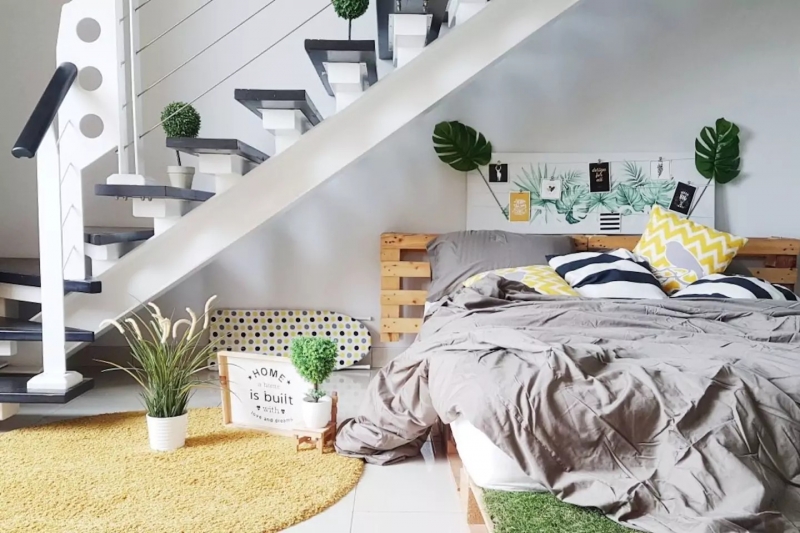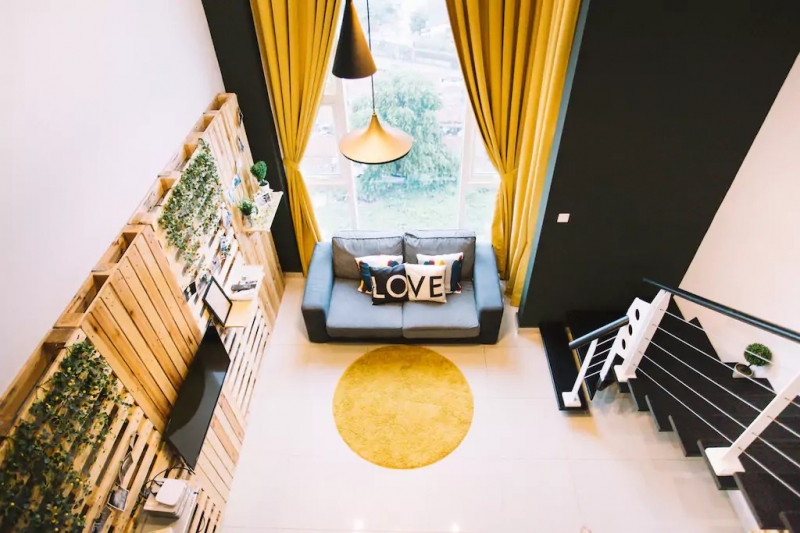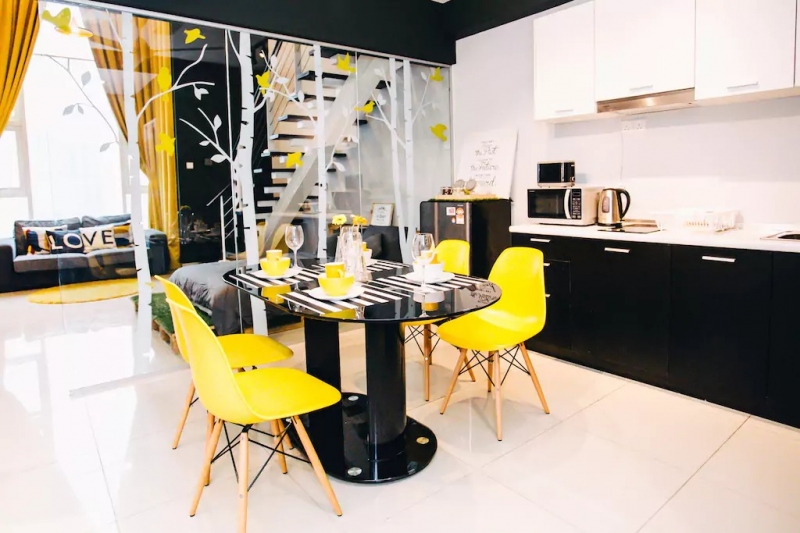 Listing name: The Happiness Home 2
Location: The Scott Garden
Max. no. of guests: 6
No. of bedrooms: 1
The Happiness Home lives up to its name — it will lift your mood the moment you enter. This condominium, decorated with brightly-coloured pieces and sprinklings of greenery, is large enough for a party of six. It's located between the city and the suburbs at Old Klang Road and is suitable for those who'd like a happy place away from the frenetic streets of the downtown area. That said, there are plenty of attractions nearby, too; the Sunway Lagoon Theme Park, the city centre of Petaling Jaya, and malls like Gardens Mall and Mid Valley Megamall.
Also read: 7 Affordable Airbnb Apartments in Kuala Lumpur With Great Reviews
5. The artist suite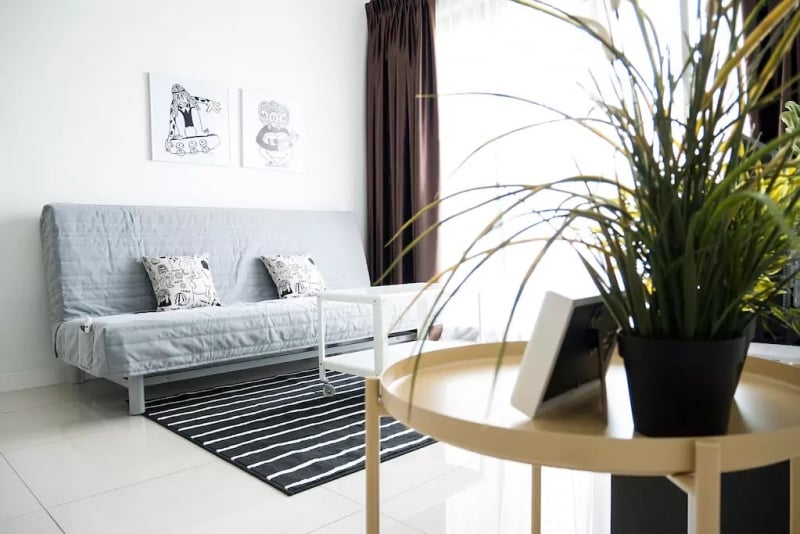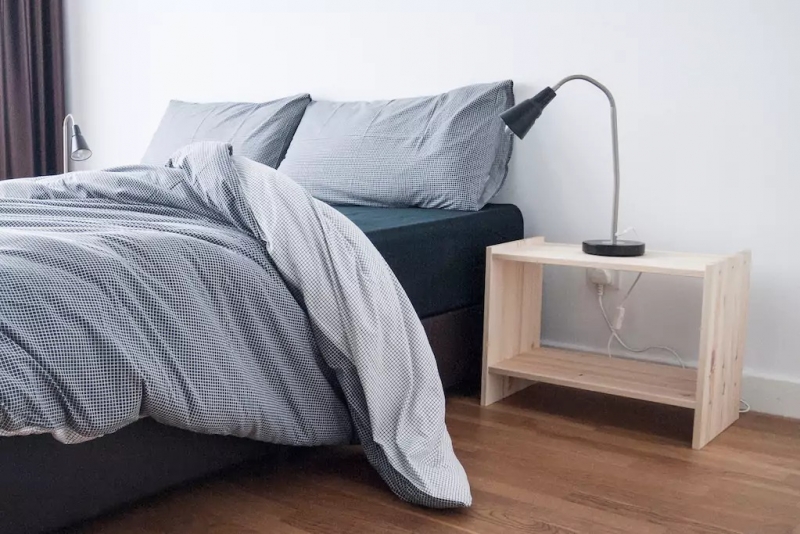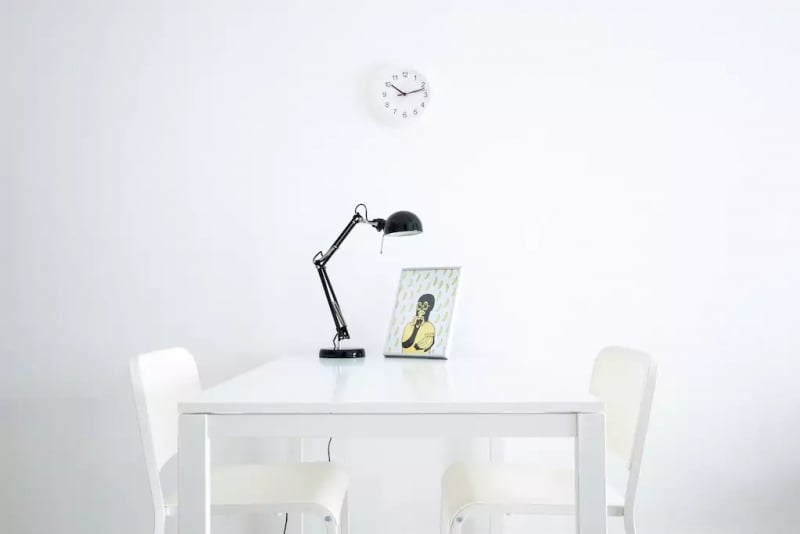 Listing name: Cosy Artist's Suite (1 Parking & Shuttle to KLCC)
Location: Near Ampang Station (15 mins walk) or KLCC (10 mins drive)
Max. no. of guests: 4
No. of bedrooms: 1
The Artist Suite might not immediately "wow" its guests, but once they tour around the apartment and admire the pieces of artworks, they'll come to appreciate it more. The artworks belong to the homeowner, and you can consider the suite as a personal gallery. This Airbnb in Kuala Lumpur also makes a fantastic creative space that will get your ideas flowing. Guests will have access to the gym, swimming pools and the rooftop terrace with a view. Furthermore, the suite is located 10 minutes away from KLCC by car. There's a shuttle bus at specific timings to KLCC and Pavilion KL, and guests can also opt to use Grab to get around.
6. This serviced apartment with an infinity pool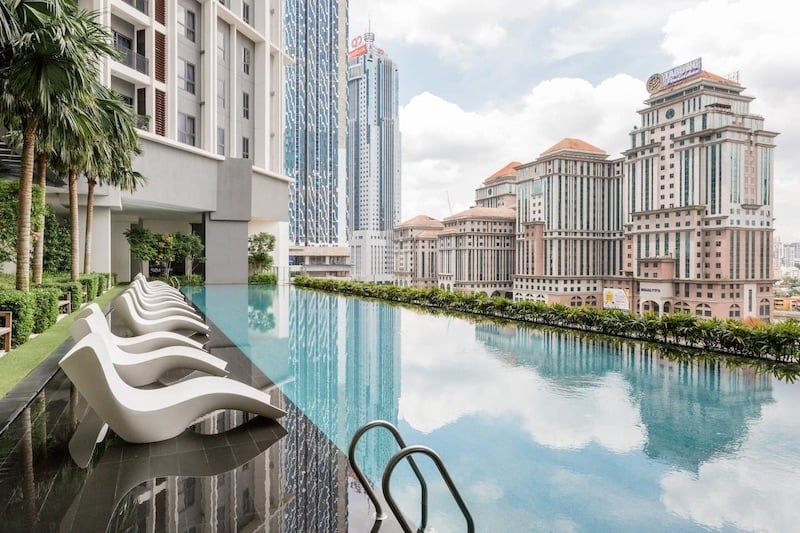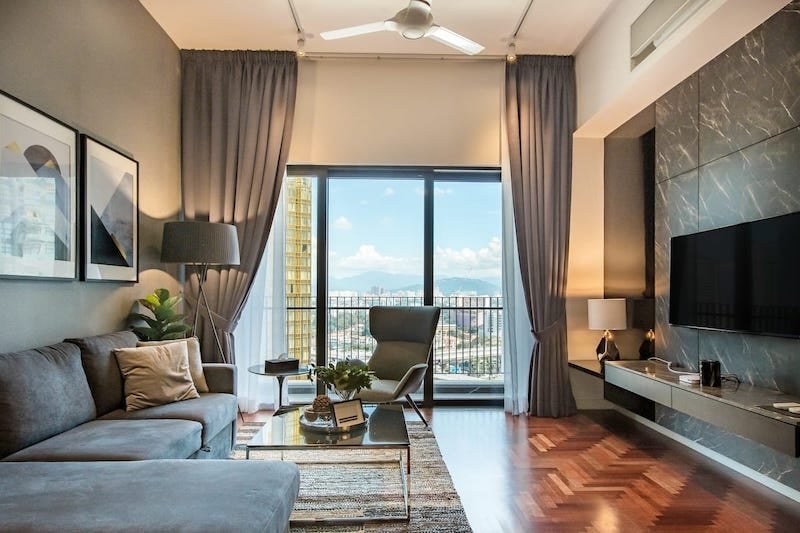 Listing name: Walk to Petronas Towers from a Stylish Apartment
Listing type: Entire serviced apartment  
Max no. of guests: 2
No. of bedrooms: 1
If a swim in the infinity pool looks like a tempting idea right now, this stylish, serviced apartment near the Petronas Twin Towers will give you the vacation you deserve. Everything you need for a weekend getaway is here: a plush king-sized bed, a well-equipped kitchen for cooking, a bathroom with a giant tub, and other top-of-the-line amenities that will make you feel like you booked a four or five-star hotel. The cherry on top? Any time you feel like heading out and exploring, you're just a five-minute drive to KLCC and Avenue K. 
7. The suite with a view of the Twin Towers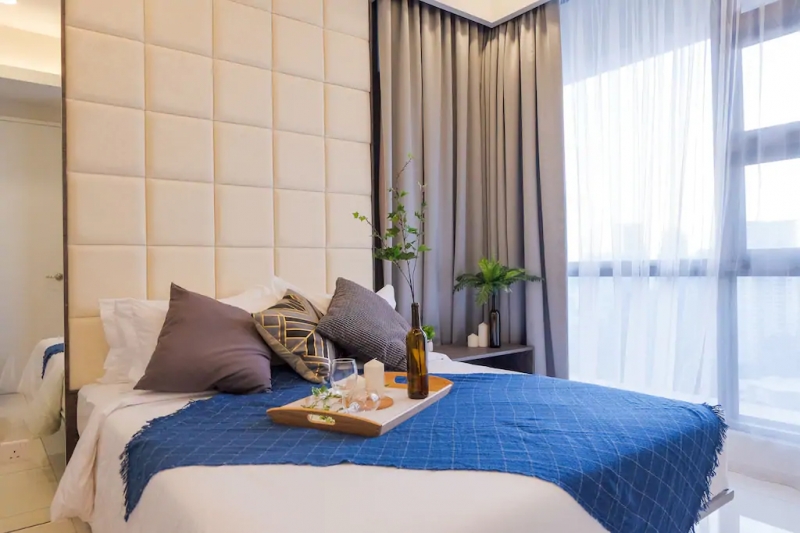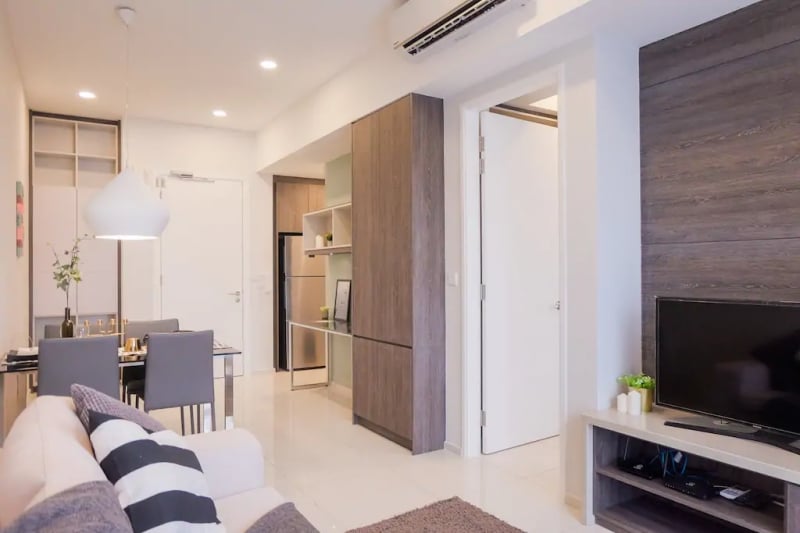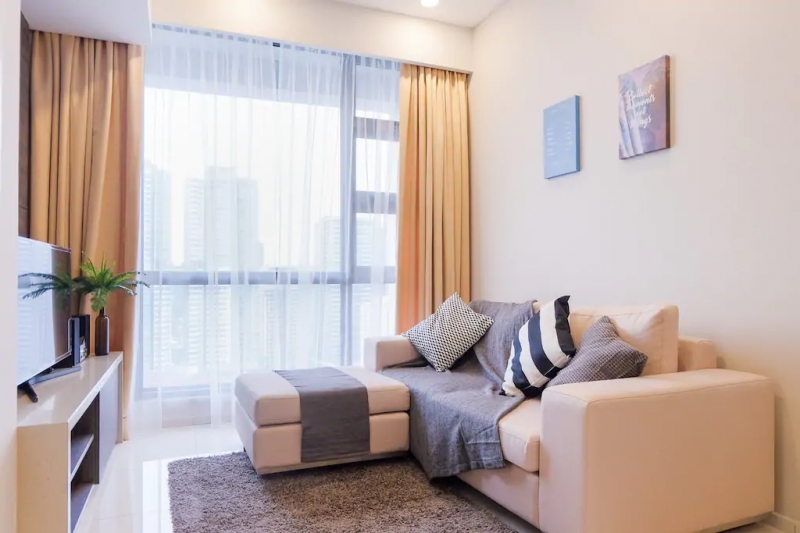 Listing name: Modern 1BR Suite with Twin Towers & KL Tower View!
Location: City Centre
Max. no. of guests: 4
No. of bedrooms: 1
If having a central location is a priority, you'll be pleased with this one-bedroom suite within Kuala Lumpur's Golden Triangle area. It's modern, spotlessly clean, and equipped with everything you need — including a washer and dryer! It'll make you wonder why you'd ever considered staying in a hotel in KL. Take some time to dip in the infinity pool and the rooftop jacuzzi! The views are simply phenomenal. Other perks of this Airbnb in KL include hassle-free self-check-in, unlimited high-speed WiFi, and free parking.
8. The superhero safe house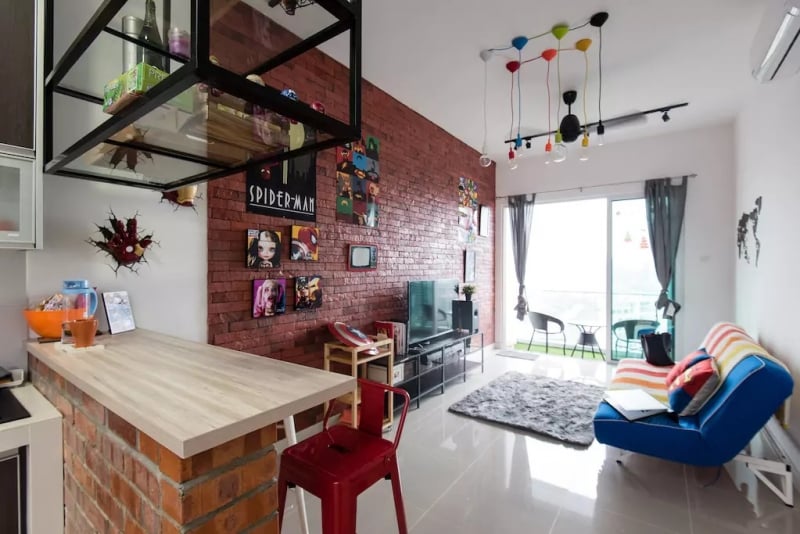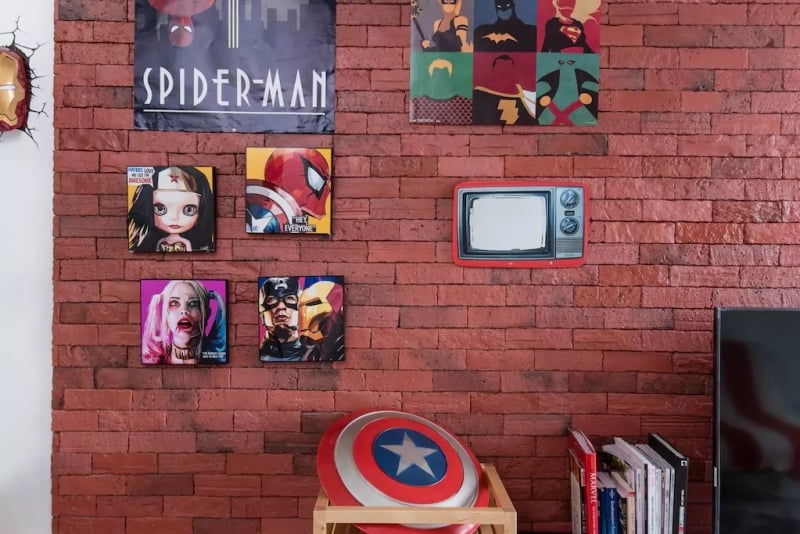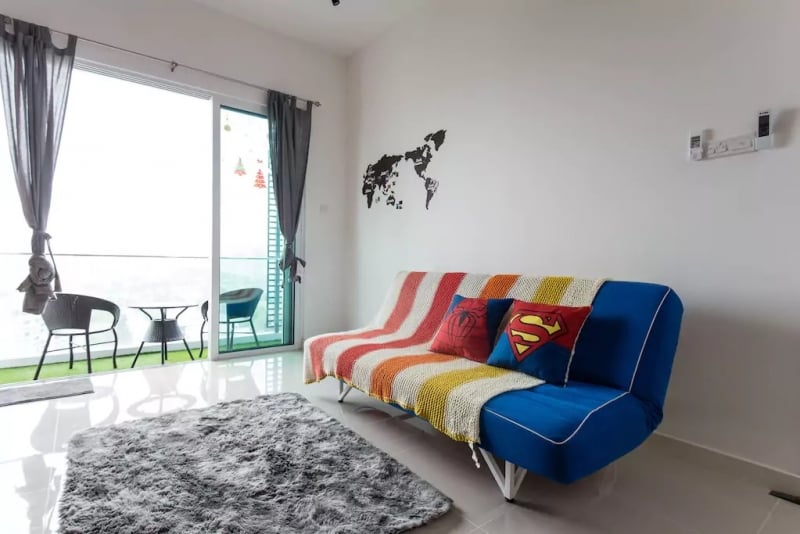 Listing name: Superhero safe house by SuperHost
Location: Taman Desa
Max. no. of guests: 4
No. of bedrooms: 1
A place for superheroes to huddle together and plan their next move… Hold on, we're just kidding. The Superhero Safe House located in the Taman Desa area has a spacious living room that pays tribute to our favourite superheroes with posters, figurines, and other superhero-themed displays. It comes fully equipped with amenities you'd need for a comfortable stay, including air-conditioning, hairdryer, and laundry facilities. It's also worth mentioning that the internet connection in the apartment is fantastic. By taxi/Grab, Mid Valley Megamall is five minutes away, while KLCC, KL Sentral and Brickfields are 15 minutes away.
Also read: 7 Marvel-Themed Airbnbs Around the Globe
9. The tropical studio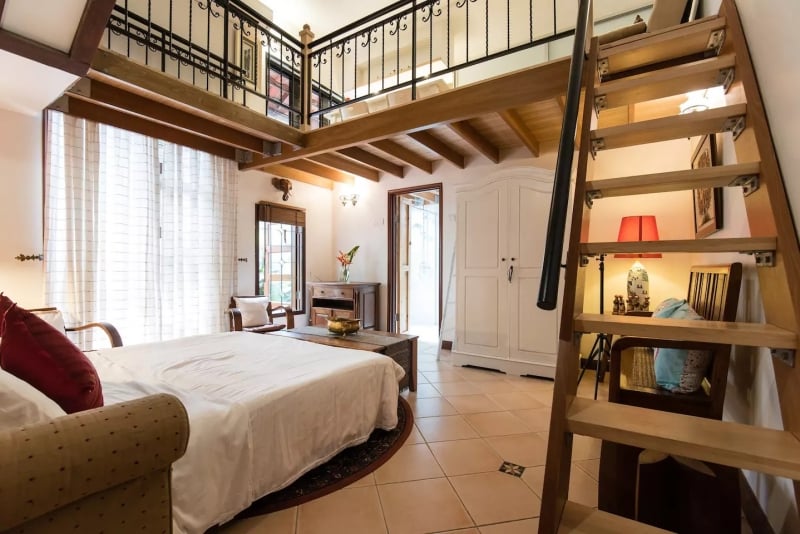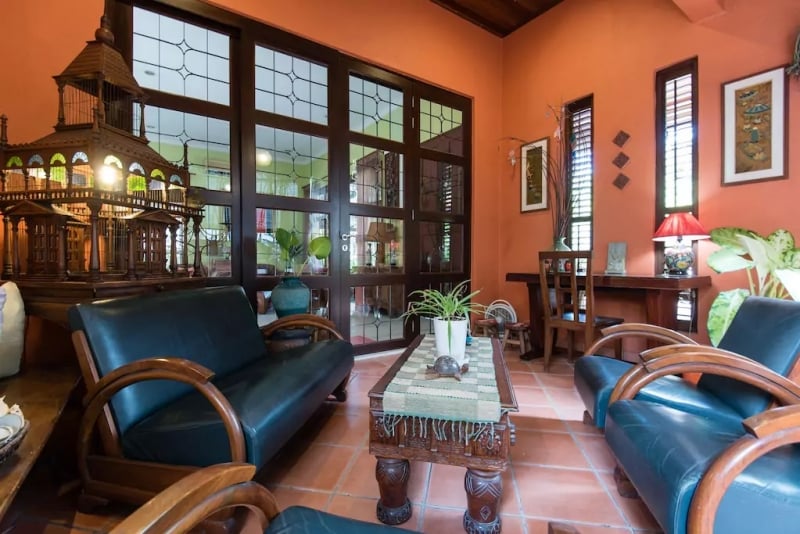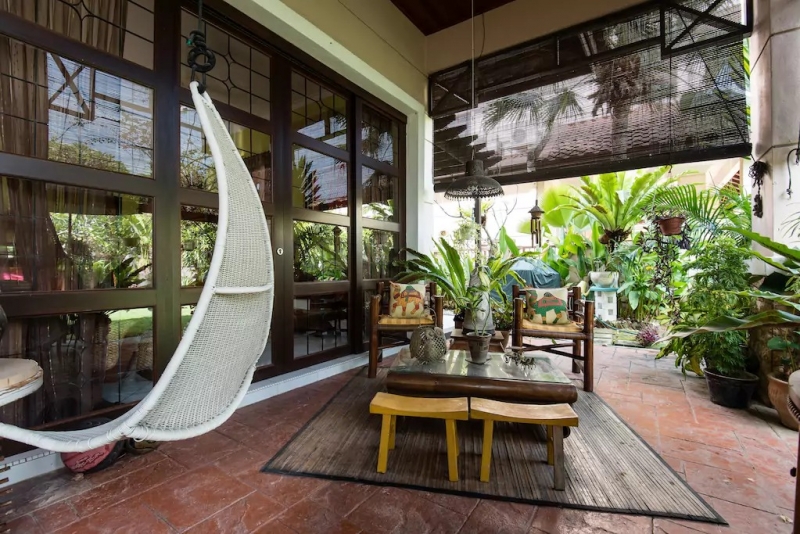 Listing name: Asian tropical living experience
Location: Near Sunway Damansara
Max. no. of guests: 4
No. of bedrooms: Studio
Looking for something that's not in yet another modern, minimalistic or monochrome design? This studio space is a Balinese-themed duplex on a landed property within a gated community. The wooden steps in the bedroom will take you to a bar-cum-kitchen and dining area, and you can also enjoy a tropical atmosphere at the outdoor living room and garden. This Airbnb is quite far (30 minutes) from downtown Kuala Lumpur, but it's near The Curve Shopping Mall (10 minutes) in Petaling Jaya. It's particularly ideal for couples and even honeymooners who value seclusion and privacy.
10. The bright loft condo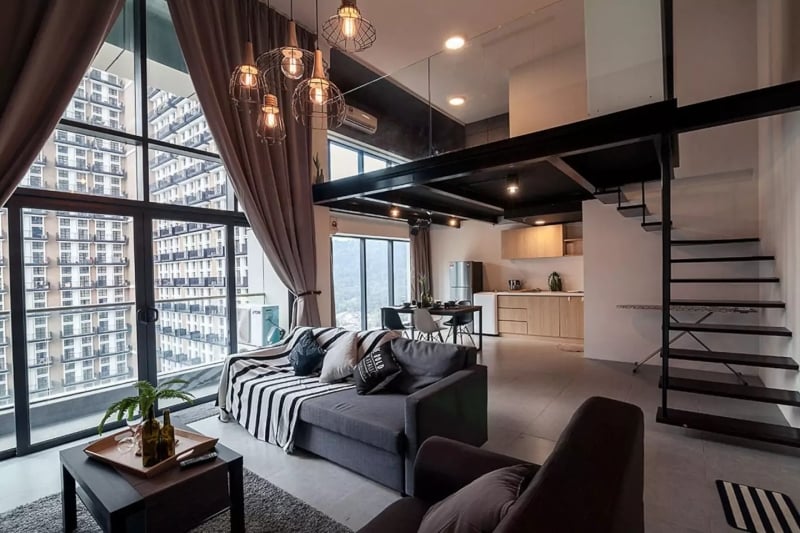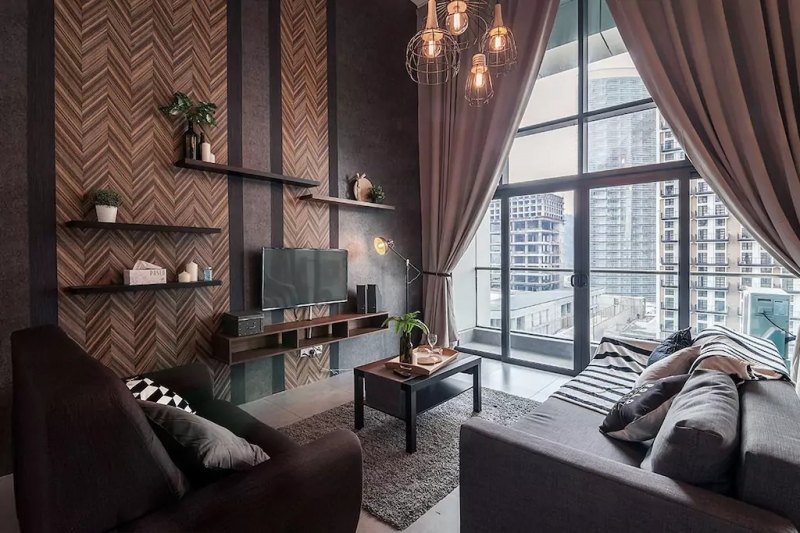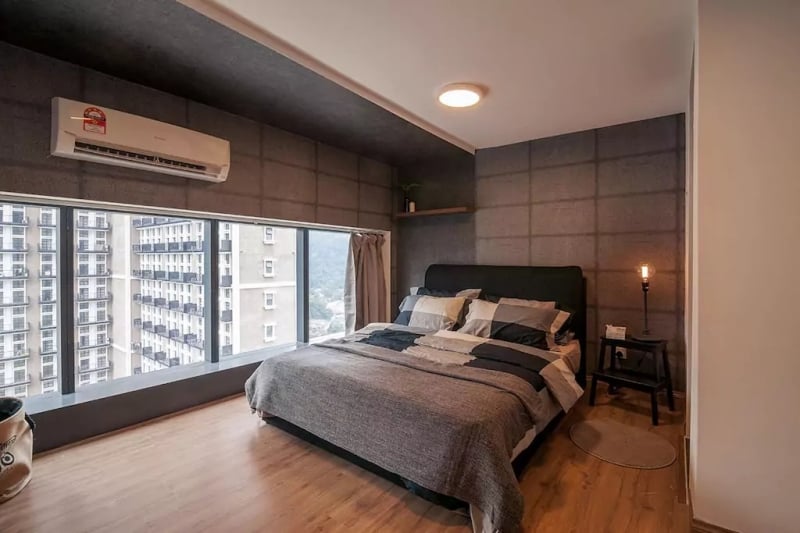 Listing name: Bright & Cozy Loft @ Damansara [WIFI]
Location: Mutiara Damansara
Max. no. of guests: 4
No. of bedrooms: Studio
What you see is what you get in this spacious loft condo that's beautifully designed. Floor-to-ceiling windows wash light into the elegant living room on the bottom floor and the bedroom with a queen-sized mattress on the top floor. Almost everything you'd need is included, including a kettle, tableware, refrigerator, oven, and washer. Do note that there are no stoves or pots for cooking. A nice addition is the availability of Netflix so you can binge-watch TV shows if you're in that sort of mood. This apartment is near 1 Utama Shopping Mall and it's easy to reach the rest of Kuala Lumpur by Grab, but it's not the ideal place should you wish to get around on foot.
11. This cosy suite with a rooftop garden in KLCC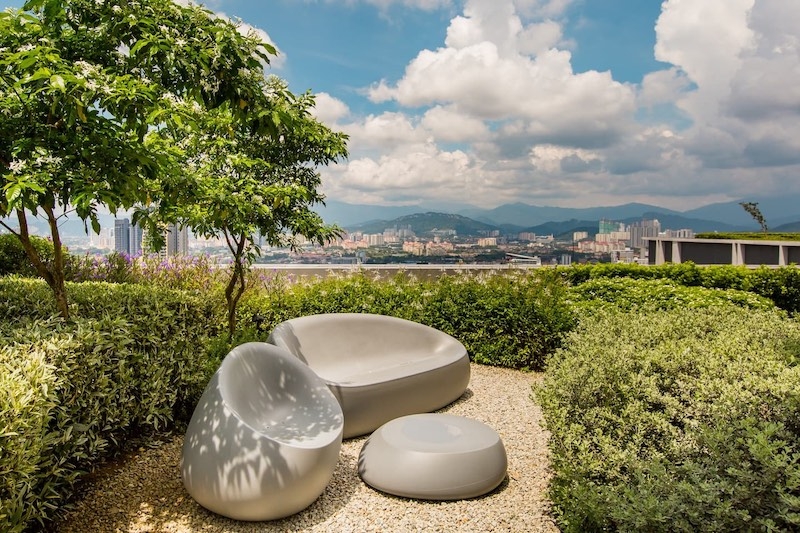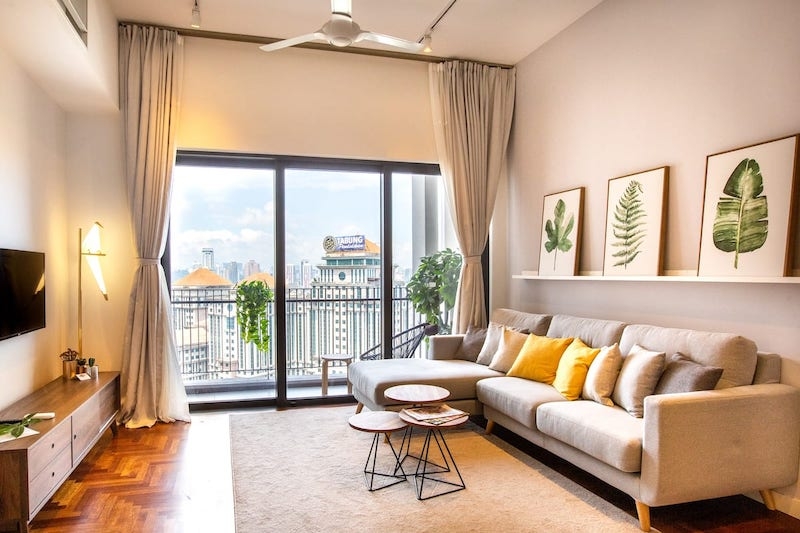 Listing name: Modern Luxury Suite with Beautiful Rooftop Garden
Listing type: Entire apartment 
Max no. of guests: 2
No. of bedrooms: 1
Fancy a relaxing getaway in Kuala Lumpur? Located in the heart of Kuala Lumpur City Centre is this cosy luxury suite, which will meet the needs of solo travellers and couples alike. Nature-inspired artworks and plenty of natural lighting make this apartment feel like a refreshing sanctuary in the middle of the bustling city. But the most eye-catching feature by far is the rooftop garden, which commands an impressive view of the Petronas Twin Towers. 
12. This vacation-ready studio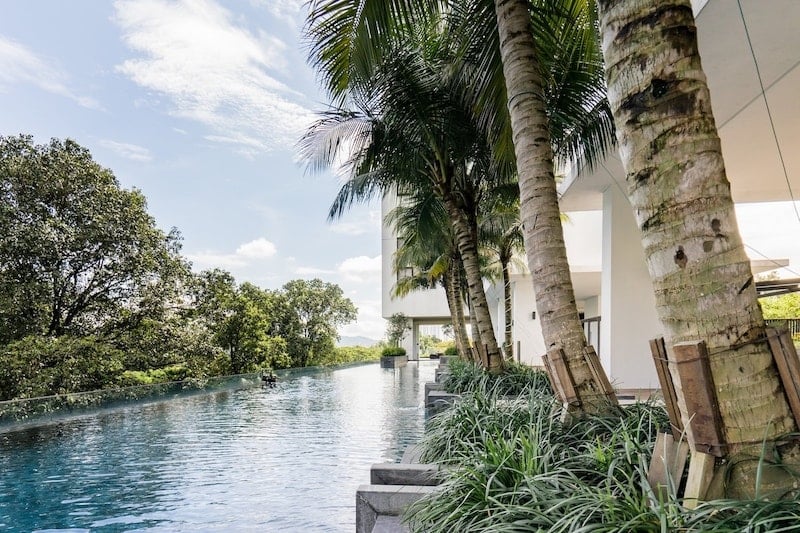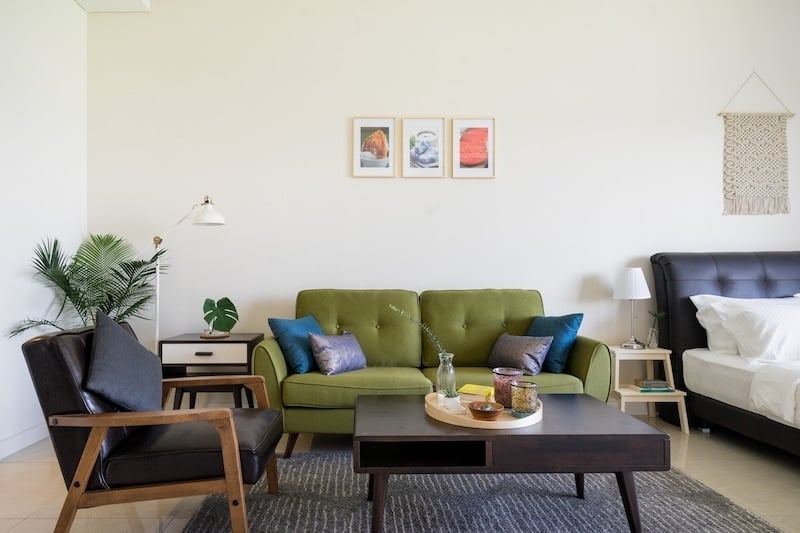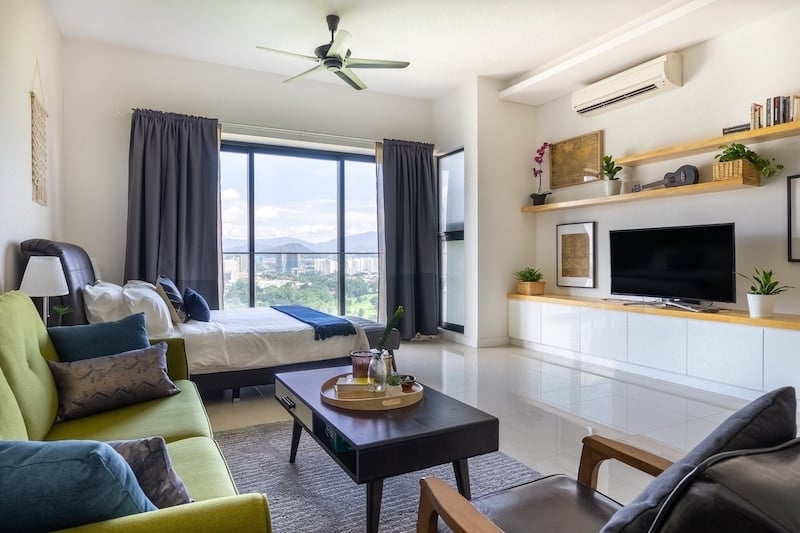 Listing name: Clean & Safe Modern Studio - Perfect Kuala Lumpur Staycation
Listing type: Entire apartment 
Max no. of guests: 2
No. of bedrooms: 1
Whether you're a digital nomad or someone who just needs a quiet escape from the hustle and bustle of the city, you can find the solace you seek at this clean and tastefully appointed studio. You can recharge with a good night's sleep with Egyptian cotton sheets in your king-sized bed; or swim under the trees at the building's swimming pool, which offers the illusion that you're in a tropical oasis in the city. Overlooking a sprawling golf course, this Airbnb in KL is also close to hip cafés, restaurants, and bars. Just ask your host Robyn, who will be more than happy to point you in the right direction! 
13. This high-rise apartment with city views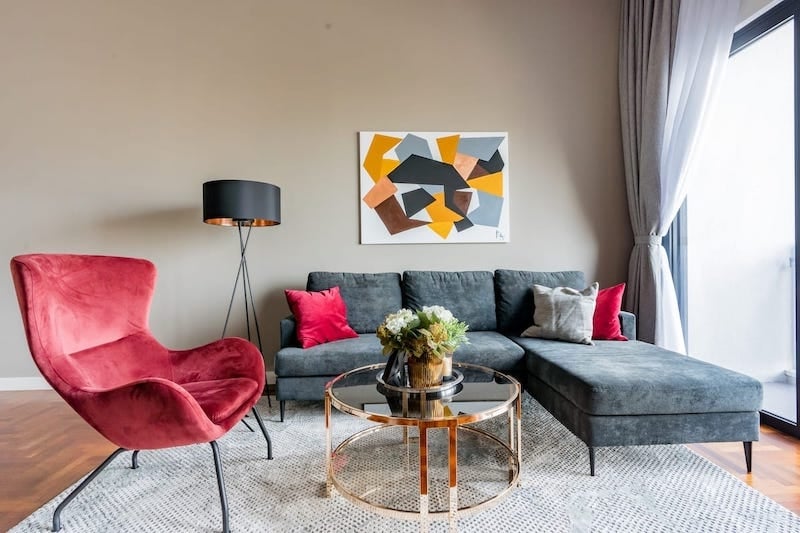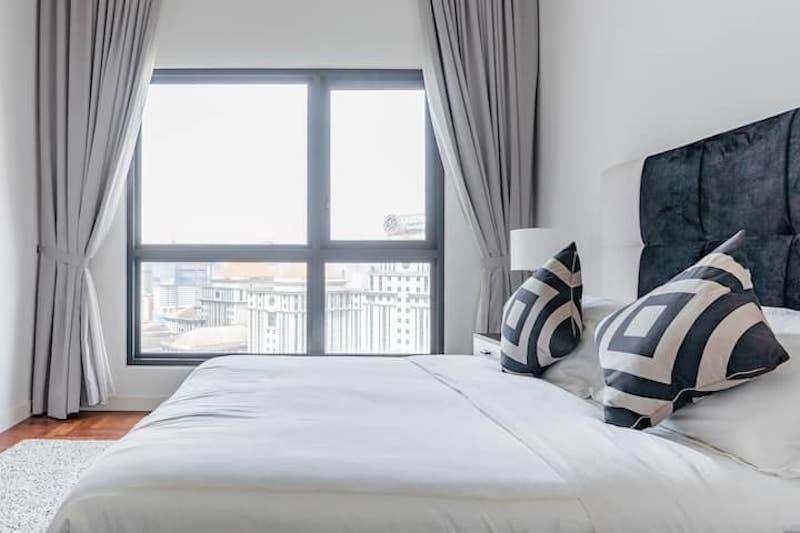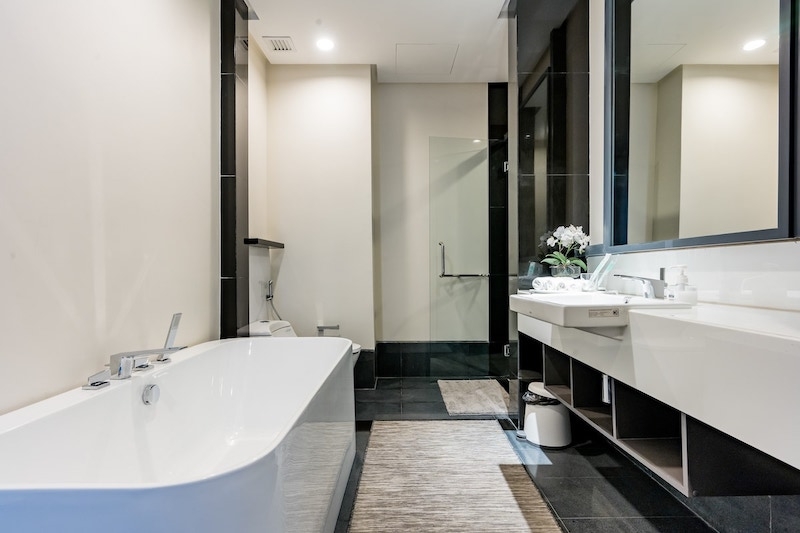 Listing name: Magnificent City Views from a Highrise Apartment
Listing type: Entire flat 
Max no. of guests: 4
No. of bedrooms: 1
Between the stunning views of Kuala Lumpur and the bathtub that's just begging for us to get in and soak the stress of the year away, we're not sure what we love more about this high-rise apartment! Inside, there is a fully equipped kitchen and a tulip table for dining, a laptop-friendly desk in the bedroom for teleworking, and a sleek bathroom that definitely has sophisticated travellers in mind. When you're ready to unwind, you can whip up a storm in the kitchen, recline on the chaise sofa with a drink, or soak up the views of the city from the balcony. 
Also read: 10 Nature Escape Airbnbs Near Kuala Lumpur For a Refreshing Getaway
Enjoy your beautiful stay at these Airbnb homes in Kuala Lumpur! We know that it'll be hard, but don't forget to actually leave the apartment and enjoy the sights of the city.