Everything that people love about Hawaii can be found on the shores of Maui. Adored for its swoon-worthy beaches, Maui has a reputation for attracting celebrities like Elton John, Clint Eastwood, and Oprah Winfrey. What starts as a five-day holiday inevitably leads to several weeks or more. Some Hollywood stars even buy their own vacation homes on the island — anything to keep a little slice of paradise to themselves. Thankfully, there are plenty of Airbnbs in Maui for tropical rainforests, surf breaks, and heavenly stretches of sand.
Below, we've hand-picked the best places for you to experience Maui's top sights, from humpback whales to shooting stars. Find your spot atop a secluded mountain or next to the roaring waves, then let nature do the rest.
Also read: 16 Best Beach Houses to Book on Airbnb, From California to Hawaii
Top Airbnb vacation homes in Maui
1. The eco-retreat cabin that lets you see the stars from your room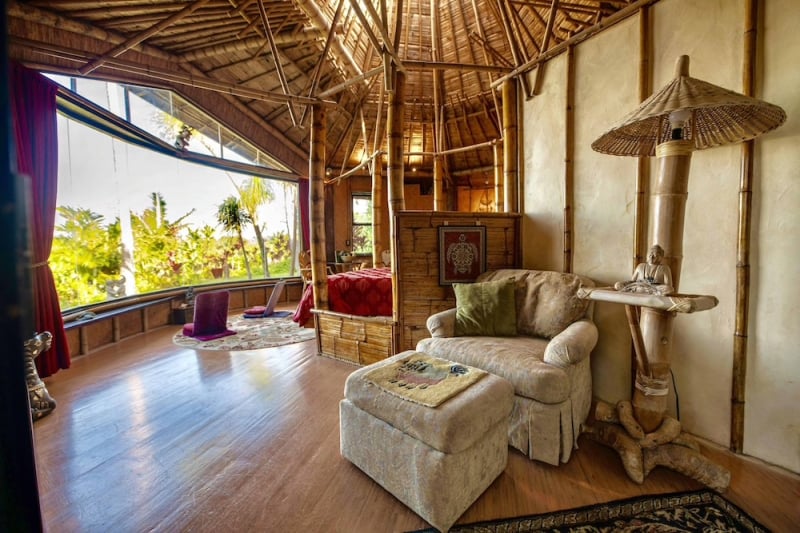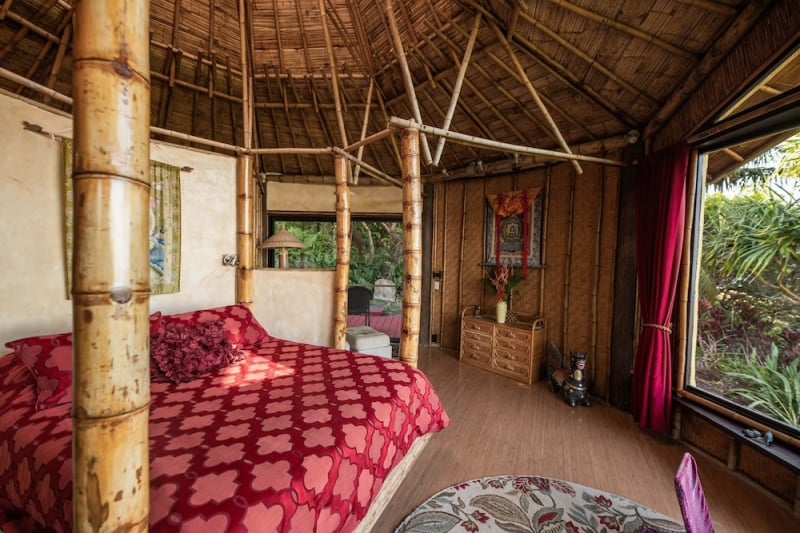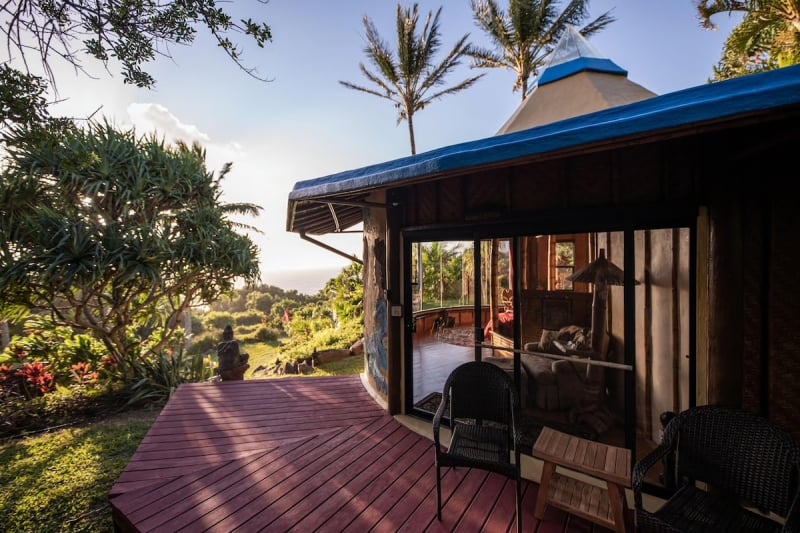 Listing name: Bamboo Temple, Views to Dream, Walk to Waterfall 
Listing type: Entire cabin 
Max. no. of guests: 2
No. of bedrooms: 1
Temptingly close to waterfalls and hiking trails, the "Bamboo Temple" offers a refuge for guests who crave a quieter taste of island life. By tapping into the rural beauty of Maui, this Airbnb rental also serves as an eco-friendly abode for mindful travel and soul-searching. Take your glamping to the next level at this cabin that's within walking distance of Twin Falls and the historic town of Paia. Yoga classes are scheduled every morning from Monday to Friday, while the floor-to-ceiling windows invite you to count the stars from your bedroom. 
2. The Hawaiian garden oasis with a lanai and an espresso bar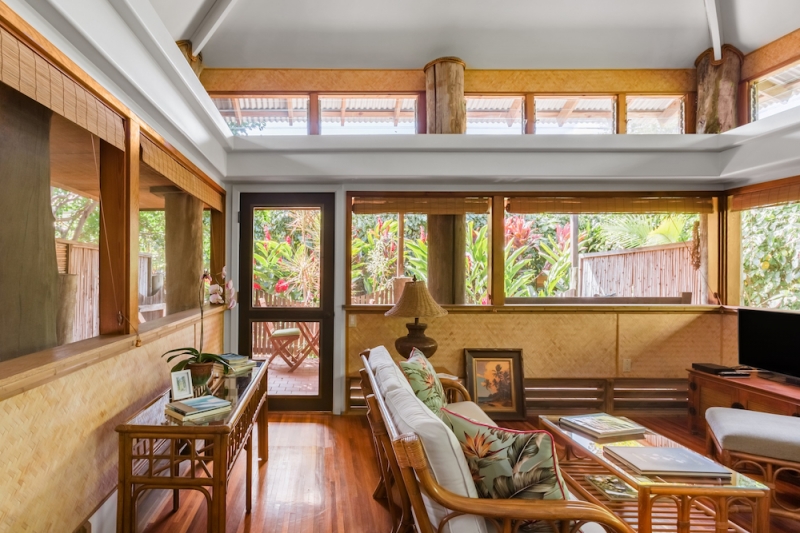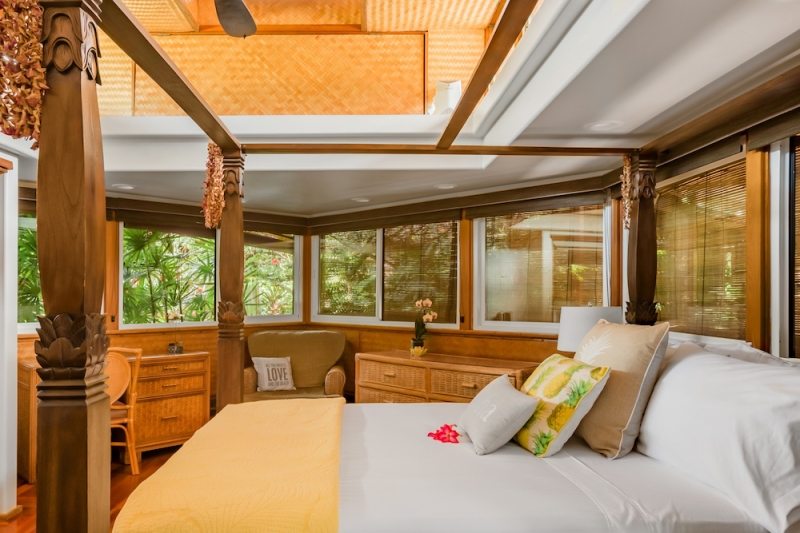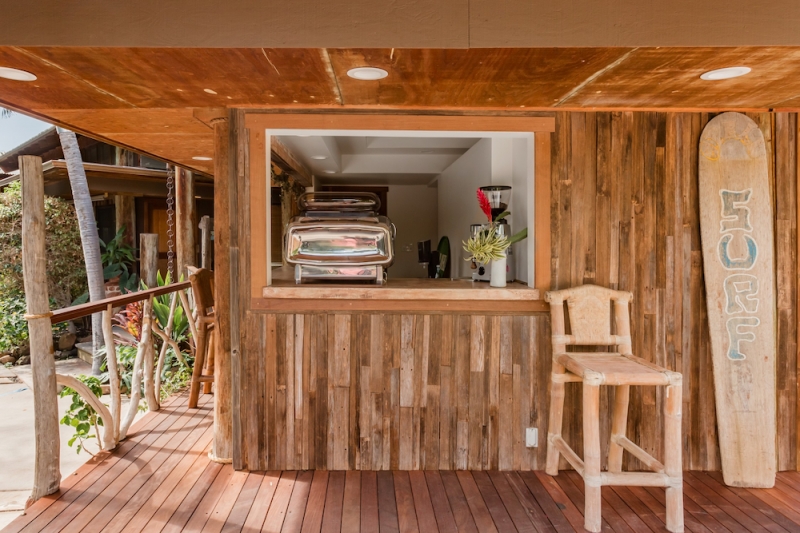 Listing name: The Kulani Maui — Boutique Ginger Bungalow Near Ocean
Listing type: Room in boutique hotel 
Max. no. of guests: 2
No. of bedrooms: 1
Many travellers head to Hawaii for an immersion into the local culture, and we can't imagine a better place for that than the "Ginger Bungalow" in Lahaina. This bright and airy boutique hotel is fittingly named "Kulani," a Hawaiian word that means "resembling heaven" or "little heaven." Highlights include the kitchenette, the spacious bedroom and living room, the private outdoor shower, and the shaded patio surrounded by lush foliage. Treat yourself to some freshly brewed espresso at the common area outside. Or, take a casual stroll towards nearby beaches, where you can swim and observe sea turtles.
3. The tropical treasure studio in Kihei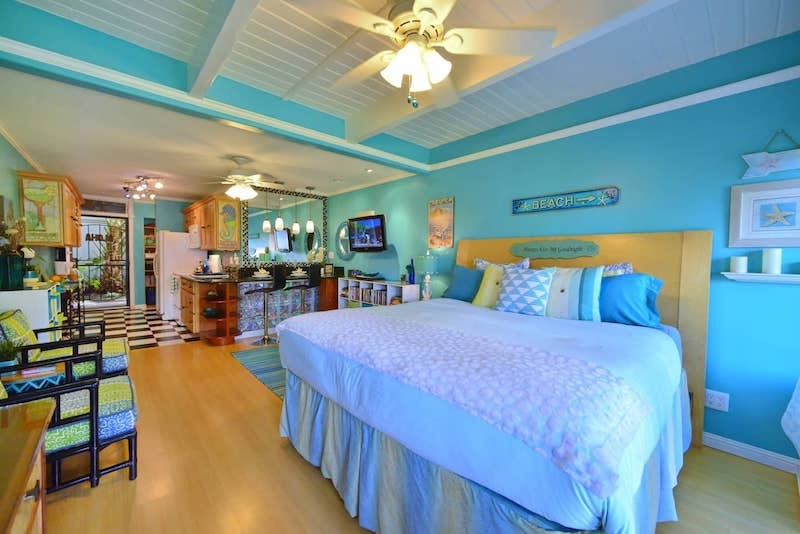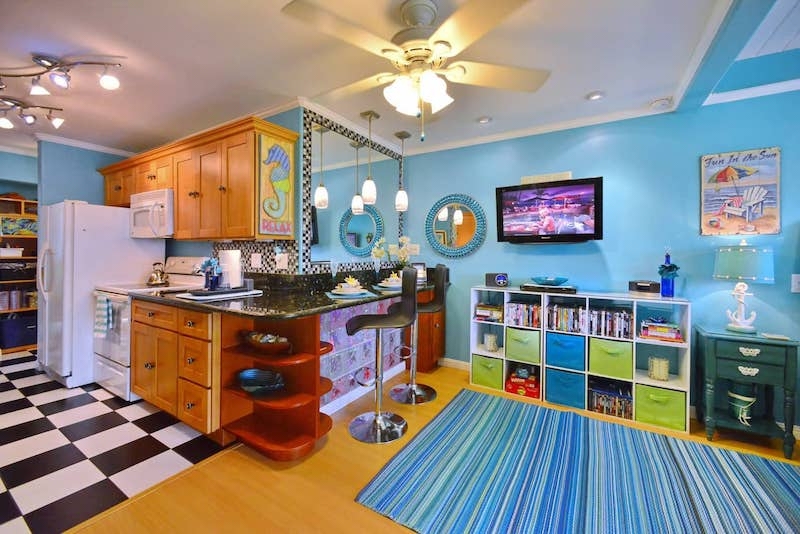 Listing name: #1 IN MAUI FOR 2019! TRACY'S TROPICAL TREASURES #1
Listing type: Entire flat 
Max. no. of guests: 2
No. of bedrooms: 1 
Voted one of the most popular Airbnbs in Maui, "Tracy's Tropical Treasures" supplies everything you need for a comfortable stay. This vacation-ready studio provides resort-like amenities and the necessary travel essentials, from the kitchen appliances in the fully stocked cupboards to beach towels. Outside, you can enjoy a swimming pool, a hot tub, and a barbecue area. To top it all off, the studio is less than two blocks away from Sugar Beach, a popular beach for windsurfing, kayaking, and whale-watching in Maui.
4. The colourful surf cottage near the Road to Hana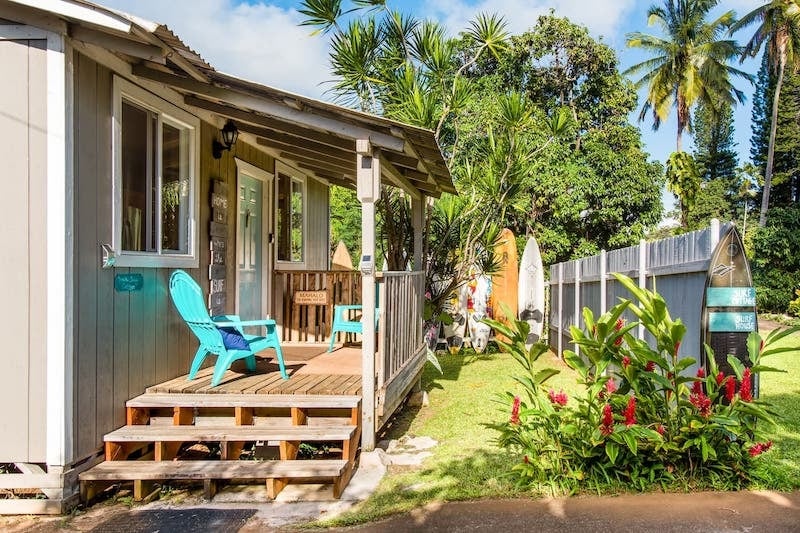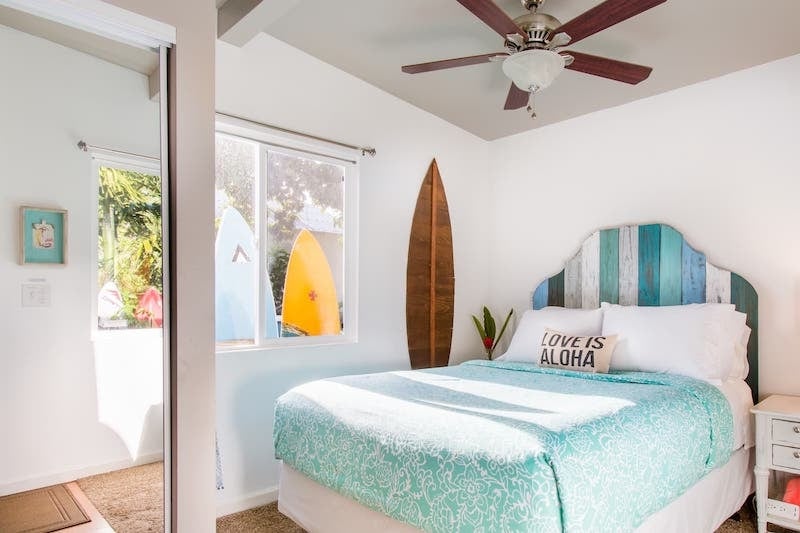 Listing name: Colorful Surf Cottage Near Coffee, Road to Hana, Haleakala
Listing type: Entire guest house 
Max. no. of guests: 4
No. of bedrooms: 2
Hoping to embark on a scenic drive towards the Road to Hana? Consider this colourful surf cottage that lets you bask in the laid-back vibes of Maui. Located in a quiet residential area in Haiku, it's an ideal home base to explore Haleakala National Park. For breakfast and delicious Hawaiian coffee, there's a coffee shop within easy reach of the guesthouse. Plus, you'll notice the surfboards and beach gear are already lined up in the backyard, ready for you to hit the waves! 
5. The famous artist's studio in Kula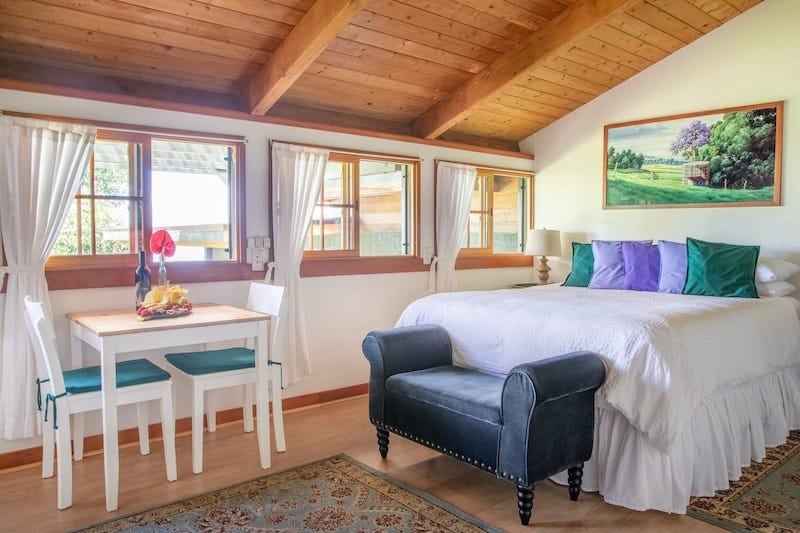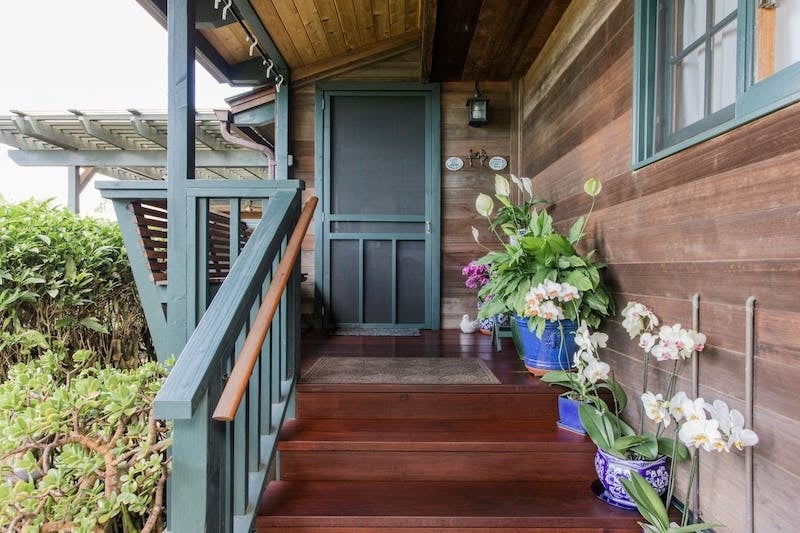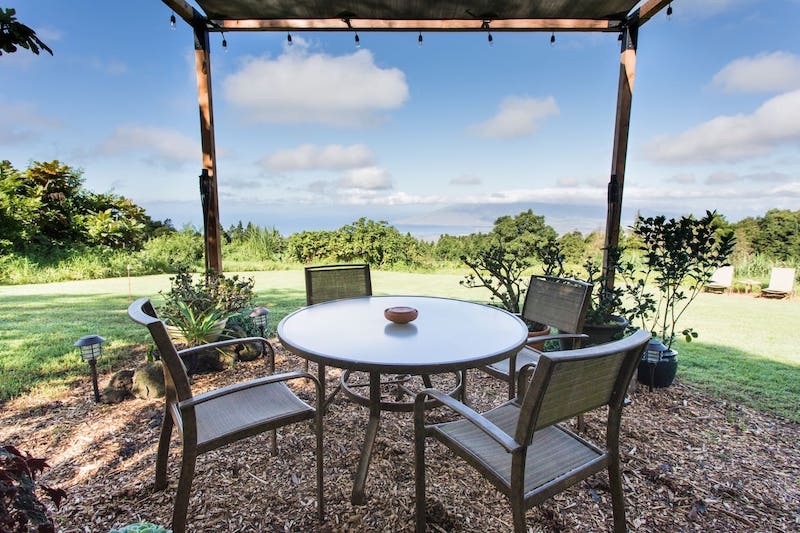 Listing name: Charming Artist's Studio on a Scenic Mountain Slope
Listing type: Entire guest suite
Max. no. of guests: 2
No. of bedrooms: 1
Looking for a peaceful hideout away from the crowds? Perched on a verdant hill, the artist's studio on Airbnb enjoys a unique view over Maui and the wide ocean on the horizon. As the home of painter Curtis Wilson Cost, the entire guest house is decorated with artful touches and beautiful paintings. Moreover, it stands on five acres of pastoral land, all the better to admire the scenery from your doorstep. Be sure to treat yourself to a glass of wine on the outdoor deck! The sunsets from the garden can't be beaten.
6. The calming surf shack near Maui's beaches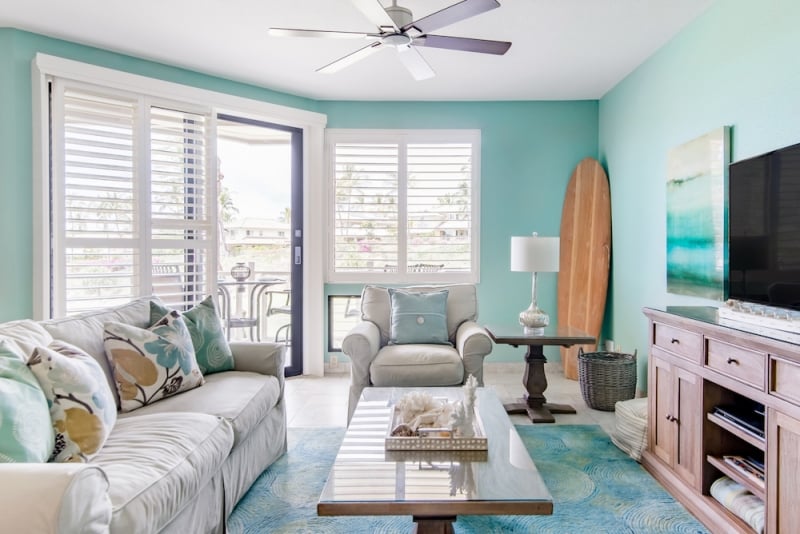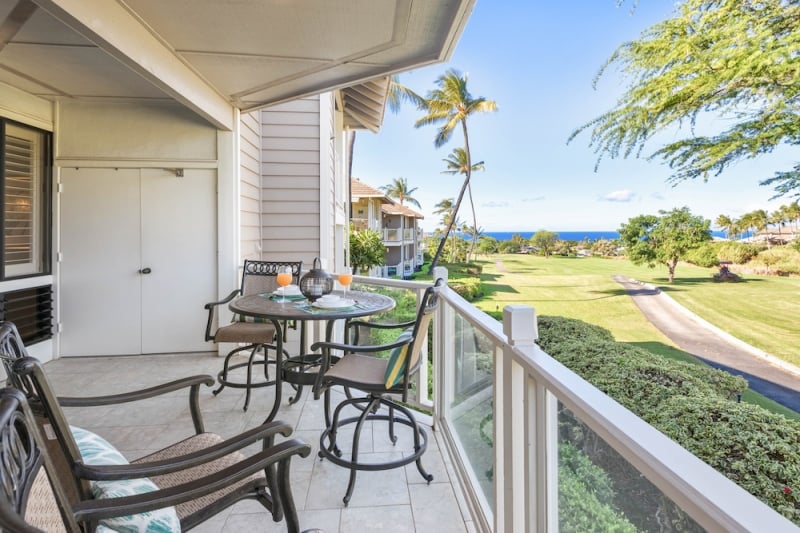 Listing name: Re-Charge With Dreamy Ocean Views at Your Luxe Beach Retreat
Listing type: Entire condominium
Max. no. of guests: 4
No. of bedrooms: 1
If you can't wait to chase epic waves, this cool-blue condominium in Wailea-Makena is tailor-made for your beach-hopping adventures. It features a spacious master bedroom, a well-stocked kitchen, two bathrooms, a laundry room, a balcony, a hot tub, and a swimming pool. Even better, this Airbnb is only a few minutes from famous shores in Maui, namely Makena Beach (Big Beach), Wailea Beach, Keawakapu Beach, and Polo Beach. Guests will surely appreciate the kindness of the hosts, Paul and Jessica, who enjoy lending towels, umbrellas, and tote bags to visitors. 
7. The oceanfront home that's perfect for whale-watching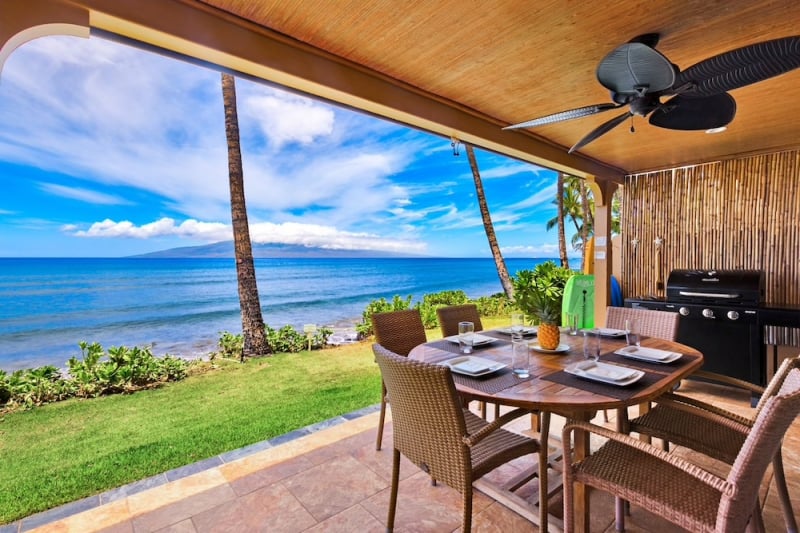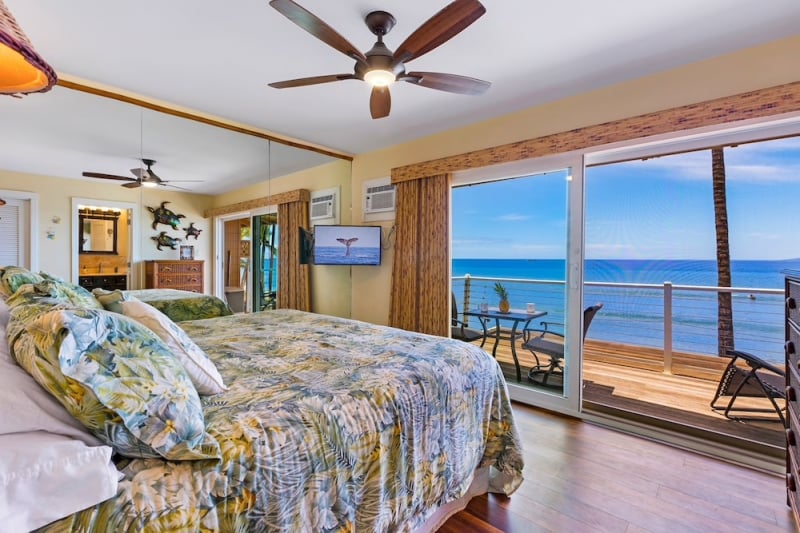 Listing name: Charming 3-Bedroom Oceanfront in Puamana - Lahaina 
Listing type: Entire home
Max. no. of guests: 6
No. of bedrooms: 3
Jaw-dropping is one way to describe this abode. This oceanfront home on West Maui flaunts a tiki bar, a balcony facing the water, and three tastefully decorated bedrooms that can fit up to six people. Other perks include the tennis courts, the private swimming pools (yes, there are more than one), and the clubhouse, which will keep you occupied when you're not ankle-deep in the sand. Another thing to look forward to? From December through March, you can go whale-watching from your living room and master bedroom. 
8. The family-friendly beach house between Hamoa and Koki Beach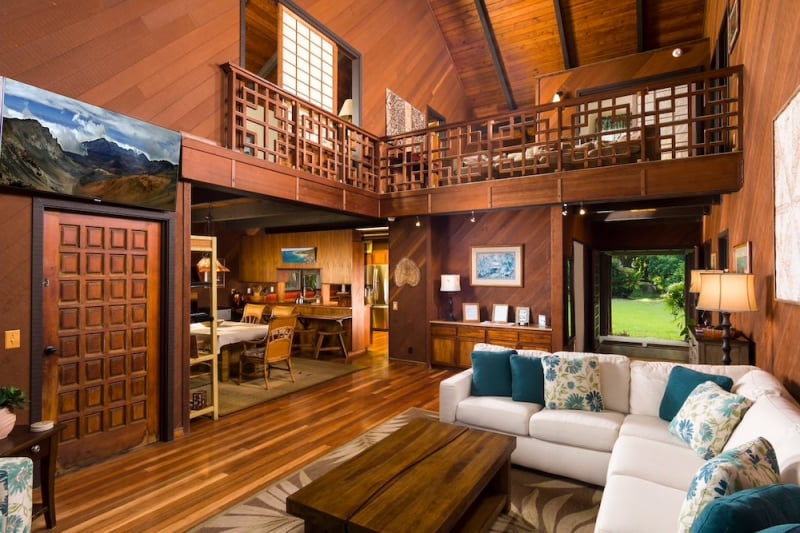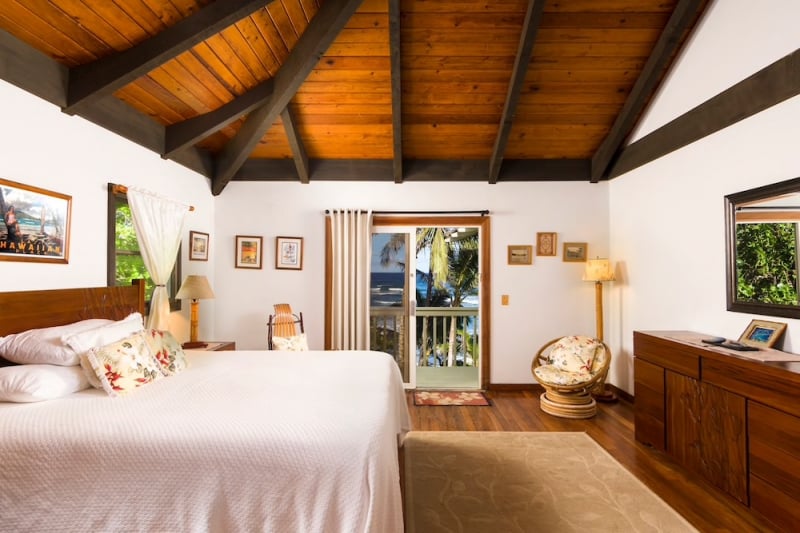 Listing name: Hamoa Beach House — Oceanfront Hana
Listing type: Entire house 
Max. no. of guests: 8
No. of bedrooms: 3
Set in a quaint village in Hana, this family-friendly beach house offers many options for relaxation: a dining area with ocean views, a rustic gazebo with a viewing deck, and a hammock where you can pass the lazy afternoons. Inside, the polished wood interiors and traditional furniture set the tone for a charming and old-fashioned stay in Maui. Accommodating up to eight guests, this three-bedroom house enjoys a secluded location near Hamoa Beach and Koki Beach. 
9. The Greek-style escape with scenic views in Kihei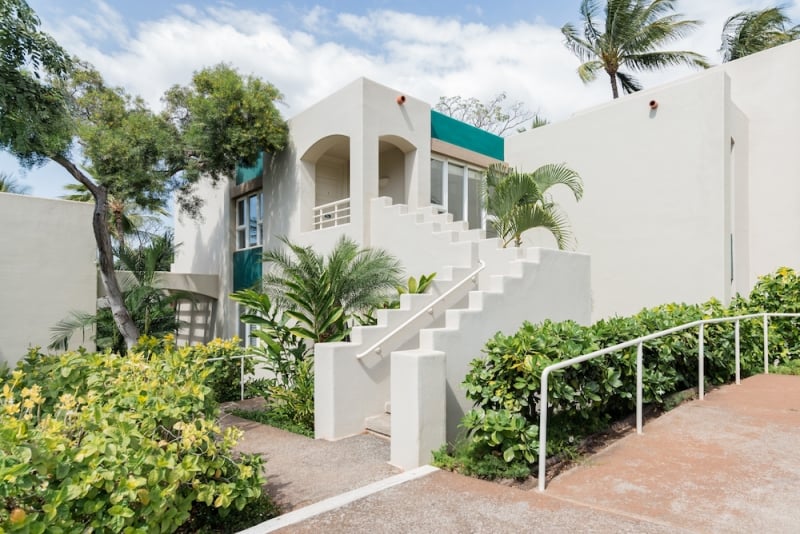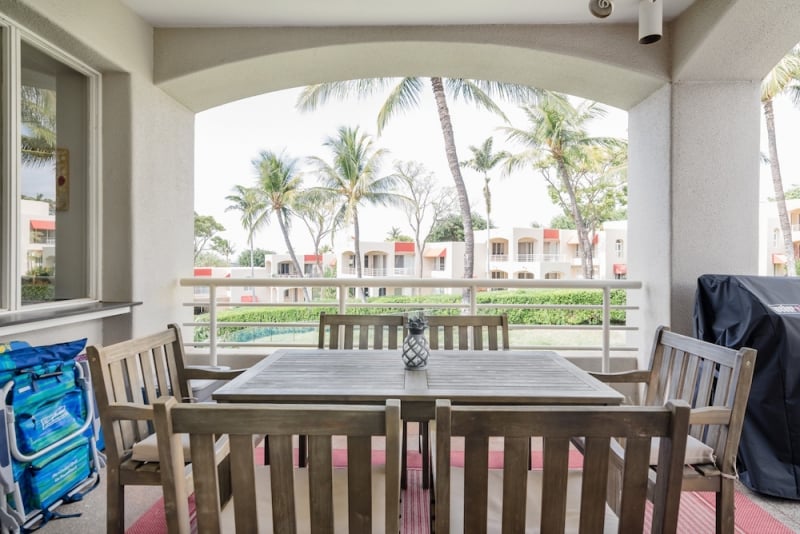 Listing name: Private Top-Floor Apartment with Mountain and Ocean Views
Listing type: Entire apartment 
Max. no. of guests: 6
No. of bedrooms: 2
Maybe it's the white-washed facade or the blue walls, but this pristine apartment in Kihei reminds us of the cliffside houses in Santorini. More than its striking design though, this Airbnb in Maui deserves a spot on our list because of its clean interiors and swoon-worthy views of the ocean. You can also find plenty of beach equipment for guests to use: towels, boogie boards, coolers, and umbrellas. Fire up the barbecue grill for dinner, or go scuba diving in Ulua Beach, Makena Beach, and Keawakapu Beach in your free time. 
10. The enchanting bungalow for an authentic Hawaiian stay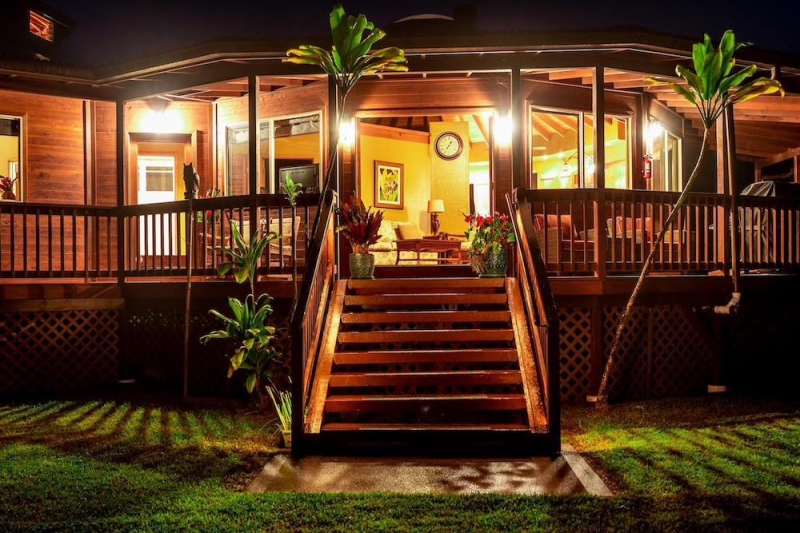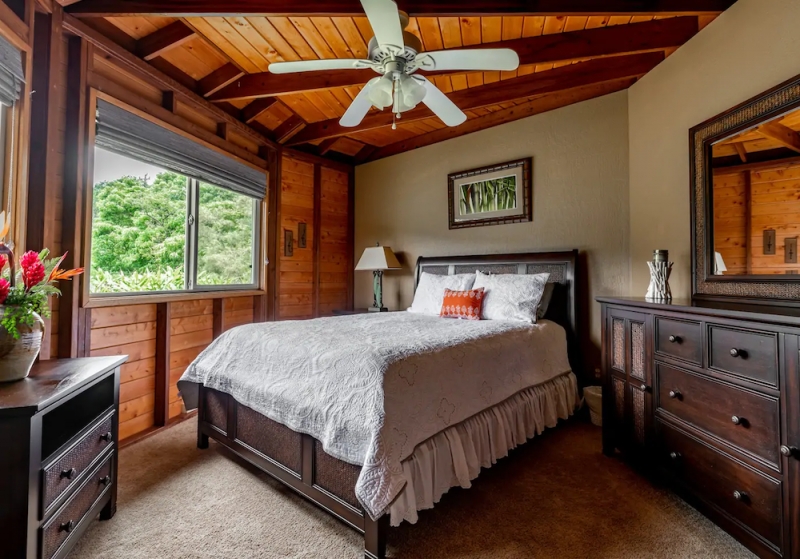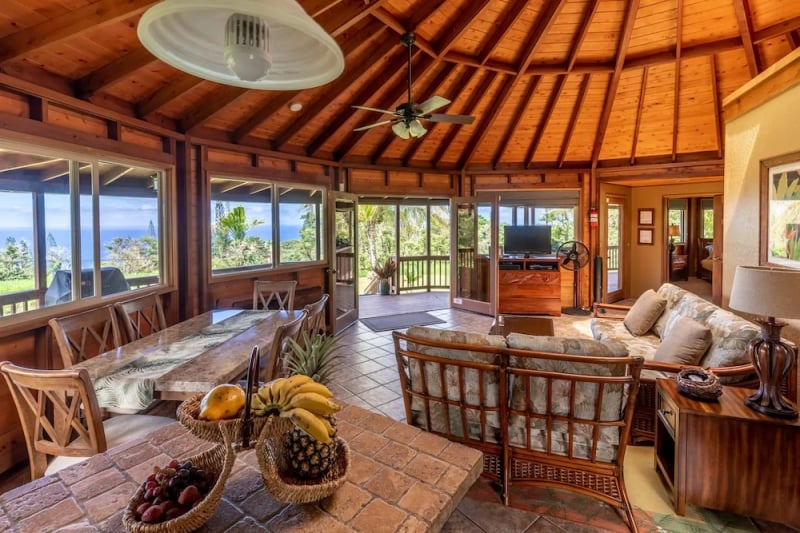 Listing name: Kawika's Hill
Listing type: Entire home
Max. no. of guests: 4
No. of bedrooms: 2
Nestled in the serene countryside of East Maui, this little hideaway called "Kawika's Hill" has been described by guests as "a magical place" and "paradise found." From this dreamy bungalow, you can explore Waikamoi Falls or the underground rock formations of the Ka'eleku Caverns. Bring a page-turner to the wrap-around porch, doze by the hammock that swings lightly in the breeze, or sink into a private jacuzzi as you observe the changing colours of the sky. Honeymooners, couples, and families are more than welcome here. 
11. The Lily's Lullaby condominium facing the ocean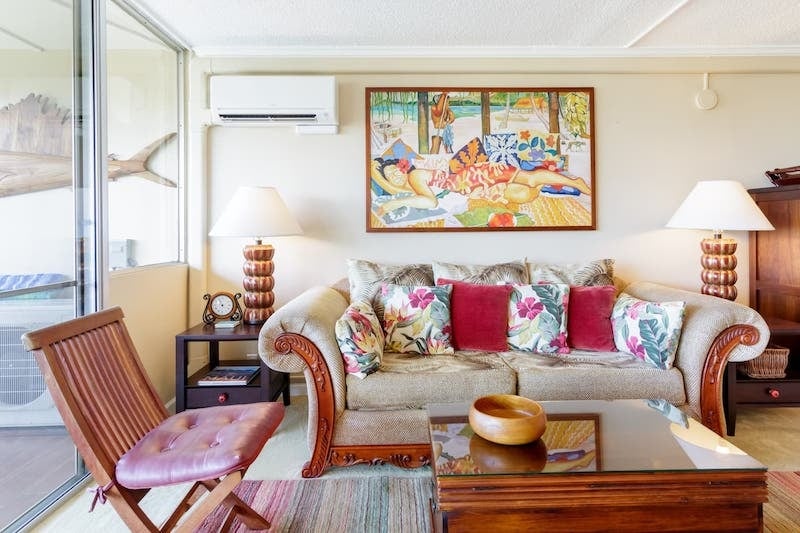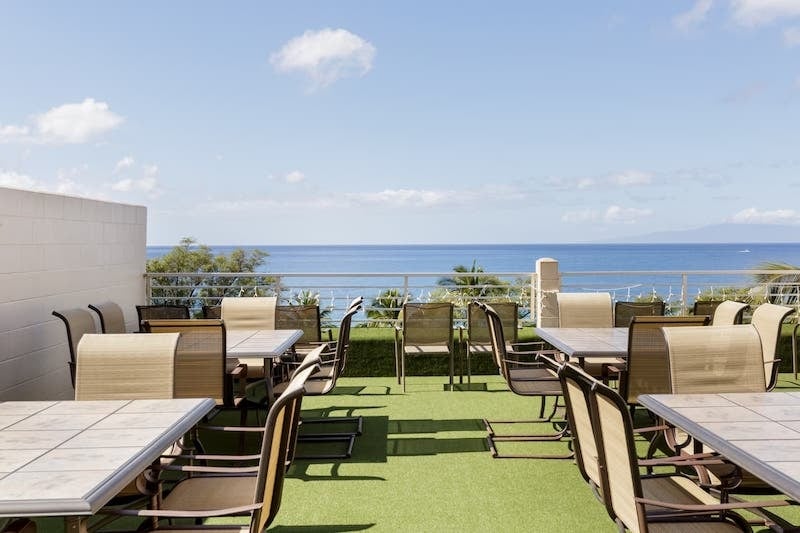 Listing name: Stroll to Beach from Ocean View Condo with Pool & Roof Deck
Listing type: Entire condominium 
Max. no. of guests: 2
No. of bedrooms: 1
If the round-up of positive reviews are to be believed, Lily's Lullaby might be the highest rated Airbnb in Maui out there. From this island-themed condominium in Kihei overlooking the sea, you can spot humpback whales from the roof deck. Other stand-out features include the king-sized bed, the bar counter, the air-conditioning, and the thoughtfulness of your host Gammy, who likes to provide guests with homemade banana bread. Right across the street of this condo, you can arrive at the crystal-clear waters and sea turtles of the Kamaole Beach Parks in South Maui. Now, isn't that a steal? 
12. The Kula Jacaranda Studio with a treehouse walkway and a fire pit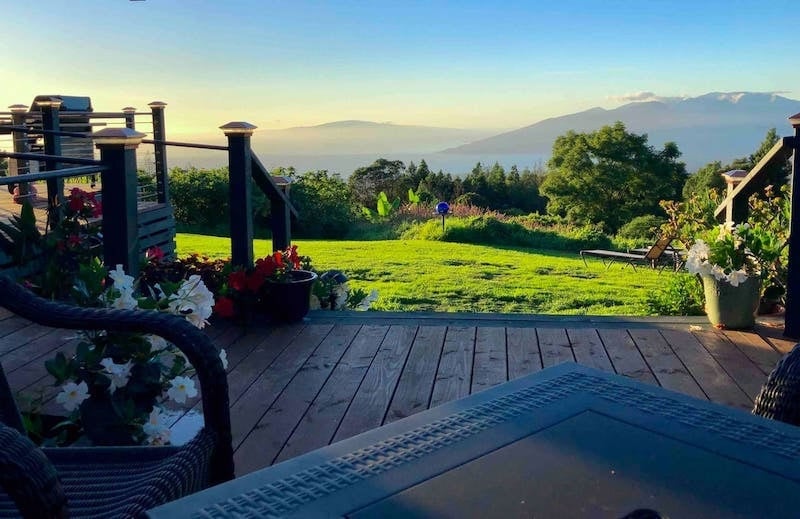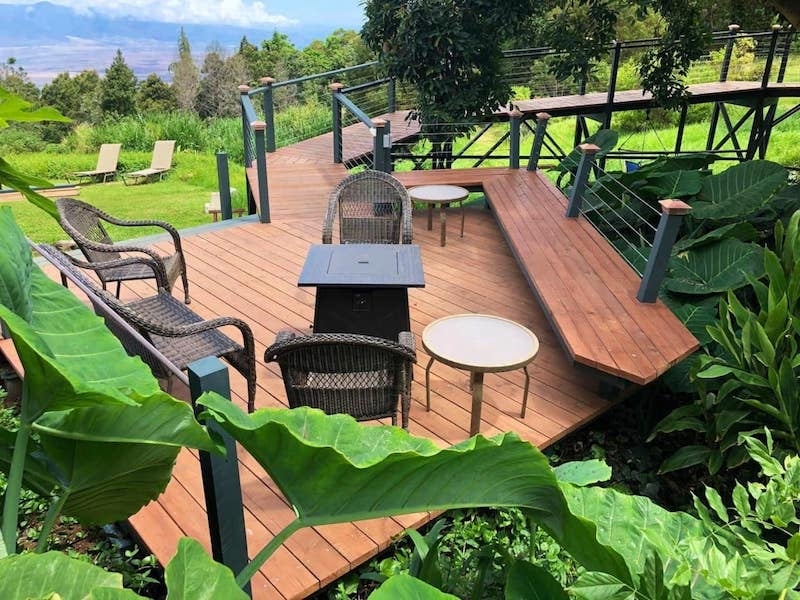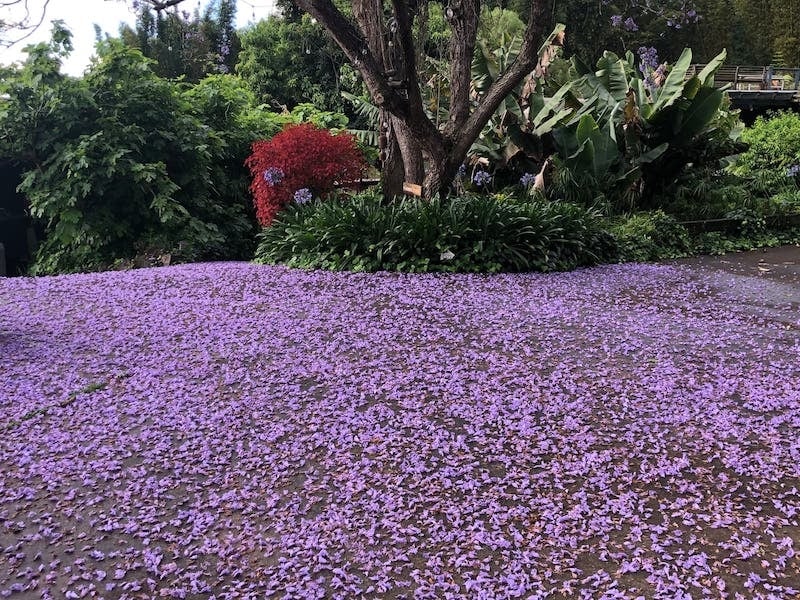 Listing name: Kula Jacaranda Studio on the Slopes of Haleakala
Listing type: Entire guest suite 
Max. no. of guests: 2
No. of bedrooms: 1
Wake up to glorious sunsets from the Kula Jacaranda Studio, a guest suite with a lily pond and a thriving garden. Here, a treehouse walkway snakes around the avocado trees and leads to a deck with a fire pit. The purple flowers you see in the photograph above? They come from the Jacaranda trees that bloom in the garden each spring. If the natural surroundings don't do it for you, then perhaps the proximity to tourist sites will seal the deal. You're just a quick drive to Haleakala National Park and Ali'i Kula Lavender Farm. 
Also read: Top 13 Stunning Airbnbs for the Best Experience in Hawaii
Have you chosen your future vacation home from these Airbnb rentals in Maui? Complete your jet-setting adventure across the Hawaiian Islands by finding a retreat that fits you anywhere you go, like these excellent places to stay in Honolulu. Happy travel planning!