Not sure where to start exploring when you visit Singapore? Don't fret, we've got you covered!   Here are 8 different districts to discover and experience Singapore like a true local. To make your planning process even easier, we've added in hotels in each district that you should stay in for the COMPLETE Singaporean experience!
For the locals, you should totally head down to these 8 hotels for a unique staycation experience as well! Singapore isn't as boring as we all think it is – start exploring and you'll never know what you'll find!
Are you ready? Let's go go go!
1. Bugis District
Where to Stay: Mercure Singapore Bugis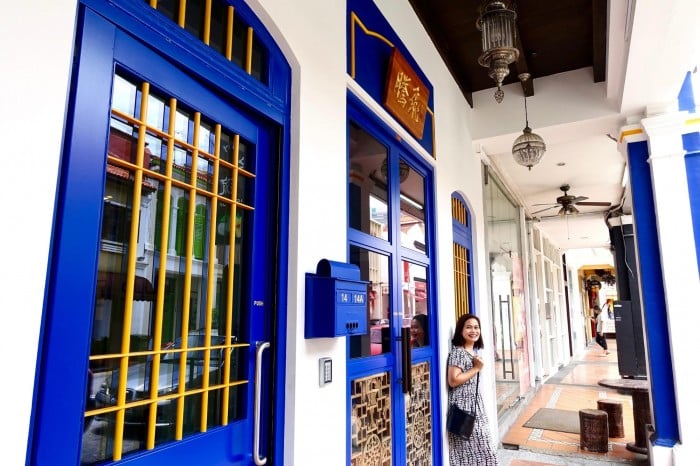 Bugis is known as Singapore's 'hipster district'; here you can go shopping for affordable yet fashionable clothes and accessories at Bugis Street, visit the numerous cafes at Haji Lane, or shop ANYTIME you want at the 24 hour Mustafa Centre. Alternatively, you could also go on a heritage trail along Arab Street – visit textile stores selling persian carpets, the Sultan Mosque, old-style curry houses or Middle Eastern restaurants! Get out of your comfort zone and explore the vibrant, colourful streets of Singapore in a way you've never done before. Take it from us – you'll be pleasantly surprised!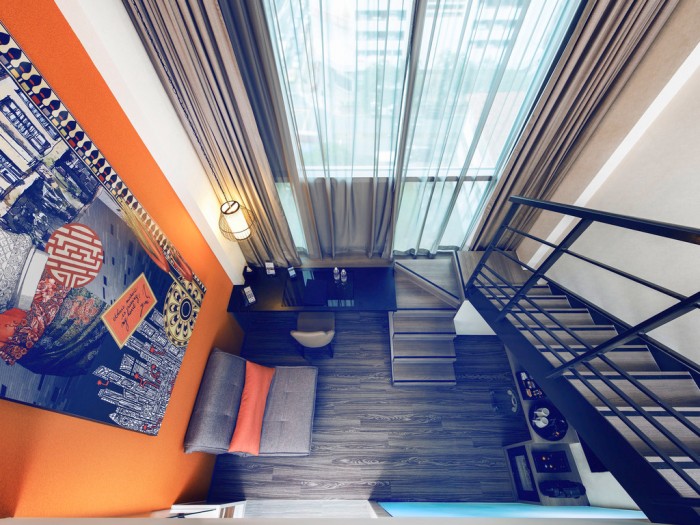 Image credit: Mercure Singapore Bugis
To fully explore the Bugis district, we recommend you to stay at the Mercure Singapore Bugis, which has exquisite heritage inspired rooms that will surely add a unique twist to your experience! Go crazy taking fun photos within the comforts of your loft, the possibilities for Instagram are endless. In addition, its central location in Bugis also means that aside from having a cozy staycation, you can venture and explore the arts and cultural districts nearby.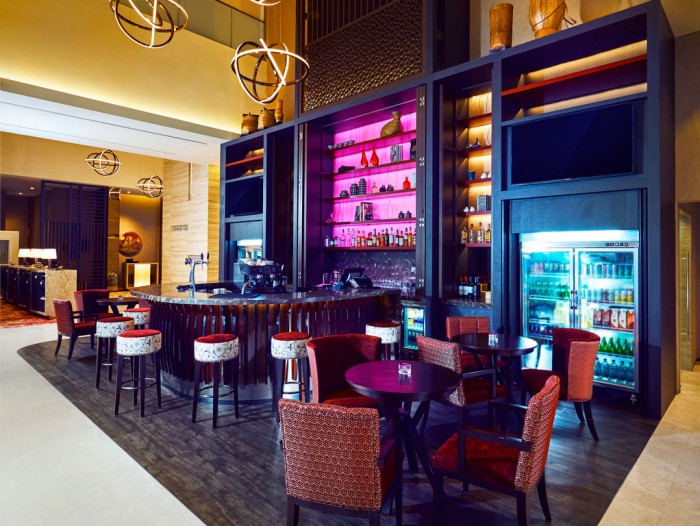 Image credit: Mercure Singapore Bugis
Besides, Mercure Singapore Bugis has a very chic lounge bar that you will never want to leave! Conveniently located in the lobby lounge area, Bartistry@One22 offers a grab-and-go concept for breakfast, along with perfectly brewed coffee by baristas. At night, you can come down for drinks during Happy Hour or have some cocktails for a chill and relaxing night in. The hotel also has a signature steakhouse restaurant – Sauces by Chef Daniel, that will definitely leave you feeling full and satisfied after a hearty meal.
2. Changi District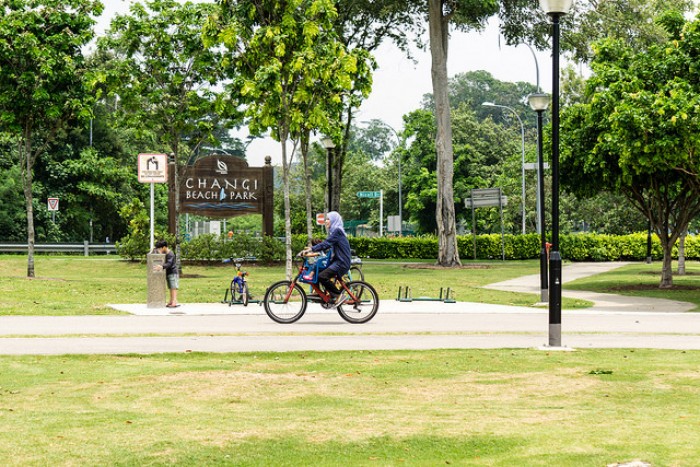 Image credit: aamanatullah
Take a break from the towering concrete jungle that is Singapore and escape to Changi for a well-needed respite. Here time somehow seems to slow down; everything seems to float by, and the air even seems fresher! You can go cycling and take in the scenic views around Changi Village, or go bowling with friends and family. If you're a nature lover, you can head to Pulau Ubin and Chek Jawa nearby and explore their undisturbed beauty – fruit plantations, tranquil beaches, flourishing mangroves, old villages and more!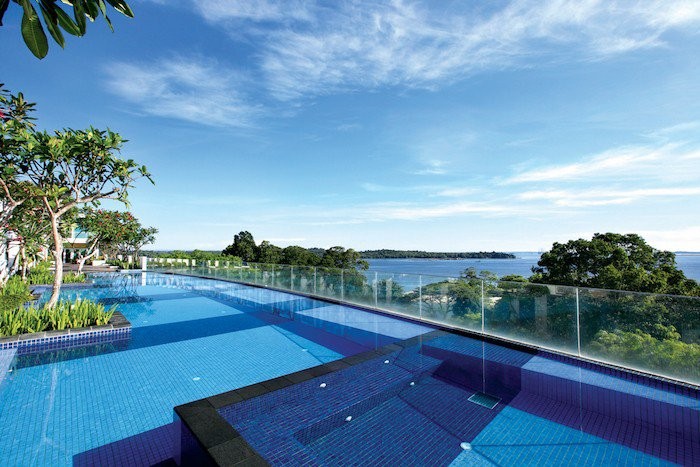 Image credit: StayFarEast
Mmm just look at those beautiful shades of blue. The sky, the sea, and the infinity pool. Looks just like a gorgeous painting doesn't it? Village Hotel Changi is a breath of fresh air, situated in the east and away from the hustle and bustle of city life. It's also ideally located for you to wander around the Changi district! Lush greenery and a refreshing sea breeze will greet you when you wake up every morning. Make sure you've got your sexiest swimsuit ready! Just imagine yourself chilling in the pool, or lounging on a sunbed with a cocktail in hand. Pure bliss.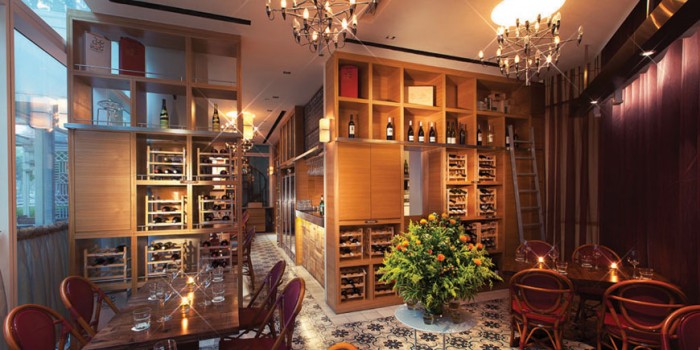 Image credit: StayFarEast
Village Hotel Changi also boasts a variety of dining places that offer international cuisines to suit anyone's preferences. They have the Saltwater Cafe, La Cantina, Chou Bei Japanese Restaurant, The Wine Company, and Vau Wine Bar. Isn't the interior of The Wine Company (pictured above) so beautifully quaint and rustic? What a perfect ambience for drinks and good conversations. In addition, they also have a Stella Wellness Centre where you can go for relaxing massage or spa session. You'll definitely feel invigorated and refreshed after that!
[DEAL] PLAY AND STAY WEEKEND PROMOTION
Enjoy irresistible rates for a weekend staycation starting from $170 for a Superior Room, $190 for a Deluxe Room, or $220 for a Club Room!
Couples can either choose to cycle along recommended recreational cycling routes around Changi Village, or go for a complimentary bowling session. In addition, you get to have a buffet breakfast, koi-feeding session, a Changi Village cycling reference guide, and a Hop-on Hop-Off city tour for two… ALL COMPLIMENTARY! Book this promotion right now and get ready for a fun-filled weekend!
Want to find out more about how a staycation at Village Hotel Changi will look like? Click right HERE!
3. Orchard District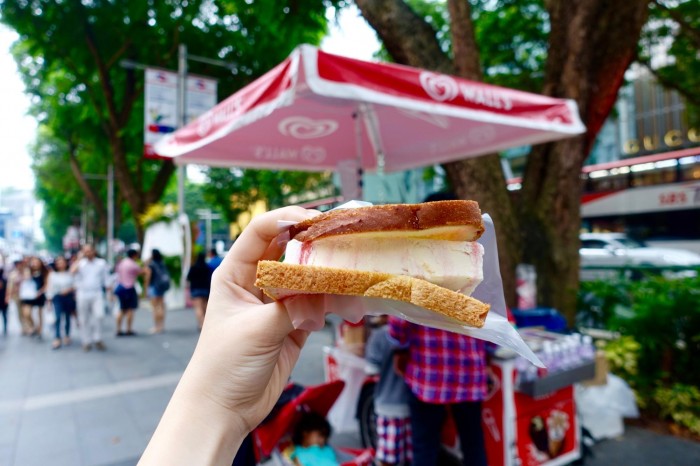 So Buzzfeed recently slammed Singapore's well-loved ice-cream sandwich. The blasphemy! Well, what can we say? That whole debacle just made us love this Singaporean icon all the more . Grab yourself one of these little babies as you traverse the shops lining Orchard Road, the heart of Singapore's shopping district. You can also head to Isetan Shaw for a good movie and grab some delicious Japanese snacks from the supermarket below, head to Cineleisure Orchard for clothes at affordable prices or take on a dance class to get your blood pumping!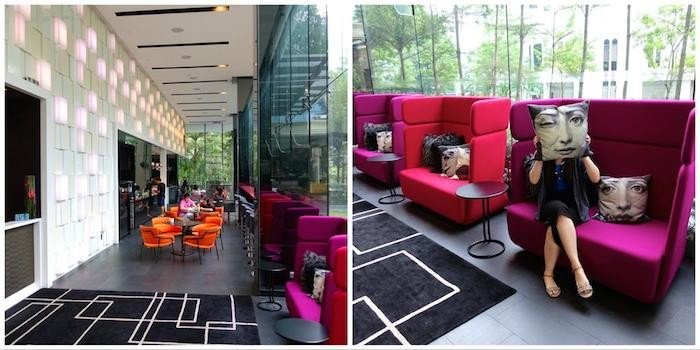 The Quincy Hotel is located just a mere 5-minutes away from the heart of Orchard Road, making it a perfect place to stay should you wish to shop till you drop! Need I say more? With so many shopping boutiques, good food, and entertainment places, you'll be absolutely spoilt for choice! Besides, a stay at Quincy Hotel is definitely an experience like no other. It is super fashionable and contemporary chic, with a stylish lobby and dazzling toilets. You'll never run out of things to take pictures with! Did you know they even have a glass enclosed, colour-changing, LED-illuminated infinity pool?! WOW. They also have steam rooms and sauna rooms for you to relax in.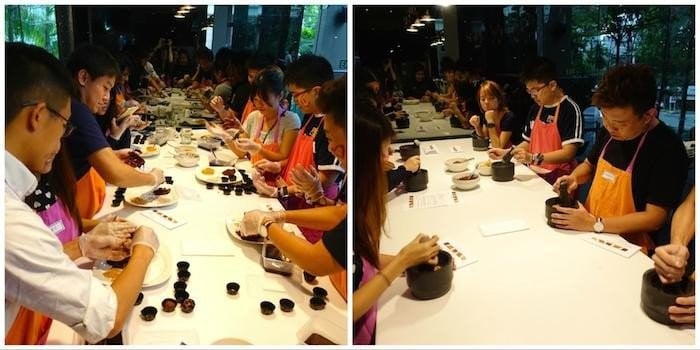 You also have to check out their Art Jamming class or Chocolate Truffle making class – it's a truly remarkable experience! This is a golden opportunity to unleash your inner domestic goddess or drawing skills to wow your other half.
[DEAL] QOOL WEEKEND PACKAGE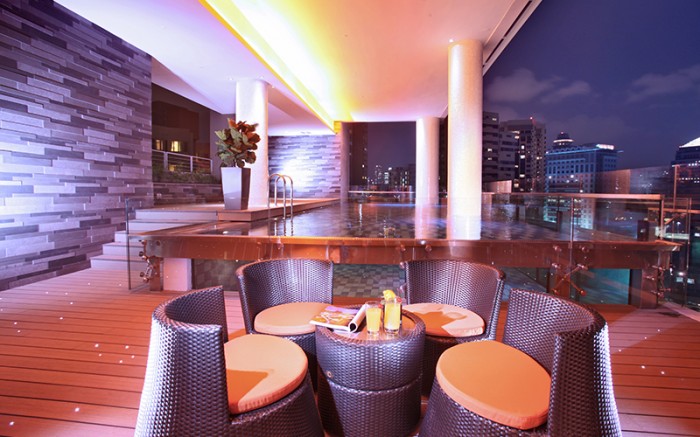 Enjoy an extra 5% off the Qool Weekend Promotion when you use the promo code " QUINCY"! The Qool Weekend Package is specially filled with exciting activities for couples or best friends! Pamper yourselves with all-day light refreshments, evening cocktails, Movie Night by the pool on Saturdays, and even a bottle of red wine. You also get to bond with your other half through hands-on activities such as an Art Jamming class or a Chocolate Truffle making class. Who knows, you might discover your partner/best friend's hidden artistic or baking talent!
Find out more about a staycation experience at Quincy Hotel right HERE!
4. Sentosa District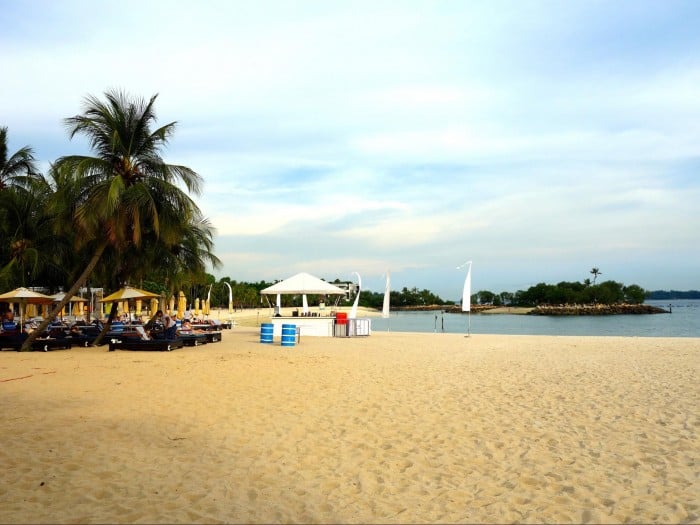 Sentosa ain't called the Singapore's State of Fun for nothing – it has something for everyone! For the adventure lovers, head to Megazip Adventure Park or Universal Studios Singapore for an exciting day. For the beach buffs, check out the Palawan Beach and Suspension Bridge, where you can chill on the beach with your sexy swimwear, catch some Pokemon, or just have fun in the sun! Foodies and gluttons can check out the Malaysian Food Street or Insadong Korea Town. As for the Insta-addicts, head to the Trickeye Museum for a hilarious time standing in different poses for the perfect shot. Lastly, animal lovers can also go to the S.E.A Aquarium and snap pictures of the 10 most photogenic marine animals!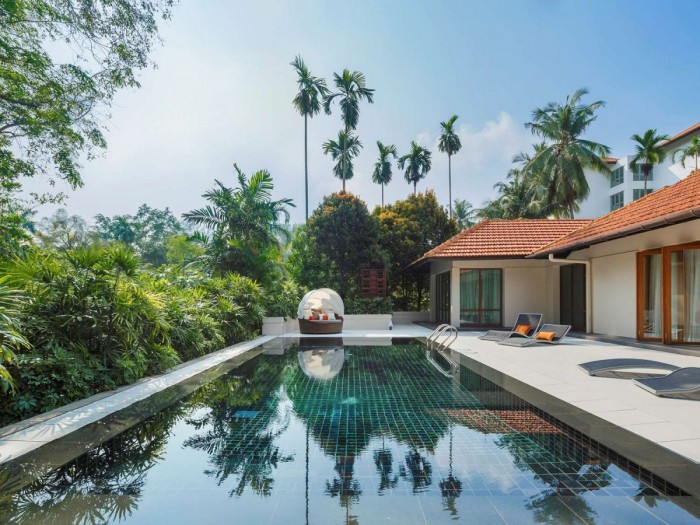 Image credit: Sofitel Singapore Sentosa and Spa
Why spend money on a plane ticket to Bali when you can enjoy a luxurious villa right here at Sofitel Singapore Sentosa & Spa? Immerse yourself in the quietness and beauty of nature, surrounded by lush tropical greenery as you laze around on the cabana by the pool. They also pamper you with a Magnifique Champagne Sunday Brunch complete with live seafood, foie gras, crepes, an unparalleled selection of 32 French cheeses, as well as free flow beverages. The resort is located just 132 steps away from Tanjong Beach, and offers shuttle buses to the various parts of Sentosa.

The So Spa has also taken wellness, beauty and pampering to a whole new level. The outdoor spa garden comprises of a lap pool, a float pool with cascading waterfalls and a mud pool to detoxify your skin. Find wellness and tranquility as you enjoy a soothing massage and spa – you'll be well revitalized and rejuvenated! By the way, if you're lucky, you might even manage to grab a selfie with the majestic peacocks strolling around in the park.
Find out everything you need to know and more about a stay at Sofitel Singapore Resort and Spa right HERE !
5. 3-in-1: Chinatown, Tanjong Pagar & Telok Ayer Districts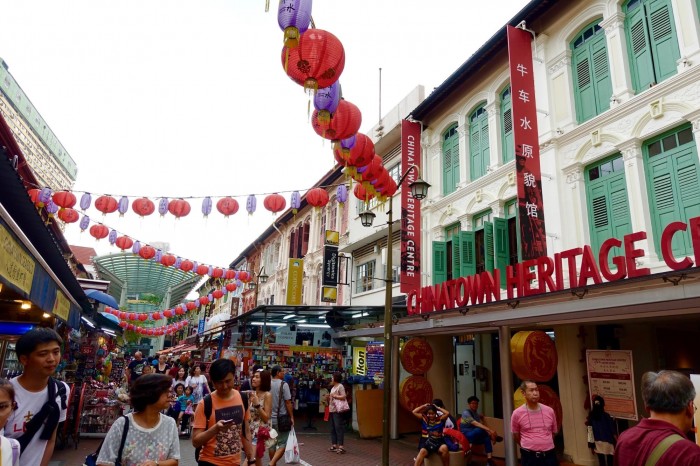 This area has so much to explore, we just couldn't resist combining 3 districts into 1! Plus, they're all really close to each other! The   Chinatown, Telok Ayer and Tanjong Pagar districts are overflowing with COUNTLESS eclectic cafes, restaurants and places of interest, you won't even know where to start! You can go on a heritage trail at Chinatown, enjoy delicious local food at Maxwell Food Centre, or wolf down sizzling Korean barbecued meats along Tanjong Pagar Road. In addition, Keong Saik Road and Ann Siang Hill has many cozy cafes for you if you're looking for a quiet, chill afternoon with a cup of freshly brewed artisanal coffee and delectable cakes.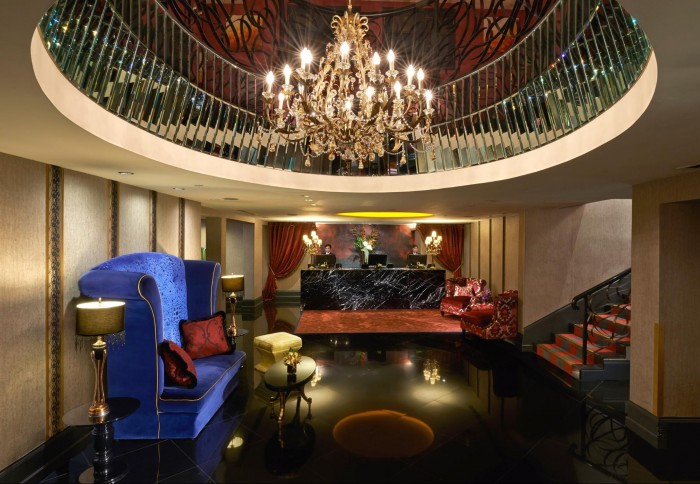 Oh my… Just look at that luxurious Victorian decor and the opulent chandelier! At The Scarlet Singapore , you get to choose from 5 individually themed suites – Swank, Opulent, Lavish, Splendour and Passion. The best part? The Scarlet Hotel is located right smack in the middle of all 3 districts – talk about good location! Renowned for its romantic boutique experience, your stay here will definitely be an experience to remember! Adjacent to the hotel is a distinctive row of 13 Early Style shophouses dating back to the 19th century, now occupied by quaint shops, soothing spas and hipster boutiques.
Curious to know how a staycation experience at The Scarlet Singapore will look like? Find out more right HERE!
6. Tiong Bahru District
Where to Stay: New Majestic Hotel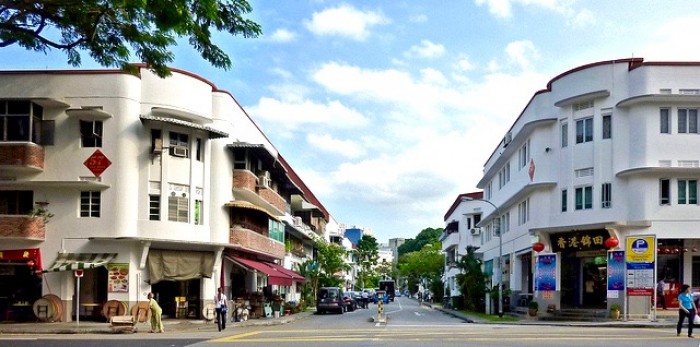 Image credit: Payton Chung
Hop on over to the neighbouring district of Tiong Bahru; travel back in time as you wander around the rows of shophouses, delightful eateries, unique shops and back alleys splashed with street art. Tiong Bahru is also home to an array of eclectic cafes, such as Tiong Bahru Bakery and Forty Hands. Also, get to spend an afternoon immersed in the world of storybooks at local independent bookstore, Books Actually. For those craving for local food, head to Tiong Bahru Market and Food Centre for some chwee kueh, lor mee, or fresh groceries!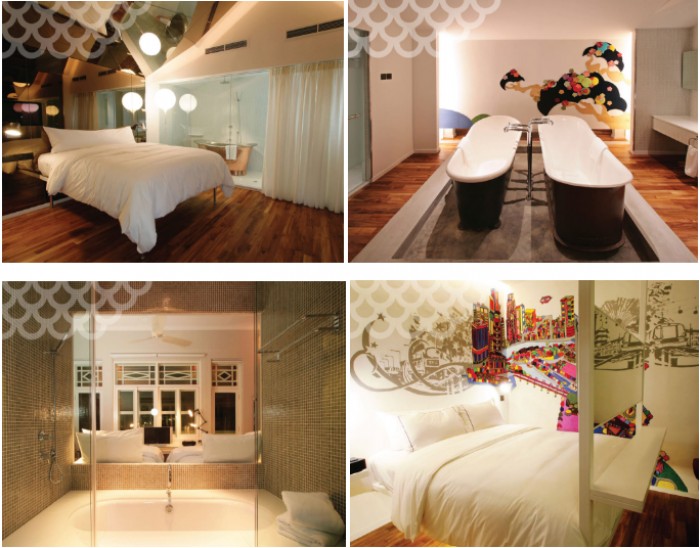 Image credit: New Majestic Hotel
Located just a stone throw's away from the Tiong Bahru district, the New Majestic Hotel is a stunning mix of eclectic chic with heritage elements! With 30 uniquely designed rooms to choose from, you'll definitely have a hard time picking out your favourite one. They have attic rooms with loft beds, customized baths and even suites with private gardens. What about having a bathtub in the middle of the room, right behind your headrest? You can just jump in for a bath directly from your bed!
7. Marina Bay District
Where to Stay: Naumi Hotel

The Marina Bay district is known as Singapore's art and cultural center! Venture here and immerse yourselves in the exhibits and displays at the National Museum of Singapore or the Singapore Art Museum. Shopaholics can unleash their craziness at Raffles City, Marina Square, Millenia Walk or Suntec City Mall as well. When night falls, head over to Chijmes, where a smorgasbord of dining and drinking establishments await.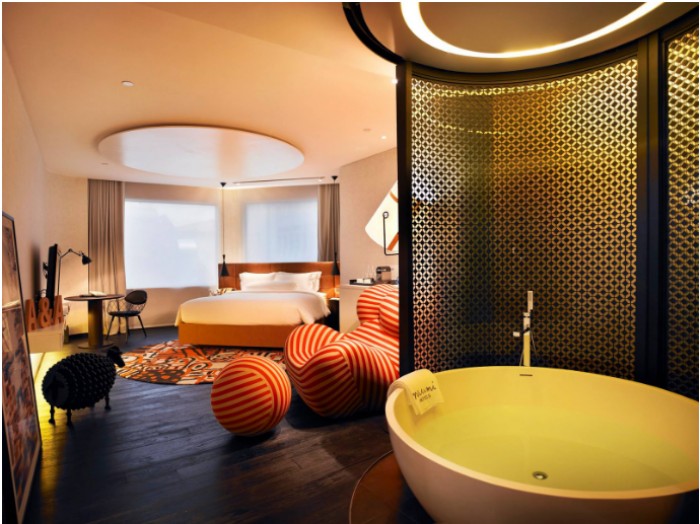 Image credit: Naumi Hotel
Isn't the decor of this room just calling out to you? To have enough time to discover the Marina Bay district, plan a stay in Naumi Hotel's Andy Warhol-inspired suite that has been stylised with a bright pop of orange and specially commissioned artwork! Oh, and not to mention the adorable open-air bathtub for a whole new shower experience. Your stay here will definitely make all your friends and relatives very, very jealous. One interesting thing about Naumi Hotel is that you can purchase almost anything you see in the hotel, from the hotel lobby to the guestrooms. Why, you don't even have to step out of the hotel to shop! If you love the bedding, fragrance, or intricate art pieces, you can simply buy it and bring it home.
8. Kranji District
Where to Stay: D'Kranji Farm Resort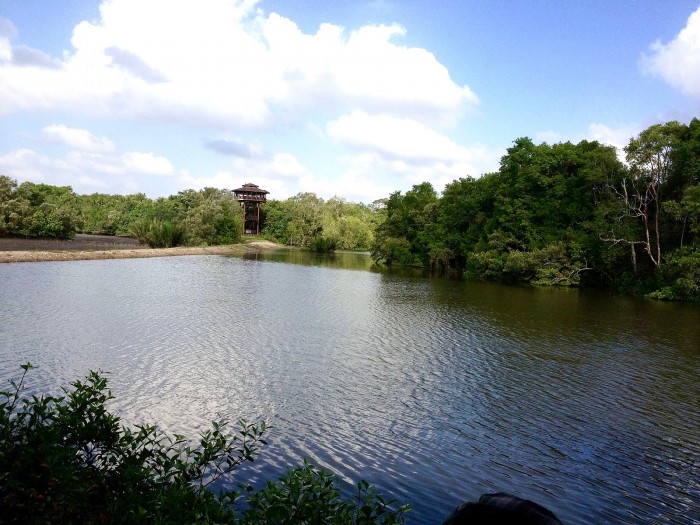 Image credit: Banej
Tucked away in the peaceful and serene countryside, exploring Kranji will give you an exotic break from city life! Make friends with giant monitor lizards at Sungei Buloh Wetland Reserve or watch as the sun sets and turns the sky awash with a sea of brilliant colours. Experience the only authentic farmer's market in Singapore at the Kranji Countryside Farmer's Market, where you can buy artisanal foods and fresh local produce. For those who want to explore the area even further, you can visit the Singapore Zoo, Night Safari, or the Kranji War Memorial!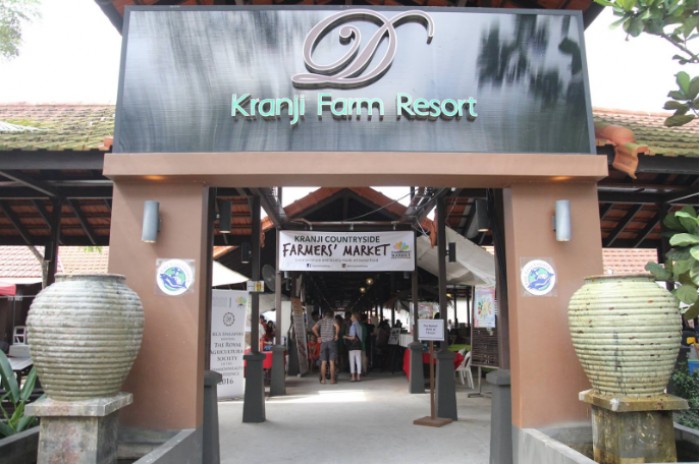 Image credit: D'Kranji Farm Resort
Contrary to popular perception, this isn't a deserted area at all! Aside lounging in D'Kranji Farm Resort's quaint and luxurious villas, you can go prawn fishing, visit the Swiftlet Garden Museum for bird's nest products, or hit up the Nopphawan Massage & Spa for a therapeutic time. In addition, you can rent Fitness Scooters for a good workout with your family, or take a leisurely walk through a farm. Shuttle bus services are also available, which stop at 6 venues in the area, including the D'Kranji Farm Resort and the Sungei Buloh Wetland Reserve, so you don't have to worry about transportation at all!
There's more to Singapore than you thought, am I right? Locals – get out of your normal boring routines and experience a fun-filled, unique staycation weekend now. For tourists, make sure you explore every district, as they each encompass their own unique charm, and watch yourself slowly fall in love with this little red dot of a country!