An open platform where anyone can rent out their property or spare room to guests, Airbnb is fast-growing in popularity as a hotel alternative. It's no wonder, when such Airbnb accommodations are often affordable and value-for-money, with a touch of homely uniqueness and the chance to connect with locals.
Seoul is one of the cities that has a large selection of Airbnb listings for travellers to choose from. Typically, an arduous search awaits anyone who's looking for the perfect apartment – one that fits their preference relating to budget, location, amenities and so on. But to help you narrow down your choices, we've done our own search for you!
Also read: Where to Stay in Seoul: 15 Best Airbnbs in Seoul for Every Budget
Budget-friendly Airbnb homes in Seoul
Check out these highly-rated Airbnb apartments in Seoul for budget travellers:
1. The Hongdae apartment overlooking the Han River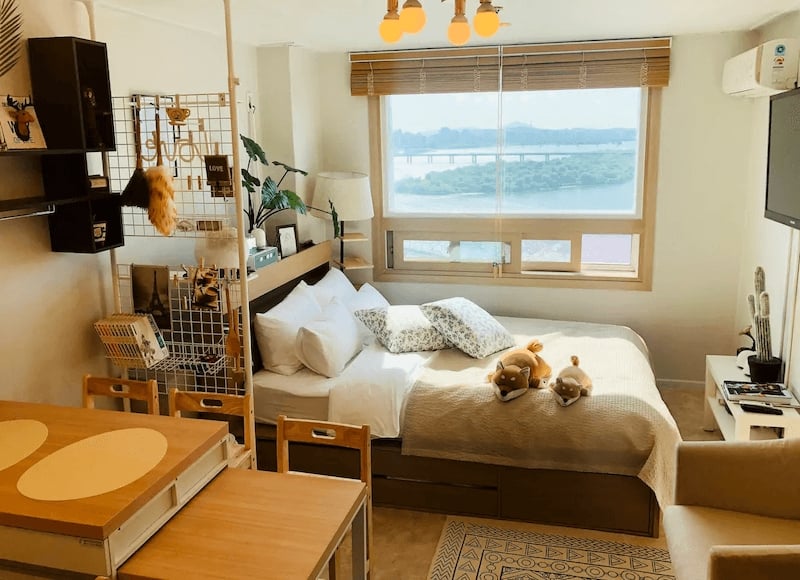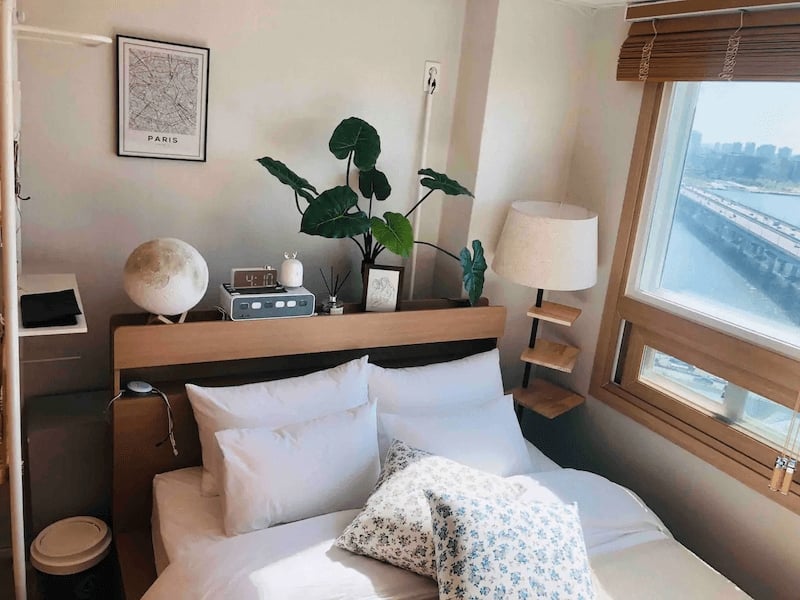 Listing name: SNUG HOUSE/Best /Hongdae/River view/마포역/Mapo/서울/홍대
Listing type: Entire apartment 
Max. number of guests: 3
No. of bedrooms: 1
When it comes to affordable accommodations, you can't go wrong with this apartment in Hongik University Street or Hongdae. At this Airbnb in Seoul, you can wake up to panoramic views of the Han River. Even the interiors are very picturesque, featuring indoor plants and a dining area where you can prepare your own meals. Only a few minutes from Mapo Station, this apartment makes an excellent base for you to explore the hip and artsy neighbourhood frequented by Seoul's youth. Learn more about this Airbnb here. 
2. The pink studio within walking distance from Myeongdong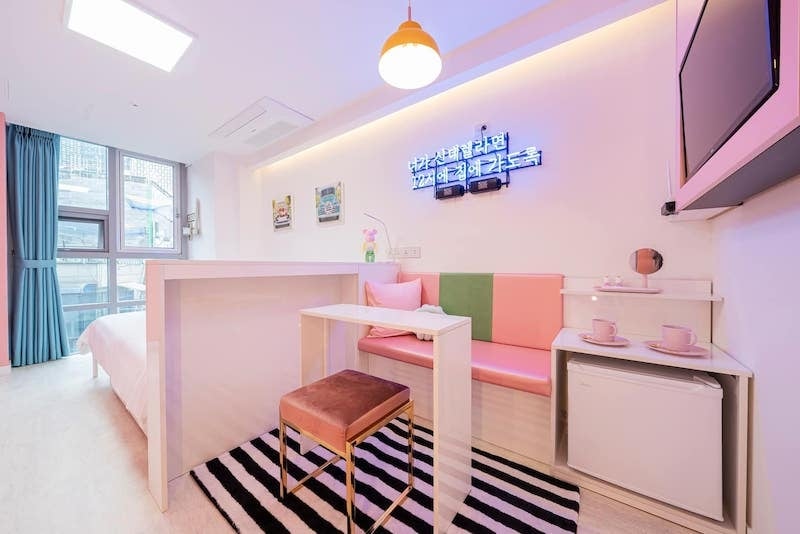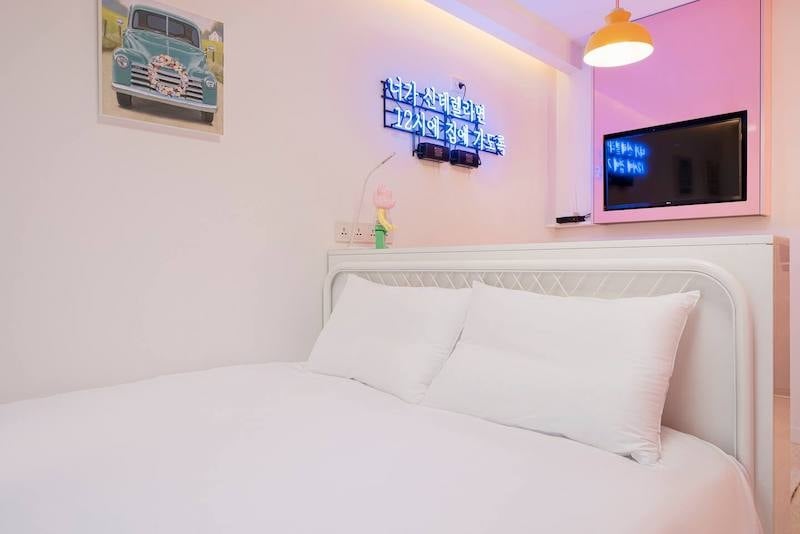 Listing name: PINKVILLE #1 / Myeong-dong(明洞)
Listing type: Room in boutique hotel 
Max. no. of guests: 2
No. of bedrooms: 1
If you're planning to shop until you drop in Seoul, then you ought to stay in a budget-friendly apartment that soaks up the energy of the city. Consider this blushing studio for two guests in Jongno-gu, which is surrounded by lively Korean restaurants, karaoke bars, and convenience stores. Inside, the room features colourful and trendy design touches like pink walls and neon signage to welcome you home. Given that it's close to the subway station, this Airbnb offers the ideal base for your sightseeing in Myeongdong. Learn more about this Airbnb here. 
3. The modern hanok with a courtyard near Gyeongbokgung Palace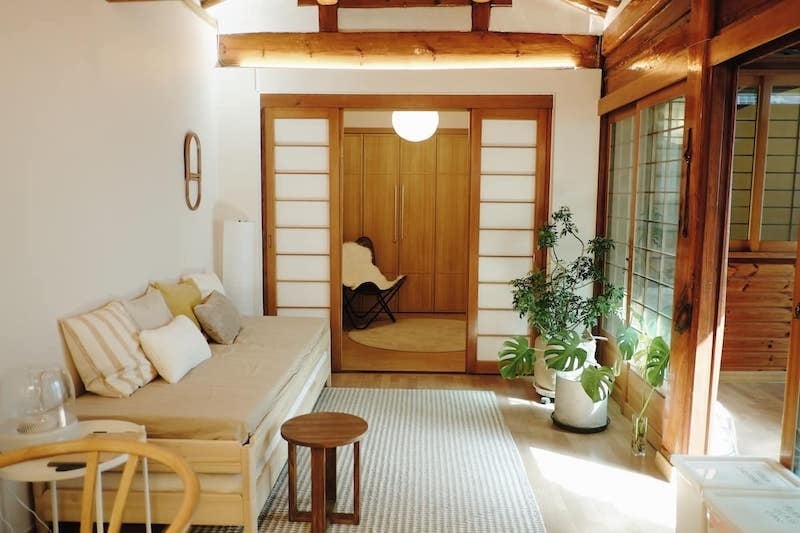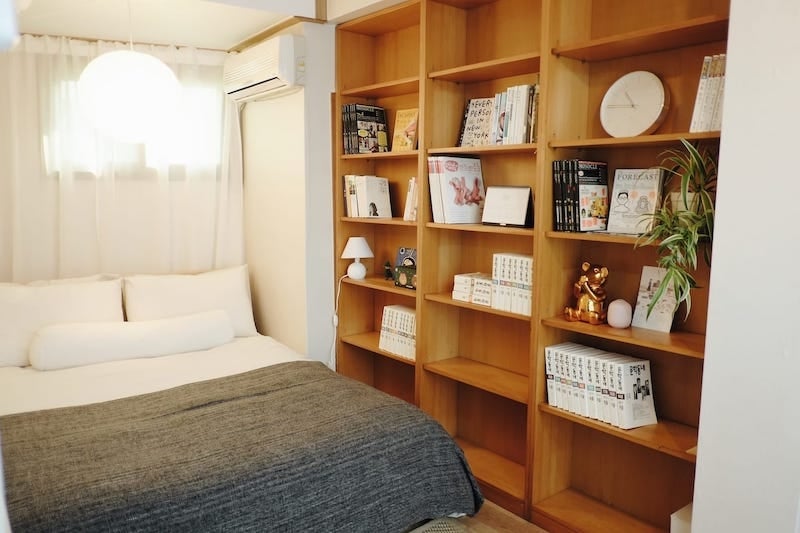 Listing name: Hyoja Stay: Modern Han-ok next to Gyeongbokgung
Listing type: Entire house 
Max. no. of guests: 4
No. of bedrooms: 2
Have you ever wondered what it's like to sleep in a Korean-style house? If so, then this remodelled hanok might just be what you're looking for.
Located in a quiet residential area near Gyeongbokgung Palace, this affordable Airbnb in Seoul is a minimalist retreat filled with books and potted plants. Modern technologies such as a fully-equipped kitchen and Wifi are still present, of course. But it's the traditional touches, like the panelled windows and courtyard, that make this place feel like a wonderful escape into the past. Learn more about this Airbnb here.
4. This sunny condo in Dongdaemun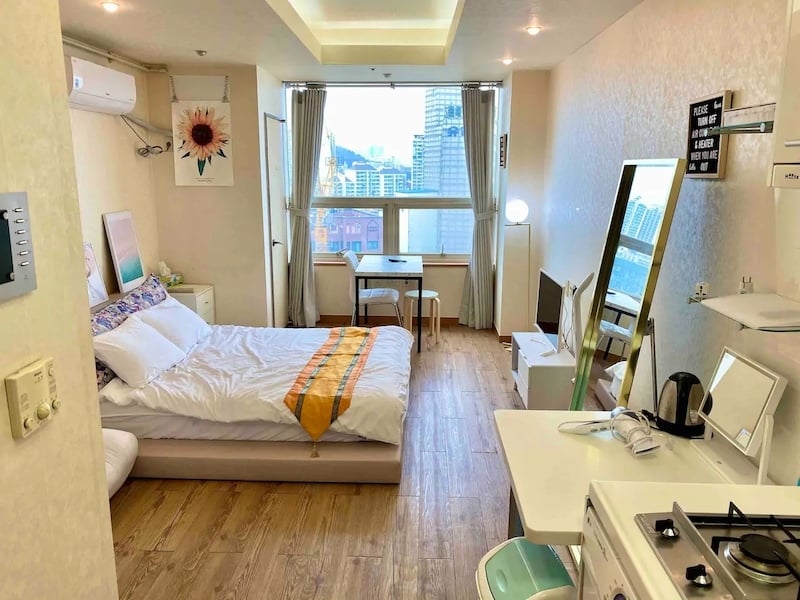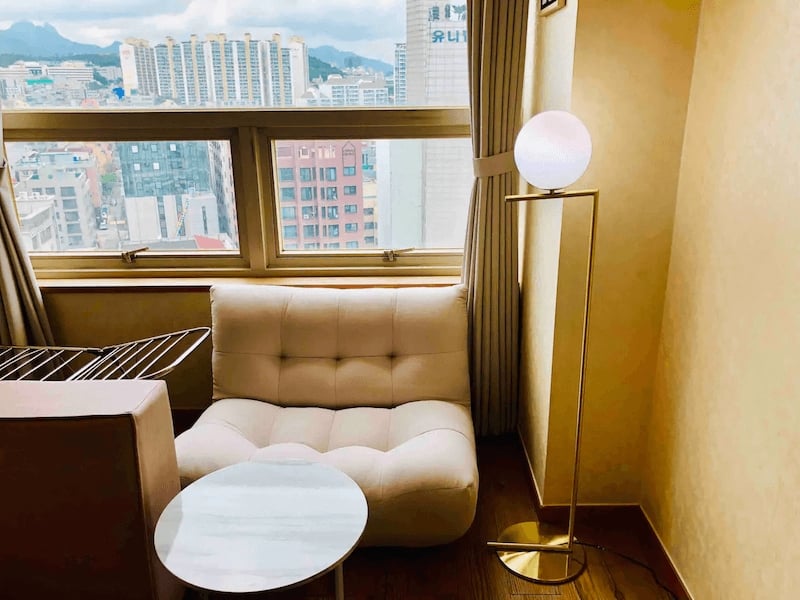 Listing name: 3) 1 min to Subway. Near Korea University 제기동역1분
Listing type: Entire condominium 
Max. number of guests: 2
No. of bedrooms: 1
Famous for its vibrant shopping area and late-night eats, Dongdaemun shouldn't be left out of your travel itinerary. For your adventures in this district of Seoul, we found a condominium in Dongdaemun that will make you feel right at home. 
Here, you get your own kitchen and workspace — and let's not forget, an amazing view of Seoul at your window! This strategically-located Airbnb in Seoul also keeps close to popular attractions, such as the Dongdaemun Shopping District and Korea University. Learn more about this Airbnb here.
5. The relaxing nest in Gangnam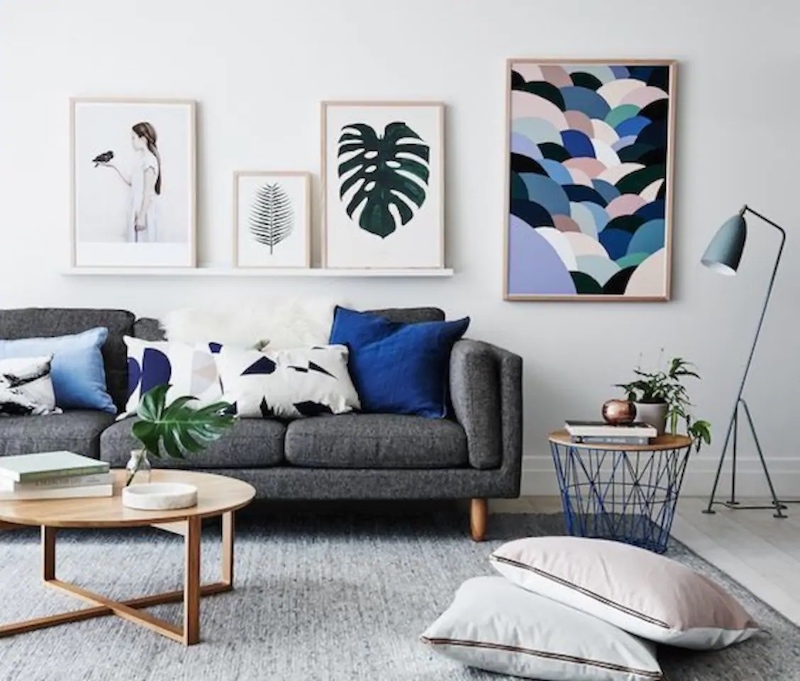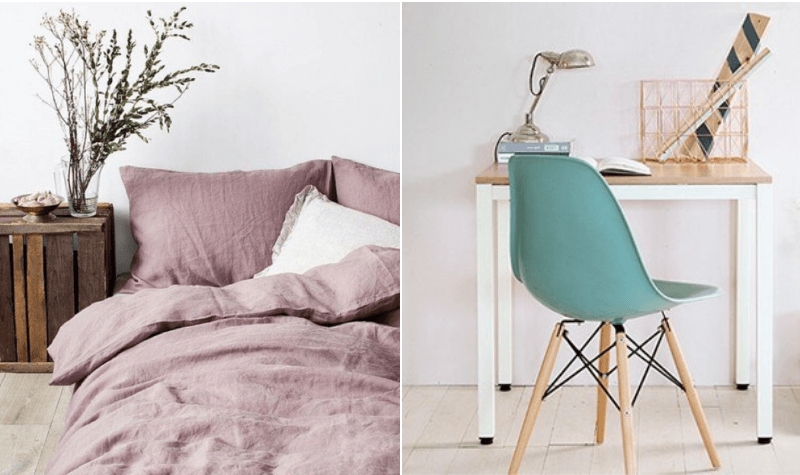 Listing name: Warm and relaxing house in Gangnam Sinsa
Listing type: Entire house 
Max. number of guests: 4
No. of bedrooms: 2
Imagine our surprise at finding this hidden gem in Gangnam! Despite its location in an upscale district of Seoul, this Airbnb is a calming and picturesque retreat that won't break the bank. In fact, it offers quite a bargain. It comes with a fully stocked kitchen, comfy interiors, heating, toiletries, and WiFi access for guests. 
Moreover, it's just a five-minute walk to Sinsa Station. Outside the house, you can find charming cafes, fashion boutiques, and ginkgo trees whose leaves turn gold in the fall. Learn more about this Airbnb here.
6. The bunker for a squad of four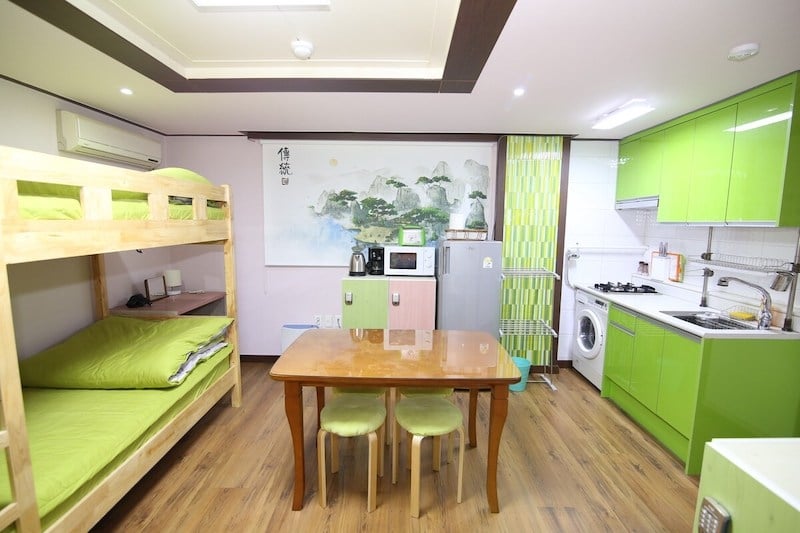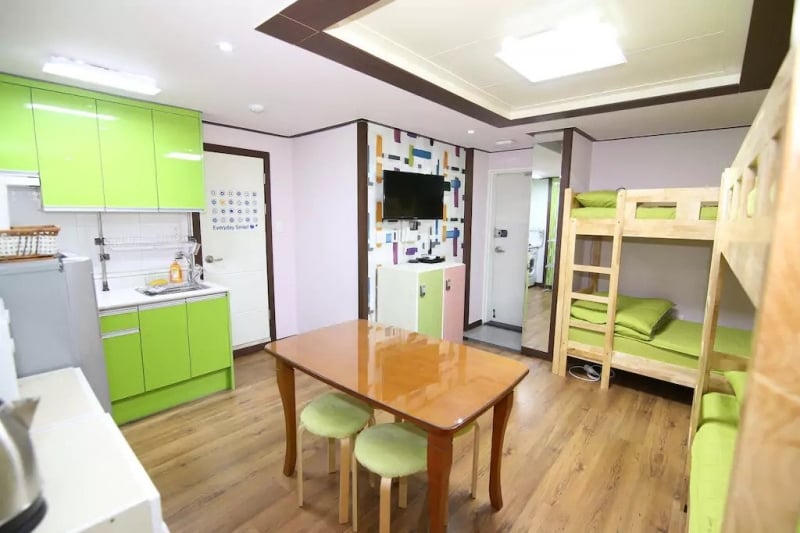 Listing name: Entire room, Private bath, Next to St. Market #201
Listing type: Entire apartment 
Max. number of guests: 4
No. of bedrooms: 1
Similar to the previous listing, this studio apartment is not in the city centre. However, that has not stopped guests from raving about its location. It's tucked in a quiet neighbourhood with markets, stores, cafes, and restaurants, and Amsa Station is just around the corner. The apartment comes ready with amenities like kettle, hairdryer, fridge, washing machine, and even safe units. The host, Sang, has previously gone out of his way to help guests with their transportation needs, from booking train tickets to purchasing the T-money card. Learn more about this Airbnb here. 
7. The Itaewon loft with K-drama vibes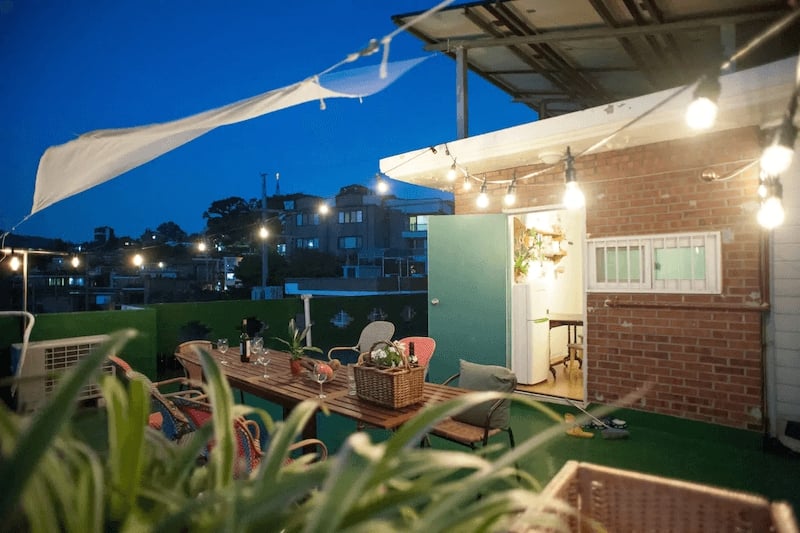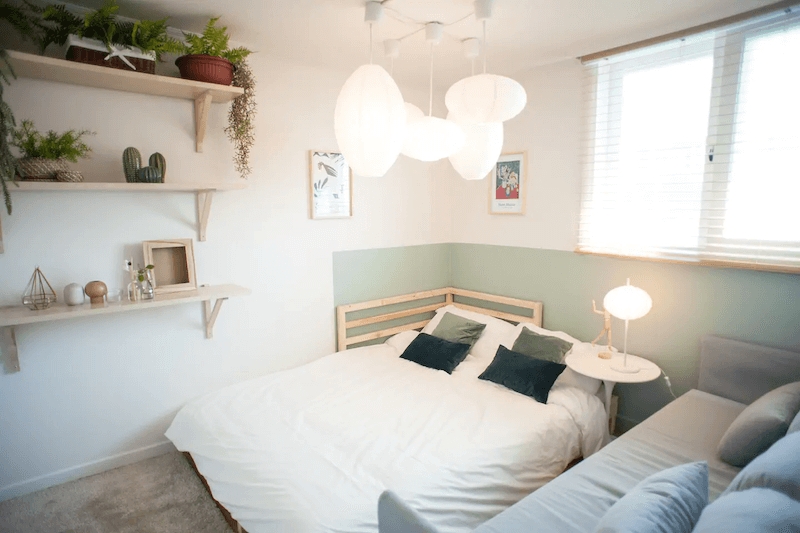 Listing name: ❤️ Rooftop N-Tower View
Listing type: Entire condominium
Max. number of guests: 3
No. of bedrooms: 1
Relive the swoon-worthy moments from your favourite K-dramas by staying at this condominium! Featuring scenic lookouts of Seoul, this Airbnb in Itaewon features a rooftop terrace, a home theatre, a comfortable dining area, high-speed Wi-Fi, and even a glimpse of Namsan Tower. 
Wind down with your travel buddies at the rooftop, where you can eat Korean barbecue and laugh the night away with soju. Sure, you may not have Park Seo-joon to gaze at the night stars with you; but hey, it's a pretty close call. Learn more about this Airbnb here. 
8. This cosy apartment with hotel-quality beds and sheets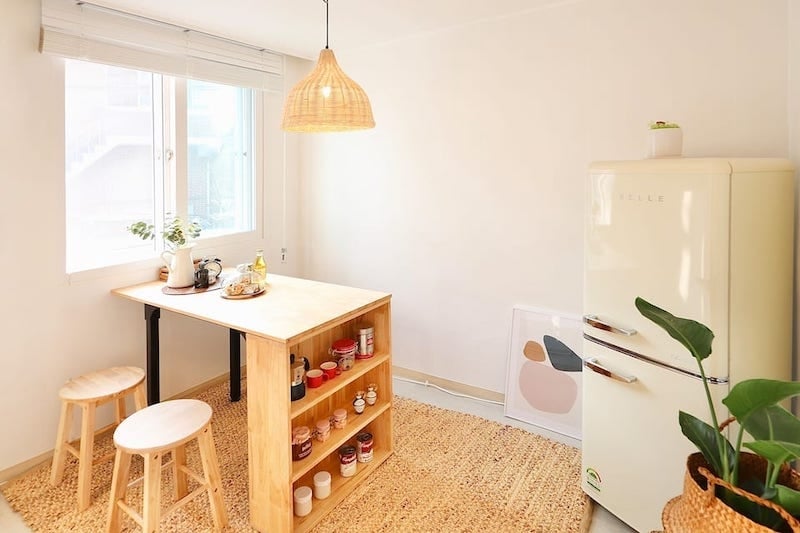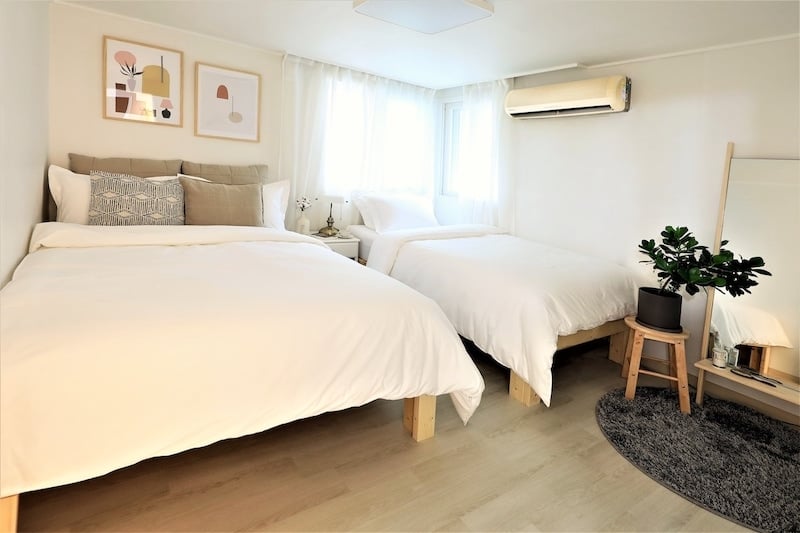 Listing name: 3min HongDae Stn★Hotel Quality Bed★Stunning Dining
Listing type: Entire house 
Max. no. of guests: 5
No. of bedrooms: 2
Ready to say goodbye to terrible jet lag? With hotel-quality mattresses and premium sheets, this Airbnb in Seoul spares no expense to make sure that guests are well-rested and sleep soundly through the night. Guests love this home for its squeaky clean interiors, the strong water pressure in the bathroom, the charming dining nook, and the fragrant scent that permeates every room. All of these features work together to create an abode that is very refreshing for travellers. Learn more about this Airbnb here. 
9. The peaceful home with garden views and a beam projector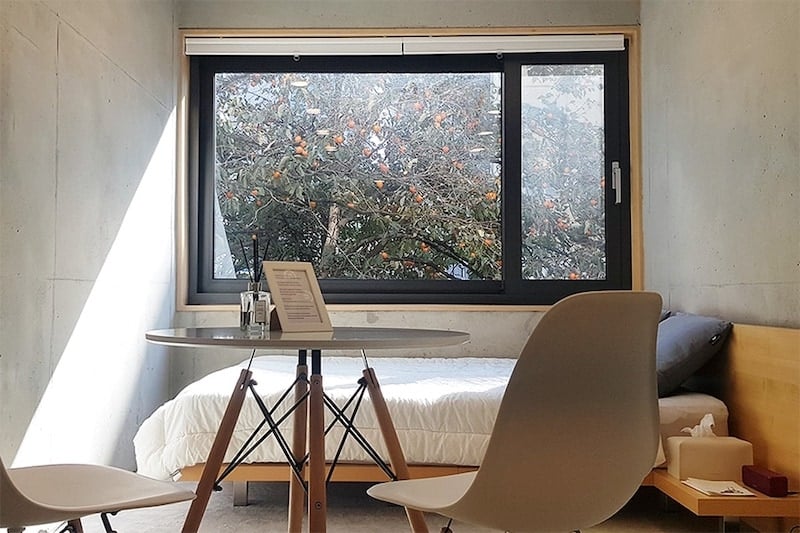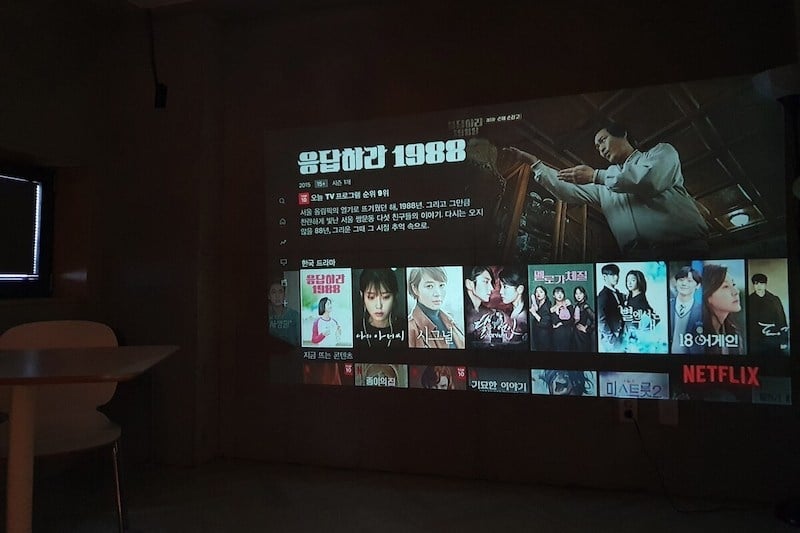 Listing name: 나무, 새, 고양이 [독채]
Listing type: Entire house 
Max. no. of guests: 2
No. of bedrooms: 1
One look at this spacious house and its equally generous bathroom, and you can already tell this Airbnb is far from your average home in Seoul. For one, the bedroom offers a scenic view of a persimmon tree outside. Second, the house is close to the subway station but manages to feel like a secluded retreat from the hustle and bustle of the city. On top of that, there's even a beam projector for guests who feel like binge-watching Korean dramas and movies all night long! Learn more about this Airbnb here. 
10. This apartment near Seoul Station with incredible views of the city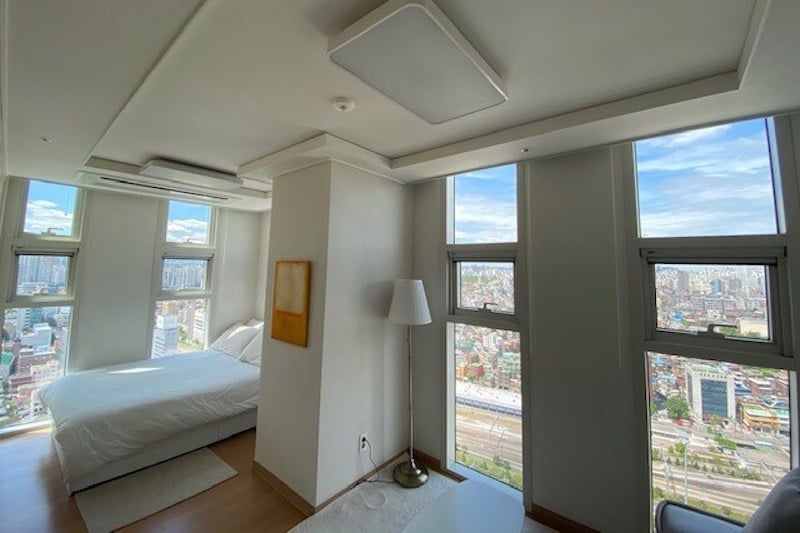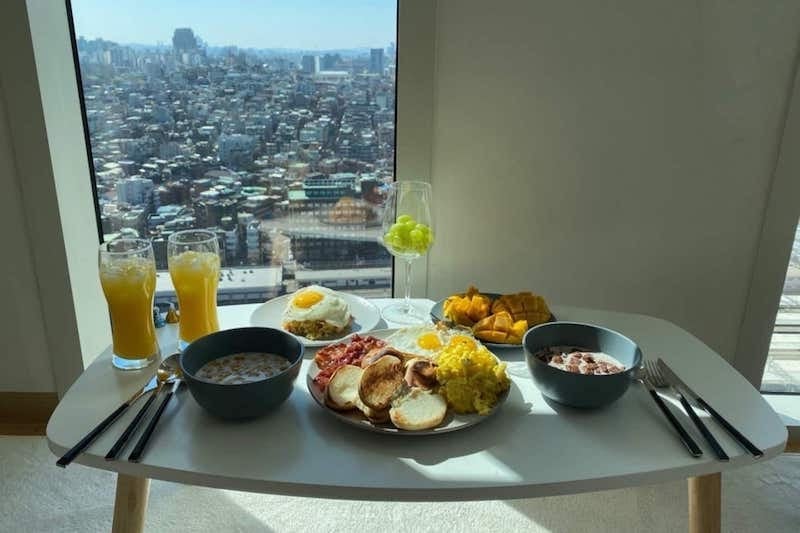 Listing name: Great view of seoul city⭐️SEOUL STN 3min/Free gym
Listing type: Entire apartment 
Max. no. of guests: 4
No. of bedrooms: 1
After a fulfilling day of sightseeing, come home to epic views of the city at this apartment near Seoul Station. It provides a queen-size bed for two adult guests and a sofa bed that can fit another person or two small kids. It also features a fully-stocked kitchen, a washing machine, a steam iron, and high-speed WiFi — in short, pretty much everything you'll need for a home away from home. Guests are free to explore the apartment building's facilities, such as the gym, sky lounge, and rooftop overlooking Seoul. Learn more about this Airbnb here.
Also read: 10 Cabin Retreats in South Korea for a Cosy Getaway [UPDATED 2021] 
With that, we hope that you're one step closer to finding your ideal Airbnb in Seoul without crying about sky-high prices! We know that all the money you saved is better spent on Korean snacks or a shopping spree.
Got a property you'd like TripZilla to feature? Inquire with us here.