Imagine cosying up by the fireplace, chilling on the porch with a cup of tea, and embracing life in the countryside. Now picture all that again, but in South Korea. Doesn't that sound like everyone's dream life? 
If you're craving a change of scenery away from Seoul, you can't go wrong by staying in a cabin in the woods. Far from your typical getaway, a good ol' fashioned cabin allows you to appreciate the beauty of nature and the changing seasons — and we all know South Korea is famous for their natural scenery. 
From Gangwon Province to Jeju Island in South Korea, these are our best picks for the most magical cabin retreats you can rent on Airbnb. So, put on that cottagecore playlist, throw on a cable-knit sweater, and let's hole up in these cabins in South Korea.
Also read: Where to Stay in Seoul: 14 Best Airbnbs in Seoul in 2021
Top South Korea cabin getaways on Airbnb
1. This storybook cabin nestled in a lush valley in Gangwon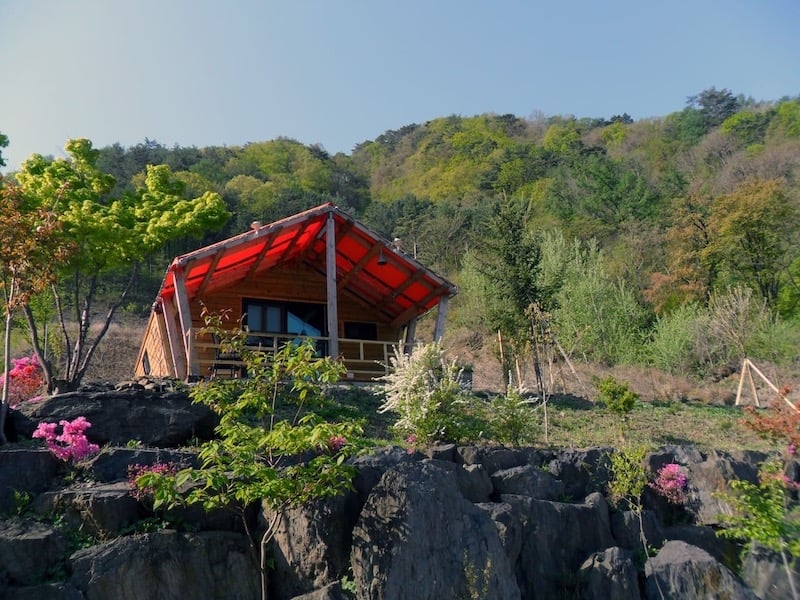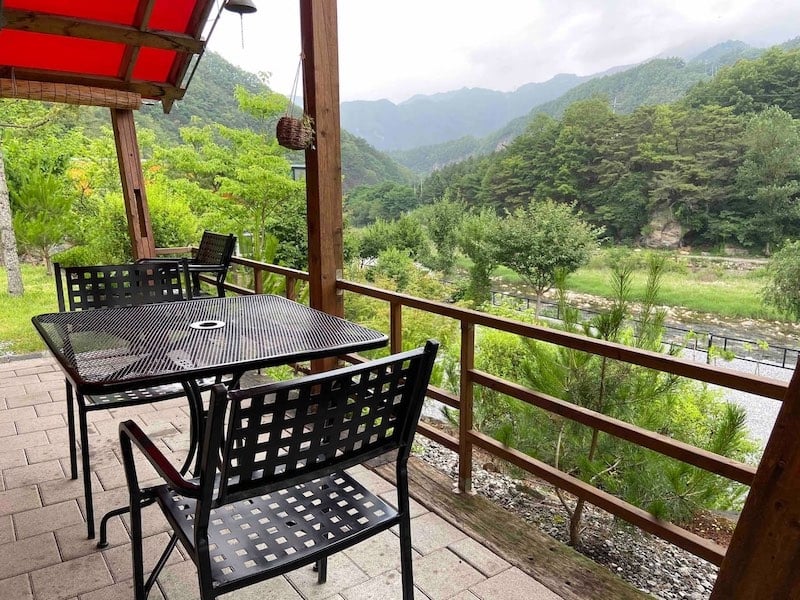 Max. no. of guests: 2
No. of bedrooms: 1 
We can already hear the birds singing around this cabin in Yeongwol County, Gangwon Province. With a garden and a patio, it's tailor-made for couples who want a romantic getaway in the beautiful countryside. If you leave your windows open, you can hear the sounds of the creek just outside. Peer just around the corner of the cabin, and you'll encounter a shallow river with clear water and hiking paths just a few metres away.
CHECK BOOKING OPTIONS IN GANGWON
2. This cosy cabin on Jeju Island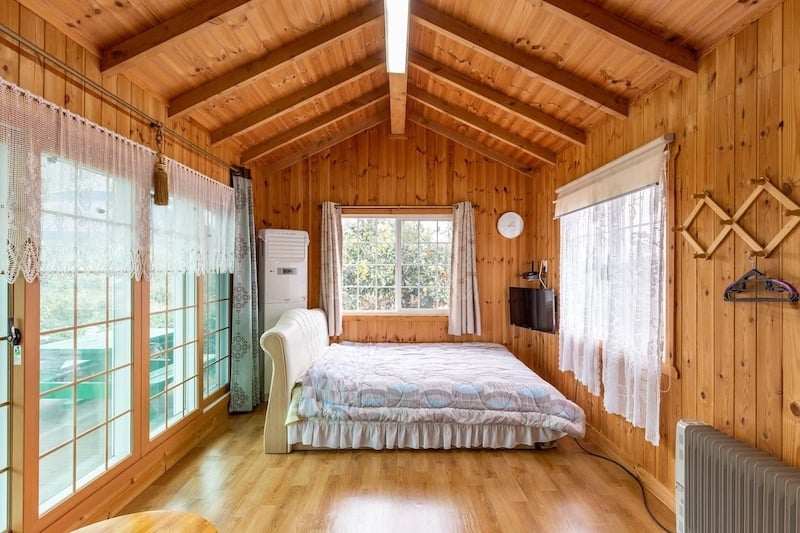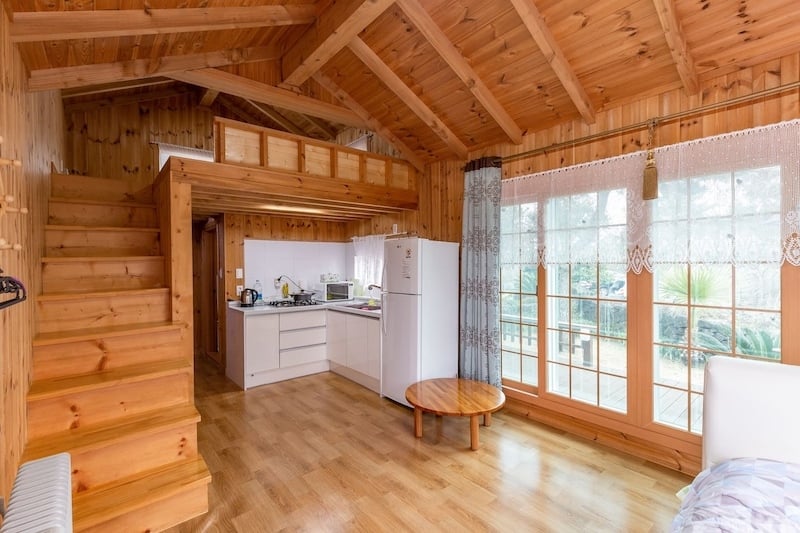 Location: Cheju, Jeju Province 
Max. no. of guests: 4
No. of bedrooms: 1
Jeju Island is an excellent choice to feel closer to nature in South Korea, and this wooden cabin on Airbnb looks like the perfect hideaway to escape to. With enough room for couples as well as families, it serves two main purposes: to help visitors enjoy sunny days at the beach and to offer a place of rest away from the tourist crowds when you need a break. Anytime you feel like splashing into the water, the cabin is less than ten minutes away from Hyeopjae Beach.
Also read: 10 Affordable Airbnbs For Your Next Trip to Jeju Island
CHECK BOOKING OPTIONS IN JEJU ISLAND
3. This sleek and sophisticated home that will remind you of Parasite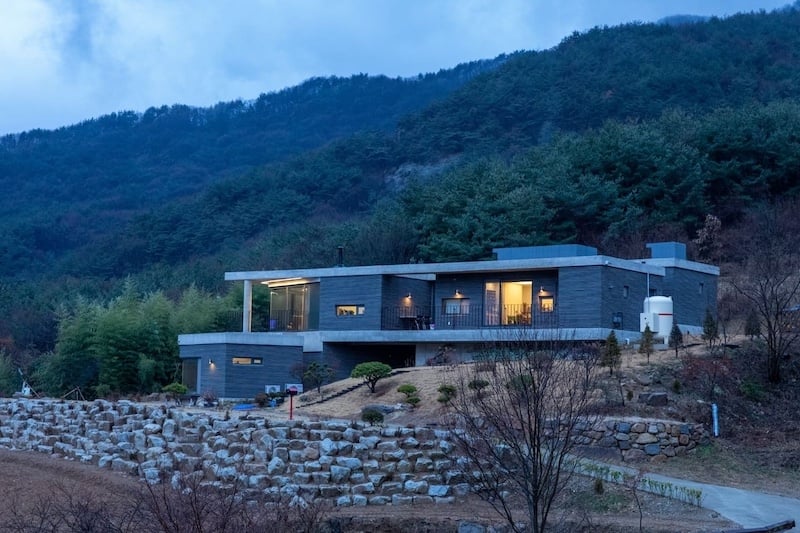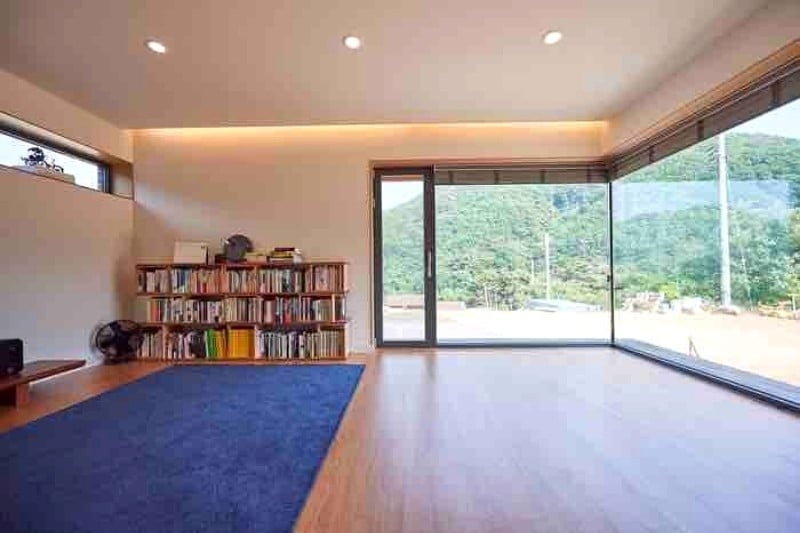 Max. no. of guests: 16
No. of bedrooms: 3 
For those of you who clicked on this article because you wanted to see an Airbnb that looked like the one in Bong Joon-ho's Parasite , we know you're out there, and we hear you. Behold this spitting image of the Park family's home, from the wide windows that face the garden to that unmistakable facade when, glimpsed at a distance, you can see the lights of the house flickering against the forest. The resemblance is uncanny, to say the least! 
While not strictly a cabin, this Airbnb in South Korea has all the rustic surroundings and seclusion of such a retreat. Plus, it takes it up a notch by having the modern amenities of a hotel — and that's the sweet spot right there.
CHECK BOOKING OPTIONS IN MUJU COUNTY
4. This romantic cabin in a quiet seaside town in North Jeolla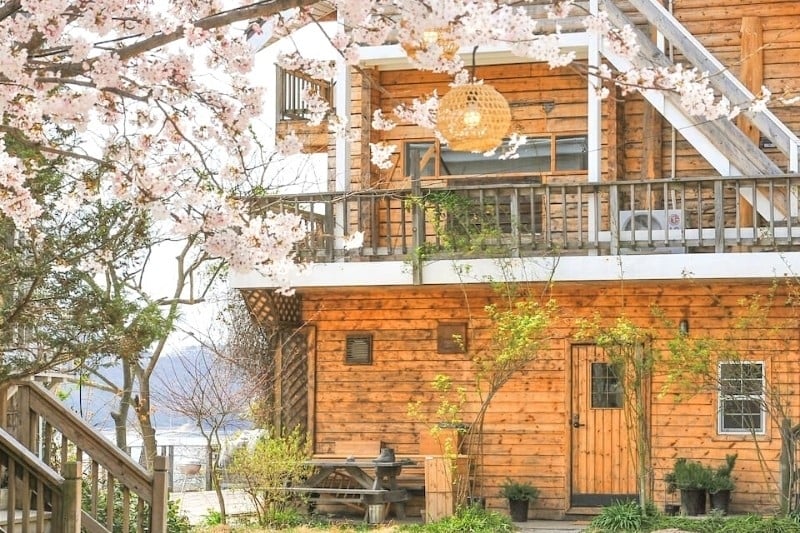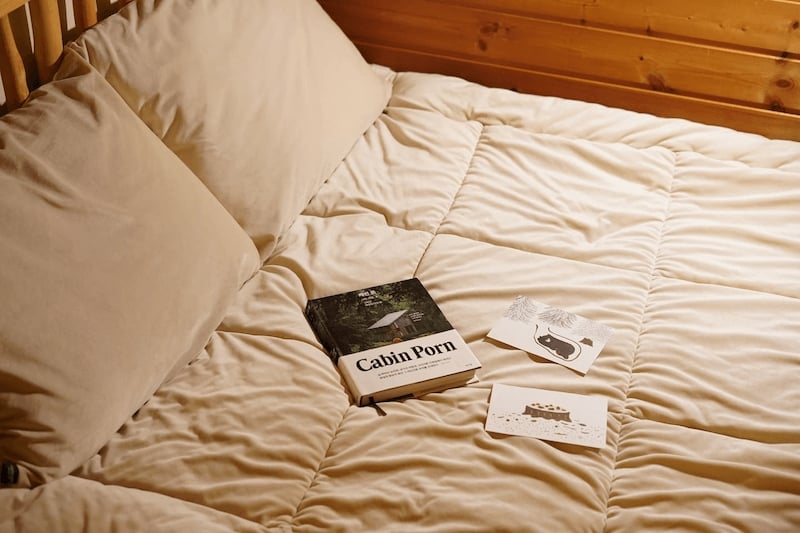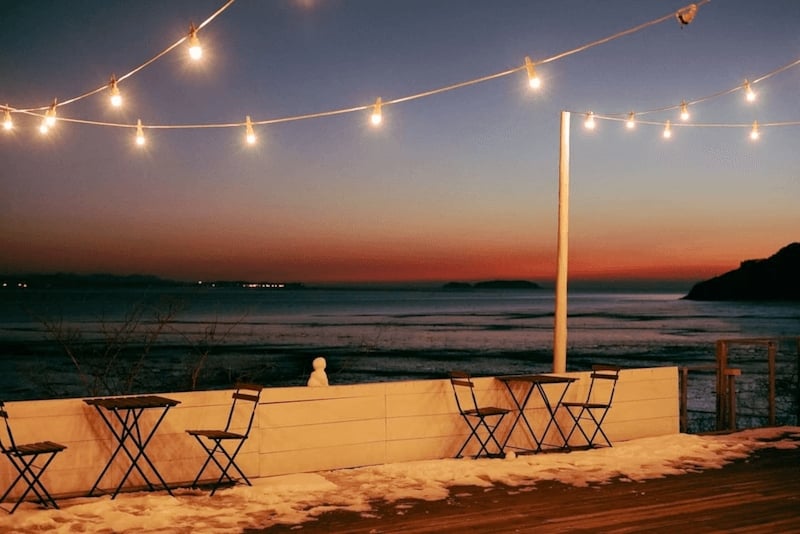 Max. no. of guests: 2
No. of bedrooms: 1
We've fallen hard for this wooden cabin with a cherry blossom tree out in the garden. Once you hear the waves of the sea and crack open a book by the window, it's easy to understand why so many guests have found inner peace at this quiet retreat in North Jeolla Province. When night arrives, why not take a page from your favourite characters in K-dramas and head to the rooftop? There, you can doze off under the skylights while watching the starry night sky.
CHECK BOOKING OPTIONS IN JEOLLA
5. This colourful hideaway on Jeju Island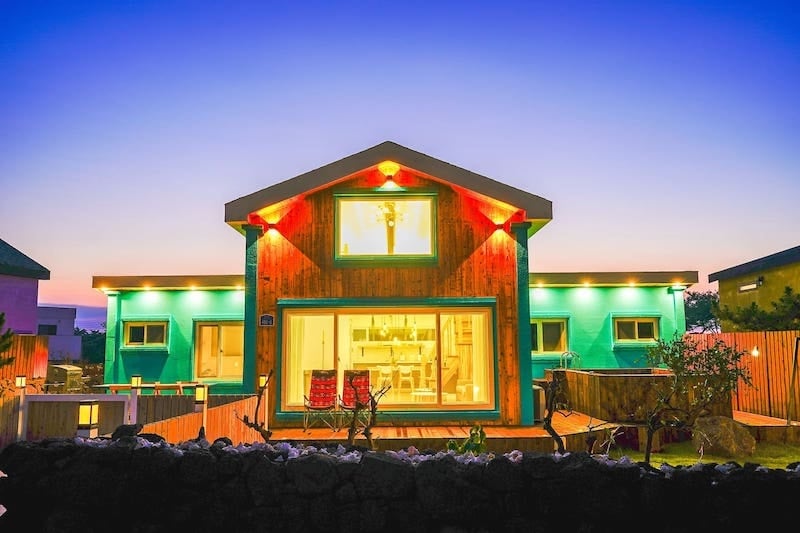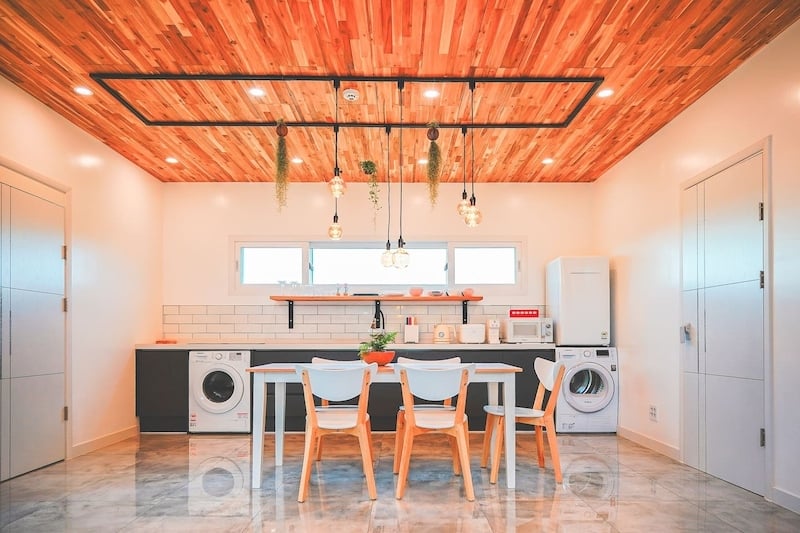 Max. no. of guests: 6
No. of bedrooms:  2 
How about adding a splash of colour into your itinerary with this well-lit home on Jeju Island? Set in an eco-village in Hangyeong-myeon, it comes with a well-equipped kitchen, an indoor fireplace, a private swimming pool, and a hot tub for guests to enjoy. Outside, the grassy backyard is perfect for setting up a campfire, grilling Korean barbecue, and stargazing as the fireflies appear in the evening. Even better, it's only a 10-minute drive to Geumneung Beach anytime you feel like going for a swim or watching the sunset melt into the sea.
CHECK BOOKING OPTIONS IN JEJU ISLAND
6. This woodsy retreat for art and music lovers in Pyeongchang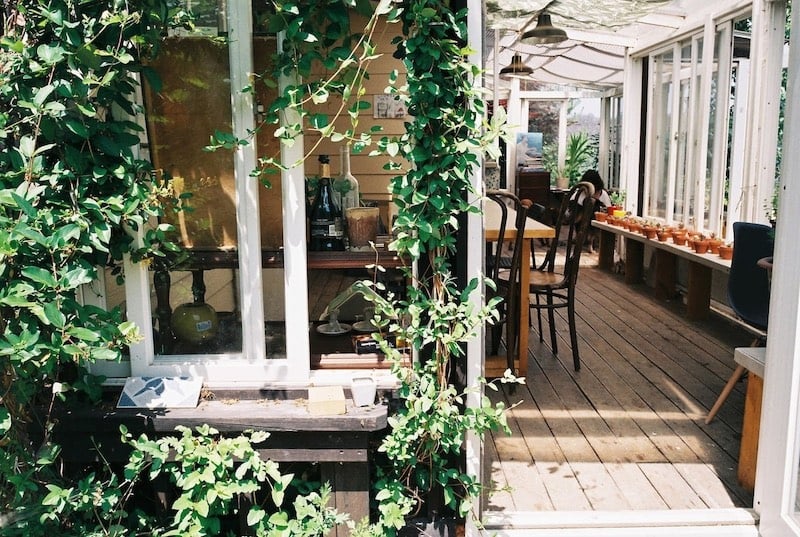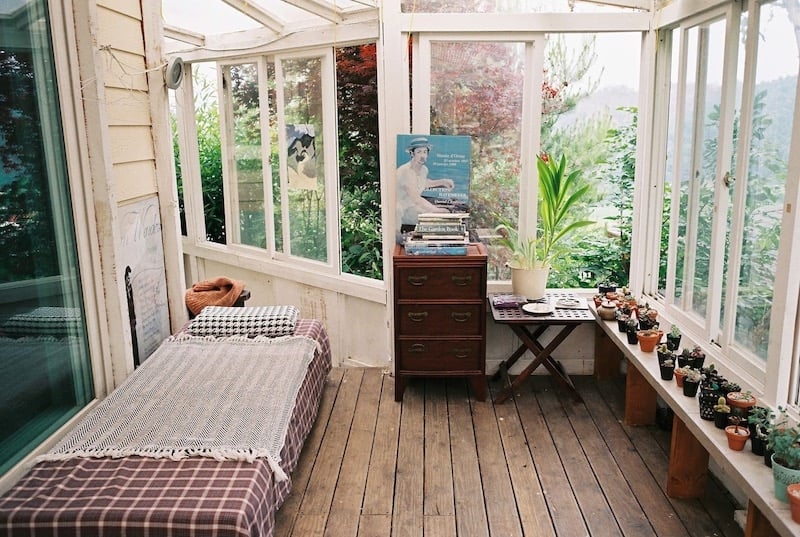 Max. no. of guests: 6
No. of bedrooms: 2
We think the owner was onto something when they named this house in South Korea the " Dreamer's Cottage." Sitting at 700 metres above sea level, it's a sanctuary that will allow you to replenish your energies inasmuch as it inspires you to create something new. The fact that it comes with a large open terrace and many indoor plants also helps to create a second home for you in Pyeongchang. Not a dull moment here, as you can always count on the owner's treasure trove of vinyl records and books to keep you pleasantly occupied.
CHECK BOOKING OPTIONS IN PYEONGCHANG
7. This rustic cabin near a forest trail in Yangyang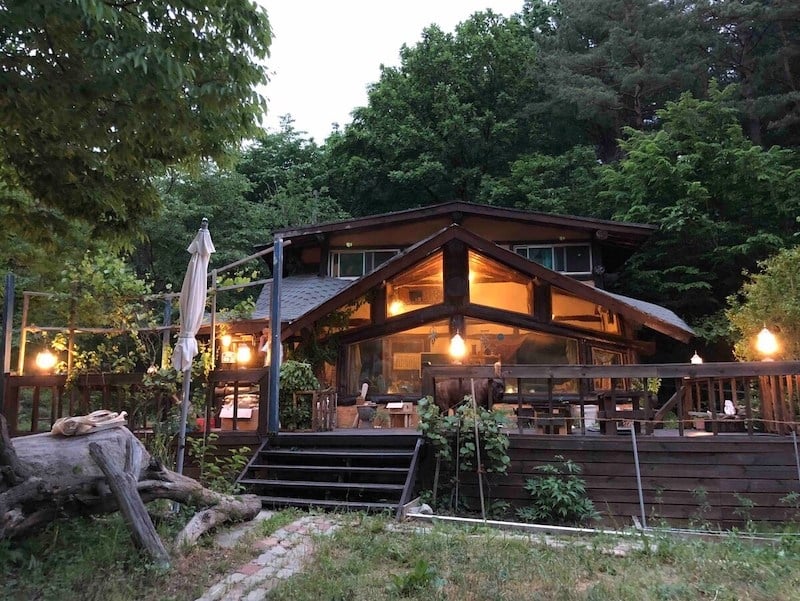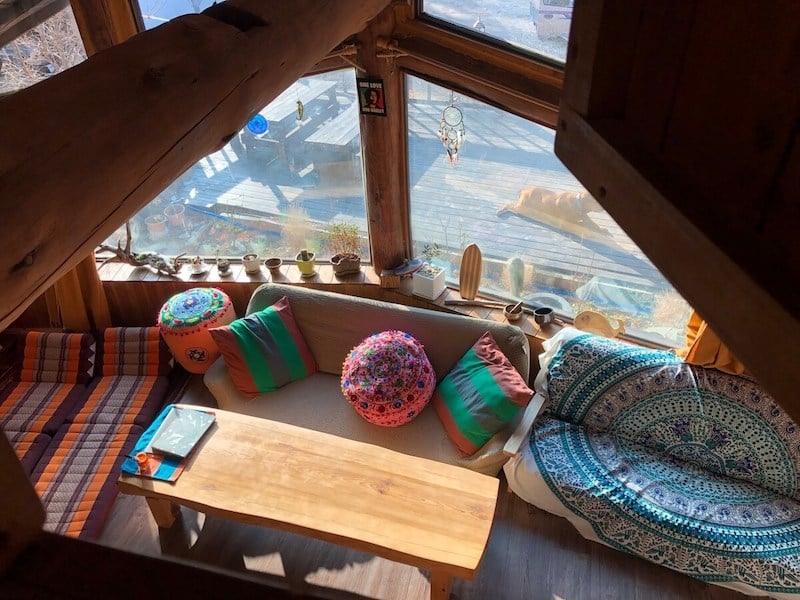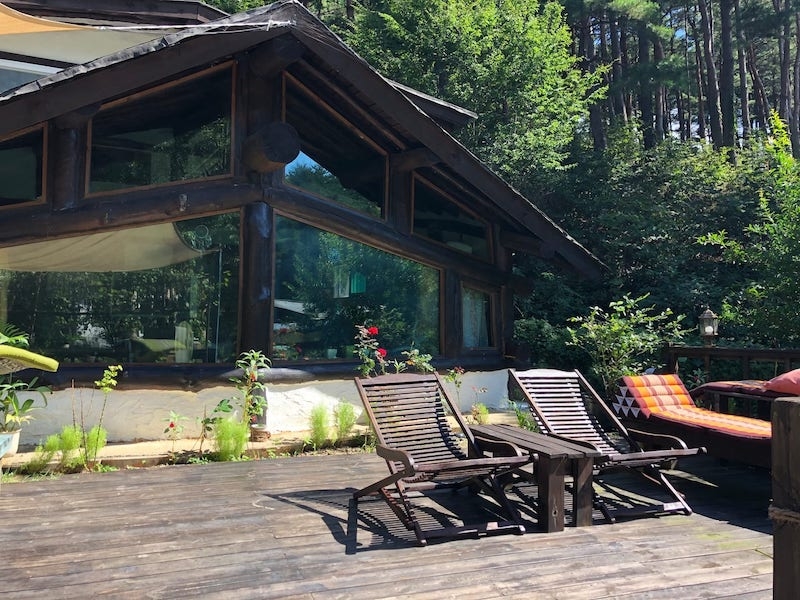 Location: Yangyang County, Gangwon Province 
Max. no. of guests: 6
No. of bedrooms: 2
If you're looking for outdoor adventures in South Korea, look no further than the " Wooden House Yangyang" cabin on Airbnb. Surrounded by birch trees in Yangyang County, this secluded cabin provides a deck with a barbecue table and a hammock for soaking up the breathtaking views of the forest. You can explore so many attractions nearby, from trekking the forest trails that lead to a rocky stream to visiting surfing-friendly beaches like Jukdo Beach and Namae Beach within driving distance.
CHECK BOOKING OPTIONS IN YANGYANG
8. This mountainside cabin with aesthetically pleasing interiors in Gyeonggi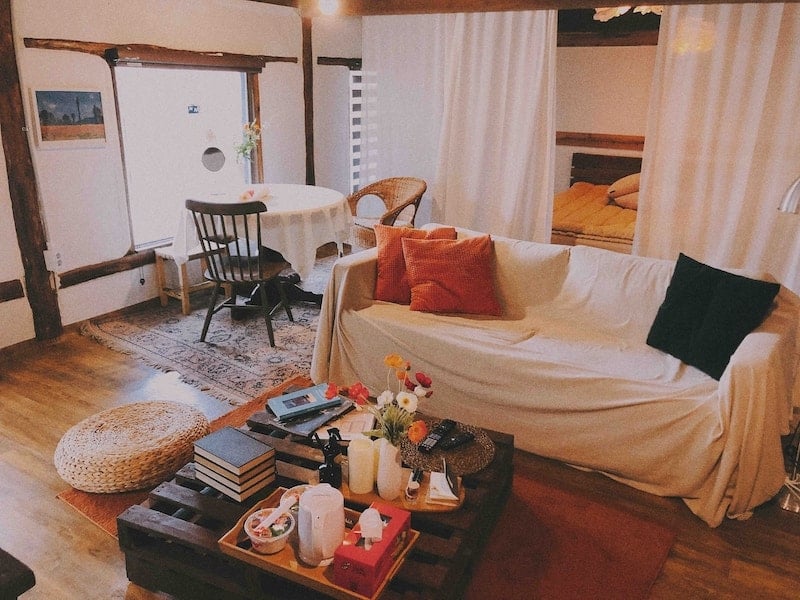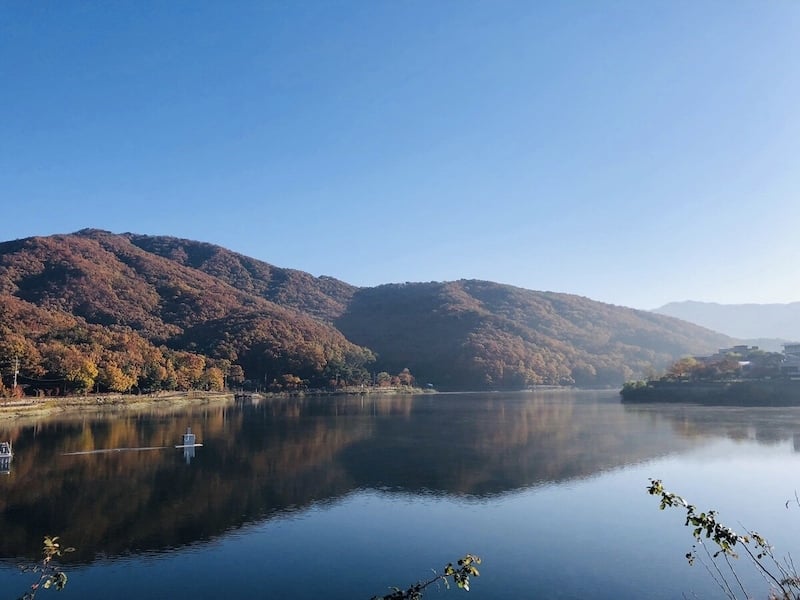 Location: Namyangju-si, Gyeonggi Province 
Max. no. of guests: 4
No. of bedrooms: 1
Affectionately called " Granma House" on Airbnb, this cabin in South Korea's Gyeonggi Province is ideal for travellers who want to experience the fresh mountain breeze. Your host Sungjun, together with the help of his mother and aunt, runs this property with a warm Korean hospitality that will make your stay worthwhile. Take it from previous guests, who have praised the authentic Korean dishes served at this cabin; in particular, the delicious chicken baeksuk or chicken stew from the host's mother. Besides the friendly reception and the eye-catching interiors, this cabin also benefits from its proximity to a valley and a small lake.
CHECK BOOKING OPTIONS IN GYEONGGI
9. This log cabin with a porch and a BBQ grill in Hongcheon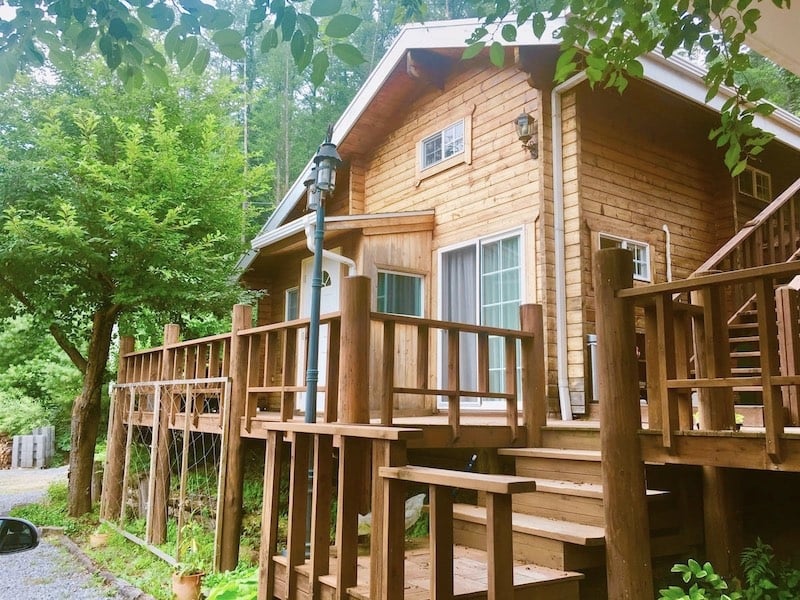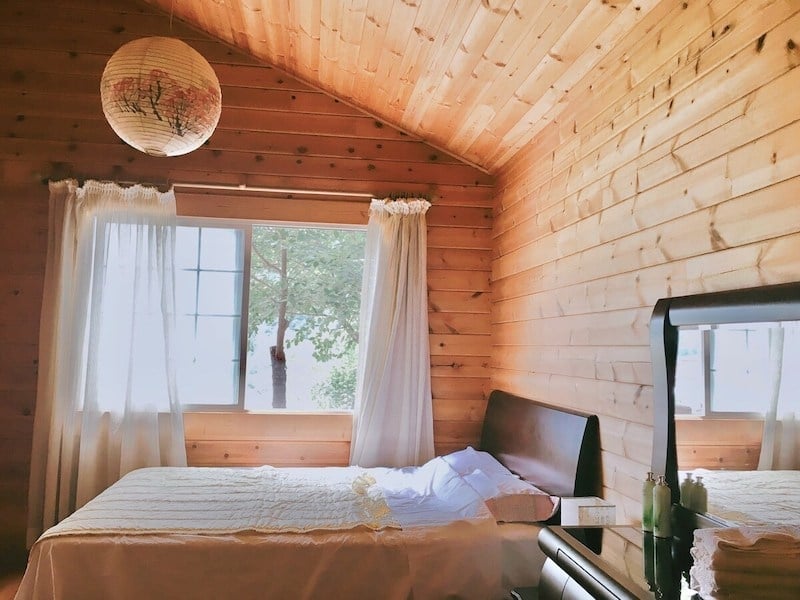 Location: Hongcheon, Gangwon Province 
Max. no. of guests: 4
No. of bedrooms: 1 
Thinking of going off-the-grid in Gangwon Province? Nestled in Hongcheon County, this log cabin built from cypress wood comes with a single bedroom, an attic, and an outdoor terrace. In the hot summer days, you can retreat to the porch with a book and a cup of coffee. Or you can fire up the barbecue grill for K-BBQ night s to keep you warm during the chilly winter. Up to four guests can stay at this cabin, which is just a five-minute walk to the nearest valley.
CHECK BOOKING OPTIONS IN HONGCHEON
10. This traditional hanok with cabin-style interiors in North HONGCHEON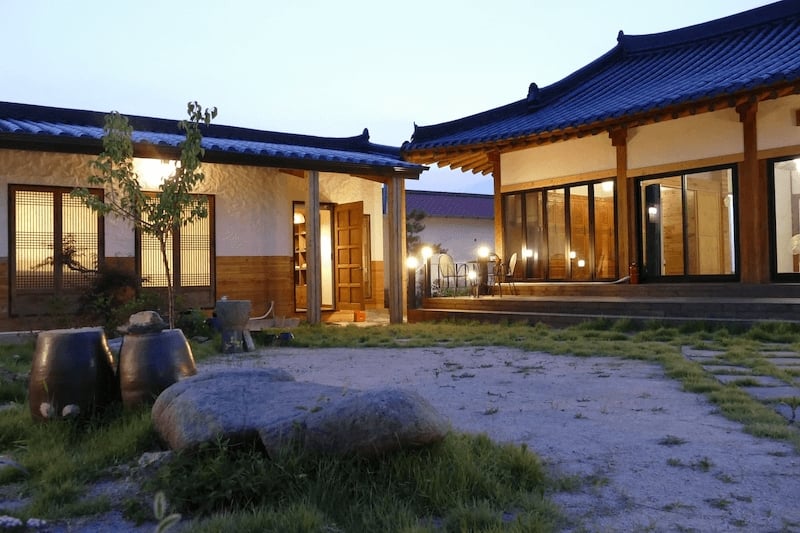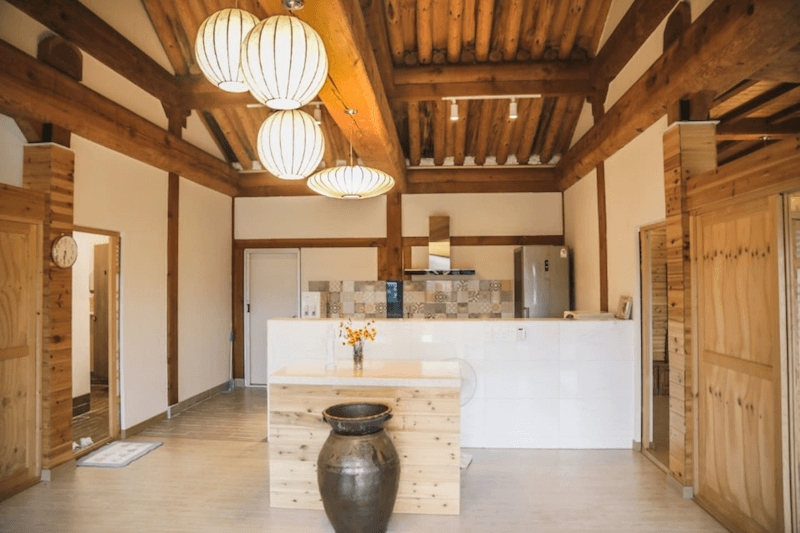 Max. no. of guests: 8
No. of bedrooms: 3
It wouldn't be an honest list of cabin retreats in South Korea if we didn't fawn over traditional Korean architecture. Combine the minimalist cosiness of a cabin with the zen ambience of a Korean-style hanok , and you get something like this picture-perfect stay in the North Gyeongsang Province. Originally designed as a café, the owner has since transformed the place into an idyllic oasis with a traditional garden. At night, you can watch the moon shine over this cabin in the most magical way — it's guaranteed to make your inner creative reach for a pen and paper.
CHECK BOOKING OPTIONS IN HONGCHEON
Also read: 10 Chic Airbnb Listings for Your Next Stay in Seoul
Did you find the right cabin retreat for you? Since your location makes a huge difference in your stay, take your time picking through these cabins in South Korea before you book one on Airbnb. Happy travel planning!