Home to spectacular beaches, grand temples, and majestic mountain ranges, Sri Lanka is a top choice for all adventurers at heart. Affordable yet chock-full of scenic tourist attractions, an impressive variety of activities, and a delicious local cuisine, this South Asian island country seems to have it all. Also deemed to be a tropical paradise teeming with wildlife, Sri Lanka has tons of unique Airbnbs situated in the wilderness. They're guaranteed to make nature-lovers feel right at home in the great outdoors. 
Also read: What to Expect When Travelling to Sri Lanka: Expectations vs. Reality
Keep reading to discover our top Airbnb picks that'll surely get you fantasising over an exhilarating Sri Lankan adventure! (By the way, they're all listed by Superhosts!)
1. A sweet oasis surrounded by lush gardens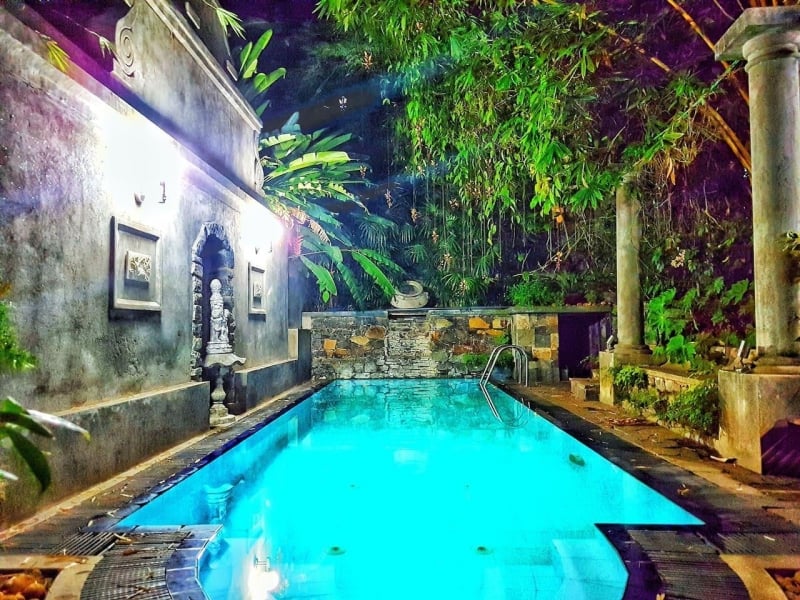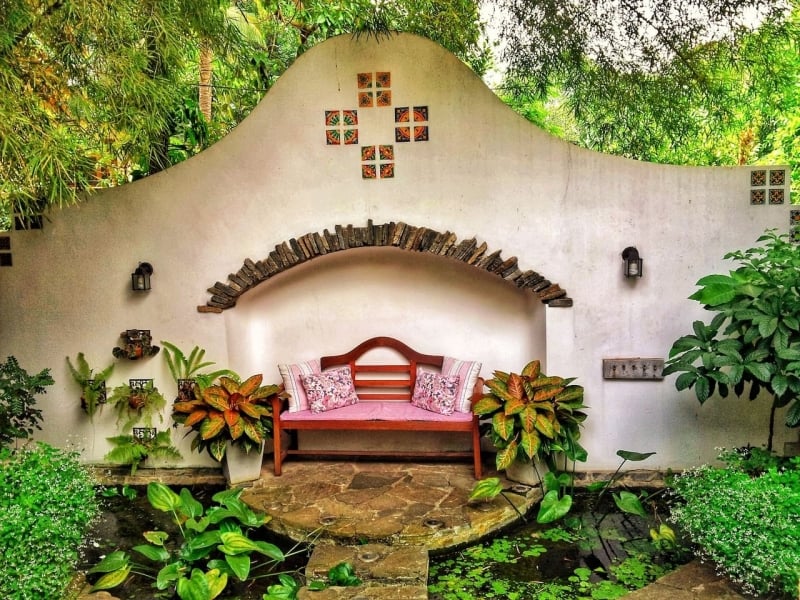 Listing: Boutique Villa with a Pool
Listing type: Private room in an apartment
Max. no. of guests: 2
No. of bedrooms: 1
A delightful boutique villa for two, this Airbnb in Sri Lanka is absolutely perfect for a romantic getaway! It features picturesque gardens, a private pool, and a charming terrace where you and your partner can enjoy each other's company. Sounds like a classic scene for setting off sparks and falling in love all over again! Learn more about this Airbnb here.
2. A jungle villa away from the hustle and bustle of the city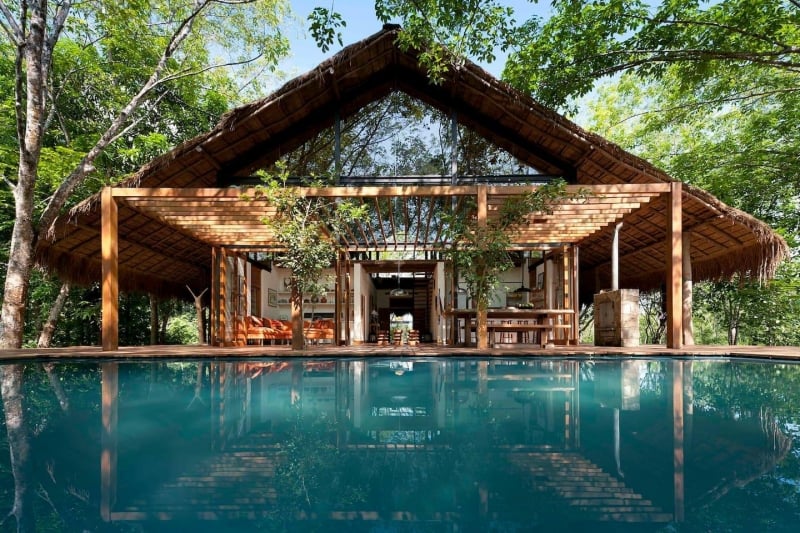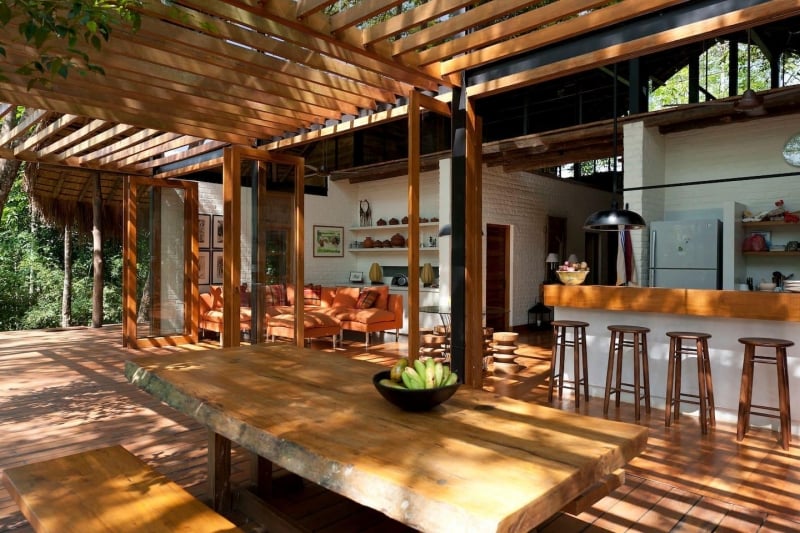 Listing: Sri Lankan Tropical Retreat
Listing type: Entire Villa
Max. no. of guests: 9
No. of bedrooms: 5
Hosted by Shanaugh, a Kundalini Yoga Teacher, this all-natural listing proves to be an amazingly eco-conscious choice for dedicated environmentalists! Situated in the middle of a thick jungle, this Airbnb is an incredible choice for travellers who feel most at peace when surrounded by nature.
Just picture yourself waking up to the glimmer of soft, natural sunlight and listening silently to the sounds of the exotic jungle. Wouldn't it be lovely to leave your worries here and meditate to your heart's content amidst such captivating scenery? Learn more about this Airbnb here.
3. A tropical getaway within arm's reach of the beach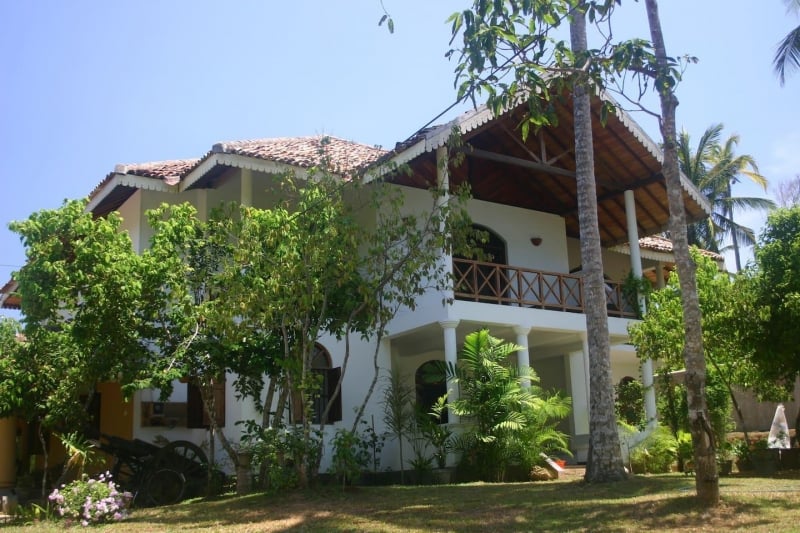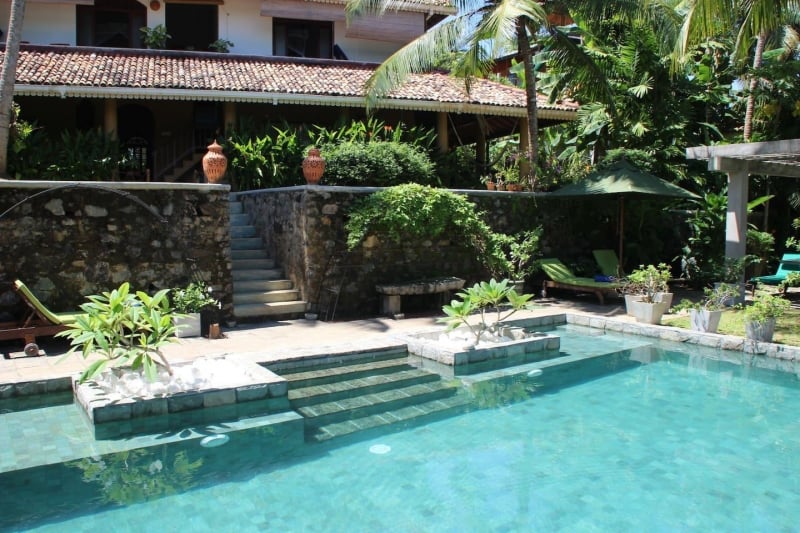 Listing: The Spice House Mirissa
Listing type: Private room in bed and breakfast
Max. no. of guests: 2
No. of bedrooms: 1
Say hello to refreshing infinity pools, gorgeous tropical gardens, and lovely strolls along the beach! This Airbnb in Sri Lanka is perfect for anyone who can't stand to be away from sandy shores and warm ocean waters for long.
A short walk away from Turtle Beach, The Spice House Mirissa is every beach bum's paradise. We were instantly intrigued by this listing after reading about one previous guest's incredible experience — she spotted a few turtles and even got to swim with them! How lucky! Learn more about this Airbnb here.
4. An absolutely stunning dream house overlooking a lake and coconut plantations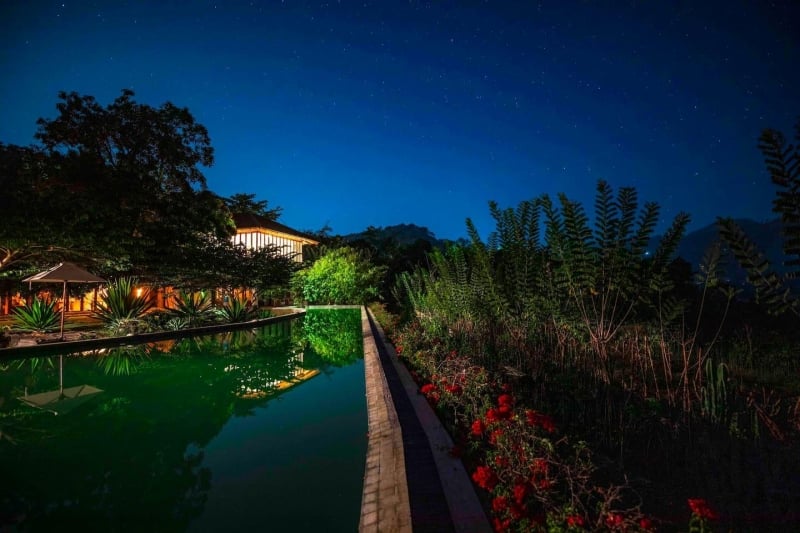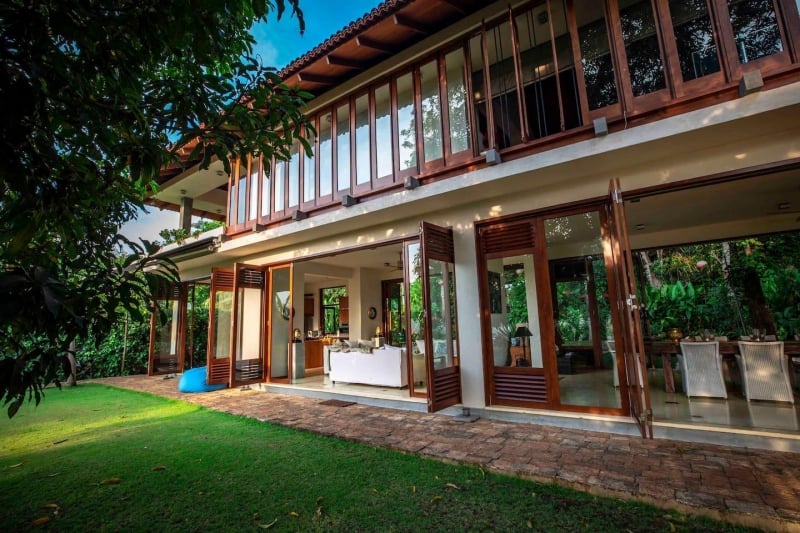 Listing: Amba Villa, Beautiful, Contemporary and Scenic
Listing type: Entire Villa
Max. no. of guests: 4
No. of bedrooms: 2
Looking at these photos, we couldn't imagine how a home as divine as this could exist in real life — and yet here it is, completely within our grasp!
Picture this: You and your friends engaging in heartfelt conversations, under a moonlit sky bursting at the seams with twinkling stars. In the mornings, you won't be able to help rising a little bit earlier than usual to watch the sun rise majestically over the mountains. Top it all off with a glorious swim in the 25-metre infinity pool, and this spectacular home is unbeatable! Learn more about this Airbnb here.
5. A quaint, countryside home for a stress-free escapade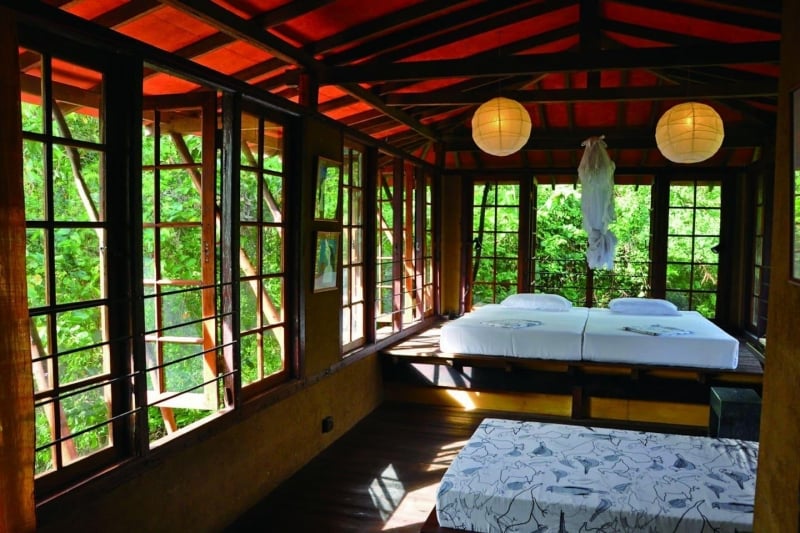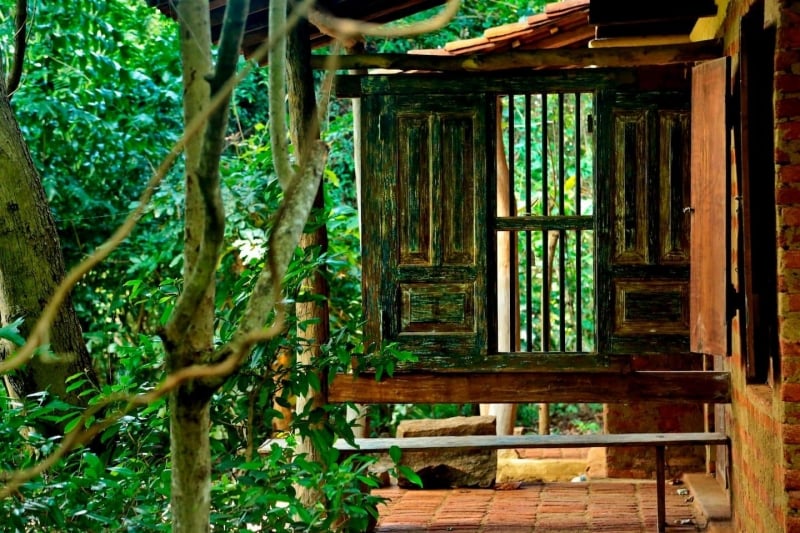 Listing: GALKADAWALA FOREST LODGE, HABARANA. (a).
Listing type: Private room in treehouse
Max. no. of guests: 3
No. of bedrooms: 1
Another ecologically responsible Airbnb in Sri Lanka, this forest lodge has an inspiring backstory. Discovered in 2006, this previously deforested land was restored into a flourishing habitat for the jungle's flora and fauna.
Nature trekkers and bird lovers will adore taking long walks along the forest's abundant trails. Astonish yourself with the wonder of nature as you watch the creatures at play — monkeys gleefully climbing tree branches, butterflies fluttering their vibrantly coloured wings, and geckos skilfully catching insects to eat! Learn more about this Airbnb here.
6. A glimpse of heaven up in the mountains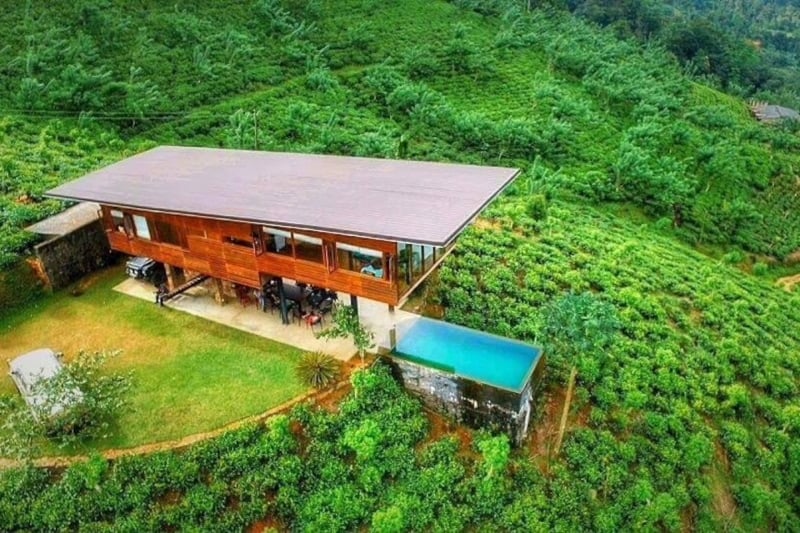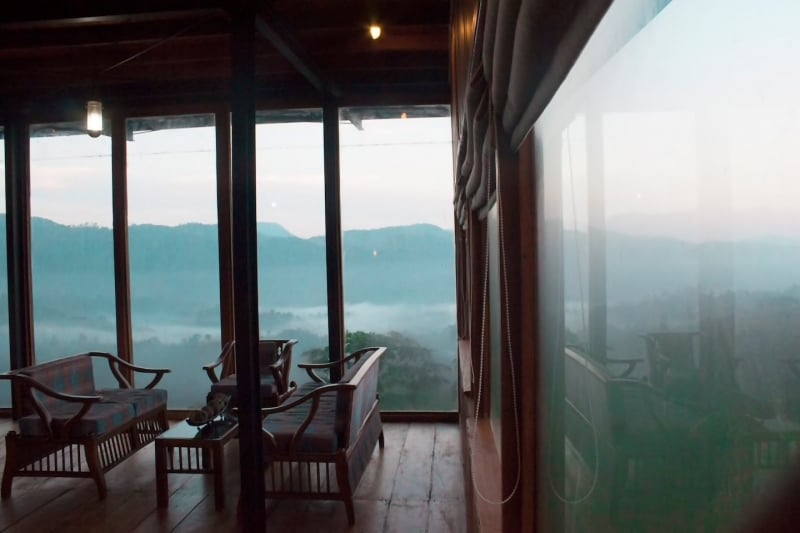 Listing: Nest Wood Bungalow -Sinharaja, Kalawana
Listing type: Nature lodge
Max. no. of guests: 8
No. of bedrooms: 2
Up in this magical lodge, feel closer to the heavens than ever before! Get a 360-degree view of the striking mountain ranges set against the most breathtaking backdrop — the ever-changing skies that emerge into a multitude of resplendent colours.
This home also boasts of large windows for panoramic views of the marvellous surroundings! Enjoy fireflies lighting up the night sky as you take a dip in their small yet aesthetically beautiful pool. Learn more about this Airbnb here.
7. A phenomenal treehouse that would make your inner child go nuts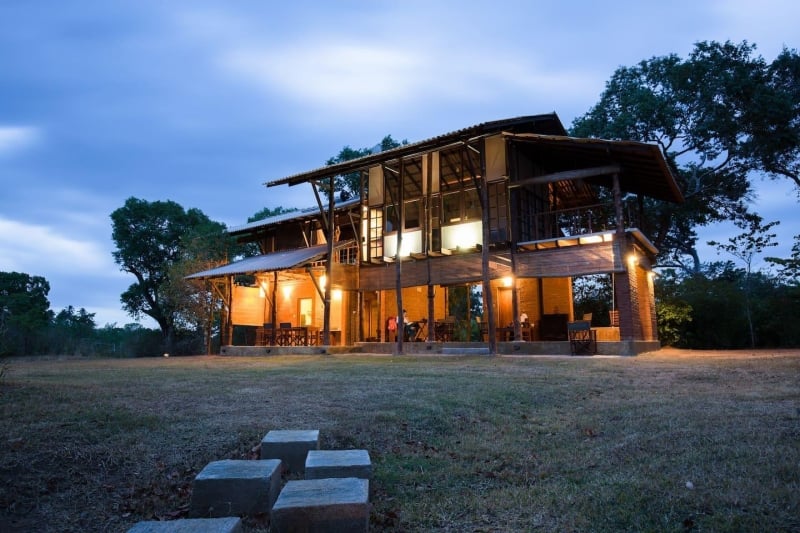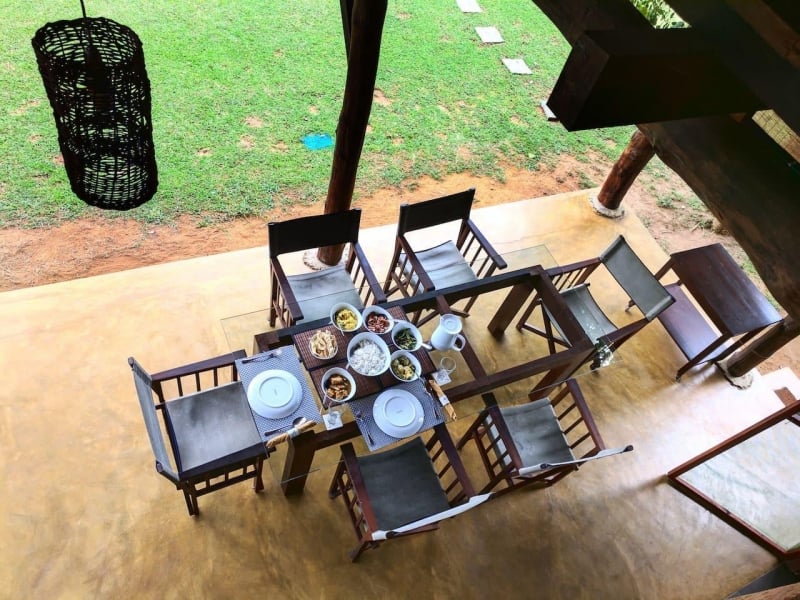 Listing: Far Cry Kumbukkalli Forest Retreat
Listing type: Entire villa
Max. no. of guests: 8
No. of bedrooms: 2
Nestled in Sri Lanka's quiet countryside, this extremely quaint home is the perfect mixture of rustic charm and timeless elegance. The wooden interiors speak of warmth and cosiness — the ideal setting for an intimate gathering with friends or family. 
Best of all, the outdoor pool couldn't seem more inviting. After a full day out in the humid climate of Sri Lanka, imagine taking a refreshing swim in the pool — how invigorating! Learn more about this Airbnb here.
Also read: Treehouse Airbnbs: Fall in Love with These Listings from Around the World
8. An aesthetically pleasing home among cinnamon fields and rich jungle greenery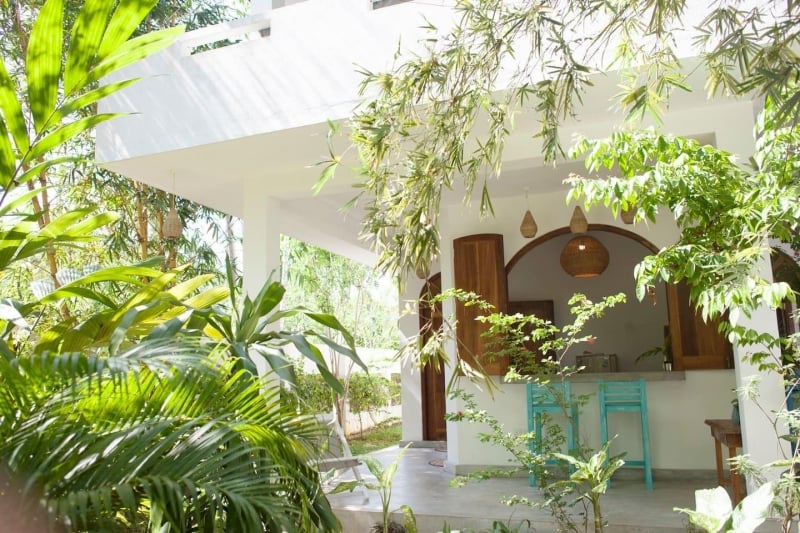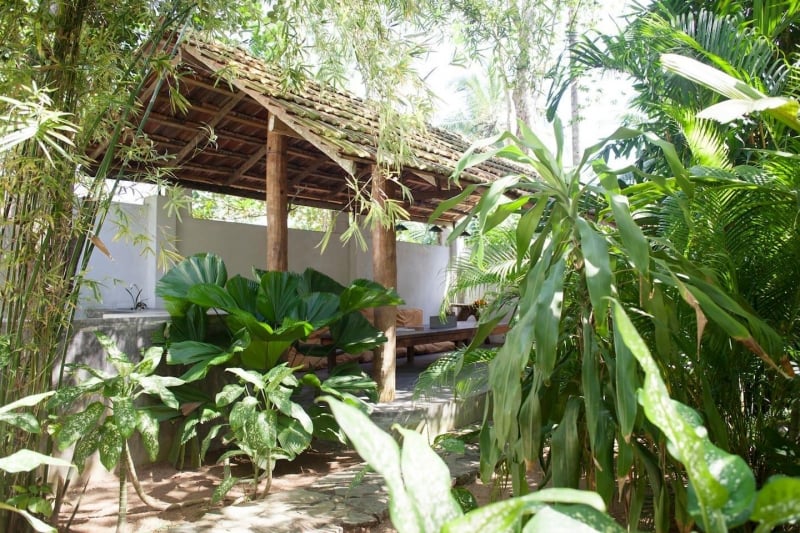 Listing: Banana Leaf apartments-Bamboo room
Listing type: Entire apartment
Max. no. of guests: 2
No. of bedrooms: 1
This home would probably pass Marie Kondo's standards in an instant — it's that spotless. Sparklingly clean while still maintaining a charming, rustic vibe, this Sri Lanka Airbnb is an excellent choice for travelling couples. If you're fortunate enough, you might even catch a peek of peacocks, kingfishers, and monkeys!
Another awesome plus is that Amila, one of the hosts, is also a surf instructor. So, if surfing is part of your itinerary, you might be stoked to find a pro within easy reach! Learn more about this Airbnb here.
9. A quaint little cottage in the woods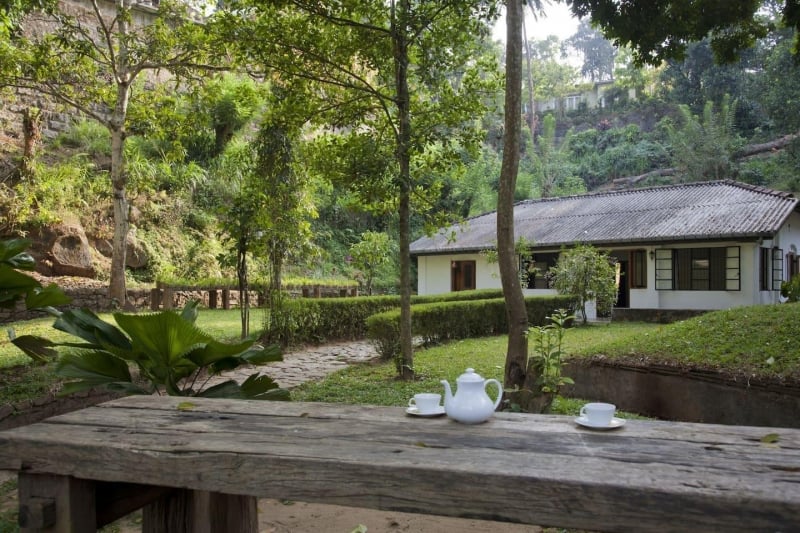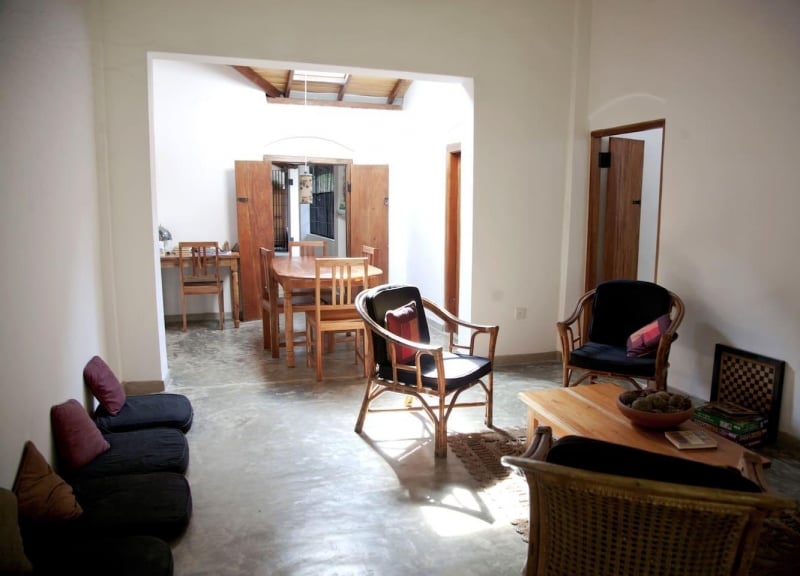 Listing: Kandy Cottage - Creative Space
Listing type: Private room in nature lodge
Max. no. of guests: 2
No. of bedrooms: 1
At this Sri Lanka Airbnb, get the feel of residing in your own whimsical little cottage. It's almost like living straight out of a storybook fairytale! A mere 10 minutes away from Kandy's City Centre, this tranquil home is a hidden sanctuary near the bustling city. Learn more about this Airbnb here.
Also read: 7 Things to Do in Kandy, Sri Lanka
10. A picturesque lakeside bungalow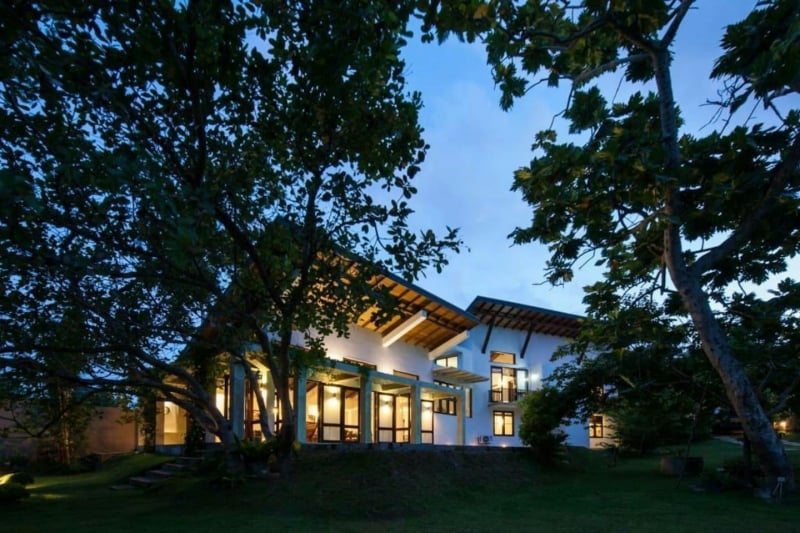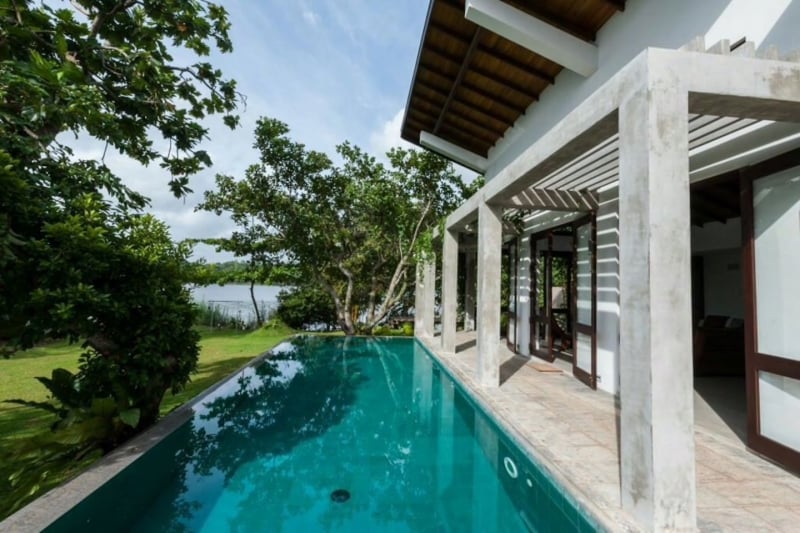 Listing: Villa Ananya
Listing type: Entire villa
Max. no. of guests: 6
No. of bedrooms: 3
The perfect vacation home for you and your best friends, this lakeside wonder couldn't be more fantastic. This three-bedroom bungalow overlooks the idyllic Bolgoda Lake, where you can spend afternoons riding around in a boat.
According to reviews, the host sometimes takes guests out boating himself — talk about true hospitality! You might even get the chance to mingle with local fishermen who hang around the lake to nab their daily catch. A distance away from the typical tourist areas, this home is an ideal choice for anyone looking for some much-needed R&R! Learn more about this Airbnb here.
Also read: Sri Lanka on a Budget: My 10-Day Itinerary & Cost Breakdown
What are you waiting for? One of these nature-inspired Airbnbs in Sri Lanka awaits you! We'll see you there!