Anyone fascinated by history or Greek mythology will certainly have Athens on their travel bucket list. The stunning city was the heart of Ancient Greek civilisation, and while it's certainly been modernised in many ways, we can still see remnants of its rich history. Besides its temples and historical sites, the ancient concept of xenia (guest-friendship) lives on in the Greek capital. It's no longer a code of conduct that citizens are required to live by, but locals provide visitors with the warmest hospitality that we can't help but chalk up to the old Greek concept. And what better way to experience Greek hospitality than by staying at a local's home? Skip the pricey hotel stay and receive a warm welcome at one of these stunning Airbnbs in Athens instead. We promise you won't regret it!
Also read: 14 Fantastic Airbnbs in Greece to Make Your Dream Getaway Happen
Most beautiful Athens Airbnb homes
1. This top-floor apartment with views of the Acropolis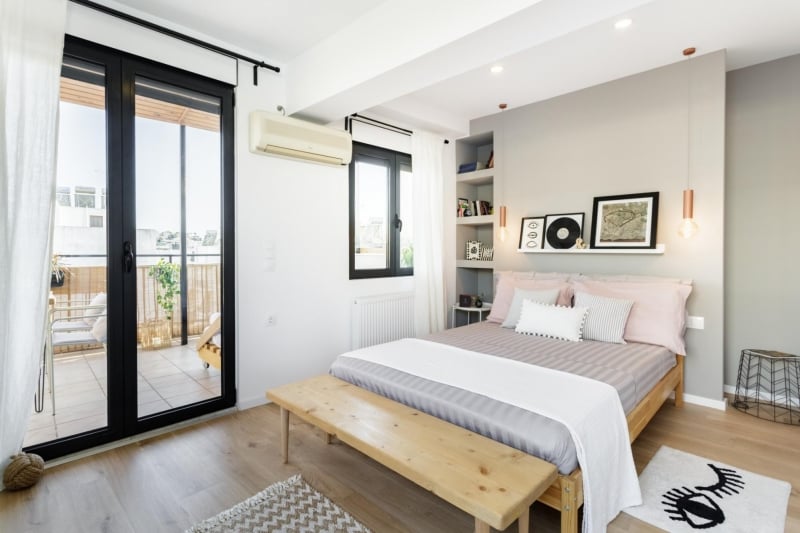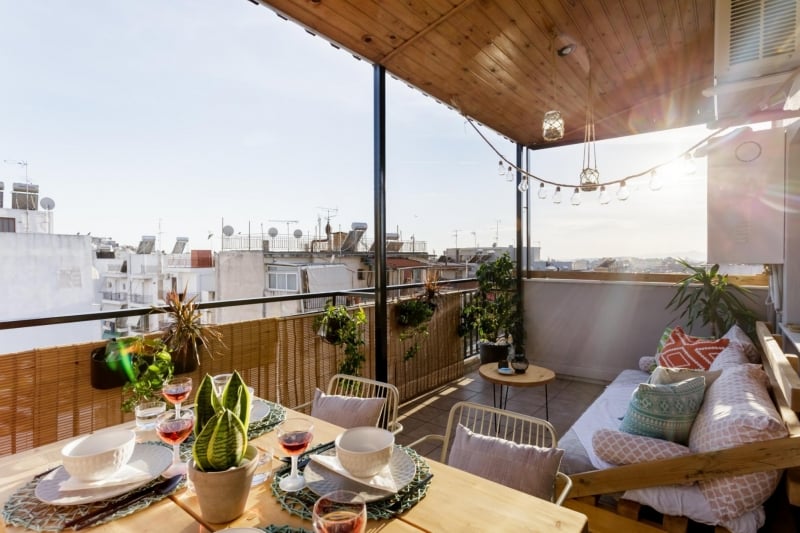 Listing name: See the Acropolis from a Bright and Chic Loft
Listing type: Entire apartment
Max. no. of guests: 4
No. of bedrooms: 1
If getting a perfect view of the Acropolis is on the top of your list of things to do in Athens, then you've found the right place. This centrally located top-floor flat boasts of stunning views of the ancient citadel, which you can enjoy from both the living room and the breezy rooftop patio. In addition to the beautiful Scandinavian furniture at this homey loft, hosts Niki and Martina add thoughtful touches to complete your stay: homemade wine and snacks, bathroom essentials, and even universal adaptors! 
2. This penthouse suite in a quiet neighbourhood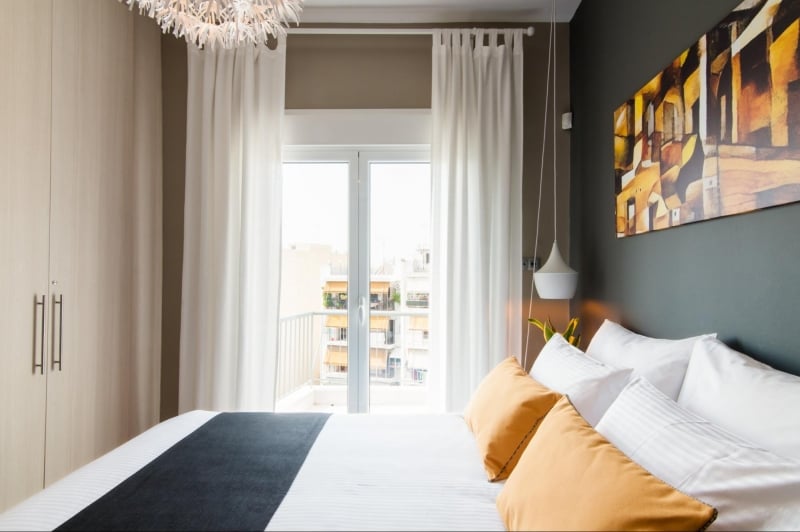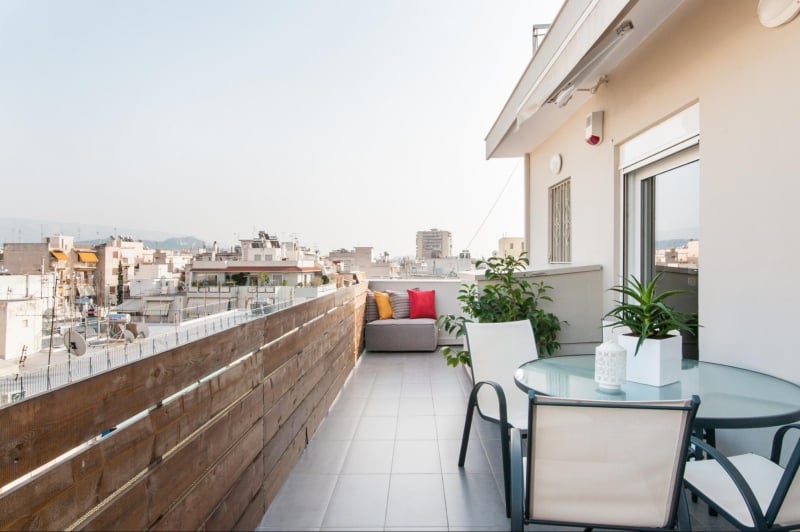 Listing name: Ma Maison Penthouse-Acropolis View-Fifteen Min to Acropolis
Listing type: Entire apartment
Max. no. of guests: 4
No. of bedrooms: 1
Away from the Greek capital's tourist-studded areas, this elegant apartment offers you a taste of life as a local Athenian. Situated close to the metro station, this beautifully furnished penthouse suite is just a few minutes away from Athens' popular attractions. To guide you, superhosts Yannis and Renna provide an electronic tablet complete with maps, local tips, and a list of attractions and dining recommendations! Additionally, like many Airbnbs in Athens, this home offers a gorgeous view of the Acropolis! 
3. This stylish Athens Airbnb above a local taverna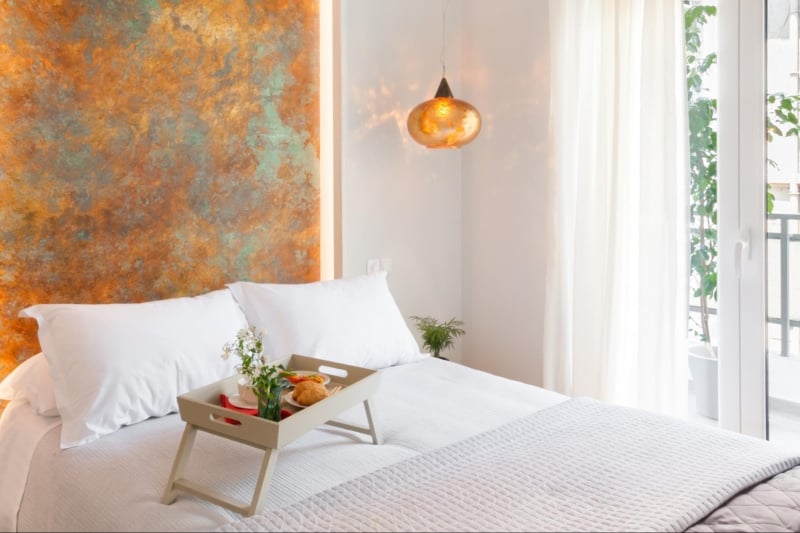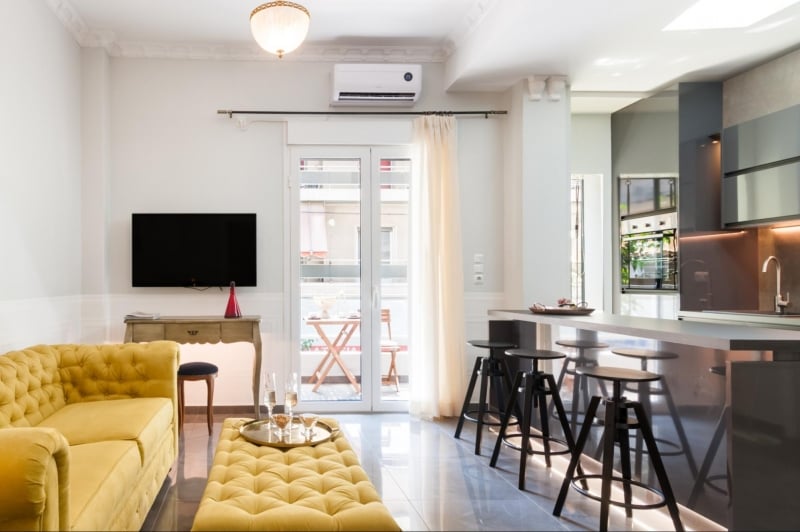 Listing name: Stroll into Central Athens from a Lux Suite
Listing type: Entire apartment
Max. no. of guests: 4
No. of bedrooms: 1
On any trip, you'll usually find a favourite go-to restaurant. This chic apartment sits right atop a local taverna known to serve great coffee and food! At this luxurious suite in Metaxourgio, expect five-star quality amenities despite the affordable price tag. Guests particularly love being welcomed with homemade raki and olives — plus, falling asleep in a sumptuous bedroom with black-out curtains! 
4. This open-plan loft in the fashionable Kolonaki district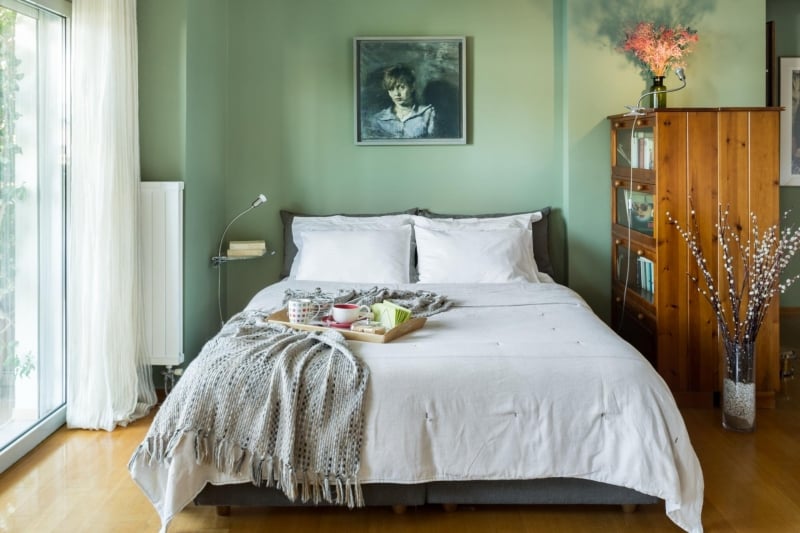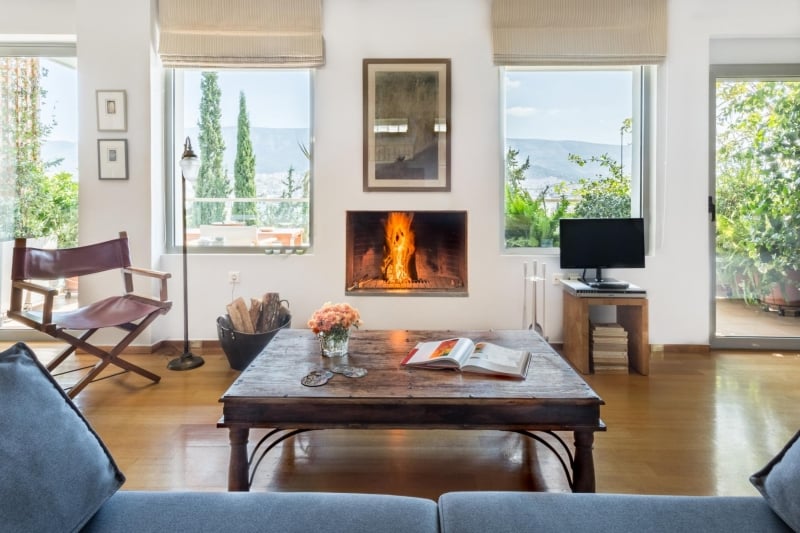 Listing name: Design Loft with splendid view
Listing type: Entire loft
Max. no. of guests: 3
No. of bedrooms: 1
Shopaholics, take note! Find this designer Airbnb in Kolonaki, Athens' popular shopping hub. But despite its proximity to scenic spots, like Mavili Square and Megaron concert hall, it won't come as a surprise if you're tempted to stay in! Take in views of Athens and Mount Hymettus from the comforts of this apartment, or curl up by the fireplace. Or, enjoy the books, CDs, and board games the hosts have lovingly placed around this home! 
5. This stylish home near Filopappou Hill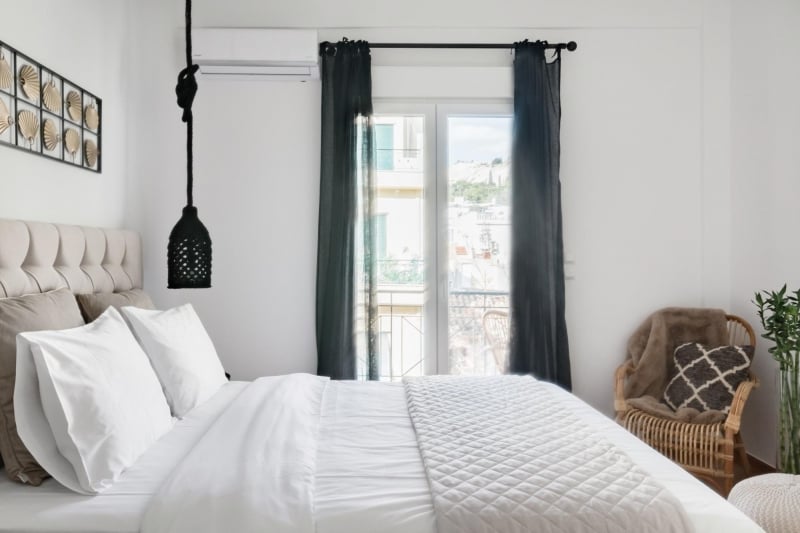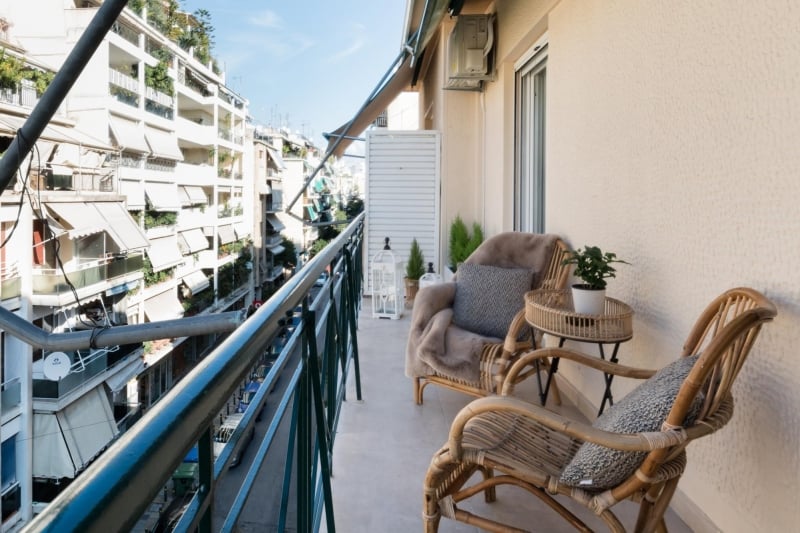 Listing name: Stunning Bohemian Style at a Sun Splashed Hillside Loft
Listing type: Entire apartment
Max. no. of guests: 6
No. of bedrooms: 2
This two-bedroom Airbnb right by Filopappou Hill is perfect for making memories with the family! Located in the picturesque neighbourhood of Koukaki, this home is just a 15-minute walk away from iconic sites like the Parthenon. In addition to its prime location, guests will also love its stunning interiors, smart TV with Netflix, and comfy (read: heavenly!) beds! 
6. This beautiful, homey Athens Airbnb that's close to everything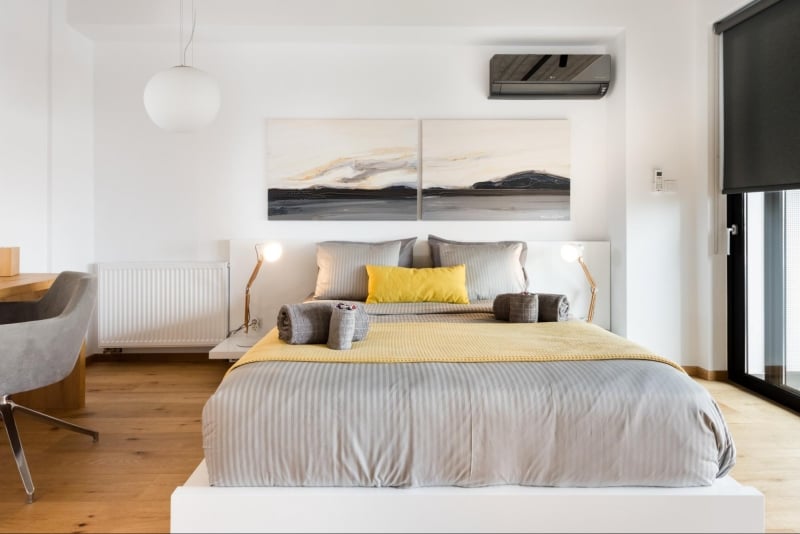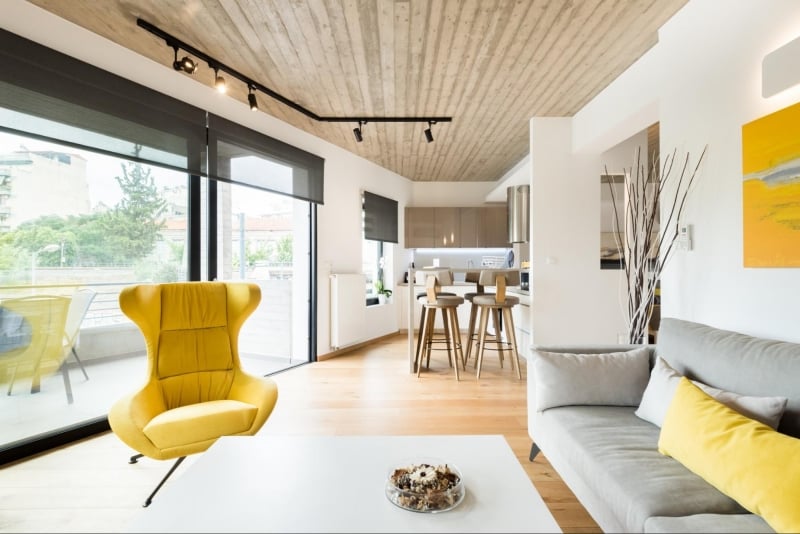 Listing name: The HostMaster Persephone Yellow Opulence
Listing type: Entire serviced apartment
Max. no. of guests: 3
No. of bedrooms: 1
This bright and beautiful apartment is great for travellers who want to get a taste of everything Athens has to offer: culture, history, food, shopping, and the local nightlife. In the vicinity, you'll find some of the city's best tavernas, clubs, flea markets, and tourist spots. At this stylish apartment, enjoy everything you'll need to feel right at home — plus, special perks like bathroom essentials, universal outlet adaptors, and Bose Bluetooth speakers! 
7. This cosy flat in Koukaki, one of Athens' hippest neighbourhoods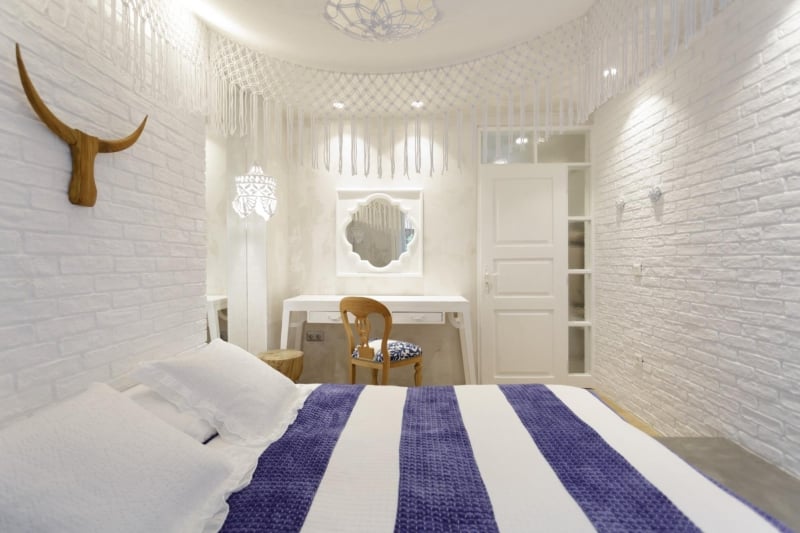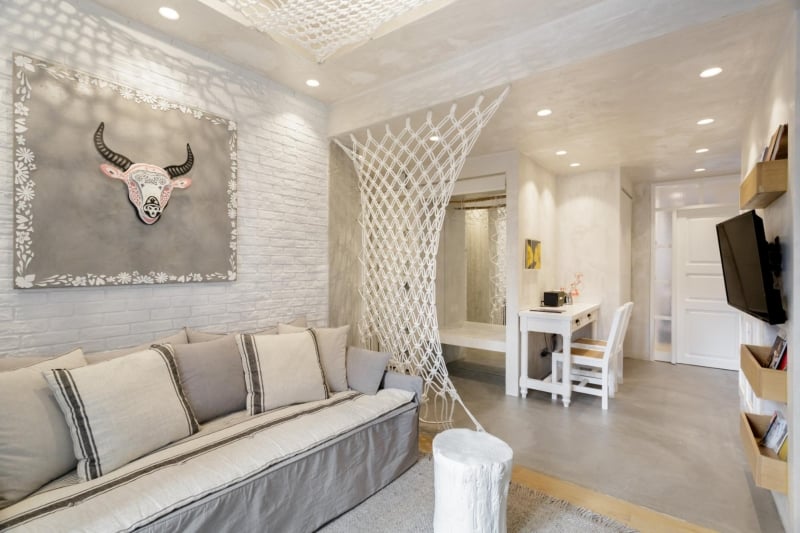 Listing name: Stylish, Quiet & Relaxing, a Hidden Gem near the Acropolis
Listing type: Entire apartment
Max. no. of guests: 4
No. of bedrooms: 1
Get the best of both worlds at this cosy apartment! Located in the trendy yet quiet Koukaki neighbourhood, it's also just within walking distance to the Acropolis and Plaka district. Its white brick walls certainly add to its character, and the king-size bed with down-filled pillows is just where you'll want to collapse after a long day. This, coupled with the comfy couch, fully-equipped kitchen, workspace, and little balcony will make you feel right at home! 
8. This family-friendly home with sweeping views of the city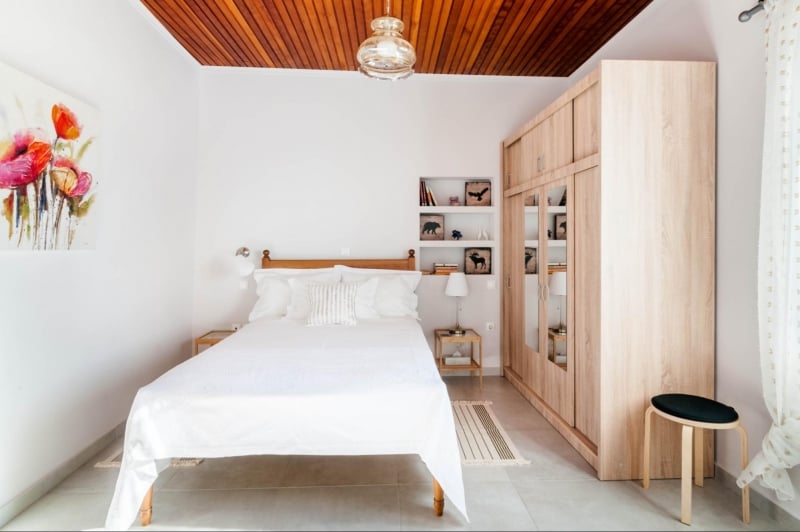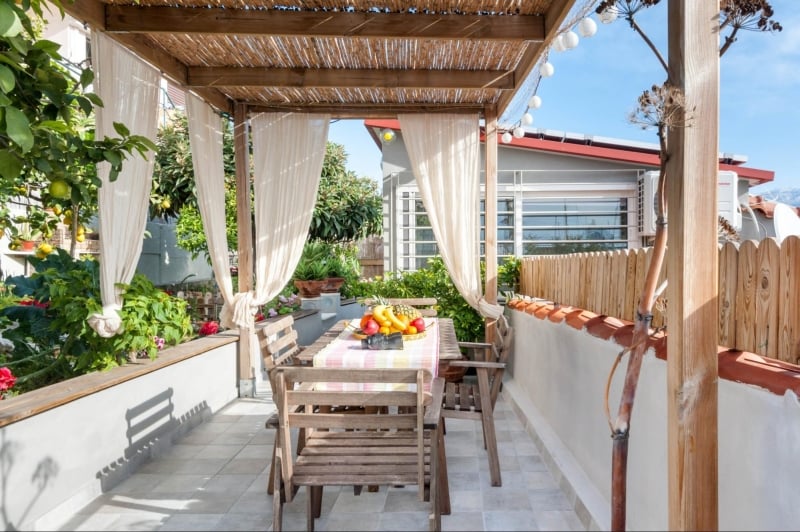 Listing name: Splendid Views from a Cozy Cottage with a Garden Terrace
Listing type: Entire house
Max. no. of guests: 5
No. of bedrooms: 2
Tucked away in the quiet neighbourhood of Dafni, this quaint cottage is certainly one of the most family-friendly Airbnbs in Athens. Its proximity to the metro station makes it easy to get to the main tourist areas — but you'll surely be tempted to spend the day making the most out of your stay at this cosy home! No doubt the balcony will be your favourite spot, from breakfast up until nightfall. It's a great place to enjoy your morning coffee, and the views of the Acropolis are breathtaking, especially once it's lit up! 
9. This stunning vintage home in Athens' buzzing centre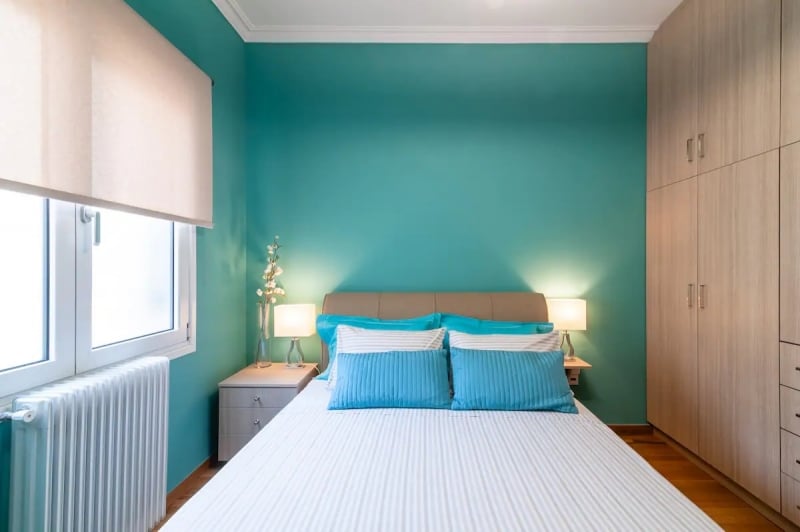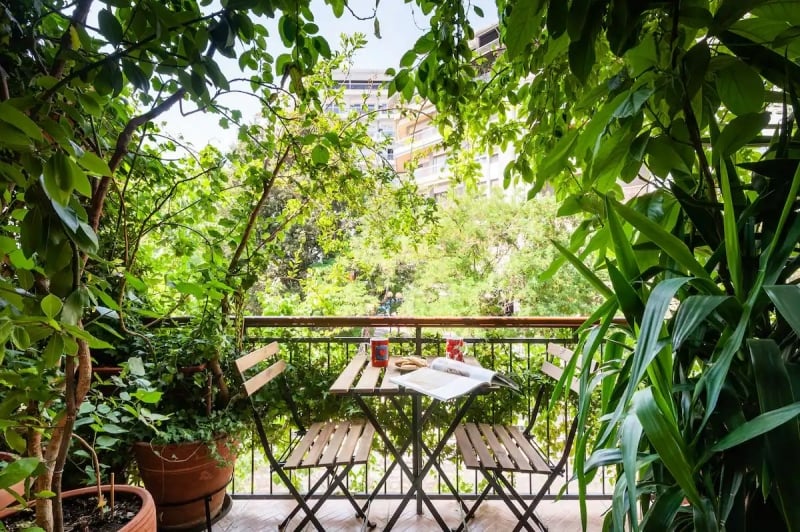 Listing name: Sofia's apartment in Kolonaki
Listing type: Entire apartment
Max. no. of guests: 5
No. of bedrooms: 2
Located in the stylish Kolonaki neighbourhood, this spacious renovated '50s apartment is ideal for groups who prefer to stay in the main tourist area in Athens. From here, it's an easy walk to many iconic spots. With its cosy living room overlooking Dexameni Square, brightly coloured kitchen, and artsy dining area, it's hard not to feel at home at this Airbnb in Athens centre! 
10. This minimalist apartment in the historic neighbourhood of Plaka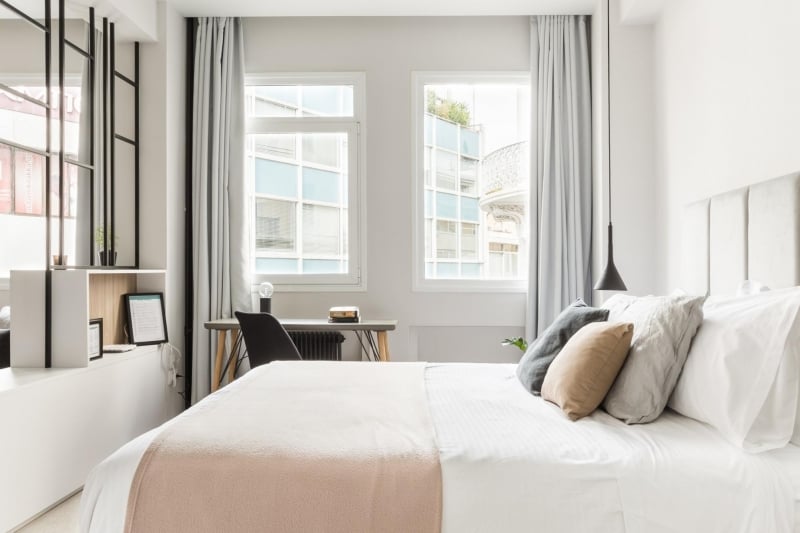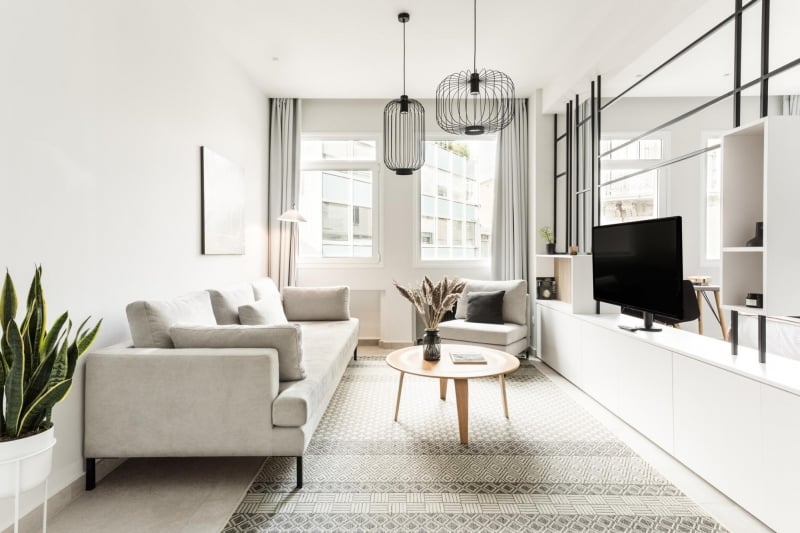 Listing name: Contemporary Minimalist Studio Loft
Listing type: Entire loft
Max. no. of guests: 3
No. of bedrooms: 1
When in Athens, exploring Plaka is a must. This chic home is located in the city's most historic neighbourhood, promising you an experience not many Airbnbs in Athens can offer. Stylish and well-equipped, it's the ideal place to come home to after a day of exploring. From this minimalist apartment, you'll also be able to explore the best of Athens' culture, shopping, and dining on foot. 
Also read: 10 Stunning Airbnbs in Santorini That Are Worth the Splurge
Looking forward to exploring the Greek capital? Then, take your pick of these Airbnbs in Athens, and you're halfway there!
Got a property you'd like TripZilla to feature? Inquire with us here.
---
This article contains affiliate links. When you book through these links, we may earn a small commission at no additional cost to you. All images courtesy of the respective property listings.