Ah, long weekends are the perfect time to treat ourselves to a well-deserved break! But if a short getaway from the country is out of the question for you, or you simply do not like the idea of hectic travelling, there's no need to mope around at home.
There are plenty of hotels that are perfect for recharging your weary bones with their royal treatments, right here in sunny Singapore. Think soaking up the sun by the pool, lazing around in that comfy, spacious hotel room, and having a nice weekend brunch with your friend or loved one - the ULTIMATE CHILL WEEKEND STAYCATION.
Sounds awesome?  Read on for the best local hotels for your dream weekend staycation!
1. STUDIO M - Take Chilling to a Whole New Level with a Loft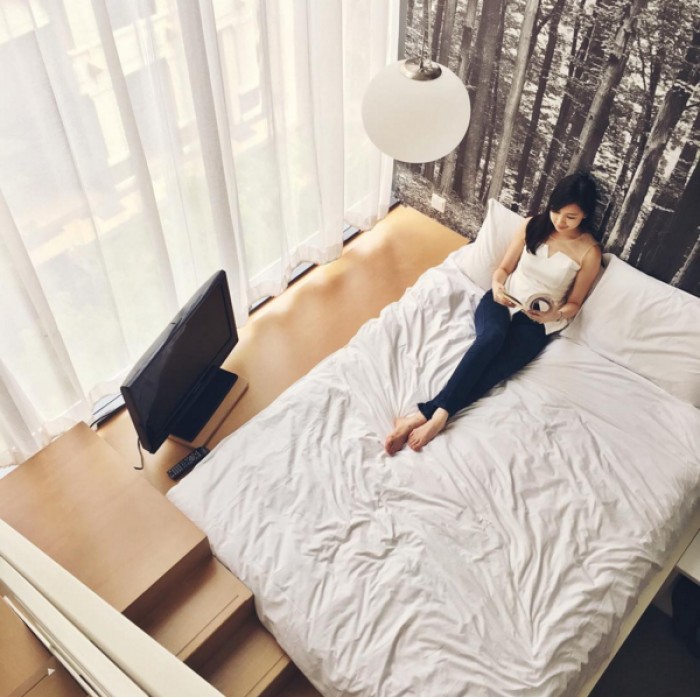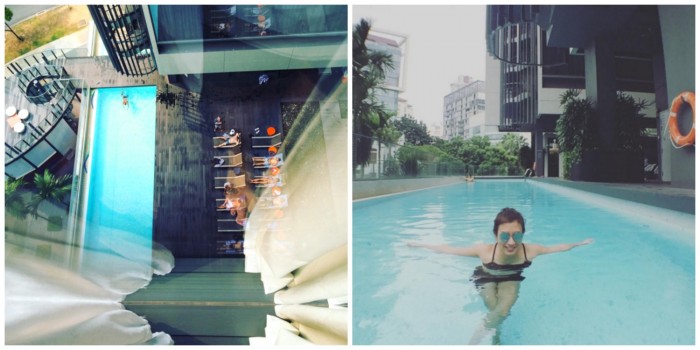 Image credit: Studio M Facebook (instagram) Top: @deborah_yeo, Bottom: @celestekok (left) @kae_nantiya (right)
Studio M Hotel revolutionises the meaning of hospitality, by fusing comfort, style and functionality into a loft-inspired design. The duplex rooms are a welcome change from traditional hotel rooms; it clearly sets the boundaries of work and rest by separating the work space from the bedroom on different levels.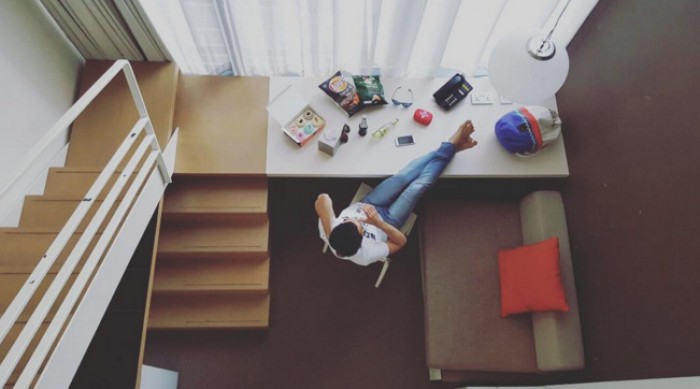 Image credit: Studio M Facebook (instagram) @avieljovan
Together with a dedicated tropical deck that hosts a number of different pools, an open-air gym, or cabanas to lounge upon, you're definitely in for a unique experience when you stay at this distinctive 4-star hotel. Who knows? You may get spoilt by the loft experience!
Address: 3 Nanson Road, Singapore 238910
2. SOFITEL SINGAPORE SENTOSA RESORT & SPA - Escape to this French Oasis, don't need to go all the way to Bali!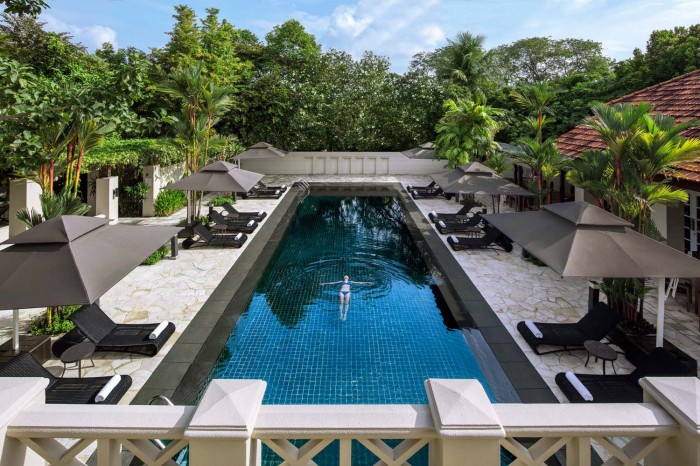 Image credit: Sofitel Singapore Sentosa Resort & Spa
A gorgeous oasis tucked in the middle of Sentosa. Once you step into the lobby, you can literally feel time slow down and your whole body relax with the gentle sea breeze and rustling sound of the trees. The spacious compound overlooks Sentosa's famous Tanjong Beach, offering a Bali-esque experience without having to leave our shores.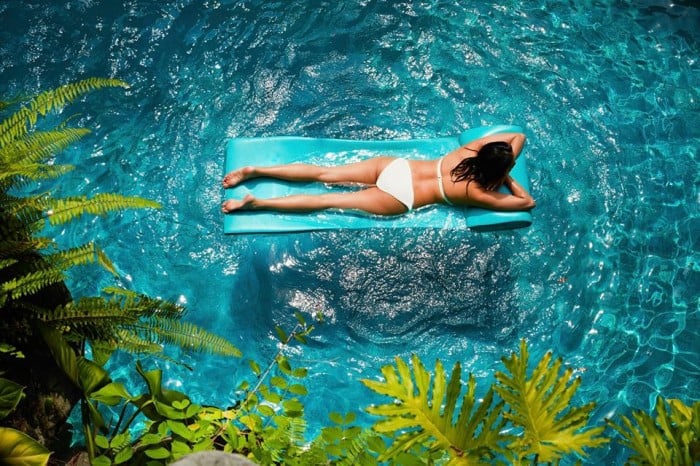 Image credit: Sofitel Singapore Sentosa Resort & Spa
Besides idling your time at the beach and huge swimming pool, you can also book a session at the award-winning So SPA. It won't take long to escape the hustle and bustle of city life with its wide array of artisanal spa experiences of your choice. You can also take the opportunity to indulge in its luxurious spread of delicacies at Sofitel Singapore Sentosa's awesome restaurants. This is definitely THE SWEET LIFE !
Also read: Sofitel Singapore Sentosa: Celebrate Special Occasions with a Perfect Staycation

Image credit: Sofitel Singapore Sentosa Resort & Spa
So what are you waiting for? Save the trip to Bali and book that amazing staycation at Sofitel Singapore Sentosa. It's TIME TO ESCAPE!
Address: 2 Bukit Manis Road Sentosa, Singapore 099891

3. THE QUINCY HOTEL - The Hidden Gem in the City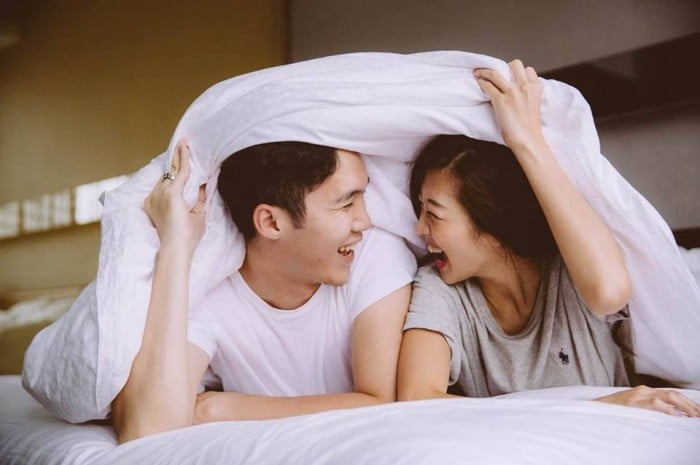 Image credit: The  Quincy Hotel Facebook by Sherlyn Chan
Talking about CHILL hotels, The Quincy Hotel is an award-winning boutique hotel that has just the right amount of everything - a great balance of food and facilities, an extremely comfortable bed and room, as well as a selection of quirky fun activities for its staycationers. It's truly a hidden gem located on Mount Elizabeth, just a short 5-minute walk to Orchard Road, but still offering the privacy we all crave.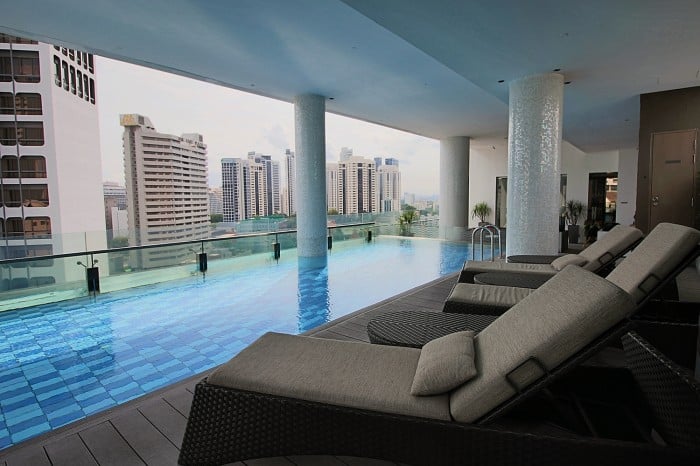 Image credit: The Quincy Hotel
Here's the coolest part: Guests get to enjoy All-Club Benefits with no additional charge! The benefits include buffet breakfast, complimentary in-room mini-bar, evening cocktails with canapes (6-8:30pm), as well as ALL-DAY light refreshments like pastries, rainbow cakes, muffins & pies!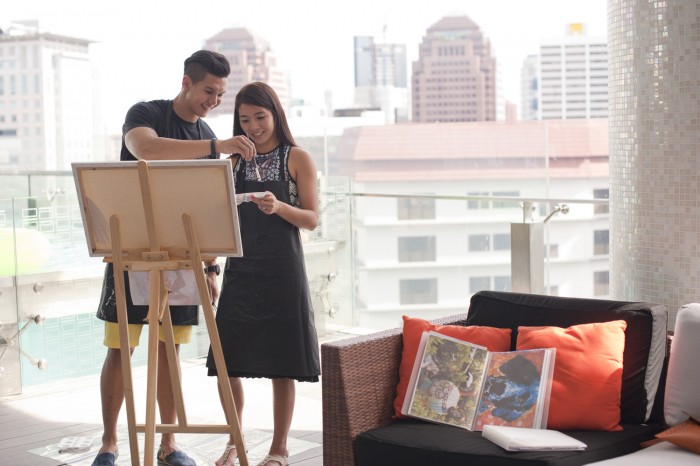 Image credit: The  Quincy Hotel
If you can catch their staycation promotions, you may never need to leave the hotel! On top of the All-Club benefits, staycationers who book the Qool Weekend package (exclusive on their website) get to enjoy a bottle of wine in the comfort of their room, Saturday night movie screenings and a choice couple art jamming session by the pool or cupcake baking classes! What better way to spend quality time with your loved one?
Pssst! Quincy is constantly adding new fun activities to do! Coming up next is a chocolate truffles making class where you can have a hands-on experience making delicious truffles. We are excited. STAY TUNED for this one!
Address: 22 Mount Elizabeth, Singapore 228517
4. ADONIS HOTEL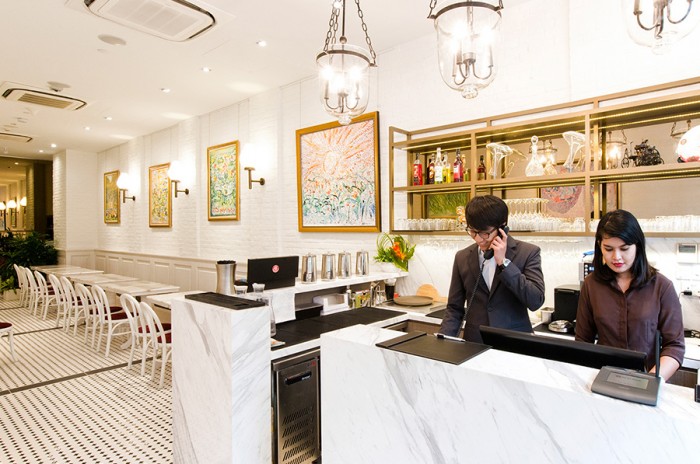 Image credit: Adonis Hotel
Situated in a quiet corner on Purvis Street, the Adonis Hotel is a gem waiting to be found by weary travellers. With a stunning interior design that draws heavily from the Western world, dipped into the local context, this boutique hotel also prides itself with a high level of hospitality from its staff.
Another eye-catcher would be the in-room amenities, with their own brand of shower products, a free mini-fridge and even a Nespresso Pixie coffee machine to serve your caffeine fix in the morning.

Image credit: Adonis Hotel
For guests who love their drinks, it might be worth noting that they offer a daily free-flow Happy Hour from 5pm to 6:30pm. Just don't get too hungover!

Address: 13 Purvis Street, Singapore 188592
5. HOTEL JEN @ Orchardgateway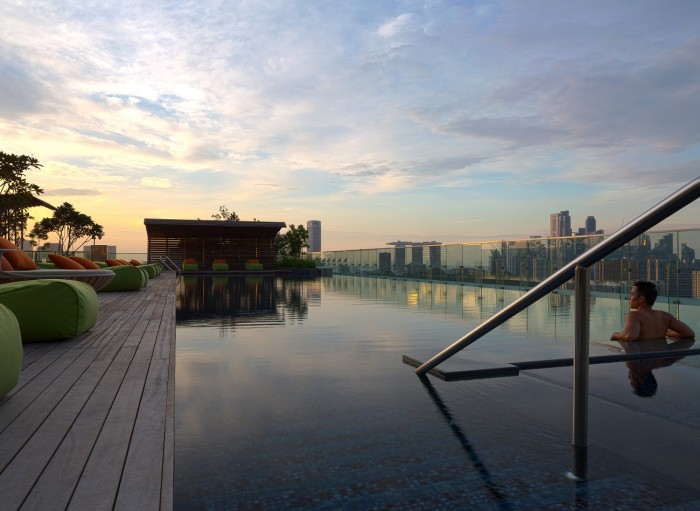 Image credit: Hotel Jen Orchard Gateway Singapore
Hotel Jen Orchardgateway is a treat for guests who enjoy magnificent views from great heights. Situated above the Orchard Gateway shopping mall, the hotel specialises in spacious rooms with wide windows that offer a perfect panorama of the city skyline. It's also well-known for its lengthy rooftop infinity pool, perfect for guests to take an invigorating dip and enjoy the breath-taking sights.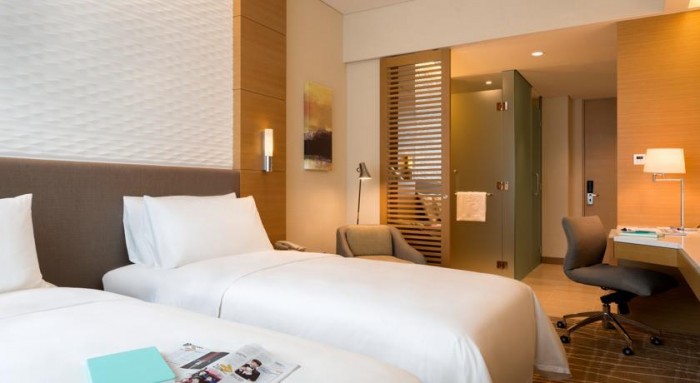 Image credit: Hotel Jen Orchard Gateway Singapore
Do take note that there are actually two different Hotel Jen properties in Singapore. There's another Hotel Jen that's located at Tanglin, so make sure you check twice before you make that booking!
Address: 277 Orchard Road, Singapore 238858
6. SOFITEL SO SINGAPORE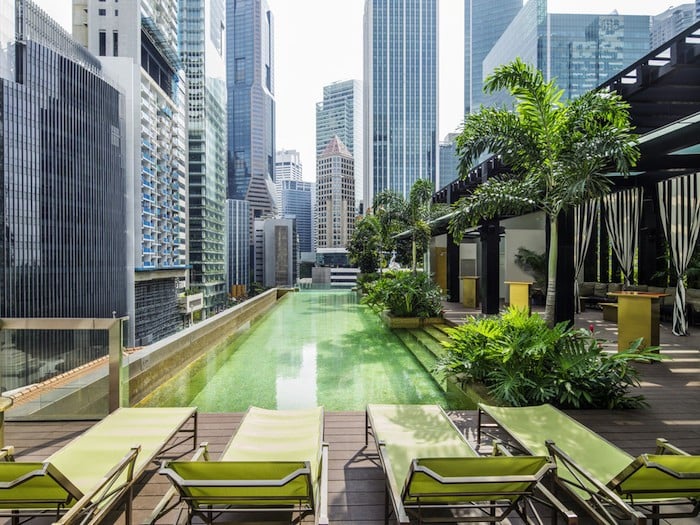 Image credit: Sofitel So Singapore
Sofitel So Singapore boldly adds a drop of French elegance in the heart of the city. Featuring a subtle blend of French-inspired décor and local culture, this luxury boutique hotel is sure to charm guests with its old-world presentation.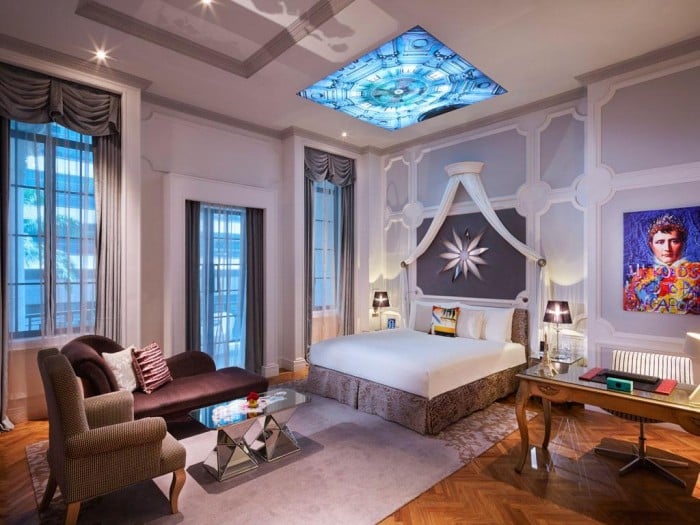 Image credit: Sofitel So Singapore
From delightful meals crafted by culinary experts, to classy interior room designs and a swanky rooftop bar, the establishment aims to please the senses and make your stay a memorable one. As they say in France, life is magnifique!
Pssst! Check out their Advanced Savers Promotion - Enjoy 10% off Best Flexible Rate when you book 3 -15 days ahead of your desired stay period.
Address: 35 Robinson Road, Singapore 068876

7. PARKROYAL on Pickering

Image credit: PARKROYAL on Pickering
For those looking for a change from Singapore scenery, PARKROYAL on Pickering offers an oasis of greenery in the local cityscape. The hotel prides itself with its unique eco-friendly architecture that offers spectacular views of their lush landscaping. Guests can take a stroll on a 300-metre sky garden or lounge at birdcage-inspired cabanas alongside an outdoor infinity pool.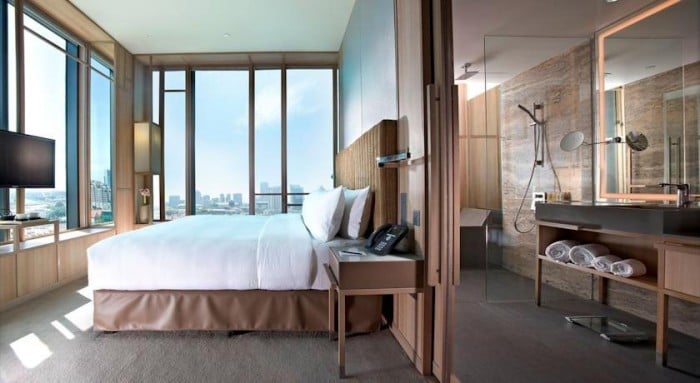 Image credit: PARKROYAL on Pickering
Even the rooms and suites take a leaf out of the design, with nature-inspired wooden and stone decorations, painted with soft earth tones. Experience the serenity and tranquillity of Mother Earth from the comfort of your bed, without the humidity and the mosquitoes!
Address: 3 Upper Pickering Street, Singapore 058289
8. THE SOUTH BEACH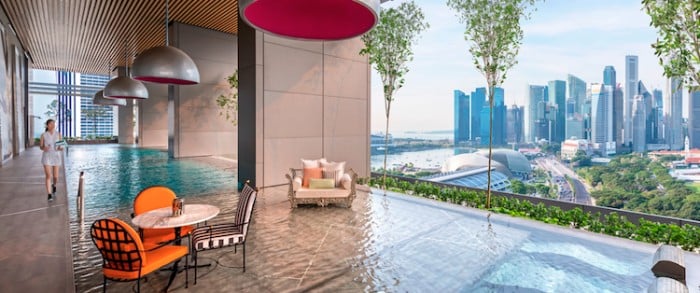 Image credit: The South Beach
The South Beach is a grand product of renowned French designer Philippe Starck, blending contemporary architecture with traditional local heritage. The hotel aims to create a unique, personalised experience for each individual that decides to spend a day with them.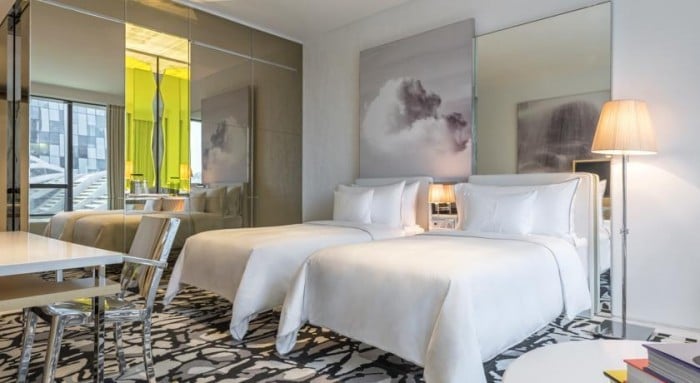 Image credit: The South Beach
Guests are invited to take in the sights at their two sky gardens, or cool off at their infinity pools. If they find their bellies rumbling, a wide range of international cuisine awaits at the all-day contemporary restaurant. End the night off with a visit to one of their three watering holes that offer a range of cocktails and beverages to quench your thirst. Whether you're alone, or in a group, we're sure you'll find something to do here!
Address: 30 Beach Road, Singapore 189769
9. PARK HOTEL ALEXANDRA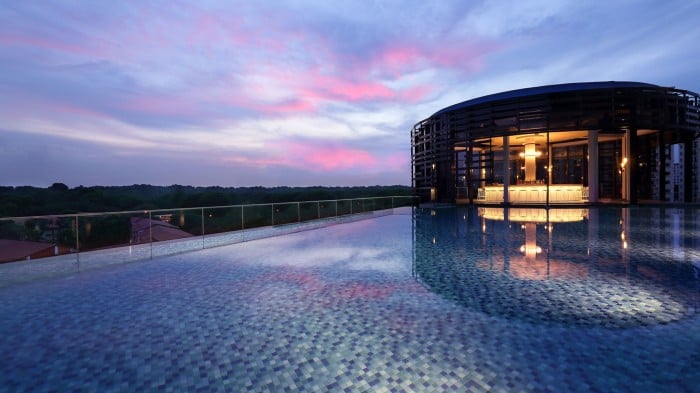 Image credit: Park Hotel Alexandra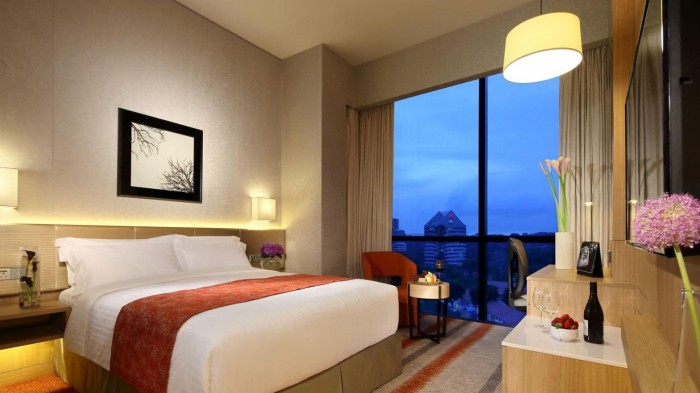 Image credit: Park Hotel Alexandra
As the fourth addition to Park Hotel Group's chain of hotels in Singapore, Park Hotel Alexandra is a peaceful sanctuary tucked in the midst of an urban district. Decked out in a sleek, contemporary black-and white design, guests can find a moment of relief from the outside world.
The hotel offers multiple facilities and services to recharge, relax and rejuvenate over the weekend. Choose to work out the extra calories in a fully equipped 24-hour gymnasium, take a relaxing swim in their infinity pool, or simply have a go at the refreshing juices, cocktails or bites at the swim-up wet bar. The decision is yours!
Address: 323 Alexandra Road, Singapore 159972
10. THE CLUB HOTEL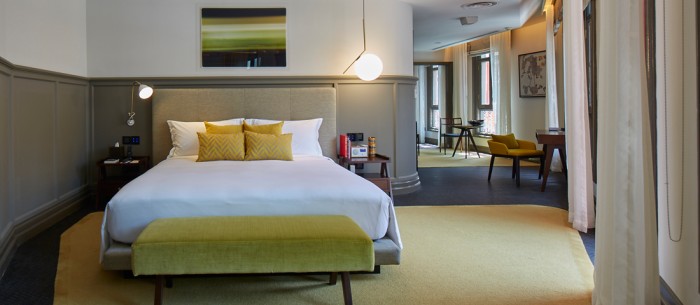 Image credit: The Club Singapore
The Club Hotel goes beyond the meaning of traditional bed and breakfast, comprising of a mix of restaurants and bars that would leave their guests spoilt for choice. The colonial-style boutique hotel features a spicy Peruvian rooftop bar and grill, or a more traditional dinner at the award-winning The Disgruntled Chef restaurant. You'll definitely not go hungry during your stay here!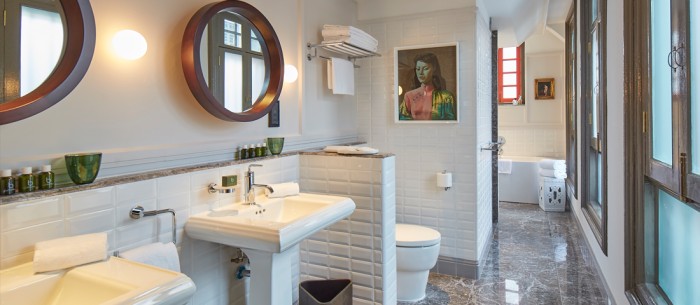 Image credit: The Club Singapore
For a place to simply chill and be easy, their underground bar is home to a wide variety of Scottish single malts. As an added bonus, you can request for a late check-out if you accidentally go overboard on the drinks, they'll accommodate you as long as there is availability.
Address: 28 Ann Siang Road, Singapore 069708
11. THE SCARLET HOTEL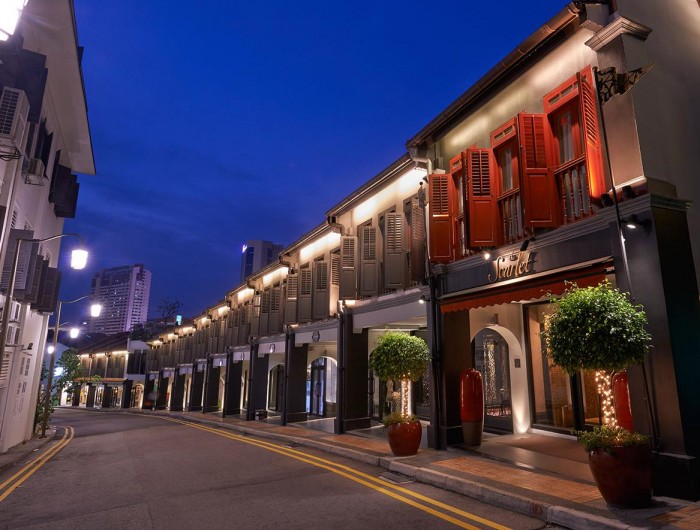 Image credit: The Scarlet Hotel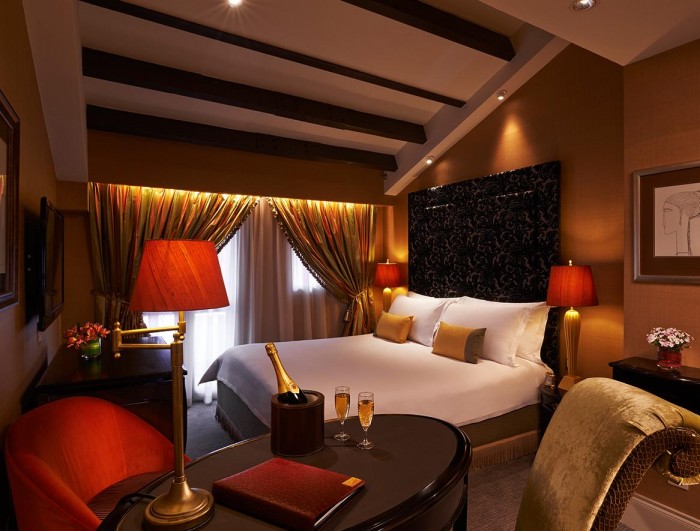 Image credit: The Scarlet Hotel
Walking past the front doors of the Scarlet Hotel makes you feel like you've been transported to a whole new world. The interior design has saved no expense in making you feel like royalty, with vibrant and bold colours complimenting their luxurious furnishing, giving you a glimpse into the lives of the lavishly rich.
This boutique hotel is the perfect destination for couples looking for a short romantic staycation, as each room is cleverly decorated to evoke passion and warmth from staying guests. With smooth marble bathtubs and cosy velvet furniture, we're sure you won't be leaving the room anytime soon!
Address: 33 Erskine Road, Singapore 069333
12. HOTEL VAGABOND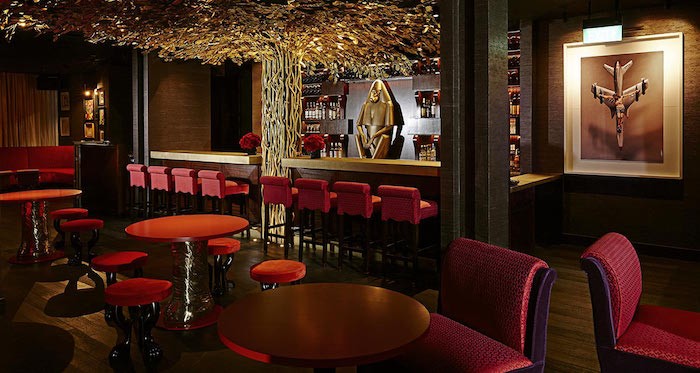 Image credit: Hotel Vagabond
To those inclined towards the arts, Hotel Vagabond will surely be a treat for the senses! This luxury boutique hotel draws heavily from Parisian influence, and can be seen reflected on the mix of striking colours, dark hardwood floors and luxurious fabrics present in each room.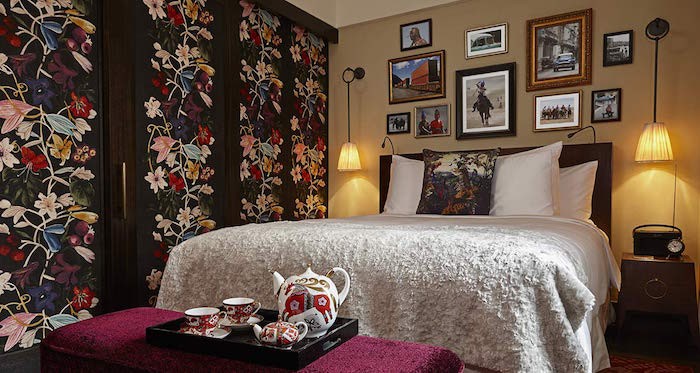 Image credit: Hotel Vagabond
However, the main star of the show is the Vagabond Salon, where much effort has gone into the furnishings of the room to create a classic theatrical experience. Here, guests can enjoy a deep collection of art and music, while replenishing themselves with great food and drinks. With a diverse arts and cultural events calendar, you can be assured that you'll be thoroughly entertained during your stay.
Address: 39 Syed Alwi Road, Singapore 207630
Image credit: Studio M Facebook
Also read: 14 Coolest Staycation Ideas in Singapore
If you haven't made up your mind between the hotels above, there's no need to panic! Labour Day is still a few weeks away. But it would be a good idea to start planning now before the rooms are sold out; else you'll miss out on the excellent opportunity and forced to become a couch potato over the long weekend!