It's no secret that Asia is home to countless beaches and other tropical landscapes that invite travellers from around the globe to bask in the sunshine. This is especially true during the summer season, which ranges from March to September, depending on which country you're visiting. But hey, that gives you all the more reason to stay in the continent longer — precisely what these tropical Airbnbs are for!
There's plenty to choose from, whether it's vibrant coastal escapes, scenic forests, or tucked-away village farms you're pining after. Either way, these vacation homes will give you the sun-soaked holiday you deserve.
Also read: 17 Stunning Airbnbs in Hawaii for the Best Experience
Tropical Airbnb homes in Asia
1. This luxury beach house on Koh Tao, Thailand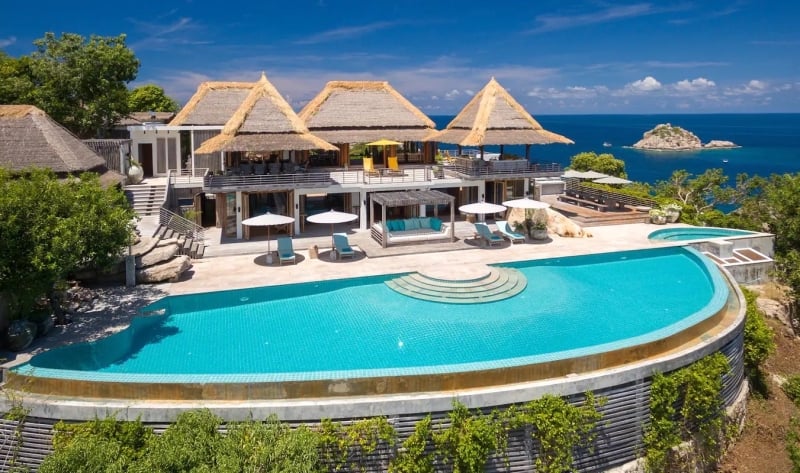 Listing name: PASSAMBHATI VILLA /Cape Shark Villas, 4-10 pers.
Listing type: Entire home
Max. no. of guests: 10
No. of bedrooms: 5
Ready to live out your The White Lotus dreams (ICYMI: Season 3 will be set in Thailand!) — sans the drama and rich-people crimes? Look no further than Passambhati Villa. This tropical Airbnb is ideal for families and large groups yearning to bask in the Koh Tao sunshine. Expect jaw-dropping views of Shark Bay and nearby islands in nearly every corner, from the living room and multiple terraces to the en suite bathrooms!
Meanwhile, the interiors perfectly blend traditional Thai-Balinese elements with contemporary design. Think intricately carved sculptures and thatch ceilings juxtaposed with sleek minimalist furniture and bright pops of colour. It even has a home office for those on a working vacation, as well as an on-call chef who can whip up a mouth-watering feast. What more can you ask for?
Also read: 15 Unique Airbnbs in Thailand — From Beachside to Mountain Getaways!
2. This romantic cottage by the sea in Batangas, Philippines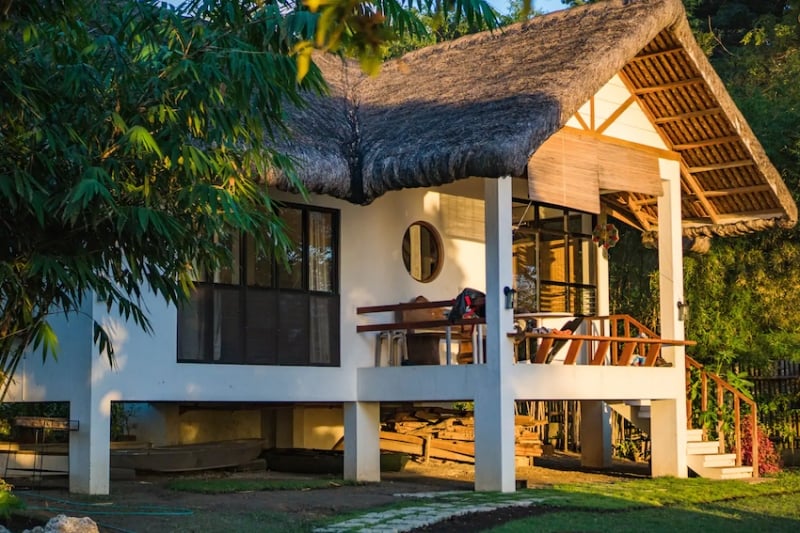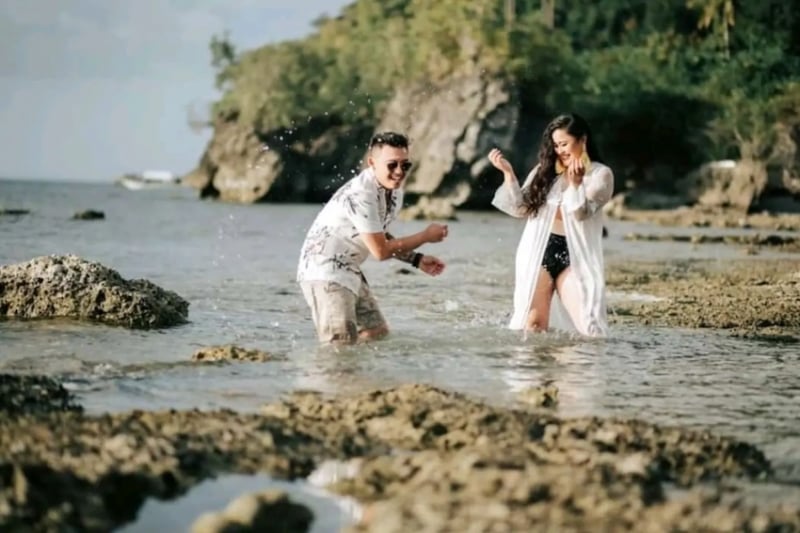 Listing name: Batalang Bato Beach Cottage – Private and Serene
Listing type: Entire home 
Max. no. of guests: 12
No. of bedrooms: 1
Kickstarting your Southeast Asia island-hopping in the Philippines? Consider this seaside cottage in Mabini, Batangas, which happens to be less than three hours away from Metro Manila. Located near a marine sanctuary (and tons of diving spots), it's certainly o ne of the best beach Airbnbs for travellers who want to explore the country's underwater world. 
The property can fit as many as 12 people, making it a popular venue for both group trips and pre-wedding photo shoots. In fact, several fashion magazines have used this tropical Airbnb in Asia as a shooting location. At night, the lights around the cottage and the dancing fireflies make the place look extra magical!
3. This idyllic treehouse in Bali, Indonesia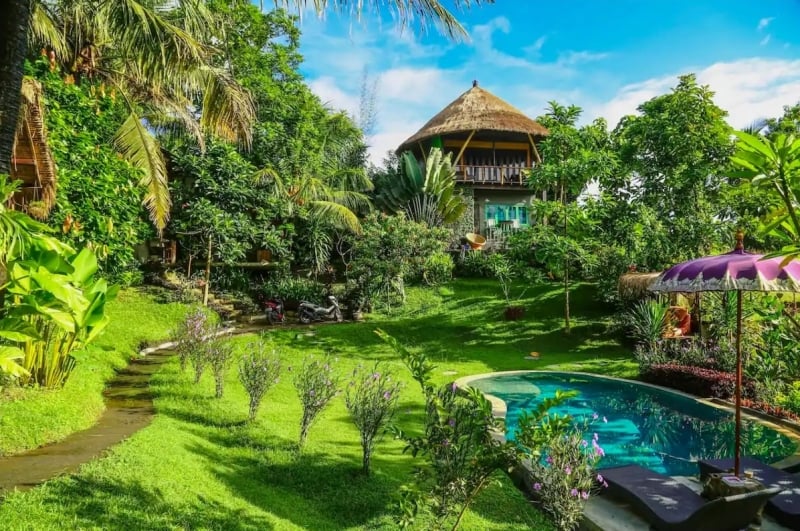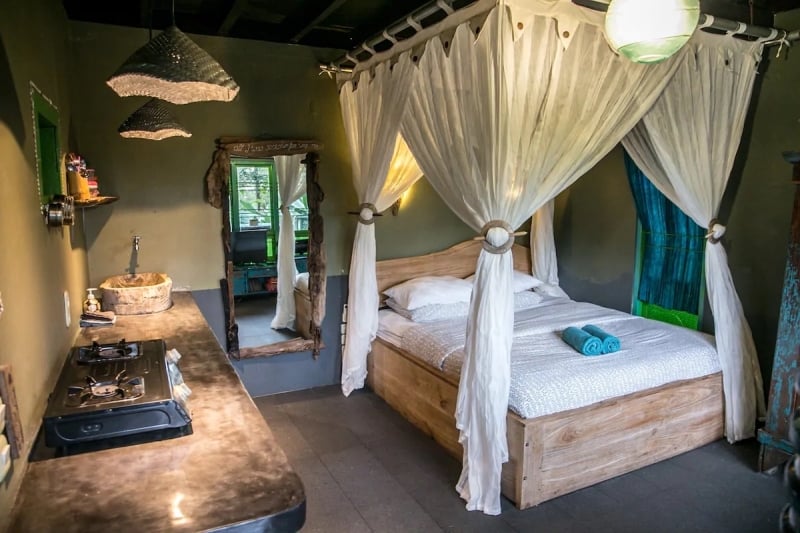 Listing name: BALIAN TREEHOUSE With Beautiful Pool
Listing type: Entire home
Max. no. of guests: 2
No. of bedrooms: 1
Can't help but fantasise about your own Eat, Pray, Love journey? This well-appointed treehouse Airbnb in Bali lets you go off the grid without forgetting modern comforts. Highlights of the Airbnb include the fully equipped kitchen, the king-sized bed, the gazebo, and the Eden-like garden teeming with greenery. Sip dragon fruit juice and join a yoga class at Balian Beach, barely five minutes from your door. 
Also read: 10 Unique Airbnbs in Bali to Live the Luxe Life
4. This overwater bungalow in Phu Quoc, Vietnam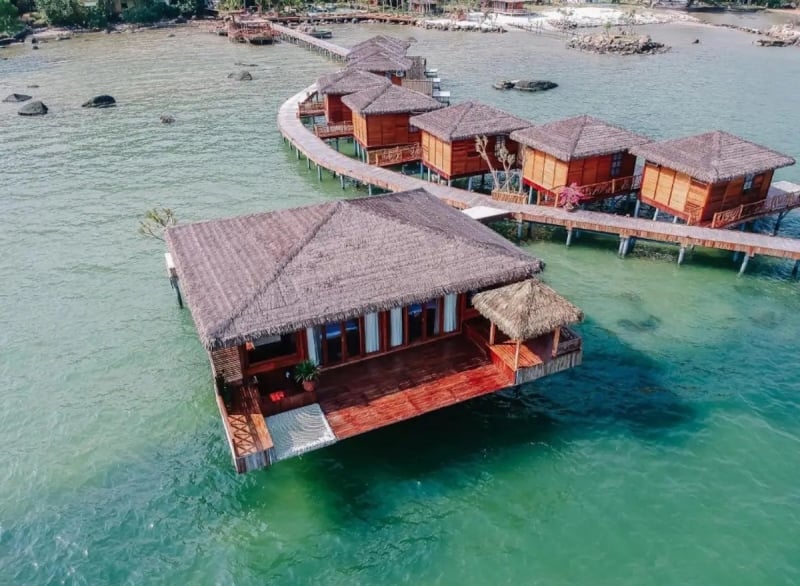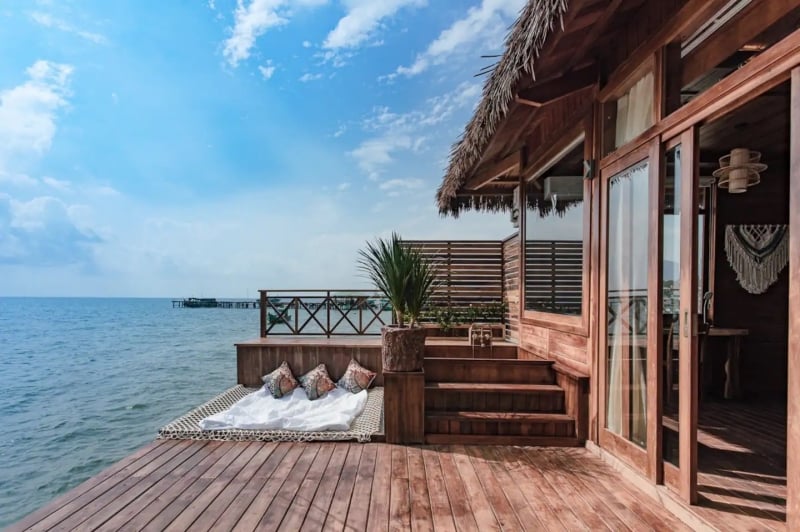 Listing name: The Dawn Rocks Beach Villa
Listing type: Entire houseboat in resort
Max. no. of guests: 4
No. of bedrooms: 2
Experience a slice of the Maldives right here in Southeast Asia with this tropical Airbnb on the island of Phu Quoc! Wake up to a majestic panorama of the ocean before stepping onto the patio, which features a hot tub and an Instagram-worthy hammock floor. There's also a ladder that leads right to the waters, so activities like snorkelling and kayaking are literally in your backyard! After a long day, dine under the starry skies while feasting on fresh seafood at the outdoor dining area.
You'll find this at Rocks Beach Boutique, a chic resort that has a bar, restaurant, and two large swimming pools. While this bungalow can fit up to four guests, couples looking for a cosier (and more affordable!) space can also opt for the one-bedroom version.
5. This super chill cabin in Sabah, Malaysia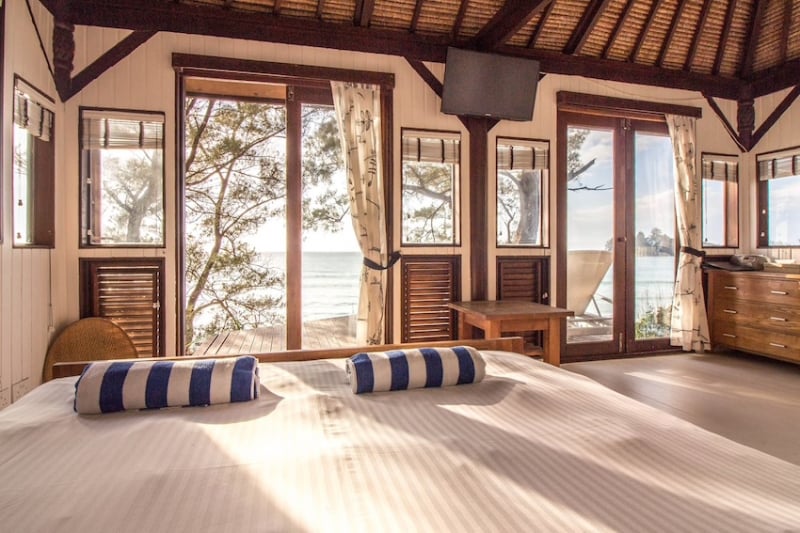 Listing name: Barefoot Experience at the Tip of Borneo
Listing type: Entire chalet in resort 
Max. no. of guests: 4
No. of bedrooms: 1 
Do you wish that the beach was your backyard? At this charming beachfront home in Sabah, you can feel the sand between your toes just by stepping outside your door! Relish long walks along the coastline, where you'll find crystal-clear water and pristine sands. 
Here are some of the other activities you can do at the Hibiscus Beach Retreat in Kudat (aka the Tip of Borneo): river cruising, jungle trekking, canoeing, snorkelling, mountain biking, touring mangroves, and falling asleep to the sounds of the ocean. No need to choose between the jungle and the sea, as you're perfectly positioned to appreciate both! 
6. This stylish beachfront Airbnb in Okinawa, Japan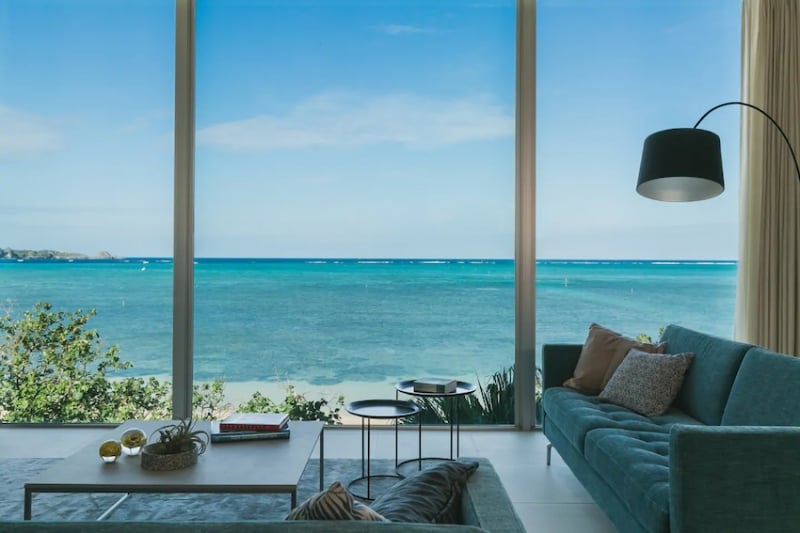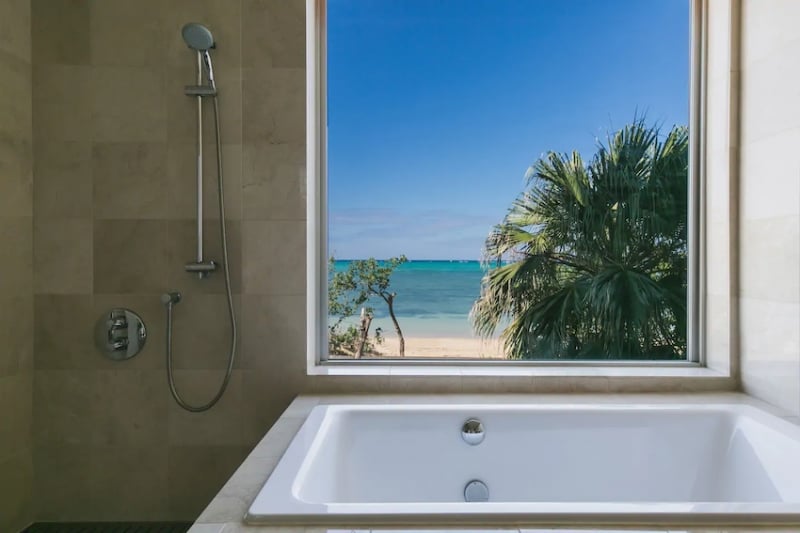 Listing name: Beach Front. Stylish. Rare in Okinawa. 176sq.m. 
Listing type: Entire home
Max. no. of guests: 5
No. of bedrooms: 2
Awaken your senses in this beachfront home within Onna Village, a quiet neighbourhood on Okinawa Island. It's one of Japan's best beach Airbnbs as it stays close to famous snorkelling and scuba diving sites like Capa Manza and Cape Maeda, where you can discover mesmerising coral reefs and impressive rock formations. 
Complete with wide windows, this property enjoys views from the living room all the way to the bathroom. Not to mention it's a great jump-off point for exploring the rest of the Ryukyu Islands, whose subtropical climate stays pleasant all year round!
Also read: 10 Best Airbnb Homes & Vacation Rentals in Japan for the Trip of a Lifetime
7. This secluded beach retreat on Koh Phangan, Thailand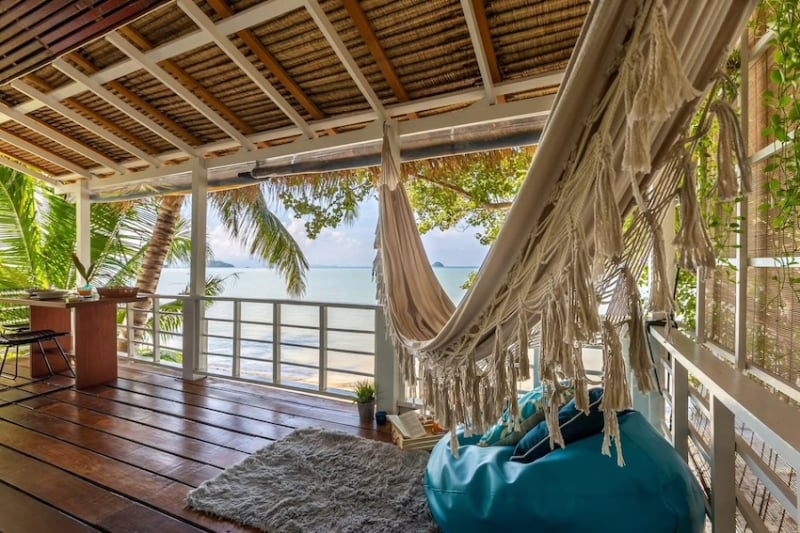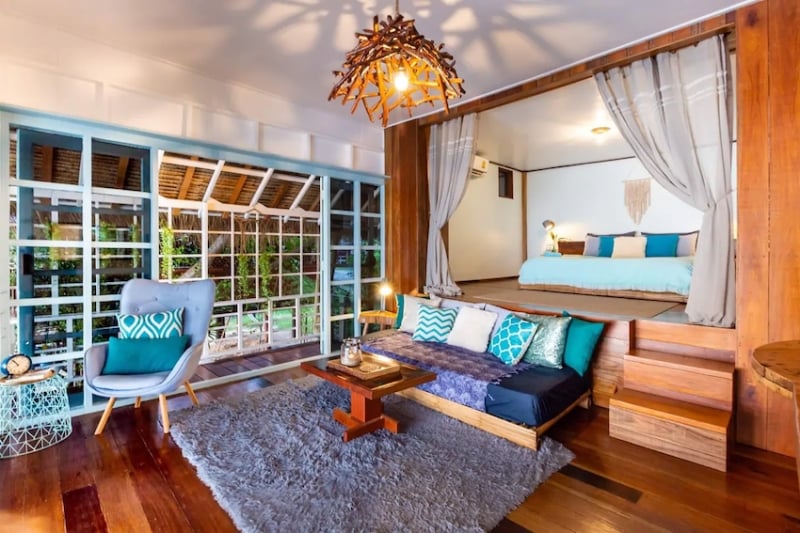 Listing name: THE HATCH ❤️ Romantic Beach Front HIN KONG
Listing type: Entire home 
Max. no. of guests: 3
No. of bedrooms: 1
No trip to Asia is complete without visiting one of Thailand's many beaches, and thankfully, this tropical Airbnb called The Hatch has everything you need for a sunny vacay! While many travellers flock to Phuket , we suggest trading the crowds for this beach house on Koh Phangan. You'll find this remote and breathtaking hideaway on the shores of Hin Kong Beach. With your very own hammock to laze on and plenty of restaurants around the corner, you can enjoy a lively atmosphere and still retreat indoors any time you want to tune out reality. 
8. This tropical-chic vacation home in Hoi An, Vietnam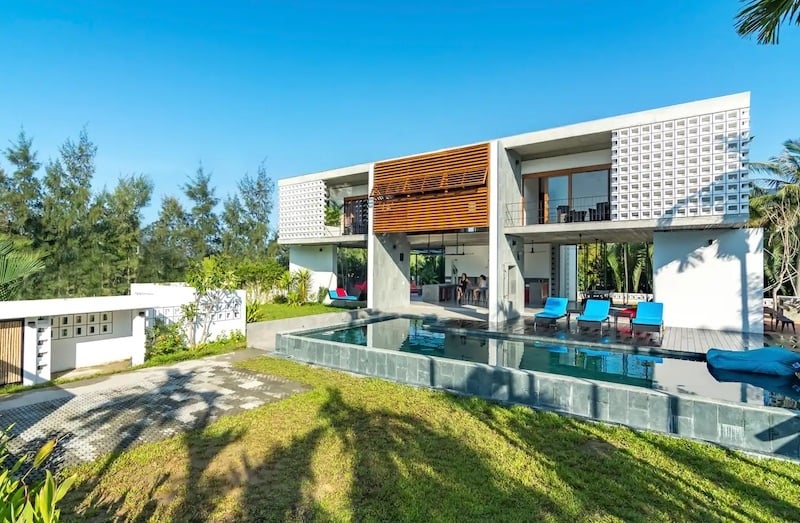 Listing name: Hoi An Four Monkeys Family Villa
Listing type: Entire home
Max. no. of guests: 10
No. of bedrooms: 4
A fine example of eco-brutalist architecture, you'll find this designer villa in a quiet neighbourhood in Hoi An! Nestled amidst lush greenery with massive rooms and an open-floor concept on the ground floor, it's arguably the best tropical Airbnb for large groups. You can even invite a few last-minute guests over, should you want to host a small celebration here.  
Keeping away from the commotion of Vietnam's major cities, it beckons travellers with its laid-back vibe and strategic location; with beaches and Hoi An Ancient Town both less than a 10-minute drive. There is also a private chef who prepares scrumptious meals and a personal guest relations manager who can help you with tours, transportation, and restaurant bookings. And don't even get us started on the gorgeous infinity pool, swing loungers, and pétanque (a French outdoor sport) court!
9. This poolside villa in Kep, Cambodia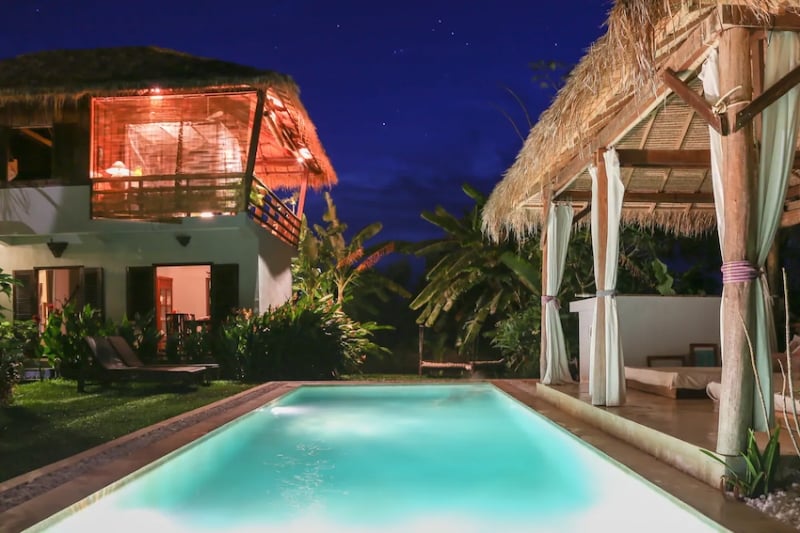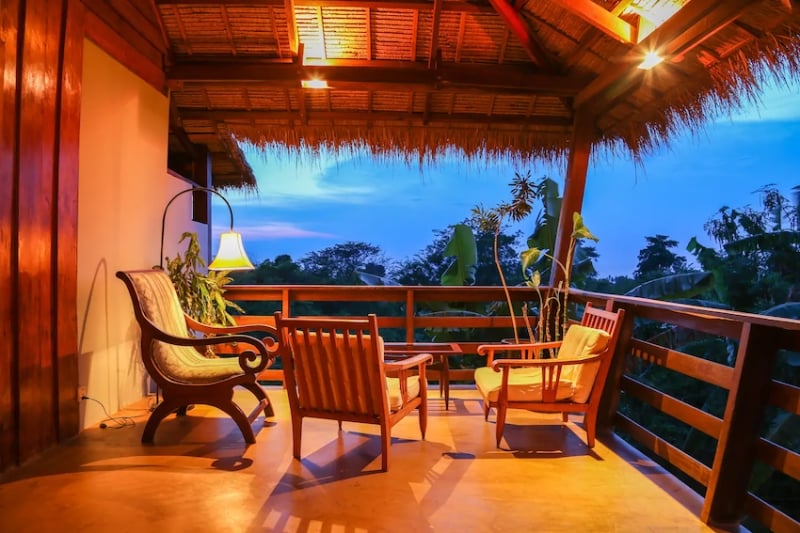 Listing name: Villa Dharma. Tropical Villa With Pool 
Listing type: Entire villa
Max. no. of guests: 6
No. of bedrooms: 2
Escape to this hidden paradise near Kep National Park at the heart of the town of Kep. Not only does it invite you to relax by the poolside, but it also offers a welcome break from city living. Pass the afternoons on the terrace with a good book or a spa massage. Alternatively, you can doze off in your bedroom overlooking both the sea and the mountain. Don't forget to head outside when night falls, so that you can spend an unforgettable dinner under the stars! Need we say more? 
10. This stunning hideaway in Singaraja, Indonesia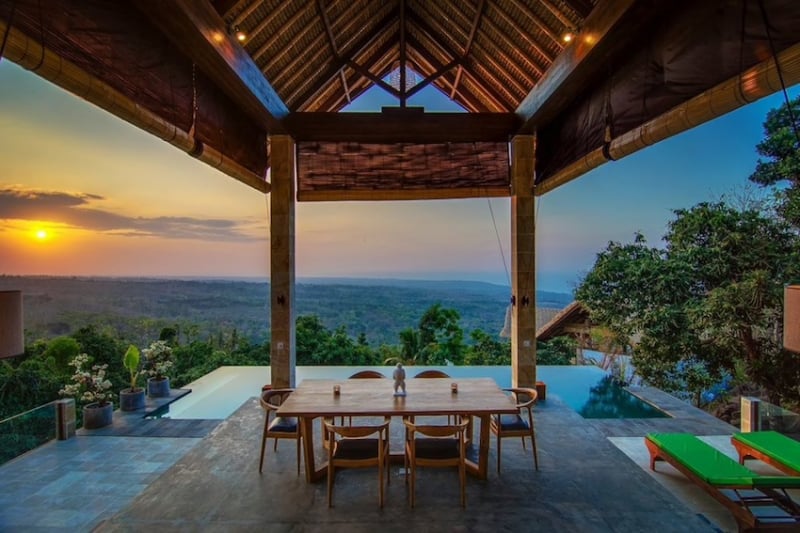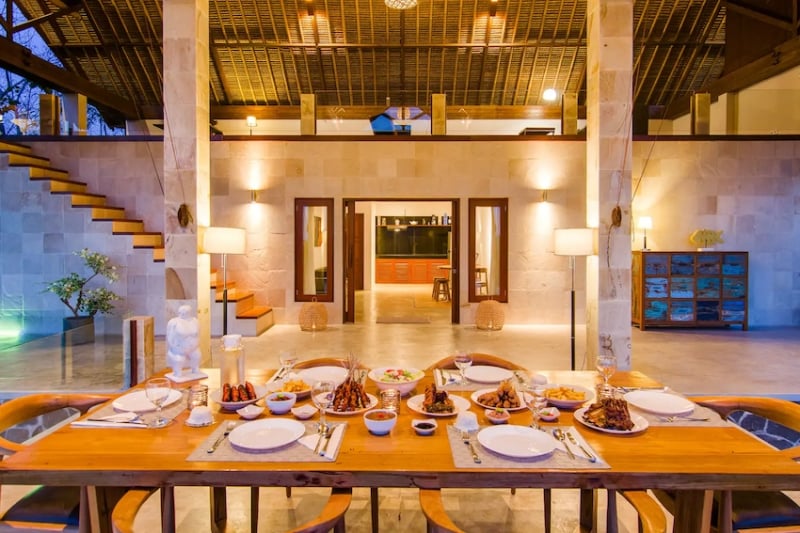 Listing name: 180° View, Private Pool Villa
Listing type: Entire villa 
Max. no. of guests: 8
No. of bedrooms: 2
Your gateway into the wonders of North Bali begins here. From its elevated perch on a mountain, this Indonesian villa overlooks the town of Singaraja and the surrounding forest. Between the delicious meals arranged by a chef to the Balinese massages on the patio, it goes above and beyond to provide memorable experiences as well as sightseeing. You can bask in the infinity pool, watch the sun melt into the sea from the balcony, or explore Sekumpul Waterfall nearby.
 As the owners Ari and Kim describe on their page, this tropical Airbnb in Asia shows you the real "Bali from 25 years ago," a rare sight that remains unspoilt. And that, right there, is luxury.
11. This hilltop abode in Langkawi, Malaysia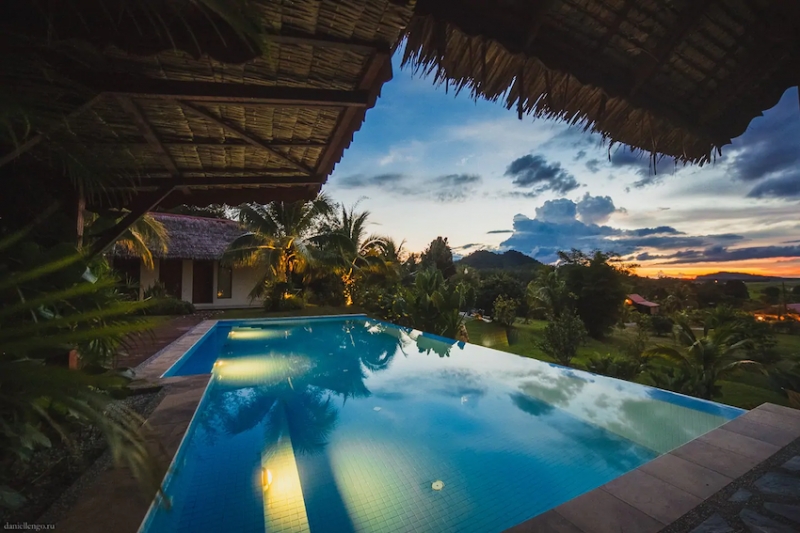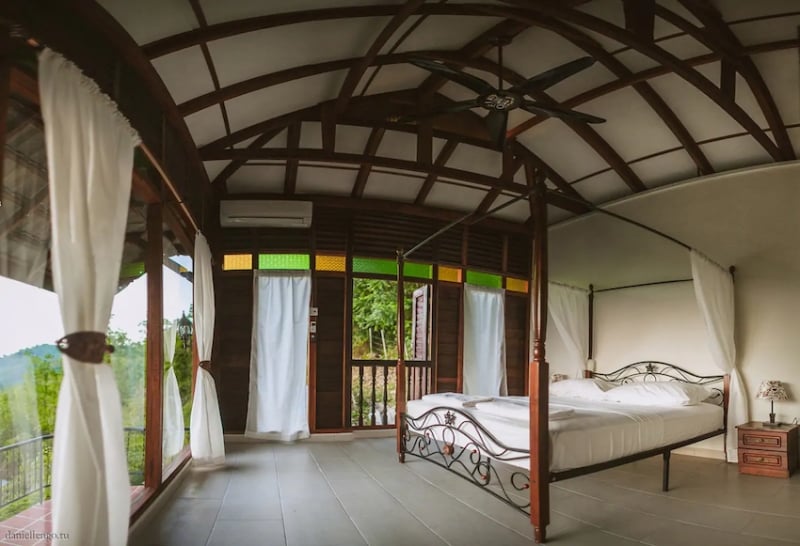 Listing name: Alamanda Hilltop Villa – Stunning Sunset View
Listing type: Entire home
Max. no. of guests: 3
No. of bedrooms: 1
Nature lovers won't be disappointed by this hilltop Airbnb in Langkawi, a must-see for anyone backpacking through Asia! With its views over the paddy fields, the hilltop villa lets you admire sunsets from the veranda and grill your own barbecue. You won't run out of refreshing options to cool down either; the private pool is right under your nose, and Cenang Beach is only a fifteen-minute drive away! 
12. This breathtaking beachfront Airbnb in Siargao, Philippines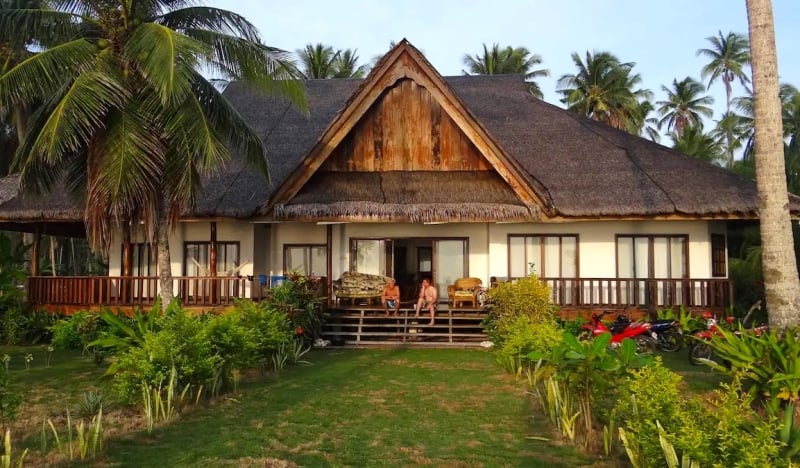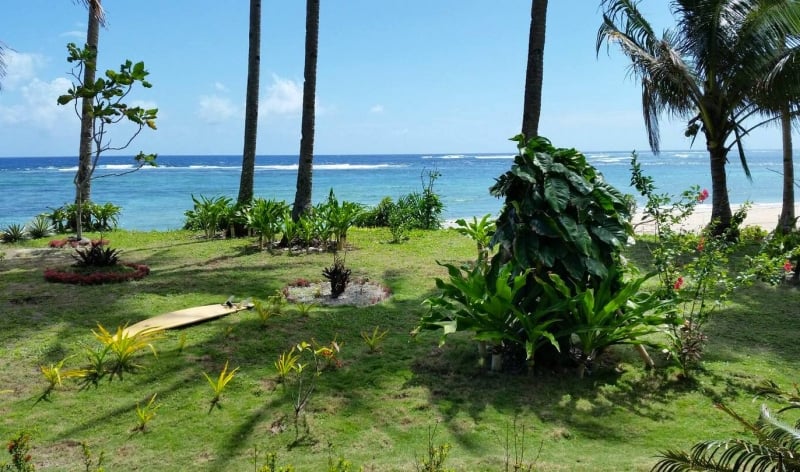 Listing name: Siargao Sunrise, A Tropical Beachfront Residence
Listing type: Entire home 
Max. no. of guests:  6
No. of bedrooms: 2
Imagine white-sand beaches and coconut palm trees. That's pretty much every traveller's fantasy right now, isn't it? Luckily, we know a serene Airbnb on the beach that will help you fulfil your dreams in one of the most beautiful islands in Asia (if not the world). 
Siargao may be legendary for its awesome waves, but you can easily go scuba diving and boating too if you stay at this seafront residence in the village of Burgos. Wake up to birdsong and collect seashells from your base camp on the shore. No matter what you choose to do, there's always a good excuse to drop by this tear-shaped island in the Philippines. 
Also read: 10 Unique Airbnbs for an Unforgettable Travel Experience
So, have you decided which tropical Airbnb in Asia you like best? There's no better time than now to book your summer getaway, after all! Trust us when we say that you'll have plenty to look forward to.
Got a property you'd like TripZilla to feature? Inquire with us here.
---
This article contains affiliate links. When you book through these links, we may earn a small commission at no additional cost to you. All images courtesy of the respective property listings.