Hong Kong — many of us know it as the home of world-class dim sum, picture-perfect skylines, cutting-edge theme parks and glossy shopping malls. To others, the city is a mere gateway to the rest of Asia, making its ports some of the busiest in the world! But one thing's for sure: It's one of the top destinations for a quick getaway from Singapore and nearby countries. Even then, the list of things to do in Hong Kong is incalculable. Trust me, I've been to the city three times (well, technically four if I count reentering the city after a side trip from Macao).
In every trip, I would always end up finding a different place or activity to focus on. And, so far, none of them has disappointed me. That said, I've put together this list of top things to do in Hong Kong to help you plan a trip to this unbelievable city. Oh, I've added in suggestions for the best places to stay in Hong Kong too, so stay tuned!
Also read: 7 Affordable Airbnb Apartments in Hong Kong for Budget Travellers
How to get there
Hong Kong by air
A least 80 commercial airlines offer flights to Hong Kong from major international points, including Singapore, Malaysia, Thailand, and the Philippines. The main airport serving the city is Hong Kong International Airport (HKG), which has two terminals on Lantau Island. From the airport, you can ride several buses to the city centre (either Kowloon or Hong Kong Island) for about HK$33.
Hong Kong by land or sea
Travelling to Hong Kong by land or sea is possible, too. You can do the former either by flying into mainland China. From there, take a train to Shenzhen and cross the border to Hong Kong. Alternatively, you can fly into Macao, from where you have two recommended options of getting to Hong Kong: by bus or ferry. I've tried both and I can definitely vouch for the bus option as it's cheaper and faster. It requires crossing the Hong Kong-Zhuhai-Macao-Bridge (HZMB), the longest sea crossing in the world! The endpoint is at the HZMB port on Lantau Island.
Where to stay in Hong Kong
Lanson Place Hong Kong: For boutique-style luxury and convenience
Looking for Hong Kong-style luxury in a boutique setting? Lanson Place Hong Kong is your best option! Located in Causeway Bay, this Hong Kong hotel comes with 194 modern accommodations in elegant European-style motif. In each room, there's a fully equipped kitchenette, LCD iPTV, complimentary high-speed WiFi and use of Handy smartphone with unlimited 4G mobile data and free IDD calls to 18 countries. While the luxury aspect can be seen and felt throughout the property, you'll feel right at home in your private temporary space, and with the help of any of the hotel's facilities. You have the 133 Lounge and Library, a business centre and a well-appointed gym overlooking the gorgeous Victoria Park!
[DEAL ALERT]
The earlier you plan that Hong Kong getaway, the more you save on your accommodation! With Lanson Place Hong Kong's early bird promo, enjoy as much as 30% off your booking, plus discounts on food and beverages at 133 Lounge!
Learn more about Lanson Place Hong Kong on TripZillaSTAYS.
iClub Mong Kok Hotel: For travellers on the go
The iClub Hotels is a chain of select-service hotels in Hong Kong. Within minutes away from Kowloon's top attractions, including Temple Street Night Market, Ladies Market and West Kowloon Cultural District, is the iClub Mong Kok Hotel. It features over 280 rooms that boast of large glass windows — great for sightseeing the city from above! You'll also find modern amenities like a multimedia panel, mini-fridge and in-room safe. Basically, everything in this Hong Kong hotel is easily accessible, which makes it ideal for both weekend warriors as well as business travellers!
W Hong Kong: For an art and entertainment-filled stay
Behind Hong Kong's colonial and historical sights lies the city's often overlooked contemporary art and entertainment scene. But rather than tire yourself from spending hours in a nightclub, why not check in to W Hong Kong — a hotel made to give you relaxation and all-out fun under one roof? With all 393 rooms providing skyline views, you're sure to find repose in the city without breaking a sweat. Meanwhile, for more action, make your way to the hotel's fully equipped gym on the 73rd floor. Or, start mingling with other tourists at the pool deck on the 76th floor, which houses Hong Kong's highest outdoor pool!
Things to do in Hong Kong
Day 1: Hong Kong Island
Search for some peace and quiet in Tin Hau Temple
What better way to kick off your quick Hong Kong holiday than with a visit to Tin Hau Temple? Yes, there are several temples of the same name all over Hong Kong. However, the one in Causeway Bay is one of only two to make it to the list of declared monuments in the city. Intricate stone carvings give you a glimpse of 18th-century temple architecture. Inside the temple, the main altar welcomes thousands of worshippers every day, many of which are seafarers (Tin Hau Temple is dedicated to the goddess of the sea!).
Geek out at Hong Kong Central Library
Hong Kong Central Library is the largest of all libraries in Hong Kong. Throughout 12 floors, you'll find a number of Chinese and English book collections, which you can read at no cost. There's also a lecture theatre, cafe, toy library, exhibition gallery, self-charging terminals and book repair station. If you'd like to take your time (I highly suggest doing so), the library also has several reading, exhibition and discussion areas! Nestled in one of the city's busiest areas, this 18-year-old building offers a peaceful hideaway for bookworms as well as history lovers.
Ride the tram to The Peak
Now that you've spent your first few hours in solitude, it's time to hit the hectic streets of Causeway Bay towards The Peak, considered the highest hill on Hong Kong Island. But first, hop on The Peak Tram which will take you to your intended destination from the terminal at Garden Road. The railway is 1.4 km long, which gives you enough time to catch harbour and the city views from your seat. If you fail to do so, don't worry, you'll have plenty more opportunities once you get to the top!
Splurge over food and clothes at Times Square
From The Peak, head 400 m back down the Causeway Bay area to discover the many branded dining and shopping options at Times Square, which is Hong Kong's hottest and most happening shopping centre. Mind you, you might have to splurge a bit here as the area is more on the upscale side. But, every penny will be worth it! Fun fact: The Times Square Marketplace Mall has been featured on the film Lara Croft Tomb Raider: The Cradle of Life released in 2003!
Day 2: Lantau Island
Channel your inner kid at Disneyland
Short or long, no first-time visit to Hong Kong is complete without a trip to the happiest place on Earth, Hong Kong Disneyland! Since it takes a while to get here from downtown Hong Kong, time your visit as early as possible. That way, you're also free to try as many attractions as you want without getting stuck in long lines. Here are a few things I recommend trying: the Big Grizzly Mountain Runaway Mine Cars, Festival of The Lion King, Mystic Manor and for Star Wars fan (like me), the Jedi Training: Trials of the Temple!
Meet a giant Buddha at Ngong Ping
You might be wondering, what's an enormous Buddha statue doing at the top of a hill? Tian Tan Buddha (also Big Buddha) is not just any statue though. In fact, the 34-m tall figure is the biggest seated bronze Buddha in the world! It is also part of the Po Lin Monastery complex (another well-known attraction in Lantau). To reach it, you'll have to climb up at least 260 steps from a starting point near Ngong Ping Village. At the summit, you can explore a small museum and enjoy a vista of the island's greenery!
Day 3: Kowloon
Find tranquillity at Nan Lian Garden
With Hong Kong's fast-paced environment, paying a visit to public parks like the Nan Lian Garden can truly work wonders. Located at Diamond Hill in Kowloon this 35,000-sqm garden features hills, rock formations, water features, trees and wooden structures carefully laid out in Tang Dynasty style. Getting around Nan Lian Garden is easy — just follow the circular path which concludes just after you pass by an on-site teahouse and souvenir shop. If you want, you can also drop by the Chi Lin Nunnery close by!
Learn more about the city at Hong Kong Museum of History
Not learning about your destination's history is like saying no to being a well-rounded traveller altogether. Before leaving the city, stop by the Hong Kong Museum of History along Chatham Road in Tsim Sha Tsui. Here, you get to know more about Hong Kong's local and natural history, ethnography and archaeology through the museum's eight permanent galleries. And yes, they are all open to the public! Like several museums in the city, you can enjoy a plethora of photo opportunities anywhere in the building, too!
Enjoy the city skyline at the Victoria Harbour waterfront
Best experienced around dusk and at night, Victoria Harbour is probably Hong Kong's most popular tourist attraction, and it's not hard to see why. Along with The Peak, the Tsim Sha Tsui side of the harbour offers an unparalleled view of the city, albeit from a different perspective. A stroll along the waterfront will take you to the freshly renovated Avenue of Stars, where you can snap a photo with Hong Kong martial artist Bruce Lee's memorial statue. By 8pm, make sure you've found a nice photobomber-free spot to enjoy the harbour's highlight — the Symphony of Lights, a Guinness World Records title holder for the largest light and sound show!
Hunt for great bargains at Temple Street Night Market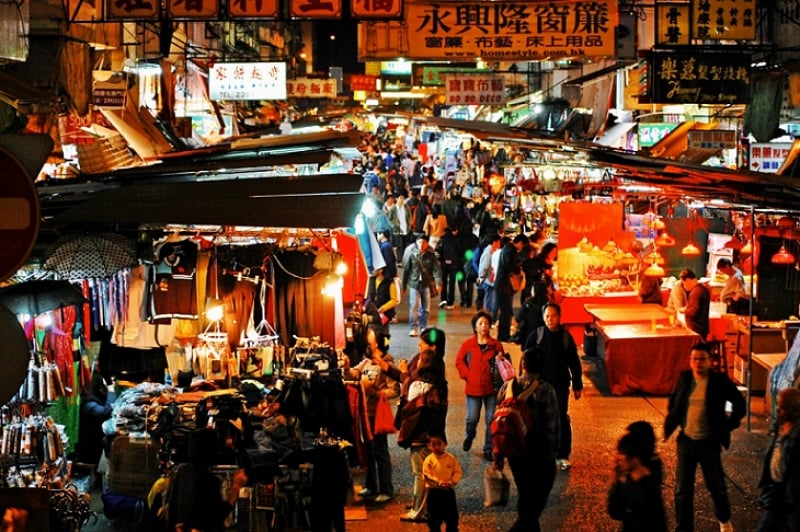 Seafood, fashion, electronics, antique items — there's a lot to look at this famed flea market in Hong Kong, yet the one thing they all have in common is this: Affordability. The night market is open daily from 5pm to 11pm, which makes it the perfect place to wrap up your last day in Hong Kong. For photographers, you'll have a great time capturing the neon signs all around the area either! Pro tip: Don't go for the first thing you see along the street itself, as the best buys are usually found at the stalls behind them!
Also read: 23 Best Things to Do & Places to Go in Hong Kong
After going through this list of things to do in Hong Kong, I bet going on a quick Hong Kong vacay sounds even more enticing now, doesn't it? But don't get too excited that you forget to actually work out the rest of your holiday's details. On that note, happy planning and most importantly, have a safe and fun trip to Hong Kong!
Note: In line with the current situation in Hong Kong, we advise everyone travelling to the city to take extra precautions such as checking with your respective airlines on possible changes in flight schedule and following Hong Kong news outlets for advisories on protest locations. In the end, it's all about your safety as a traveller, so remember to be flexible with your plans.