Now that you've happily booked your loftcation at Studio M Hotel, are you wondering what exactly you can do during your stay? Let us walk you through 9 LOFT-LICIOUS things you can do to enjoy your stay to the fullest!
1. First things first, embrace your LOFTCATION!

Image credit: Studio M Hotel
Did you know that Studio M hotel is Singapore's first fully lofted hotel? That's right, all the rooms in this hotel are all LOFTS! Enjoy having your very own mini apartment, as you get two floors all to yourself!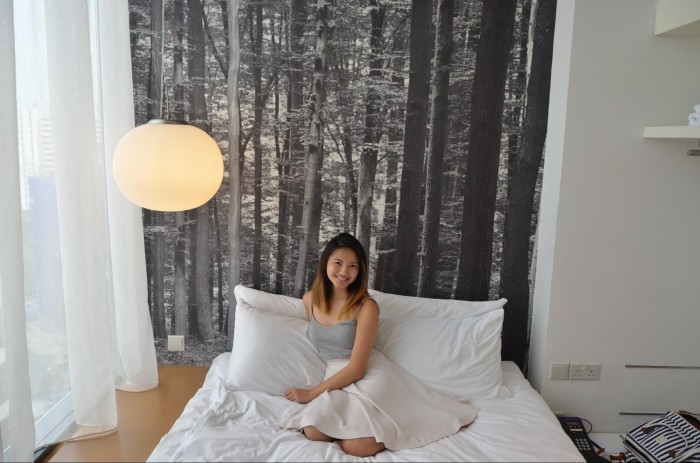 Doesn't the unique wallpaper make you feel as if you're sleeping amidst a forest? You also get bathrobes right beside your pillow, how convenient! You don't have to use them just for bathing or swimming, you can snuggle in them on the comfy bed too. The high ceilings and floor-to-ceiling windows also make the room feel even more airy and spacious!

Plus, the bed on the first floor and the lounge area on the second floor? How quirky is that! There's also a study/work area, perfect for you to concentrate in silence at a quiet corner of the mezzanine. Best part? There's free high-speed WiFi and tea/coffee-making facilities available in the room as well, so you'll have everything you need to complete your work efficiently.
[DEAL] BIZCATION PROMOTION
For all you workaholics out there, we've got you covered! With this Bizcation promotion, you enjoy additional benefits for your business needs such as – a $15 Taxi Voucher, replenishable soft drinks and juices daily, and 25% off laundry services!
You'll also enjoy a buffet breakfast for 2 to replenish those overworked brain cells, as well as 15% off your bill at Natureland Spa, perfect for relieving all your stress and worries. So what are you waiting for? Book yourself a smooth and relaxing bizcation now!
2. Feast your eyes on stunning city views
Every loft is fitted with floor-to-ceiling windows, and offer an amazing vantage point to gaze down at the world at your feet! Stand (or sit!) at the floor-to-ceiling window and feast your eyes on stunning views of the surroundings. You'll be surprised at how therapeutic it can be! Get to people-watch as well from the comforts of your lush loft.
3. Snap instagram-worthy photos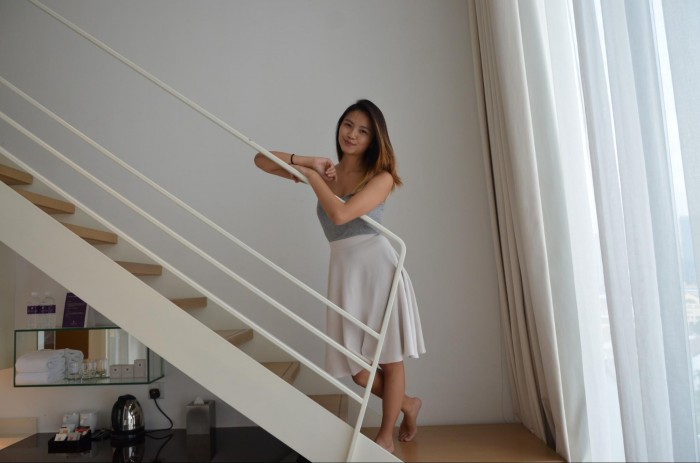 A definite must-do everywhere we go – snap. Lots of. Instagram-worthy. Photos! The floor-to-ceiling windows let in lots of natural light which is perfect for that sun-kissed glow. Every bit of the room basically looks like a potential photo spot, even the stairs up to the mezzanine are so gloriously chic and minimalistic!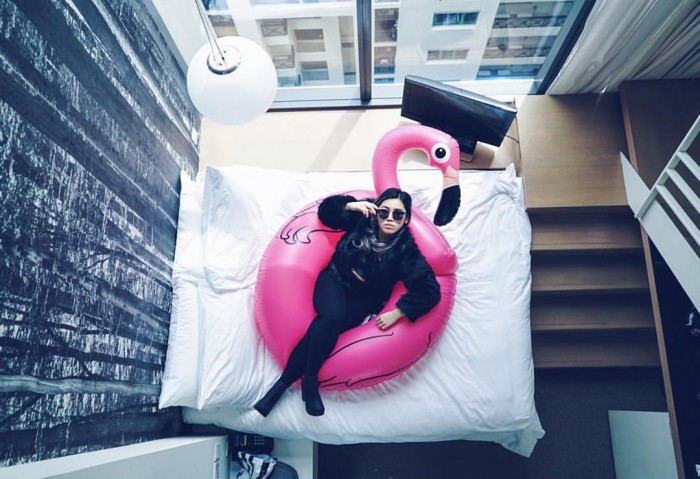 Image credit: Studio M Hotel Facebook (instagram): @gaylenerva
Take it from us, you simply MUST document your stay because Studio M's loft rooms provide endless photo opportunities. Unleash your creativity and go crazy! Pretend you're Singapore's Next Top Model and werk it. You have the entire room to yourself so don't be shy, snap as many as you can!  
Disclaimer: Room does not come with flamingo float.
4. Sink into the big comfy bed
Warning: You might not be able to get up for the rest of your stay. What's the most inviting part of the room? The bed, of course! Studio M Hotel is known for having fluffy marshmallows as beds, and they're certainly not exaggerating! The most inviting part of the room: the bed, of course!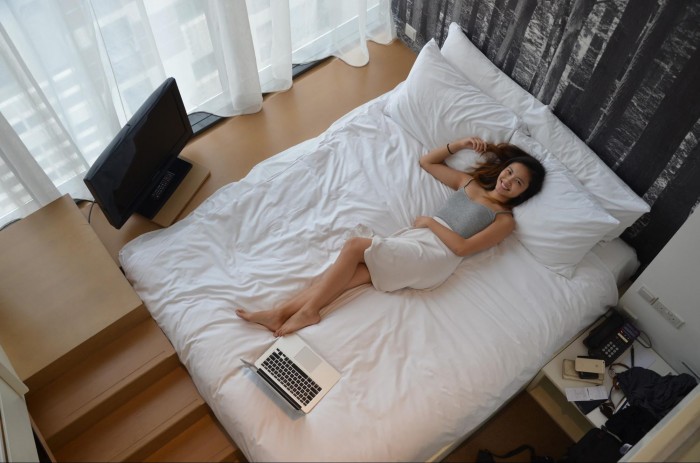 When you're finally done with taking all those photos, sink into the incredibly soft, plush bed and you might fall into the danger of simply SLEEPING through your whole stay. Mmm look at those clean white sheets and fluffy pillows, don't you just want to dive right in? Getting out of this bed is going to be a reaaaaally difficult task for sure.
5. Tuck into a delicious breakfast in the morning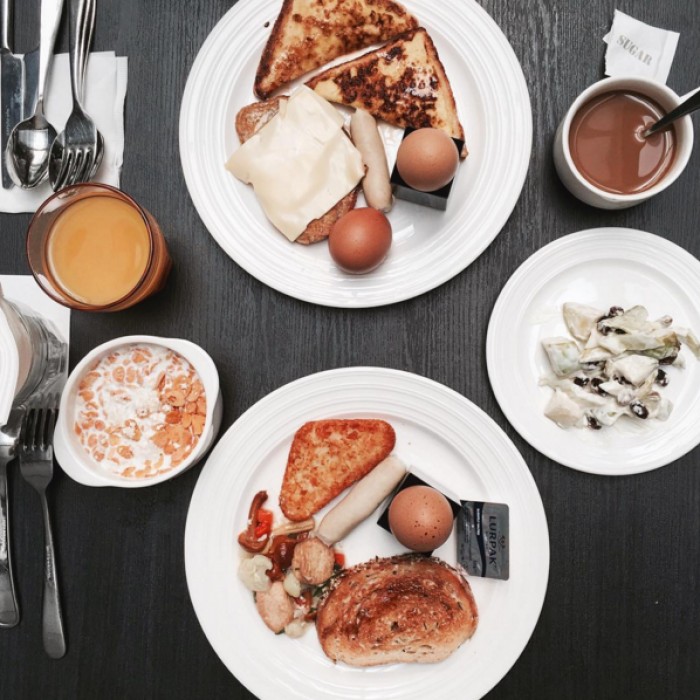 Image credit: @jolztx
The next morning, start your day well with an extensive range of breakfast variety, which is served daily at the alfresco breakfast area. With delicious pastries, an assortment of cereals, french toasts and many more, you'll absolutely eat to your heart's content!
6. Enjoy a relaxing swim or soak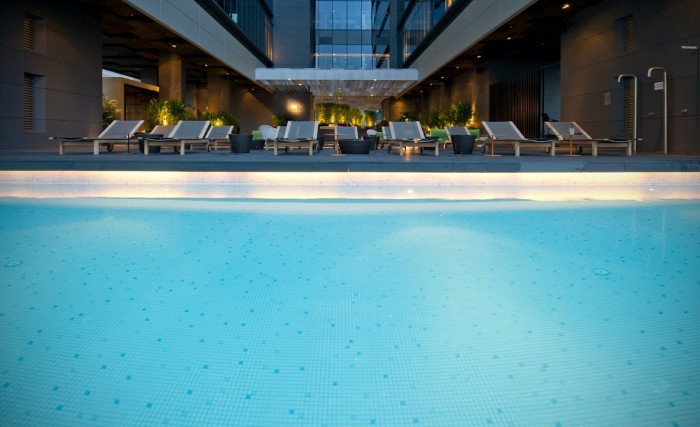 After getting a satisfying breakfast, make a splash in Studio M's 25-metre outdoor pool or simply soak in the jet pool. You'll definitely be rejuvenated and refreshed after a good swim, especially in Singapore's hot and sunny weather!
7. Chill out at the open-air tropical deck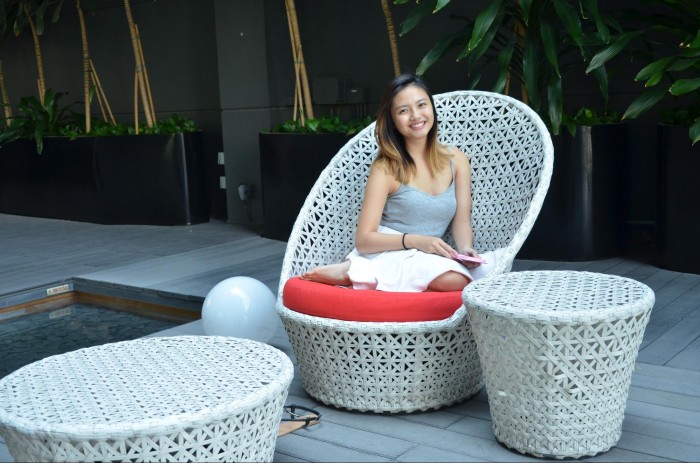 If swimming isn't your thing, lounge effortlessly on the deck chairs or cabanas around the pools, with a cocktail and a good book in your hands. Mmm doesn't that just sound like pure bliss? Sit back, relax, and just watch the clouds float by. It doesn't get more relaxing than this!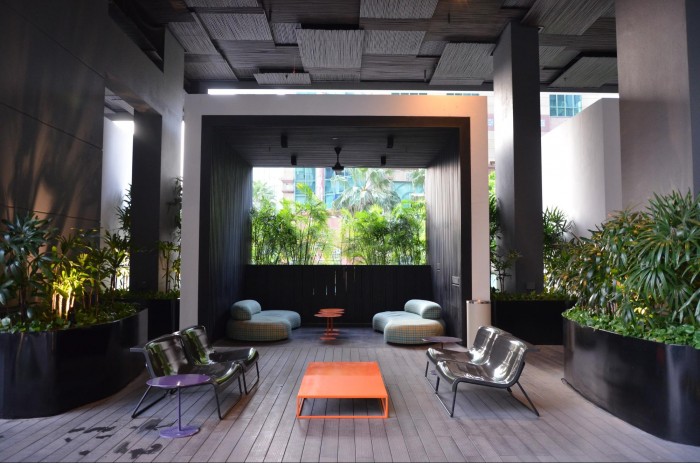 Also, the open-air tropical deck is every bit as tempting as it sounds. The deck is spacious, cooling and surrounded by lush greenery, and is a nice little surprise hideout we stumbled upon during our loftcation!
8. Work out in the open-air concept gym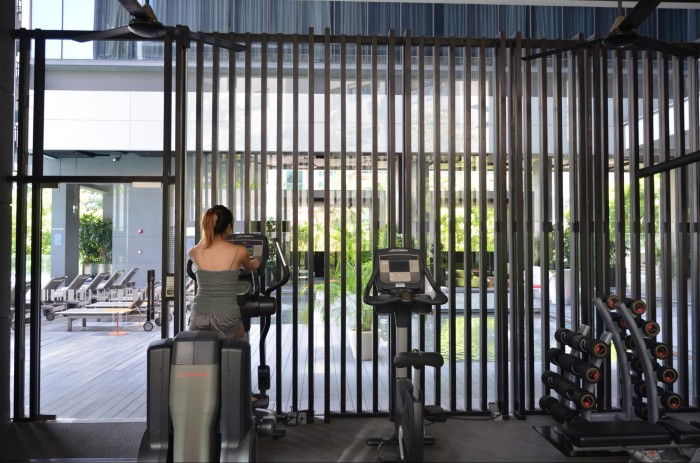 Fitness buffs don't have to say goodbye to their fitness regime just because they're having a staycation! The fitness facilities in Studio M's open-air concept gym will make them sweat for sure. The open-air concept is also a huge draw because of its unique design – breathing in fresh air while exercising will motivate you to push even harder!
BONUS:
9. Celebrate special occasions with your loved one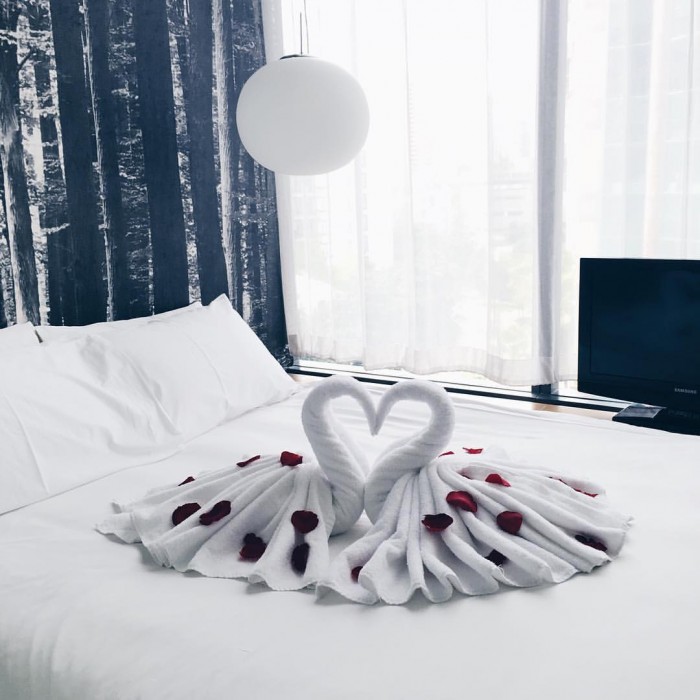 Image credit: @fissyfox
Looking for a special place to pop the question or celebrate an anniversary? Stay in the Executive or Moonlight Loft and celebrate with style ! You don't have to rack your brains for ideas on how to execute a successful celebration. From rose petal decorations, swans fashioned from towels and more, Studio M Hotel's got you covered! Trust us, it will definitely be a night to remember. *winks*
[DEAL]
CELEBRATE WITH STYLE PROMOTION
Looking to celebrate your birthday or anniversary with a loftcation? We've got just the thing for you! You can celebrate in style with a complimentary bottle of sparkling wine and cake upon arrival, flower petals arrangement on the bed for that extra romantic touch, and daily buffet breakfast. Oh – and help yourself as much as you want to the minibar, it's complimentary as well!   
Sounds like the perfect celebration? Start booking right now!
So there you have it, loads of LOFT-licious things to do during a Studio M Staycation! What else are you waiting for? Loft course you should book your LOFTCATION today!
Brought to you by Studio M Hotel.