Have you ever come across a seemingly foolproof craft on Pinterest, mustered up every ounce of domestic ability you have in you, have a go at it, only to fail terribly?  In other words, your end product turns out nothing like how it should look. Yes they all say it's the thought that counts, but not when your gift looks like something out of a pre-school art and craft lesson. If this is your relationship with anything D.I.Y. (I feel ya), then I've got you covered for that next anniversary or birthday gift you've been fretting over.
Staycations make absolutely ideal gifts whatever the occasion. Think about it –  it's thoughtful, it's experiential, and if you're arguing that it's perishable, well you'll have invaluable memories and photos for keepsake. You can also keep the bathroom supplies if you want...
If you wanna one-up your staycation gift and spoil your own market prove to your beau how explosively much you love him/her, go all out and plan an itinerary around it. Right from pre-check in to post-check out. Who says you need to get out of Singapore for a mini holiday?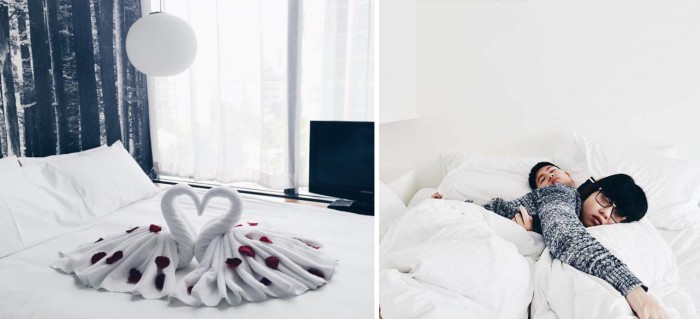 Image credit: @fissyfox (left), Studio M Hotel (right)
Note: This itinerary is (geographically) planned around a staycation at the highly-raved about Studio M Hotel, Singapore's first loft-inspired designer hotel. With its chic furnishings, floor-to-ceiling windows and of course, the perfect mezzanine space which literally takes your staycation to a whole new level, it's really not hard to see what all that rave is about. Studio M Hotel is also ideally located in downtown Singapore, so this 2D1N staycation itinerary will be keeping you busy with the abundance of things to do in the area.
Before check-in
Start your date with a bang by surprising him/her with a walking animal
Cost: $10.90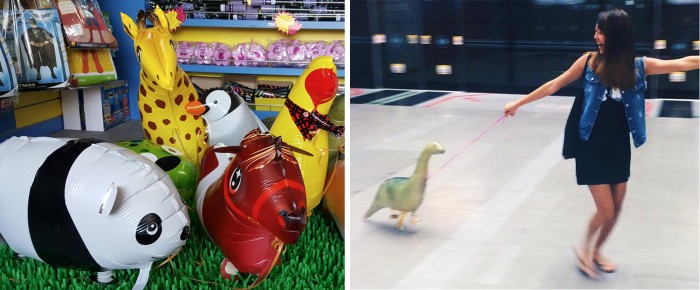 Image credit (left): The Party Stuff
Look at how much joy a dinosaur can bring!!!!
If you wish to change things up, or if your other half is like me i.e. absolutely unimpressed by flowers, start the date on an adorable note by pumping up one of these cuties and surprising him/her with it. Besides, it's cheaper and has a longer lifespan than your usual roses.
Location: The Party Stuff, #B1-38, The Central, Singapore 059817
Grab some snacks from Japanese supermarket Meidi-ya
Cost: varies

Grocery shopping is a free, mindless yet incredibly therapeutic activity – but grocery shopping in a JAPANESE supermarket? That's basically paradise. As ludicrous as it sounds, there's just something about the cuter packaging, the wider variety and the Japanese squiggles you can't understand that makes everything much better.
So before you start your staycation proper, stock up on superfluous Pikachu cup noodles and bottles of authentic Japanese green tea in case the both of you get hungry at night.
Location: Meidi-Ya, 177 River Valley Rd, #B1-50 Liang Court, Singapore 179030
Check-in
Cost: from S$162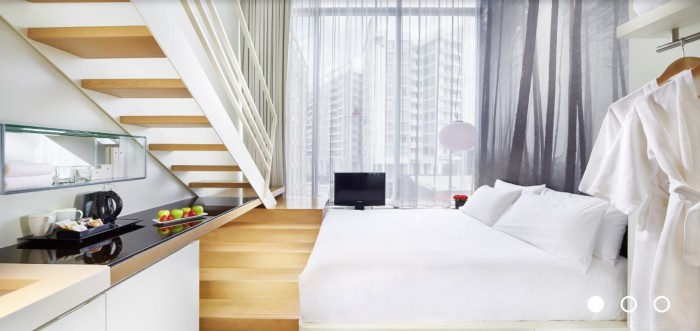 Finally, check into your home for the night. Studio M Hotel is basically the Queen of loftcations, and needs no explanation on why that is so. If you think that this snazzy double-story sanctuary is already impressive enough, we're telling you otherwise. Because you can even make arrangements with Studio M Hotel to have rose petals peppered all over the room, and even have sparkling wine or cake upon arrival.
If your love is a sucker for romantic gestures like such, it's your chance to shine.
Image credit: Studio M Hotel
After check-in
Stroll along Singapore River
Cost: free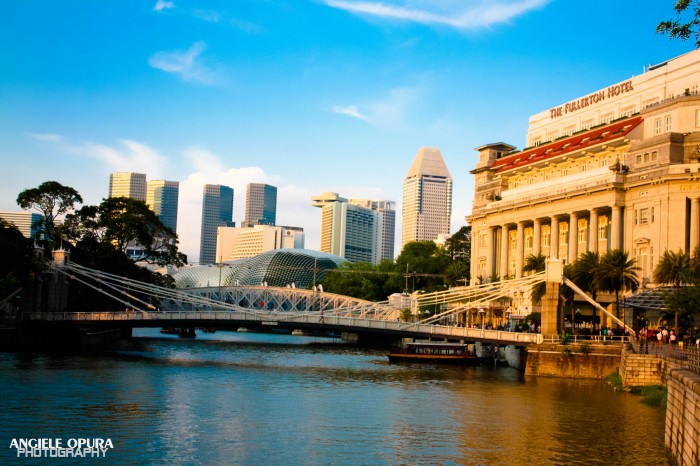 Image credit: Angiele Mae Opura
After you heartthrobs are done marvelling in the beauty of the loft (and each other), drag your reluctant selves out for a romantic stroll down Singapore River. Walk along the cobbled banks and you'll rediscover the idyllic charm of this iconic Singapore landmark, with occasional screams from the G-Max Reverse Bungy and Swing. Or, join in the thrill if you're craving for an adrenaline kick.

Image credit: G-MAX/GX-5
Location: 3E River Valley Road, Singapore 179024
Revel in the National Gallery's visual art collection
Cost: free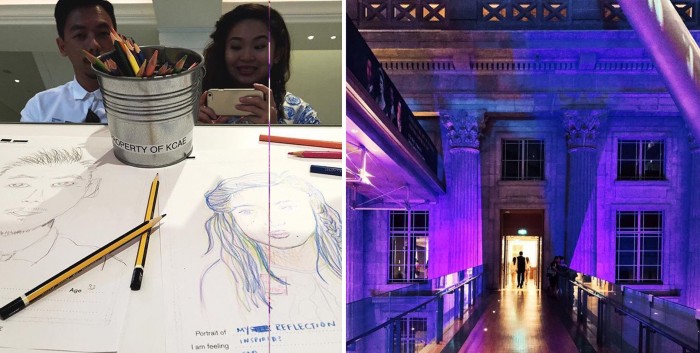 Image credit: National Gallery Singapore
Whether or not you're a history buff, there'll be something in store for you at the National Gallery, which is a dynamic visual arts institution located just a 15 minutes walk from Clarke Quay.
Be sure to check out the ongoing exhibitions at the time of your staycation!
Location: 1 Saint Andrew's Road, #01–01, Singapore 178957
Catch the nightly laser show at Boat Quay
Cost: free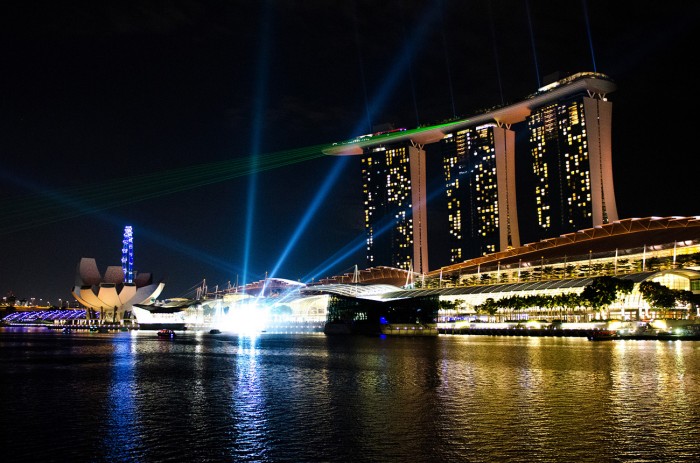 Image credit: Gabriel Garcia Marengo
You've probably caught glimpses of the dramatic lights show put up by Marina Bay Sands when you're in town. This time though, sit through the entire show and fully immerse yourselves in the spanking 300,000 milliwatts laser magic.
Tip: Sit by the mouth of Singapore River, near Merlion Monument and One Fullerton, for a good spot to catch an unblocked view of the show!
Have a hearty dinner at Jalan Kukoh Food Centre
Cost: S$10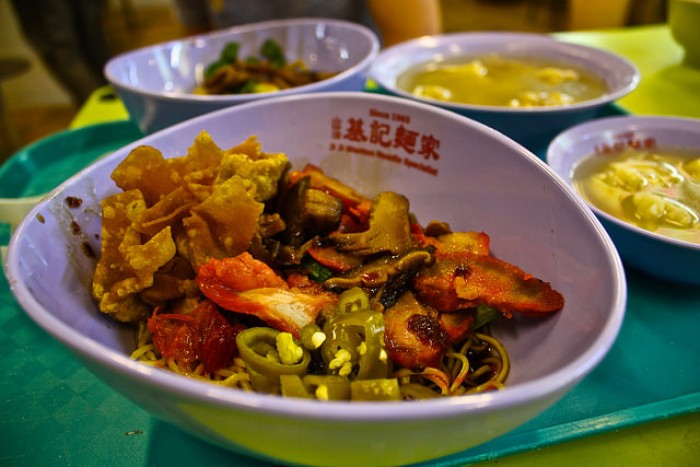 Image credit: Aussie Assault
To wrap up the evening, head to Jalan Kukoh Food Centre for a trusty hawker-style dinner, because nowhere does comfort food quite like a good ol' bowl of Sliced Fish Soup or Yong Tau Foo. (We know you're actually there because you're on a shoestring budget but shh, just go with it.)
Tuck into a good night's sleep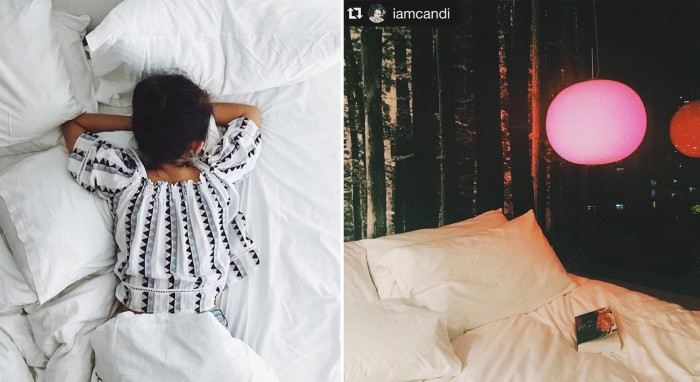 Image credit: Studio M Hotel
And finally, catch up with the much-needed rest after both of you are done for the day. Also, don't forget to eat your Pikachu cup noodles.
Dig into Breakfast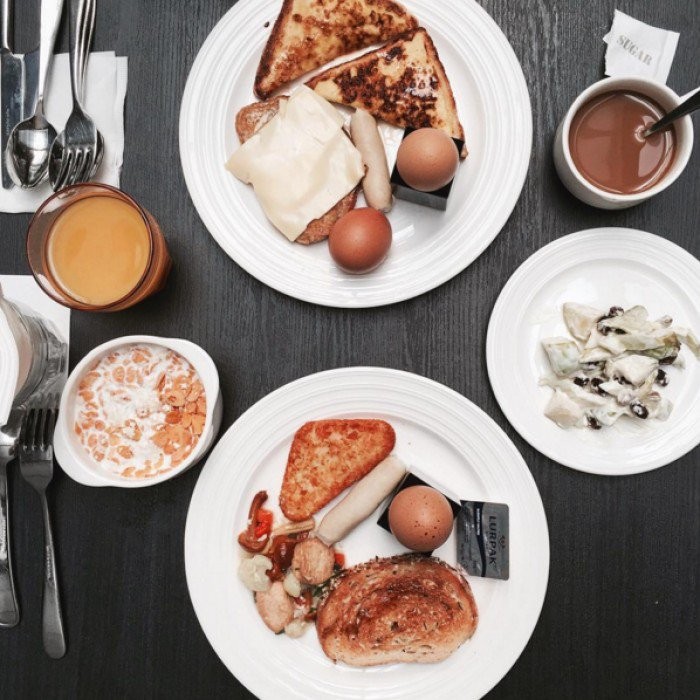 Image credit: @jolztx
After you've been woken up by the first rays of dawn peeking through the floor-to-ceiling windows, get dressed and head down to the level 2 alfresco dining area for a classic breakfast buffet. The breakfast spread here is amazing, and make sure you grab their french toasts which are a personal favourite of mine. MMMMM.
Sunbathe in Vitamin D by the pools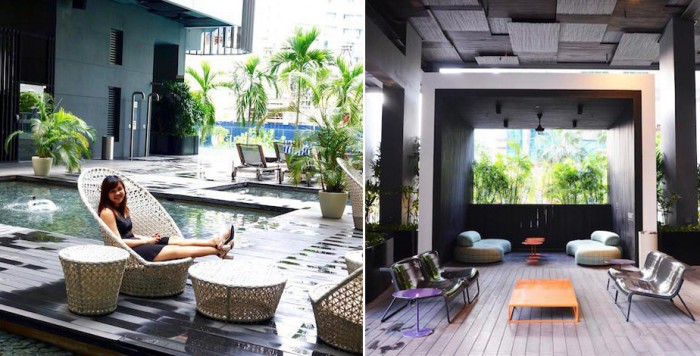 When the both of you are thoroughly satiated from breakfast, head out to Studio M Hotel's open-air deck and chill by the pool in the cabanas. Studio M Hotel sure knows how to create the right ambience in their spaces – in and out of the loft rooms. With the wooden furnishings and complementing greenery, the tropical vibe here is bound to start your morning right.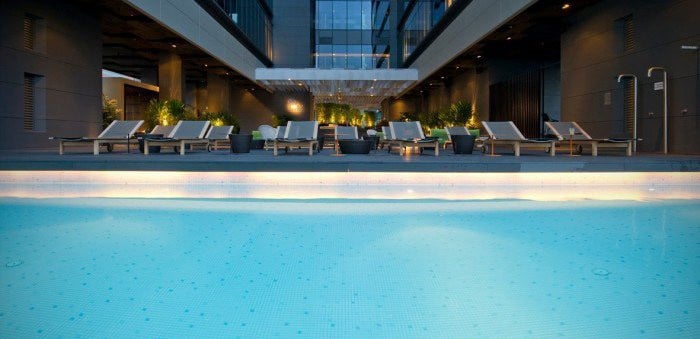 And after you've rested your bloated bellies and basked in all the vitamin D, take a dip in the jet pool, jacuzzi or the 25-metre outdoor pool, which is one of the longest hotel lap pools in Singapore.
Check-out (tearfully)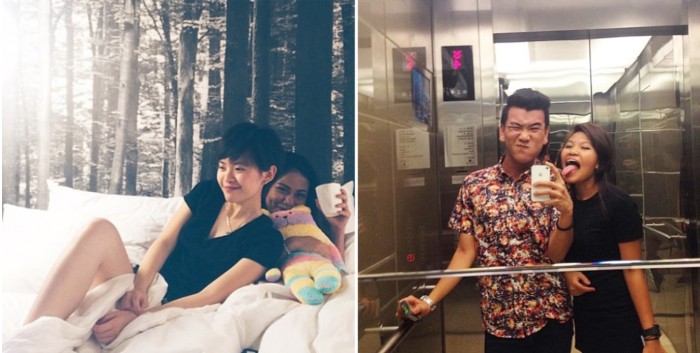 Image credit: Studio M
As difficult as it is, shoot a couple of last photos, tear yourselves away from the bed, then kiss the room goodbye.
But hold up... Your anniversary gift doesn't have to end here. With all the things you can do around Studio M, this itinerary is nowhere close to its end! So if you're not too worn out from all the lofty goodness, read on to see how you can coddle your other half further.
After check-out
Get your fortunes told
Cost: varies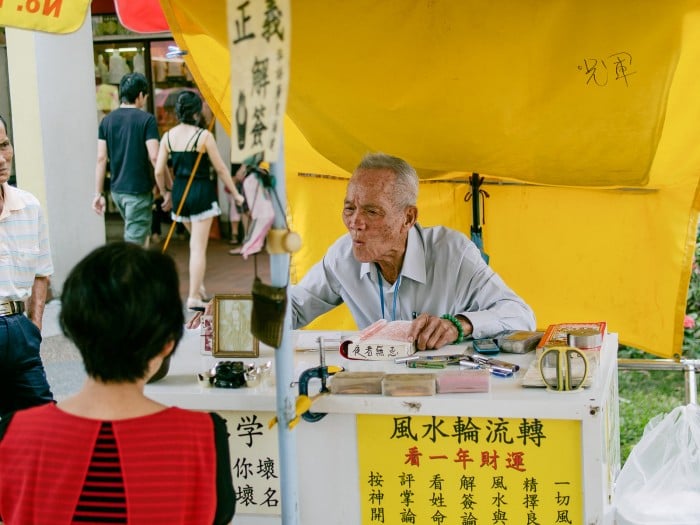 Image credit: Joel Sow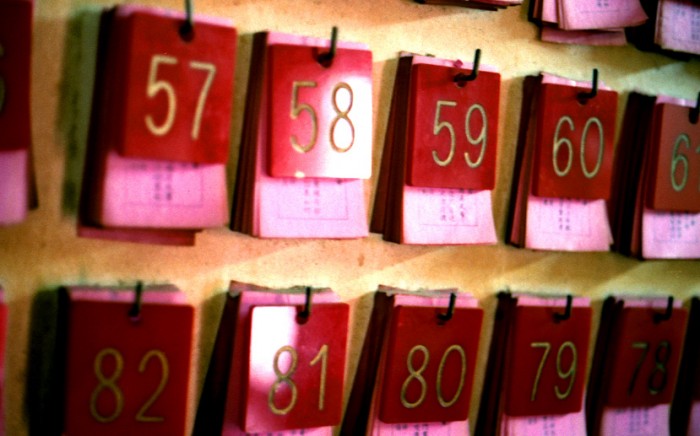 Image credit: Sarah Joy
Scrap café and picnic dates. Make yours a notch less passé and bring your heartthrob to one of the temples in the area to have your fortunes told. If you're gutsy enough, give it a go and ask for your love fortune. Just trust in the divination sticks, shake the cylinder, and reaffirm (or otherwise) your love with the prediction…
Location: Kwan Im Thong Hood Cho Temple, 178 Waterloo St, Singapore 187964
Catch a free movie with MovieMob
Cost: free
Image credit: MovieMob
For the cheapskate and  prudent ones like myself, no way are we paying S$14.50 for a weekend movie ticket when initiatives like Movie Mob ingeniously provides free movies around Singapore during the weekends! So if you time your staycation over the weekends, keep a lookout for where Movie Mob will have their next pop-up. Who needs Gold Class when there are beanbags?
Book your next staycation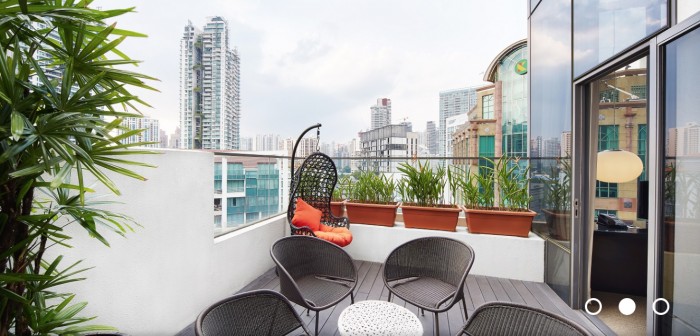 Image credit: Studio M
All good things don't have to come to an end. If you two can't get enough of the staycation, get down to booking the next one! This time, why not pamper yourselves and opt for the moonlight loft, where both of you can have a private patio space to yourselves. Maybe you wouldn't need a staycation itinerary for that though; it's gonna be a battle to leave the room.
---
Brought to you by Studio M Hotel.