If you've already heard the sad fizzle of your romance-tionship with your other half, take heart. There are plenty of ways to get the fire started again and this time, it's going to be more than just netflix and chilling . With these beautiful hotels in Singapore, you're bound to have a different (READ: steamy) staycation. It's time to get your lovin' on at these sexcation getaways!
 1. Quincy Hotel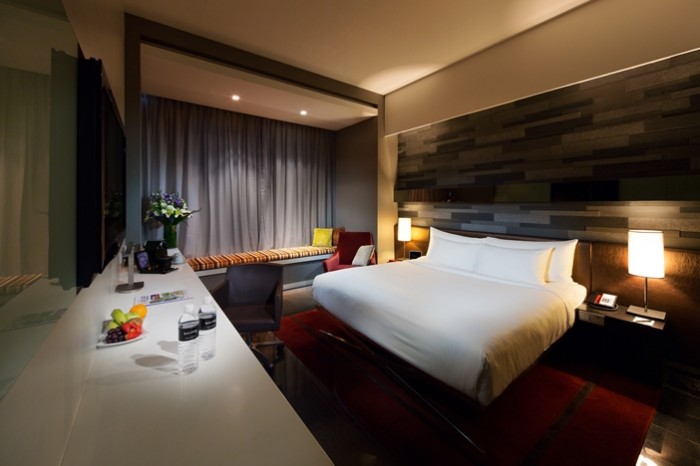 Image credit: Quincy Hotel
If plush pillows, 400-count egyptian cotton sheets and cosy robes are what it takes to turn you on, well feast your eyes on the Studio Deluxe room at Quincy Hotel . Enjoy the view from the bay windows as you and your partner bask in each other's company. Once you've done that, close the curtains (or not, if you aren't the shy type) and get down to business.
Need to warm up? Bring out your sexiest swimwear and take a dip into the LED-lit infinity pool on the 12th floor. The view is amazing plus, the colour-changing lights set against the dim backdrop of the night sky might just get you in the mood.
PSST...Want to know more about how a staycation at Quincy Hotel would look like? Check out our awesome experience right HERE!
2. Studio M Hotel

Image credit: Studio M Hotel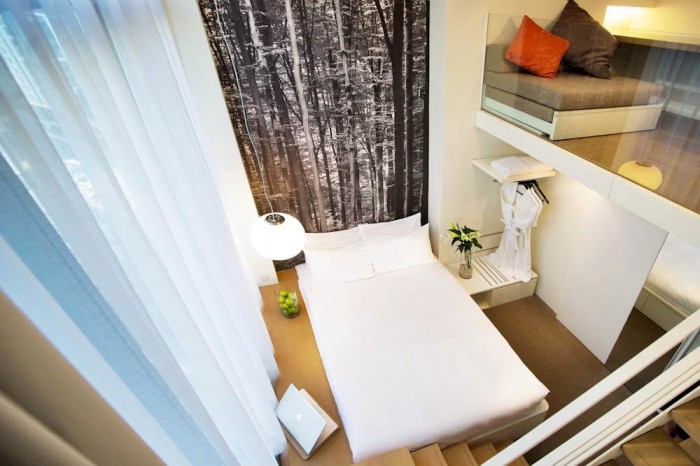 Image credit: Studio M Hotel
A cosy option for the homebody couples, Studio M 's lofts are a perfect romantic getaway. The duplexes are fitted with floor-to-ceiling windows and comfy mezzanines. Just look at them! They're made for some serious romping around. And we're pretty sure you know what kind…
And if you haven't heard, the Fish & Co Glasshouse will be no more come June 2016. So what better occasion to make your last few visits than to celebrate your other half? With Studio M's My Valentine promo, enjoy a complimentary dinner at the Glasshouse with free transport included!  Be sure to savour your last few meals at the iconic landmark before its expiry.
3. Parkroyal on Pickering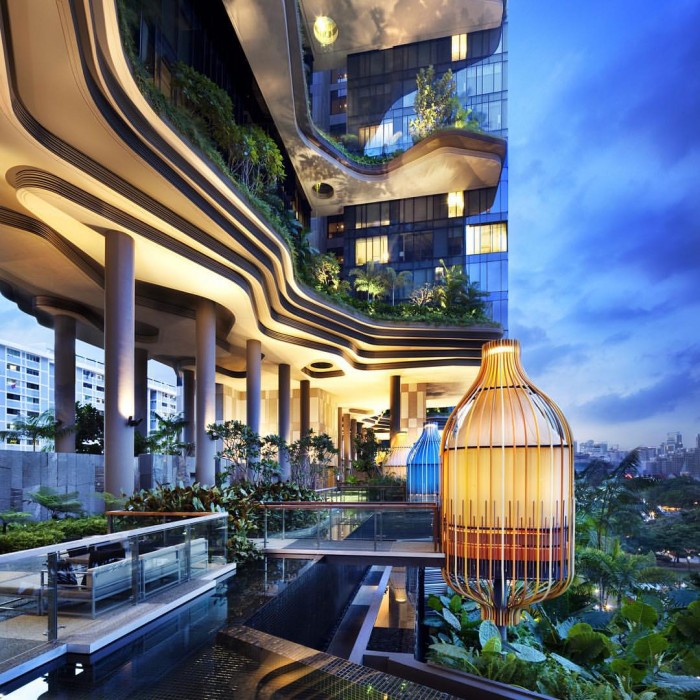 Image credit: Parkroyal on Pickering
An artistic fusion between aesthetics, eco-friendly and tranquility, nobody does it quite like Parkroyal on Pickering . You and your other half are in for a treat with the tasteful architecture of the hotel, spacious rooms and not to mention the iconic poolside cabanas that's made for cuddling.
Even better if it's your honeymoon. Take advantage of the Honeymoon offer and expect to see a snazzy looking limo pick you up from your home! Apart from being granted access to the exclusive Orchid Club lounge, be greeted by champagne in your room and enjoy a couple massage to get your weary muscles all rubbed out and ready for an exciting night ahead. *wink*
Too indulgent? Well, no one ever complains about being spoiled and we're pretty sure your wife wouldn't too…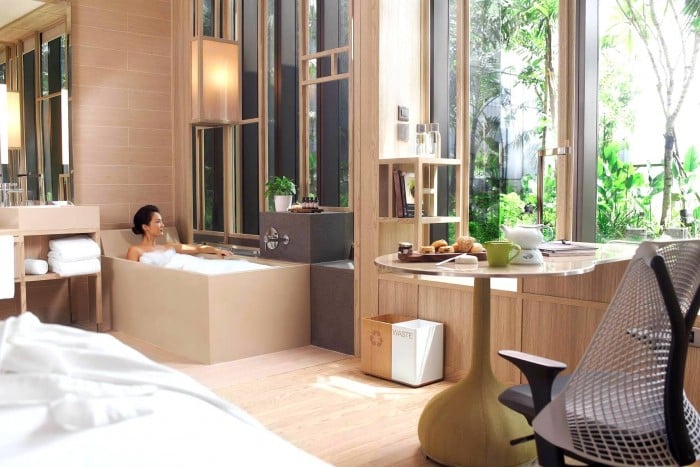 Image credit: Parkroyal on Pickering
4. The Scarlet Singapore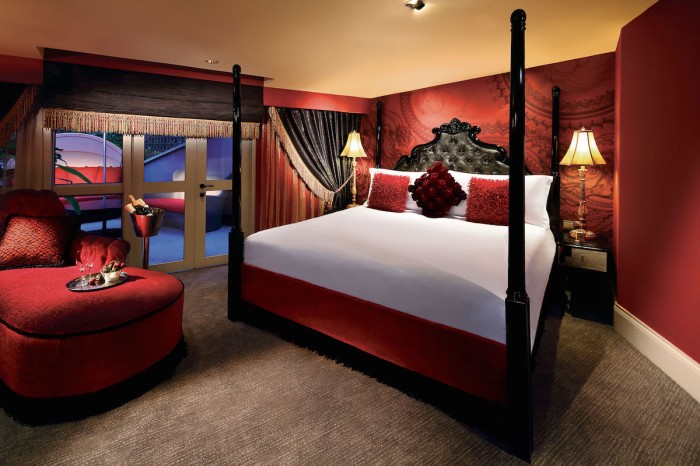 Image credit: The Scarlet Hotel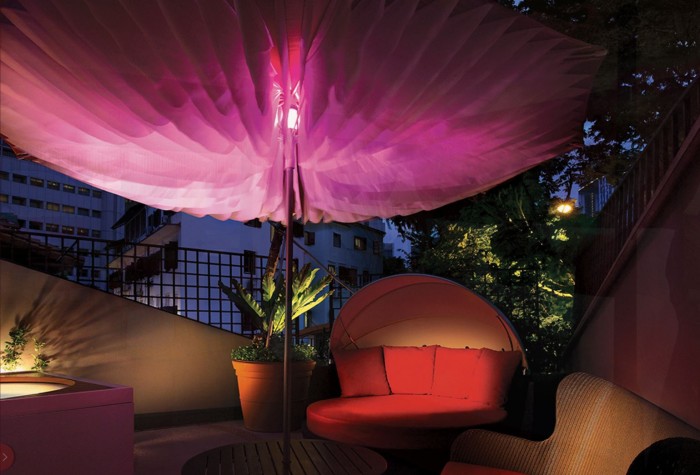 Image credit: The Scarlet Hotel
Nothing says sultry better than scarlet red, gold accents and velvety headboards. If you want hot and passionate romance, this is the place to be. 
Scarlet Hotel is all about the romantic boutique experience, and they even offer couples the  Scarlet Fling Suite package which includes limousine pick-up and a bottle of champagne upon arrival. Pick from five individually-themed suites: Swank, Opulent, Lavish, Splendour and Passion. Oh, and would you like nice or naughty? They will throw in some additional fun – think chocolate-coated strawberries or Lover's Amenities Kit – to your sexcation vacation! 
Scarlet Hotel is situated strategically in town, and couples can take a languid stroll to Ann Siang Road, have dinner, grab a few beers and stumble happily back to their hotel room. We'll leave the rest to your imagination.
Read more about our stay at The Scarlet Singapore here.
5. Hotel Clover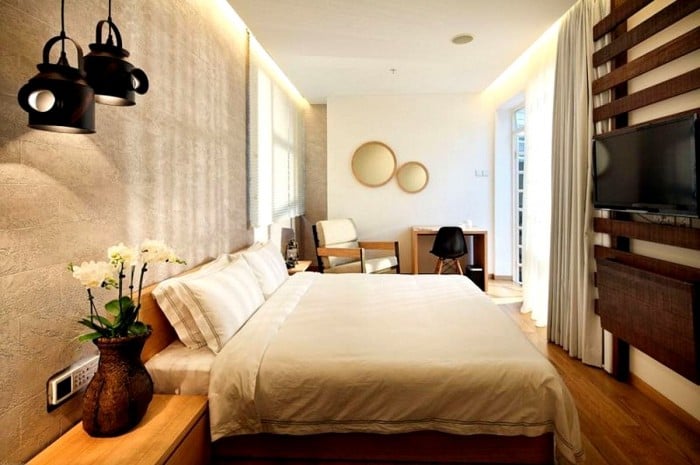 Image credit: Hotel Clover
Hotel Clover is equal parts cosy and artsy. The rustic touches that run throughout the room make every corner seem like a worthy Instagram upload. Just imagine catching the morning light streaming in and casting a cinematic shadow on your partner's face. Show the world ( or not ) how beautiful being in love is and capture those precious moments.  
Plus, after you've finished snapping cute pictures of each other at every possible angle at the impossibly charming place, get ready for a playful night of skinny dipping in the personal outdoor jacuzzi!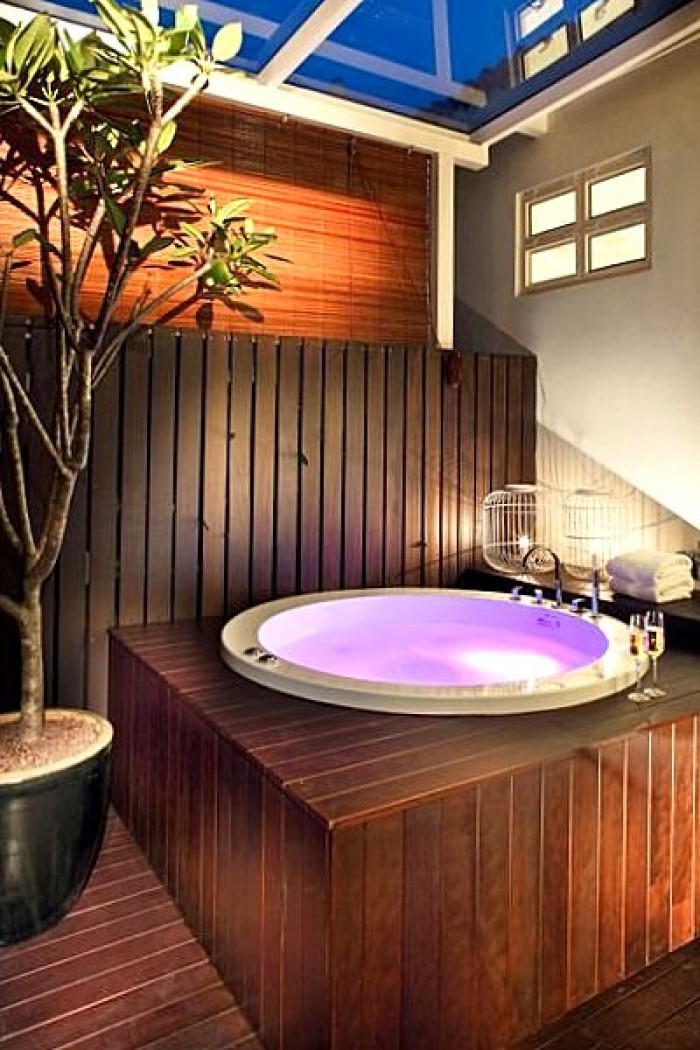 Image credit: Hotel Clover
6. Naumi Hotel
Image credit: Naumi Hotel
Having a knack for fusing high class designs and functionality seamlessly, Naumi Hotel is a game changer in the world of boutique hotels. If you're the kind of couple who appreciates the finer things in life, this hotel is the one for you.
Opt for a romantic stay at the Eden & Nirwana room, a Andy Warhol inspired hideaway. The highlight of the room would have to be the peek-a-boo bathtub that's conspicuously tucked in a corner of the room, making sure your partner would have a rather unobstructed view of you in that tub. That should inspire all the kinds of feelings you'll need to get in the mood.
7. Lloyds Inn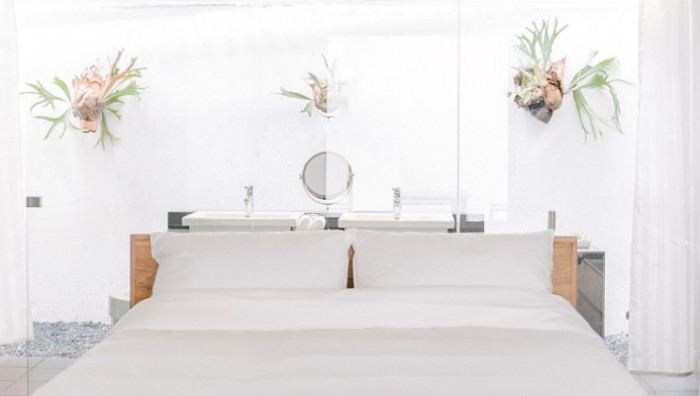 Image credit: Lloyds's Inn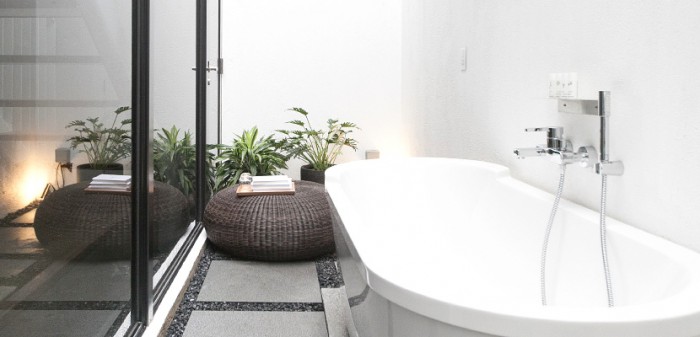 Image credit: Lloyds's Inn
Strategically sitting in Orchard Road, Lloyds's Inn is the perfect reason to not go home after a night out in town. After a day of spoiling each other with silly gifts and sneaky kisses, why not take things further and have an "impromptu" stay at Lloyd's Inn?
Stumble ( tipsily ) in the room and help yourself to the amazing view: of your other half undressing in the bathroom with only a glassdoor between the both of you.
8. Hotel Fort Canning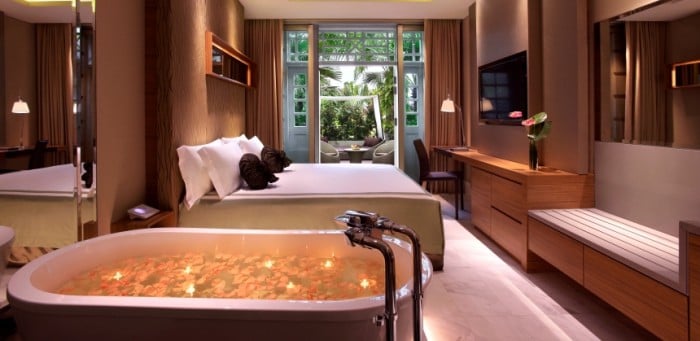 Image credit: Hotel Fort Canning
If you haven't already gotten the idea, the less walls between the bathtub and the bed, the better. And thankfully there is exactly none in Hotel Fort Canning 's Deluxe Garden Room. The two of you will probably spend most of the time undressed anyway, so why not christen your staycation with a good warm soak together?
Unwind in the garden under the stars and spend some much-needed quality time with your other half. After that, take it into the room (or back into the bathtub) and get up to absolutely no good with your favourite bedroom jams playing.
So get undressed and get real steamy with these sexcation options. Ideally, those who've said their vows are the only ones reading this but on the off chance that you've not yet tied the knot, pack those protection. You might be needing more than just one.