Ah, sunsets. Who doesn't love that fiery yet romantic time of day? If you have an acute weakness for sunsets, like me, you'll know what I mean. There's just something indescribable about watching that golden sun slowly disappear into the horizon.
You don't have to get out of our sunny little island to witness mesmerizing views – sunsets in Singapore can be just as beautiful in the midst of this bustling city! So take a moment to enjoy the sense of fleeting beauty with these 10 hotels around the country that will offer you incredible sights of the city during the golden hour.
1. Oasia Hotel Downtown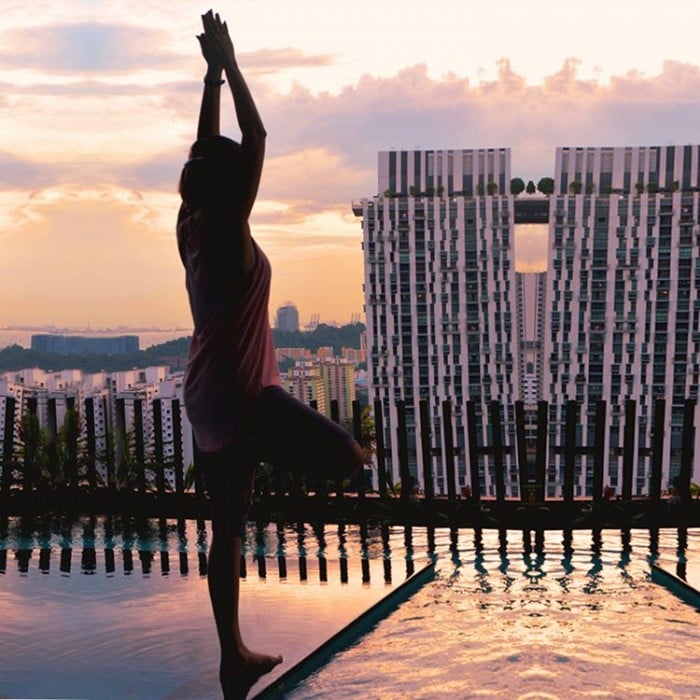 Image credit: @stayoasia
If you're a looking for something a little more tucked away in the city centre, the Oasia Hotel Downtown is just the place to escape to! It has not one, but TWO rooftop pools for you and your loved ones to take in that spectacular sunset against the backdrop of the downtown skyline.
The 27-storey hotel is situated right next to Tanjong Pagar MRT station, a bustling area with business and residential activities, and is also a popular hotspot for iconic Korean and Japanese eateries that serve up delectable dishes. Guests can also go to Raffles Place, Clarke Quay, Sentosa, Orchard Road and Marina Bay very easily.
In addition, we recommend the Sky Terrace on level 12 that offers a tranquil sanctuary away from the hustle and bustle of city life, where you can grab this chance to read a book, or do some yoga coupled with a marvelous view. Don't just come back to any hotel, recharge and refresh yourself before heading off for another round around town!
2. Oasia Hotel Novena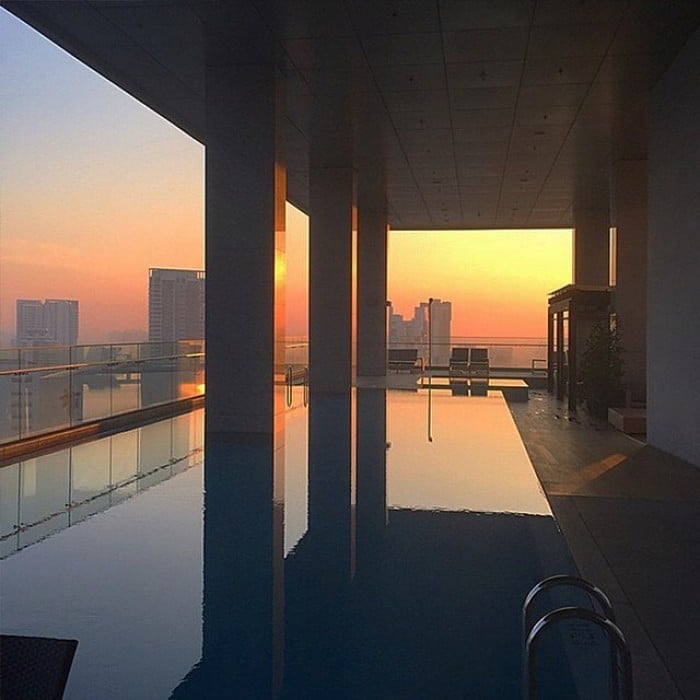 Image credit: @freddyaurso
Just look at that gorgeous alfresco area aptly named 'The Living Room'! Ahhhh I would want to just swim, chill and unwind by spending my whole day at that beautiful place, sipping on a cocktail with some light tapas bites. We love that Oasia Hotel Novena is right smack beside the Novena MRT station, but yet still a gasp of fresh air away from the noise and crowds on the streets. Couples, take heart! This is definitely one of the top spots for a romantic night out just gazing at the beautiful sunset and soaking in each other's company.
Oasia Hotel Novena is directly connected to the central business district and Singapore's key shopping districts and is perfect for those who are looking for a short getaway in a convenient location. Not to mention, the view from the 22nd floor is TO DIE FOR. Reward your loved ones with a luxurious, refreshing hotel stay right now.
3. Marina Bay Sands Hotel
Image credit: Marina Bay Sands
Feast your eyes on the panoramic views from the skydeck at the Marina Bay Sands Hotel, and enjoy a front-seat view of the vivid colours at sundown. Our favourite thing to do is taking a dip at the famous infinity pool, and watch as the sky becomes awash in a sea of fire. The hotel offers unparalleled views of our vibrant city in distinct technicolour that are not only oh so postcard worthy, but will be etched in your mind for a lifetime. Explore the Marina Bay Sands shopping area, casino, and exhibits at the ArtScience Museum before ending your day with this gorgeous sunset view as the perfect finale!
4. Pan Pacific Hotel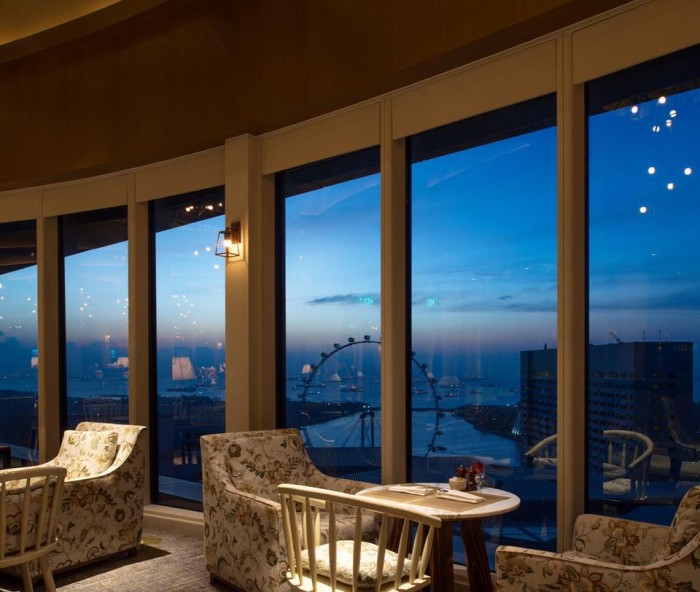 Image credit: Pan Pacific Singapore Facebook
What better way to enjoy the majestic sunset view than with cocktails and canapes in the evening? At Pan Pacific Hotel, you can do just that with Pacific Club access. Located on level 38 of the hotel, the Pacific Club allows you to admire a 360 degree ethereal view of the skyline with soft classical music and delightful conversation in the background. We peered out of the windows with glee, and saw iconic landmarks like Marina Bay Sands, the Singapore Flyer, and the Esplanade laid out before our eyes. Other Pacific Club benefits also include champagne or buffet breakfast, afternoon tea, arrival and departure limousine services, and complimentary refreshments from the in-room mini bar! Plenty of perks – just the way we like it!
5. Parkroyal on Pickering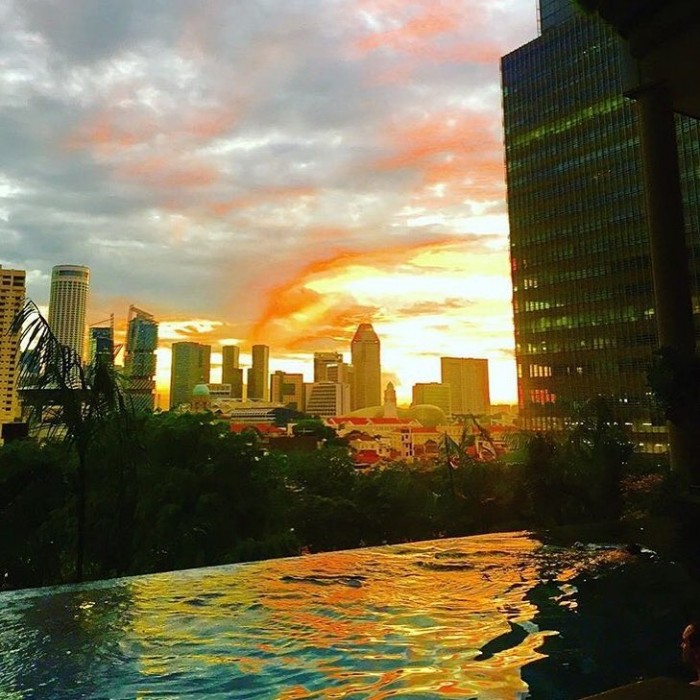 Image credit: Parkroyal on Pickering Hotel, Singapore Facebook
Parkroyal on Pickering Hotel has a unique hotel-in-a-garden concept, and is a breath of fresh air amidst the surrounding urban concrete landscape. Relax at the cute birdcage cabanas next to the infinity pool, and be surrounded by the hotel's numerous water features and lush greenery. Doesn't it sound like a dream to just lie there and indulge in the picturesque view of the sunset against the evening city skyline? The hotel is located near Chinatown and Clarke Quay, making it really easy for us to indulge in drinks at night along the river or go for a stroll along the busy Chinatown streets after soaking in the spectacular sunset view. 
6. Capella Singapore
Image credit: Capella Singapore - Sentosa Island, Singapore Facebook
Capella Singapore is like a slice of Bali away from the daily grind in Singapore. Stepping into the sprawling outdoor grounds or wandering around the hotel's stunning colonial architecture made us feel as if we were transported to a whole other world. There are lots of things to do in and around the area – go shopping at Vivocity, cycle along trails throughout Sentosa, go snorkelling or scuba-diving, or even have a romantic escapade on a cruise! Kidzania Singapore, the latest attraction for kids is also just a mere 5 minutes away from Capella Singapore. It offers interactive learning and entertainment experiences by allowing them to role-play 80 different types of dream jobs, ranging from firemen to bankers. We ended our day with a bang by going for a swim at the hotel's three landscaped, cascading emerald pools against the enjoy magnificent views of the sunset!
7. The Ritz-Carlton Singapore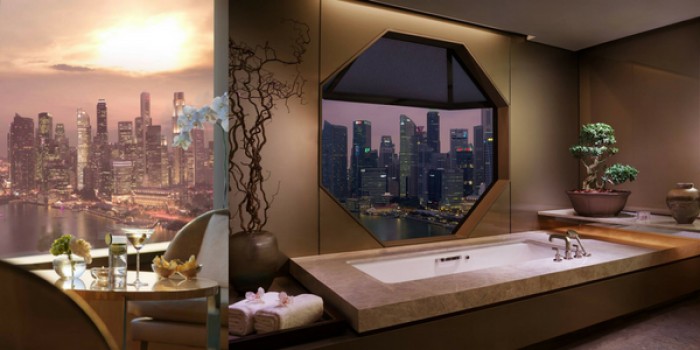 Image credit: The Ritz-Carlton, Millenia Singapore Facebook
Ritz-Carlton Singapore is famous for its iconic hexagonal windows as well as its panoramic views of Marina Bay and waterfront attractions. Calling all avid food lovers – prepare your stomach for the buffet breakfast at Colony; you won't quite know what hit you! Colony has an array of seven kitchens serving international cuisines that will suit anybody's taste, including The Wok which serves up delicious local delights like carrot cake! Be spoilt for choice with the countless dining and shopping options at the nearby Marina Square, Suntec City and the Esplanade. Grab the chance to hop on over to the National Gallery or Gardens by the Bay as well if you haven't already! The highlight of any stay, however, would be viewing the mesmerizing view of the sunset from the lounge or from your luxurious suite. We mean, just look at that view!
8. Shangri-La Hotel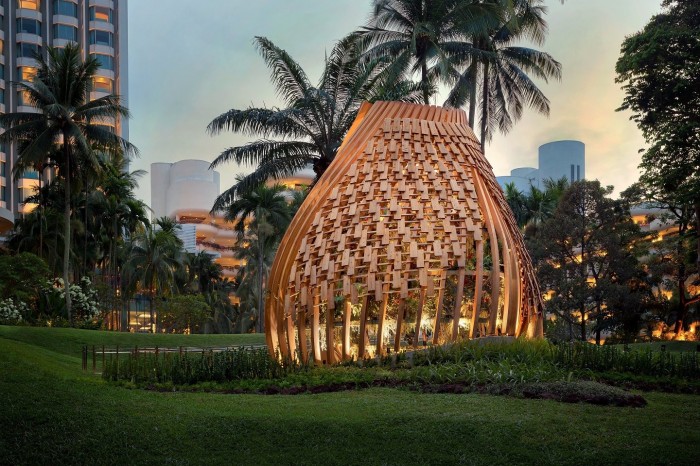 Image credit: Shangri-La Hotel, Singapore Facebook
Check out this special and beautiful place to watch the sunset at Shangri-La Hotel Singapore! Built to commemorate Shangri-La Singapore Hotel's 45th anniversary, The Orchid, a seven-metre tall open air orchid greenhouse, houses over 300 blooms and is a stunning addition to the hotel grounds. If you've got a special occasion coming up, you can even reserve the area for a private area, complete with a unique menu whipped up by the hotel's masterchefs! Enjoy a romantic stroll along the backdrop of pink, orange, and yellow hues across the sky in the evening – is there really anything better?
9. Swissotel Stamford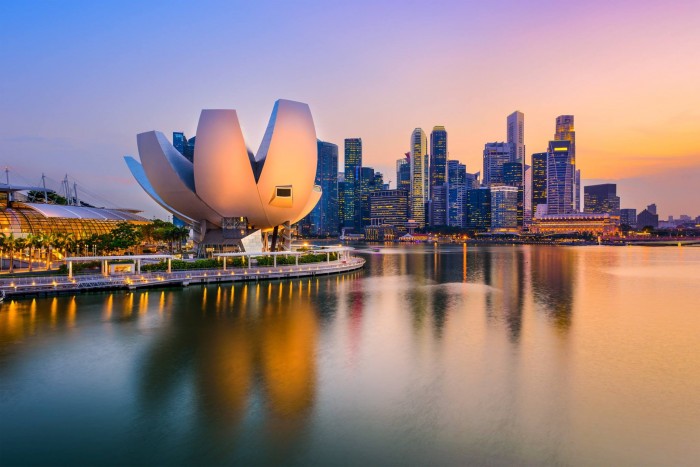 Image credit: Swissotel the Stamford Facebook
Swissotel Stamford is home to one of the best views of Singapore's scenery and city skyline. Just look at that view! In particular, Swissotel's Equinox restaurant is popular for offering a multi-sensory culinary experience on the 70th level. Yes, we had our meal 70 floors above ground! Why, doesn't food just taste more delicious when coupled with an astonishing view? Catch the radiant beauty of the sunset while you happily nom away at your main course. Also, being centrally located at the City Hall MRT station, going anywhere is so convenient. You can explore Raffles City, Citylink Mall, Chijmes, or even indulge in books at the National Library for a break away from your usual daily routine.
10. Mandarin Oriental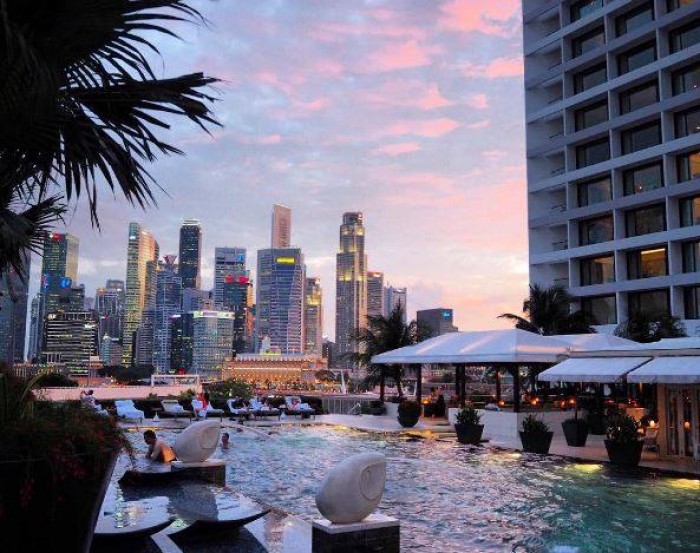 Image credit: Mandarin Oriental, Singapore Facebook
Mandarin Oriental offers you unrivalled views of the sky while relaxing in the pool! Watch the clouds float by in the afternoon as you laze on the deck chairs and suntan. Go for a soothing massage session, a vigorous workout session at the fitness centre, or a private class at the outdoor yoga pavilion. For lunch or dinner, choose from 7 in-house restaurants that offer eclectic menus ranging from teppanyaki to steak to Italian cuisine. There's something for everyone! Last but not least, lounge around in their spacious cabanas as you admire the sheer beauty of the sunlit sky fading into mellowed orange hues before your very eyes. Now, that's what we call a perfect weekend.
Aren't you tempted by all these alluring sunset views? I know I definitely am! And especially for those who need a relaxing break from the whole week of work and responsibilities, this is the perfect opportunity to rest and recharge. Gorgeous sunsets, here we come!