La dolce vita will greet you in the streets of Rome, where bustling markets, centuries-old churches, and Renaissance masterpieces entwine in a labyrinth of streets. Every neighbourhood shows a different side to the Eternal City; every street opens a different page. That's why staying in the right Rome Airbnb is so crucial. Before you can say that " you came, you saw, and you conquered ," everything depends on your location. 
After all, Rome is a living museum that's best experienced on foot. Certainly, this means walking to your destination or going up a flight of stairs every so often. But hey, if it also means shedding all those calories from pasta and enjoying a glorious view at the end of the staircase, then it's going to be worth it. 
These Airbnbs in Rome will help you soak up the city's wonders, so that you won't have to walk very far to find historic sites. All you have to do is open a window!
Also read: 15 Picturesque Airbnbs to Book Along the Amalfi Coast of Italy
Top Airbnb homes in Rome
1. The lavishly decorated apartment overlooking the Pantheon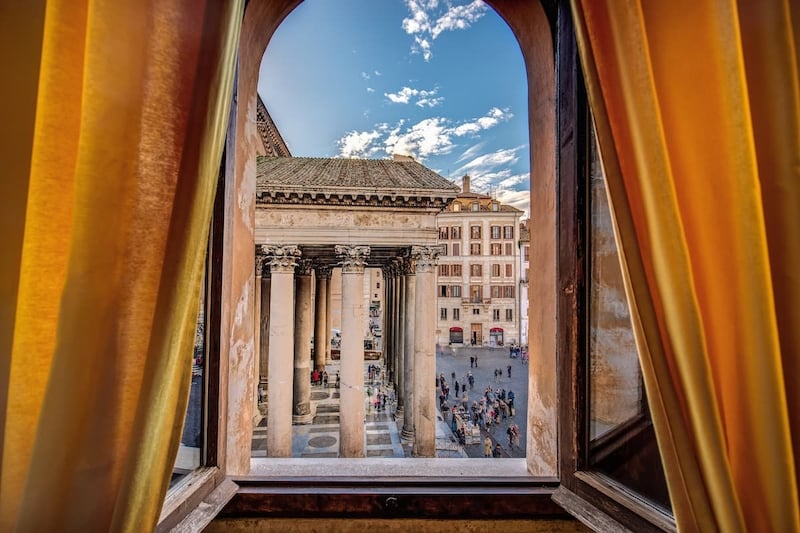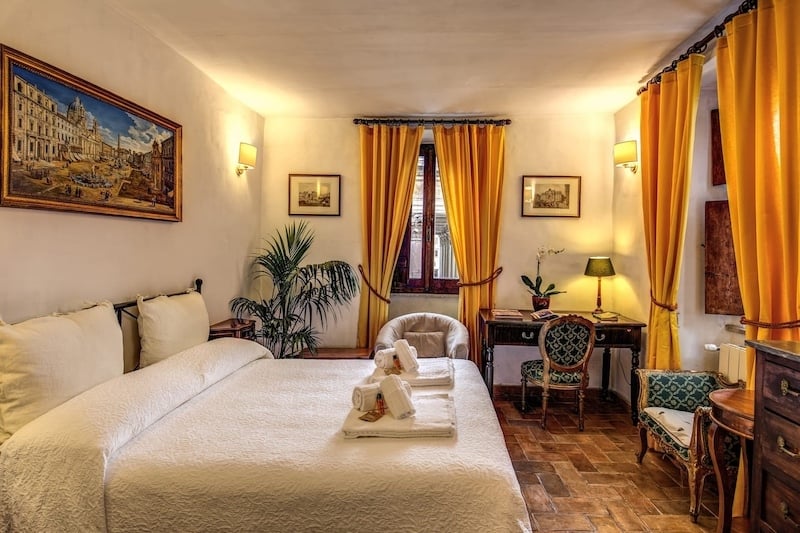 Listing name: Lovely and cosy apartment facing the Pantheon
Listing type: Entire rental unit
Max. no. of guests: 2
No. of bedrooms: 1 
Time is of the essence in Rome, so let's hit the ground running. Right in front of this lavish Airbnb apartment is the Pantheon, one of the most well-preserved temples of ancient Rome. The apartment building lacks an elevator; but don't worry, it more than makes up for it with its proximity to gelaterias, pizzerias, and Italian restaurants. Consider the "eat" portion of your Eat, Pray, Love itinerary well-covered!
2. The retro nook in a historic building in Monti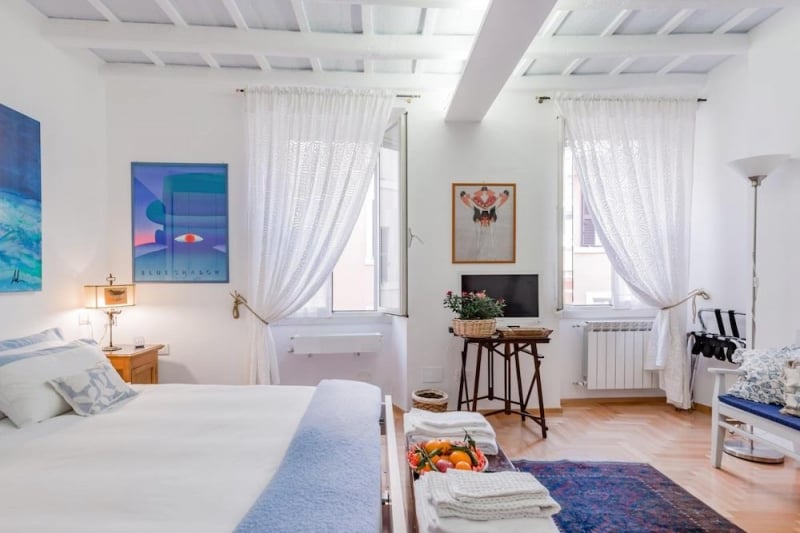 Listing name: Retro Inspired Apartment in Historic Building
Listing type: Entire apartment
Max. no. of guests: 2
No. of bedrooms: 1
Hip, eclectic decor is everywhere in this snazzy apartment . Between the vintage posters and the playful dabs of colour, it is certainly a character among Airbnbs in Rome . Savvy globetrotters will also be happy to learn that this Airbnb is situated in the heart of Monti, a trendy and bohemian neighbourhood in Rome. Therefore, you will always be within walking distance of top attractions in the city. 
3. The family-friendly apartment that greets St. Peter's Basilica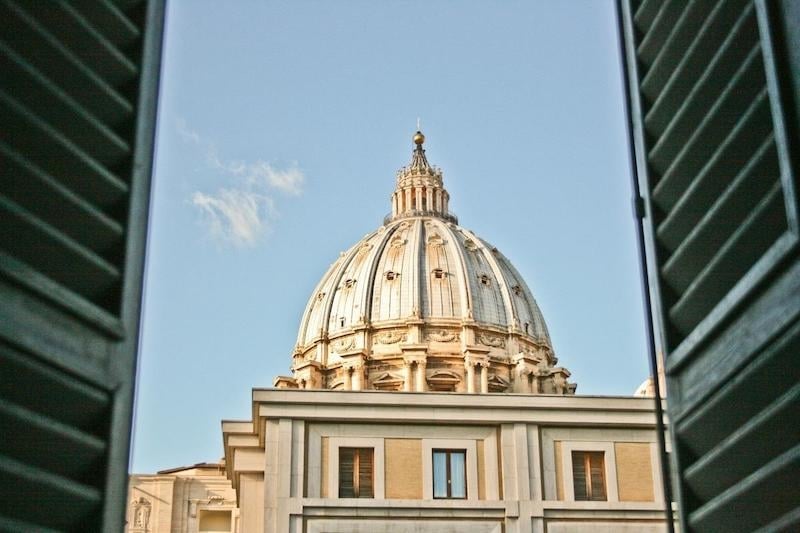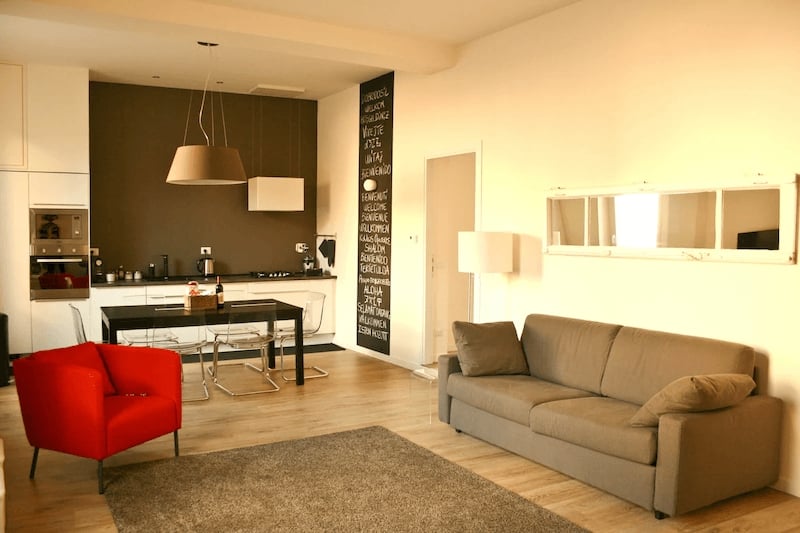 Listing name: Vaticano St. Peter's Amazing View
Listing type: Entire rental unit
Max. no. of guests: 8
No. of bedrooms: 3
Ready to meet the Pope? Any visit to Rome calls for a walking tour of Vatican City, from St. Peter's Square to the Sistine Chapel. Now, just imagine how amazing it will feel to wake up to the iconic cupola of St. Peter's Basilica — the very picture of Rome itself! 
Staying in this hidden gem on Airbnb is one way to skip the queues in Rome. Up to eight guests can fit in this three-bedroom apartment, which makes it ideal for family trips, too. 
4. The vibrant holiday home close to the Colosseum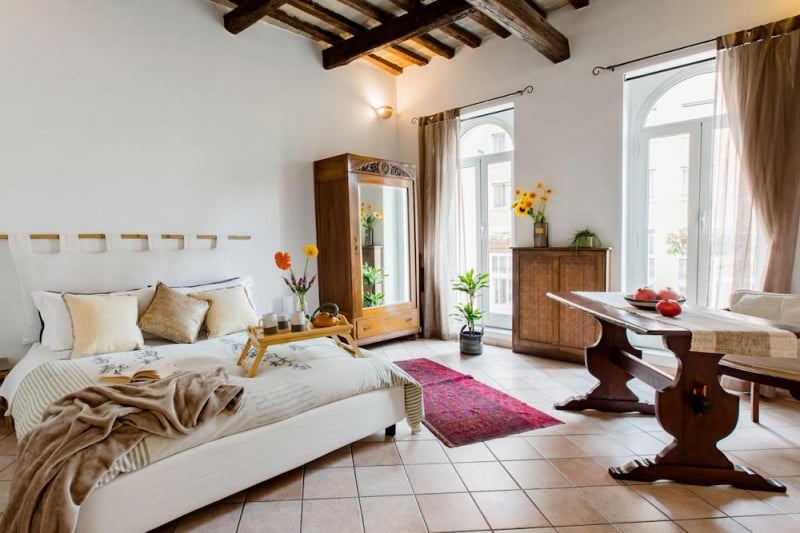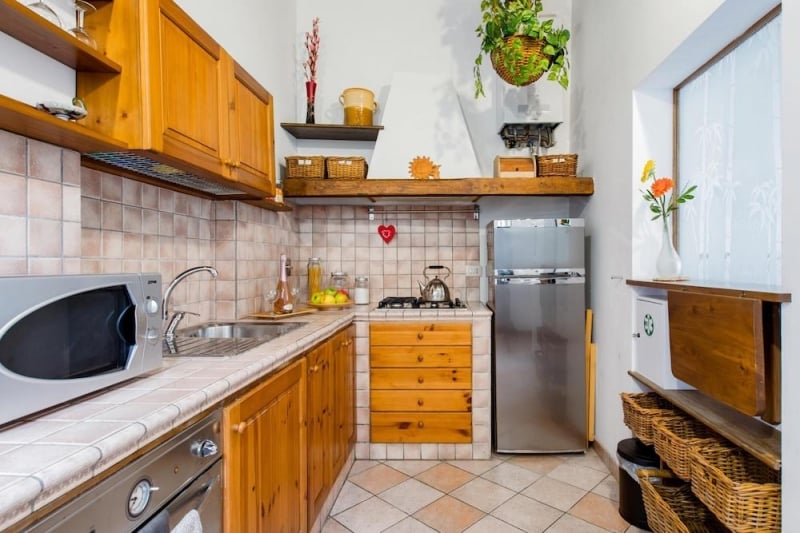 Listing name: Leonina Roman Holiday Apartment
Listing type: Entire rental unit
Max. no. of guests: 3
No. of bedrooms: 1
This centrally located Airbnb near the Colosseum in Rome is a blessing for every traveller. First, it's an easy walk from the metro station and lots of major tourist attractions. Second, it's set in a charming building that dates back to the 18th century, complete with two balconies where guests can look out onto the picturesque district of Monti. Third, this retreat has the comforts of a house with all the amenities of a hotel, so you'll feel right at home. 
5. The apartment with a postcard-perfect view of the Roman Forum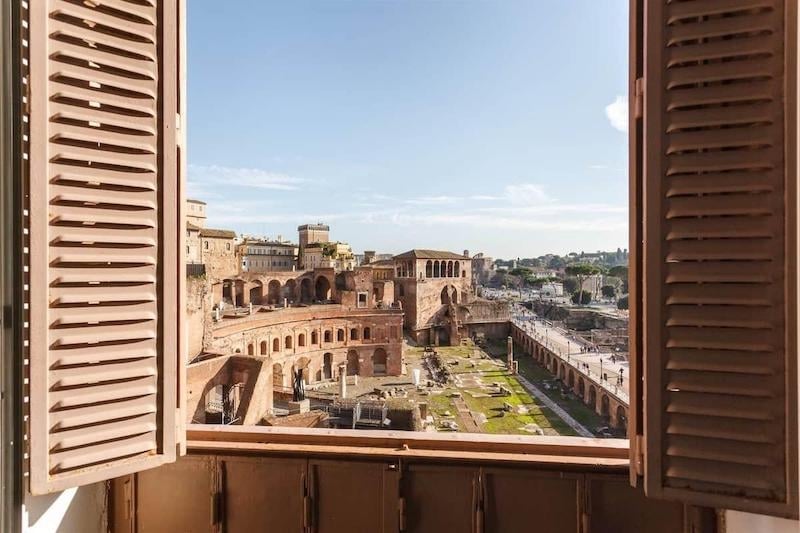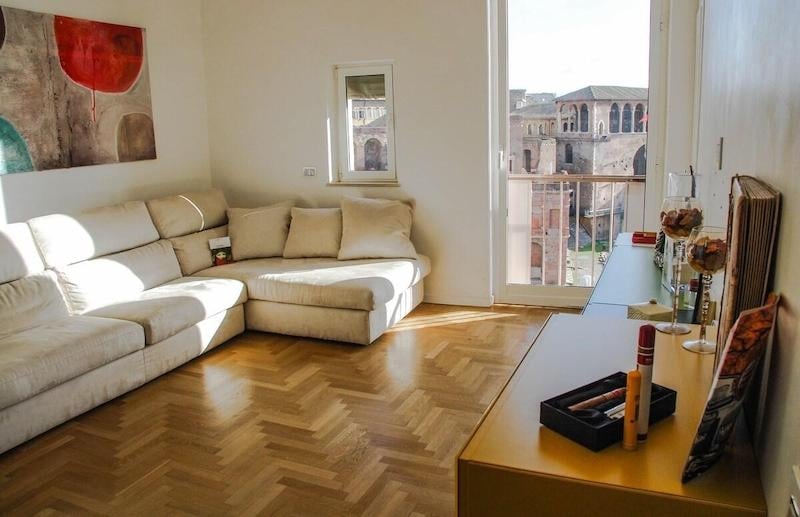 Listing name: REAL BEST VIEW COLISEUM LUXURY LOFT HISTORY CENTER
Listing type: Entire rental unit
Max. no. of guests: 2
No. of bedrooms: 1
If you've ever felt like standing in the midst of ancient monuments, this is likely the apartment for you. From the balcony of this picturesque Airbnb , you can witness the full glory of the Roman Forum. While the view is already second to none, the apartment also enjoys close proximity to lively areas like Piazza Venezia and Via dei Condotti. Channel your inner history buff or shop until you drop in the fashion boutiques of Rome — the choice is entirely up to you. 
6. The charming hideaway near the Spanish Steps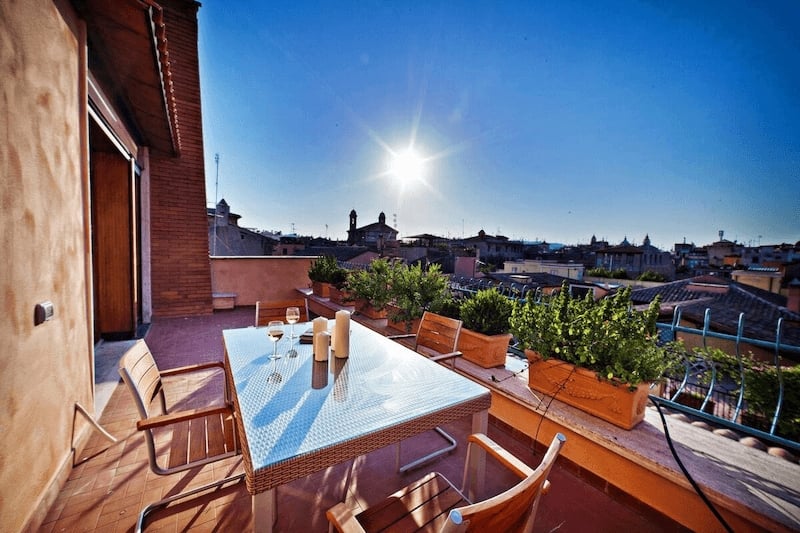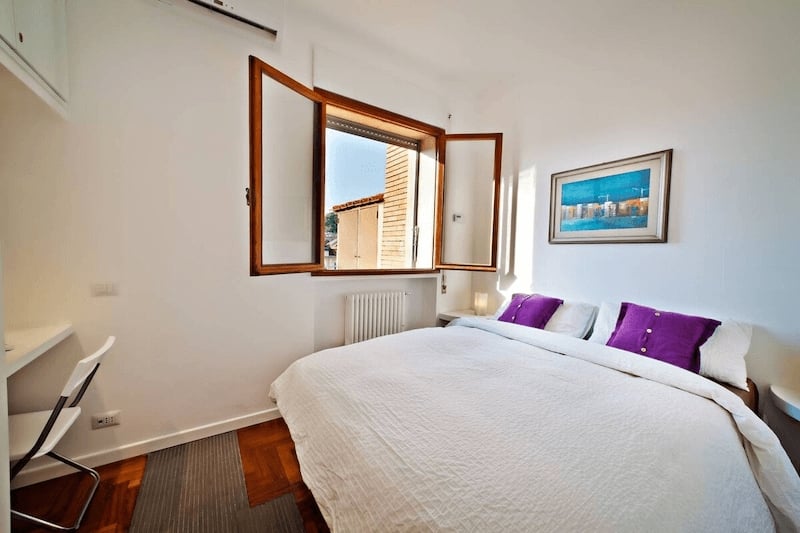 Listing name: LOVELY FLAT TOP FLOOR SPANISH STEPS
Listing type: Entire condominium
Max. no. of guests: 2
No. of bedrooms: 1 
Want to be where all the action is happening? Thanks to its strategic location near the Via del Corso in Rome, this comfortable Airbnb gives you a head start in exploring the Spanish Steps, Borghese Gallery, and Piazza del Popolo. 
The 18th-century apartment building also comes with an elevator and a fabulous terrace. How does celebrating aperitivo (happy hour) with a view sound to you? This is one of the few Airbnbs in Rome that will make that dream happen!
7. The glamorous apartment with hotel-like amenities near Roma Termini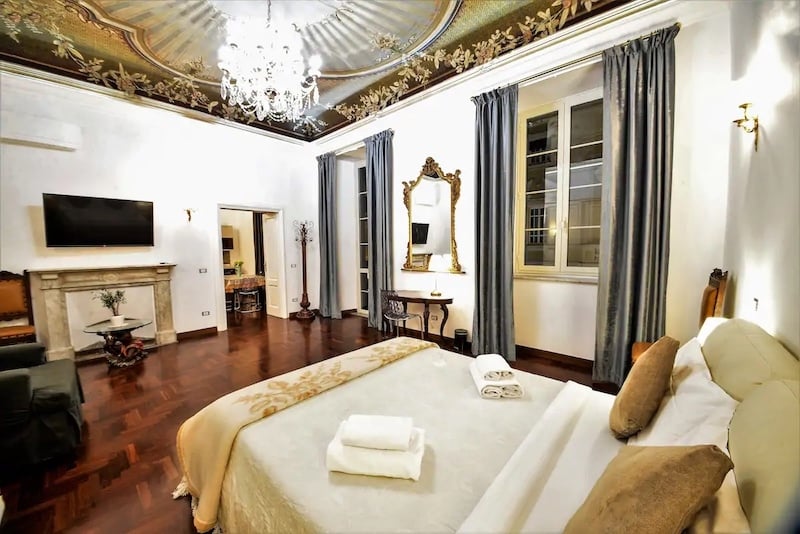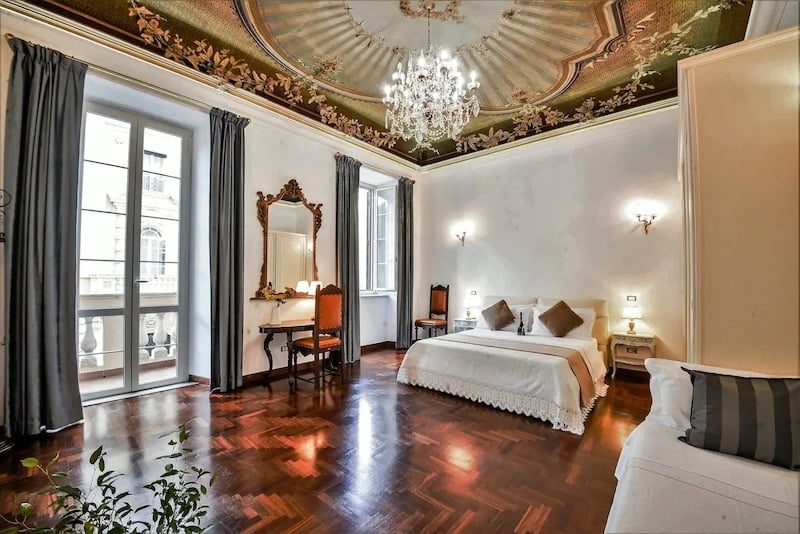 Listing name: Noble Suite
Listing type: Entire apartment
Max. no. of guests: 5
No. of bedrooms: 1 
Walking in Rome can tire out anyone. That's why we recommend this beautifully appointed suite near Roma Termini station, where you can ride the subway or the bus to navigate the city with ease. After a day of sightseeing, you can enjoy hotel-like amenities and sleep under a ceiling covered in frescoes from this Airbnb in Rome. Ready to live in the lap of luxury?
8. The elegant abode right next to Trevi Fountain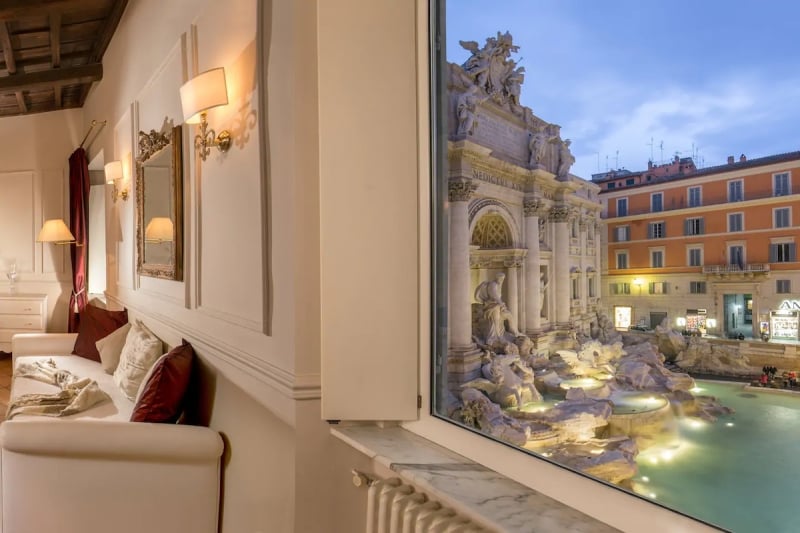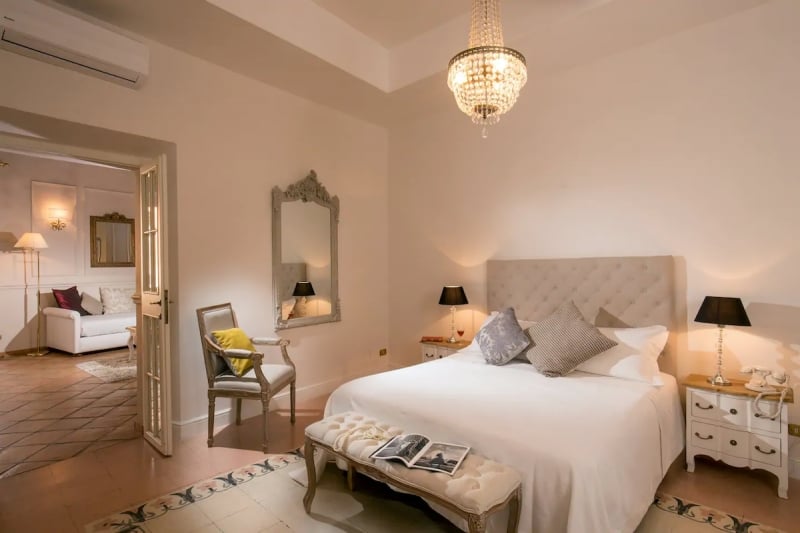 Listing name: Trevi Ab Aeterno - Amazing Fountain's View
Listing type: Entire rental unit
Max. no. of guests: 5
No. of bedrooms: 1
Toss a coin from this Airbnb in Rome to guarantee a return to Italy. It is especially easy since the rental is near the legendary Trevi Fountain! It's not every day someone can claim that the grand Baroque fountain is right next door. After making a wish at the fountain, you should also pay a visit to Il Gelato di San Crispino. If you can recall Julia Roberts appreciatively licking her spoon in Eat, Pray, Love , this is the famous gelateria where that happens. Luckily, it's a stone's throw away. 
Also read: 10 Unique Gelato Flavours You Need to Try in Italy   
9. The stellar lookout in the middle of Piazza Navona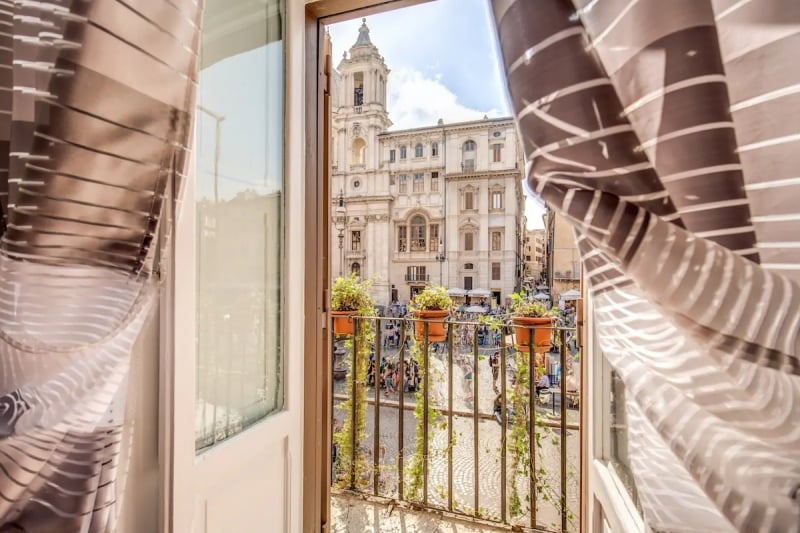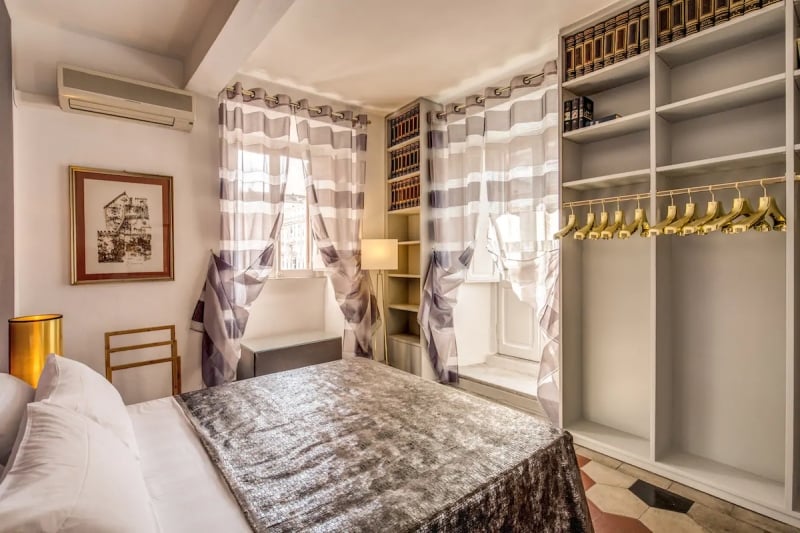 Listing name: Navona, 3 Bedrooms Unique and Spectacular View
Listing type: Entire rental unit
Max. no. of guests: 10
No. of bedrooms: 3
Tucked in one of the buildings in Piazza Navona, this gorgeous Rome Airbnb with a private terrace has enough room to host your friends and family! It's also equipped with air-conditioning for those sweltering afternoons from July to August, when the summer temperatures in Rome can rise to a sweltering 32 °C. 
At any moment, you can venture out to places like Castel Sant'Angelo and the Pantheon. Check out the Fountain of Neptune when it lights up at night. Better yet, open the windows to hear the musicians playing in the square. Just pull away the curtains, and you're already there! 
10. The apartment with a dreamy view of Gianicolo Hill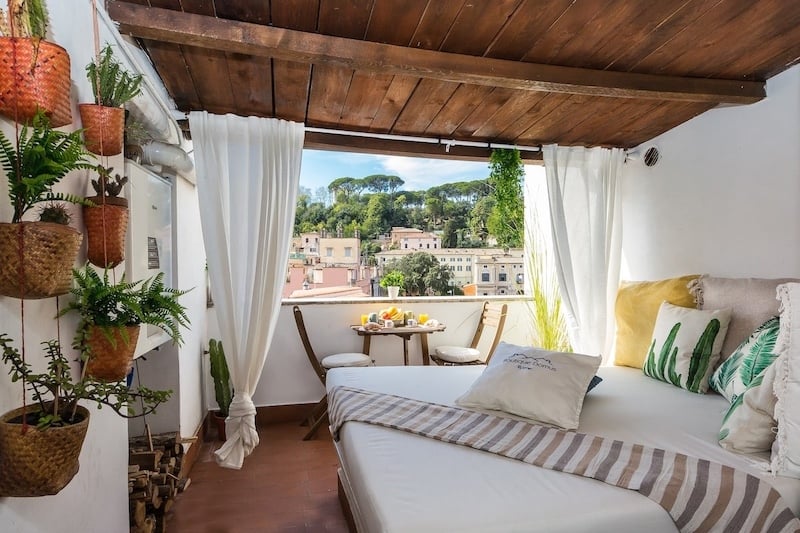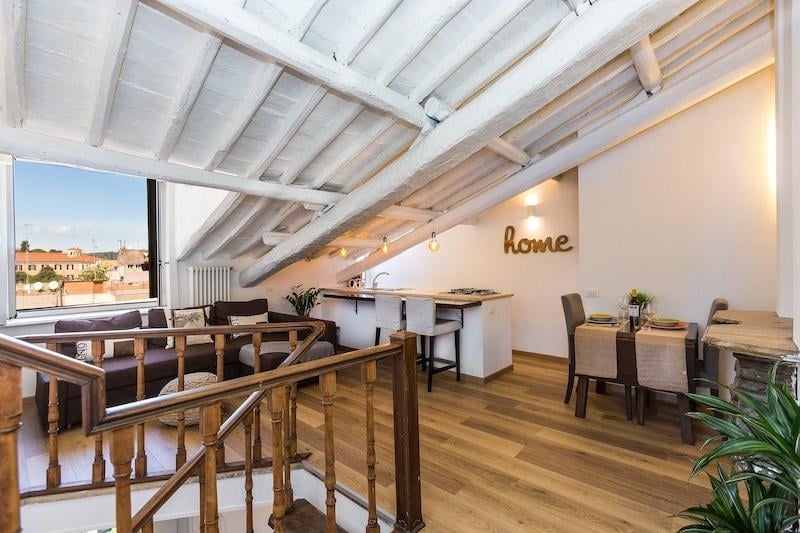 Listing name: Boutique Domus Gianicolo View Terrace Smartworking
Listing type: Entire rental unit
Max. no. of guests: 2
No. of bedrooms: 1
Bellissima! That means "gorgeous," and it's one of the words that come to mind when we see this sweeping view of Gianicolo Hill.
This cosy Airbnb in Rome sits in the vibrant neighbourhood of Trastevere. Walking through the district is always fascinating, especially since it's populated with art galleries and wineries. Meanwhile, attractions like Villa Farnesina, Ponte Mazzini, and the Campo de' Fiori are a short walk away. But what we love most about this apartment with a terrace is that it gives the impression of a charming Italian village, too. 
11. This cottage sitting on a cobblestone street in Trastevere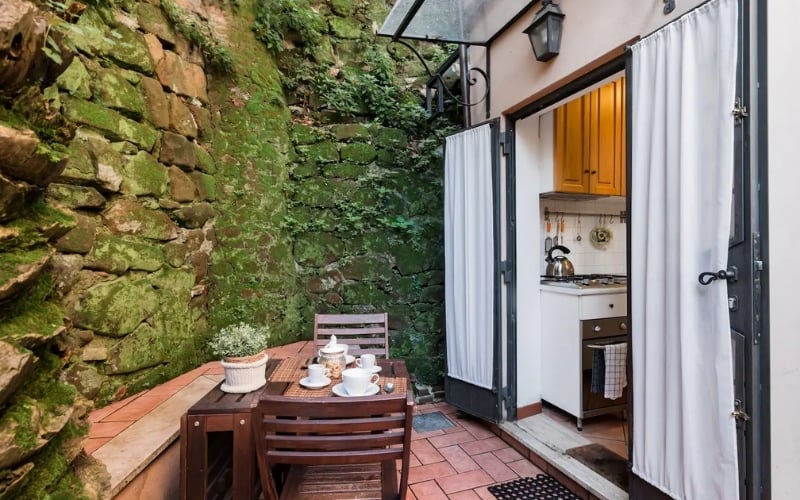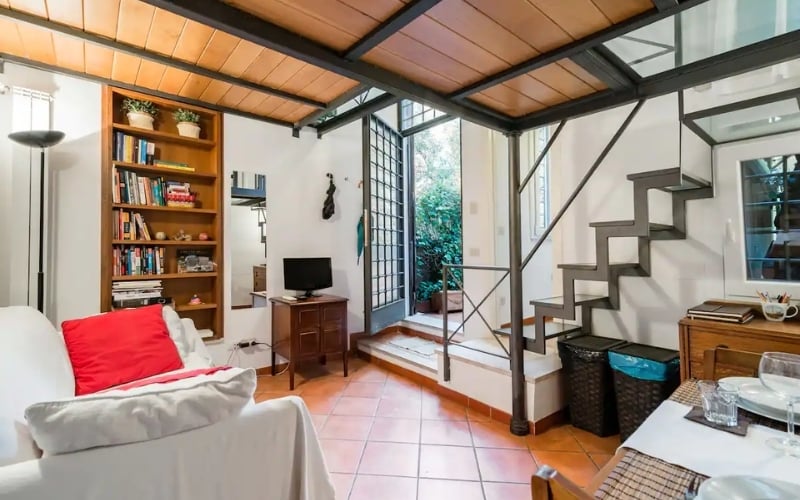 Listing name: Stroll Cobblestone Streets around a Charming Cottage
Listing type: Entire cottage
Max. no. of guests: 3
No. of bedrooms: 1
Being a highly sought-after place for international tourists, it can be difficult to find affordable Airbnbs in Rome. Fortunately, this lovely cottage in Trastevere welcomes travellers with a limited budget. It is cheap for an Airbnb in Rome, with convenient access to the restaurants and shops in Trastevere, giving you even more bang for your buck. 
Immerse in the simple comforts of living like a local. Prepare simple home-cooked meals with the cottage's kitchenette and enjoy them on the patio. After that, admire the charming antique furniture in the cottage and retire comfortably on the loft's beds.
12. This classic residence nestled at the heart of the city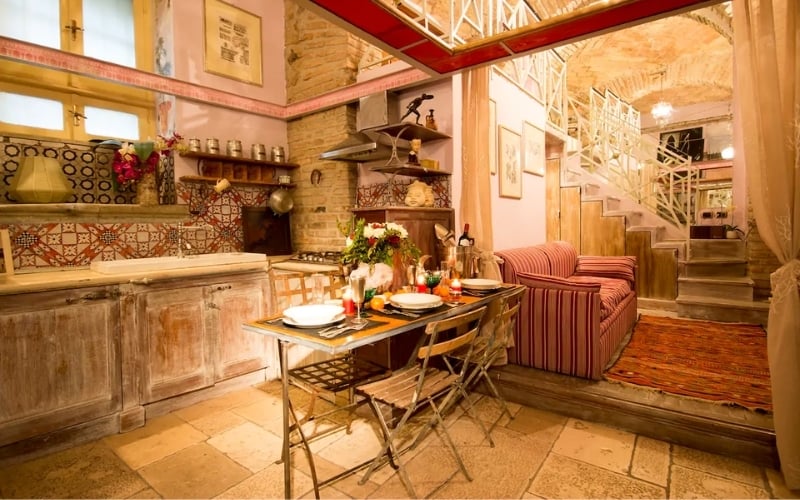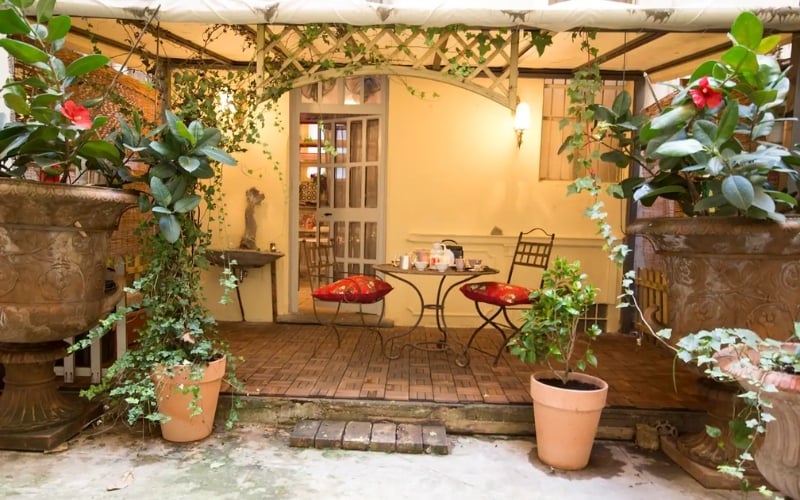 Listing name: Colosseum Dream Casa, Rome city center.
Listing type: Entire rental unit
Max. no. of guests: 3
No. of bedrooms: 1
How would you like to be in the middle of the Eternal City? Consider booking a stay in this Airbnb near Rome's city centre and get firsthand access to its sights and sounds! It's also another Rome Airbnb that easily provides a view of the Colosseum — which is only a few minutes' walk away. Provided that you won't be stalled by the captivating rustic hold that this house brings, of course.
13. This property with a large garden for small gatherings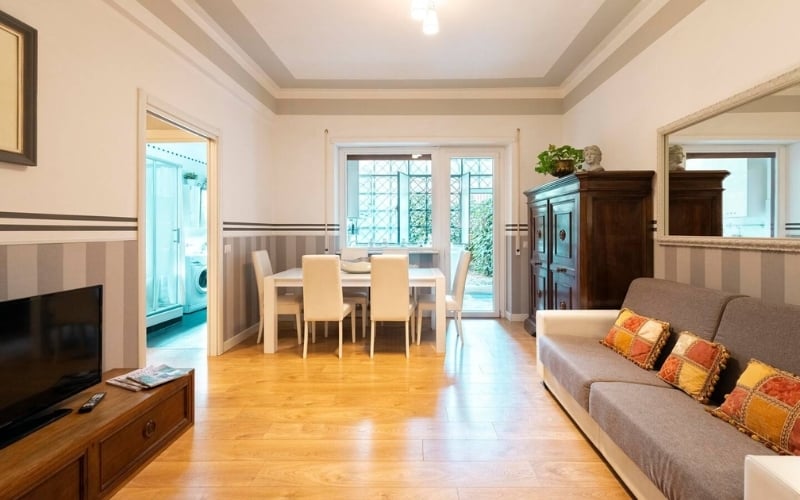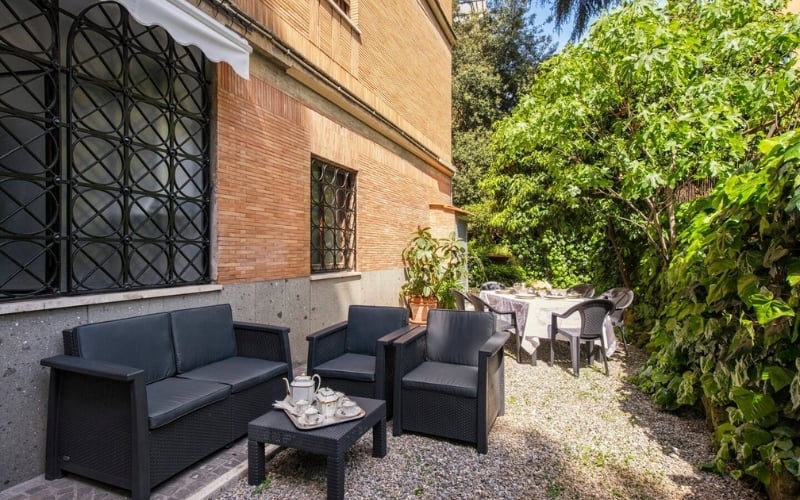 Listing name: +8 Pers/Metro@5min Vatican-St Peter/with Garden
Listing type: Entire rental unit
Max. no. of guests: 8
No. of bedrooms: 2
Perhaps the best Airbnb in Rome for groups would be this apartment with a sizable garden . It's an excellent space to unwind and dine with friends for the privacy it offers. Speaking of meals, the kitchen inside the property is quite extensive and is a great avenue to practise perfecting the Neapolitans or the pasta al pomodoros ! After a hearty meal, guests can retire comfortably in any of its spacious bedrooms.
Since the Airbnb is close to the Rome city centre, a visit to attractions such as the Vatican and Trastevere is just a few minutes away by foot!
14. This fancy dwelling for friends visiting the Eternal City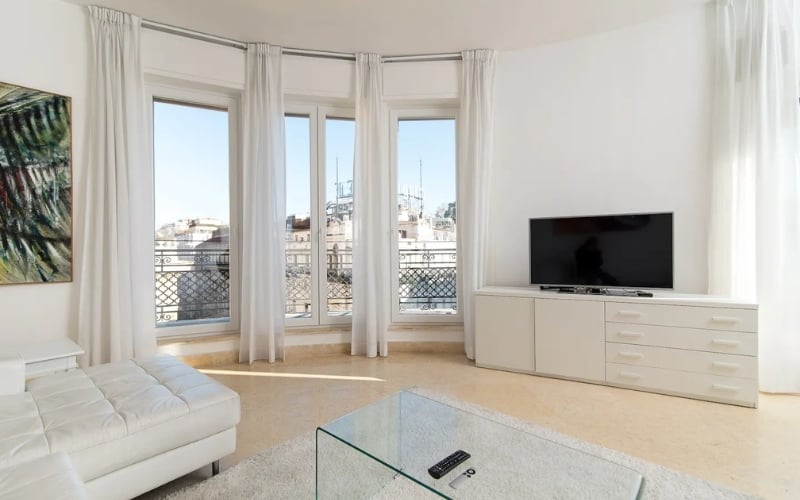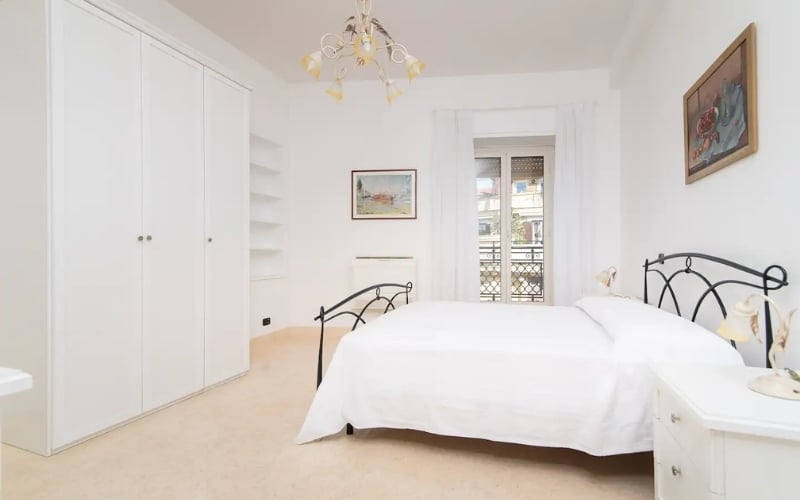 Listing name: CHARMING APARTMENT PIAZZA DI SPAGNA
Listing type: Entire rental unit
Max. no. of guests: 9
No. of bedrooms: 4
This immaculate Airbnb near Trevi Fountain and the Spanish Steps is more than a solid choice for a rental. The white and cream furnishings create a refreshing but chic vibe to the apartment. Paintings around the house add a lot of character to the apartment. For a fancy holiday, this is one of the best Airbnbs in Rome to stay in!
15. This gorgeous penthouse with an overlooking view of Rome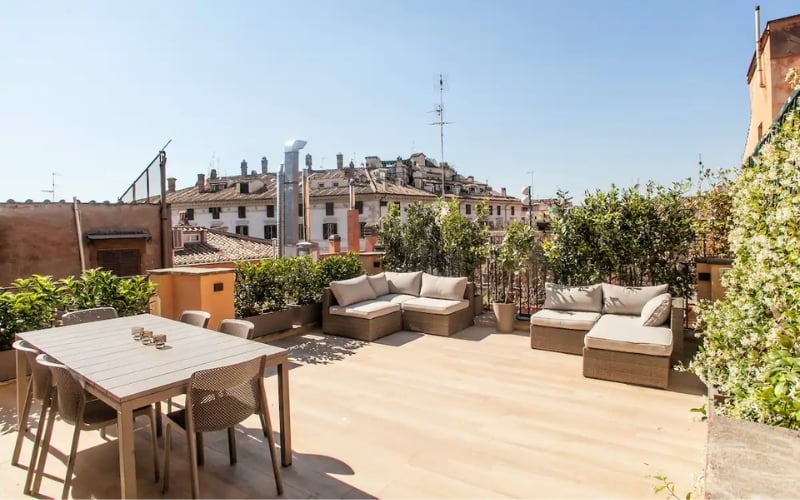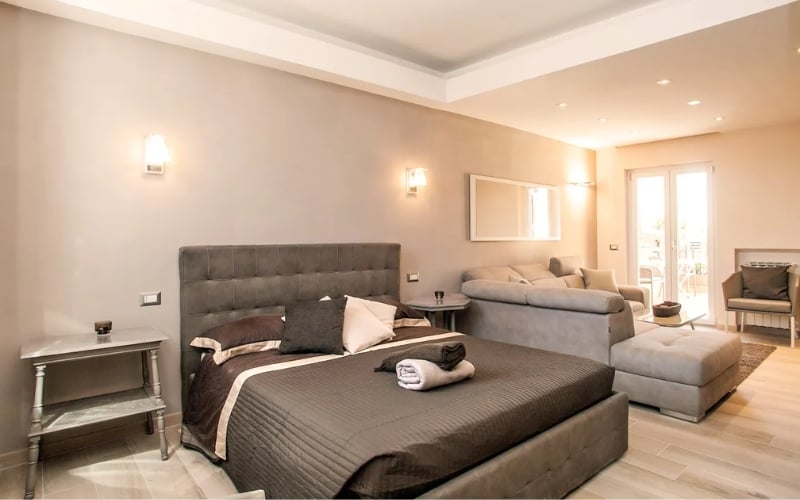 Listing name: Spanish Steps Luxury Penthouse Terrace Jacuzzi
Listing type: Entire rental unit
Max. no. of guests: 6
No. of bedrooms: 2
This magnificent luxury loft just by Piazza di Spagna almost seems like a Hollywood film set. The rooftop terrace has a breathtaking view of the city while offering a relaxing spot to unwind. Book this Rome Airbnb for a true taste of luxury in Italy, complete with a chromotherapy shower and a jacuzzi! 
For some sightseeing, Santa Chiara's grand facade is a spectacle to behold, especially from the terrace. Most attractions, such as the Spanish Steps and the Pantheon are also walkable from the property. 
Also read: 17 Fun Things to Do in Rome for First-Time Visitors
Have you chosen your next vacation home from these Airbnbs in Rome? Bookmark these apartments for the future, and you'll be one step closer to making your Roman holiday a reality! 
Got a property you'd like TripZilla to feature? Inquire with us here .
---
This article contains affiliate links. When you book through these links, we may earn a small commission at no additional cost to you. All images courtesy of the respective property listings unless otherwise mentioned.